Apple vs Qualcomm processor (Best vs Best) - DroidTechKnow
June 25, 2018
7133
Shreya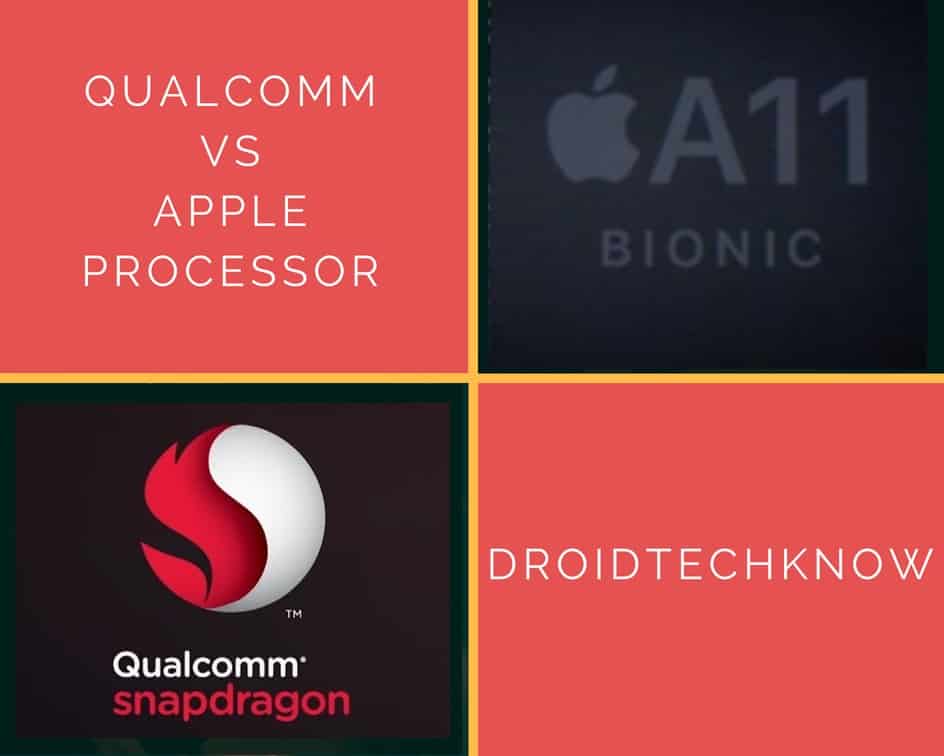 Apple vs Qualcomm processor, which one is better and why? Keep reading to find out. Mobile producer giants release their flagship variant integrated with Qualcomm's Snapdragon processors. Apple uses its own processor in iPhone 8 Plus and also in iPhone X models.
What is a processor?
It the CPU chip that makes your phone do what it does so smoothly. The process takes the inputs you give to the phone and processes it, in order to provide you with the desired output. It is the brain of the device.
Apple A11 Bionic vs Qualcomm Snapdragon 835: a comparison
| | | |
| --- | --- | --- |
| Manufacturing Process | 10-nm FinFET Process | 10-nm FinFET Process |
| Architecture | 64-bit | 64-bit |
| CPU | 8 x Kryo 385 CPU up to 2.8GHz | 6-core processor (2x Monsoon + 4x Mistral) up to 2.53GHz. |
| GPU | Qualcomm Adreno 630 Visual Processing Subsystem | Apple Designed 3-core GPU |
| RAM | Dual-Channel LPDDR4x | LPDDR4x |
| Display Support | Up to 4K Ultra HD @60 FPS | Up to 2436x1125 |
| Camera | Dual 14-bit ISP up to 32MP (single) and 16MP (dual) | Apple's ISP for faster auto-focus in low-light scenarios |
| Video Capture and Playback | 4K Video Capture | 4K Video Capture |
| Charging | Qualcomm Quick Charge™ 4+ | Wireless charging, Normal Charging via USB |
| Security | Fingerprint, Iris, Voice, Face | Neural Engine for Face ID |
Let's dig deeper into the Apple vs Qualcomm processor difference.
1. Total clock speed
Clock speed is measured in MHz and GHz and is the number of pulses generated per second by an oscillator.
The Qualcomm processor comes with a processor speed of 4 x 2.45GHz & 4 x 1.9GHz whereas the Apple A11 Bionic processor speed is 2 x 2.53GHz & 4 x 1.42GHz where we clearly understand Qualcomm is faster.
Fun fact: The fastest CPU in this world right now is from Intel: the 3.5GHz Core i7-3970X.
2. Integrated LTE
The LTE icon on your notification screen indicates the ability of your device to operate on speeds greater than 3G, it the higher download speeds like 4G and above.
Both said Apple and Qualcomm processors come with LTE.
3. Semiconductor size
Why is "the smaller the better" in the case of technology a good thing you ask? It simply means was progressing towards an advanced era of human excellence in the field of innovations with technology. So the smaller the semiconductor size, the better your processor.
Both said 
Apple and Qualcomm processors are of 10nm size.
4. Integrated Graphics
A graphics card controls the display of your screen and can be the ultimate game changer when it comes to creating stunning and captivating visuals.
Both Apple and Qualcomm processors come with an integrated graphics card so that you don't have to purchase one separately.
5. Big little technology
The big little technology allows tradeoff of performance between two cores. Think of it in this way, that more processing demanding applications can use the more powerful core (eg. gaming) and use a less powerful core for applications which require less performance dependence (eg. texting).
Both Apple and Qualcomm processors use the Big little technology.
6. 64-bit support
A 32-bit operating system supports 4GB of RAM. A 64-bit operating system allows more than 4GB of RAM usage. This translates to a better usage of RAM, which means you can run 64-bit applications seamlessly and with ease without having to sweat it out on performance parameters.
Both Apple and Qualcomm processors support 64-bit applications.
7. NX bit and AES.
These both allow security (encryption and decryption), prevents your device from malicious attacks. Both Apple and Qualcomm processors support this.
If these appear the same to you, and you are still in ambiguity, here's the breakdown:
The apple processor comes with the same manufacturing process as the Qualcomm Snapdragon. However, there are quite many things in a list of things that Qualcomm does that makes it look like a piece of cake. This being said, covers, Snapdragon covers more than the traditional SoC features, like natural language processing. Apple doesn't quite make the cut when it comes to this. The Snapdragon processor comes with advanced core technologies, but apple's ARM core technology is no less.
Qualcomm's newest processors subsequently target to add more and more cores whereas Apple continues to do the opposite.
Apple's "wide colour gamut" photos and videos use the DCI-P3 colour space, covering 53% offer centerall CIE 1931 colour range whereas Snapdragon 845 captures and displays photos and videos in the Rec 2020 color space, which translates to a whopping 76% and you can interpret that this math works out in the favour of Qualcomm. In even simpler terms, the pictures captured with a Snapdragon processor device will look lively and more extravagant in comparison to ones taken with the A11 processor.
Apple's ARKit and Google's ARCore are not flattering or doesn't come with a wow-factor. They map flat, horizontal surfaces, which is distant from room-scale mapping which is not at par for rich augmented reality processing and a rich user experience. With the Snapdragon 845, Qualcomm can do room-scale, 3D mapping with just a single camera! (*dual-camera iPhone who?*)
Ultimately, everything mentioned in this article is purposeful only with a fast processor, where Qualcomm aces this race, and that's just our take on this subject matter.
Tell us who in the Apple vs Qualcomm processor race wins your vote!
Was this article helpful?
Great!
Thanks for letting us know.
Please let us know what would make this better.
The information is confusing or wrong
This is not the information that I was looking for
Solution did not work
Too long
Other

Got it.
Thanks for letting us know.
Opps
Something went wrong. Please try again.