Since Supreme Court lifted the ban on crypto on March 4th, 2020, the app to buy cryptocurrency in India got a huge boost. Bitcoin has already been popular since 2009 but with the emergence of new cryptocurrencies, the digital market experienced a high volume of trading from investors. As difficult as it sounds, investing in cryptocurrencies and buying and selling them is quite easy thanks to crypto buying apps.
With some of the best apps to buy cryptocurrency in India, you can trade securely and comfortably. The transactions are less complicated as well. In addition, apps like Binance give trading tutorials for first-time traders. So, here we have made a list of the five best apps to buy cryptocurrency in India.
List of 5 Best Apps To BuyCryptocurrency In India
1. WazirX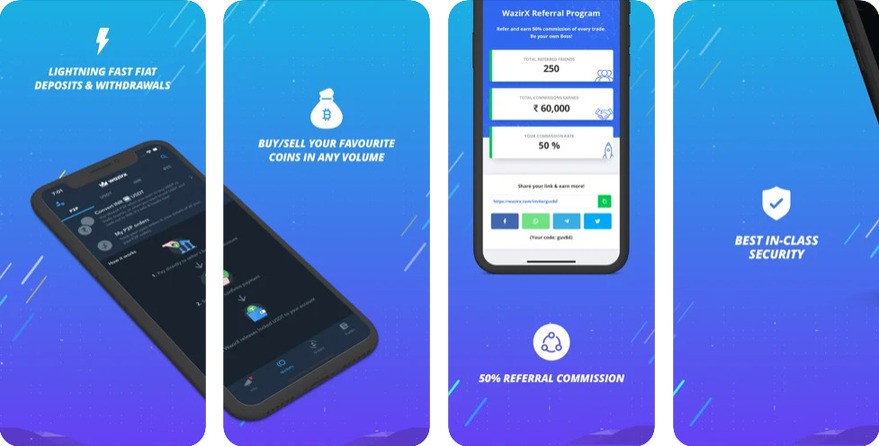 WazirX owned by Binance is the most popular app to buy cryptocurrency in India supported by the fact that it is used by over 900k users. In this crypto buying app, you can buy, sell or trade a number of digital currencies. The app supports a wide range of digital assets like Bitcoin, Litecoin, Ripple, Etereum, and many more. Moreover like Bitcoin, WRX is a utility token created by WazirX that forms the backbone of the WazirX ecosystem.
The app promises to be India's most secure exchange app. With its open order book, you can instantly buy, sell or trade without any delay. Additionally, its infrastructure provides lightning-speed transactions even if trade volumes are high. WazirX's integration with Binance is seamless that let its users transfer deposit without any charge.
Most importantly, WazirX has the highest liquidity in the INR market in India with the peer-to-peer engine. You can deposit or withdraw INR funds instantly and 24×7.
Features like Smart Token help investors find expert traders to help them manage their portfolios. TradingView, advance chart trading, and Stop-Limit orders are some of the advanced features of the app. In other words, all these features make WazirX one of the best apps to buy cryptocurrency in India.
2. Zebpay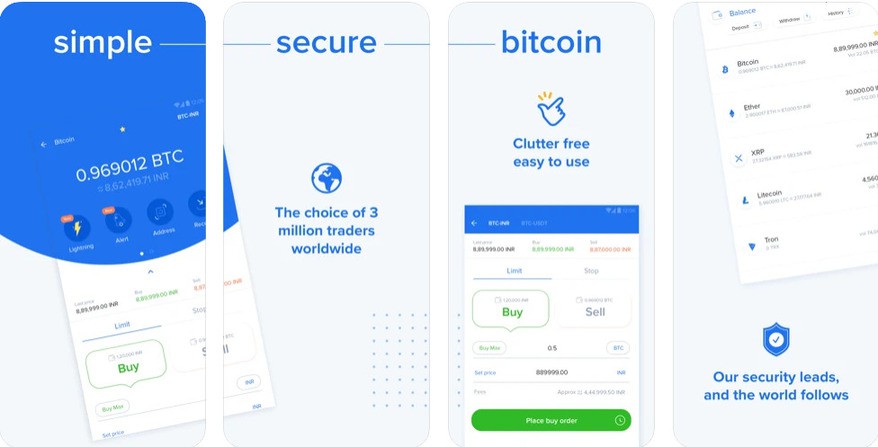 With Zebpay, you can trade cryptocurrencies in over 130 countries. It calls itself 'Bitcoin ki Dukaan' which has facilitated over 3 billion dollars worth of transaction at its time of release. Zebpay takes security seriously with over 98% coin storage in cold wallets. It has robust internal control and 3rd party security testing that is designed to keep cryptos safe. You can also set fingerprint and PIN Codes and lock outgoing transactions to increase security.
Considered by many as one of the best apps to invest in cryptocurrency in India, Zebpaycharges nothing to trade Bitcoin and other altcoins. It is designed in a way that is easy to use and clutter-free. Moreover, you can check real-time and historical market data of Bitcoin, Etereum, Litecoin, and more.
With its simple UI, you can check your balance history and balance for each cryptocurrency. To start trading, you can complete their KYC by signing up or through your mobile number. Zebpay has been in the cryptocurrency business since 2014 and with the lift of the ban on crypto in 2020, the app is growing stronger and trying to dominate the market as one of the apps to buy cryptocurrency in India.
3. Binance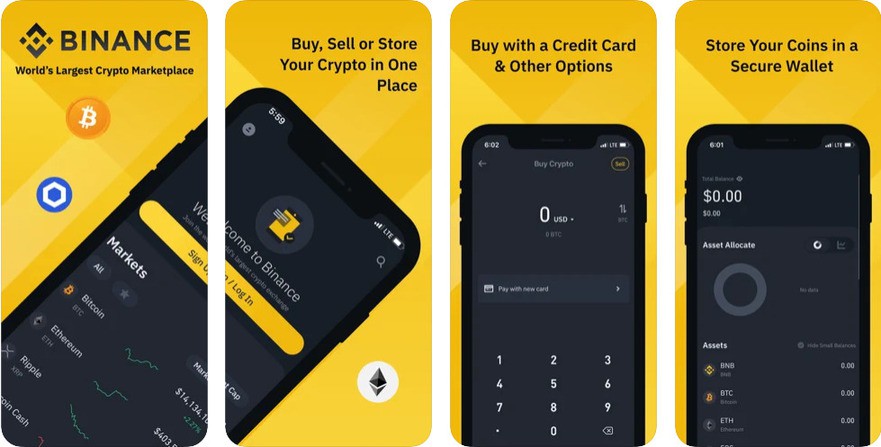 Binance is the world's largest crypto exchange app. With this app, you can buy Bitcoin, Tezos, Ethereum, Link, Cardano, Binance Coin, and other 200 supported cryptocurrencies with the lowest fees in crypto. Moreover, the app is user-friendly where you can buy cryptos simply by adding a debit or credit card. With the new Lite mode, you can swap easily between different cryptos without the need for a trading pair.
Security is Binance's highest priority and might be one of the most secure apps to buy cryptocurrency in India. It launched theSecure Asset Funds for Users to double user's security. In addition, you can set alerts whenever the price moves on a certain coin and stay up to date. The app lets you switch between its two interfaces, Lite and Pro with a single tap. if you are a beginner, you can switch to the Lite interface to keep things simple. If you are an expert trader, you can switch to Pro to access advanced trading features.
Most importantly, you can set recurring buy to purchase Bitcoin and other cryptocurrencies on a regular basis. In its recent updates, it has added peer to peer trading video tutorial for buying and selling. The app has also added reminders during high-risk payments.
Android
iPhone
Windows
Linux
MacOS
4. CoinDCX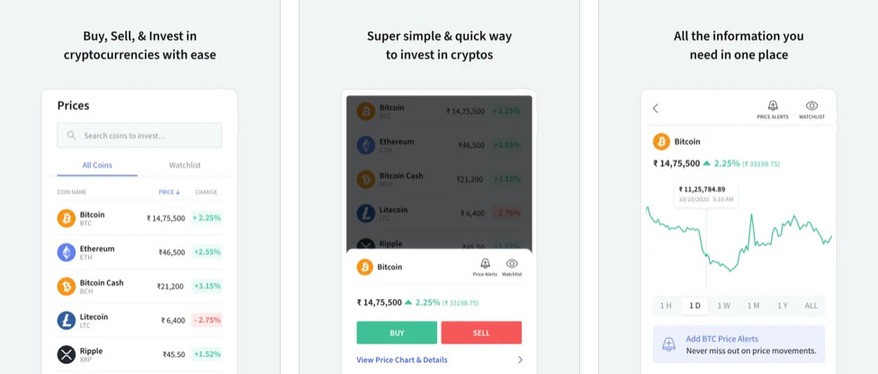 CoinDCXhas over 100,000+ active users every day. With this app, you can not only buy Bitcoin but also earn money while investing in Bitcoin. Moreover, you can indulge yourself in crypto to crypto trading that is hassle-free and user-friendly. CoinDCX recognizes all digital assets like Bitcoin, Ripple, Stellar coin, Etereum, Tron coin, Cardano coin, Binance coin, Tether coin, and many more.
CoinDCX crypto buying app is easy to use and comes with some impenetrable security measures. Additionally, it offers complete safety of funds insured by BitGo. The crypto buying app also provides the highest liquidity in India.
Moreover, the app even teaches the basics of investing for newcomers. You can trade across 200+ cryptocurrency markets with up to 10x leverage. You can also lend cryptocurrencies and earn 20% annual interest. Most importantly, this app is specially curated for India and is one of the best apps to buy cryptocurrency in India. In other words, if you are looking for the best app to invest in cryptocurrency then CoinDCX isn't a bad choice.
5. CoinSwitch Kuber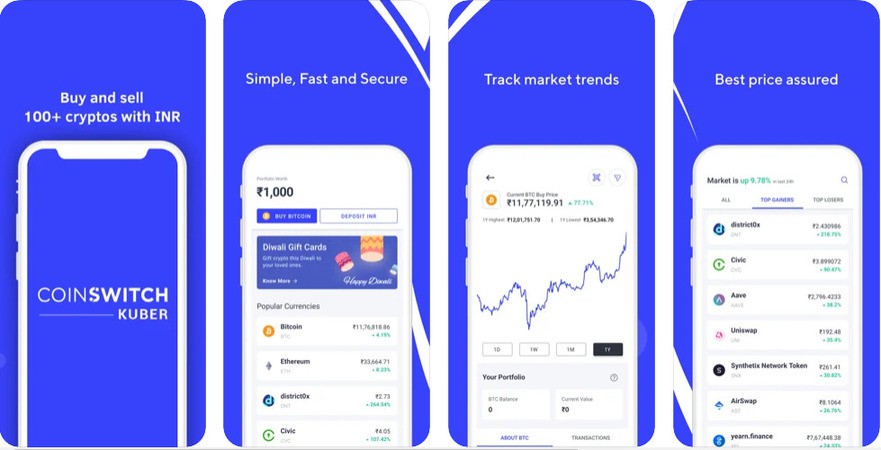 CoinSwitch calls itself 'India's most secure cryptocurrency trading app'. In this all you can start trading with just Rs.100. Additionally, the app is secure and user-friendly. Through this platform, you can trade 100+ cryptos like Bitcoin, Ripple, Ethereum, and many more. You can access the pool liquidity of crypto exchanges in India and get the best rate and trade simultaneously. However, to start trading on the platform you have to complete the KYC/AML procedure. Also, the KYC process is fast and easy.
Moreover, in this app, you can have INR to crypto exchange, crypto to crypto, and crypto to INR trading. In order to trade, you can deposit INR in your CoinSwitch wallet in multiple ways. You can pay using a debit card, credit card, UPI, Netbanking, and bank transfer.
The app has users from over 160+ countries and has partnered with leading cryptocurrency exchanges in the world that makes it stand out from other apps to buy cryptocurrency in India. Additionally, the app has a simple interface that is easy to use even for amateur traders. It provides zero INR trading, deposit, and withdrawal fees for the first 100 days. Above all, it is one of the best apps to buy cryptocurrency in India.