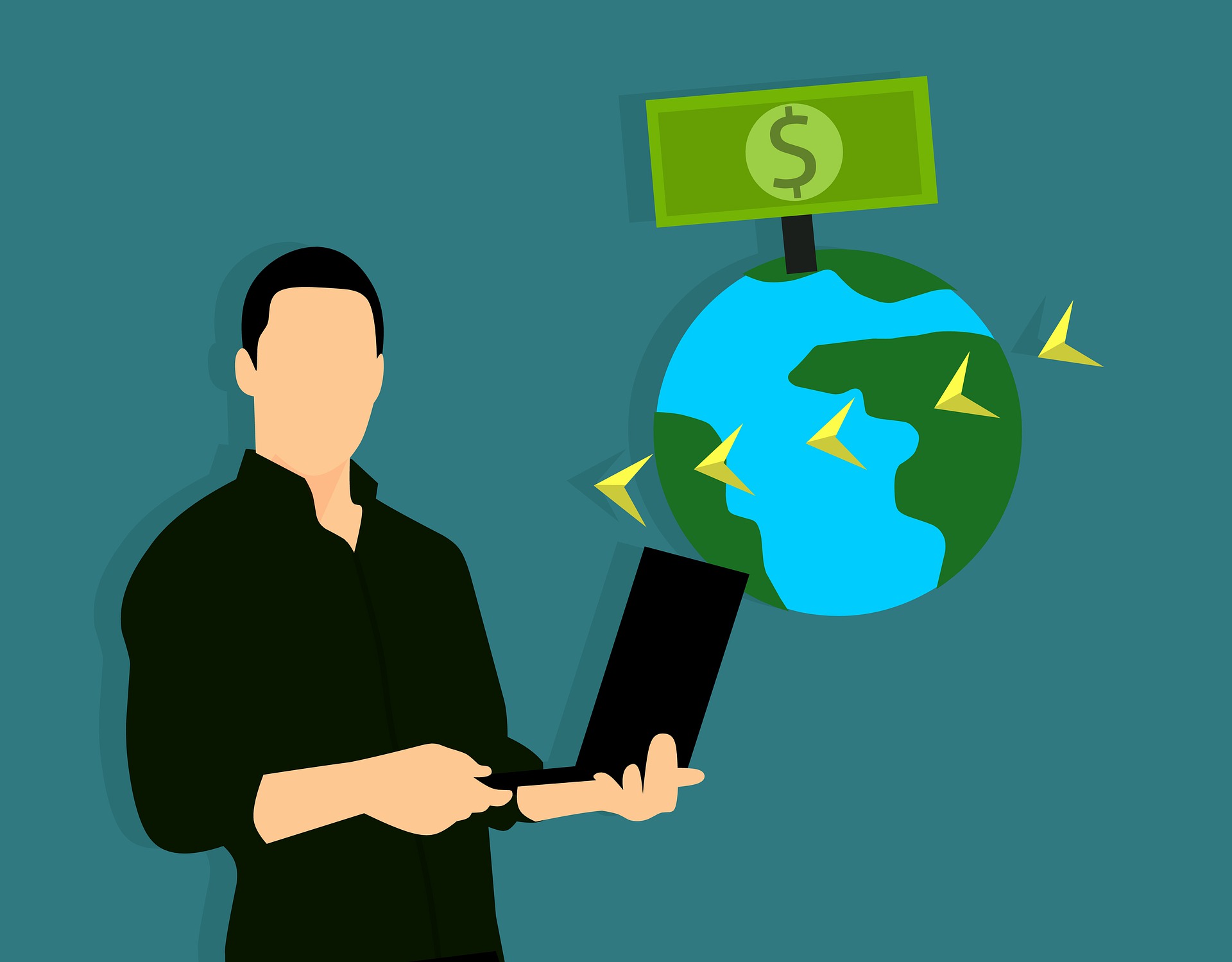 A money transfer app allows its users to send or receive money instantly. You can quickly pay while shopping or instantly split the bill and more. A good app also ensures your data and transaction security. Now it is easy to use these app facilities for global money transfer too. There are many International apps for money transfer. But when it comes to money it is advisable to use the best one that offers good security as well as fast service. So, here are the 10 Best International Money Transfer App you should checkout.
International money transfer apps have simplified the global payment process. It is just as fast as sending money to someone in your country. You can track exchange rates on these apps too. Using these apps helps to manage and transfer your funds easily and securely across the globe. They save your time and effort. In fact, some of the best money transfer app offers an additional feature that enables the receiver to pick up cash from a location.
Must Read: Top 5 Best E-book Applications for Android device
List of 10 Best International Money Transfer App
1. Cash App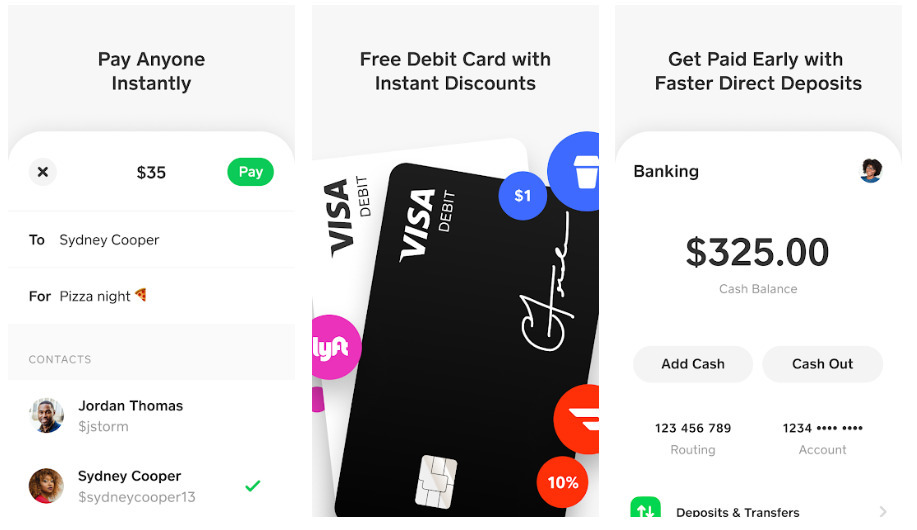 The first one on our list of the best international money transfer app is Square's Cash App. It is a free app for sending and receiving money. You just need to download and sign up and, then you can starting money transfer instantly. The cash app protects your transactions with a passcode. An additional feature of Cash app is the Cash card which is a customizable Visa debit card. This is a virtual card for instant payments. It also offers instant discounts called Cash Boosts. So, it helps you in saving money too.
Download: Cash App for Android | iOS
2. Paypal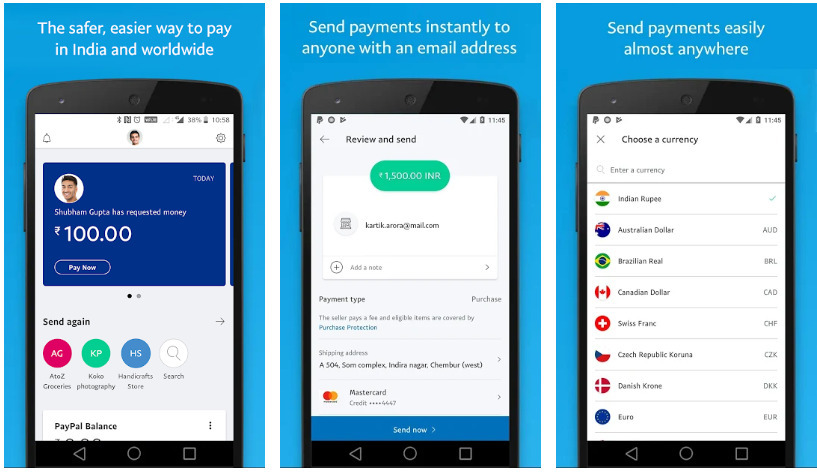 Paypal is a free and simple money transfer app. It lets you transfer money to other Paypal users securely and easily. The app provides 24/7 transaction monitoring and fraud protection to secure your payments. To use Paypal, you need to link your debit card or debit card then you can quickly send money worldwide. It also helps you manage your transactions by showing transaction history.
Download: Paypal for Android | iPhone
3. OFX Money Transfer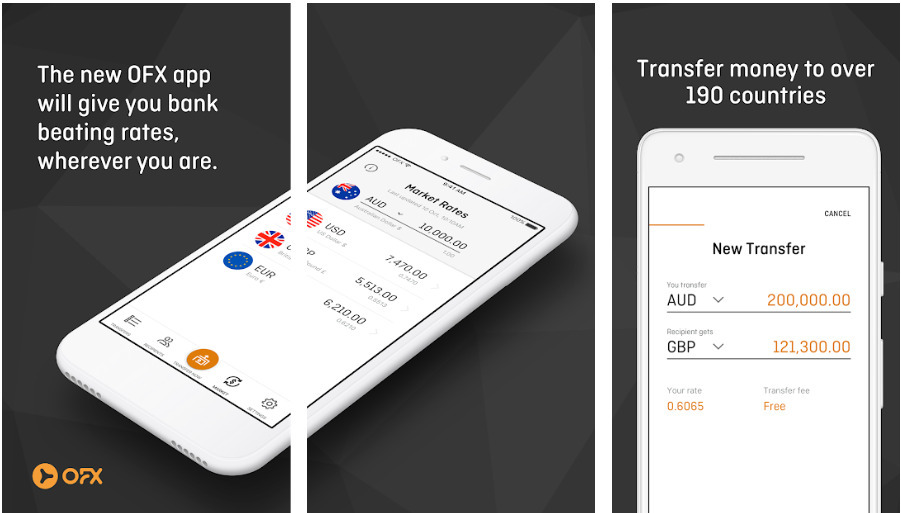 OFX Money Transfer app is fast and secure. This International Money transfer App lets you send money to 190 countries in 55+ different currencies. You can also find live rates and currency trends. You simply need to register with the app to transfer money. The OFX app offers good exchange rates. Apart from that, their customer support is available 24/7 to help you out. It lets you track your payments to help you manage your money.
Download: OFX for Android | iOS
4. Venmo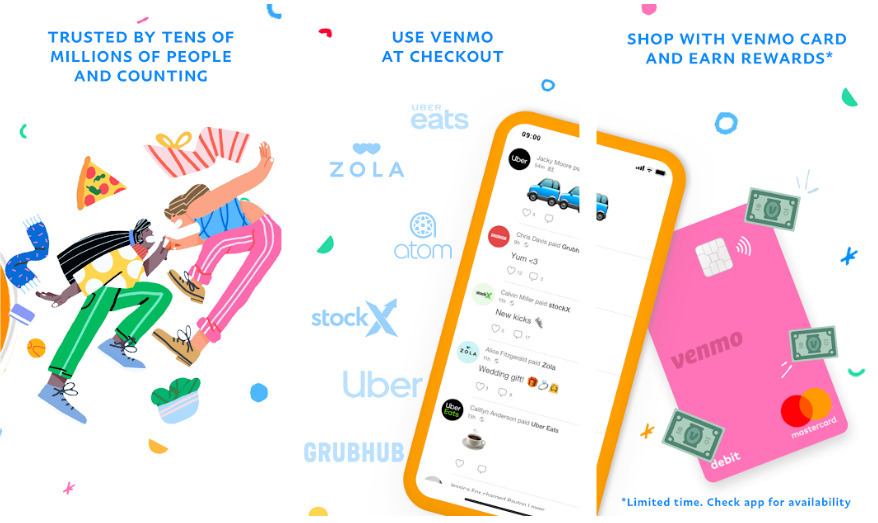 Venmo is one of the most popular money transfer apps. It is quick and easy so, you can instantly send money to your friends or make payments while shopping from international sites. It also offers good security and customer support. Sending and receiving money on Venmo is free. Like the Cash app, Venmo offers the Venmo card. The card helps you shop with the Venmo balance, and you can also earn rewards with it.
Download: Venmo for Android | iOS
5. TransferWise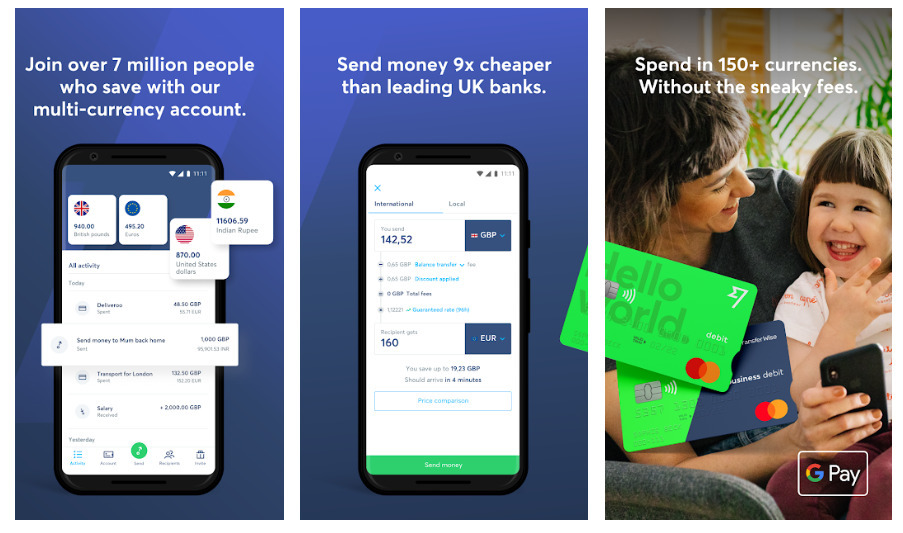 TransferWise is an app to send and receive money globally. It can hold and convert your money into 40+ currencies. You can also view the real currency exchange rate. And they charge no fees for these multicurrency transfer. It is free and secure. Sending money from the Transferwise app is considerably cheaper and faster. You can make payments worldwide withTransferWise debit Mastercard with hidden bank fees. It also lets you set up a business account for receiving money in different currencies.
Download: TransferWise for Android | iOS
6. Remitly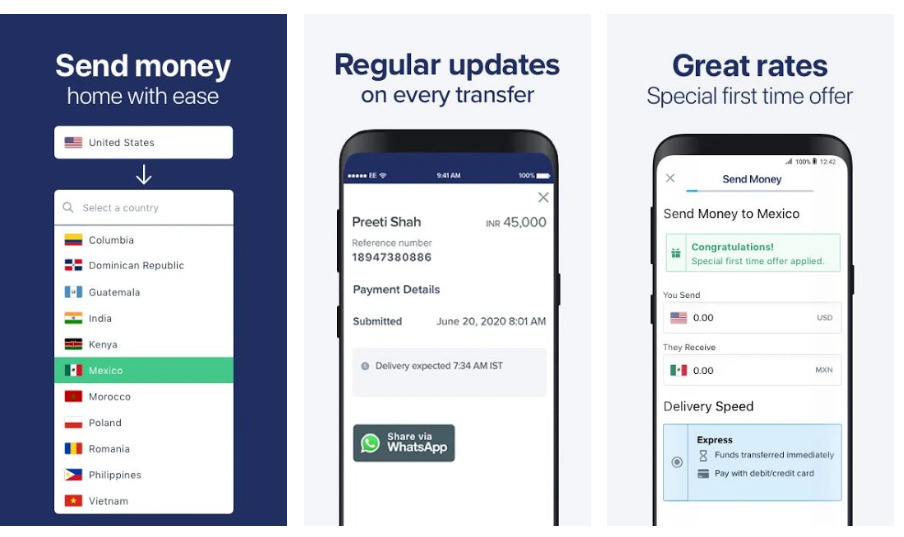 Remitly has taken the money transfer feature to the next level by allowing users to choose how their money will be delivered. This international money transfer app lets you send money to the recipient's bank account or at a cash pickup location. You can send money to wallets or some counties have the home delivery option too. It encrypts all the transactions for security and you can also track exactly when the money was received. Remitly lets you send money safely to 50 countries.
Download: Remitly for Android | iOS
7. WorldRemit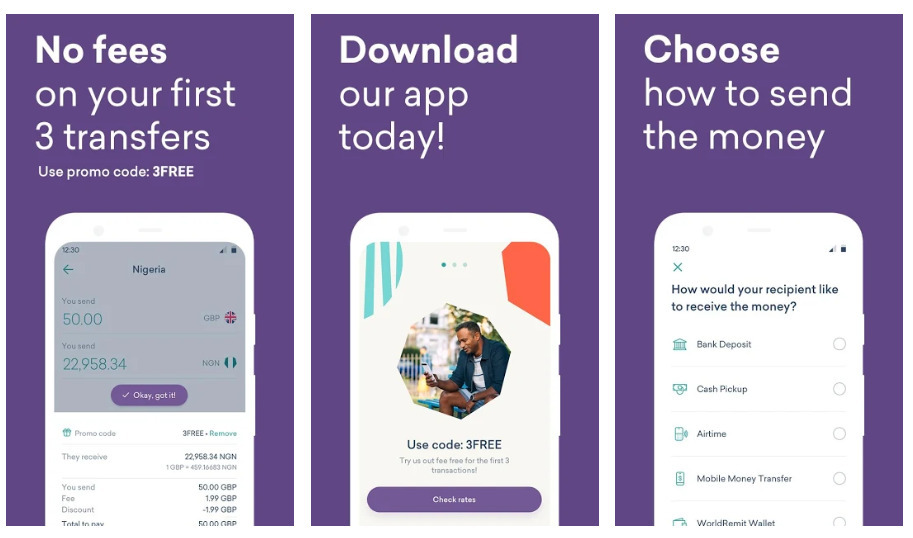 WorldRemit app can be used to send money to 150+ countries in minutes. The different money receiving options make it one of the best money transfer apps. The recipient can get money via bank transfer or mobile money account or collect cash depending on location. You can also track your transition anytime and check its exact status. It sends you daily updates on exchange rates. The first three money transfers on the app are free.
Download: WorldRemit for Android | iOS
8. Azimo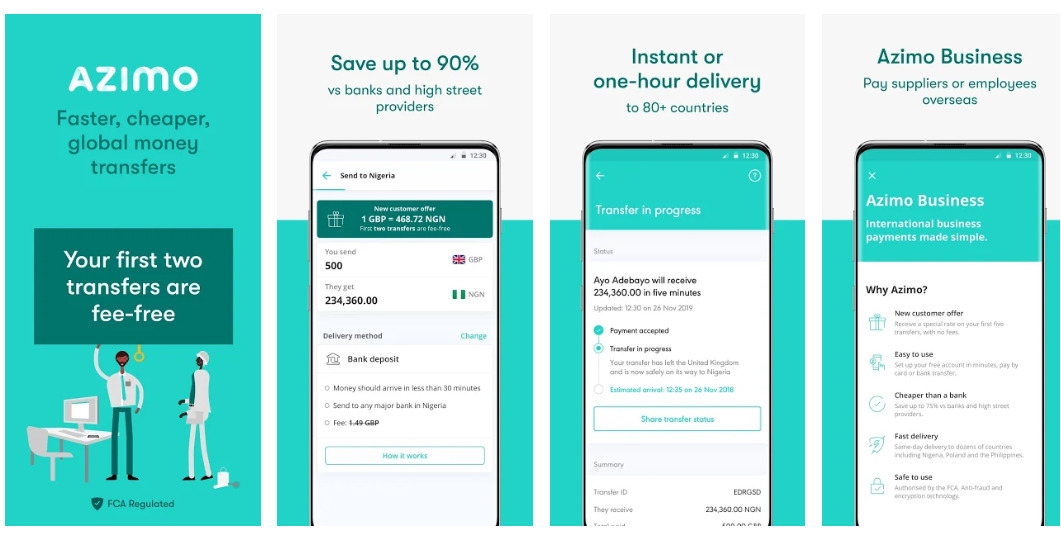 Azimo app isan app to transfer money globally. The recipient can get money through a bank account, mobile wallets or pick up cash. There are more than 300,000 cash pick up locations. Azimo lets you send money to 80+ countries and the transfer is completed within an hour. The first two transfers are free and they don't charge any debit or credit card fee either. To ensure secure security of your personal data it offers FaceID and TouchID security.
Download: Azimo for Android | iOS
9. MoneyGram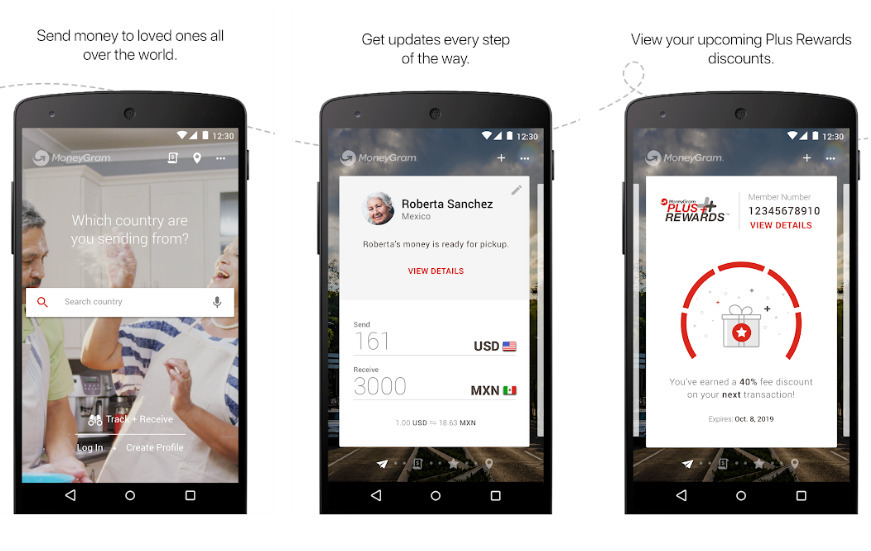 The MoneyGram app allows you to transfer money to 200+ countries. There are different methods for these payments. Your recipient can receive money in their bank account, mobile wallet or cash. You can also set up automatic payments weekly or monthly. You can also send money through SMS using MoneyGram FastSend.The app lets you track your transactions and keep you updated with notifications. It also has a biometric login and 24/7 online activity monitor for security.
Download: MoneyGram for Android | iOS
10. InstaReM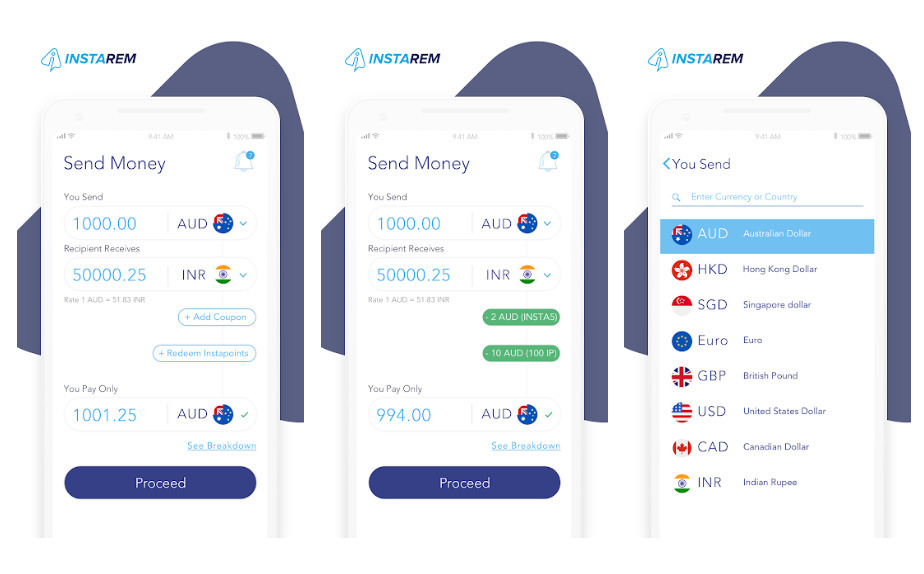 InstaReM is an easy to use money international money transfer app. All you need to do is register, set up the payee, and then transfer. It lets you send money 24/7 across 50 countries. InstaReM completes an international transfer within a day. You can view your transaction history and update the payee list. There are different promotions and offers available. You may get the first transfer free.