With over 1 billion hours of video watched per day, there is no doubt that Youtube is one of the biggest video sharing platforms. It's everyone's go-to app to watch videos. But that doesn't mean it doesn't have its setbacks. With numerous ads, confusing algorithms, community guidelines that restrict your content, copyright infringement, and demonetization policy that you need a PhD in social media to understand. It's always good to know some other youtube alternative app.
Having second options or alternatives is always a good idea, at the end of the day we all need variety. So we have combined a list of top 10 best youtube alternative apps for Android phones. The apps here are easy to operate, come with a variety of features, and make up for all the drawbacks that youtube has. So keep on reading to know more about youtube alternative Android apps right for you.
Related Article: 10 Best Online YouTube Video Downloader
List of Top 10 Best Youtube alternative Apps for Android
1. NewPipe
NewPipe is one of the best Android Youtube alternative thats comes with lots of features like background playing. It is an open-source media player app that is absolutely free. NewPipe's creators say NewPipe aims to provide an intuitive, feature-rich, and privacy-friendly app. NewPipe APK is a YouTube client, which means that it does not require or use Google Services or the YouTube API.
NewPipe Features
You can easily play youtube videos in background

Support picture in picture mode

Download the youtube video in different resolutions

You don't need to install Google Play Services to use the NewPipe app
Read the Complete Guide: Newpipe App – Know everything about this youtube alternative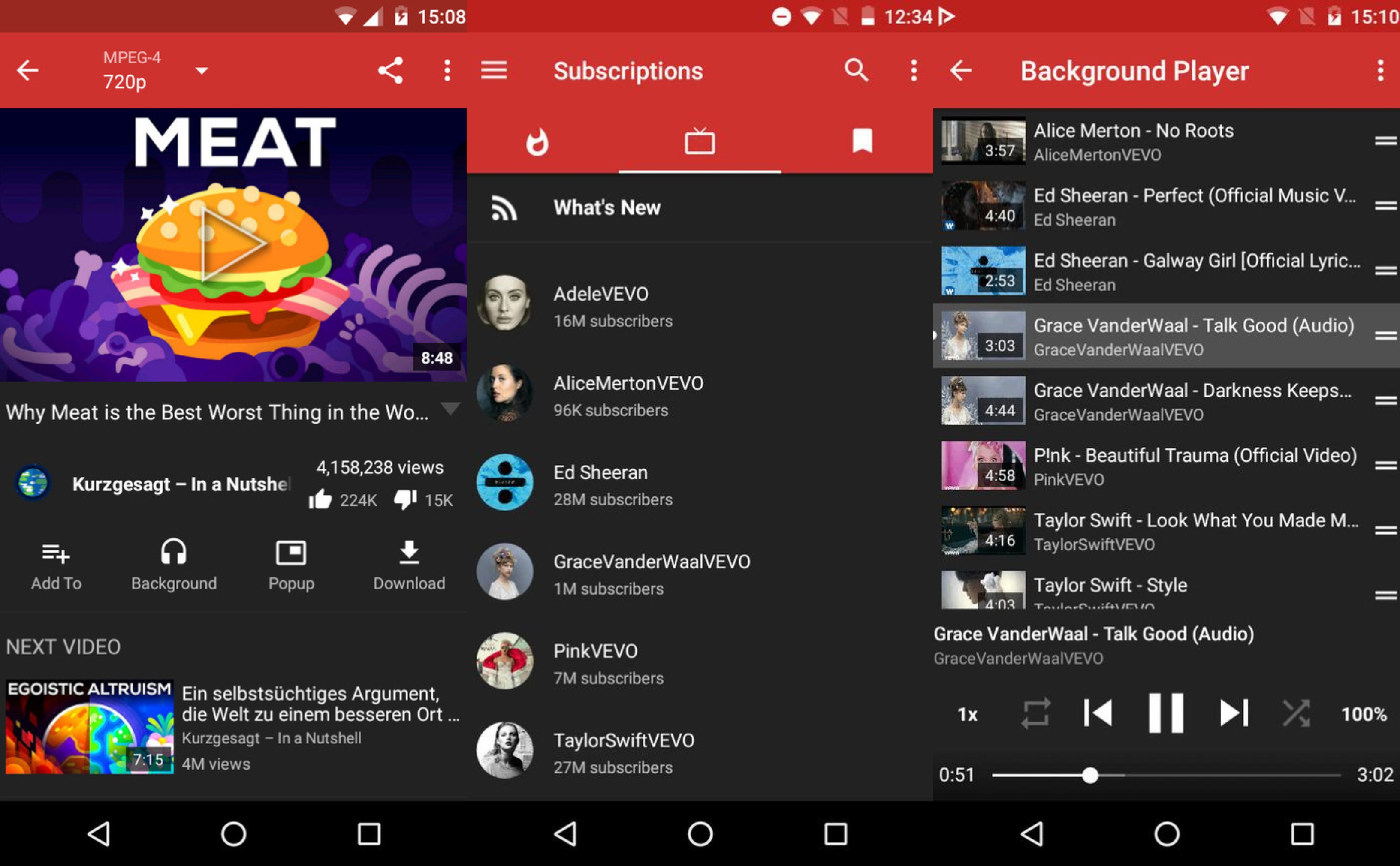 2. Youtube Vanced
Youtube Vanced is one of the best youtube alternatives apps, as it offers more than what Youtube does. You can watch videos on Tube Vanced plus it also comes with the built-in ad-blocking feature and background playback. You can also switch between black or white themes, and disable suggestions. Another one of its unique features is that you can download video and audios only directly to your device's storage
Youtube Vanced Features
Download and enjoy your favourite youtube videos while you on offline

White/Black theme for day and night mode

PIP mode supported

Background youtube video playing

Enable/disable video annotations

Block Ads
Read the Complete Guide: YouTube Vanced- everything you need to know About it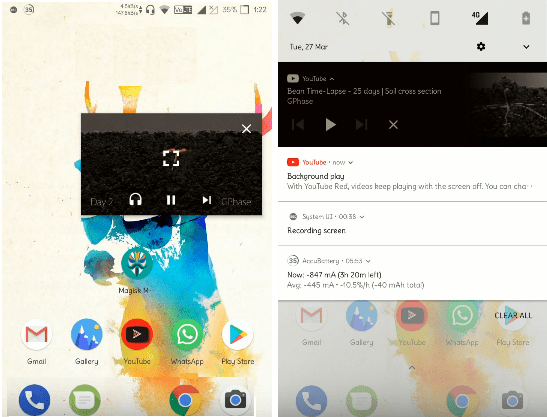 3. OGYouTube
OGYouTube likes any other youtube alternative app for Android lets you browse through numerous videos and vlogs, listen to music in the background and even download videos. You can download videos in your desired resolution and even in MP3 format directly. As the interface is almost identical to the youtube apps, you would have no difficulty in operating. So if you like Youtube a lot then OGYoutube is the best Youtube alternative for you because the UI of OGYoutube is very similar.
OGYoutube Features
Supports background video playing

Watch your favourite videos without interruption of annoying ads.

Download youtube videos with OGYoutube

Play video in PIP mode

Dark Mode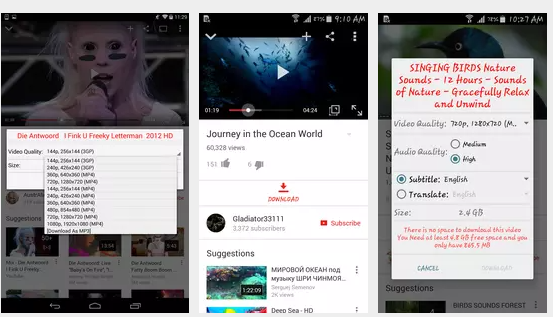 4. YouTube ++
Best video player for users who wish to download numerous videos, YouTube ++ app is one of the most popular youtube alternative apps for Android. Apart from downloading videos and audios, you can also change the video playback speed, forward and rewind controls, or the auto-replay videos. The best part is that there are no ads or age restrictions on content.
Youtube ++ Features
Easily play youtube video/audio in background

No ads

No age restrictions

Download videos on go

Set playback speed manually

Inbuilt audio player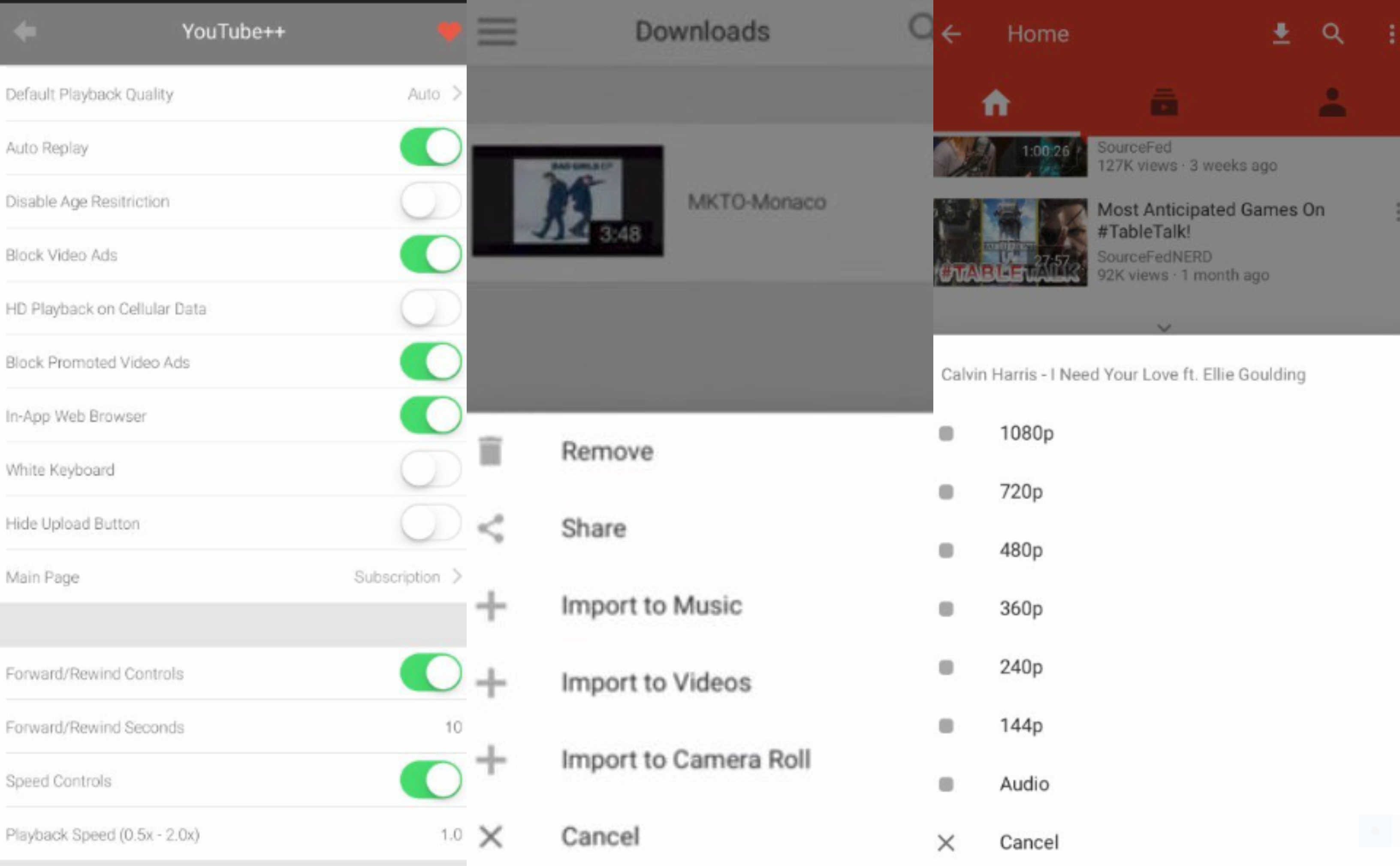 5. YouTube GO
YouTube GO is a lightweight youtube alternative Android app, that lets you download videos on go. You even have the option to select how many MB you want to spend on watching videos. Even more, the apps work at low-speed internet and low data effortlessly, so your streaming doesn't get interfered with. Another unique feature of YouTube GO is that video transfer doesn't consume your data or battery.
Youtube Go Features
Support video downloading

Set your data limit that you want to consume while using the Youtube Go app.

Consumes low data and save battery
Read the Complete Guide: Youtube Go – Everything you need to know about this youtube alternative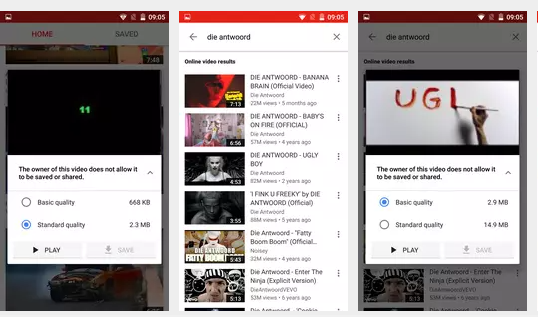 6. VidMate
VidMate is a best alternative to Youtube App if you want to download hour-long movies, documentaries, or even numerous seasons of Tv Shows. It works as an alternative to many other streaming sites, apart from YouTube. Users can also download content from other social media apps or convert their preferred videos to MP3 format for audio. With its inbuilt browser, you can search for videos directly from VidMate. Plus you have a shortcut option available so that your preferred video appears on the main interface.
Vidmate Features
Download and convert the videos

Watch videos from other platform like dailymotion, Vimeo, Instagram, Tumblr, etc as well

The videos suggestion comes from various platform.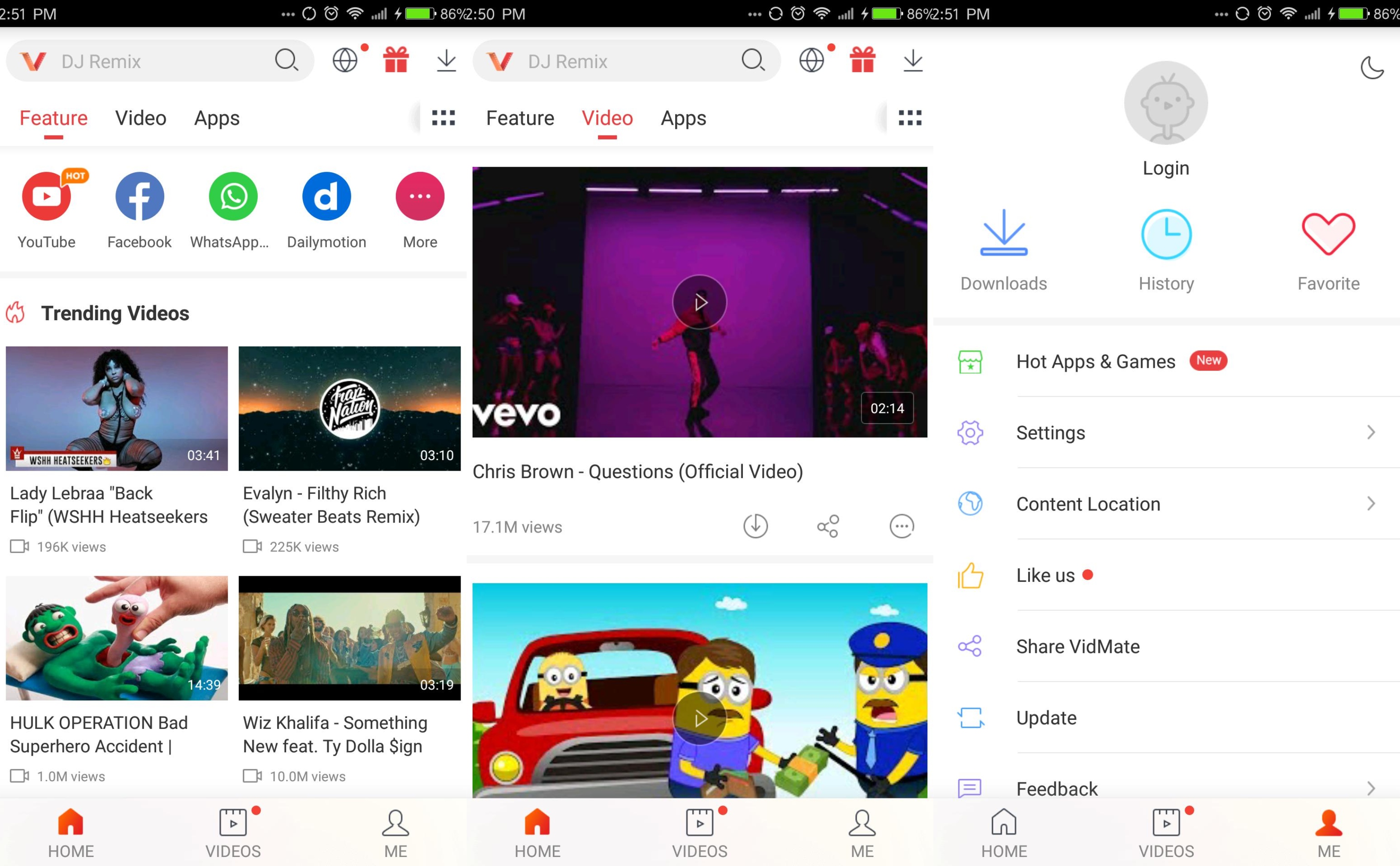 7. FlyTube
Another very popular and lightweight alternative app to Youtube. With the help of Flytube app, you can watch numerous videos while low on data, and the app size is less than 5 MB so it doesn't take up too much storage. FlyTube comes with a variety of features such as, multitask window mode, explore feed, watch live streams, and create playlists and use equalizers. FlyTube also has a moveable pop up, so you adjust your FlyTube screen and play it in the background.
FlyTube Features
Use PIP mode and work while listing your favourite music.

Quickly add and remove videos from your playlist.

The size of FlyTube is 5MB which is very low compared with other apps. So it will not take much amount of memory in your Android device.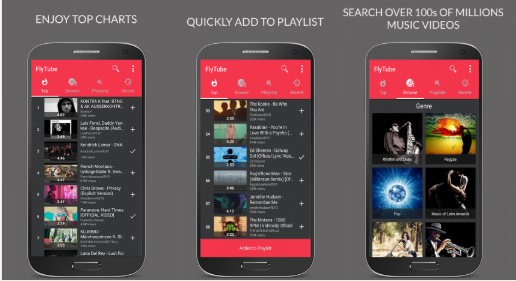 8. TubeMate
TubeMate allows users to view, share, and download videos in SD, HD, and mp3 format. Apart from working as a youtube alternative app for Android devices, it also lets you support many other social media apps. Users also let you download multiple files from youtube and other apps. This Android youtube alternative has a very easy interface and is easy to operate.
Download youtube videos in HD/SD and MP3 formats.

It can download videos from other video platforms like Facebook and dailymotion.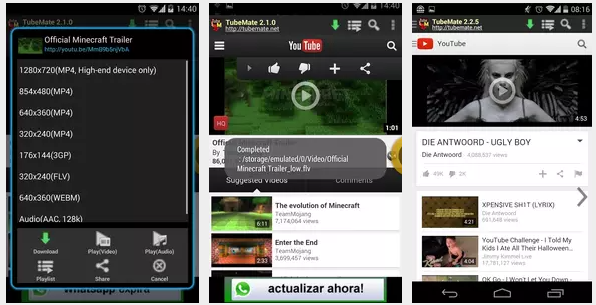 9. TurboTube
TurboTube with its numerous unique features deserves to be on our list of best youtube alternative apps for Android. Aside from low buffering that offers an uninterrupted stream, it also has a no-cache policy, supports offline playback and background audio playback. In its 'Social Feed' users can directly watch videos shared by them on other platforms including Facebook and Twitter. Though keep in mind it does consume a little more data than other youtube alternative app for android.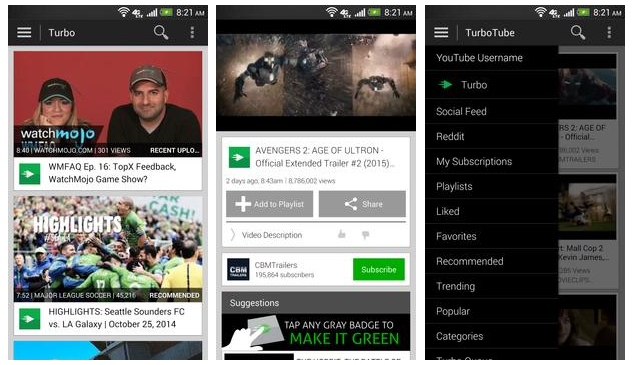 10. iTube
If you're looking for an app that lets you listen to music while you're using WhatsApp or twitter, iTube is the best youtube alternatives app for you. You can use almost all your social media apps and many other apps while listening to audios on iTube in the background. Not only background palying you can download multiple videos from YouTube videos but also Vimeo, Instagram, Tumblr, Soundcloud, and many more sites. Plus it uses a minimum amount of data, so the app works smoothly even on limited bandwidth plans.
Samsung galaxy users can download it directly from here.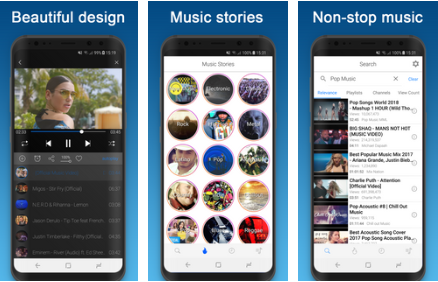 Must Read: 10 Ways to Watch YouTube Videos Together With Friends