People often tend to use their phones during bedtime. Be it reading e-books or streaming media, the excess usage of smartphones in the dark leads to straining of eyes and poor sleep due to harmful blue rays which are emitted from phone screens. If you are a night owl and use your phone at night or in dark, then it's advisable to use night mode apps. These apps come with blue light filters and a screen dimmer to make your eyes less fatigue and improve your sleep. With various options available it gets difficult to pick one, but don't worry, we have curated the list of 10 best night-mode apps for Android below.
1. Twilight (By Urbandroid)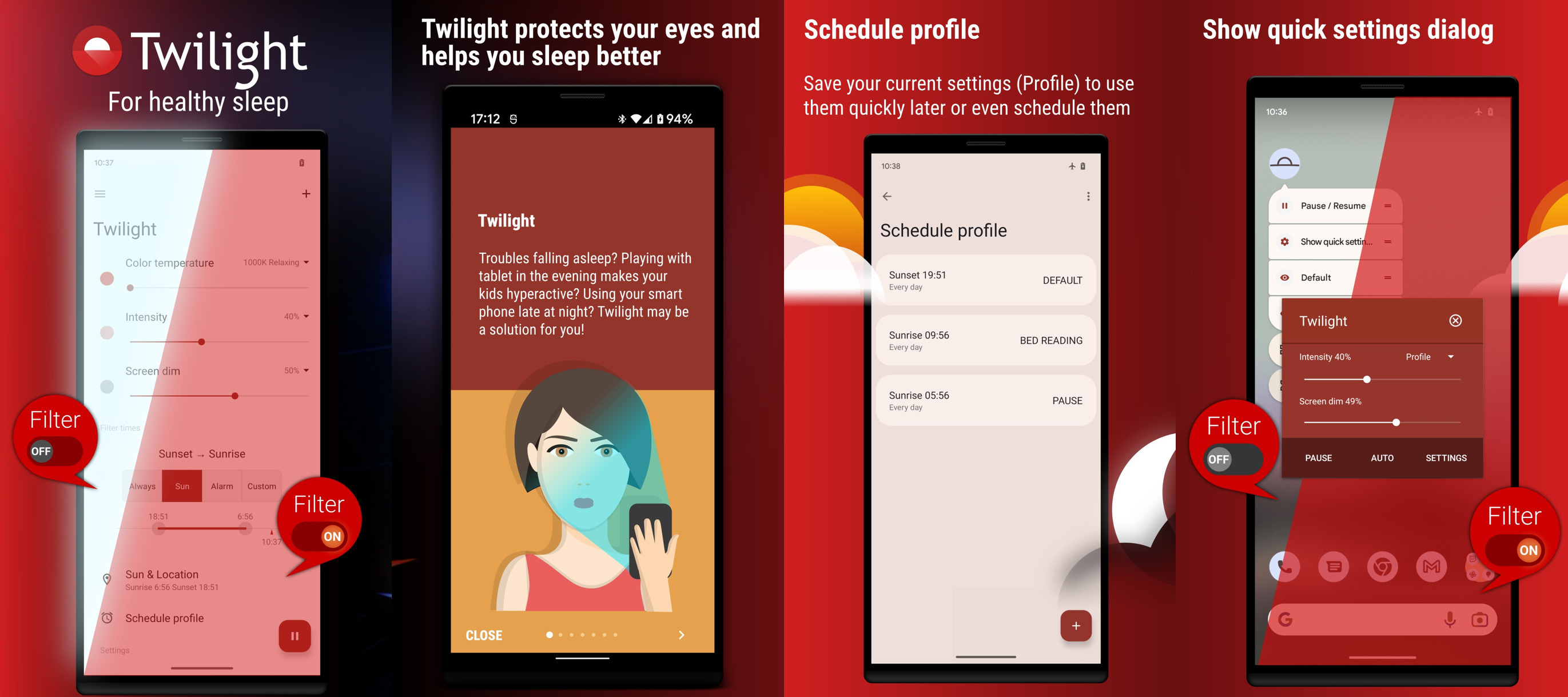 Twilight filters your sleep disturbing blue light and can adjust to your local sunset and similar time. You can manually set a range to when it gets auto-activated. It comes with an adjustable colour temperature, intensity, and screen dimmer. Apart from that there are many features offered by Twilight like an app-specific profile, translucent navbar, smart notification, home screen and lock screen filter, etc.
Features
Scheduled custom profile

Adjustable transition time

Translucent navigation bar

Smart notification

App-specific profile

Adjustable colour temperature, intensity, screen dimmer

Adapts to your local sunset and sunrise time

2. Blue Light Filter (By Better Life)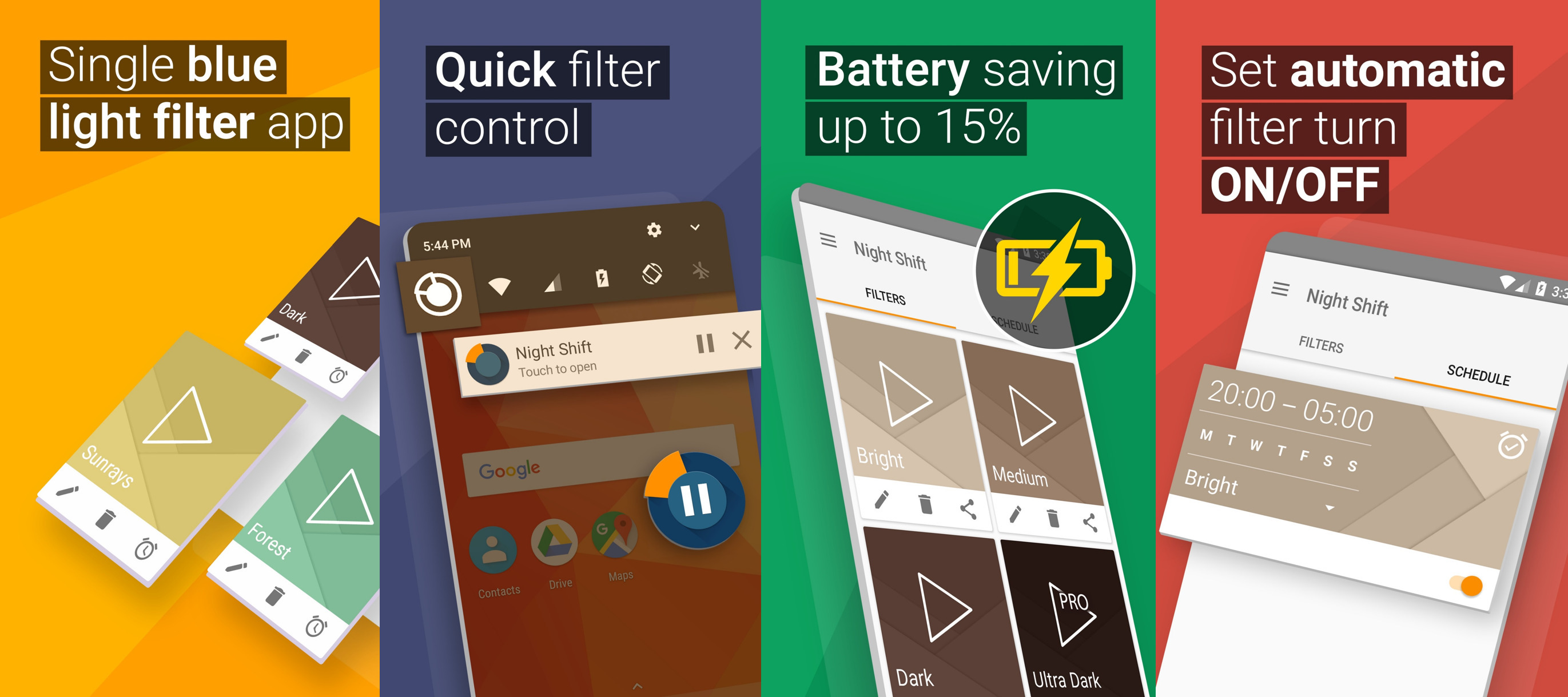 While using your phone at night, the Blue Light Filter can be your best company that will take care of your eyes and protect them from screen light flux. This app comes with pre-made filters, but you are free to make yours too. It gives you colour and temperature customizing options and can dim the screen below the system minimum. You can buy the pro version of this app to access additional filters and an ad-free user experience.
Features
Temperature customization

Pre-made filters

Colour customization

Dimming of the screen below the system minimum

Create and edit filters

Automatic filter schedule

3. Night Owl (By Evezzon)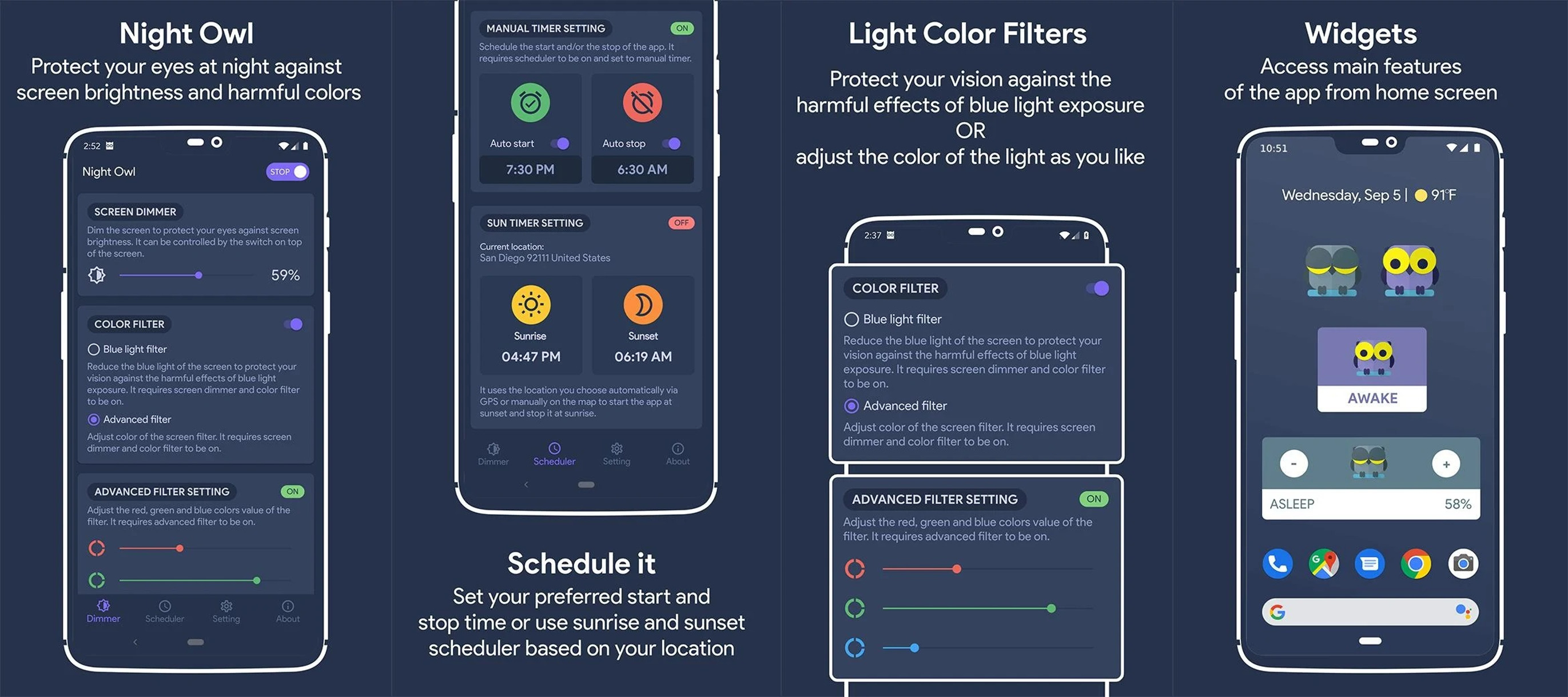 Night Owl can be the solution to your poor sleep which is caused by the usage of phones in dark. It relieves the strain on the eyes with a screen filter and dimmer. The colour filter has an advanced filtering option with adjustable RGB values. The scheduler can be set either manually or by sunset and sunrise timings. This app allows you to stop the dimming by shaking the phone and has beautiful widgets.
Features
Blue light filter

Screen dimmer

Filter navigation bar

Smart notification

Shake to stop the dimming

Advanced filtering with RGB values

Manual and sunset timing scheduler

4. Blue Light Filter (By Leap Fitness Group)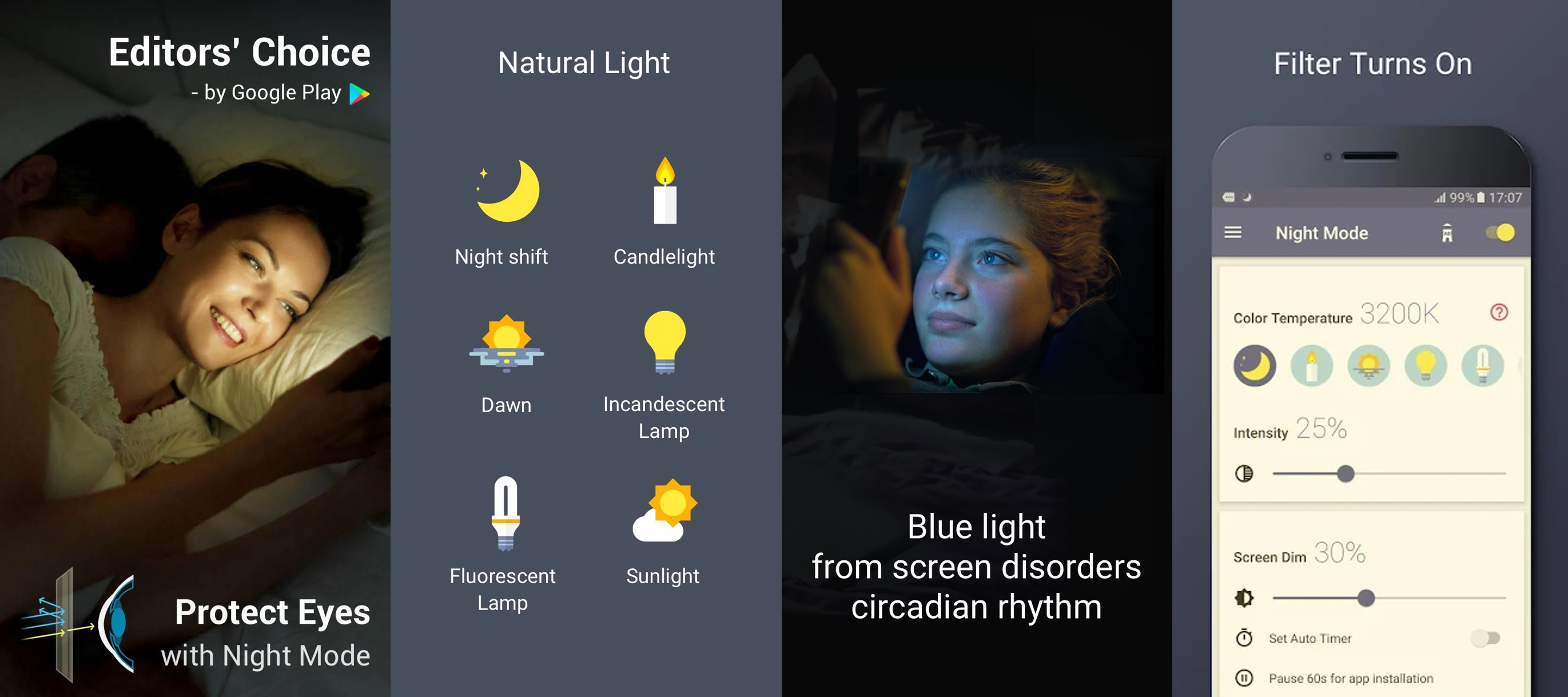 Blue Light Filter helps you to get proper sleep and reduce your eye strain from blue light emitted from your phone screen. This app offers you different screen filters like nightshift, candlelight, dawn, etc with an intensity bar to adjust it according to your preference and relieve your eyes while reading or using your phone. It also comes with a screen dimmer that can save your phone's battery and you can set an auto timer for it.
Features
Various blue light filters

Saves battery life

Adjustable filter intensity

Adjustable screen dimmer

Auto timer for screen dimmer

Smart notification bar

5. sFilter (By Siso Mobile)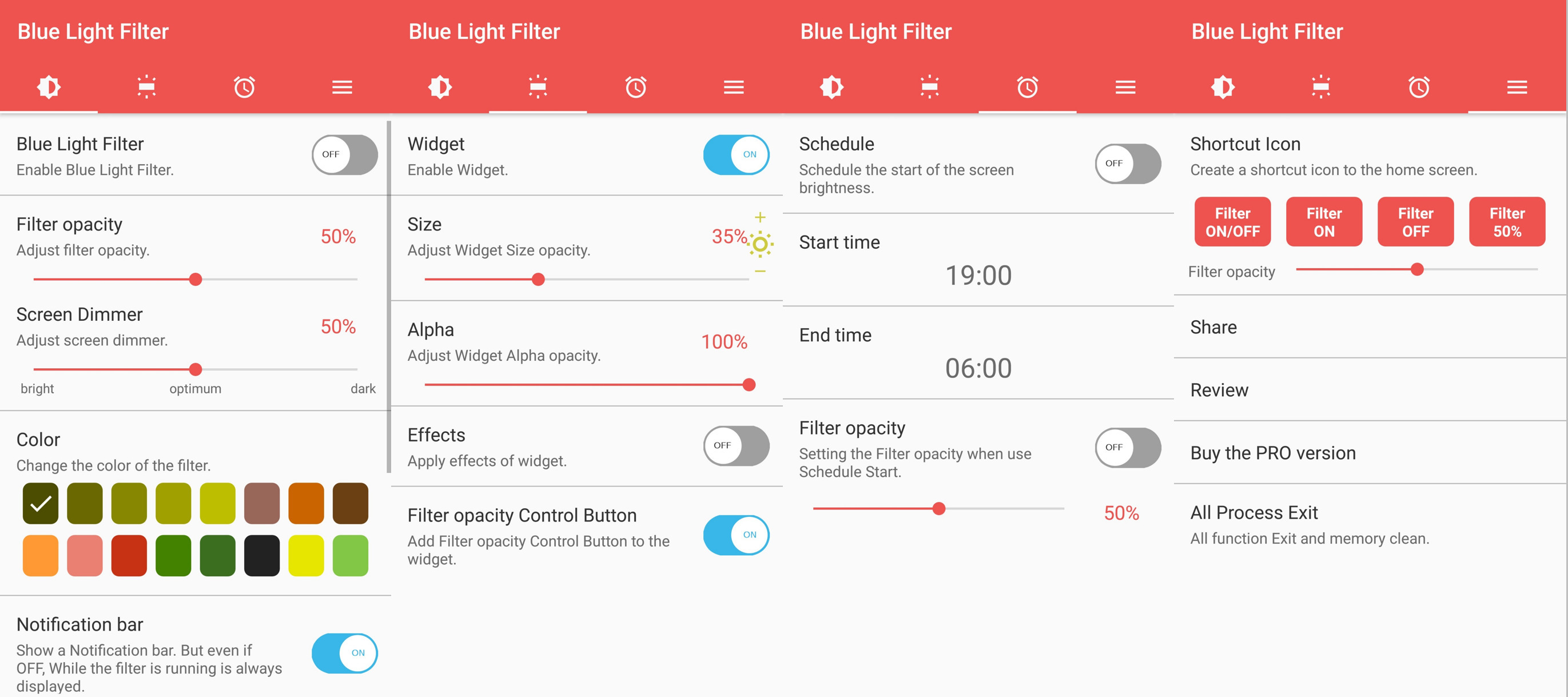 sFilter is another great night mode app that prevents blue rays, helps you sleep and saves your phone's battery. It has a simple and easy-to-use UI with a smart status bar. Apart from 18 colour filters, this app gives various customisation options for widgets and can create different types of shortcuts. You can schedule an auto start and stop timing with sFilter.
Features
Smart notification bar

Saves battery

Widget customization

Cuts blue rays and relieves the eyes

Schedule auto start and stop

18 different coloured filters

Adjustable filter opacity and brightness

6. Blue Light Filter (By Hardy-infinity)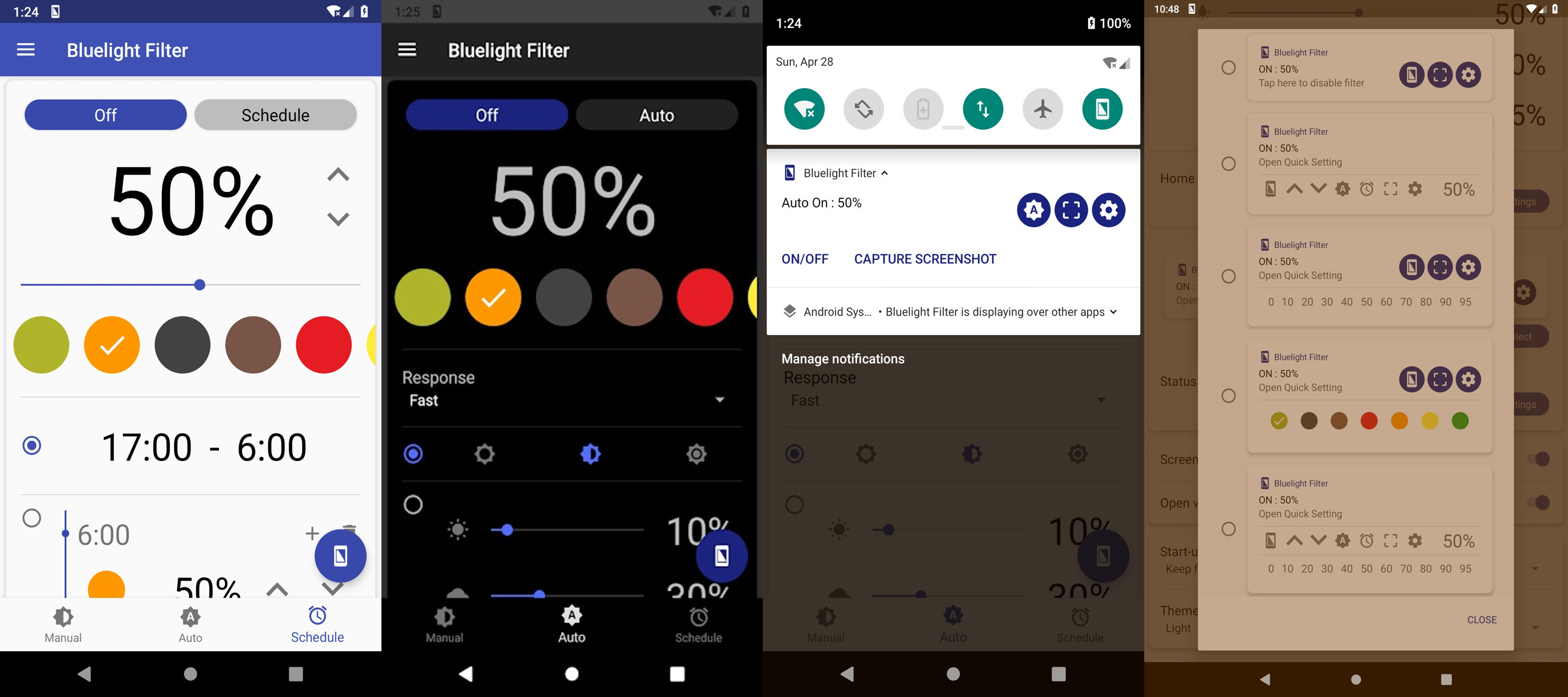 Protect yourself from eye strain and achieve a good sleep with Blue Light Filter that eliminates the harmful blue rays emitting from your screen. You get an adjustable screen dimmer with various coloured filters and a smart notification bar to control them without opening the app. It automatically adjusts the filters to external light and you can manually schedule it too.
Features
Auto mode

Schedule mode

Various coloured filters

Schedule the start and stop time

Adjustable screen dimmer

One tap Screenshot without filter

7. Eye Protector (By Courysky)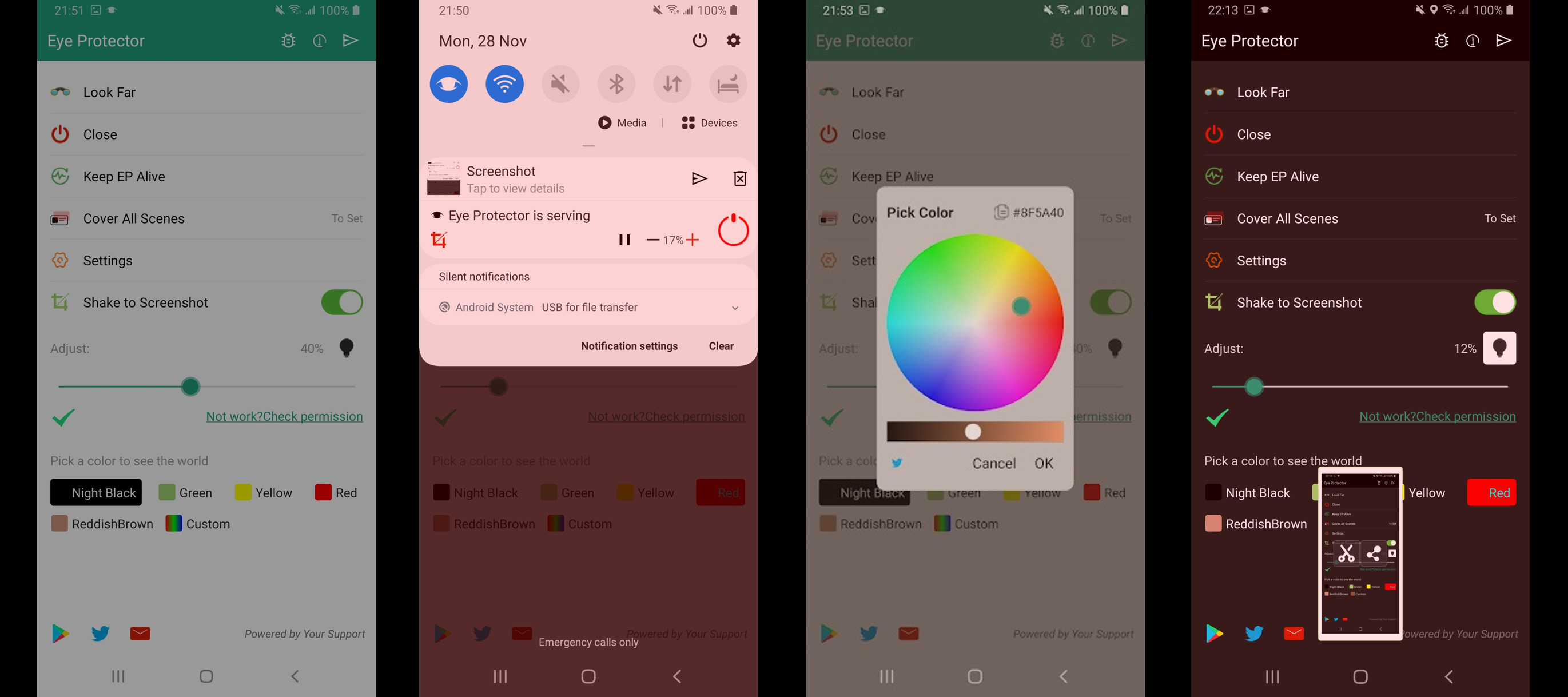 Make your eyes more comfortable with Eye Protector. It has coloured screen filters and you can choose any colour with which you want to use your phone. One interesting feature of this app this that it allows you to take screenshots by shaking your phone. Adjust your screen brightness and schedule the filters with Eye Protector. You also get a smart notification to the toggle filter.
Features
Adjustable screen dimmer

Custom colour filters

Shake to take a screenshot

Schedule auto-activation

Smart notification bar

8. Dark Mode (By TarrySoft)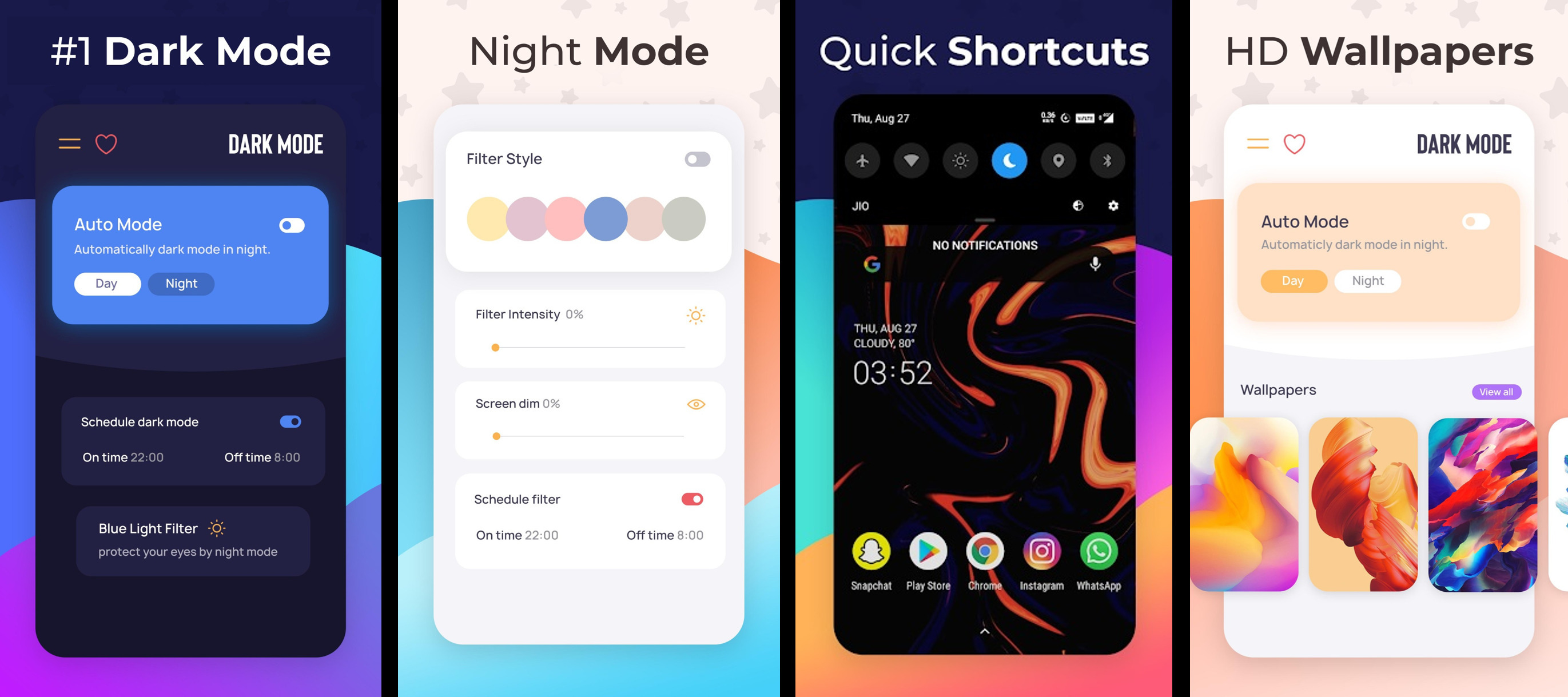 Dark Mode is another considerable night mode app that protects your eyes and improves your sleep. In addition to blue light filters and screen dimmer, you get some amazing phone wallpapers to download from the app itself. You can upgrade to the premium version of Dark Mode to access the filter scheduler and have an ad-free experience.
Features
Free trial of the premium version

Various filter styles

Adjustable filter intensity

Adjustable screen dimmer

Beautiful wallpapers

9. Nigth screen (By Arrows app)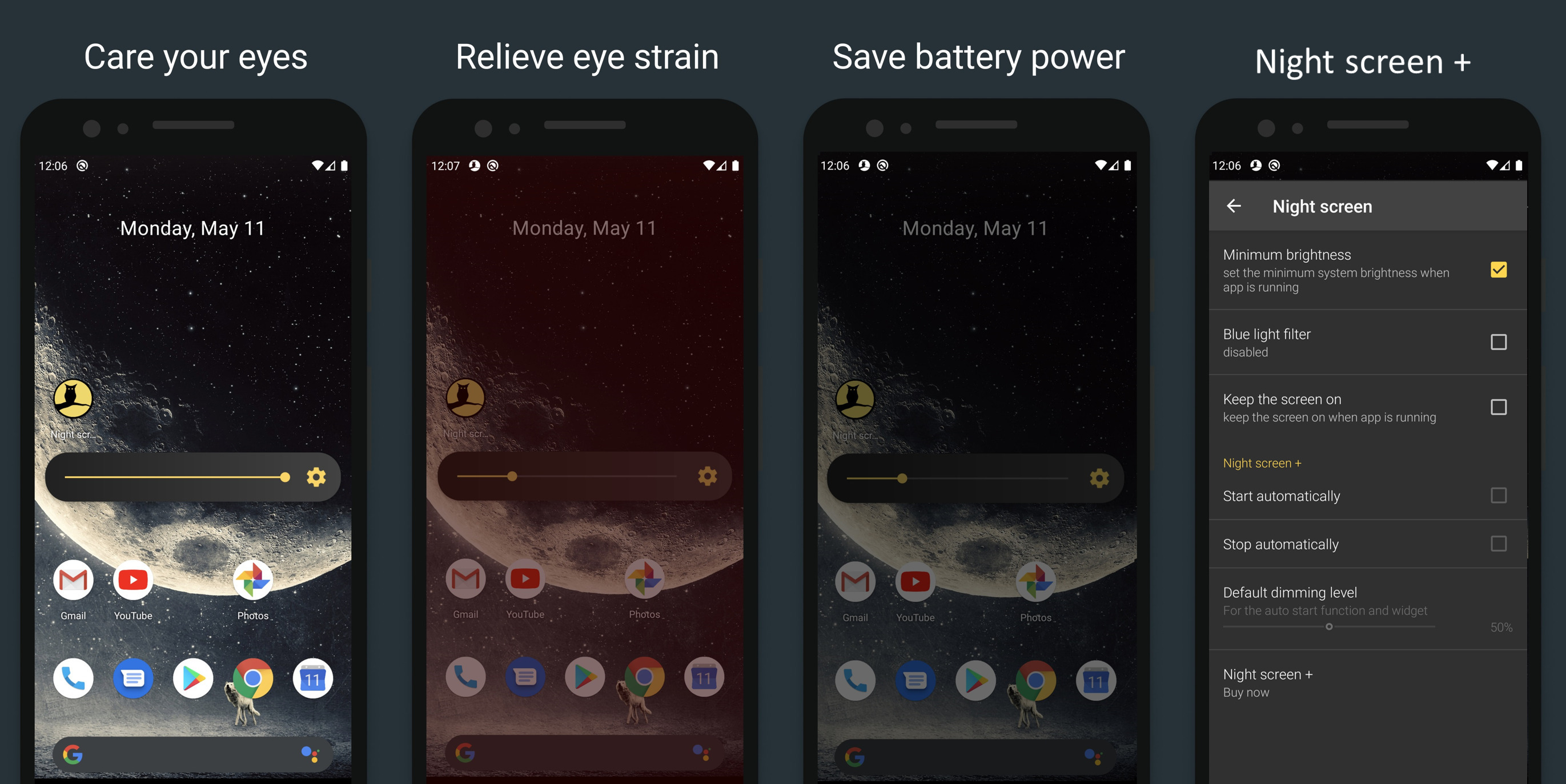 Night screen is the most simple and minimalistic night mode app that can lower your screen brightness than the system's default limit and enable the blue light filter to reduce strain in your eyes while you use your phone during bedtime. You also get the smart notification to toggle the blue light filter and screen dimmer. Upgrading to its paid version i.e. Night screen+ gives you the schedule start and stop feature.
Features
Simple and easy to use

One-click widget

Adjustable screen dimmer

Blue light filter

Smart notification

10. Night Filter (By Digipom)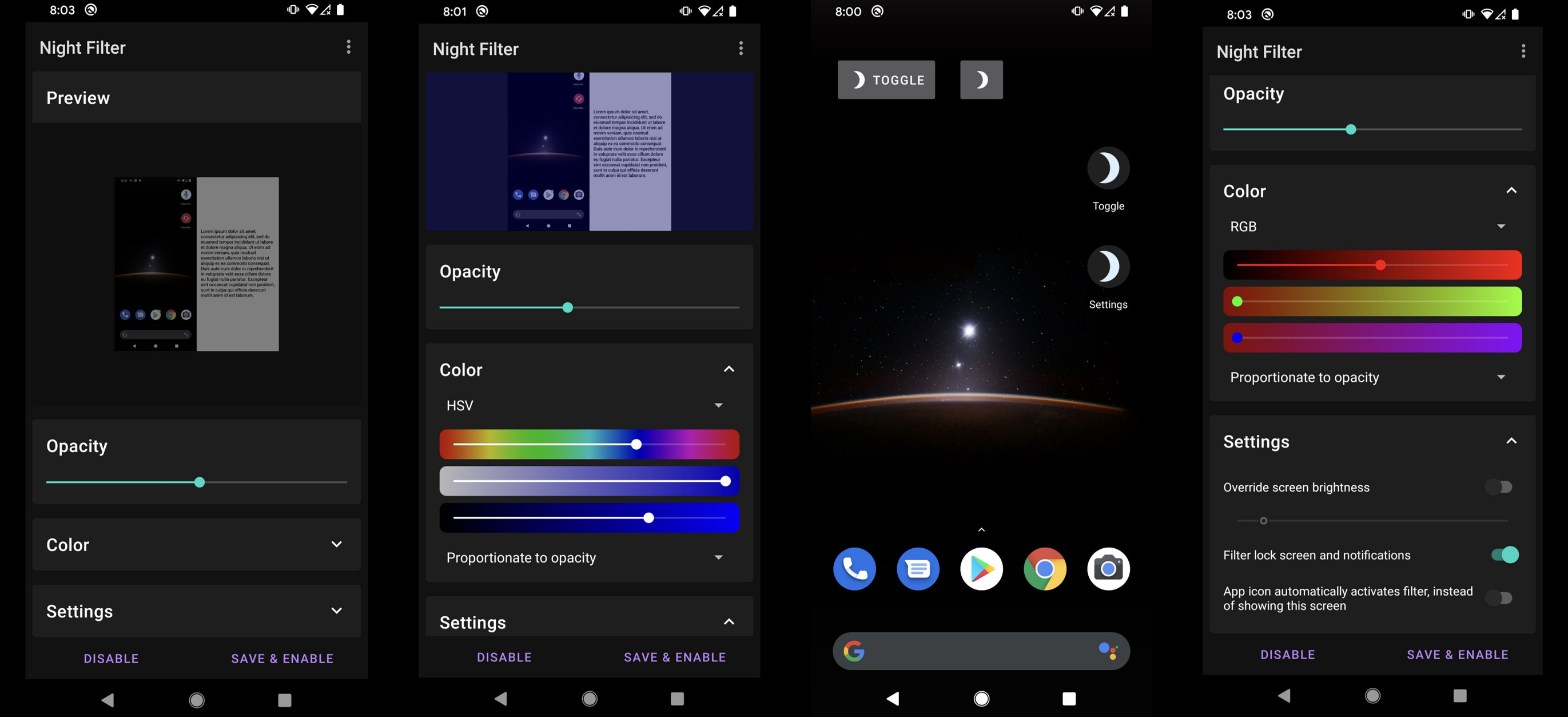 If you're a night owl, this Night Filter simply does the work of blocking blue rays and improving your sleep. It comes with adjustable opacity and screen brightness. You get full control of RGB to make a custom filter. You can schedule it or activate it by tapping the icon. This app can filter lock screens and notifications as well.
Features
Shows a preview of the filter

Adjustable filter opacity

Schedule start and stop timing

Adjustable screen brightness

Adjustable RGB values

Activate by tapping the icon