Find My Device - Find, Lock, Erase an Android Device
Nov 21, 2017
16459
Simran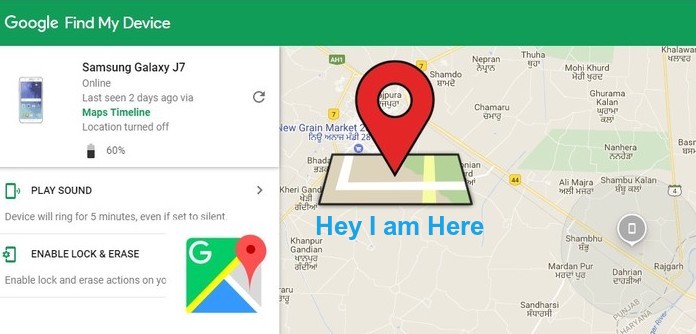 Lost or stolen your android phone? Now you can easily locate, remotely lock, and delete all data of your phone using Google Find my device feature.
In Find my device application a registered user can remotely locate the location of the phone when switched on over the internet. If your phone is not with you or you have lost it, then you can lock or erase all data on your phone easily so that your information is safe and secure.
About Find My Device
Google always comes with its best suite of services. Previously, Android Device Manager was used to remotely find phones using 'Allow remote factory reset' feature. Google's Find my device application is a part of Google Play Protect and gives you more features other than just finding the location of your Android device. It also shows you the remaining battery life of your device and the Wi-Fi network it is connected to. Here you will get all the relevant steps and instructions to use Find my device on web and Android device. There are two approaches to finding your lost device. The first approach is by using google website and the second one is by using Find My Device Android.
Steps to Locate Your Phone using 'Find My Device' website
There is also another option to locate your phone using Find My device website. For doing so, you sign in using the Google account which was used at the time of Find my device app set up. After some time, you see the Google map showing the location of your phone.

Google Find my device and go to https://www.google.com/android/find

Then you will be able to locate your device on google map. After doing this you can perform three functionalities using Find My Phone.

Play Sound

Enable lock with some message

Erase your device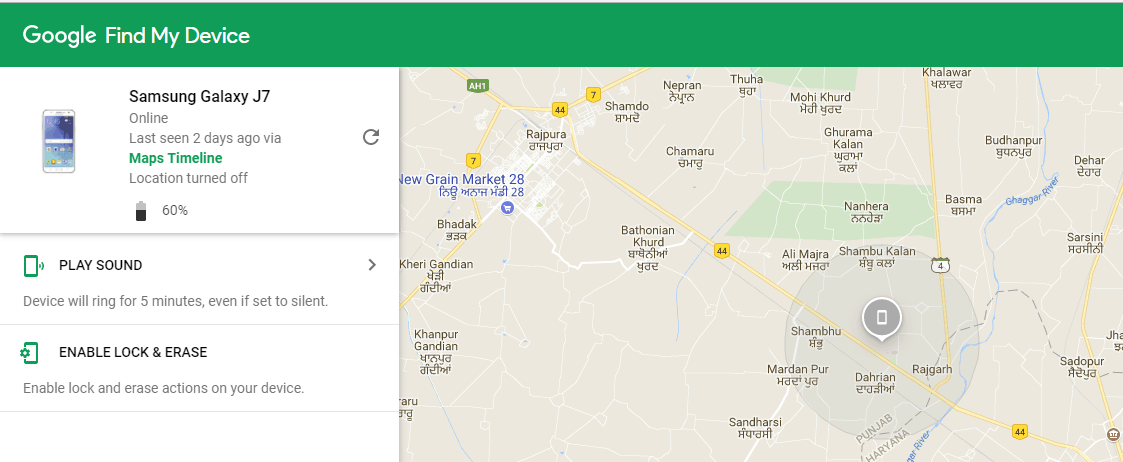 Steps to Locate phone using 'Find My Device' Android App
For Installing Find My App on your device then your device then your Android device must support Android 4.0 Ice cream Sandwich or above to install Find my device app.If your phone does not full fill these requirements and has enough storage for the application, then you can go with the other steps of installation.
Steps for installation Find My Device app
You just have to follow easy steps for installing find my device app on your android phone.

Go to Google Play Store and search for 'Find My Device' app or just click here.



Steps to Sign In to Find My Device
Once you are done with the installation, you will need to sign in using your Google account. In case of more than one Google accounts on your phone, you will get options to select the appropriate account. If you want to sign in using any other account, you can click 'Sign in As Guest'.

Open Find my device on your phone.
To check if your phone is able to locate using Find my Device
After signing in, you will see a screen with Google Map. It also shows the model and device name with your current location on google map. Below all this, there are three options-Play Sound and enable Lock and Erase.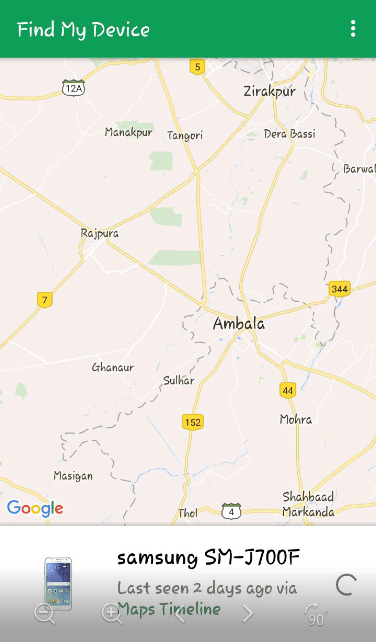 If you previously logged in using different devices, consequently you will see the list of all those devices in the list of devices at top of the screen.
Check if the location is enabled or not. Otherwise, it shows message 'device is unavailable'. Always keep location access enable because this app requires GPS to track the current location of the device.
To enable location access-
Go to 'Settings' and tap 'Location'.

Click 'Enable location Services'.
To use Play Sound feature in Find My Device
If you have lost or forget your phone somewhere, then this feature is best for you. The Play sound option plays the tone on your android device continuously for five minutes at full volume. It continues to play the tone even if you turn the ring off. After finding your phone, you can stop it at the click stop the ringing.
Open Find My Device app and locate your phone.

Your phone will start playing sound and you can click stop button to turn off the sound.
Locking Phone using Locate My device
Open Find My Device app and log in using google account.

Tap 'Enable Lock & Erase'.

Tap 'Lock' Option and you will be shown a screen with a message as an optional and mobile number, which are displayed on the lock screen.




Fill required details.


Click 'Lock' button.
To remotely erase device's data
If you have lost or stolen your phone somewhere and you are probably sure that you won't get your phone back, then this app's erase feature will help you.Without erasing or deleting all data from the lost phone, your data is always unsafe.Using erase option you can remotely delete all your data stored on the phone.

Open the app and log in using Google account.

Read instructions and click 'Erase' button.
Happy Reading!