Lost or stolen your android phone? Don't worry Google's Find My Device app helps you to find your Android device without any hustle. Google's Android Find My Device app comes with lots of features like you can easily locate, remotely lock, and delete all data of your Android phone using the Find My Device app.
In Find My Device app, a registered user can remotely locate the location of the phone when switched on over the internet. If your phone is not with you or you have lost it, then you can lock or erase all data on your phone easily so that your information is safe and secure. You can also see the battery and WIFI information as well. There are lots of other apps also available to track your Android phone but Find My Device is the best one among others because it's easy to use and comes with Google security.
Look at mobileunlocked.com if want to unlock your phone from its carrier like T-Mobile or AT&T.
About Find My Device App
Google always comes with its best suite of services. Previously, Android Device Manager was used to remotely find phones using the Allow remote factory reset feature. Google's Find my device application is a part of Google Play Protect and gives you more features other than just finding the location of your Android device. It's not necessary to use the Find My Device app when you lost your Android phone but you can also use this app if you are searching your phone inside your home and you are not able to find it then you can easily ring your android phone with the help of the Find My Device app feature.
Here you will get all the relevant steps and instructions to use Find my device on the web and Android device. There are two approaches to finding your lost device. The first approach is by using Google's website and the second one is by using the Find My Device Android app.
How to Set up Google Find My Device
You have to first set up the Google Find My Device on your Android phone before locating it from other Android devices or Google's Find My Device Web app. This is the one time set up that you need to do in your Android phone or tablet. Follow the below steps to set up the Find My Device and enable location on the Android device.
Open the setting in your Android device.

Scroll down and click on security and location > Find My Device

On the next screen, enable the Find my Device if it's off by clicking on it.

If your phone does not have permission to access your android phone location, then you will get the pop to enable the location permission on your device. Just enable it.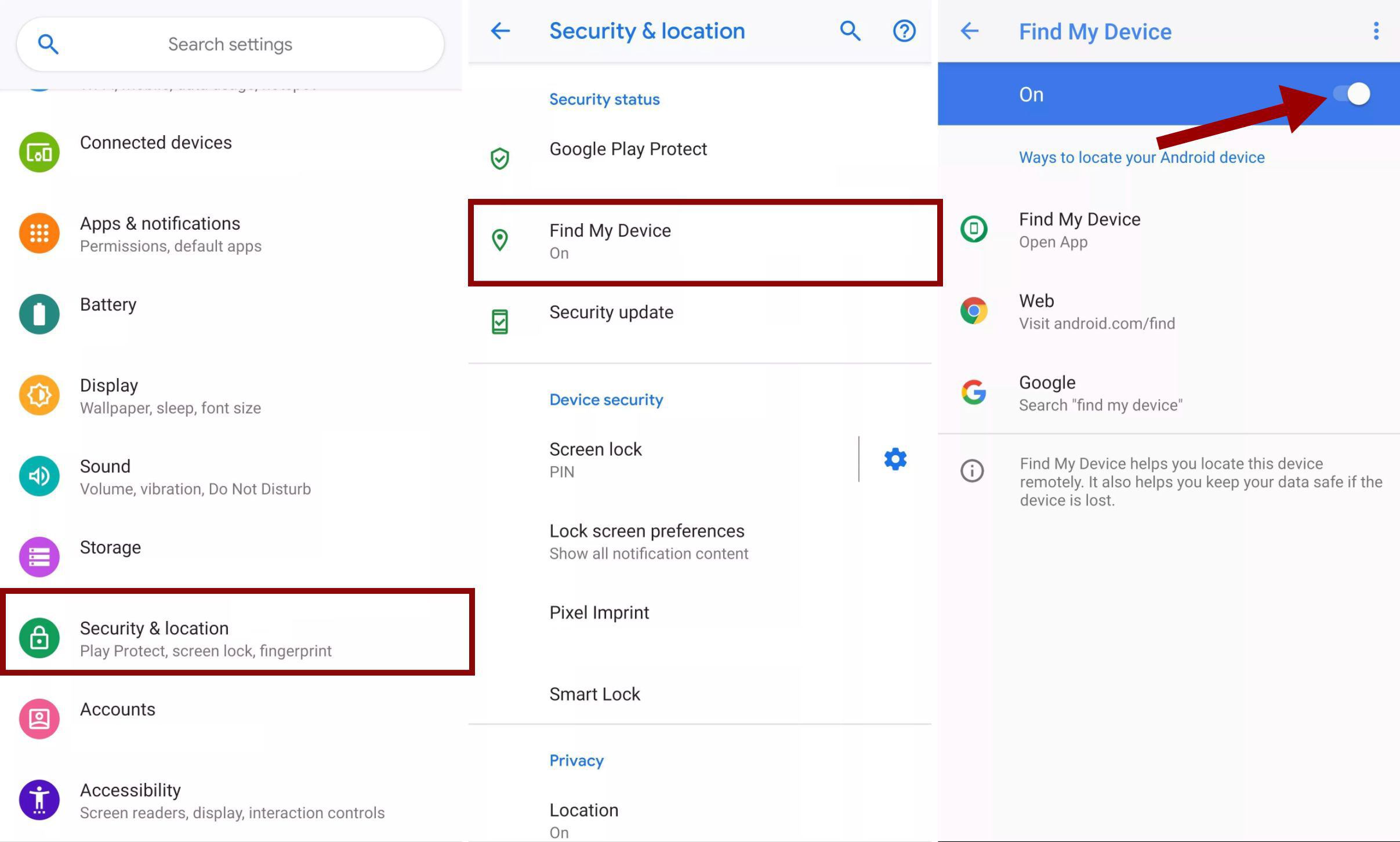 Steps to Locate Your Phone using Find My Device website
As I mentioned, you can find your android device with the help of Find My Device Android app or Website. So you can use Google's Find My Device Website to locate your lost Android device but you have to log-in to Google with the same credentials that were used at the time of Find my device app set up.
The first step is to go to Google's Find My Device Website.

Now you are able to locate your device on Google Maps, play sound, enable lock, or erase your Android phone data.

Play Sound: This feature play a sound from your Android device even if the phone is on vibrating mode.

Enable lock: You can use this feature to lock your android device with a message. You can leave your phone number in the message so if anyone found your phone and want to return it.

Erase Data: This feature you can only use if you think that you will not get back your phone then you can remotely erase all of your device data.
Steps to Locate phone using 'Find My Device' Android App
You can also use the Find My Device app to locate the lost Android device. The app must be login with the same Google account that the lost device logged-in.
For installing Find My Device app on your Android device, your device must support Android 4.0 Ice cream Sandwich or above. If your android phone or tablet is running with Android 4.0 or above version then you can proceed with further instruction to install the Find my Device application.
Steps for installation Find My Device app
The first step towards locating your Android phone is to install the Find My Device app on another Android phone. Follow the below steps to install the Find My Device app on your Android phone or tablet.
Go to Google Play Store and search for Find My Device app or just click here.
Steps to Sign In to Find My Device
Once you are done with the installation, you will need to sign in using your Google account. In case of more than one Google accounts on your phone, you will get options to select the appropriate account. If you want to sign in using any other account, you can click 'Sign in As Guest'.
Open Find my device on your phone.
Check if your phone is able to locate using Find my Device App
After signing in, you will have all the tracking information on the app. It also shows the model and device name with your current location on google map. You can see the current location of your lost Android device on the google map. Along with the current location, you can also see the three available options likePlay Sound, enable Lock, and Erase.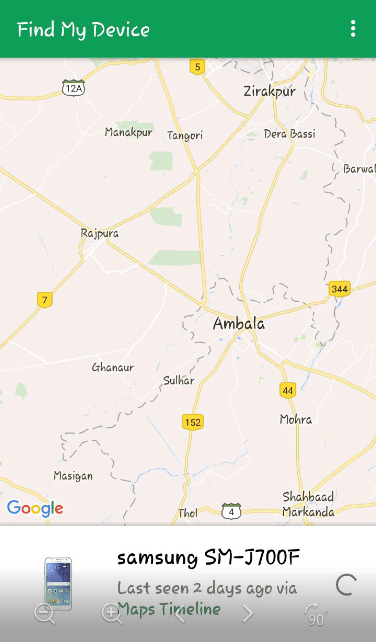 If you previously logged in using different devices, consequently you will see the list of all those devices in the list of devices at top of the screen.
Check if the location is enabled or not. Otherwise, it shows the message 'device is unavailable'. Always keep location access enable because this app requires GPS to track the current location of the device.
Follow the below steps to enable the location access on the Android device
Go to 'Settings' and tap 'Location'.

Click 'Enable location Services'.
To use the Play Sound feature in Find My Device
If you have lost or forget your phone somewhere, then this feature is best for you. The Play sound option plays the tone on your Android device continuously for five minutes at full volume. It continues to play the tone even if you turn the ring off. After finding your phone, you can stop it at the click stop the ringing.
Open the Find My Device app and locate your phone.

Your phone will start playing sound and you can click the stop button to turn off the sound.
Locking Phone using Find My device
Open the Find My Device app and log in using google account.

Tap 'Enable Lock & Erase'.

Tap the 'Lock' Option and you will be shown a screen with a message as an optional and mobile number, which are displayed on the lock screen.

Fill the required details and click on the Lock button.
To remotely erase the device's data with Find My Device app
If you have lost or stolen your phone somewhere and you are probably sure that you won't get your phone back, then Find My Device app will help you to erase the complete data from your stolen Android device. Follow the below steps todelete all of your data stored on the lost phone.
Open the app and log in using the same Google account.

Click 'Erase'.
Related Article: 10 Best Find My Phone Apps To Track Lost Or Stolen Android and iPhone Device
Happy Reading!