Android version in your smartphone comes with frequent updates. The latest Android version is always better than its precursor. It comes with better features and also with bugs fixed. Moreover, if you are lucky the additional features are also added. The best thing about updating the Android version never lets you get bored of the same look. The updated version also comes with a brand new look. Knowing the features will always want you to update the Android version. Moreover, if you are facing a problem with the software, knowing and updating the software version does help in solving it.
However, the updates for each Android device do not come all at once. It depends on the location. Eventually, your update will arrive even though it's late. Once the update has arrived you will get a notification on your Android device. In a parallel case, it can also happen that you have knowingly or unknowingly set the automatic installation of the update as soon as it arrives. You will not receive notification in such a situation.
To know if you have the latest Android version you will have to check it. And if there is an available update you can also update the Android version and install it very easily. All you have to do is follow these simple steps(Samsung M51 Used for demonstration) to first check the Android Version and then look for updates followed by installing it.
Related Article: How to stream audio from PC to Android via WIFI or USB Using SoundWire
Steps to Follow to Check the Android Version
The first step is to open your Android phone setting. To do this, just swipe down your Android notification panel and click on the gear icon.

Next, scroll down to the bottom until you find About Phone. Now tap on it to open about setting.

Now you will see all the information about your Android deviceincluding the Android software version.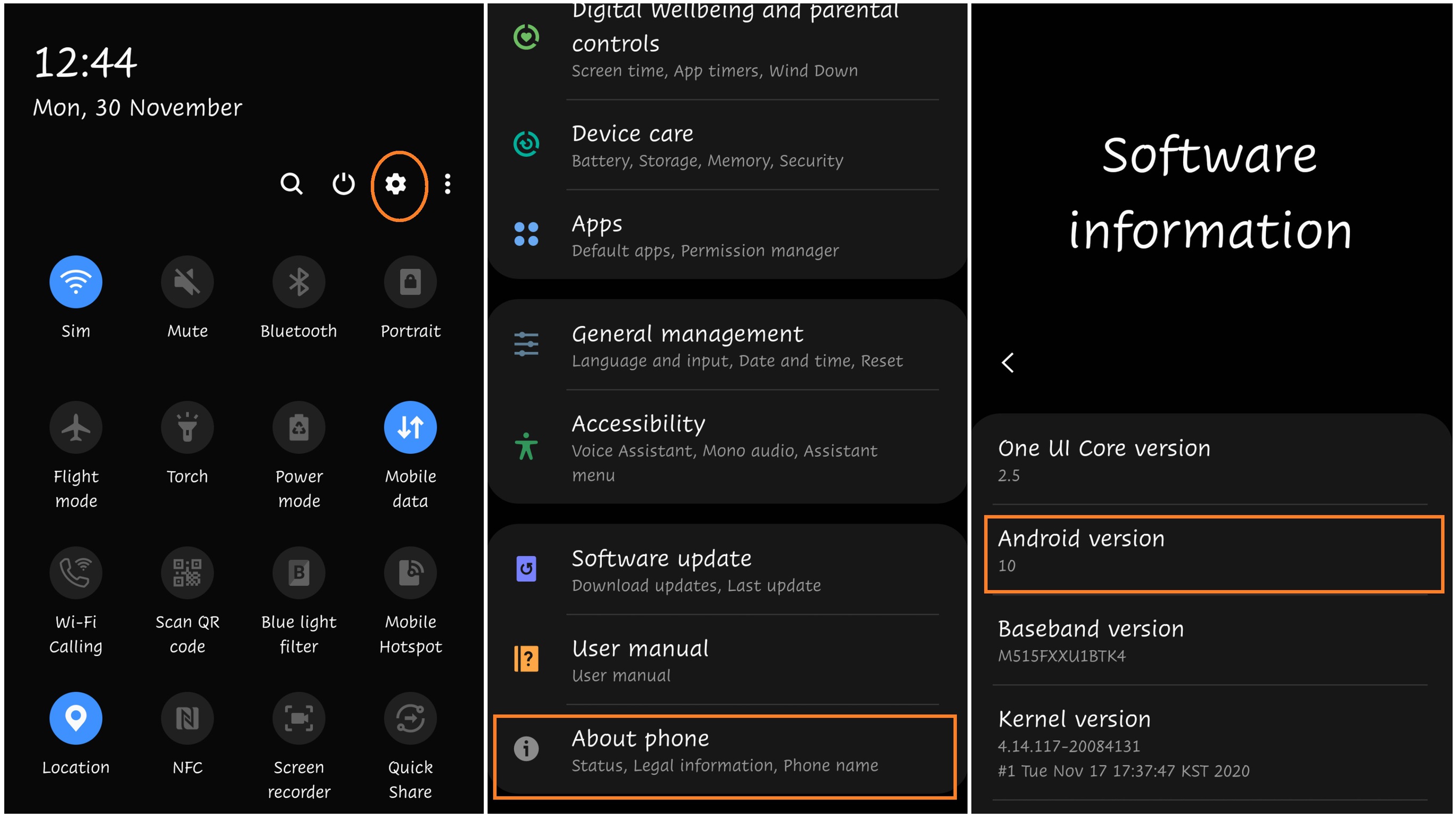 Steps to Follow to Update the Android Software Version
Swipe down on the home screen to open the notification panel. Tap on the Settings icon present usually on the right corner. You can open the setting from the app menu as well.

Scroll down to Software update and tap to open it. Now click on the Download and install.

The next screen will be open and you will see Checking for updates written on it.

If there is an update to be installed you will find an option to click on Update Now. And if your software is up to date "You software is up to date" will be displayed.

Software update information is also provided below it where you can check the patch level.
However, the steps to check the Android software updates are different for different devices. It also depends on the installed Software version on your Android device.
Note: An Internet connection is required to update the Android version of your smartphone.