What is ADB and Fastboot tools, How to Install and use it | Android Debug Bridge Utility
Feb 04, 2018
5766
Gulfam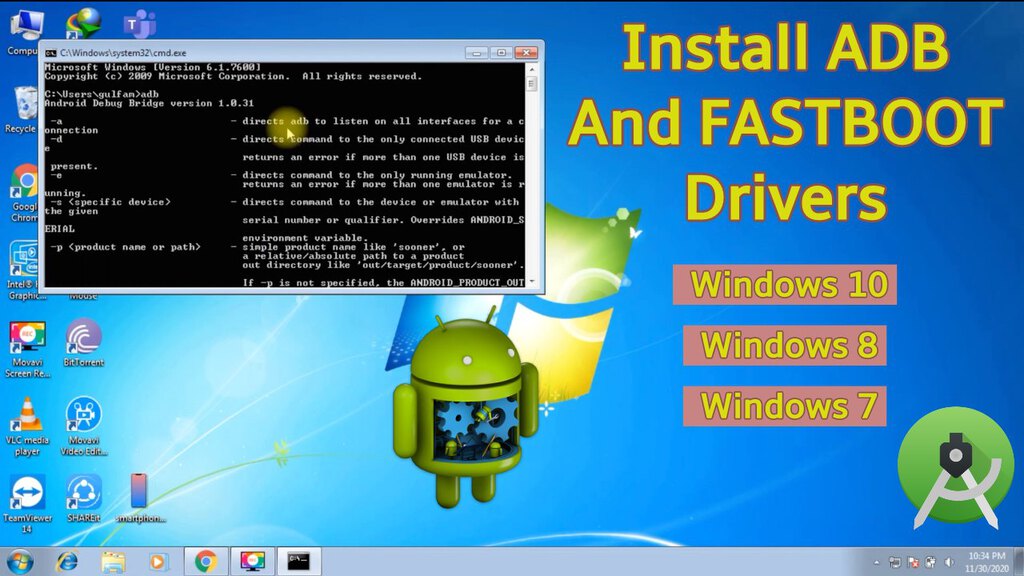 If you are using Android smartphones then you may know about ADB(Android Debug Bridge Utility). ADB is required to communicate your Android device through USB cable from your personal computers. PC sends the commands from your PC to Android through ADB command line. So ADB used to flash Stock ROM or custom recovery on your Android devices.
What is ADB(Android Debug Bridge Utility)?
ADB(Android Debug Bridge Utility) is a command line utility which is used to communicate with your Android device with PC. ADB helps to control your android smartphones using command line prompt. You can send files, install and uninstall applications on your Android phone using ADB( Android Debug Bridge Utility).
What is Fastboot?
Fastboot is generally are a diagnostic tool which is required to modify the Android system file system in Bootloader mode. They send the command to bootloader to install or modify the firmware in Android file system. So to install Latest custom or stock firmware or to install custom recovery you need to first install the ADB-Fastboot tool. The Fastboot tool is not for all device so check your device compatibility with the Fastboot tool.
Both of these tools (ADB and Fastboot) comes with Android SDK(Software Development Kit). But SDK contains a large number of files along with Fastboot and ADB so Google made it an easy way to get it as Android SDK platform-tools. Now its time to install and use ADB and Fastboot.
How to install and use ADB-Fastboot tools
1. Setup Android SDK(Software Development Kit) on Windows
The first step to install Android SDK platform tools. You don't need to download and install the whole SDK. You just download Android SDK platform tools which contain only ADB and related packages. For downloading Android SDK platform tools click here and goto the Android developer official website. Now scroll down to find Android SDK platform tools package. You have to just download that package according to your system and unzip it anywhere.
Now open the unzipped folder and run SDK Manager EXE for installing Android SDK platform tool in Windows (you have select only "Android SDK platform tools" checkbox). For installing Android SDK platform tools in Mac and Linux just download their package and install it accordingly.
If you have Nexus Smartphones then you should check the Google USB Driver along with Android SDK platform tools to installing the Nexus phone drivers.
2. Enable USB debugging on your phone
For connecting your android device with Android SDK platform tools you need to enable USB debugging on your Android device. If you know you how Enable USB debugging in Android device then click here.
3. Test the ADB
Now its time to check whether the ADB has been successfully installed not. In windows, open the Command Prompt in Run as Administrator. Now connect your Android device and run the following command.
adb devices
This command list the all connected Android device with your computer.
Note: If your device is not shown then you have to install your Android mobile drivers.
Happy debugging...