MediaTek vs Snapdragon processor: Which is better - DroidTechKnow
July 05, 2018
9663
Shreya Patoa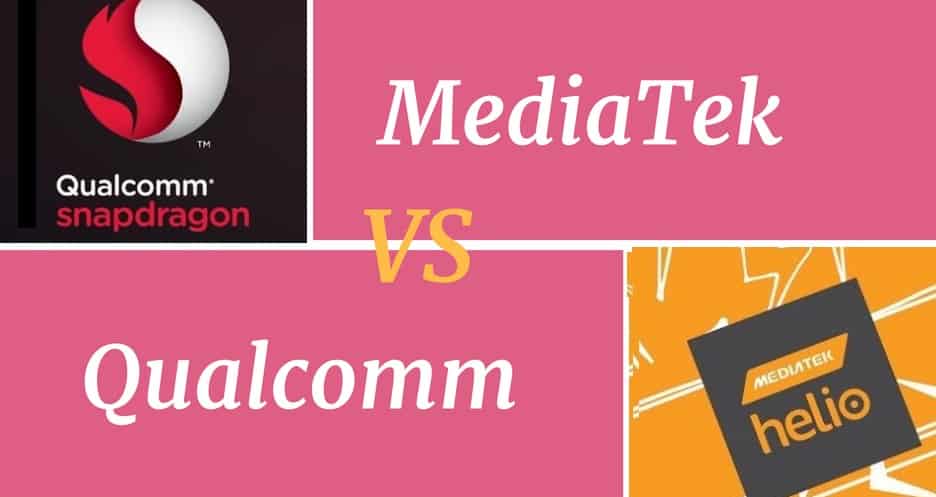 MediaTek vs Snapdragon processors is on our comparison list today. Did you check out our Qualcomm vs Apple processor comparison by the way? The results are not what you expect when you compare the two technology giants.
To keep things relevant, we are comparing Helio P60 and Snapdragon 845.
What is a processor?
It the CPU chip that makes your phone do what it does so smoothly. The process takes the inputs you give to the phone and processes it, in order to provide you with the desired output. It is the brain of the device.
MediaTek Helio P60 vs Snapdragon 845: a comparison
| | | |
| --- | --- | --- |
| SoC | Qualcomm Snapdragon 845 | MediaTek Helio P60 |
| CPU | 4 Kyro 385 Gold (A75 derivative) @ 2.8 GHz 4x256KB L2 4X Kyro 385 Silver (A55 derivative) @1.77 GHz 4x128KB L2 2MB L3 in DSU | 4 x Cortex @2GHz 4 x Cortex A53 @2.0GHz |
| Memory | 4x 16-bit CH @1866MHz LDDR4x 29.9GB/s 3MB system cache | 1x32 bit LPDDR3 @ 933 MHz 2x16 bit LPDDR4X @ 1800MHz |
| GPU | Adreno 630 | ARM Mail-G72MP12 @800MHz |
| Encode/ Decode | 2160 10-bit H.265 720p480 | 2160p30 H.264 HEVC |
| Integrated Modem | Snapdragon X20 LTE (Category 18/23) DL=1200Mbps 5x20MHz CA, 256-QAM UL=150Mbps 2x20MHz CA, 64-QAM | Category 7/13 DL= 300Mbps 5x20MH CA, 64-QAM UL=150 Mpbs 2x20 MHz CA, 64-QAM |
| Camera | Dual 14-bit Spectra 280 ISP 1 x 32MP or 2x 16MP | 1 x 32MP or 2 X 20 + 16MP |
| Mfc. Process | 10nm LPP | 12FFC |
Let's dig deeper into the MediaTek vs Snapdragon processor difference.
What is a SoC?
Every addition of technical primitives makes the SoC. For example, SoC of a traditional chip can be written as:
SoC= CPU+GPU+ Camera... and so on.
Long story short, we want the best from technology, hence we want the best SOC. From the table above, we can understand SoC for the said MediaTek and Snapdragon processors in detail.
Analysis:
Both the processor produces giants have established themselves in the market over the years. However, in comparison of market hold, Snapdragon beats MediaTek's hold by a whopping 41% market hold, where MediaTek holds only 18% market share.
The SoC architecture in the Snapdragon 845 is a phenomenal competitor to other mobile processor manufacturers.
In Snapdragon's 845 processor, several CPU cores are utilised in a single cluster, else done singularly traditionally.
The 3 MB system cache facilitates the said seamlessly. A reduced power consumption by the chip boosts the performance by 15%. The power efficiency, as a result, elevates by 30% in comparison to its predecessor processors. Snapdragon's 845 processor facilitates 4K video capture and playback, which is getting on board with the new trends in consumer usage. The gamut colour recording is promised, and hence  HDR10 HEVC recording is as easy as eating cake.
The multi-frame processing is a bonus on this processor. This translates to Google's HDR+ proprietary processing, which is set to uproot conventional uses which will make users utilize their mobile devices like never before.
Also, the download speed is set to be 1.2Gbps when in a 5x20MHz downstream carrier aggregation mode.
Now let us look at what MediaTek's Helio P60 has to offer. The 12nm process node made from TSMC is a jewel to what MediaTek is set to manufacture.
TSMC's new 12nm 12FFC process node was the first to be found in the Taiwanese mobile chip manufacturer, MediaTek's processors, in competition to other processor manufacturers.
It uses four Cortex A73 cores at up to 2.0GHz and other four power-efficient A53 cores clocked at the same frequency. It uses a big.LITTLE configuration. It also comes with AI processing units, to survive in the market's demands.  Dual-camera operations are also supported by the processor, and taking crisp pictures up to 20MP is handy. Not only this, a user can also record in 4K resolution. What's good about it is, that the processor isn't an expensive addition as compared processors who offer similar features.
MediaTek's Helio P60 is the first to produce multi-core AI processing unit! 
Object recognition and performance enhancement hence are child features to its outcome. LTE is supported up to category 7, which means that up to 150Mbps upload speed can be enjoyed by the user.
Our verdict:
MediaTek's Helio P60 isn't the fastest processor in the race. It, however, compensates for it, by introducing other features before anyone else in the world. But what benefit is it to a user, if a wait time is beyond expected in present date. This is where Snapdragon's 845 aces the race. It also brings in what actually the user desires, thanks to its huge market-capture and potentially huge market-research facility as a direct outcome. AI is gaining momentum and Snapdragon may make advancements as analysed by its current progress bar. However, in terms of performance, who emerges as a winner is still open for debate!
We'd love to know what's your take on the matter. Reach us at our socials or the comment box.