Let us all agree that at some point we book nerds have faced a situation where our book recommendation reserve ran dry. It surely is frustrating to search for that one perfect book to dive into for the long weekend. But not finding one is a bummer! Thankfully, there are book suggestion websites offering to help. To help further, I have made a list of the best book recommendation websites or apps you need to know.
Related Article: Top 10 Free Data Science eBooks To Get Started With Artificial Intelligence
List of 10 Best Book Recommendation Websites Or Apps
1. Goodreads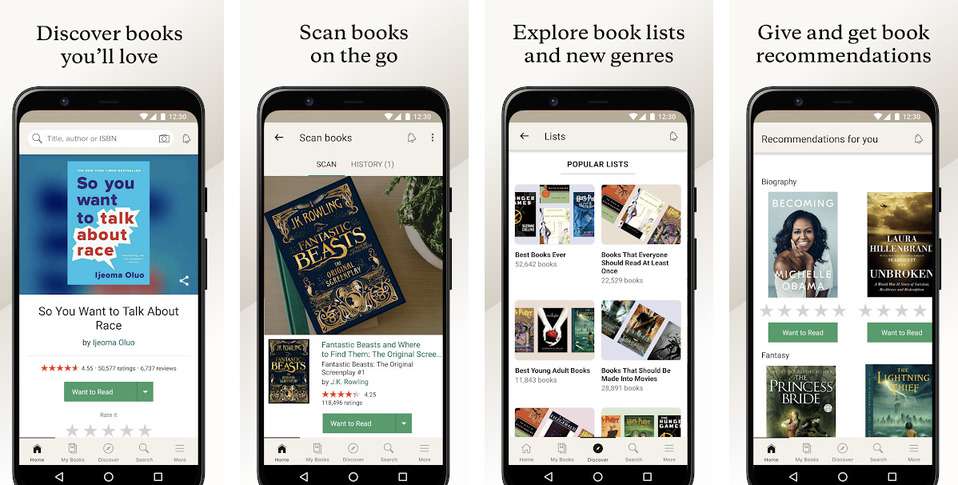 The first in our list of best book recommendation websites is deservedly Goodreads. Goodreads is more than a book recommendation website, it is a brand. It has its own major book awards that are decided by readers. It suggests books on the basis of your previously read books. However, if you are new to Goodreads, it will suggest books on the basis of titles and genres you have enjoyed in the past.
In addition, you can download the Goodreads app for your Android and iPhone as well.
Features
Goodreads Choice Awards announces the best book of different genres that are decided by readers.

You can create an account in Goodreads to keep a check of your reading activities.

Find out what your friends are reading and discuss your favourite and least favourite books with them.

Get suggestions of a variety of categories like Best for Book Clubs, Best Crime and Mystery Books etc.

With the Goodreads app, you can scan barcodes of books to get a quick review.

You can keep a want-to-read list and also review and rate books.

Moreover, you can recommend books to your friends as well.


2. LibraryThing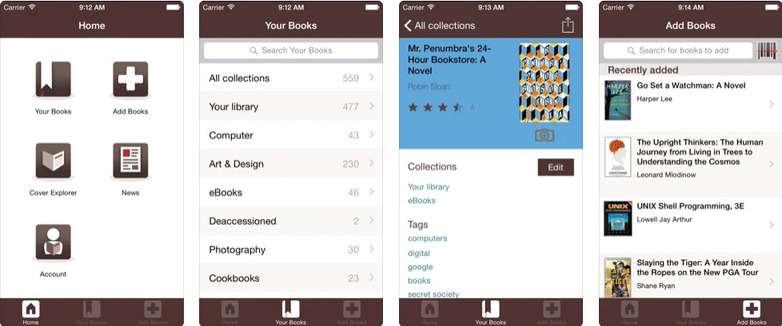 LibraryThing is a community of 2,550,000 book lovers. It can be called the Facebook of book nerds as the site lets you display your digital library for other users to see. It is an impressive cataloguing app that connects like-minded readers. The Wall Street Journal called it "MySpace for bookworms" and rightly so! Through the libraries in other user's account, it becomes very easy to choose the next book.
Features
With LibraryThing, you can catalogue your books from Amazon, the Library of Congress and 4,941 other libraries.

You can catalogue movies and music as well.

The platform is entirely free where you can find new books to read.

You can connect with other committed bibliophiles and talk about what you love.

The platform gives you the amazing ability to track and lend your books as well.

LibraryThing, one of the best book recommendation websites is available in many languages for users from all over the world.

You can rate and review books as well.

Add books by searching for them or scanning their ISBN barcode.
Go to the LibraryThing website.


3. EPIC READS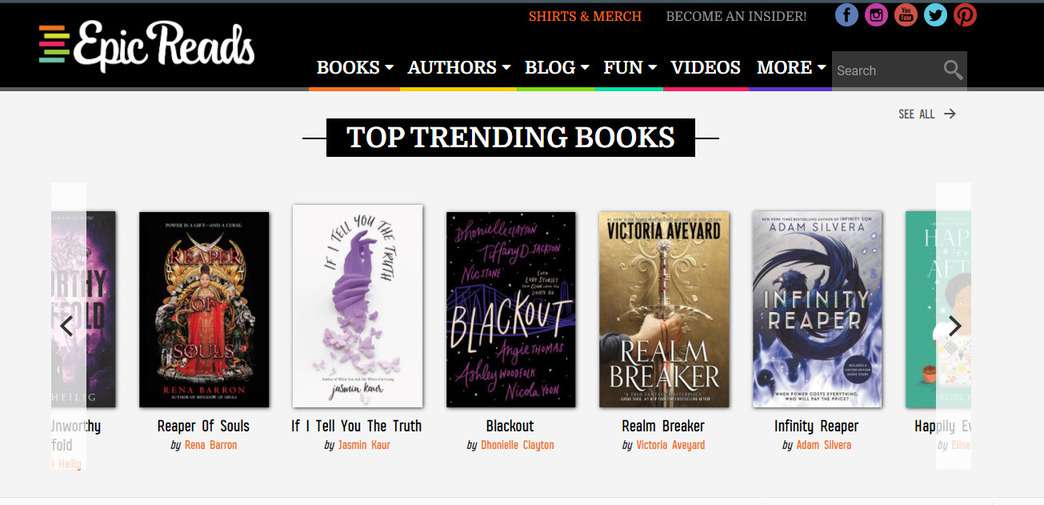 Epic Reads is one of the best book recommendation websites, especially for young adults. This site has everything that will attract a book lover. Not only does it recommends books but also offers fun content like quizzes, videos, design etc. You can search for books on the basis of genre, author, top charts and many more. Epic Reads has amazing categories like Books with a Strong Female Lead, Most Anticipated March Reads, Books based on Black Lives and many more. With categories as these, it's no wonder that Epic Reads is the best suggestion website for young adults.
Features
The platform hosts events where you can meet book lovers and authors in real-time.

Read blogs on news, quizzes, pop culture, the book community and many more.

Sign in to become an Epic Read insider and join the mightiest group of book nerds around.

In the Trending category, see what's trending in the Epic Read universe.

Buy merch from Epic Read and be a true book nerd.
4. Bookish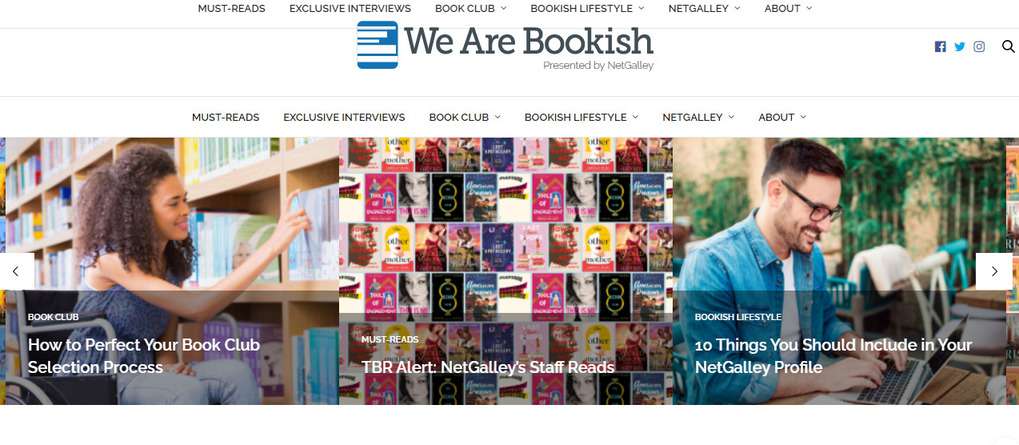 Bookish also called We Are Bookish is the editorial blog for Netgalley members which aims to present an independent voice to highlight books and a bookish lifestyle. The website has five tabs Must Reads, Exclusive Interviews, Book Club, Bookish Lifestyle and NetGalley. It is one of the best book recommendation websites if you are someone who likes to read the author's interview before choosing a book.
Features
Get book recommendations on the basis of what you have read in the past.

Bookish also recommends books on the basis of categories like 2022's must-read YA novels according to YA authors, April's most anticipated books and many more.

Read exclusive interviews of authors, fellow NetGalley members and publishing professionals.

Know Social Media Tips from the website on how to be a successful book influencer.

You can also create your own bookshelf on the website.
5. Whichbook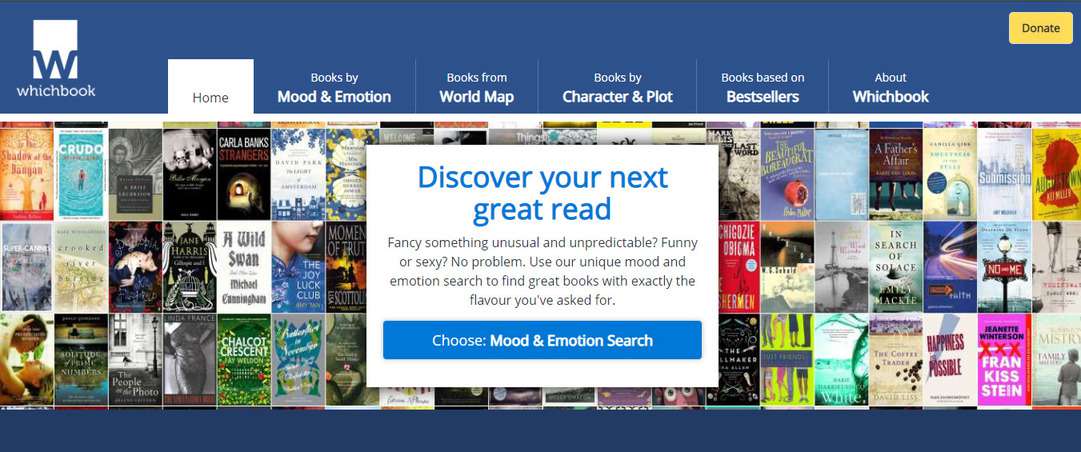 Whichbook is a book suggestion website that recommends books on the basis of two categories: Mood and Emotion, Character and Plot. It is a new and unique feature not found on other websites. Under Mood and Emotion, choose between beautiful and disgusting, gentle and violent, easy and demanding, convention and unusual. Under Character and Plot choose the age, sexuality and gender of the character.
Features
Has a collection of more than one million books by authors from all over the world.

Use the Mood and Emotion search to find great books with exactly the flavour you have asked for.

Choose books from the world map. Spin the globe and choose a book by the country it is set in.

Search books on the basis of their bestselling ability.

Share a book with friends and families via social networking platforms.
6. Likewise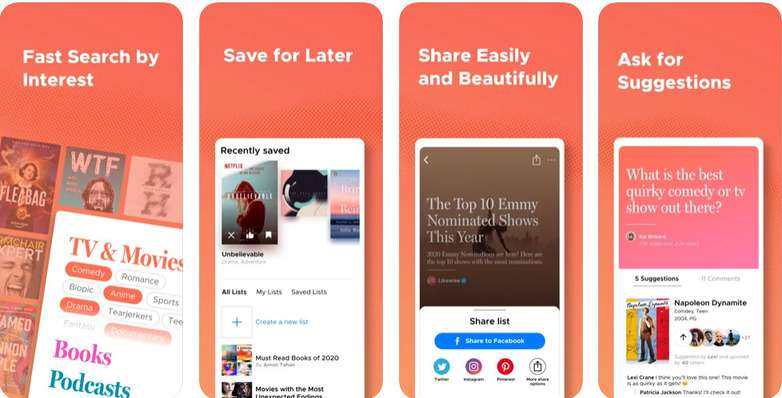 Likewise helps you easily discover and share new recommendation not only of books but also movies, TV Shows and podcasts. The application recommends you on the basis of what you recommended in the past. The more you recommend, the more the algorithm gets the data and your recommendations get closer to your preferences and favourites. You can also get recommendations from people who have the same interest as you.
Features
Get personalized and fresh recommendation every time you log in to the website and app.

Search for your favourite book, movie or series and filter by streaming services, genre and more.

Connect with like-minded people and give as well as get great recommendations.

One of the best book recommendation websites, in Likewise all recommendations are sourced by real people. There is no paid placement and ads whatsoever.

Have discussions about books, movies, tv shows with the Likewise community.


7. Olmenta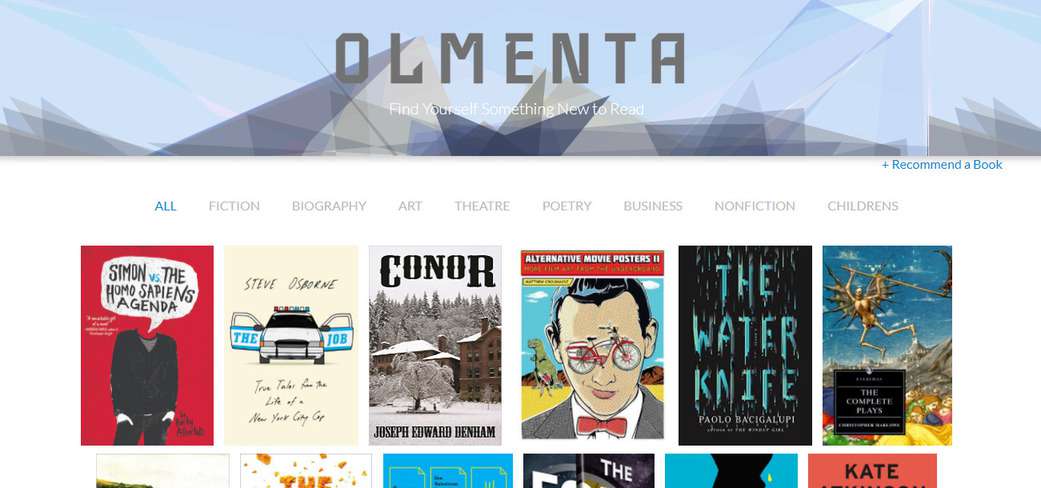 Olmenta is another one of the best book recommendation websites if you do not want to create an account or create book lists on a website. It is a very simple and basic book suggestion website. The recommendations aren't personalized either.
Features
Search for a new book instantly from this website.

No need to create an accurate. Just open the link and search for books

Click on a book and read a short summary to make a decision.

Olmenta has books links to Amazon. So, if you like a book and want to buy it then do it directly from the website.

You can also recommend a book via Twitter directly from this app.
8. TBR or Tailored Book Recommendation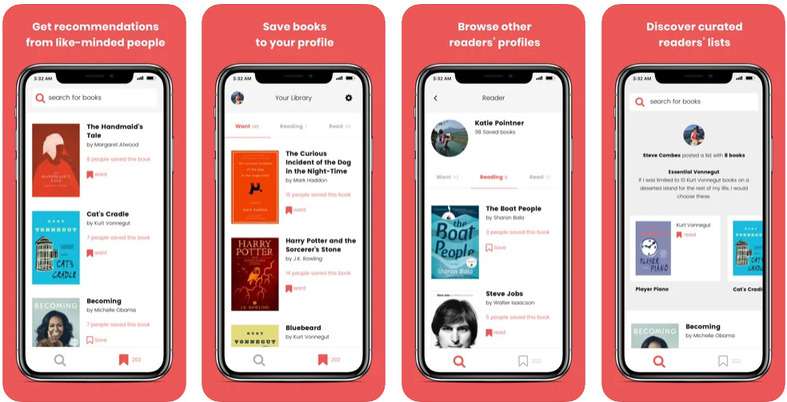 TBR is a subscription service of Book Riot where you will get paired with a professional bibliophile who will create a tailored made book recommendation for you. You just have to tell your reading habits and what you are looking for. Then you will have to select the plan that best suits you. You can choose between a hardcore plan and a recommendation only plan. The recommendation-only level costs $16 per quarter or $52 billed annually.
Features
Get recommendations from like-minded people.

Discover curated reader's list for more advanced search.

Read reviews of books and choose from there.

Search for other readers who might be your friends and family and see what they have recommended.

9. BookBub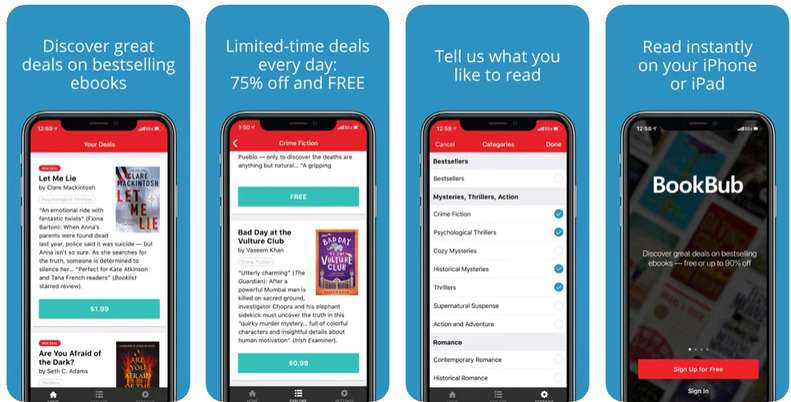 BookBub requires you to sign in from either an email address or from your Google account. The platform helps you to discover deals on bestselling ebooks. One of the best websites for the book recommendation, with BookBub you can also get the best free and deeply discounted books matching your interest. Moreover, the app also provides limited time offers on books every day.
Features
Get personalized recommendations of a selection of discounted titles that are handpicked to match your reading taste.

Get free ebooks daily and enjoy hours of reading for less.

The platform has deals available at all major retailers. Buy books directly from the BookBub app and the book suggestion website and read on your phone, tablet, Kindle or any other preferred device.

In addition, BookBub will also notify you when a book you want is on sale, or an author you love has a deal or a new release.

10. BookSloth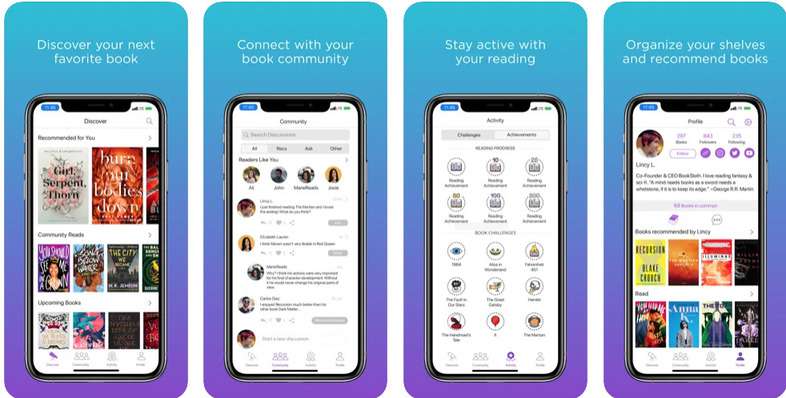 With BookSloth, you will get the best personalized reading experience and will be connected with readers to share your love for books. BookSloth is one of the best book recommendation websites that will recommend you books on the basis of reading habits and preferences. Moreover, you can also browse curated lists that feature best-sellers, top-rated ad others.
Features
Connect with the BookSloth community and join or start discussions on your favourite books.

Join the reading challenges and earn bookish achievements by reading top classics and adding books.

In the Dashboard, you can keep tracks of books you want to read, currently reading and you have read.

Track your reading progress and update your current reading status.

Rate and reviews books and give them badges, stars and comments.

Share your favourite books with your friends or family and recommend books as well.