Identifying random colors and knowing their name is a difficult task. We have all come across colors in dresses, walls, or pictures and fell in love with them. But it becomes really frustrating when we are unable to identify their names. However, there are some apps that specialize in identifying colors and their names. Here, we have made a list of the top 10 best color identifier apps for Android that will help us know the name of the colors.
Must Read: Top 10 photo editing apps in Android
List of10 Best Color Identifier Apps for Android
1. Color Grab (Colour detection)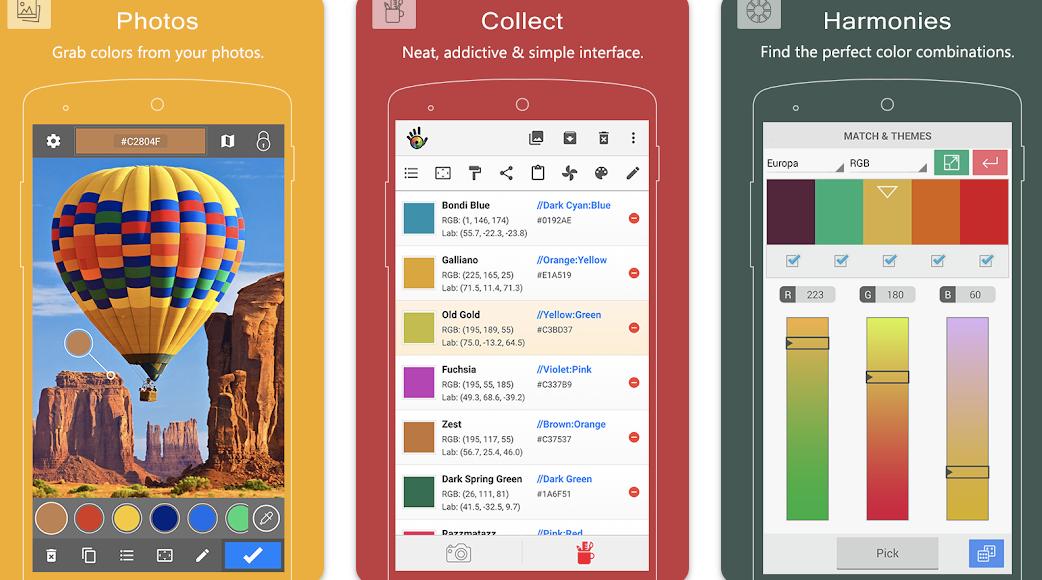 If you are a designer, artist, professional, developer, scientist, or color blind then Color Grab is one of the best color name identifier apps for your Android devices. With this app, you can recognize any color and learn about its names. Moreover, you can also find color names from images and mix it with its Colors Blending tool. Moreover, the app supports the most common color models, for instance,RGB, HEX, HSV, LAB, and many more. You can also find the perfect color combinations for your projects, room makeovers, etc. The app lets you export to popular applications such as Photoshop, Illustrator, Excel, CSV, PaintShop, Gimp, Inkscape, AutoCAD, Datasheets, etc.

2. Color meter Free- Live colors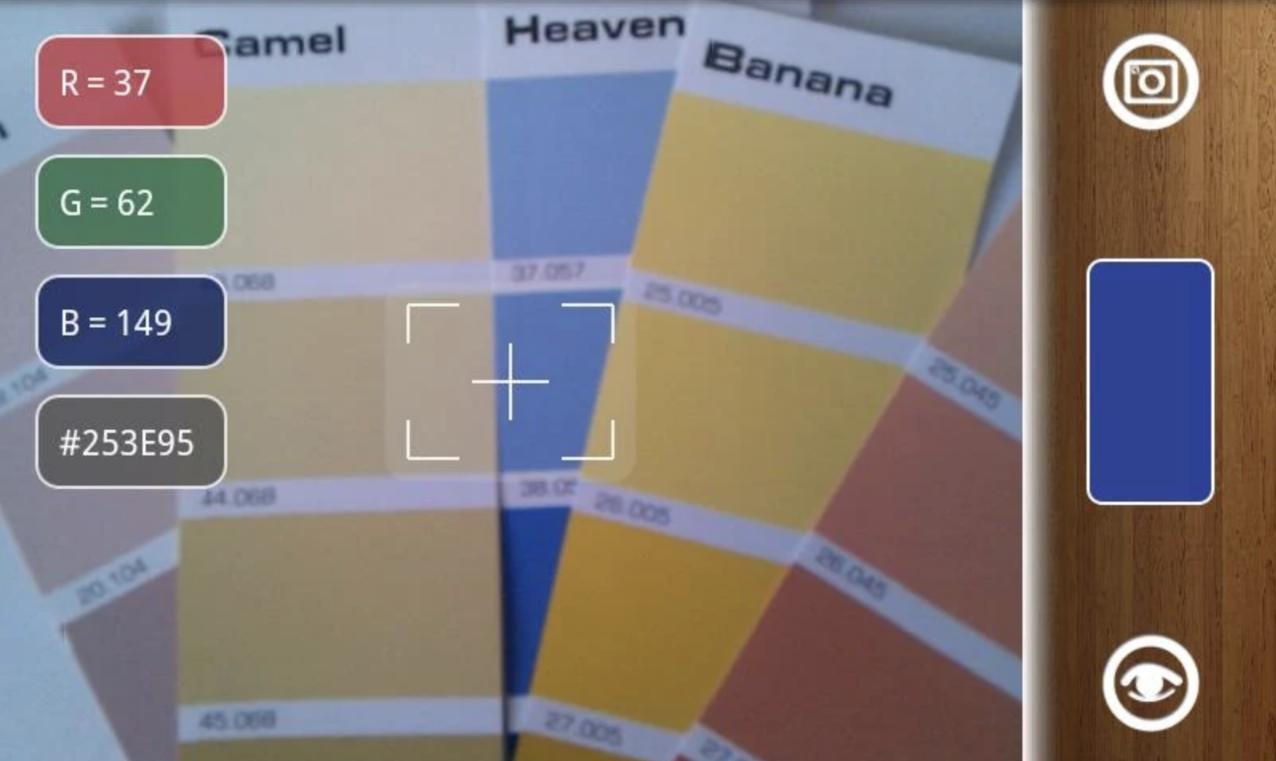 Color meter is a free camera color picker tool that allows you to pick live colours around you. It displays RGB color on the screen and the hexadecimal (HTML) color code used in graphics, web design, or photo editors. Make snapshots to analyze color in real-time. Moreover, long touch on the color bar will set the chosen color as your phone wallpaper. However, it is only through the paid version that you will get advanced features like load pictures from the gallery, CMY color model, save delete and preview colours in the color palette, etc.

3. ColorSnap Visualizer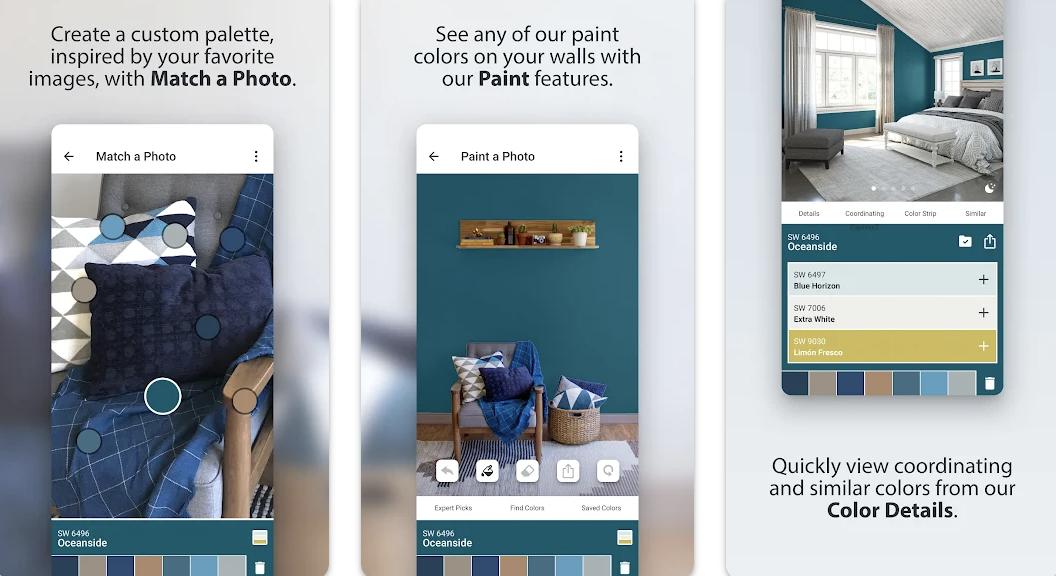 WithColorSnap Visualizer's Paint features, you can use augmented reality or a photo of your space, and tap the wall to change its color instantly. You can instantly see Sherwin-Williams color on your walls in real-time. One of the best color identifier apps, it has three tabs at the bottom of the screen Explore, Paint and Resources. With Explore, you can see all colours on the digital color walls, match a photo or scan a color name. Use Paint to see color in context or paint a photo. In Resources, you can find a store, figure out how much paint you need and log into mySW to see any colours you've saved. Other features let you click a photo or select a photo from the gallery to see color details like its name, where to find it in their stores, and which color compliments it.

4. Color detector by Mobialia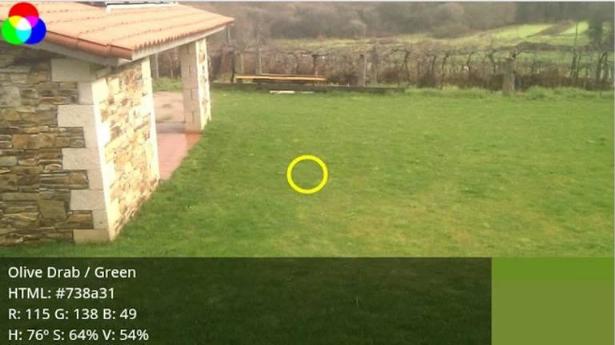 Color detector by Mobialia is most useful for people who are color blind. It has a list of more than 1600 color names. To know the names of the color or to recognize a color, you just have to take a photoand the color on the center is shown on RGB, HSV, and HTML notation. Moreover, the app also looks for the nearest colours and speaks their names. It needs the Speech Synthesis API to speak the color names. You can also share recognized color names on Facebook, Twitter, Email, etc.

5. Image color identifier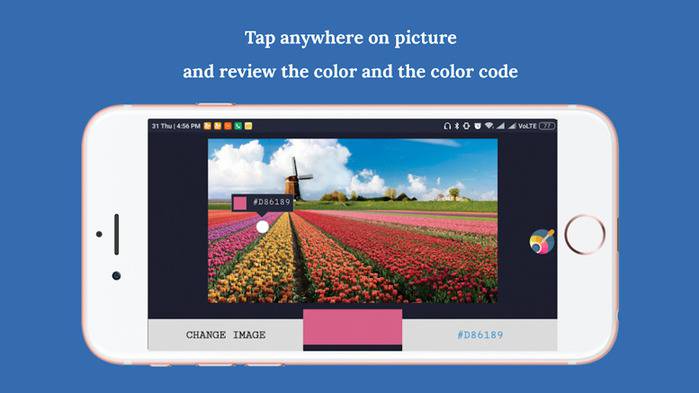 Image color identifier gives you color codes of all the colours in a picture and identifies the color names. To know the name of the color, simply click a picture or select from your gallery and tap anywhere on the picture to get the color demo and color code to be used. The app has a Color Gallery that consists of 1800 different color with their names, RGB, and color codes.

6. Color identifier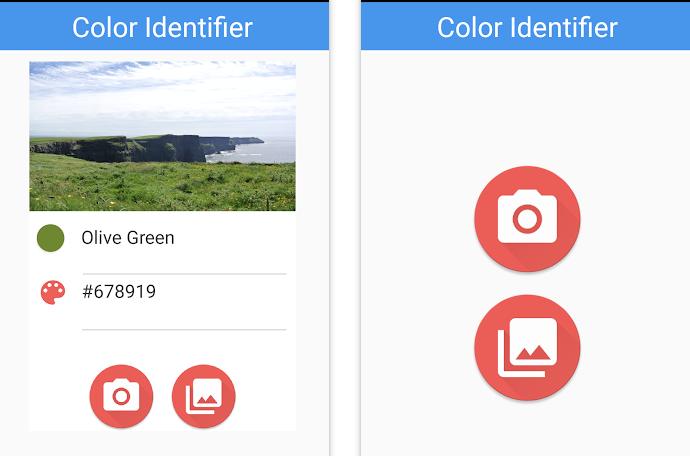 Color identifier has fewer features in comparison to the other apps in the list. However, it does its job of finding color names pretty well. Take a picture from the app itself or choose a photo from your mobile gallery. Then click on the color you want to identify and the app will tell you its name.

7. Color Harmony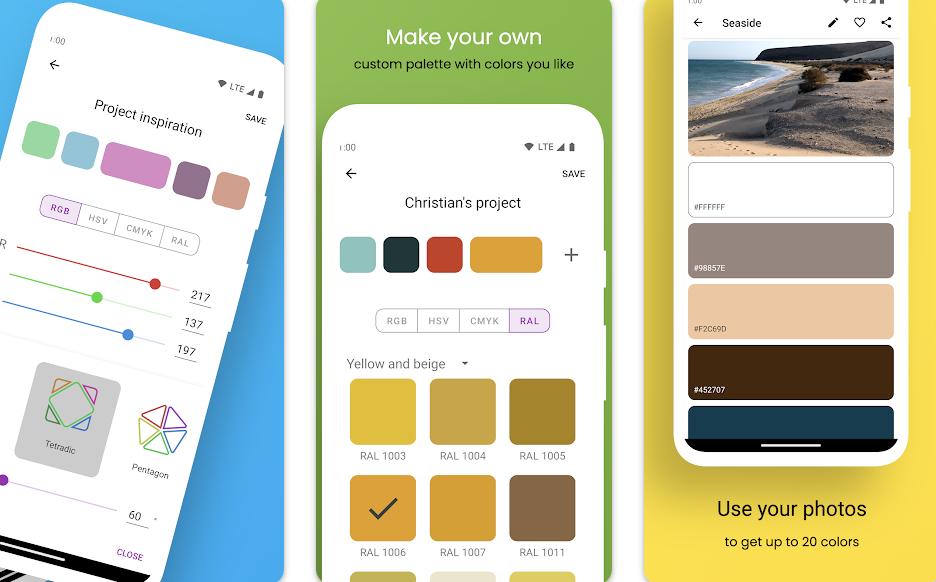 Color Harmony is one of the most powerful color matches for Android. The app has many features, for instance, You can create palettes based on photos or you can create your own palettes manually. Moreover, the app has a variety of color modes like RGB, HSV, RAL, CMYK. This app is very helpful while choosing colours for your bedroom walls or ceiling. You just have to point the phone camera on the wall and see matching colours. Additionally, the app also translates colours to RAL format which helps in identifying the colours.

8. Color Picker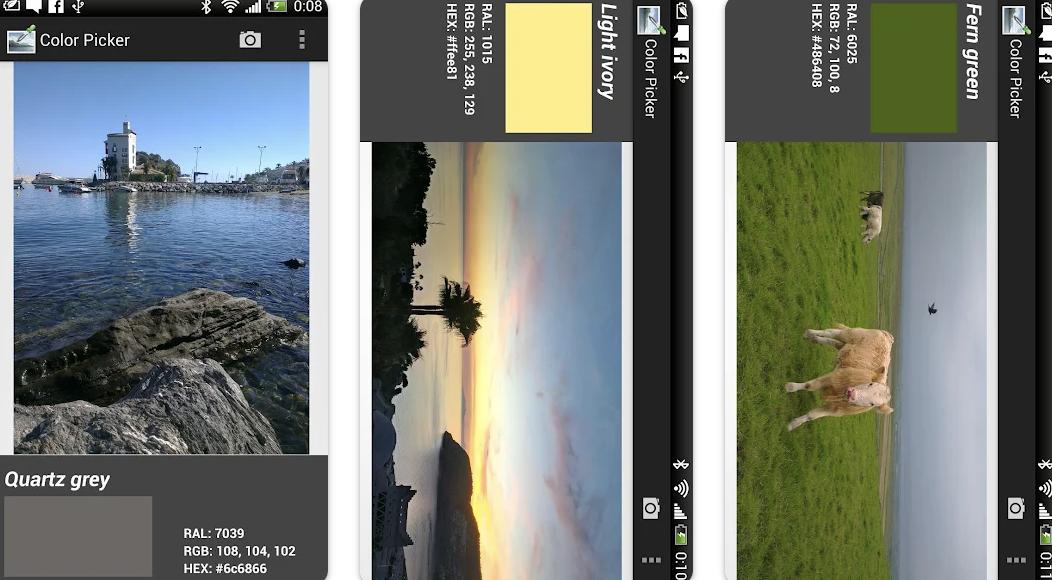 Color Picker detects the color of any touched point in a photo. It shows the hex code, RGB values, RAL System code, and even the color name in the RAL system. Moreover, the application shows three results for each color. It shows the amount of red, green, and blue of the obtained color. Shows the amount of red, green, and blue in hexadecimal that proves really useful for web designing. It shows the name of the colours as well.

9. Pixolor – Live Color Picker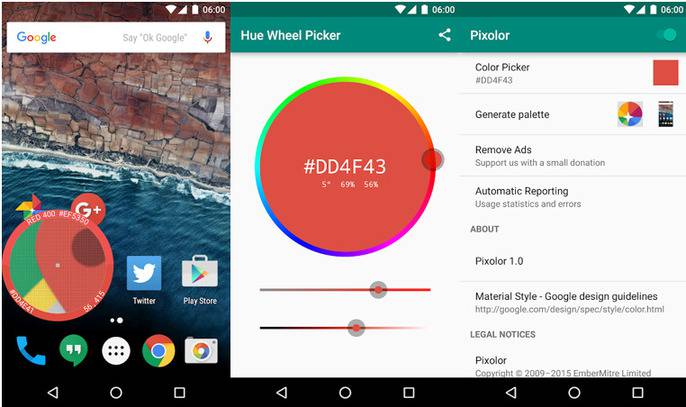 Pixolor is mainly an app for designers to know technical level pixel information. It is a circle floating over your apps showing a zoomed view of the underlying pixels, including color information and coordinates of the central pixel. You can know the color code or coordinates of any pixel on the screen. Moreover, the app also shows the nearest material design color to the focus color. One of the best color identifier apps for those with poor eyesight, Pixolor enlarges hard-to-read texts as well. You can also share screenshots or circular images via other apps.

10. ColorSmart by BEHR® Mobile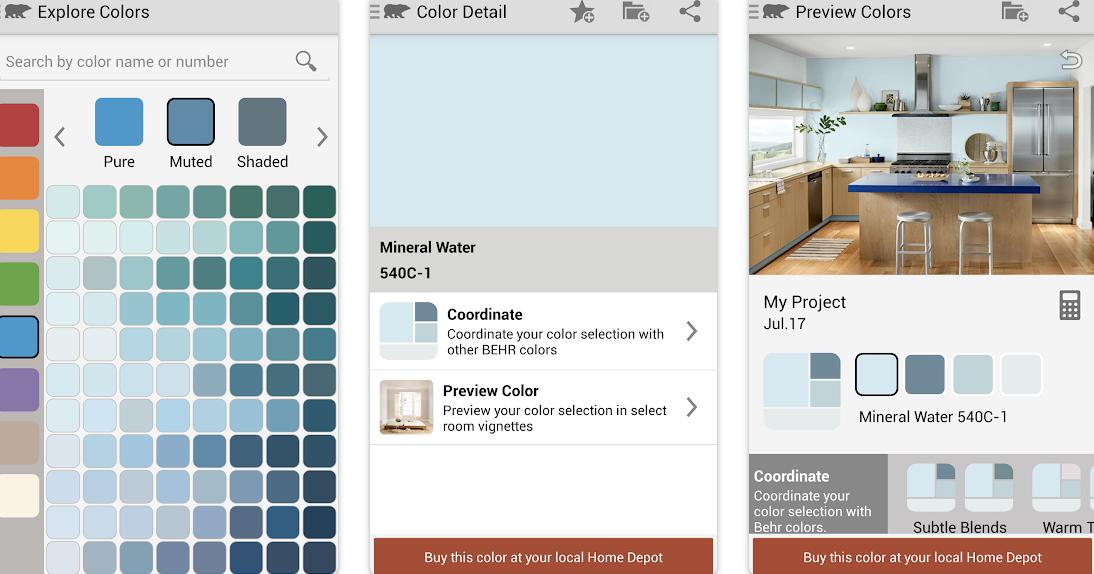 ColorSmart is a convenient, easy to use tool that helps its users find the perfect colours. It is one of the best color identifier apps if you want to discover new designer coordinated color combinations and preview color choices on room scenes and exteriors. It has an extensive library of over 2500 colours that you can easily browse and search. You can also share your color projects with your friends and families on your favourite social networks.