Gone are the days when radio was a device that people used to buy to listen to their favourite songs or episodes. Radio was the best option when anyone wanted to listen to music, news, sports, and stories at once. However, now as more and more people are shifting towards the digital world the need to buy a radio is rapidly decreasing. People are shifting towards music apps to listen to their favourite music. But, with radio apps, you can not only listen to music but also know about the latest news, podcasts, and sports. So, here we have made a list of the 10 best radio apps for Android and iPhone you can use in 2021.
Related Article: 10 Best Equalizer and Bass Booster Apps for Android and iPhone/iPad
List of10 best radio apps for Android and iPhone
1. TuneIn Radio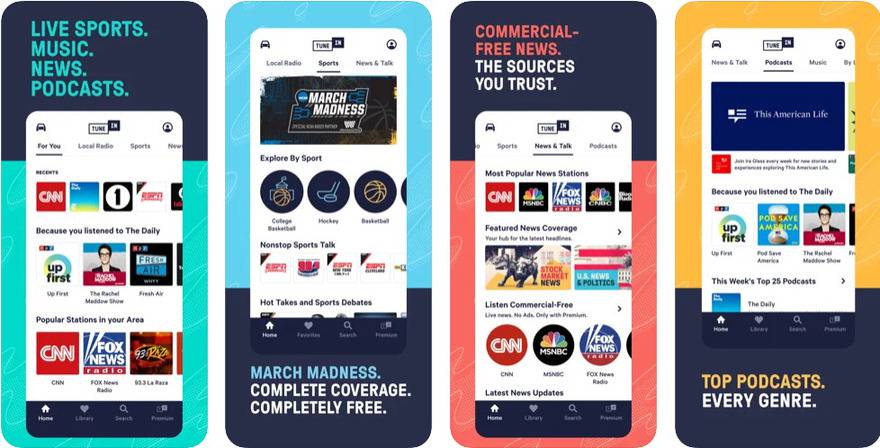 TuneIn Radio brings together live news, sports, music, podcasts, and radio from around the world. One of the best radio apps for Android and iPhone, TuneIn Radio has more than 100,000 FM and AM radio stations from around the world. TuneIn is not just a radio app, it has a collection of over 5 million podcasts, news, and sports channels as well.
Features
Listen to live 24/7 news from national and international sources like CNN, MSNBC, FOX News Radio, BBC, etc.

Stream live play-by-play of the biggest games in the stations like ESPN and talkSport.

Listen to on-demand podcasts on football, basketball, baseball, and hockey. In addition, know about the pre-game and post-game analysis with global sports talk stations.

TuneIn has exclusive music stations where you can listen to and discover new songs from the best AM/FM stations in the world likeWHUR-FM, 107.5 WBLS, WQXR-FM, 97.9 WSKQ-FM, and Hot 97 WQHT-FM, etc.

If you are a podcast lover then TuneIn is the best radio apps for Android and iPhone as it has trending chart toppers to all-time favourites podcasts.

TuneIn Radio is compatible withApple Watch, CarPlay, Google Home, Amazon Echo, and Alexa, Sonos, Bose, Roku, Chromecast, and more so that you can listen anywhere.


2. Simple Radio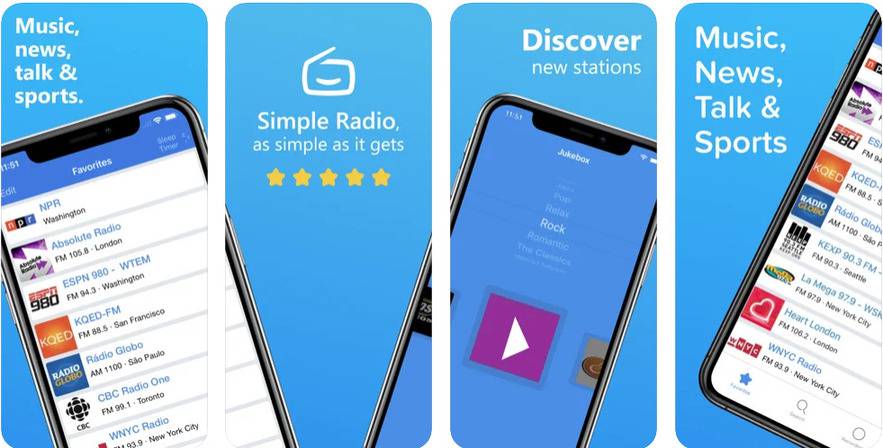 As the name suggests Simple Radio has a simple user interface and is easy to use and surf. The interface has only two tabs: Favourites and Recommended. In the search tab, you can search for a particular radio station. But in case you don't know the name you can search by country, city, area code, and genre. However, I would recommend using this app only if you know the name of the particular radio station. If you are an explorer and are always on the lookout for new songs and stations then this is not the app for you.
Features
It has more than 50,000+ worldwide stations.

Listen to your favourite stations by saving them in Favourites.

Search for songs on the basis of genre.

Listen to live sports likeNBA, Football, NHL, MLB, Soccer, and Nascar.

Simple Radio is compatible with the iPad, iPhone, Apple Watch, and any Android device.


3. NPR One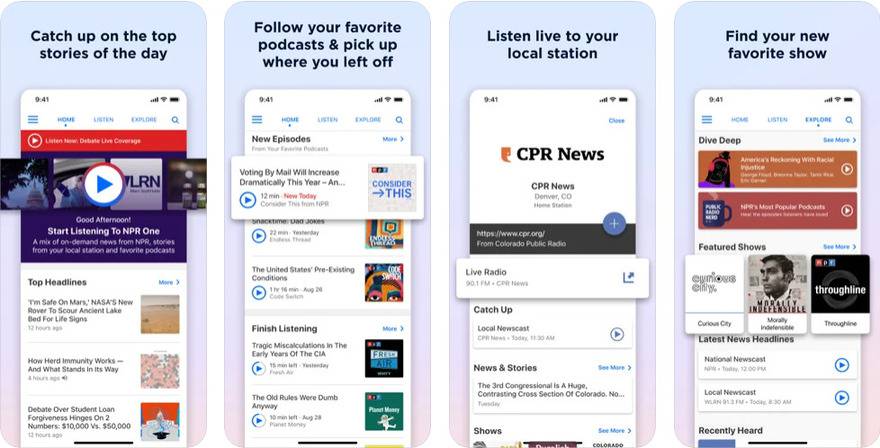 NPR One is a public radio made personal. With NPR One, you can connect to audio content from other suppliers, including podcasts and locally sourced news programs. Moreover, this is one of the best radio apps for Android and iPhone as it is very engaging as it provides narratives that increase our understanding, enrich our life and enliven our mind. The app is personalized to deliver the stories you want. It will also recommend stories that will surely captivate you.
Features
You can skip, rewind, pause and share your favourite music and radio stations.

The platform has international, national, regional, and local content.

Tap on your Home station logo and dive into your local newscast, stories, and podcasts.

Go to Explore to find stories and podcasts recommended for you.

Moreover, it has a sleep timer with five presets.


4. iHeartRadio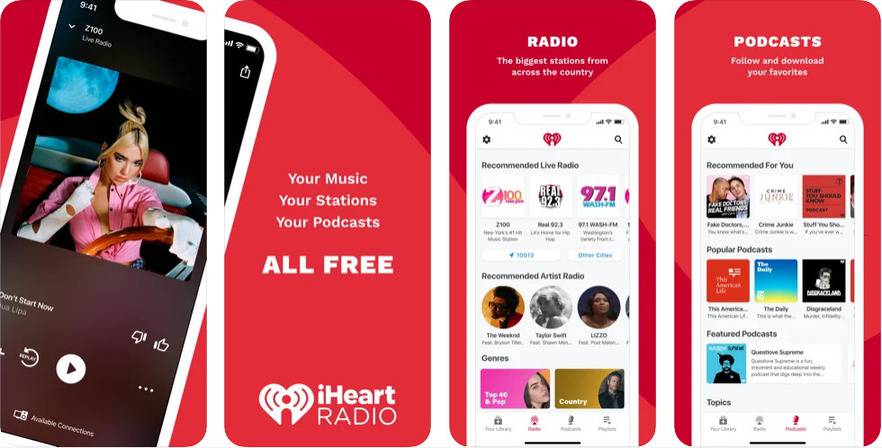 The iHeartRadio app is easy to use and the best radio apps for Android and iPhone, iPad, and Apple Watch. You can listen to thousands of live radio stations from all over the world. Moreover, you can stream an unlimited music playlist for any mood or activity and tune in to your favourite podcast.
Features
Discover thousands of local and live AM and FM radio stations from cities all over the world.

The app allows you to listen to top radio stations, sports, news, talk shows, and comedies as well.

It features the most popular podcasts from ESPN, NPR, Gimlet, How Stuff Works, and many more.

It also has celebrity podcasts like The Ron Burgundy Podcast, Anna Faris is Unqualified podcast, The Ben Shapiro podcast, etc.

You can download your favourite podcast episodes to listen to them offline.

Tune in every Monday to find a refreshed Top 100 Charts.


5. Radio Online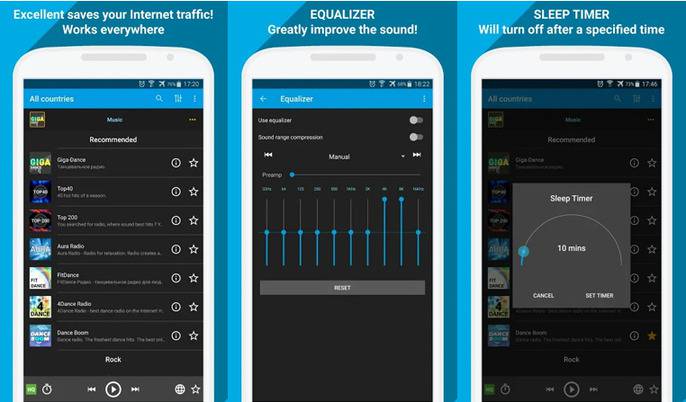 Radio Online by PCRADIO is one of the more traditional radio broadcasting apps. The app is the best Android radio app with hundreds of radio stations of different genres right at your fingertips. A low-speed internet is not a problem to stream radio stations with high-quality music.
Features
Stream high-quality music on top radio stations even with a low internet speed.

A traditional radio broadcasting app that can be controlled by your headset.

Listen to hundreds of radio stations with different genres from the comfort of your home.

The app has a sleep timer that turns it off after a specific time.


6. Audials Radio App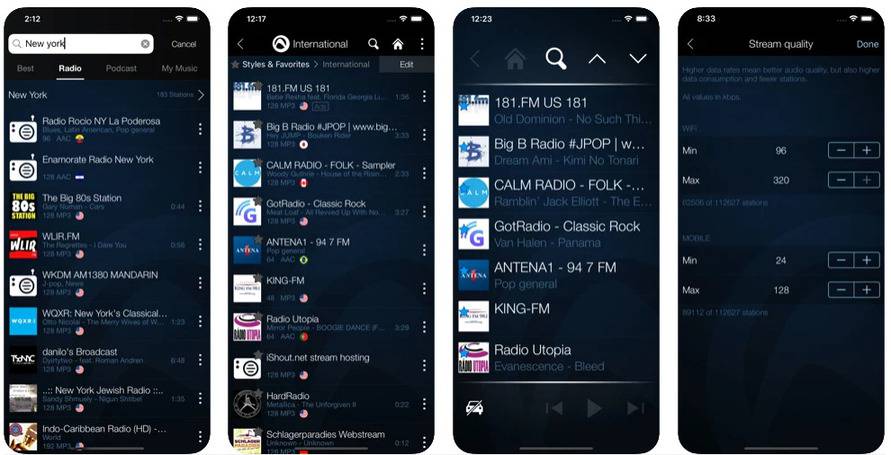 Audials Radio App is an all-in-one player or recorder with over 100k radios and 250k podcats from all over the world. Its interface and feature richness make it one of the best radio apps for Android and iPhone. With this app, you have the ability to search stations by artists and will know the bitrate of the stream upfront. Moreover, it is a hassle-free internet radio app that is free and ad-free.
Features
Listen to a total of 100,000 radio stations in MP3 and AAC format.

Listen to your favourite podcasts that is one along with the 250,000 podcasts in the app.

You can record entire programs and individual songs as well.

Customize the sound quality of the songs with its inbuilt Equalizer.

Schedule when to turn off the app with the sleep timer.


7. SiriusXM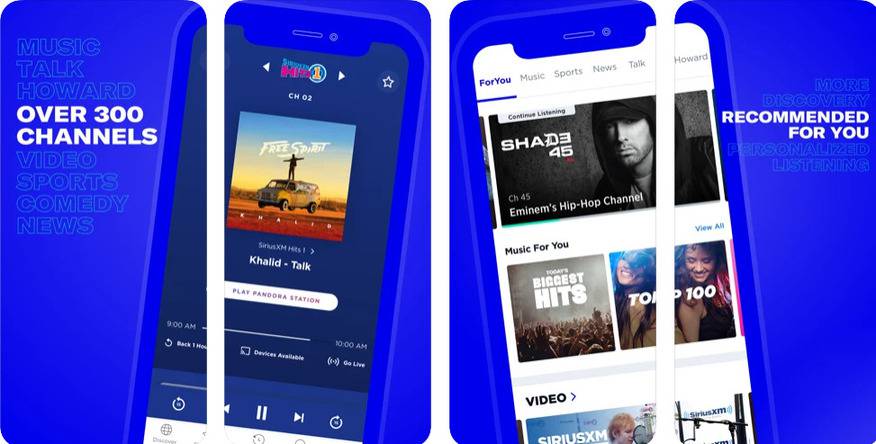 SiriusXM by SiriusXM Radio Inc has over three hundred plus radio channels along with live and ad-free music, comedy, sports content and many more. To listen to the radio you do not have to be in your car, just install SiriusXM on your phone and listen online.
Features
You can create Personalized Stations that are powered by Pandora based on the artists you love.

Listen to music you have always loved and that to be ad-free.

Find music for every mood, occasion, and activity and discover 100+ ad-free Xtra channels.

Listen to 24/7 live sports coverage and sports talk from radio stations likeMLB Network Radio™, SiriusXM NBA Radio, SiriusXM® NHL Network Radio™, and many more.

You can also watch videos of intimate performances, groundbreaking videos, and episodes from the Howard Stern Show in the app itself.


8. Pandora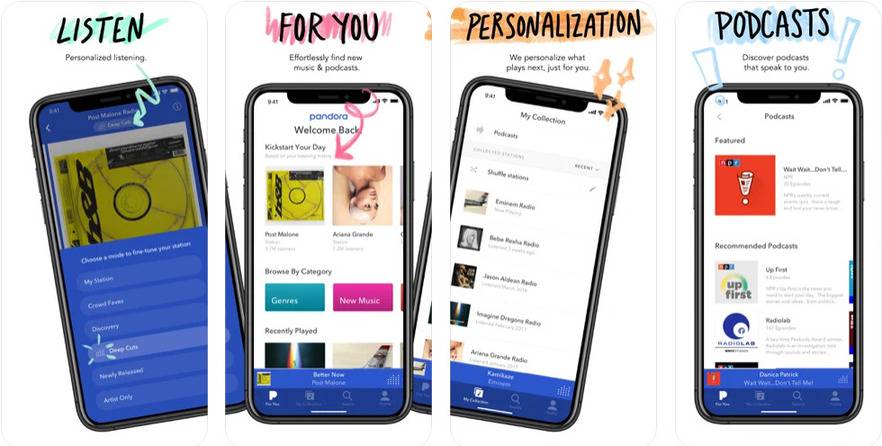 Pandora is one of the best radio apps for the iPhone where songs are hand-picked by some of the top athletes in the world in their uninterrupted radio. Moreover, you can create stations from your favourite songs, artists, or genres and search to find a station for your mood or activity. You can also discover podcasts that you like.
Feature
The CarPlay feature makes it easy to use this app anywhere and anytime.

With the new voice mode, you can search, play, skip, pause, adjust volume, and stop the music with a simple voice command.

One of the best radio apps for Android and iPhone, Pandora has over 1,400 podcasts includingSiriusXM shows, on-demand whether you're on Pandora Premium, Plus, or Radio.

Listen to a variety of music with these Pandora modes: My Station, Crowd Faves, Deep Cut, Artist Only, Discovery, and Newly Released.

With Pandora Premium, you can download the music you want and listen to them offline.


9. AccuRadio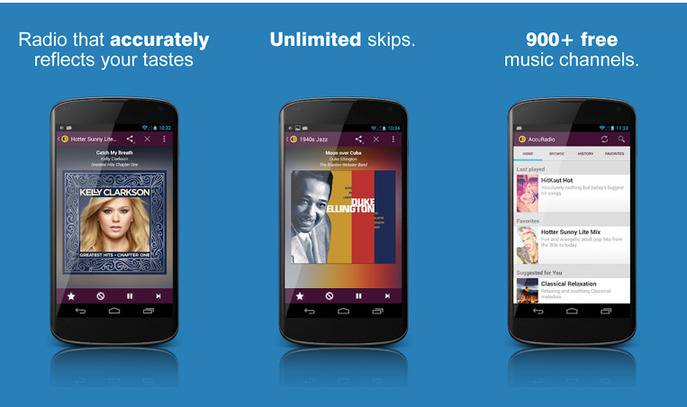 AccuRadio is one of the best Android radio apps where you can easily discover, customize and enjoy the best music on the planet. The app is a hundred percent free and serves hundreds of music channels in over 50 genres. The platform boasts of being a team of music lovers and musicians who are dedicated to delivering world-class music.
Features
You can save your favourite music channels and listen to them without the need to search.

With unlimited song skips, you can save time and listen to songs you really like.

You can rate songs and unlock your own 5-star channel.

Ban artists or songs from the specific channel if you don't like them.

In addition, share your favourite channels with your friends and family.

10. myTuner Radio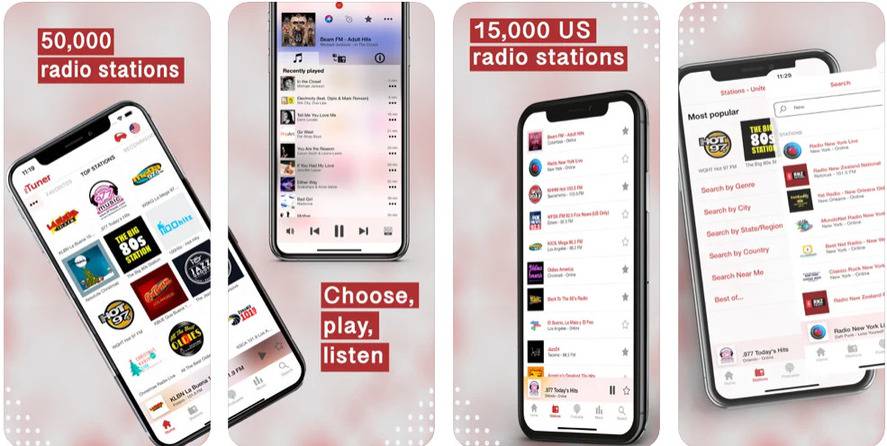 myTuner Radio is exclusive to iOS only. However, the app is compatible with iPhone, iPad, Apple TV, and Apple Watch. One of the best radio apps for the iPhone, the app has more than 50,000 radio stations in over 200 countries and territories. You can listen to sports, news, and music from different stations. The app has more than 40 million users that trust it to provide the best streaming experiences.
Features
Listen to radios from more than 200 countries and territories.

It has more than one million podcasts with ranking per country.

Listen to more than 50,000 radio stations and recently played songs on the radio.

If you have an Apple Music subscription then you can create playlists as well.

Share using Facebook, SMS, Email, and Twitter.

Add radio stations to your favourite list to listen to them anytime.