Archiving or compression tools are the software used to compress and decompress files and folders. You can password-protect your data, reduce its size and do much more stuff with archiving tools. WinZip is one of the most popular archiving software available on the internet, but before you spend your money on it, it's suggested that you try some of the free compression tools that are loaded with features and can give tough competition to WinZip. Don't worry, we have done the research and come up with the 10 best free WinZip alternatives for Windows.
List of 10 Best Free WinZip Alternatives for Windows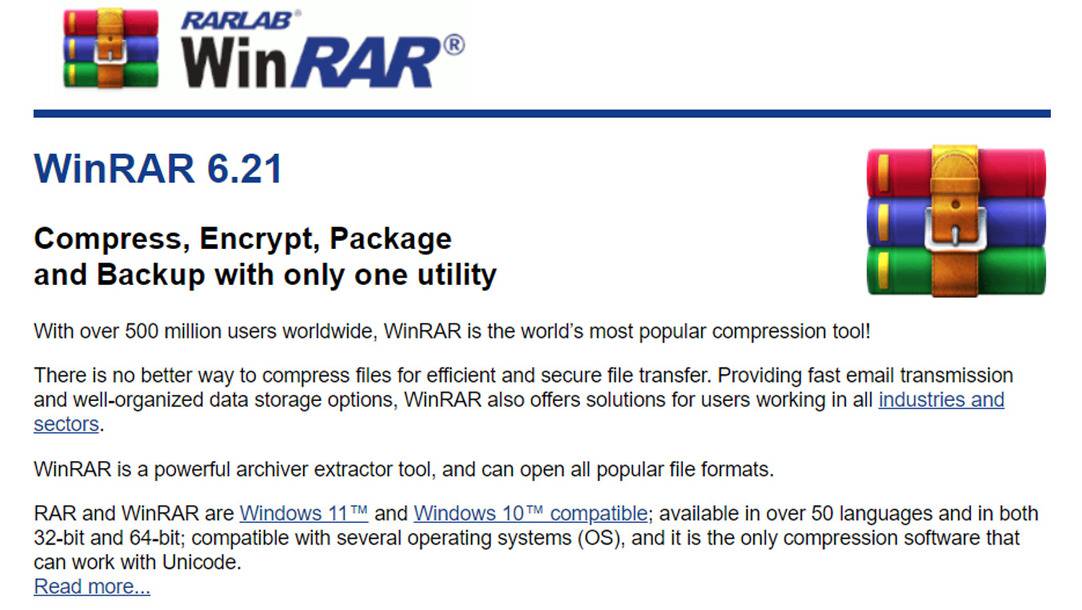 WinRAR is developed by Eugene Roshal and this software is one of the most popular compression tools with more than 500 million users worldwide.This is a paid software , but due to its unmatchable features and the free trial of 40 days that it gives to its users, we have to put it on the top of our list. After the completion of its free trial user gets a buy reminder every time he opens it. WinRAR is based on C++ and it's compatible with several OS.It is available in over 50 languages and supports almost all types of archiving formats.
Features
Free trial of 40 days

Available in 32-bit and 64-bit

Supports almost all compression formats

Multi-threaded CPU compression and depression

Supports archive encryption

Can create multi-volume archives with auto decompression

Available on Windows, MacOS, Android, Linux, and FreeBSD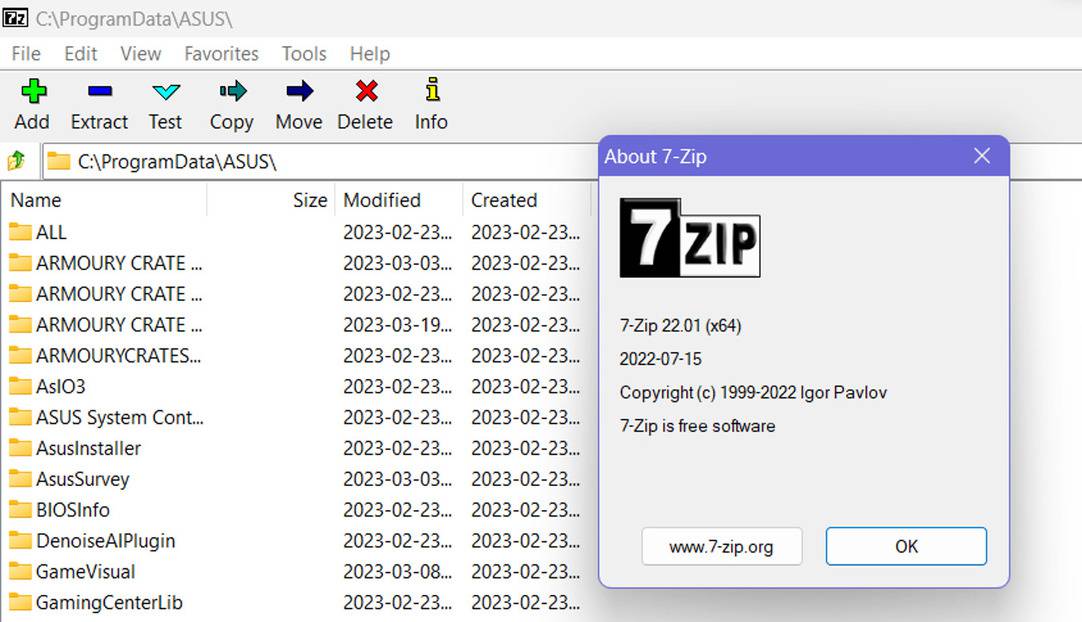 7-Zip is completely free-to-use, open-source software with a high compression ratio. Developed by Igor Pavlov and released in 1999, 7-Zip is one of the most lightweight file archivers available out there. Apart from supporting a wide range of archive formats, it has its own compression format 7z. that helps to lower the compression size. It has a simple UI, supports 87 languages, and is available for different platforms.
Features
Available in 32-bit and 64-bit

Has it's own 7z format with a high compression ratio

Integrated with Windows Shell

Powerful file manager

Supports 87 language

Self-extracting capability for 7z formats

AES-256 encryption in 7z and ZIP formats

Packing and unpacking of various compression formats

Available on Windows, MacOS, Linux, and others

Zip Free is an outstanding platform by Ashampoo to read, write, extract, and repair archives for free. Like other software of Ashampoo, this one too has an appealing UI. It runs seamlessly on all versions of windows and has a powerful integration with Windows Shell in both 32-bit and 64-bit versions. You can split the existing zip files into multiple volumes, repair broken zip files, and many more things with Zip Free.
Features
Zip repair tool

Self-extracting archives

Appealing user interface

Available in over 20 language

Supports preview of compressed files

AES encryption with 256-bit strength

Fast compression and decompression

Create and repair various types of archives

Available for windows (7, 8, 8.1, 10, 11)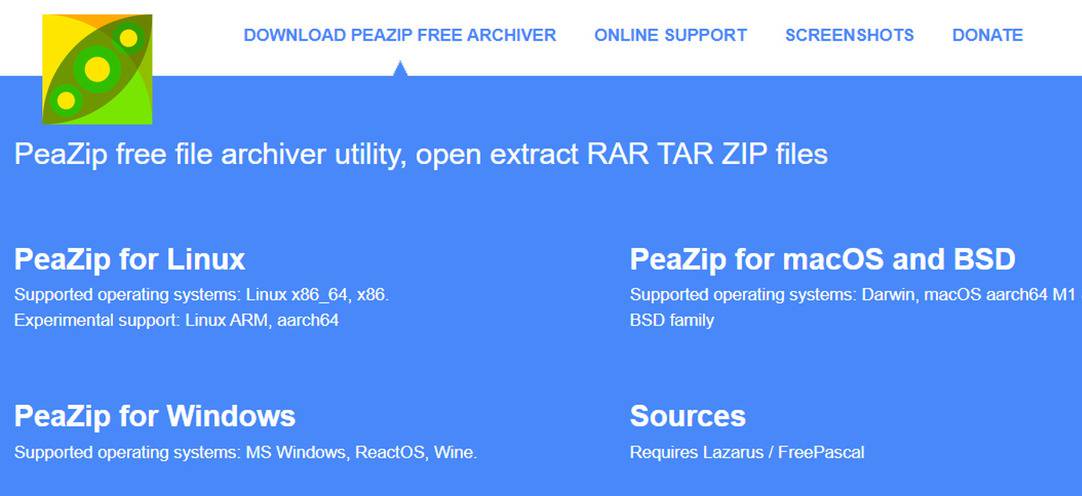 PeaZip is open source, free archiver, and encryption software that stands out to be another great alternative to WinZip. It offers two-factor authentication and provides a multiple file management feature with the support of over 200 archive formats. PeaZip offers a portable version as well and allows you to install plugins and different themes that are available on its official site.
Features
Open source

Available in portable version too

Create multi-volume archives

Supports Over 200 archive formats

Download desired plugins from the site

Wide range of customizing options with themes

Supports strong encryption with two-factor authentication

Create, convert, compress, and decompress archives

Available on Windows, MacOS, Linux, and BSD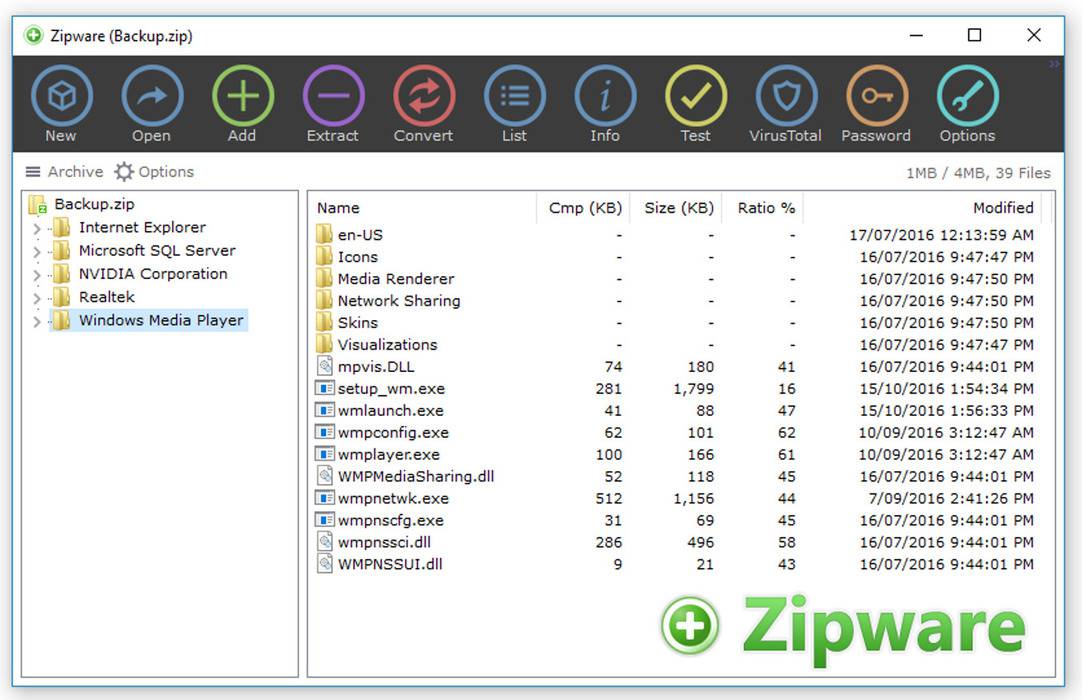 ZipWare is a simple and fast software that supports all the major types of archive formats. It is completely free for personal and commercial uses and can handle small and large files easily. It supports Linux archive formats as well like tar, gzip, etc. You can simply drop files and perform all the archiving functions from Windows explorer.
Features
Create password-protected archives

Cover archive to zip, 7z, and exe formats

Integrated context menu

Drag and drop feature

Supports a wide range of archive formats

Create self-extracting multi-volume archives

Calculate MD5, SHA-1, SHA-256 and SHA-512 checksums for any file

Available on Windows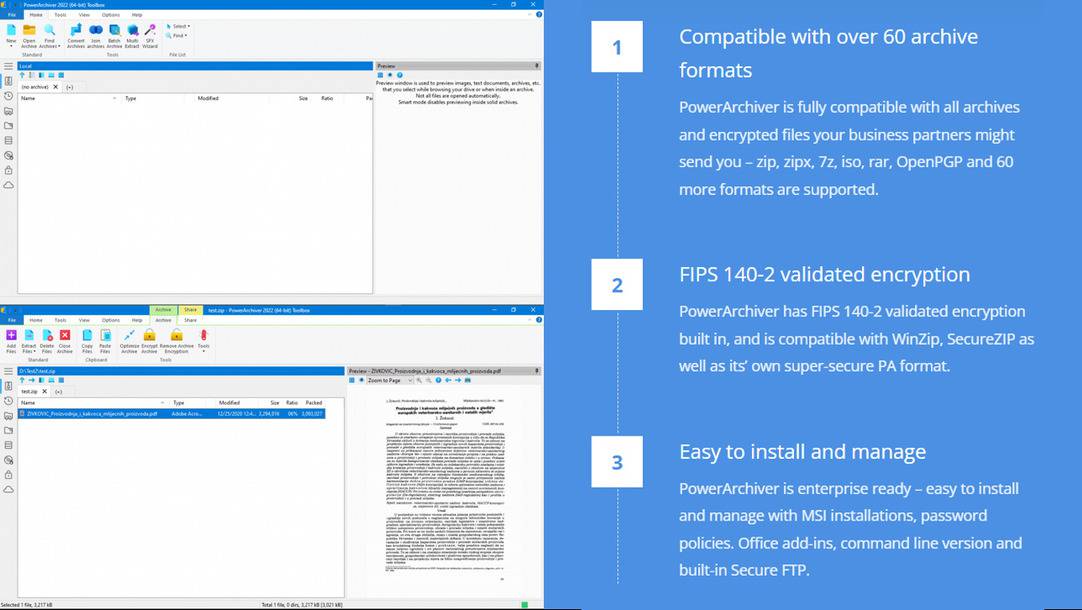 With over 60 compression compatibility, an encryption suite, an office plugin, and many more features, PowerArchiver stands to be a fine compression tool that can be used for personal and professional purposes. It gives you access to 6 different cloud services without installing them. It's easy to install and manage with office add-ins, a command line version, and built-in secure FTP.
Features
Supports 60+ compression formats

Virtual ISO drive

Includes data/audio burner

Advanced codec pack (.PA)

Provides backup and cloud service

Encrypt, decrypt, sign, and verify in various formats

Auto-compress and encrypt files in MS Office 2016

Secure FTP client with FIPS 140-2 validation

Available for Windows and macOS
With convenient features and a clean UI, BandiZip is a fast processing powerful archiver that offers its free edition with ads and an ads-free professional edition with exclusive features like image preview, repair tool, password recovery, etc. You can download it from both its official site and Microsoft Store.
Features
View and edit archives

Available in 32-bit and 64-bit versions

Windows 11 context menu

File integrity check test

Explorer shell menu integration

Extraction support for over 30 types of formats

Available for Windows and macOS

Fast compression and decompression of archives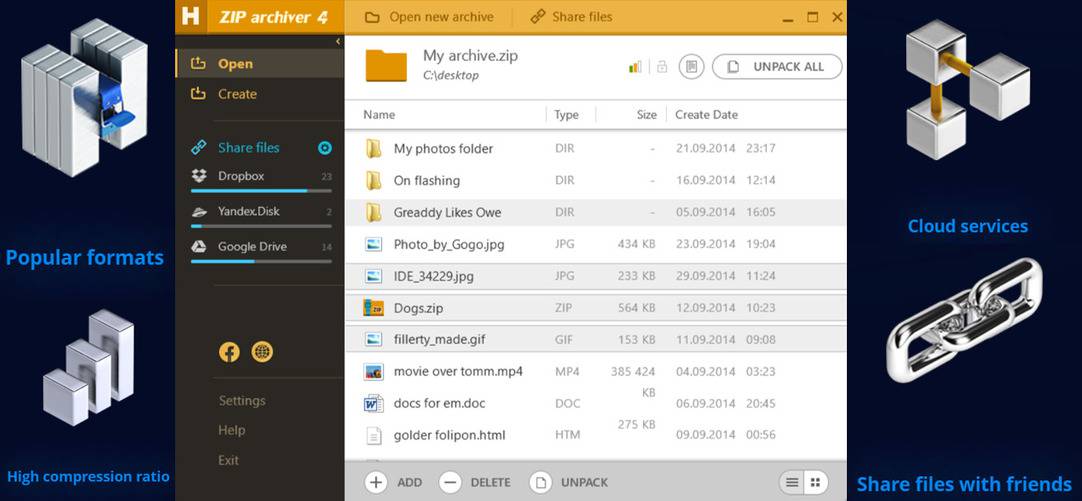 Zip Archiver by Hamstersoft is another powerful and convenient archive completely free to use. One of the best features of this software is its cloud-sharing technology where you can directly share copies of files from an archive to Dropbox and Drive in just 2 clicks. Supports over 50 compression formats.
Features
Provides a high compression ratio

Fast compression and decompression

View and edit files from archives

Create and unpack archives

Easily share files to the cloud

Supports over 50 archive formats

Available for Windows (7, 8, 10, 11)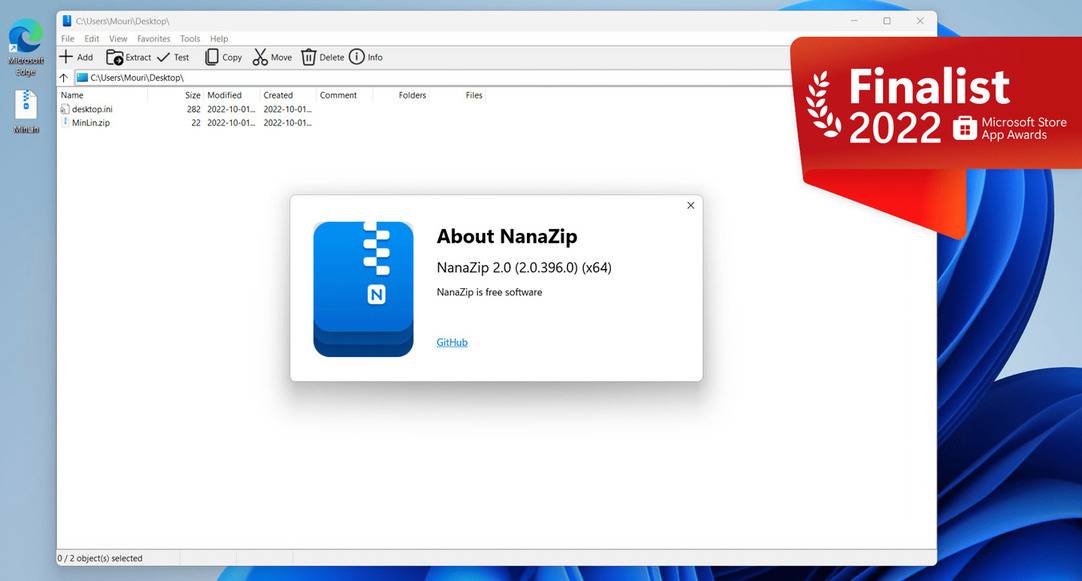 Intended to serve a better user experience, NanaZip is an open-source file archiver based on the source code of 7-Zip and inherited all features from it. It has easy to use and clean UI that helps to browse and manage files easily. It supports of a wide range of archive formats, so unpack archives and create password-protected archives easily. NanaZip can also be downloaded from Microsoft Store.
Features
Based on the source code of 7-Zip

Clean and modern UI

Block loading unexpected libraries

MSIX for modern deployment experience

Supports preview of files without extraction

Multiple volume archives generation

Available on Windows (10 and later)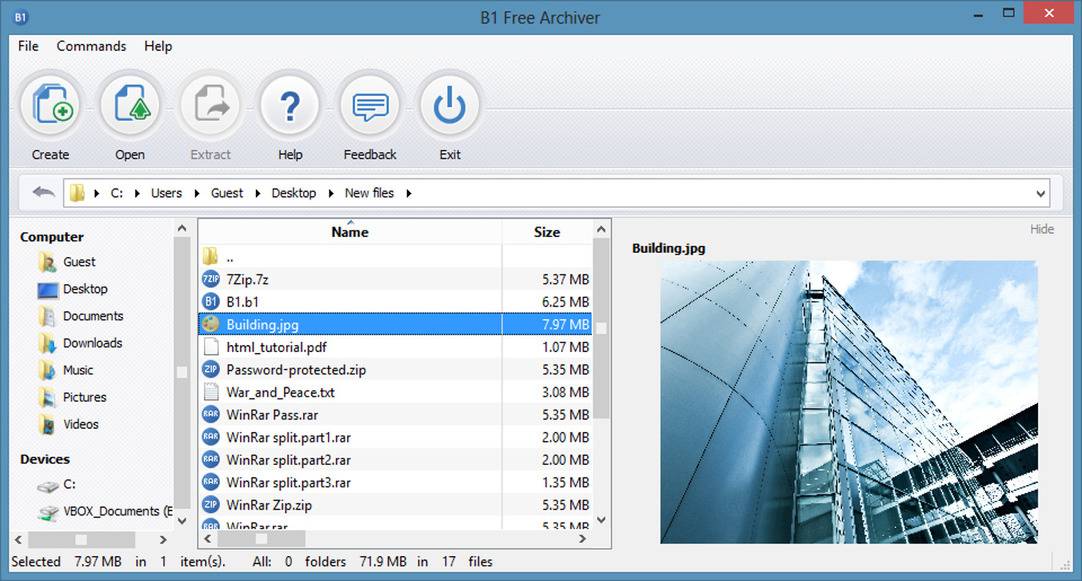 B1 Free Archiver is a reliable, cross-platform, and simple archiver. It supports any of the popular archive formats and is free from any malware and adware. It has an android version as well that works as both an archiver and file manager. B1 Free Archiver has its own B1 format which is open source, can be encrypted with a password, and has a good speed-to-compression ratio.
Features
Manage, pack, and unpack archives

Simple and fast

Encrypt archives

Free of malware and adware

Supports almost 40 archive formats

Has its own B1 archive format

Available on Windows, MacOS, Linux, and Android