Be it explorers and travelers or common people, everyone should have a compass app installed on their devices. Though these apps are not frequently opened, they become useful in various situations. Whether you want to know the directions and coordinates or speed and slope, a digital compass can help you out.
Nowadays, most Android phones come with a pre-installed digital compass. However if your device doesn't have a pre-installed compass app or if you're looking for some featureful compass apps, then this article will surely help where we have listed the top 10 compass apps for Android.
List of 10 Best Compass Apps for Android
1. Digital Compass (By KTW Apps)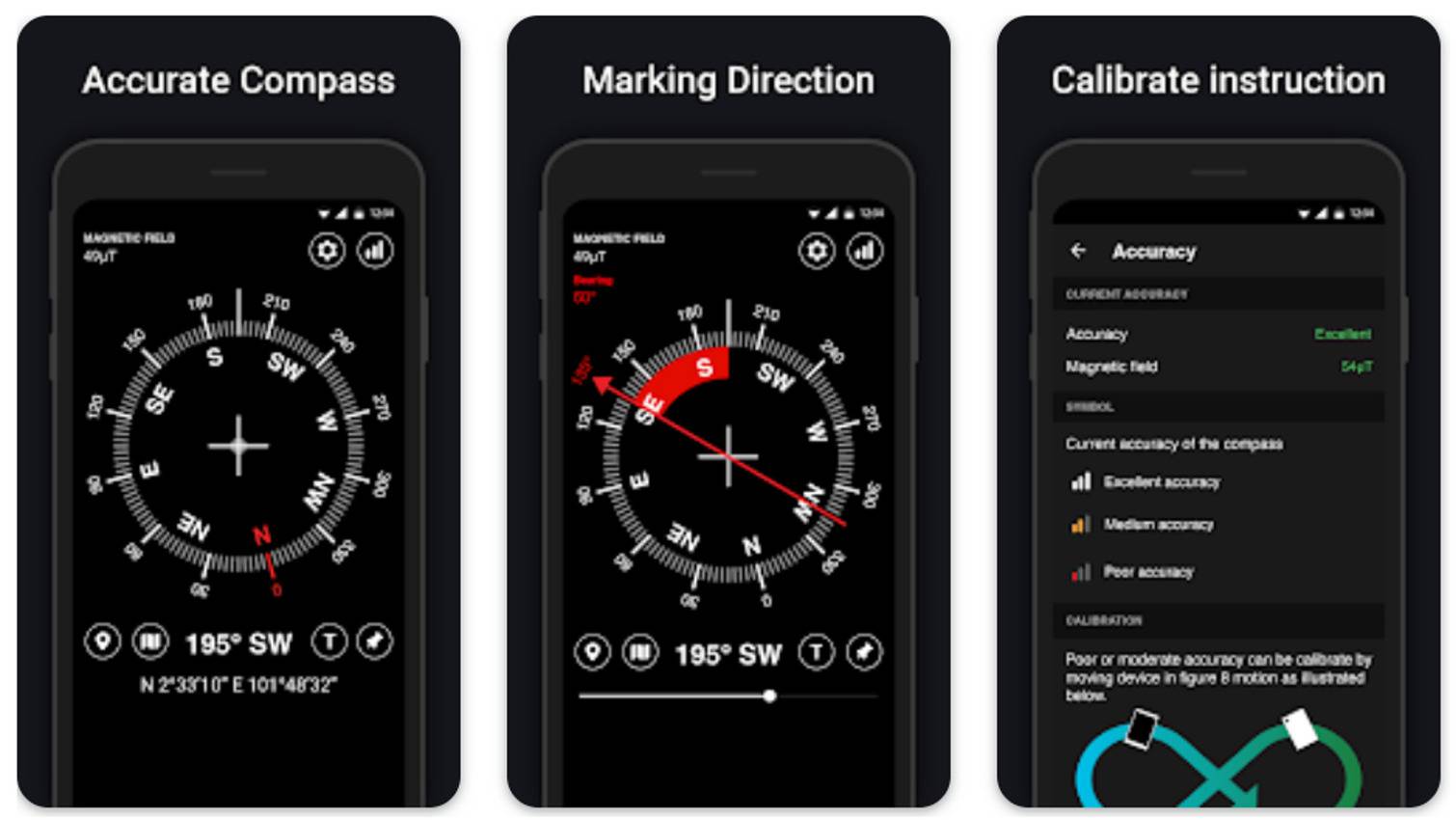 Digital compass is a straightforward easy-to-use app with good features. It shows address, latitude, longitude, altitude, and speed. You can check the magnetic field and sensors' accuracy as well as calibrate your device to improve it. This app too offers magnetic north and true north with the map feature. A digital compass allows you to pin a direction and check the bearing. You can upgrade to the premium version to remove ads.

2. Smart Compass (By Smart Tools Co.)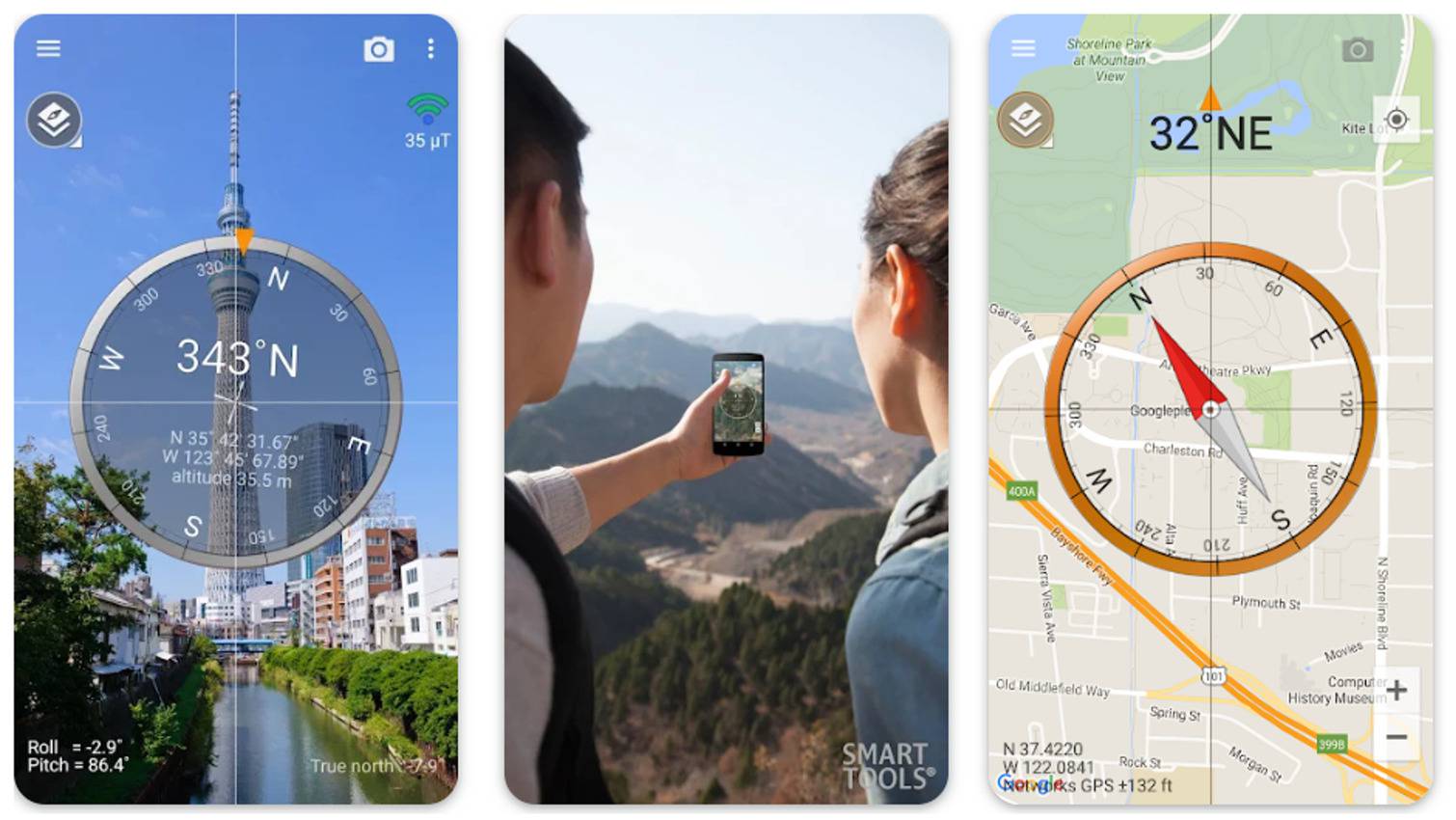 Smart Tools Co. has done a great job in developing Smart Compass. It is one of the best-looking compass apps with customizing options. It has a camera view for the reality check that can be replaced by another image from settings. Whether you turn your phone portrait or landscape it will show you accurate directions. It has different modes like standard, digital, night, telescopic, and a map mode as well. This app offers a pro version that comes ads-free.

3. Digital Compass (By Axiomatic Inc.)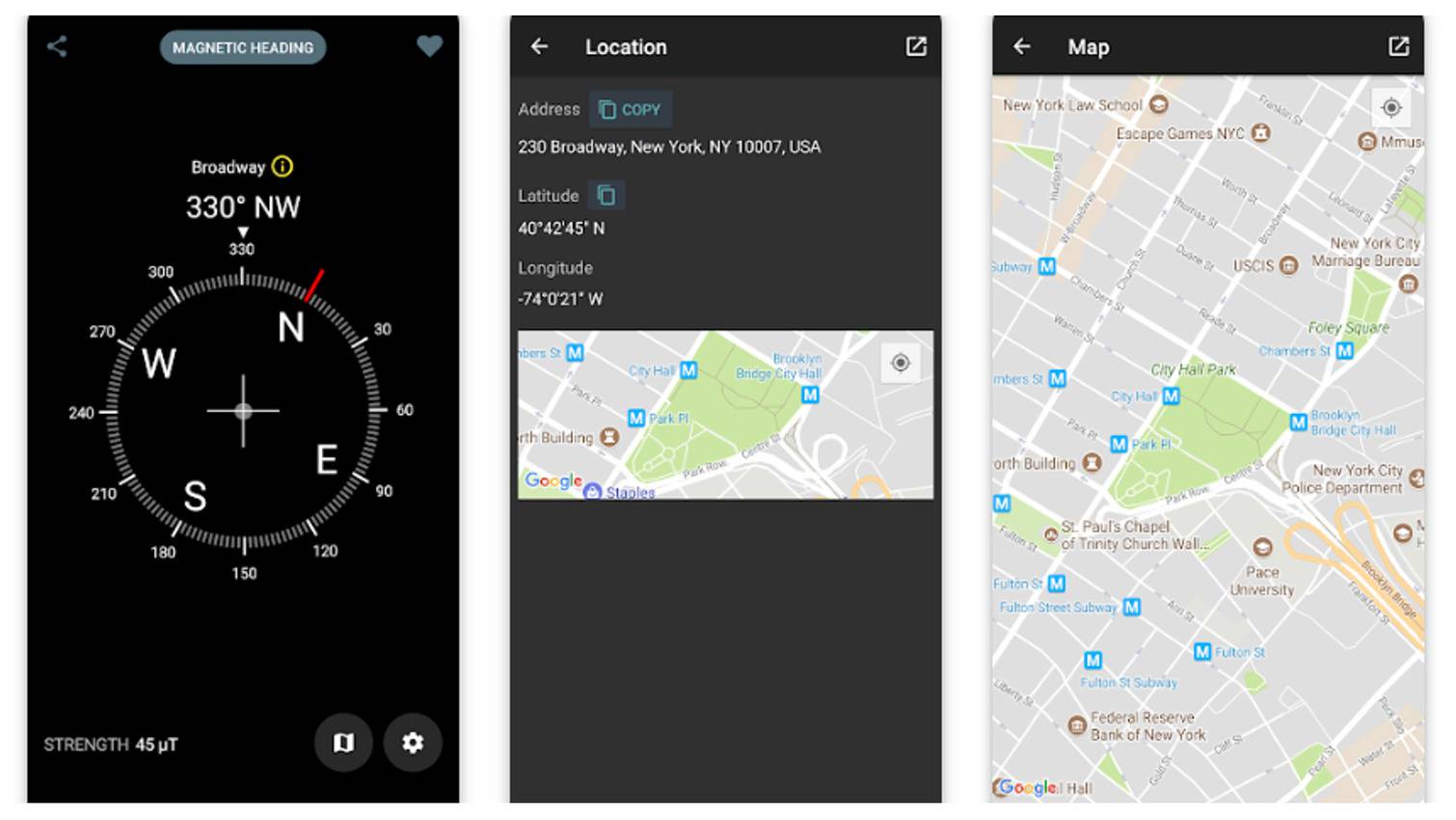 Digital compass is an excellent app by Axiomatic. It's easy to use and has some nice features. It offers true heading and magnetic heading, magnetic strength, slope level meter, longitude, and latitude address. Apart from that, this app has an in-built full-screen map to ease your navigational needs. Digital compass also shows you the sensor status of your device so that you can check whether they are working properly or not.

4. Compass Steel 3D (By SimplyWerks)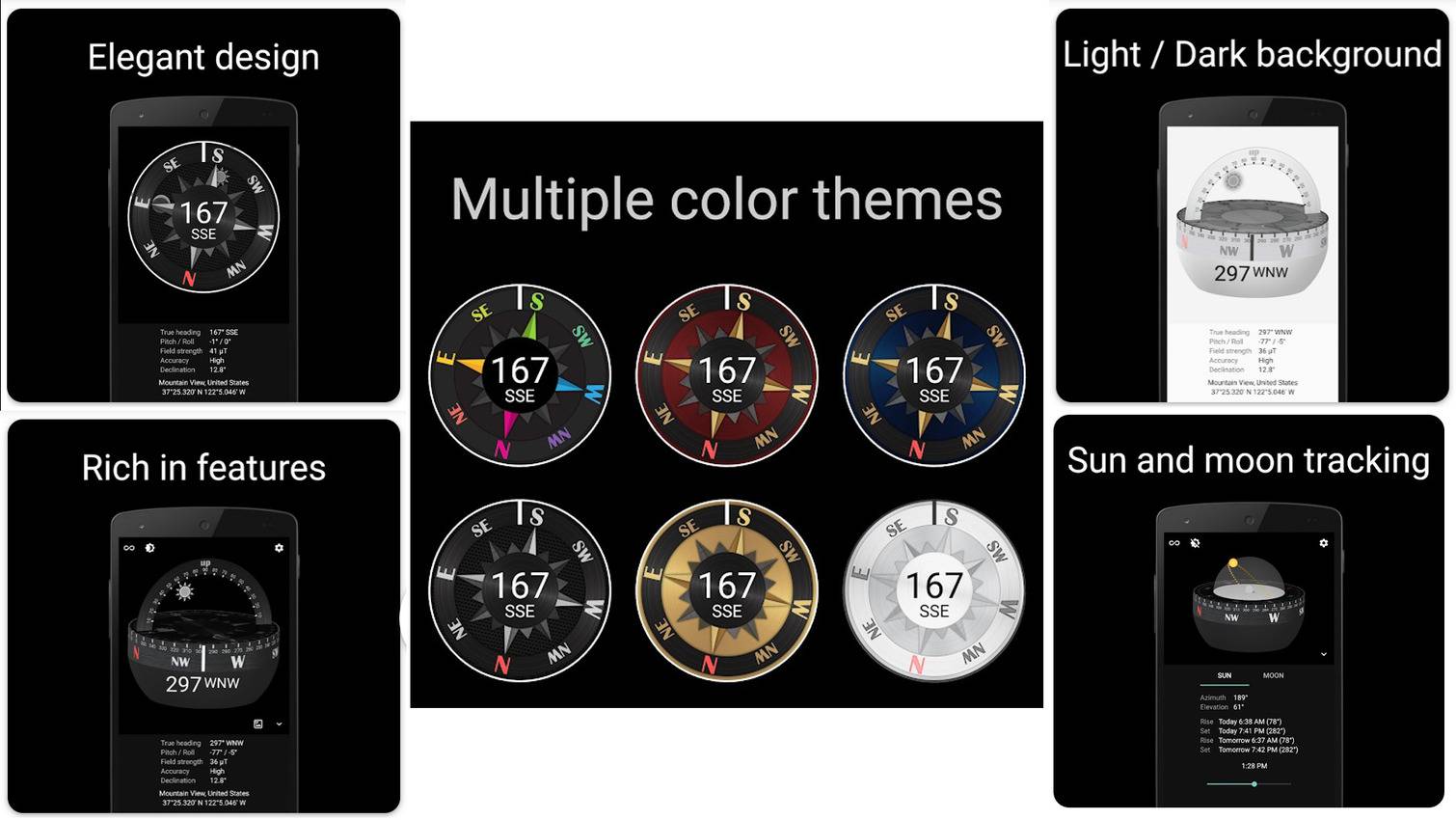 This is the most unique and elegant compass app that offers a 3D compass that looks stunning. You get the various colors option to change the 3D compass as well as dark and bright modes. The way this compass shows you the position of the sun and moon jn 3D is remarkable. Like other apps, this too shows you direction, altitude, latitude, longitude, address, sunrise and sunset timing. You get the flexibility to change units and the no. of compass directions.

5. Compass (By melon soft)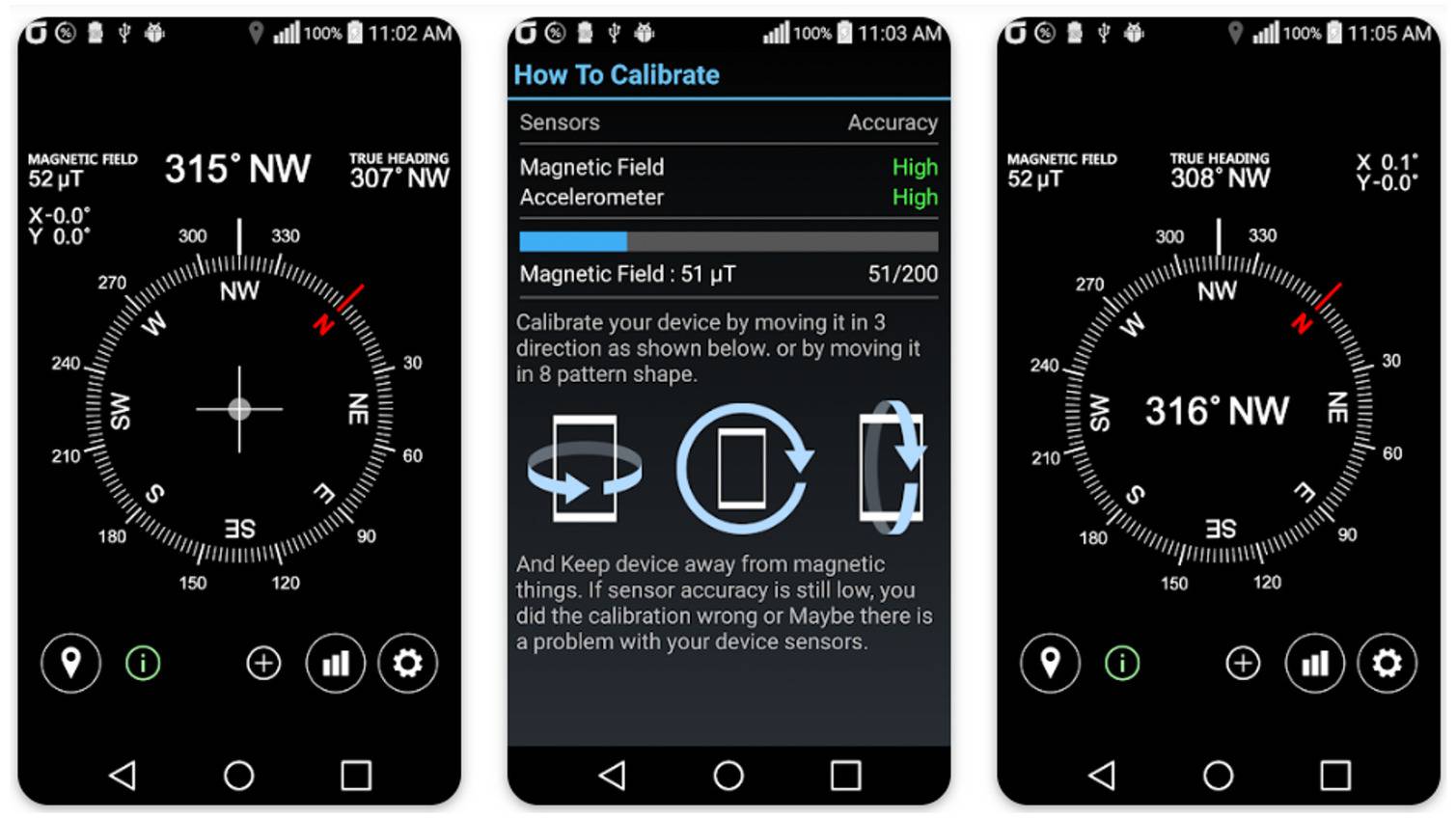 Compass is a simple and minimalistic app that covers all your directional needs. It has a true heading and magnetic heading and shows longitude and latitude, level, device slope angle, and magnetic field power. This app connects to Google maps easily. You can check your device sensor state and correct the level errors.

6. Compass & Altimeter (By PixelProse SARL)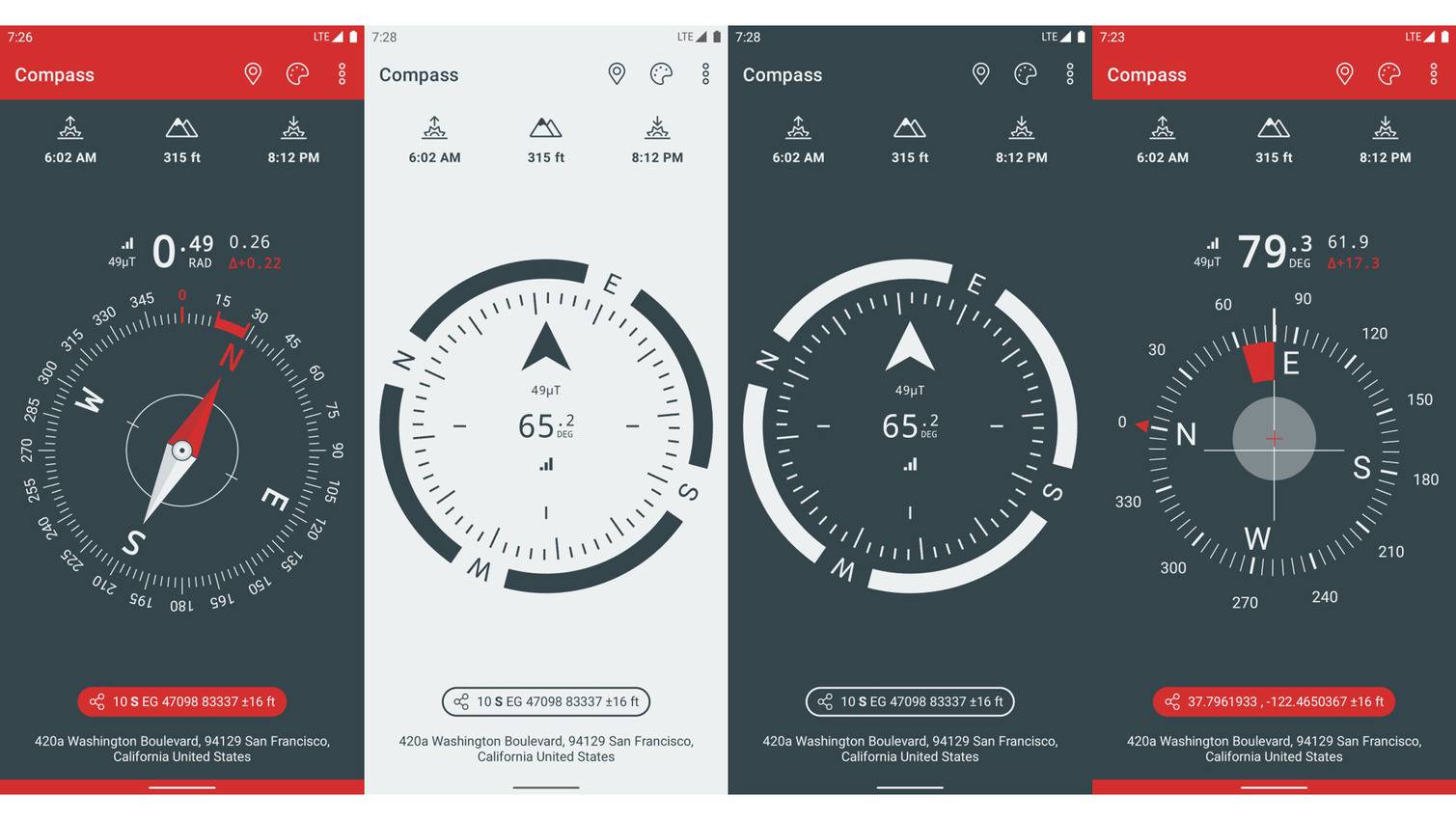 Compass and Altimeter simple app with attractive UI. If you purchase the pro version of this app then you can access many additional features, customization options, and an ad-free experience. This app shows your direction, address, altitude, latitude, longitude, magnetic field strength, etc. You get the option to change the angle and measurement units as well. You can find the sunrise and sunset time of your place using this app.

7. Compass Maps (By One App Team)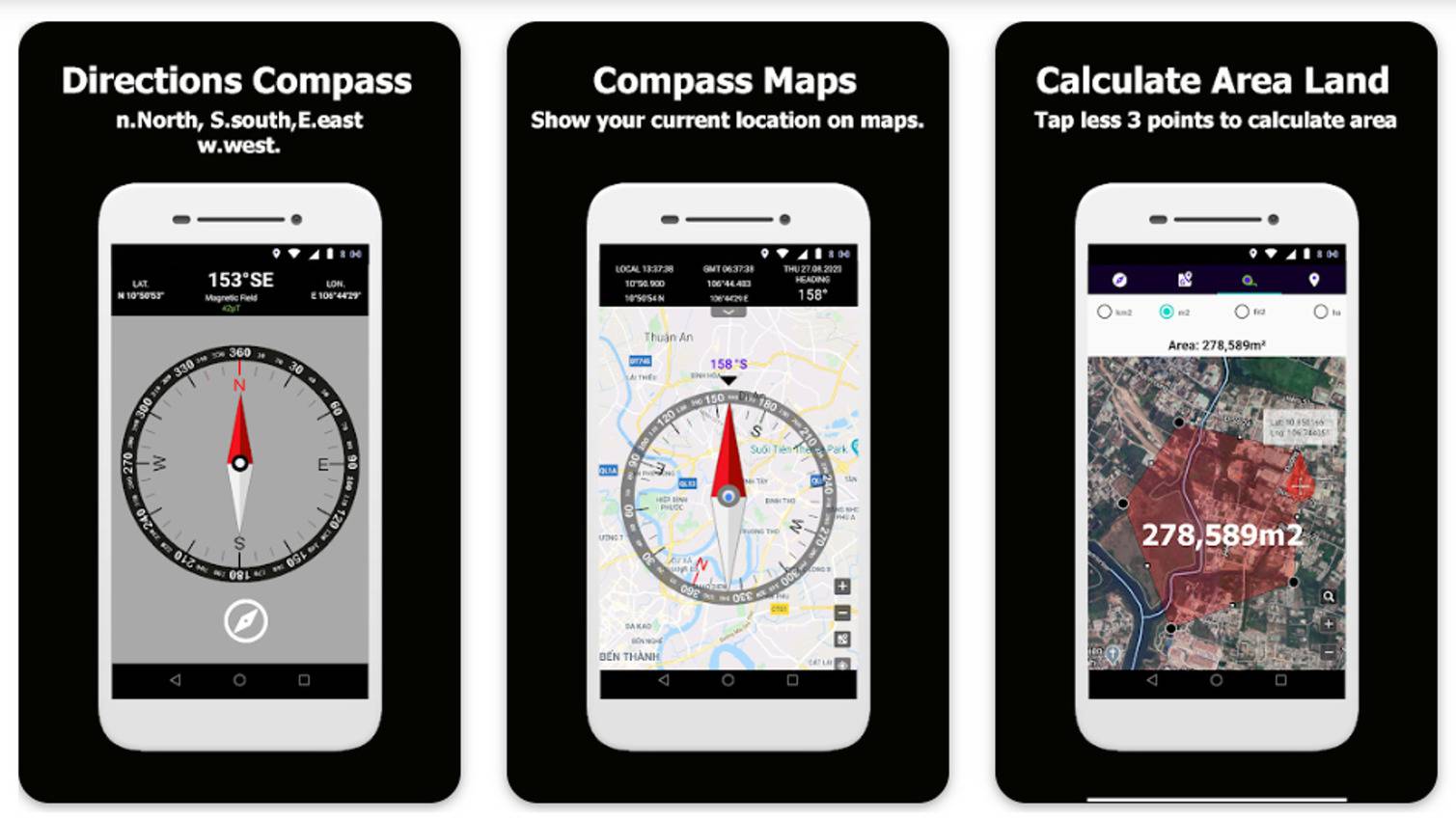 Compass Maps is another good app to know directions using maps. It shows longitude, latitude, magnetic field strength, etc. You get 15 compass themes to suit your style. The location option helps you to locate your device on the map and shows the address of that place. Another useful feature of this app is that you can calculate any area on the map and that too with different units. Compass maps use Google maps in an effective way to provide you with better results.

8. Compass (By R. Apps)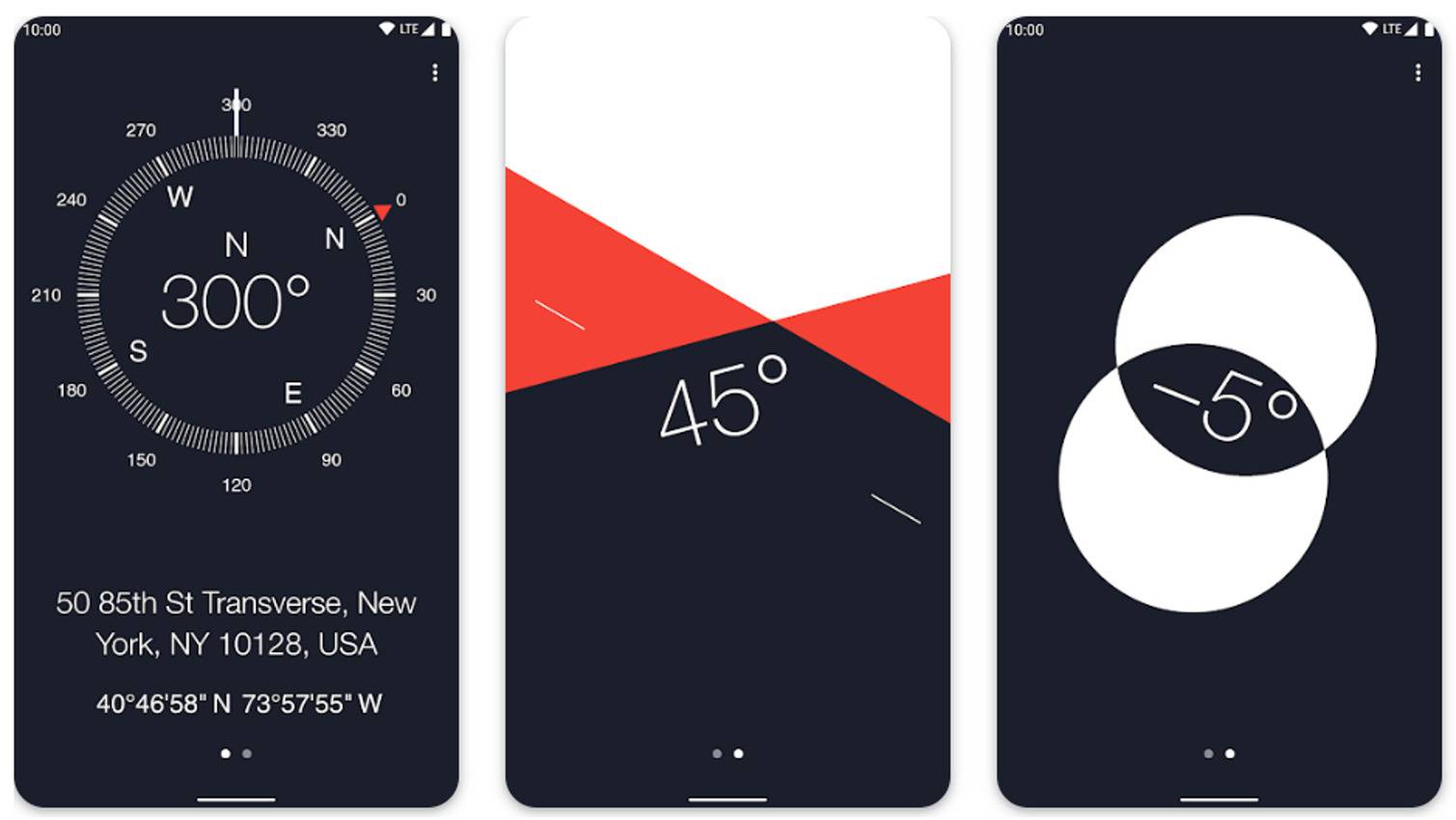 This is an ultralightweight simple compass app that comes with true north and magnetic north, coordinates, address, and elevation. Compass supports offline off-road navigation as well as highly accurate level-measuring features. You can alter the units of azimuth, distance, and elevation. There are 3 color options available with a dark and light theme in this app.

9. Compass Vault (By Anavil Soft)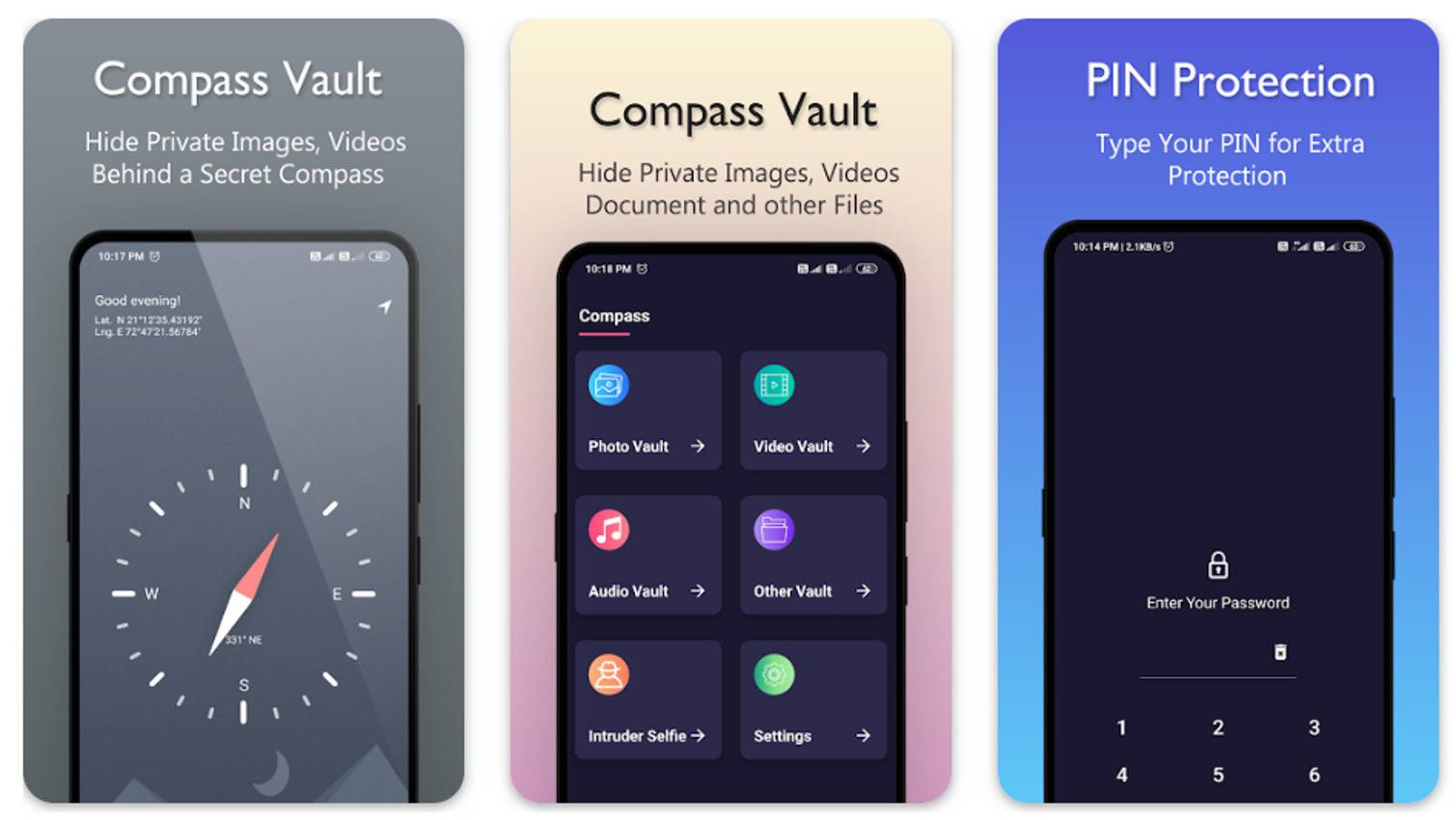 The compass vault app can be used for two main purposes. The secondary purpose of the app is that you can get directions as well as the longitude and latitude of your location while the primary purpose is that you can use this app to hide your media and other files. This app acts both as a compass and a vault. You can even hide the icon and use a dial pad to open it. It has Facebook and uninstall protection as well.

10. Accurate Compass (By Abc Apps)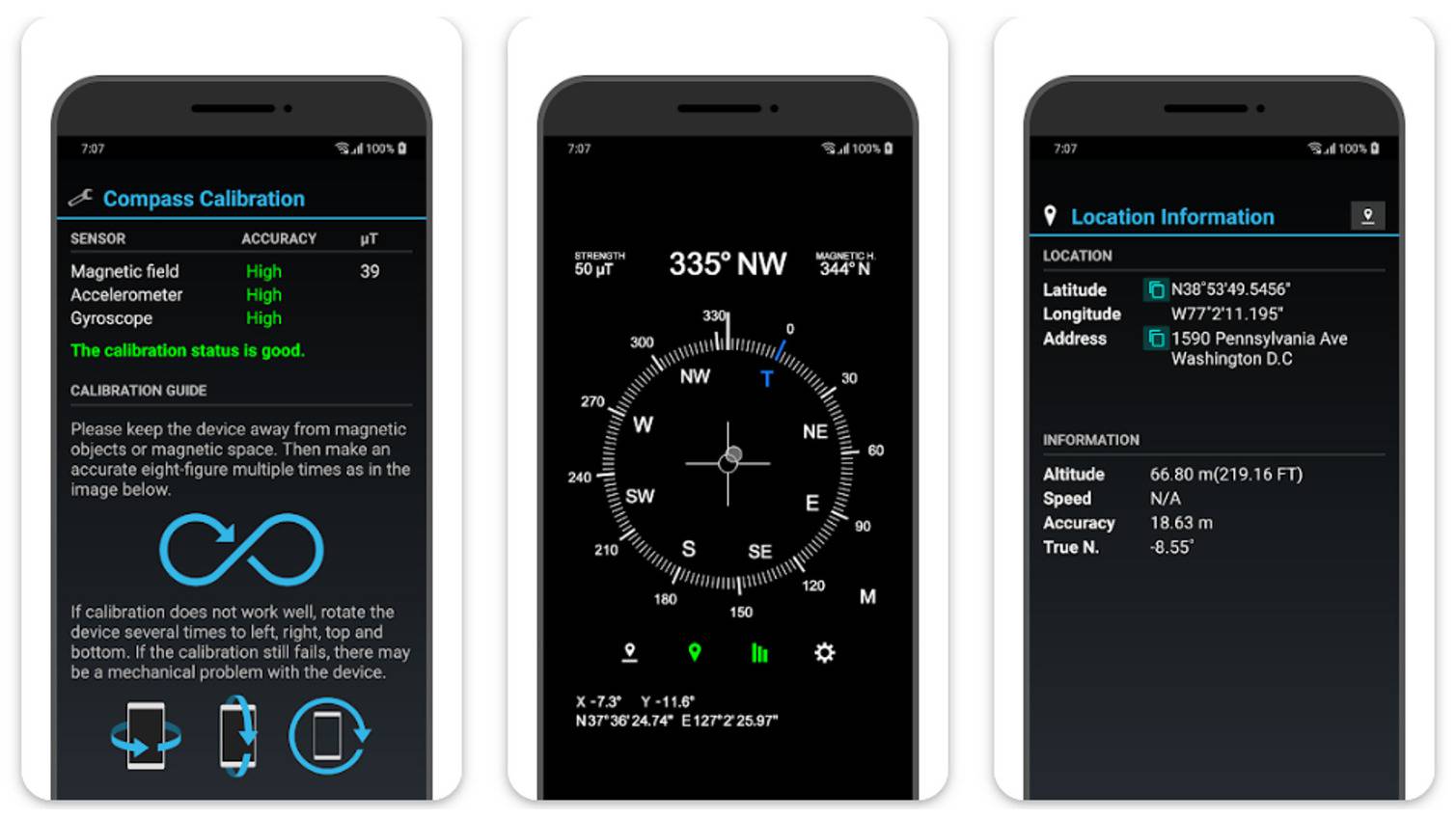 Accurate Compass is another minimalistic and easy-to-use app that shows all the information on a single screen. It shows you coordinates, address, altitude speed, accuracy, device slope, magnetic field strength, and true heading. You get the Google maps service with this app. You can switch between 4-direction and 8-direction compass displays from settings.