Android Launcher is a part of the user interface whose basic function is to customize the desktop of the phone. Every pone as launcher installed in it. But they contain minimal features and is for basic usage. Now many of us, disklike using the stock launcher whatever the reason might be. The alternatives to the pre-installed launchers for android are hundreds in number in Playstore, but are all of them reliable? The answer is no. Moreover, everyone would like to have lightweight Android launchers. It is of no point getting home screen launchers for android which further slows our work like most of the resource-hungry apps. The best part about these lightweight android launchers is they consume little space. We have done the work for you and listed the best lightweight android launchers for the home screen.
Related Article: 10 Best Launchers For Android Devices
1. Action launcher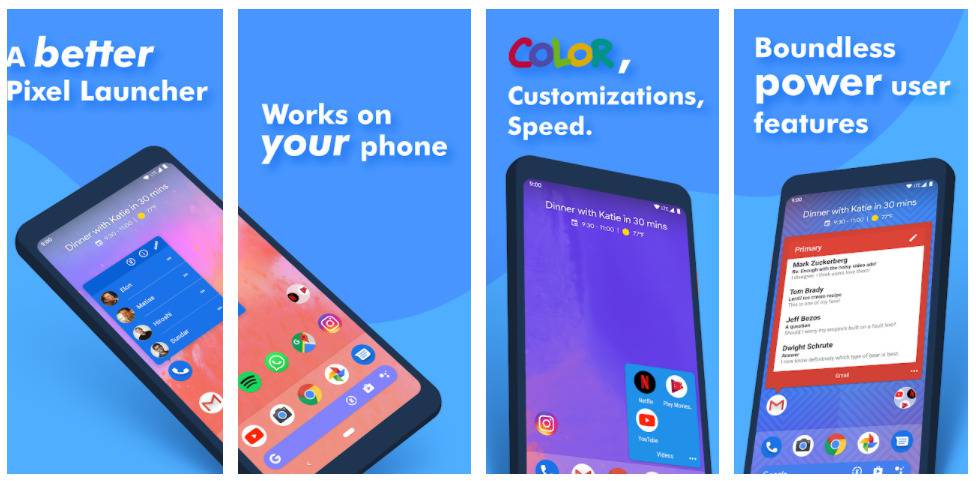 If you are done with pixel launcher and looking for a similar one with better and interesting features, then the action launcher is one of the best home screen launchers for Android you should try. Pixel launcher added with tons of color along with customizations and unique features, you get Action Launcher. All pixel launcher features like swipe up to view new full screen containing apps, folder apps are embedded in Action launcher. In addition, you get a fully customizable dock search box in which you can change colors.
Other features include easy widget support, adaptive icons, shortcuts for apps. It also includes Google to discover integration and supports full notification dots. The app lets you customize your home screen with different attractive themes. Moreover, you can edit the icons for more personalization of your home screen.
Action launcher can be considered as the best lightweight android launcher as it also supports phones, phablet, and tablets.
Key Features
Support Adaptive icons

Inbuild weather widget

Customizable doc search box

Full notification dot support

2. Lawnchair 2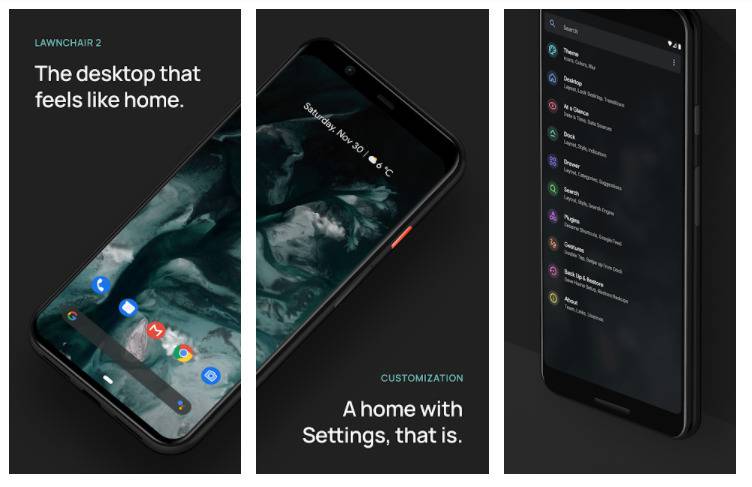 Keeping Android lightweight launchers in mind, and not fearing for compatibility can never coincide. Whenever you are looking for Android lightweight launchers, you must be thinking if the launcher will be compatible with my device or not. If this problem haunts you, Lawnchair 2 is one of the best Android lightweight launchers that is compatible with almost all Android devices. It is known for its compatibility with all devices.
The key features of this Android launcher mainly include excellent support for adaptive icons. The icons on the desktop are quite flexible and the drawer categories include basically tabs and folders. Lawnchair 2 has not ignored the most demanding feature a launcher should have which is dark mode. Yes, it supports dark mode too. However, the best part of this launcher is its integration with google feed and home feeder.
To summarize, Lawnchair 2 is the best home screen launcher for android which you can definitely try out.
Key Features
Automatically change the theme to dark mode.

Flexible Desktop, Dock, and Drawer

Adaptive icon support.

Integration withGoogle FeedandHomefeeder

3. Microsoft launcher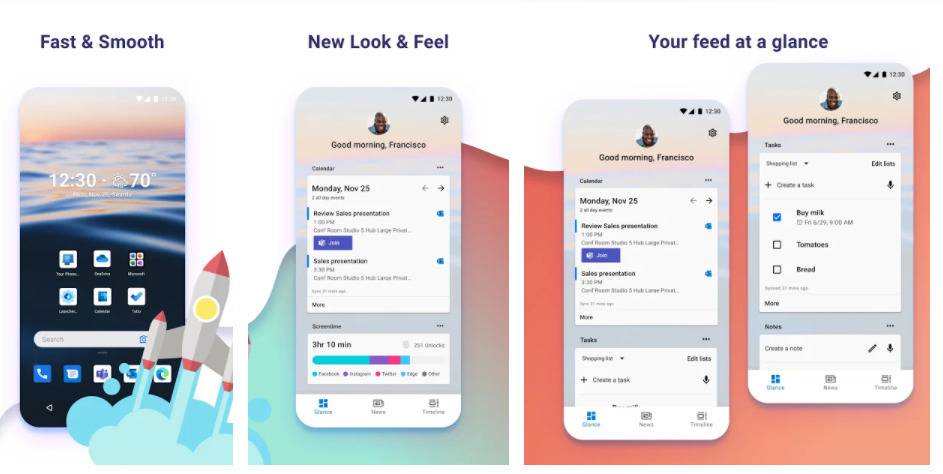 Being someone who likes to keep everything organized, it is difficult to choose the perfect launcher which will keep every app organized. But it's not the case if you are aware of Microsoft launcher. It is one of the best lightweight launchers known for its highly customizable nature which allows you to organize everything present on your phone. The personal feed can be customized in such a way that you can easily view your calendar as well as to-do lists. However, the features don't end here, you even get sticky notes to keep important notes.
With the Microsoft launcher installed on your phone, you will get the option to import your current launcher as the new launcher or you can simply start with a fresh launcher. It uses less memory and also supports dark mode. You even get access to a personalized news feed. Unlike other launchers, Microsoft launcher doesn't drain too much battery.
In the end, the Microsoft launcher can be considered as the best alternative for the current launcher present in your phone as it enhances your productivity as well.
Key Features
Customizable icons.

Dark theme.

Personalized news feed.

Lots of beautiful wallpapers for your Android phone.

4. Hyperion launcher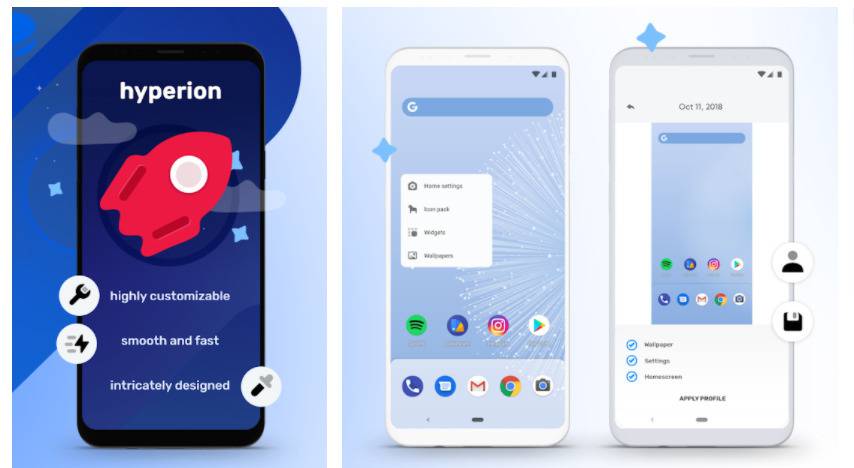 Hyperion doesn't believe in providing attractive features instead it keeps itself updated with what Google has to offer. You can say, this Launcher is the integration of the best features available in the lightweight launchers market. Talking about features, Hyperion provides a launcher with an attractive theme with a different color for app drawer background, folder background, search widget, and dock background.
Moving on to icons, You can change icon size, label size, text color, text shadows, and even shape the icons. Pro version gives access to change the font style. The launcher also comes with cloud sync.
More features include a simple and attractive interface with grids for desktop, drawer, and dock. Moreover, it also has a Google search widget. Further, animations and custom gestures make your experience better with the Hyperion launcher. Thus making it one of the best lightweight android launchers.
Key Features
Add custom colors for Drawer background, folder background, and Search widget colours.

Customize desktop, Drawer, and dock icon.

Google search widgets inbuilt.

Good transition effect.

5. HOLO Launcher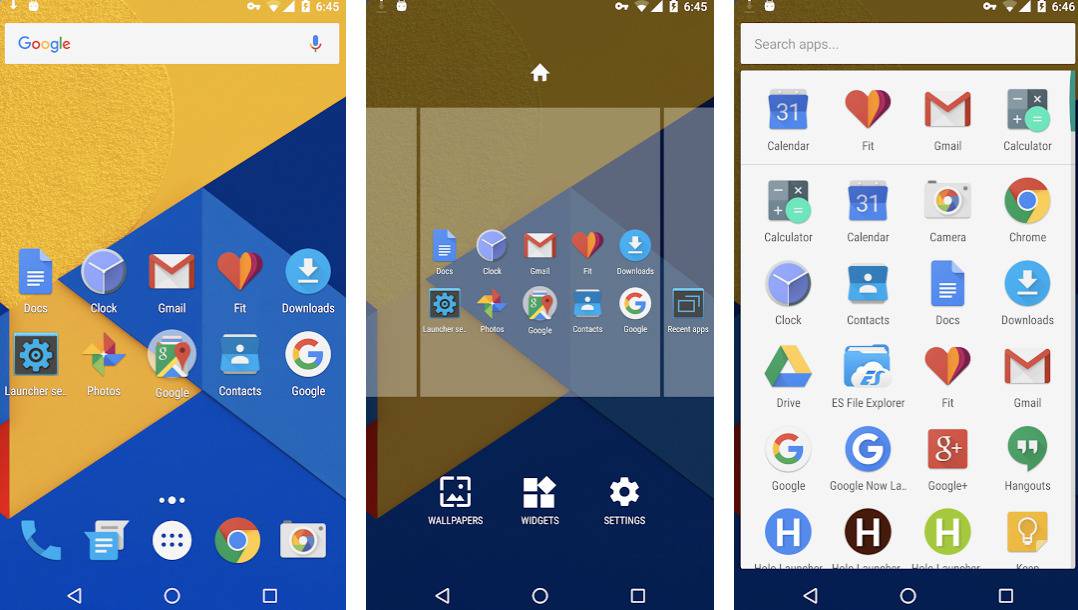 The HOLO launcher is a very fast and lightweight Android launcher that comes with the free and paid version. The look of this launcher is very similar toMarshmallow Stock ROM. It supports various features likeSwipe up/down Gestures,Infinite Scrolling, andCustom Desktop Grid, etc. You can also apply the icon pack as well. But if you go with the paid version then you will get the pro features likecount notifications for call, SMS, Gmail, andCustomizable notification badge color.
Key Features
Full support of Material UI.

Custom Desktop Grid

Swipe up/down gestures

Infinite Scrolling

Long press to edit mode