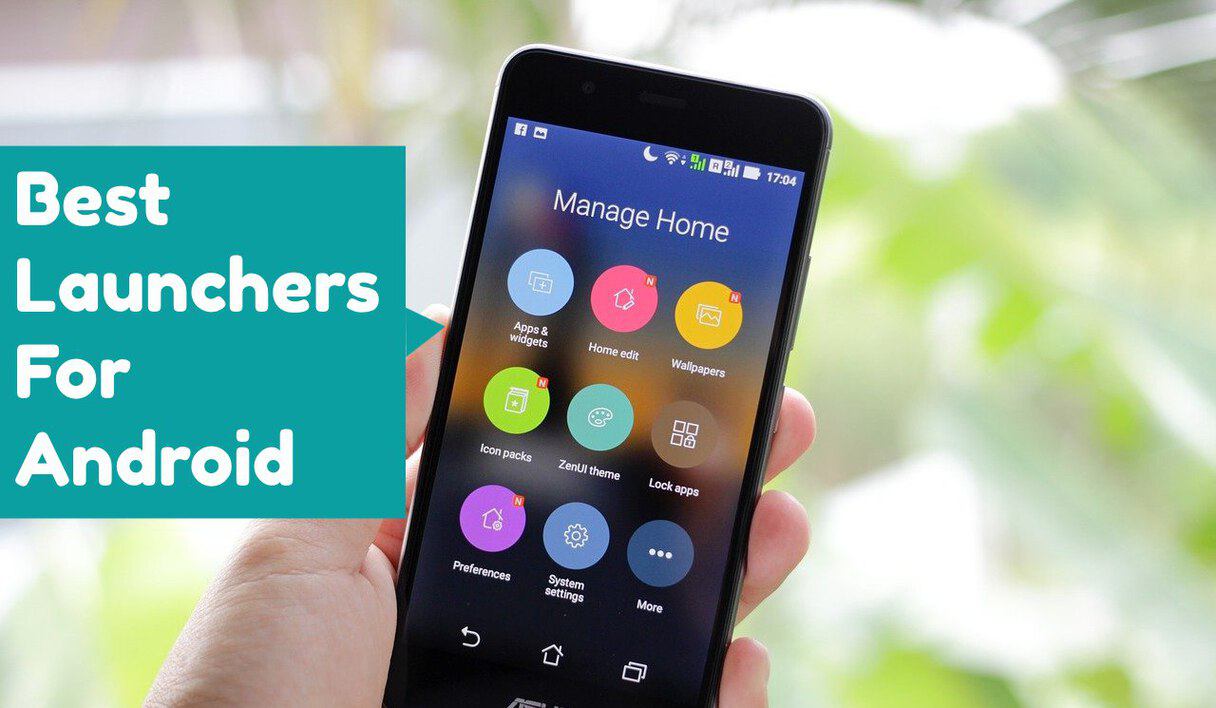 An Android launcher allows us to customize the user interface. It lets users decide how they want to arrange their home screen or launch apps on their phone. It is also responsible for organising your phone and information. Android launchers can improve the style, speed and app arrangement. Nowadays, you can find several launchers for android. It is important to choose the right one for frictionless functioning. To help you out, here are the top 10 best launchers for Android in 2020.
It is quite common that you may like their phone but you don't enjoy the interface. A good android launcher could do the trick. An efficient android launcher can help you perform different tasks on your phone smoothly and quickly. You can customize and personalise your phone to be more convenient for your use. There are additional features to enhance your experience. Using an android launcher can be a real time saver and it can help you make your phone more flexible and manageable.
Related Article: Best Camera Apps For Android in 2020
List of Best AndroidLauncher for Android Device
1. Nova Launcher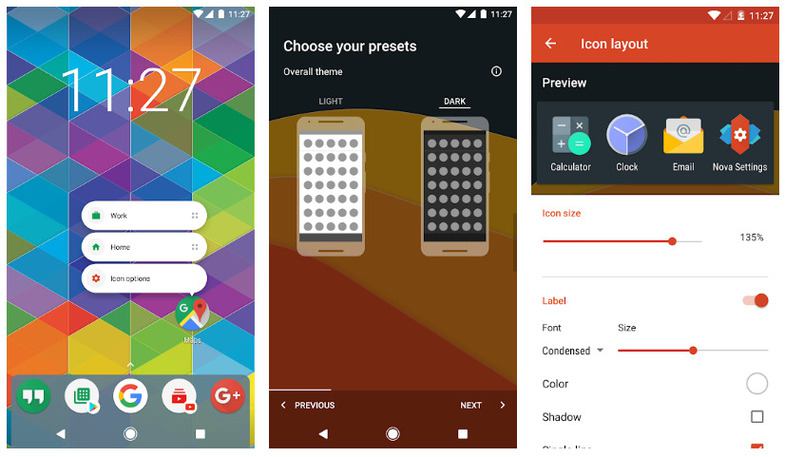 The first on our list of best launchers for Android is Nova launcher.It is a versatile launcher that offers many customization options. It supports many different icon themes and also has the night mode and dark theme. Nova launcher has a customizable app drawer. The Backup and Restore feature can be very helpful for storing data, especially when you are changing your phone. You can store the backup locally or the cloud. It offers great speed and smooth functioning. Users have the option to switch to Nova launcher prime for additional features like hiding apps, assigning gestures etc.
Download Nova laucher for Android
2. Evie Launcher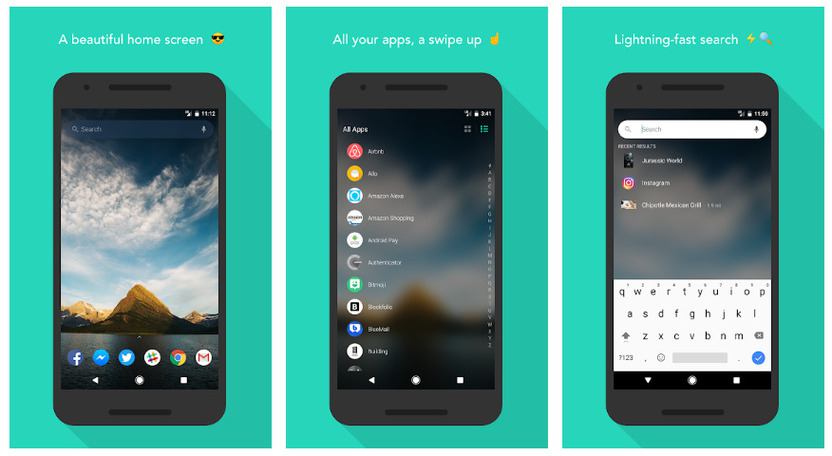 Evie launcher is one of the most popular ones on our list ofbest android launchers. Known for its great performance, this app offers a bunch of personalizations. Users can customize layout, wallpapers and app icons or start all over. Another popular feature is the Evie search. Frequently used apps are also shown on the search engine. It lets you search across the apps form one place. Besides custom shortcuts, you can also hide apps. This is a considerable option if you want a to z customization with quick navigation.
Download Evie launcher for Android
3. Apex Launcher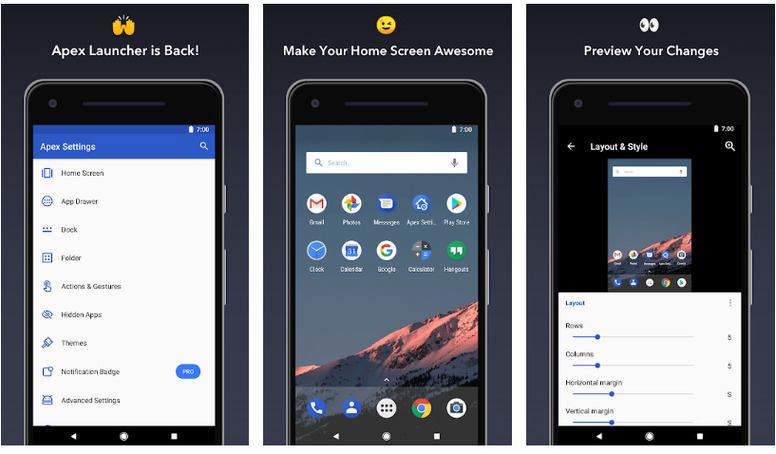 Apex launcher is a fast android launcher with simple and clean visuals. It has some elegant transition effects and different folder preview styles. There are thousands of themes and icon packs available. The icons are also customizable. Besides that, it also has an app lock to hide and lock your apps, pictures and videos. You can switch to Apex launcher pro for more similar features. The pro launcher offers additional transition effects, more gesture options and flexible theme.
In-app Products:₹75.00 – ₹2,500.00 per item
Download Apex launcher for Android
4. Smart Launcher5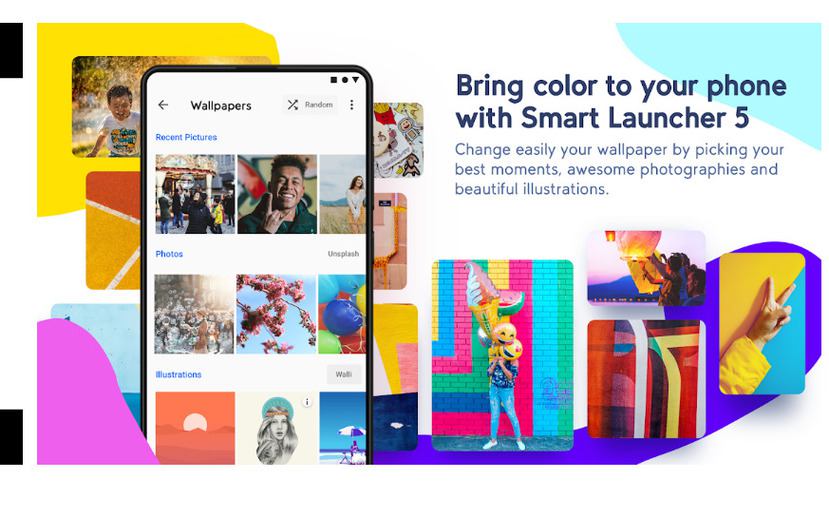 Smart launcher5 is a user-friendly home screen replacement. It offers colourful and artistic themes. All you have to do is select a wallpaper and it changes the colour scheme accordingly. You can customize your device with icons, wallpapers, and colours. Additionally, it also sorts the apps in categories. The Smart launcher search bar helps in finding apps quickly. It has features to hide and password-protect your apps. There are built-in widgets available for showing weather, alarm and calendar events.
In-app Products:₹40.00 – ₹1,250.00 per item
Download Smart Launcher5 for Android
5. Microsoft Launcher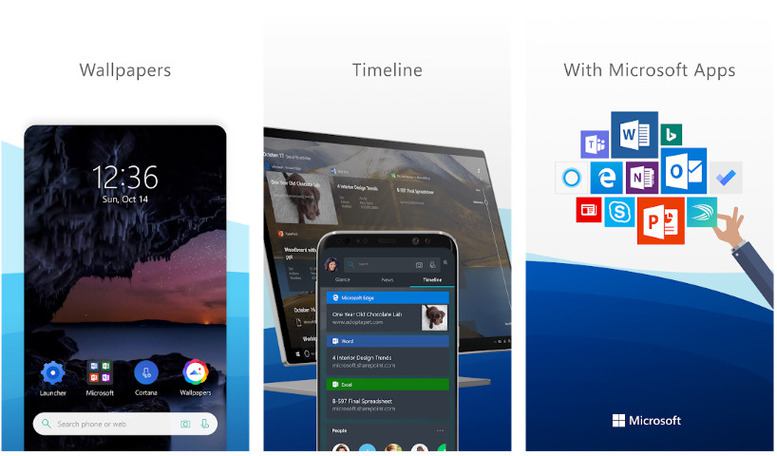 Microsoft launcher is one of thebest launchers for Android you will find. It helps in a smooth transition between Android and PC. The launcher offers loads of customization optionswith a variety of themes, icon packs, widgets, wallpapers and more. Apart from that, you can also personalize your feed on the homepage. The universal search bar helps in finding app and files easily. It lets add your favourite apps and pin your contacts on the homepage for quick access. Microsoft Launcher can also sync your Calendar, Tasks, Notes between devices.
Also Read: 8 Best Voice Translator Apps for Android In 2020
Download Microsoft Launcher for Android
6. ADW Launcher 2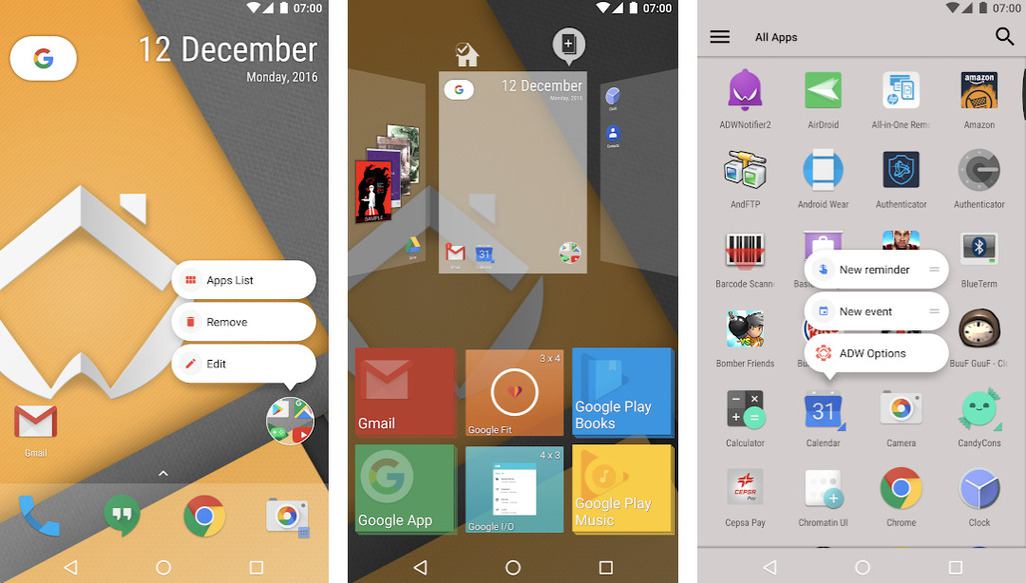 ADW launcher 2 is a versatile android launcher that provides excellent screen management. The App drawer helps in searching and sorting apps in categories. There are several themes for users to choose from. The launcher also lets users set up your gestures to access apps easily. Apart from that, you can also create widgets yourself. Users can customise the App icon appearance and change size, rotation, font and colour. You can pay for additional premium features such asDesktop transitions,Lock Screen action, an overlay mode to global Google search and much more. The premium version is ad-free too.
In-app Products:₹250.00 per item
DownloadADW Launcher 2 for Android
7. Lawnchair 2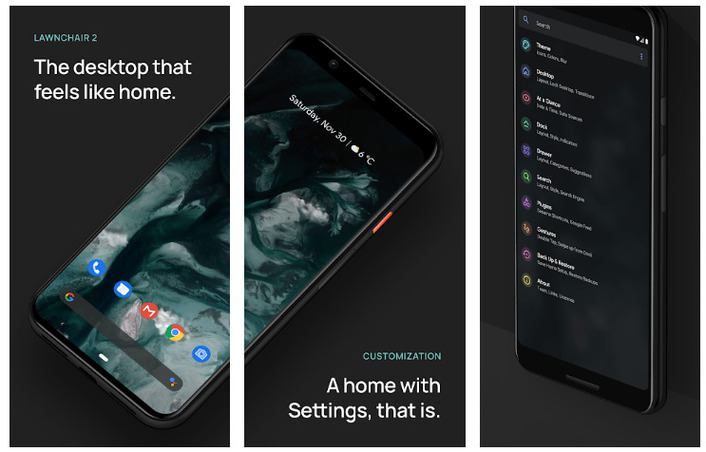 Lawnchair 2 is a simple and efficient launcher for Android. It has features of GooglePixel Launcher and they are customizable. The android launcher offers a flexible desktop and drawer and automatic dark mode. It also has the Android Oreo feature, notification dots. It's another impressive feature is customizable at a Glance widget. Lawnchair 2 looks and feels just like Pixel launcher with additional features. It is also completely free.
Download Lawnchair 2 for Android
8. POCO Launcher 2.0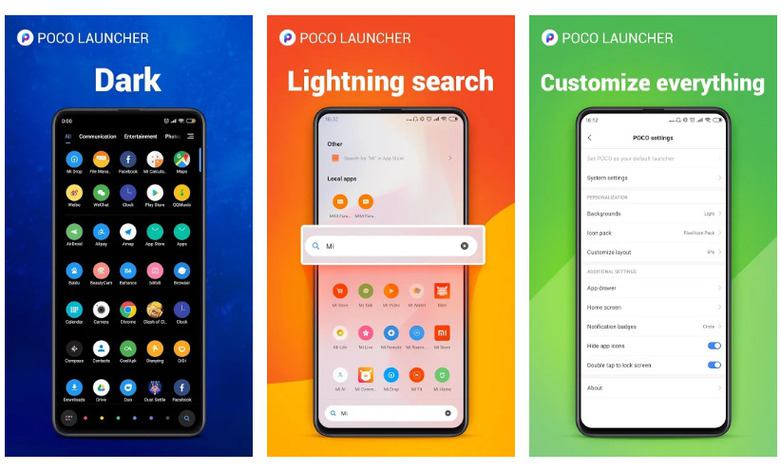 POCO Launcher 2.0 is another very popular launcher on our list of best launchers for Android. It is a fast and clean android launcherwith minimalist app arrangements. It lets you resize the home screen layout and app icons. Users can customize wallpapers, icons, themes and animations. There are features available to make your search for apps and files easier. The launcher also allows user to group app and also gives an option to group them automatically. You can keep apps private by hiding their icon.
DownloadPOCO Launcher 2.0 for Android
9. Sentien Launcher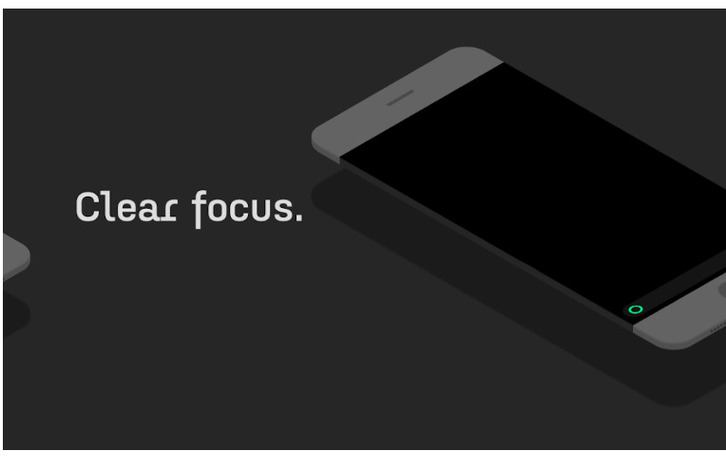 Sentien Launcher is a simple android launcher with a minimalist interface to help you limit your screen time. It is a great launcher if you are having a tough time putting your phone down and focusing on other things because it is designed to help you. It also lets you customize your notifications and it makes your search for the app you want to use. Users can organize these apps to make the search quicker and easier. You can customize wallpaper and colour scheme. It also has offline voice commands and battery saver mode.
DownloadSentien Launcher for Android
10. Niagara Launcher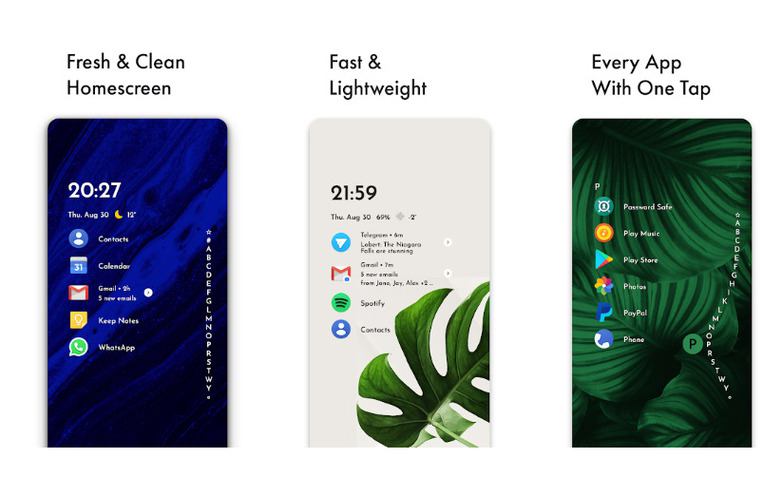 Niagara Launcher is another launcher for android that focuses on having a healthy relationship with your phone. It's simple and minimalistic experience can be helpful. The apps are arranged in a simplified list. This launcher lets you interact with notifications like messages on the home screen so you can quickly reply. Apart from that, it is optimized for one-hand usage. This lightweight and fast Android launcher can change colour scheme according to the wallpaper. Niagara Launch also lets you hide unwanted apps and bloatware
In-app Products:₹80.00 – ₹280.00 per item.
DownloadNiagara Launcher for Android
Must Read: Top 10 Best Photo Gallery Apps For Android