Money Transfer apps have made the whole process of sending and receiving money a lot easier than it used to be. You don't have to go to a bank or do any paperwork to send money using these Money transfer apps. It's instant and hassle-free. You can quickly open the app and complete the transfer in minutes. But it comes with a security risk too that is why it's important to choose the right Money transfer app. The one that will protect your data and transactions and also work frictionlessly.
So you need a good Money transfer app that will protect your data and secure every transaction. We have curated a list of the top 10 money transfer app in India for you. These are the best and trusted apps by millions of users for sending or receiving money.
There are quite a few money transfer apps available in India. Although most Indian banks have their own Money transfer app, these only work mostly for accounts in that bank. It is more convenient to use an app that works for all bank account instead of using multiple apps.
Some of these apps require you to create a UPI ID to transfer money from your bank account to another. It is a quick and simple method but the receiver must have a UPI ID too to receive the amount. But there are other options too. You can directly transfer money using the bank account number. It is faster and easier than net banking too.
Related Article: 10 Best International Money Transfer App That Sends Your Money Securely
List of Top 10 Money transfer Apps in India
1. Google Pay (Tez)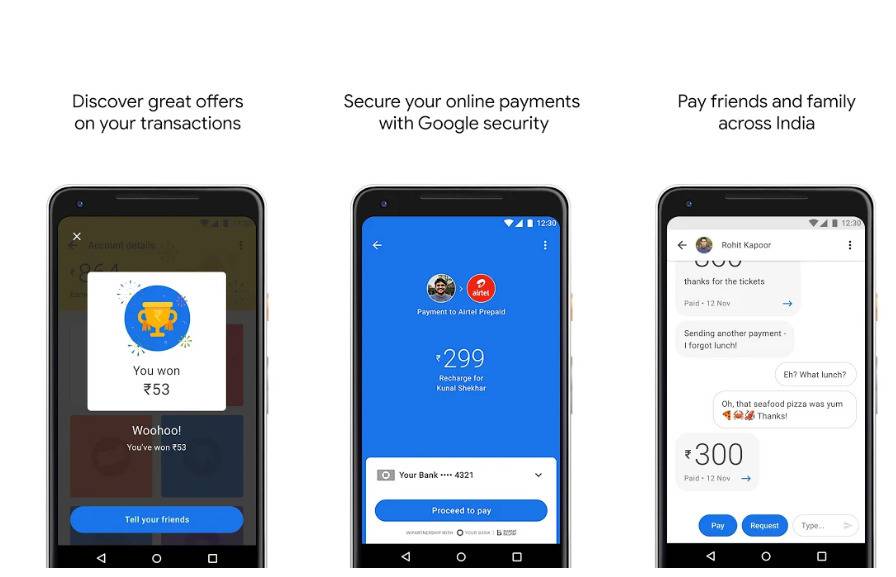 Google Pay (Tez) is one of the best Money transfer apps in India to send and receive money using the bank transfer and UPI method. The app also offers an instant mobile and DTH recharge or other bill payments. And repeat these payments with just one click.
You can easily trust the app as it comes with Google security. The app also ensures security with an app lock and UPI pin before every transaction. Along with transaction security, Google pay has a very simple user interface.
Features
The App UI is very simple and easy.

You will earn stretch cards for each eligible transaction.

No KYC is needed. Only you need to create a UPI id for sending and receiving the money.

Check the balance in your bank accounts with the Google Pay app.

Google pay also provides you a feature to bill payment and mobile recharges.

Provide 2 layers of security by asking for the fingerprint before doing every transaction.

Each transaction is free of charge

QR code scanner to transfer the money easily.

Lots of online platforms like Myntra, Flipkart support Google Pay as a third party payment app.


2. Paytm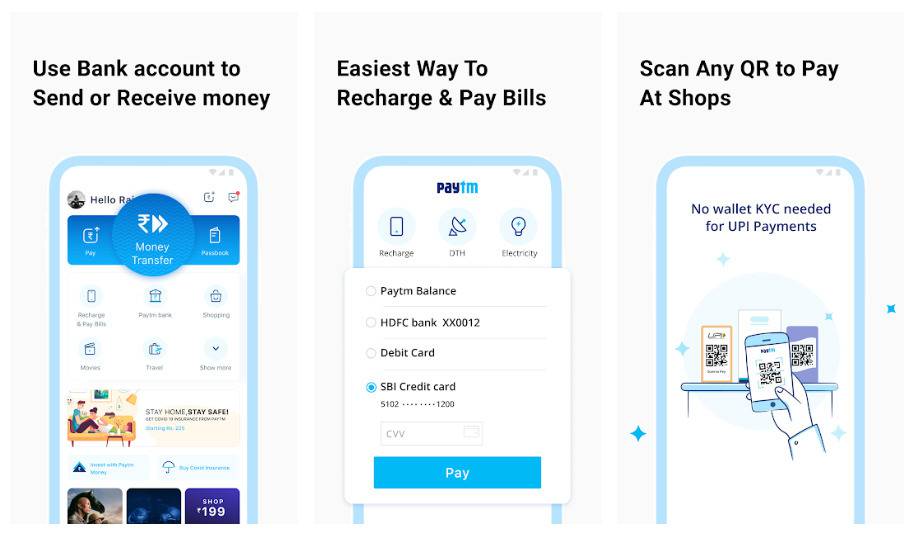 Paytm is one of the most popular made in India money transfer app to send and receive money safely. The app requires you to link your bank account and create a UPI ID to send or receive money. Once you create a UPI id, you can easily send or receive the money directly in your bank account.
Paytm doesn't charge anything for these transfers between bank accounts. Apart from the best money transfers app, Paytm offers lots of other features like ticket booking, bill payment, online shopping, insurance, and more. Paytm also have other apps like Paytm Money for investment and Paytm bank.
Paytm always asks for a UPI pin for like Google pay for security. The app UI is also very simple and intuitive. Overall Paytm is the best app to transfer money in India and trusted by millions of users.
Features
Most trusted and most downloaded money transfer app in India.

Provide lots of cashback for the eligible transactions.

Fast and quick transactions with a high success rate.

Digital wallet for a quick recharge, money transfer, shopping, and much more.

QR code scanner to transfer money to any merchant.

Can be used as a third-party payment app for shopping platforms like Flipkart, Amazon, and more.


3. PhonePe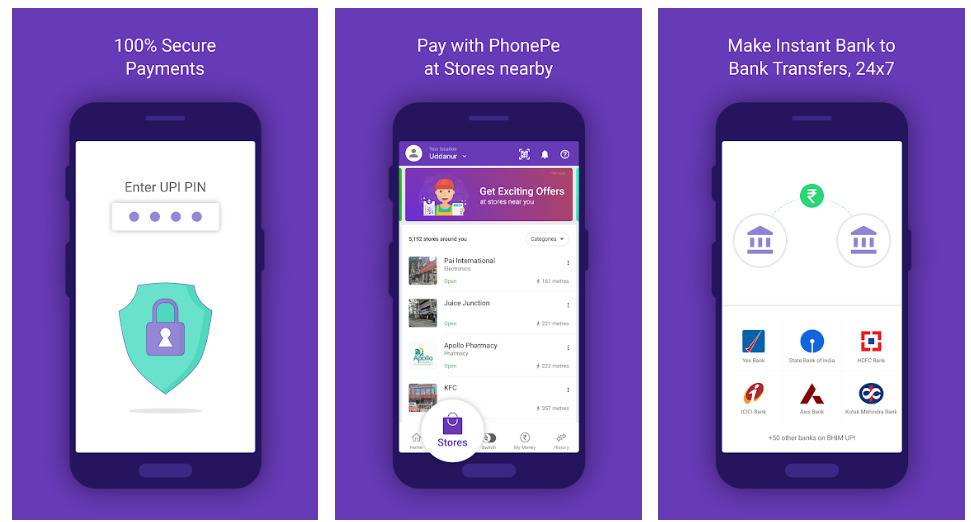 PhonePe is another made in India money transfer app for transfer money securely. The app enables you to transfer money using BHIM UPI. You can instantly send money directly from your bank account by linking it to Phonepe. It allows you to send or request money from your contacts.
You can also check your bank account balance and manage multiple bank accounts. PhonePe also requires a Pin before every transaction for security. It is an all-in-one app where you can directly pay your bills, order food, or book a ticket.
PhonePe currently introduces the mini-apps like dominos, BookMyShow, etc in their platform so you can also use these mini-apps with the PhonePe trust. The parent company of PhonePe is Flipkart, so you can trust this money transfer app and install it on your phone to make payments securely.
PhonePe also has a very simple UI and comes with Flipkart security which makes this app on the list of best money transfer app in India.
Features
Offer scratch cards for all eligible transactions

Easy navigation and simple UI.

Provides features like bill payment, mobile recharge, buy gold, and invest in tax saving schemes.

QR code scanner for easy transactions.

Touch id login for both Android and iOS devices.

You can easily pay using PhonePe at different online platforms


4. Amazon pay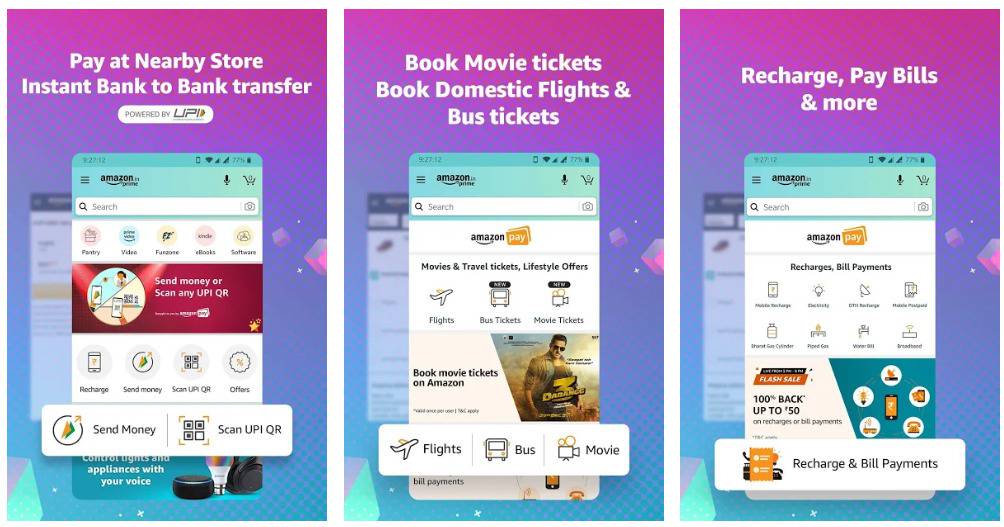 Amazon is essentially a Shopping app but now Amazon introduces their own payment app which comes with Amazon trust and security. Amazone pay combines lots of features and has a very simple UI that makes it one of the best app to transfer money in India.
It allows you to transfer money to a bank account using Amazon Pay UPI id. And these transactions are secured by an amazon login password and UPI pin. You can also scan QR to initiate the transfer. The recipient doesn't need the Amazon app for this.
The app can also be used as a third party wallet on various platforms to make payments. The app also has quick recharge and bill payment options like electricity, water, or gas bill.
Features
Pay on Amazon with Amazon pay for easy payments and refunds.

With the help of this app, you can easily recharge your mobile, pay electricity bills, and more.

QR code scanner support for easy money transfer.


5. MobiKwik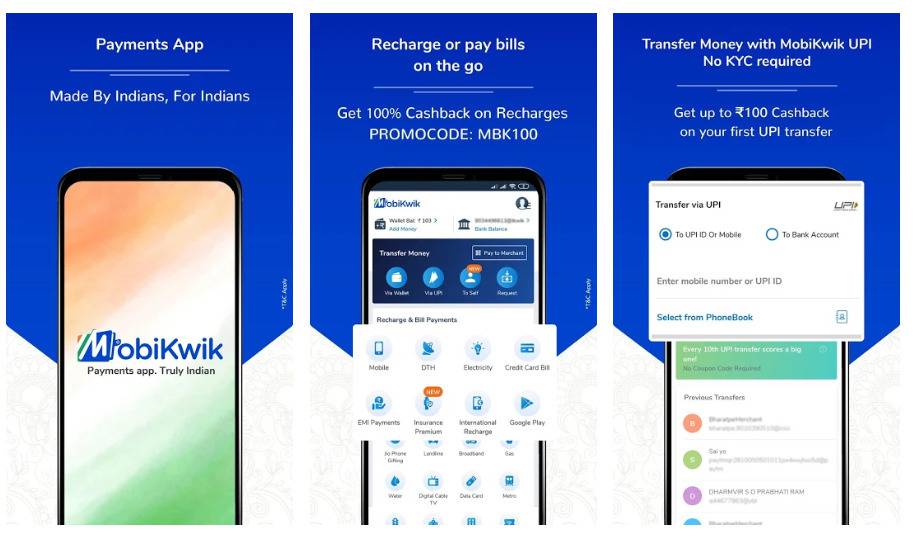 Mobikwik is another very popular money transfer app that is used by millions of users and merchants. Mobikwik lets you transfer money from your bank account to another bank account or MobiKwik wallet. You can also transfer money from your Mobikwik wallet to the Bank account as well.
The app has many quick payment options as you can quickly pay your electricity bill, insurance, and gas bill. There are prepaid and postpaid mobile recharge options. Mobikwik also allows you to buy insurance directly from the app. It also has an Expense Manager to track all of your expenses. So, you can track your expenses and get its summary daily, weekly, or monthly through SMS.
Features
Recharge your mobile, bill payment, and much more.

The app provides instant loan up to 5 lacs.

Provide you cashback in the Mobikwik wallet.

Invest in mutual funds.

Pay later available.


6. Freecharge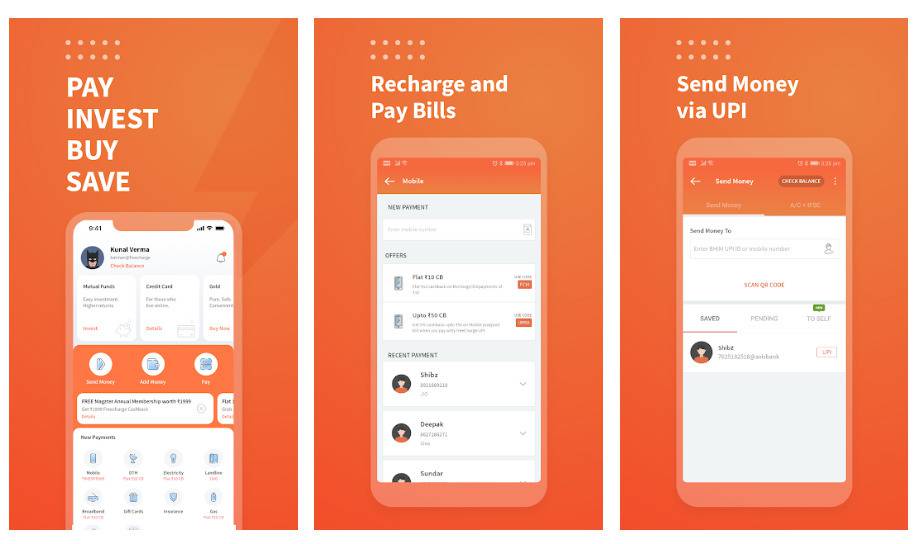 So if want a secure app that comes with bank security then Freecharge is the best app to transfer money in India. It comes with an axis bank security. Axis bank is the parent company of Freecharge. It lets you recharge your mobile and pay for electricity, DTH, landline, Broadband, and gas bill. Additionally, it allows you to send and receive money in your bank account.
You can set up your Freecharge UPI ID with any bank account and transfer money. You can send money using UPI ID or the recipient's bank account and IFSC code. The UPI payment can only be done using the QR code. Freecharge lets you track your transaction history and has a Help Centre feature if you have any inquiries about those transactions.
Features
Lots of offers and cashback with every eligible transaction.

You can invest in the tax saving mutual funds.

QR code scanner makes the transaction safer and secure.

Get a person load with minimum or no paperwork.

Open an FD with just 3 minutes.


7. PayPal India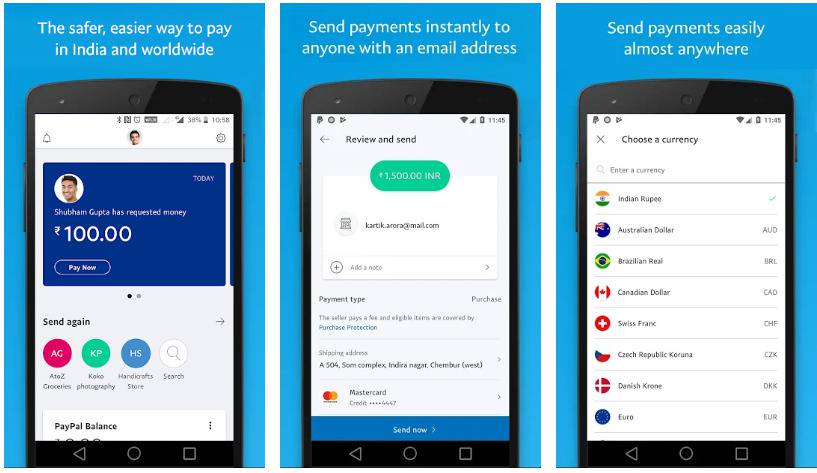 PayPal is the most trusted and secure app to make international as well as domestic payments. PayPal is the most used app in the world to transfer money internationally. So if you want an app that can handle your international transaction as well then PayPal is the best app to transfer money in India as well as outide in India.
The App allows you to link your credit card or debit card to your account. You can not only transfer money but pay for online shopping. It provides 24/7 transaction monitoring and encryption for security. You can also manage your attractions and view history through PayPal.
The app has other features that can make transfer easier. Like you can simply request the amount of money for the transfer. And it also saves and creates shortcuts of your recent payments so, you can use them again quickly. The con of this app might be the first time setup. The first time setup requires lots of documents to create an account on PayPal.
Features
Most secure and trusted application for transferring money.

You can send money in India and outside India as well.


8. Ola money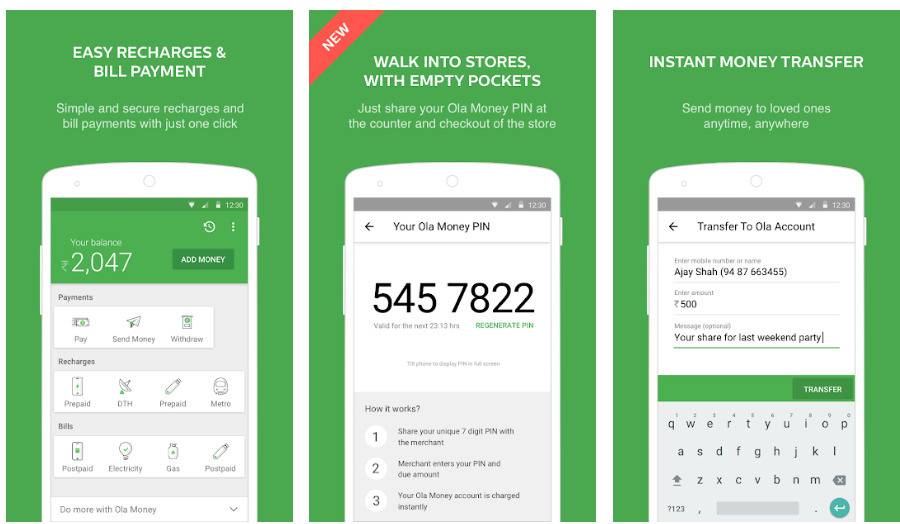 Ola Money is a trusted app to transfer money in India that comes with Ola Cabs. The app also has its standalone version that has lots of other features. The main purpose of Ola Money is to pay the bill of Ola Cab.
Apart from paying the Ola Cab bill, You can recharge your mobile, electricity bill, gas bill, and more. Ola Money app payments can acceptable at multiple sites like IRCTC, Cafe Coffee Day, eBay, and more. The app lets you use the wallet money for payments, send money, withdraw your money, and use it as a third-party wallet.
Features
Simple User interface with minimum features.

Pay your ola cabs bills and pay later after 15 days.

Recharge mobile, bill payments, and more.

Use the Ola wallet as a third-party app for online transactions.

|

9. UltraCash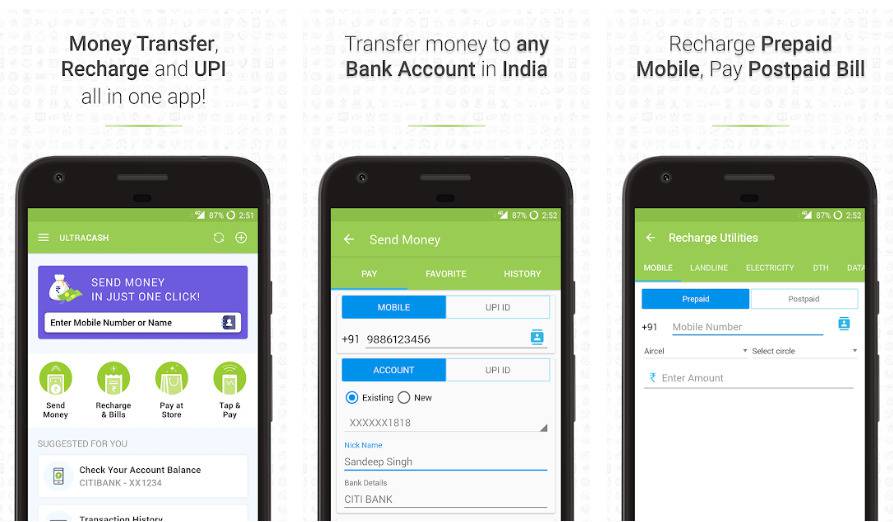 UtlraCash money transfer app allows you to transfer money to any bank account by using just an account number. Unlike the regular bank transfer process, no IFSC code or other additional information is needed. And the transaction is comparatively faster too.
You can either your bank account or Debit card. You also get an option to save the account number for faster future transactions. UltraCash also supports BHIM UPI for transfer between bank account and Credit card payments. You can also use BHIM UPI for other bill payments and mobile recharge. To ensure security, data transfer encryption is based on a payment grade encryption algorithm.


10. Airtel Thanks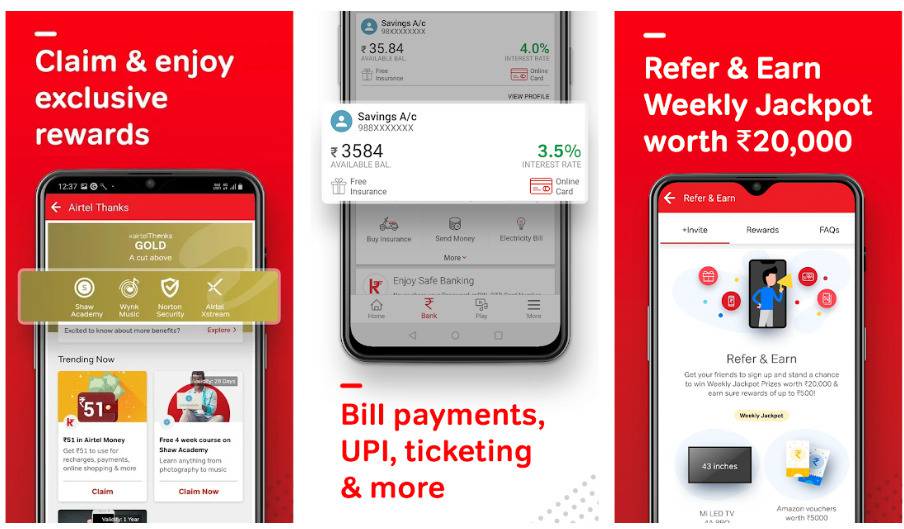 Airtel Thanks is mainly a lifestyle app by Airtel that focuses on bill payments and mobile recharges. But it lets you create a UPI ID for money transfer as well. This all-in-one lets you use the created UPI ID for other payments too. You can transfer money to anyone or pay bills or buy insurance. It also keeps a track of your transactions to help in management. You can view your transaction history with a passcode. The transactions are also secured by a pin.