Earlier, people used to read newspapers or watch television to know what's going on in their city, state, country, or world. But Nowadays everything is possible on mobile phones. The Internet has changed our life and the way we view news.There are tons of sites that deliver the news and keeps track of all of them.In this article, you will come across the best news apps for Android and iPhone.
News apps have also changed the way we consume new information and news. It works for both readers and viewers. Most of these apps include exclusive short clips to report the news. Apart from easy access on your phone, you can also stay updated with these. Unlike newspapers or tv news channels, these apps bring live updates and news much faster. Popular news media now produce digital content so you don't miss out on anything. There are plenty of options for both Android and iOS. You can either download the news app of your favouritedaily newspaper or, choose an app that brings news from many different sources.
List of 10 Best News Apps for Android and iOS
1) Google News and Weather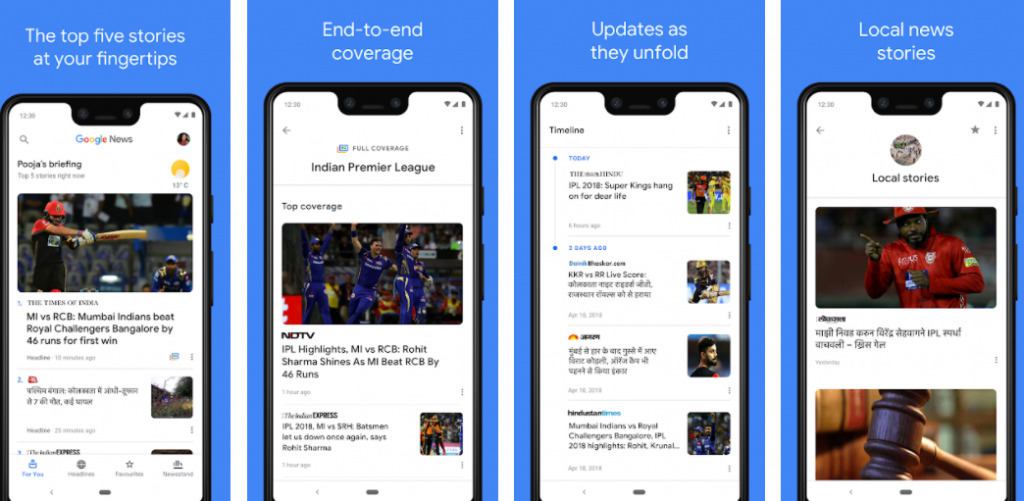 Google News and Weather is one of the trusted applications for news. It covers stories from major publications throughout the world. There is no chance of finding Fake news on this application, which is why it is one of the best news apps. Google keeps on giving new updates and integration features for all its apps, including its Google News and weather. It uses artificial intelligence and, it also promises the best-streamlined news viewing experiences for its users. The app also provides magazine titles.
FEATURES:
It offers easy accessibility.

Seamless user experience.

Google News offers multiple social sharing options.

A large amount of News sources from the World.

Both Android, as well as the iOS version, gets frequent updates and bug fixes.
Download Google news app for Android | iOS
2) BBC News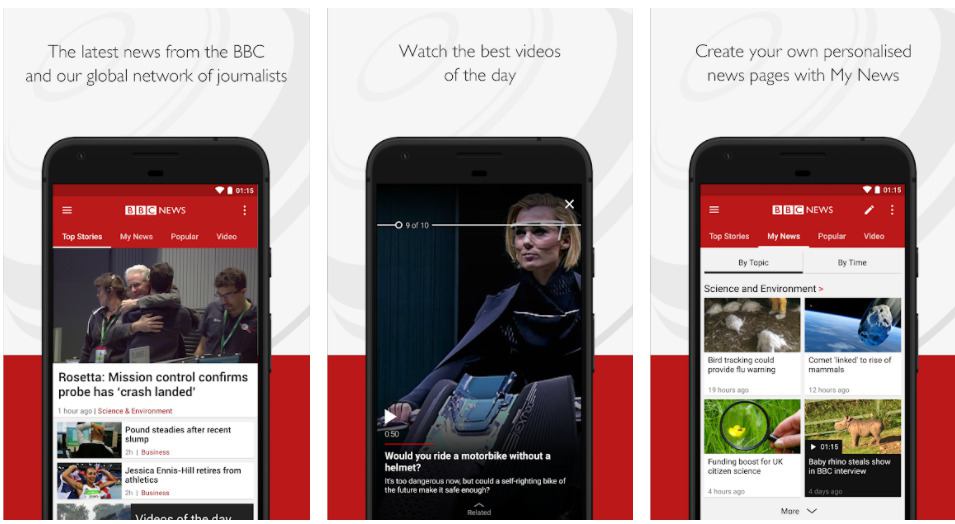 BBC News is just another app for reading news. The app gets you news from the BBC and its global network journalist. It is one of the best news apps for international news. One of its commendable features is that it asks the first time users to select their favourite topics by which it can recommend news stories of your interest. BBC news app also has a news recommendation engine that suggests stories related to the ones you have already read.
FEATURES:
News alerts are delivered within seconds.

Stories are available and updated as they happen.

It lets you watch the best footage and see, what people are talking about.

If you are UK users, then you can also watch the BBC News Channel Live.

It offers a personalized feed with a choice of thousands of topics, so you get the news that matters the most for you.
Download BBC new app for Android | iOS
3) Hindustan Times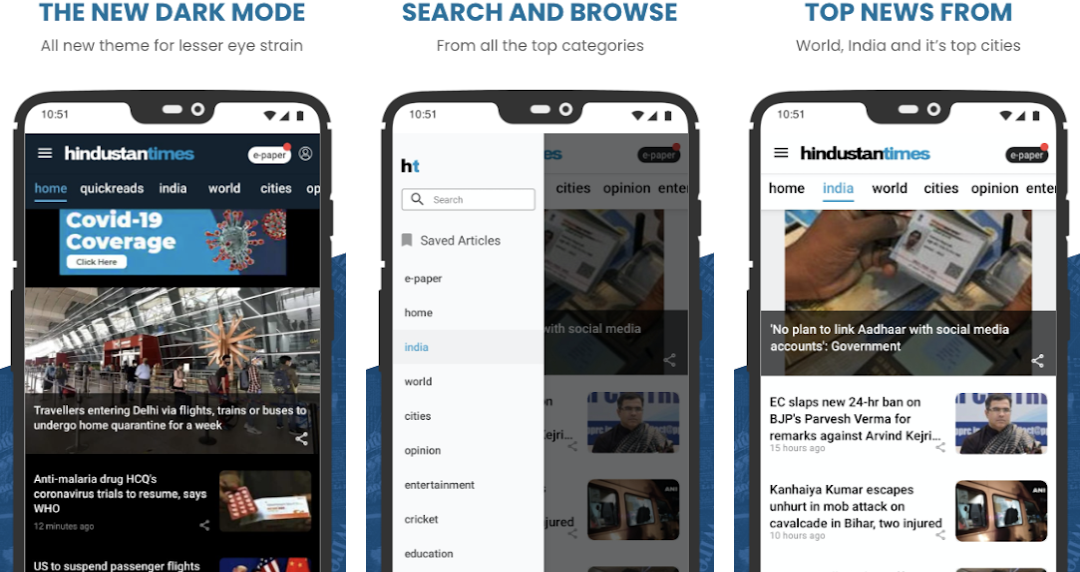 Hindustan Times is an official Indian news app and, it provides free access to all news from India and the world. You can real-time updates on sports and other news along with headlines, recent and daily news. You can read news of any Hindustan Times shows anytime and anywhere. It gives exclusive news as well as live headlines 24/7. It helps you connect with the latest headlines.
FEATURES:
Hindi and Punjabi language are also available.

You can also subscribe to the e-paper.

It lets you view local news separately.

You can also favourite articles to read later.
DownloadHindustan times for Android | iOS
4) Dailyhunt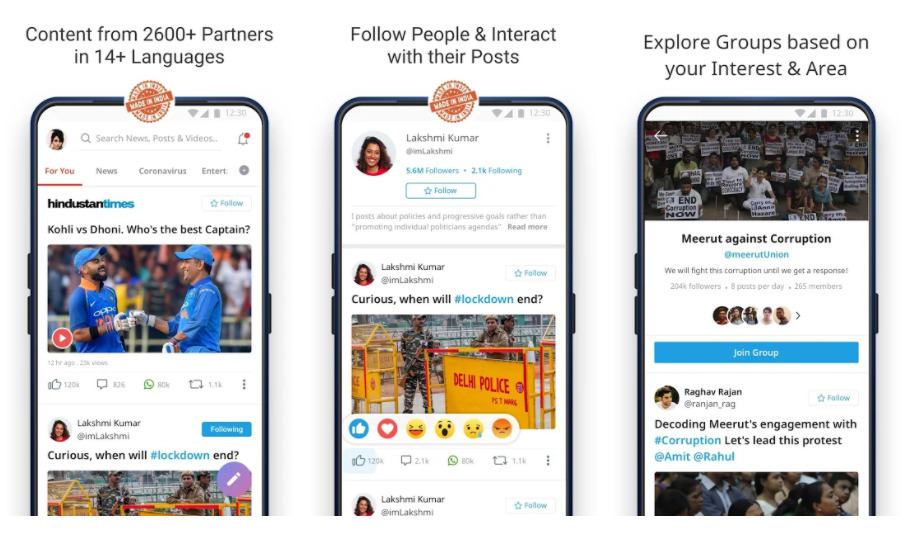 Dailyhunt is one of the most popular Indian news apps. The app is like a collection of the best news apps. You get all the news from different Indian news sources in this app. Apart from English, the news is available in many Indian languages likeHindi, Tamil, Marathi,Bangla and more. DailyHunt focuses on local and regional news. It provides Pincode level local news.
FEATURES:
You can create an account in the app and share posts.

You can also explore different hashtags to view other posts.

It lets you follow newspapers, celebrity content creators, and news sources.

There are custom recommendations for videos and articles too.
Download Dailyhunt news app for Android | iOS app
5) Reuters News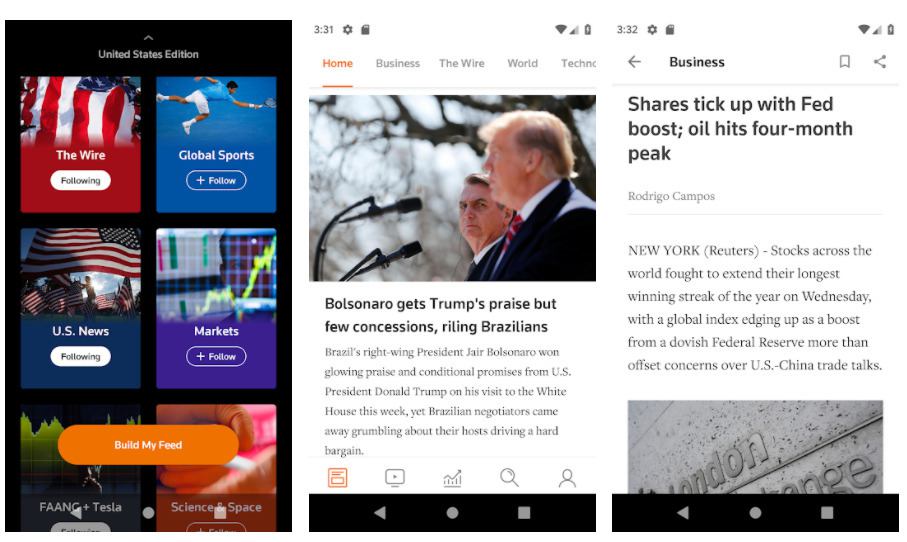 Reuters has considered source trusted and unbiased news. And the app makes access to this news easier. It provides trusted business, national, international, and financial news. It features contents from more than 2,000 reporters in 180 countries. You can also view relevant stories based on your location. It also has many other personalization features.
FEATURES:
It is a Trusted news app.

It allows the users to save articles in offline mode.

Users can catch up with Editorial Highlights.

You can find relevant stories based on your location.
Download Reuters app for Android | iOS
6) Pocket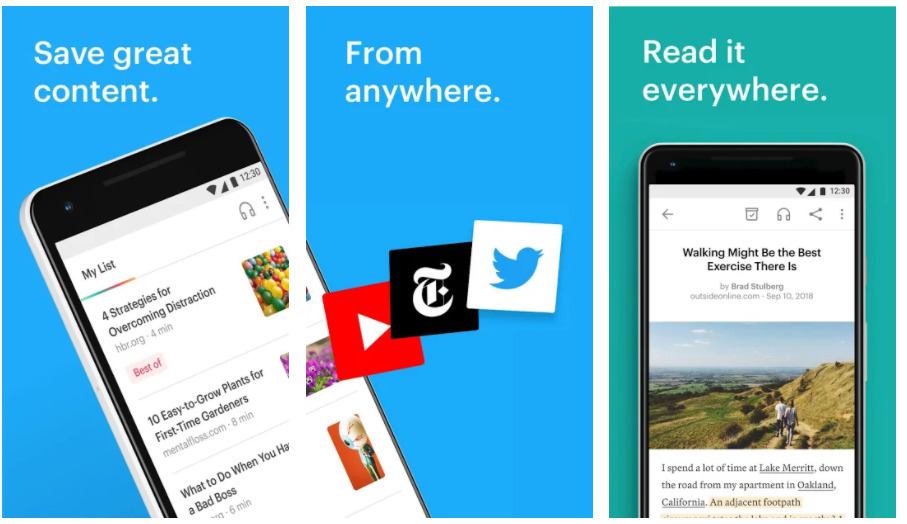 Pocket is an award-winning app from Firefox. It integrates with the share sheets and buttons of many apps, browsers, and email services, that allows you to save the content for later. If you want to remove advertisements, it saves the content directly to the permanent library. Moreover, it includes advanced search and organization tools that will help you sort through all your stories and articles. It is also the editors choice in Playstore for best news apps.
FEATURES:
Its content is easily shareable.

You can have your permanent library.

It has a reader-friendly format.

Your saved content syncs across devices.

You can do advanced searches and also have organization tools through all of your stories and articles.
Download Pocket news app for Android | iOS
7) Microsoft News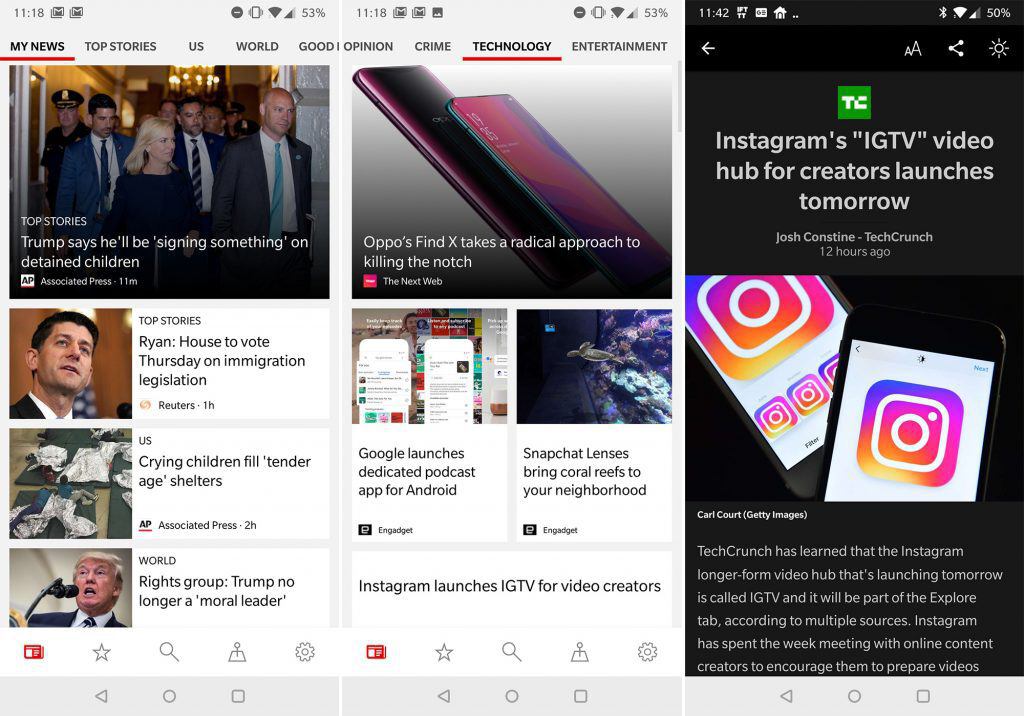 Microsoft News delivers high-quality news from the world's most popular and trusted publisher. Users can optimize the layout, sync settings across their accounts. Users can also save stories for offline reading. It has a wide variety of sources, from traditional news, entertainment magazines, and new media sources. It has a clean design that lets you read the article without clutter.
FEATURES:
It has high-quality news.

It has a clutter-free reader that keeps things neat and distraction-free.

You can optimize the layout and also select the dark theme.

Users can sync settings across their accounts.

you can also save stories for offline reading.
Download the Microsoft News app for Android | iOS
8) Times Of India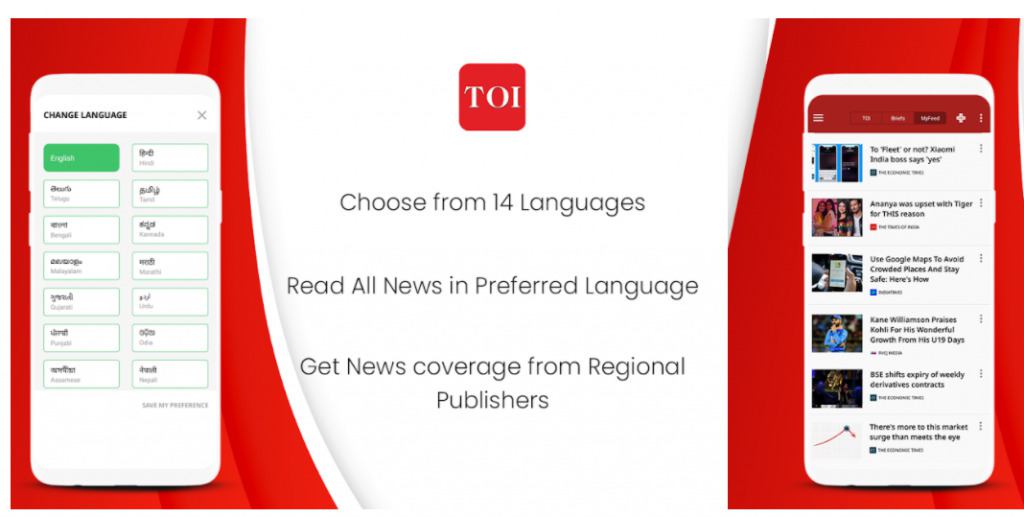 The Times of India app offers a convenient way of getting news updates and information from all over India and around the world. It features different topics from local, national, international, entertainment, and recent weather updates. Times of India app is probably the most user-friendly on our list of best news apps. It is easy to navigate and search for information. Anyone new to these news apps can easily use it.
FEATURES:
It lets you be updated with the Latest News of the World.

You can Read, Watch or Listen news according to your preference.

It supports live streams.

It also supports offline reading.
Download times of India news app for Android | iOS
9) Flipboard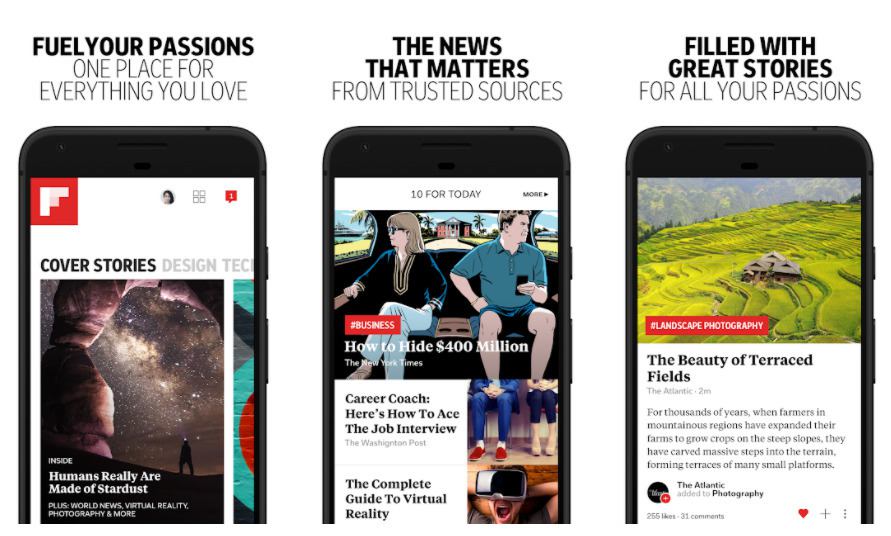 Flipboard is a news aggregator and social network aggregation. It is another of Playstore's editor choice for best news apps. The app aggregates its content from social media, news feeds, photo sharing sites, and other websites. Users can pick topics of their interests, and websites. They can also add their own content. You can discover the latest news, customize the home feed, read the daily feed, and also curate your perspective.
FEATURES:
It puts the priority on presentation.

It builds a smart magazine.

There is a premium feature called Flipboard TVwhere you can watch personalised videos ad-free.

You can also share what you read and watch.
Download the Flipboard News app for Android | iOS app
10) Inkl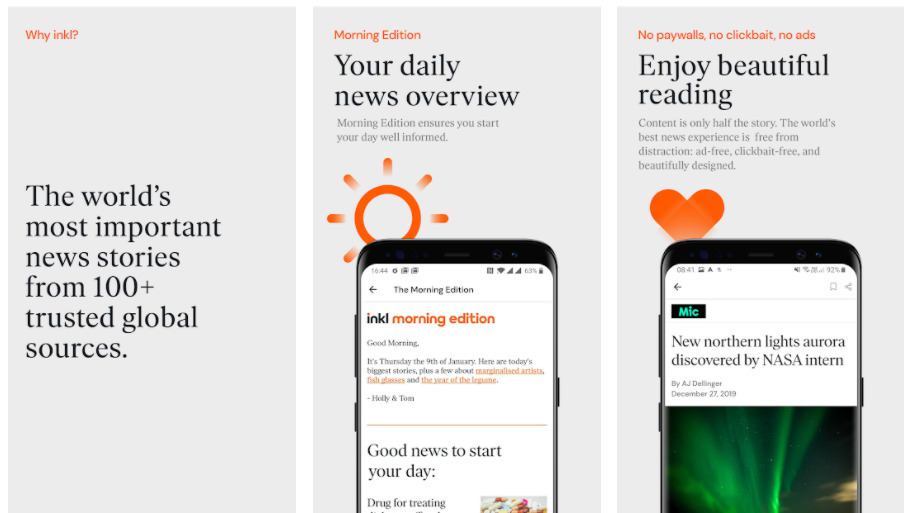 Inkl is a global news subscription service. It's fast and also has a modern layout that is easy to use. It is completely ad-free. It is the world's best clickbait-free news. Here, you won't get any gossip or annoying news. Most of the stories are taken from the big publishers like The Washington Post, The Guardian, Bloomberg, and China Daily. It provides real news only. It ensures digital privacy and even it doesn't allow third-party apps to use your private data. A paid membership is also available that will surely improve your reading.
FEATURES:
It has the world's important stories.

You can filter the topics.

It is a beautiful and ad-free reading.

NO PAYWALLS, ADS OR CLICKBAIT