Digital India was launched in 2015 to make India digitally empowered in various sectors and just after one year, the NPCI launched the revolutionary Unified Payment Interface which is now prominently known as UPI. Scenarios such as Demonization and the COVID-19 pandemic further compelled people to shift to digital payment and the result of that can be easily witnessed today.
India now stands at the top of the list of countries with the most digital payments. Almost 30 million transactions take place per day through UPI in India and the number is about to touch the 1 billion mark by 2026. As more people adopt cashless transactions, the options of UPI apps in India have also widened. There are several apps that facilitate digital payments. In this article, we have shortlisted the 5 best UPI apps in India for safe online payments in 2023 that are widely popular and come with great features and robust security.
Also read: 10 Best Personal Loan Apps in India for Instant Loan in 2023
List of Top 5 UPI Apps In India For Safe Online Payments
1. Paytm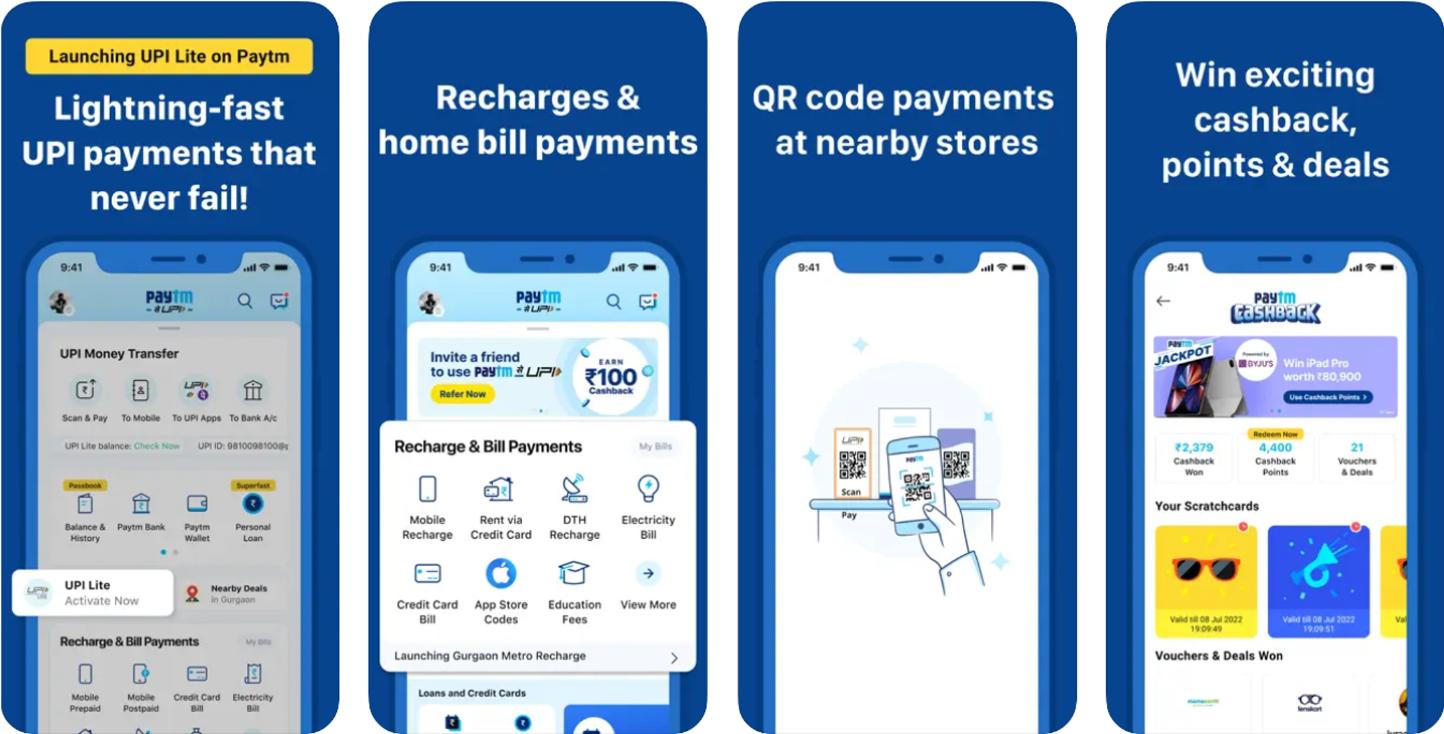 Paytm is one of the most popular UPI apps In India. Digital payments through this platform are widely accepted. Paytm is way more than just a UPI app. Here you can not only pay your bills and send money but can also book travel tickets, and movie tickets, shop online, order food from ONDC, check your credit scores, get a personal loan, play games and win exciting rewards and vouchers. Paytm offers several types of cashback offers, sometimes even based on occasions. You can easily manage your multiple bank accounts as well as open your Paytm bank account. The Paytm wallet is a great feature that allows you to make payments easily without a PIN like UPI lite. Overall it's a great app with various functionalities.
Features:
Access DigiLocker

Supports UPI lite

Paytm pay later

Several cashback offers

Book travel and movie tick

Manage multiple bank accounts

Pay bills, send money, shop online, etc.

Order food and other products from the ONDC network

Supports one tap pay for NFC-supported devices


2. Google Pay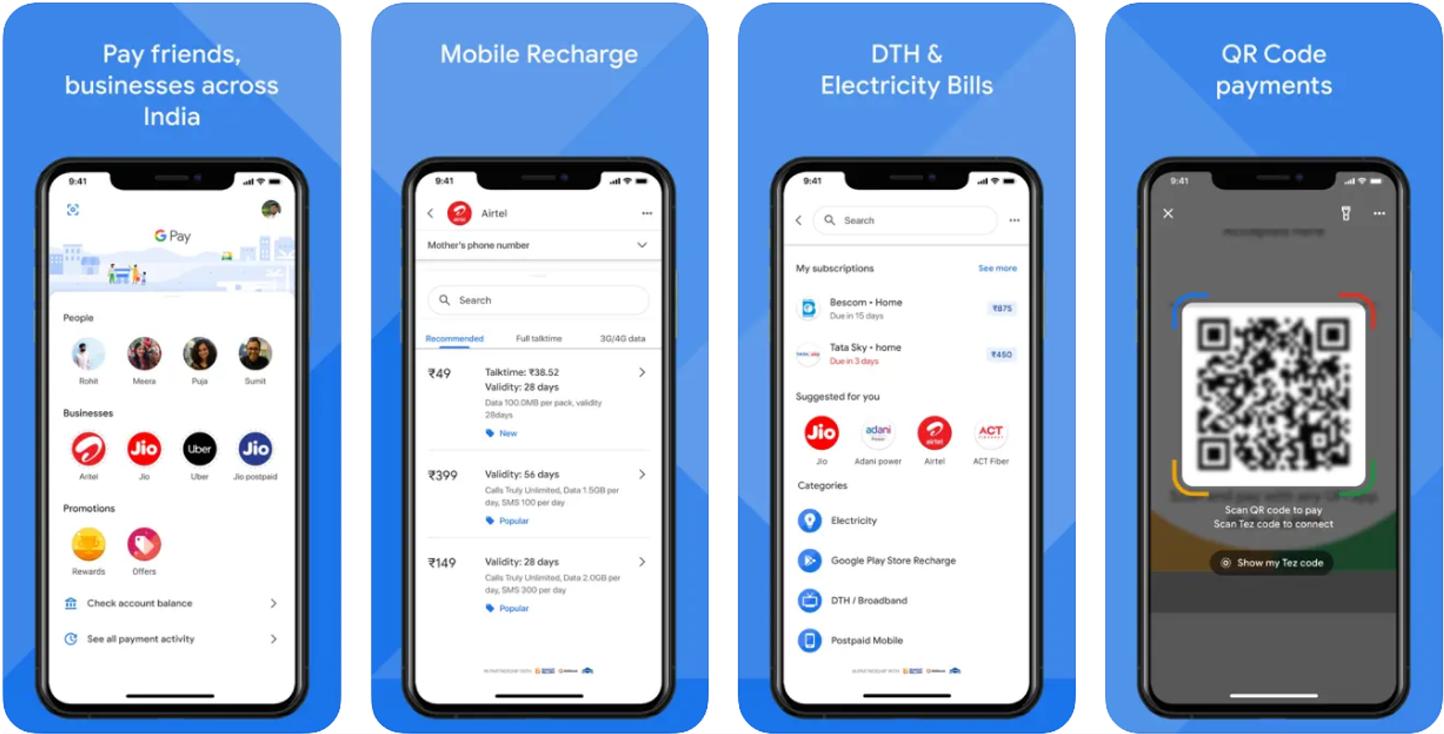 Google Pay is a secure and straightforward payment app by Google that is used by millions of Indian users. You can connect your bank account with your registered mobile number and embark on your cashless journey. Google Pay is well-integrated with your contacts and makes it easy to transfer money to family and friends. You get robust security with Google Pay where every transaction is secured with UPI PIN. Moreover, you can add your biometric details to lock your account. From transferring money and bill payments to buying gold and ticket booking, Google Pay provides you with several features.
Features:
Check bank balance

Get exciting rewards

Buy, sell and earn gold

Get personal loans

User-friendly interface

Supports all banks with BHIM UPI

Recharge mobile, pay bills, and more

Send money to people via UPI ID

Ticket booking, online shopping, etc.


3. PhonePe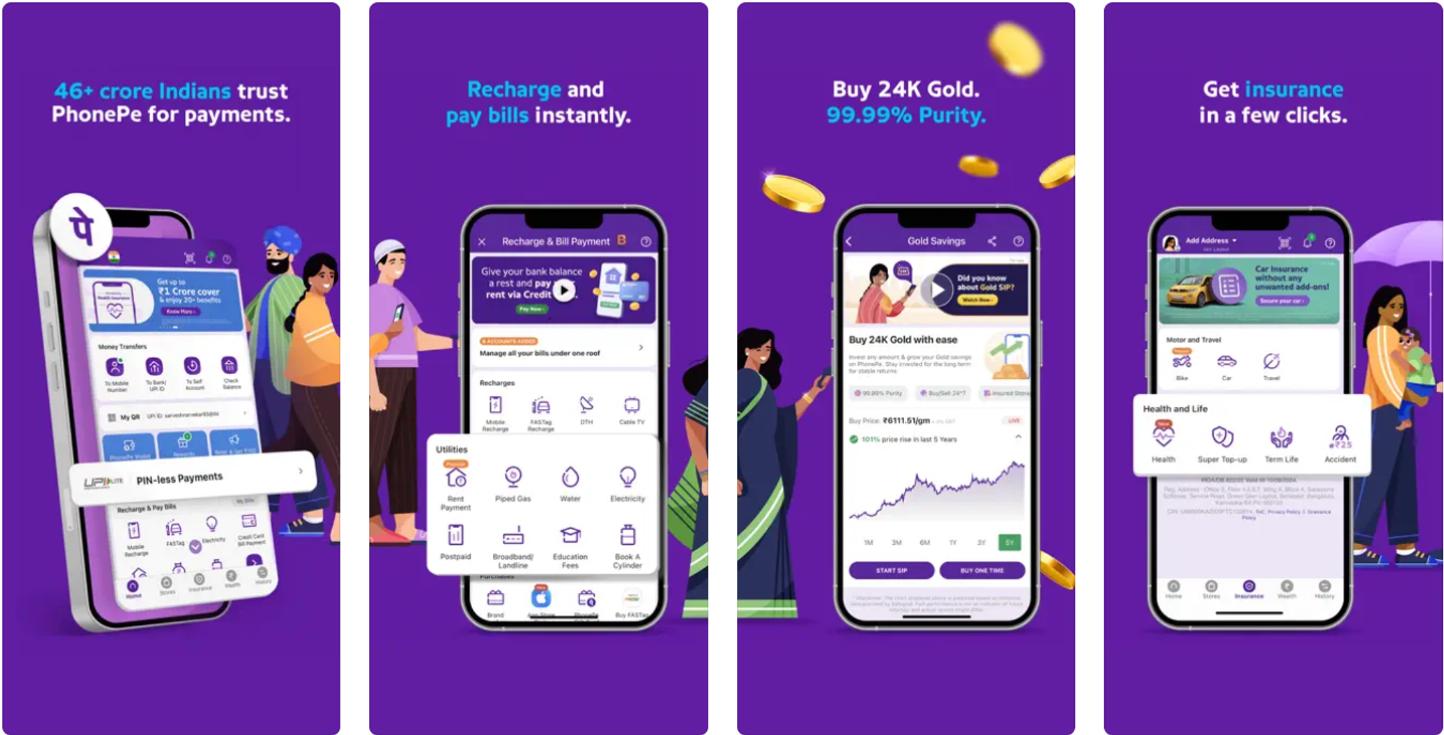 PhoenPe is a comprehensive UPI payments app founded in 2015. It facilitates cashless transactions through several mediums like UPI, wallet, and debit and credit cards. You can transfer money using a QR code, UPI, mobile number and bank. The app has a nice purple-themed UI where you can access all the major transactional categories easily. If you have multiple bank accounts linked to your registered mobile numbers then you can manage all of them from PhonePe as it supports over 140 banks across India like SBI, ICIC, AXIS, etc. Apart from basic mobile recharge, bill payments and money transfers, you can also buy different insurance policies, gold and PhonePe's own gift cards.
Features:
Recharge and bill payments

Supports over 140 banks

Supports offline payments

Manage multiple bank accounts

UPI lite for PIN-less payment

Several methods to transfer money

Buy PhonePe gift cards

Pay on online shopping and food orders

Buy insurance policies and gift cards


4. Amazon Pay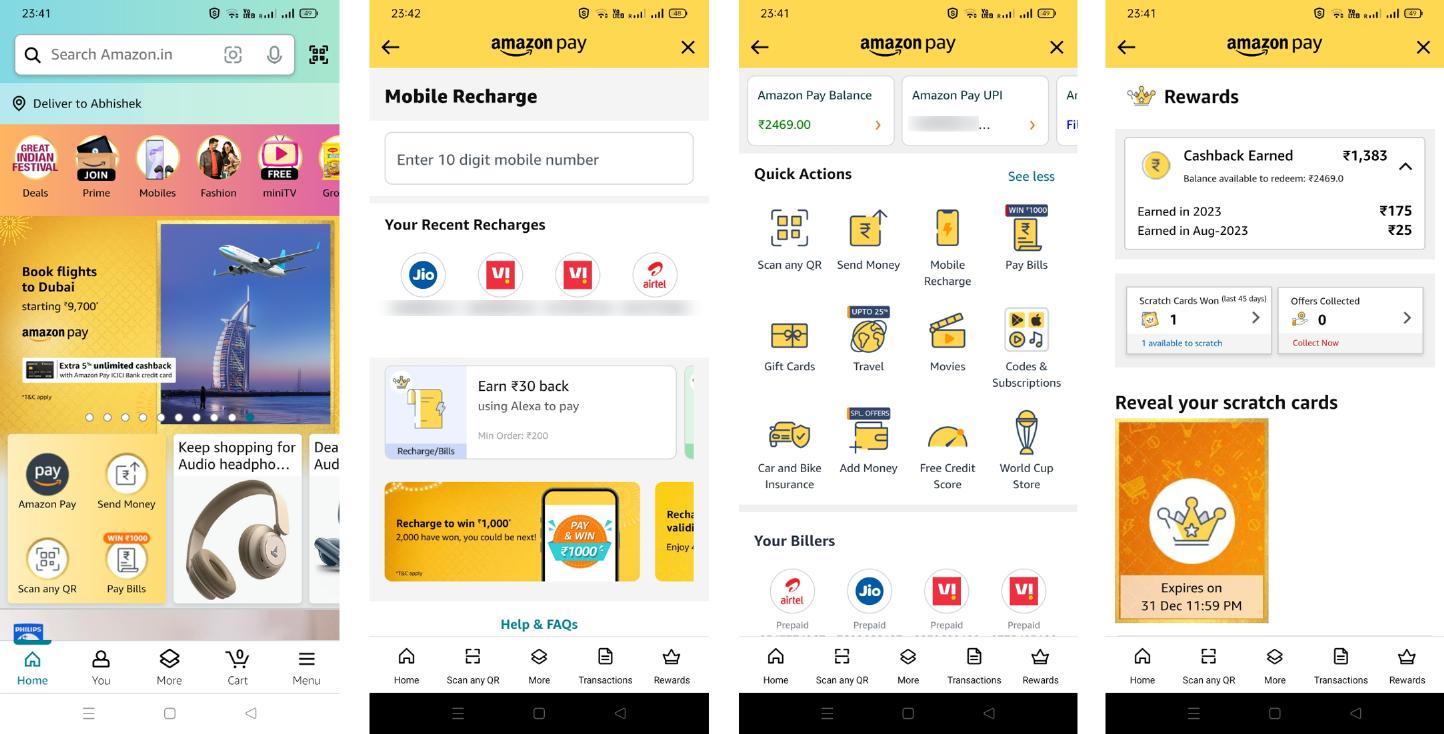 Amazon Pay is a secure digital payment tool integrated with Amazon giving you two major functionalities in a single app i.e. shopping and digital payments. If you have an Amazon app and don't want to install any other UPI app, Amazon Pay can be a great option you can go with. Out of all the UPI Apps in India, mentioned above, Amazon Pay is one that gives you better cashback and vouchers. You can add money to Amazon Wallet and use it to make recharge, bill payments, shop online, etc. Moreover, Amazon Pay allows you to book travel, hotel and movie tickets, buy insurance, check your credit score, and buy subscriptions to games, apps, OTT platforms, etc.
Features:
Amazon wallet

Integrated with Amazon app

Shop a wide range of products

Recharge and bill payments

Earn cashback and vouchers

Car and bike insurance

Digital gold, Fixed deposits, Mutual funds, etc.

Book flights, hotels, movie tickets, etc.

Buy gift cards and subscriptions


5. BHIM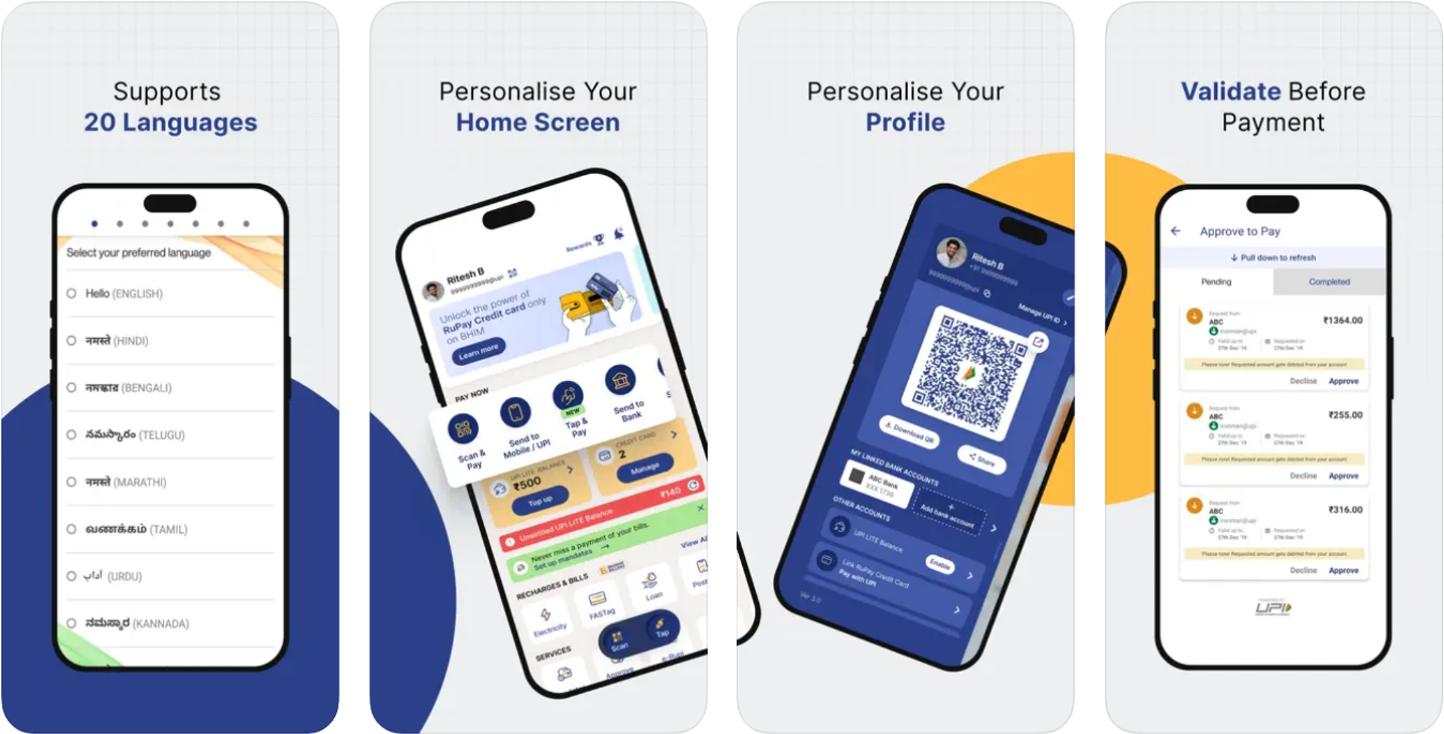 BHIM (Bharat Interface for Money) is another great digital payment app in India which is made by the National Payment Corporation of India, the organization that created UPI. If you want to experience a simplified and original UPI, you can go with BHIM. You can undertake several types of cashless transactions like recharge, bill payments, loan payments, money transfers, etc. The app facilities a user-friendly interface that can be personalized according to you. It supports UPI lite and also has a convenient feature called conversational payments that allows you to pay using your voice.
Features:
Pay bills and send money

Supports UPI Lite X

Manage multiple bank accounts

Conversational payments

Personalized home screen

Create your favourite list

Send gifts to your friends and family

Supports 20 different languages

Mobile recharge, FASTeg, insurance, etc.