For small businesses, CRM software can be a game-changer. In the fast-paced and competitive world of small business, staying ahead of the curve can make all the difference. That's where CRM software comes in – it's a powerful tool that can transform the way small businesses manage their sales processes and customer relationships. With CRM software, small businesses can streamline their sales processes, gain greater visibility into customer interactions, anduse data-driven insights to optimize their sales strategies. By building stronger, long-term relationships with customers and delivering personalized outreach, small businesses can boost customer satisfaction and loyalty.
If you're a small business owner, you know how important it is to keep your customers happy and your sales growing. So investing in CRM software can help your business to reach newer heights. In this article, we have cataloged the five best CRM software for small businesses .
Contents [hide]
List of Best CRM Software for Small Business
What is CRM?
CRM stands for Customer Relationship Management.As the name suggests, these are the software that is designed to manageand track customers' relationships with the company andacquirepotential customers. CRM services can be used by both small-scale and large-scalebusinesses to track and produce relevant data about their clients, sales, and deals so that they make informeddecisions based on those data to grow their business and make changes to their marketing, pricing, and other strategies. These systems typically store customer information, including contact details, purchasing history, and other relevant data, and can automate tasks such as lead management, sales forecasting, and customer service operations.
With CRM services, businesses can improve their relationships with customers by tracking their interactions and providing personalized service.So overall,CRM softwareisa crucial tool for businesses aiming to build strong, lasting relationships with their customers and drive growth. By utilizing CRM software, businesses can improve their customer service operations and increase their customer retention.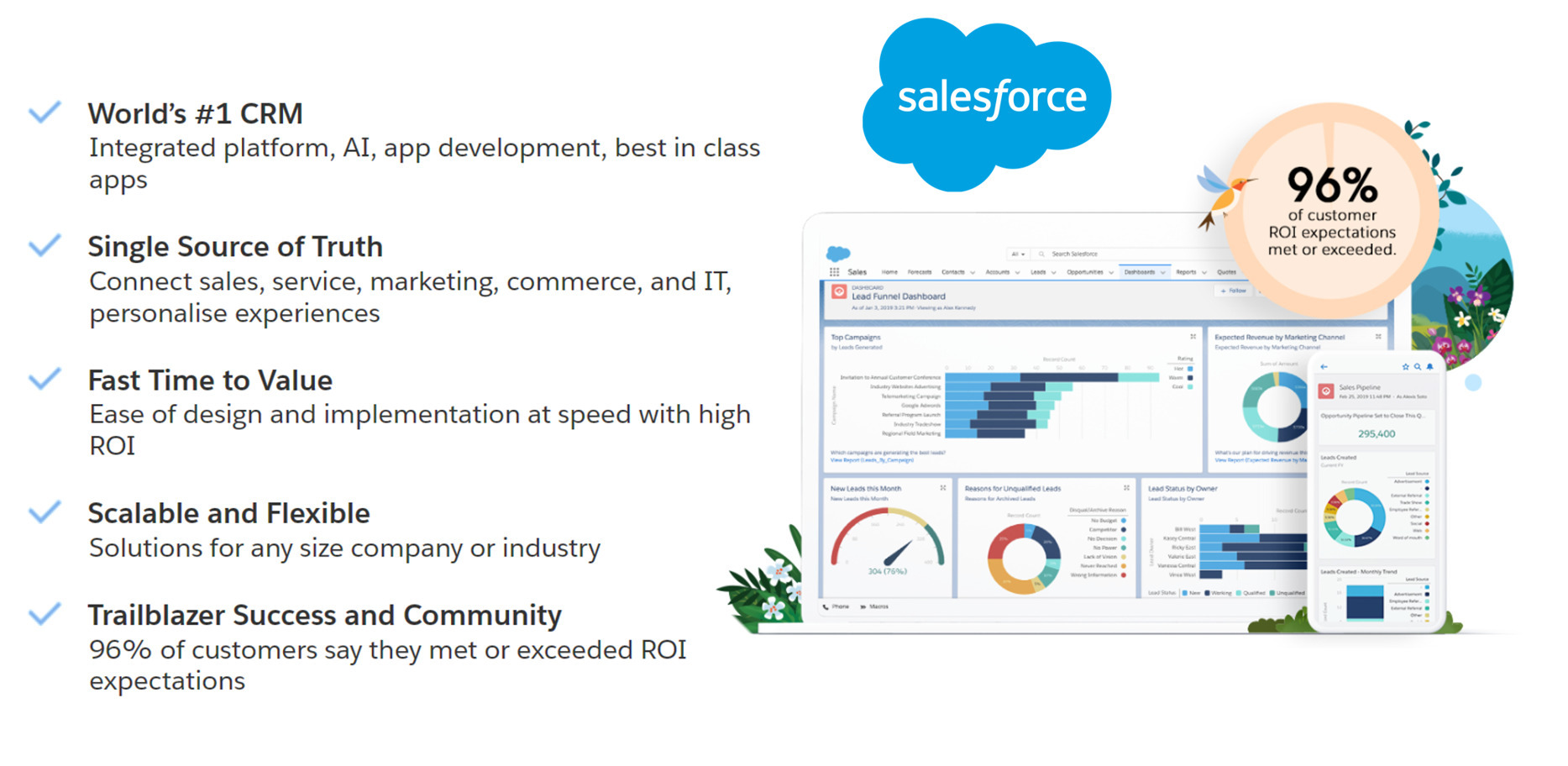 Salesforce is one of the most popular and widely used cloud-based CRM services that help businesses in their marketing, customer services operations, sales, and other business-related things effectively and efficiently.Salesforce offers various features and tools for managing customer information such as lead and contact management, sales opportunity management, sales forecasting, customer analytics, and customizable reports and dashboards. Moreover, it includes marketing automation tools to create and execute campaigns and customer service tools for managing customer inquiries and support tickets. Apart from the core features, Salesforce provides a broad ecosystem of third-party applications and integrations that can enhance its functionality and extend its capabilities. Its powerful mobile app helps you to manage and run your business from the palm of your hand.
Features
Free trial available

Lead and opportunity management

Account and contact management

Sales forecasting tools

Customer analytical tools

Marketing automation tools

Collaborate and share info in real time

Powerful mobile application

Customer service tools

Mobile application

Customizable reports and dashboards

Third-party apps from the AppExchange marketplace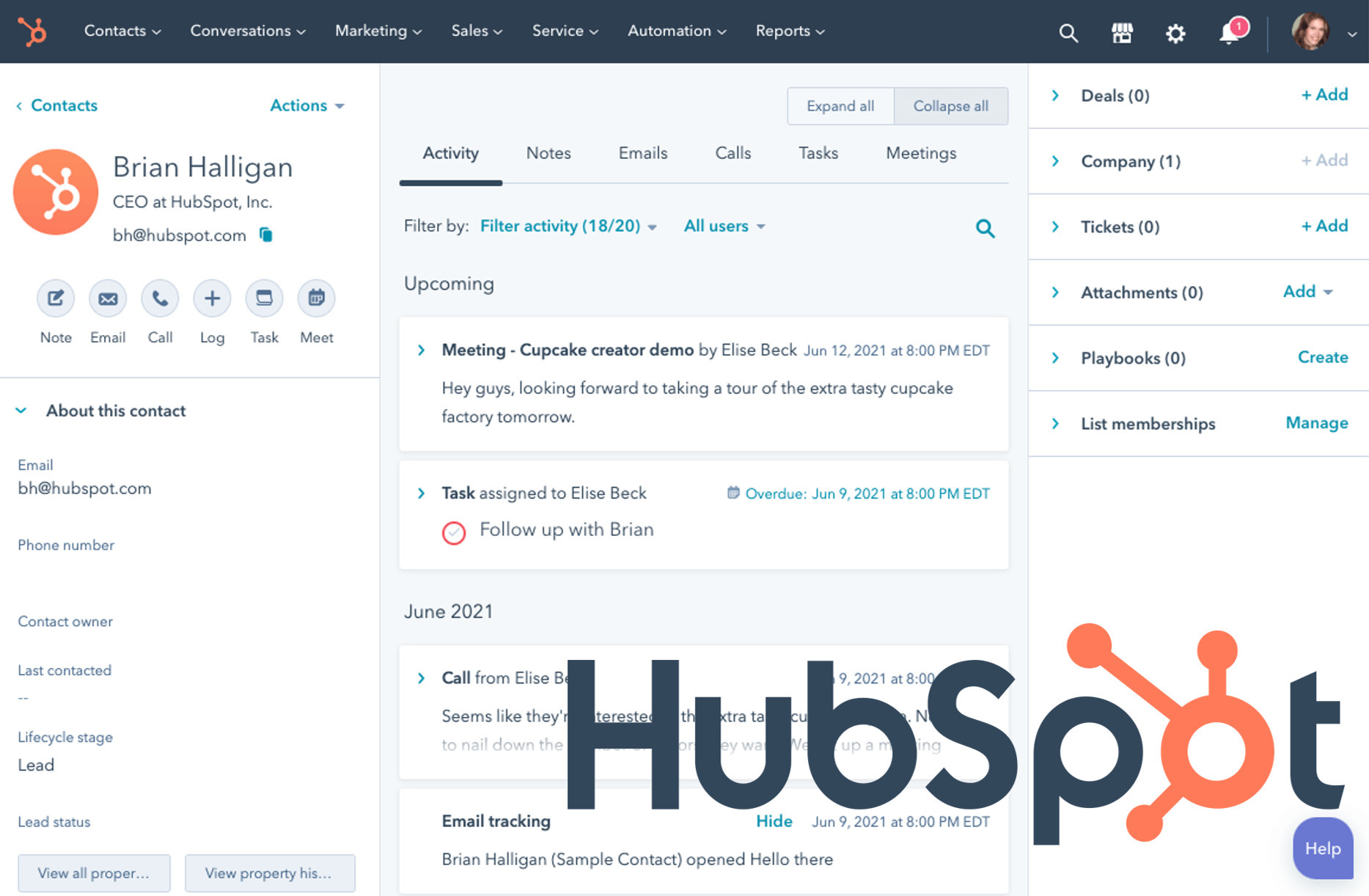 Maximize your business revenue potential by crafting exceptional customer experiences through Hubspot free CRM software. It helps you to streamline your marketing, sales, and customer service operations with the help of several business tools. Hubspot's CRM is an easy-to-use tool that effortlessly monitors every aspect of your business interactions with its complimentary functionalities that include contact and lead management, reporting dashboards, and business insights. You can seamlessly incorporate deals into your CRM, delegate tasks to advance deals, and trace the progress of your prospects with pipeline management, deal, email, call tracking, and meeting scheduler. Hubspot has its CRM app available on mobile phones that can boost your deals, manage your business, increase customer connections, and help youacquire more potential customers.
Features
Free version available

Contact and lead management

Business Insights

Reporting dashboard

Pipeline management

Deal, call, and email tracking

Meeting scheduler

Email marketing

Form & landing page builder

Ad management & live chat software

Help desk & ticketing

Mobile application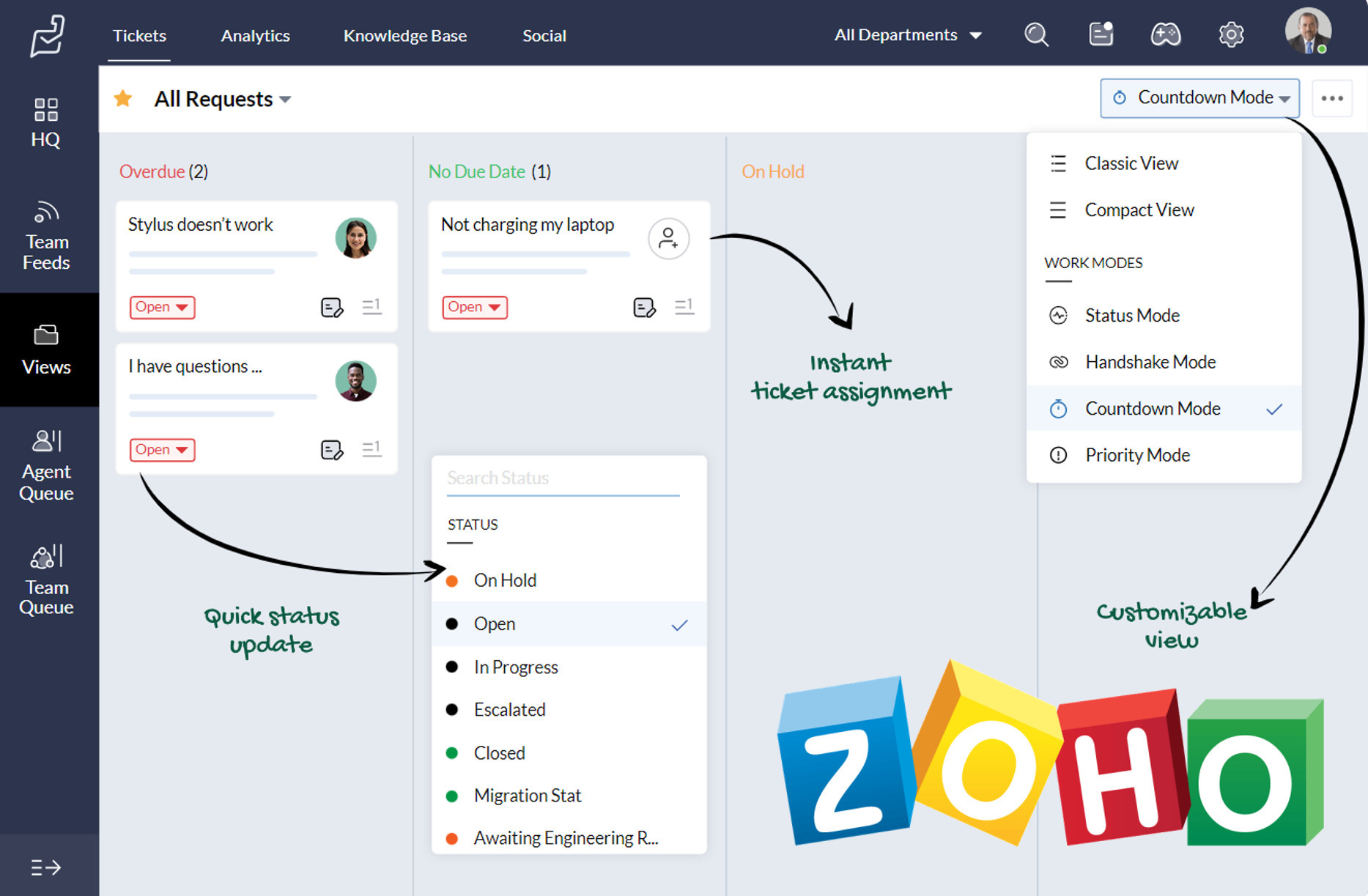 Zoho CRMoffers both a web-based platform and a mobile appthat provides a comprehensive suite of tools to boost lead generation, expedite sales processes, and gauge the sales performance of your business. With Canvas, a user-friendly drag-and-drop editor, you can easily customize the appearance and functionality of Zoho CRM to fit your specific needs and preferences.Zoho Sales Force Automation (SFA) is a powerful feature within Zoho CRM that streamlines the sales process from start to finish. It enables sales teams to manage leads, contacts, accounts, and deals all in one place, providing a holistic view of the sales pipeline. Apart from that, Zoho CRM offers tons of other features and tools like lead management, sales process builder, omnichannel conversation support, analytical dashboards, reports, etc.Zoho CRM's AI assistant, Zia, uses predictive AI to assess leads and deals, assigning scores to determine their likelihood of success, thereby optimizing sales forecasting.
Features
Free trial available

Mobile application

Sales force automation tools

Customizable layouts and drag-and-drop feature

Process management tools

Marketing automation tools

Journey orchestration

Omnichannel communication support

Analytical components and real-time reports

Integration with Google Workspace and Office 365

Sales forecasting with artificial intelligence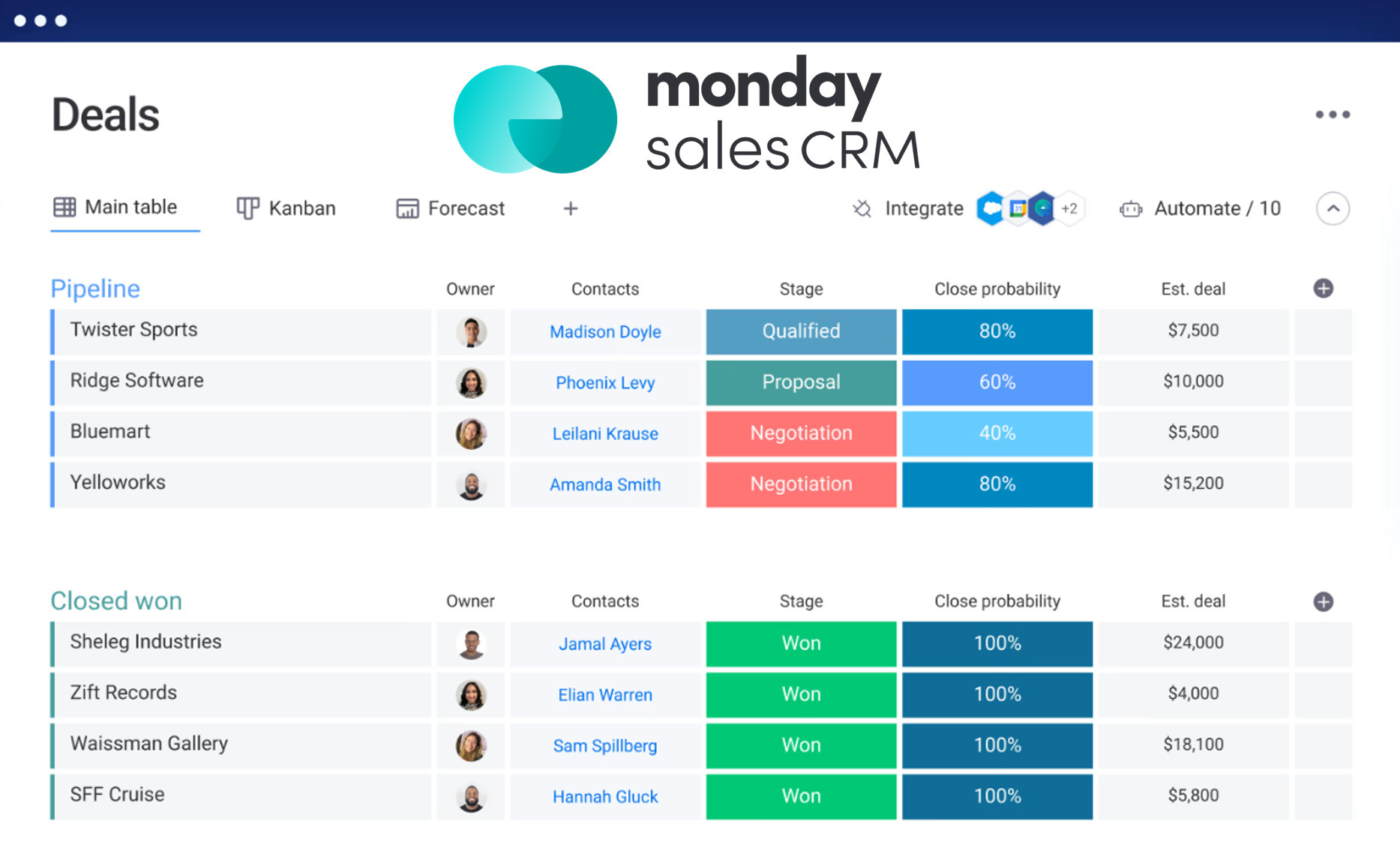 Monday Sales CRM is acomprehensiveplatform for managing customer relationships. It is designed to enhance sales processes for businesses. The software's features include lead tracking, real-time sales data analysis, and customer information management. With its customizable features and intuitive user interface, Monday Sales CRM simplifies sales operations, boosts efficiency, and enhances sales performance. With the ability to fully sync your Gmail or Outlook accounts, you can easily send and receive emails within the platform, saving time and improving efficiency. The software also features automated notifications to let you know when a lead opens or replies to an email. You can also track your sales pipeline performance with the intuitive funnel chart visualization tool and seamlessly organize your data. It is a versatile solution that can be used by businesses of all sizes to drive growth and foster enduring customer relationships.
Features
Free trial available

Lead tracking and management

Real-time sales data analysis

Customizable sales pipeline stages

Automated email notifications

Contact and account management

Integration with Gmail and Outlook

Funnel chart visualization tool

Customizable email templates

Sales reporting and analytics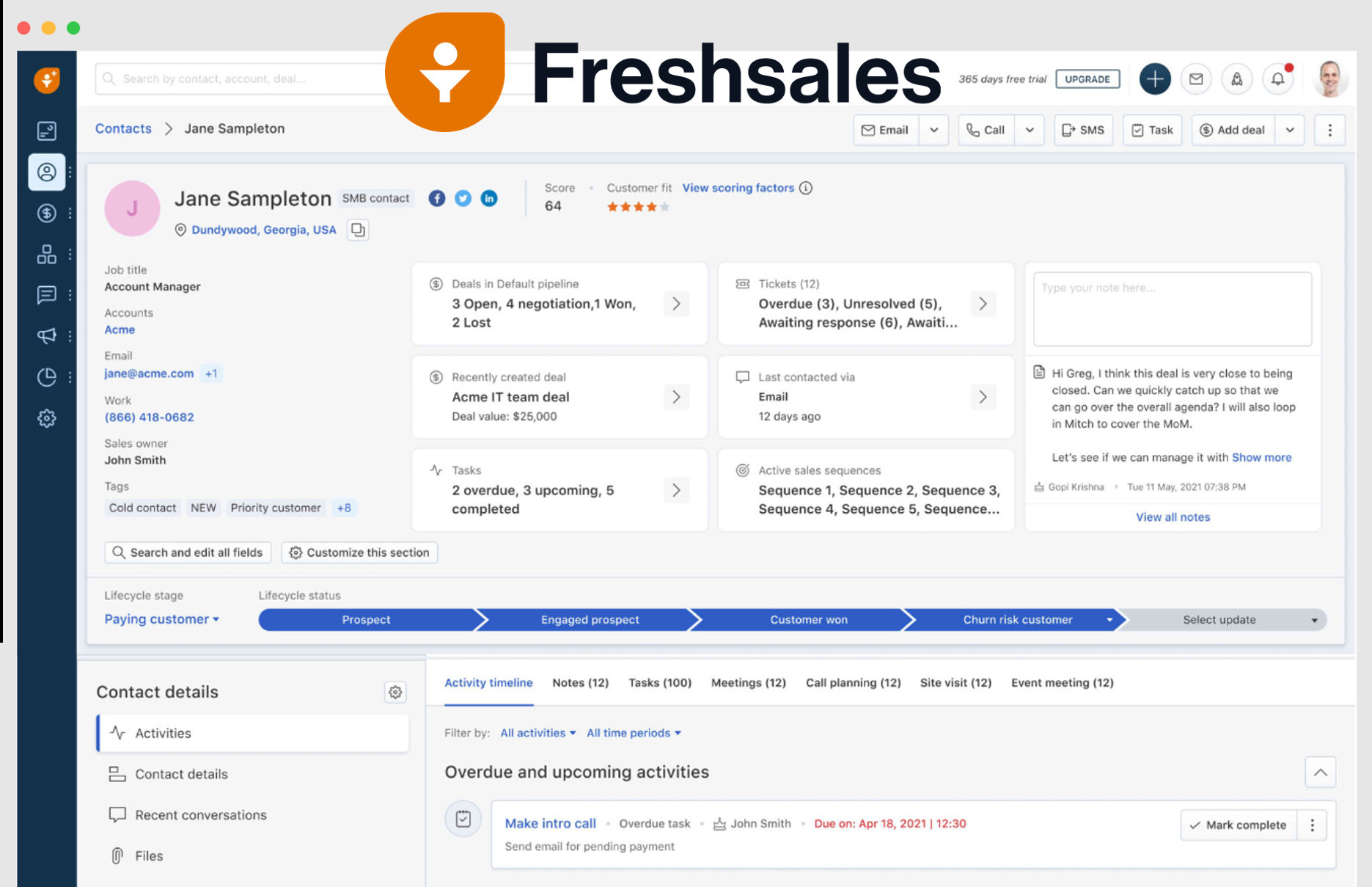 Freshsales CRM is anotherpowerfulcustomer relationship management platform designed to help businesses streamline their sales processes and drive growth. Freshsales CRM services offer extensive customization options such as multi-currency and multi-language support, allowing your team to work efficiently and effectively.With its task management tool, Freshsales CRM allows you to easily create tasks, reminders, and appointments, ensuring you never miss out on important opportunities.Gain a comprehensive, 360° view of your customers with its summary section, detail section, highlight cards, and auto-profile enrichment. Freshsales too has an AI assistant named Freddy that assigns scores to your contacts thus prioritizing important ones for you and also helping youwith lead generations.
Features
Free trial available

Mobile application

Task management

Multiple sales pipelines

Get a 360° view of your customer

Sales and workflows automation

Multi-channel communication

Make better decisions with AI

Multi-Currency and Multi-Language Support

Several types of visual reports with analytical tools