A file manager is now present on all Android smartphones.With the file manager apps, you can browse files, find downloads, manage storage space, and more. Most Android file managers are accessible at no cost. Others are ad-supported while some demand a small fee for premium services. However, purchasing the app from the Google Play Store gives you a tonne of extra features and benefits that improve file management and make your work easier.
Along with viewing your files, file manager also comes with different unique features like FTP, SSH, etc. So choosing the right file manager for your Android phone is a tough task. You have to choose the file manager that fit your need. In this article, we have listed some best file manager apps along with their features so that you can choose the right file manager for your Android phone.
Related Article: 10 Best iPad And iPhone Cleaner Apps That Free Up Space In Your iOS
1. ES FileManager File Explorer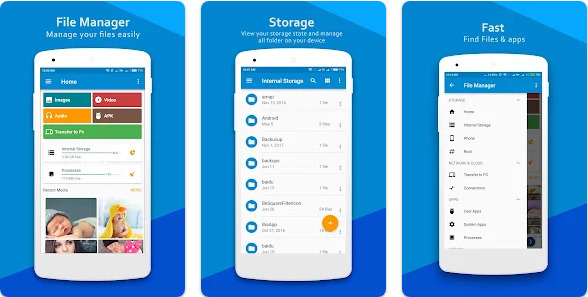 ES file manager is the most trusted and one of the best file managers for Android thatoffers about every function you could ever need in a file browser.You can manage and explore all of your files with this app.Apart from viewing, you can send files from one Android device to another Android device.
The app also supports FTP(File Transfer Protocol) which can be used to share files over the cloud. Also, it has an inbuilt download manager to download files quickly.
Features
Simple UI with supportgrid and list view.

Support compression and decompression.

Inbuilt download manager.

FTP support to share the file over the cloud.

Support more than 21 languages.

You can quickly do a storage analysis.

2. Astro File Manager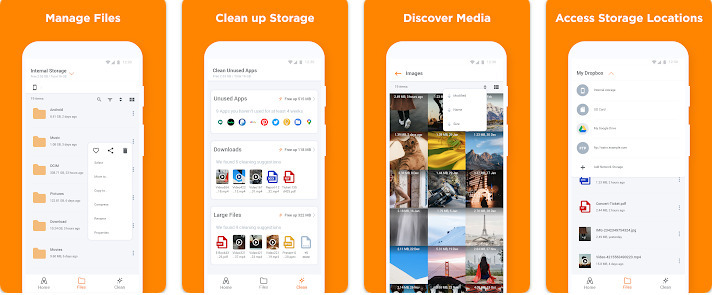 Astro file manager is one of the most downloaded file manager app for Android that offers every basic feature you may expect from a file manager program is there in it, including copying, renaming, moving, sharing, editing, and more. Theapp allows you to quickly access all of your most recent documents, apps, movies, music, and images, as well as download anything from the home screen.
A user can easily search for a specific type of file by using filters and sorting functionalities. You shouldn't worry if your capacity is limited and you need extra room to download your favorite games or programs. All of your large files and unnecessary apps will be automatically sorted by Astro File Manager, helping you decide which files or applications to keep.
Features
Simple and attractive User interface.

Storage cleaner that removes temporary files from the Android file system to boost your phone performance.

With the help of Astro file manager, you can easily take a backup and save it to the cloud.

In order to migrate or manage your data, you may also add online storage from a variety of well-known cloud service providers, including Box, Google Drive, OneDrive, and even FTP and SMB servers

3. Amaze File Manager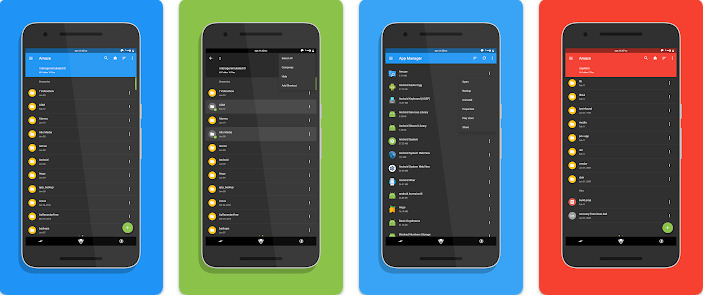 Amaze is an open-source file manager for Android that comes with a simple user interface. The apphas an integrated app manager, a root explorer, material design, and SMB file sharing. Without administrative bloat, it contains all the necessary information. You can use and download it for free, but you can also support its growth by making in-app purchases.
Features
An open-source file manager for Android

Free, and without advertisements

Simple UI based on material UI.

Support FTP/FTPS

4. Solid Explorer File Manager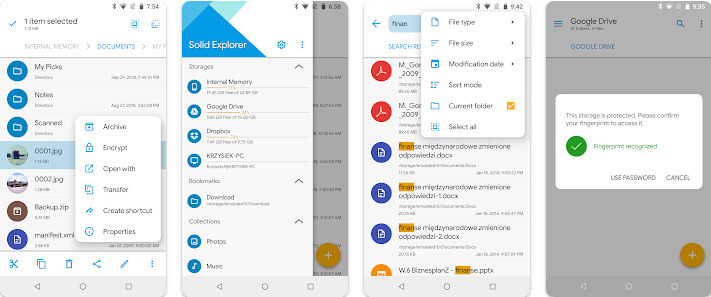 A file manager comes with lots of features like file management, cloud storage, file encryption, storage analysis, FTP support, and much more. In terms of features, this is one of the best file manager apps for Android phones.
Solid Explorer has compatibility withnumerous plug-ins, including an FTP server plug-in and USB OTG support, in addition to a notable function. Its two distinct browser panes and Drag & Drop capabilities allow you to transfer and move files between destinations.
In Solid Explorer, you can choose between basic file management options and a paid add-on for cloud storage connectivity. Users may easily manage their data on services like Google Drive, OneDrive, Dropbox, Box, Yandex, Mega, etc. There are more premium plugins available for Cast, USB OTG (on-the-go), and other features. Users can also use ZIP, 7ZIP, RAR, and TAR to archive and decompress files.
Features
FTP Support: When using the same Wi-Fi, you may simply access the files on your phone on your computer thanks to the FTP server.

File encryption: Using AES encryption, you may quickly and easily encrypt any sensitive files or folders that you want to keep private.

The encrypted files and folders will be kept in a secure location and only a password or fingerprint will be able to open them.

Connecting to and managing files in the cloud is simple for Google Drive, OneDrive, Dropbox, Box, SugarSync, MediaFire, and other services.

Major network protocols FTP, SFTP, SMB (Samba), and WebDav are supported by NAS devices.

Free version with lots of features.

optional encryption.

5. Files by google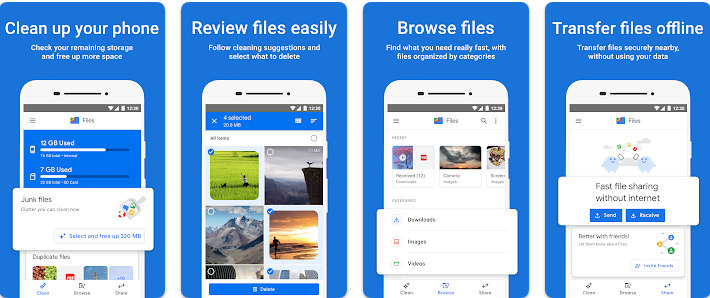 The program distinguishes itself from its competitor's thanks to its few distinctive characteristics. Duplicate files, memes, outdated photos, and chats can all be deleted to make room on your phone. It is easy to transfer data from a phone's storage to an SD card to order to free up internal storage.
TheFiles by Gooleallows you to manage files, search, navigate, and carry out other actions. You can use this program to back up crucial data to Google Drive or any other cloud storage service.
Additionally, it provides the choice of peer-to-peer WPA2-secured secured data sharing with other devices even while they are offline. Another choice is to share files offline with other devices.
Features
Share data with other devices while they are offline using a peer-to-peer connection protected by WPA2 encryption.

Cleaning Suggestions are frequently offered, and they can help you increase the speed and storage of your phone by eliminating duplicate files, garbage files, and out-of-date images or memes from chat apps.

To free up space on your smartphone, back up your data as soon as you can to Google Drive or another cloud storage site.

You can securely share your images, movies, files, or applications with nearby people who also use this app without the need for an internet connection.

The app has an inbuilt music playerto play music quickly.

6. FX File Explorer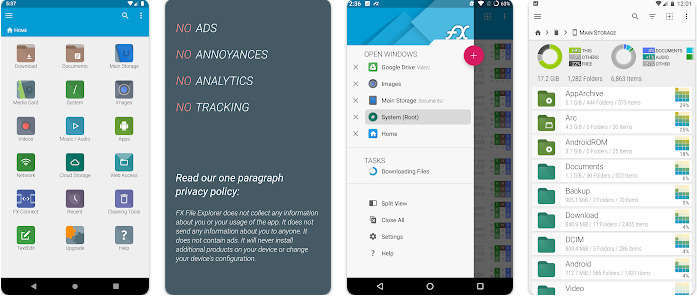 Fx file explorer is aprivacy-focused file organizer, which is free of adverts, analytics, and trackers are its key selling feature. Among its many capabilities, theapp provides a dual window display and all common file management tools. A text editor, a shell script executor, and an encryption program are included. So if you are looking for a privacy-oriented file manager then this is the best file manager for your smartphone.
Features
Split view enables simultaneous usage of two windows.

Web Access: To access your files, use the web browser on your computer.

You can connect almost all cloud storage including Dropbox, Google Drive, etc.

FX File Explorer will provide you full access to the filesystems of your Android phone if it has been rooted.

Cleaning Equipment If you have a lot of duplicate or large files and want to delete a few to free up some space on your phone, this tool will be very beneficial to you.

Almost every type of file archiving format is supported.

prioritizeprivacy.

It is completely free so no advertisements.

No tracking.

7. X-Plore File Manager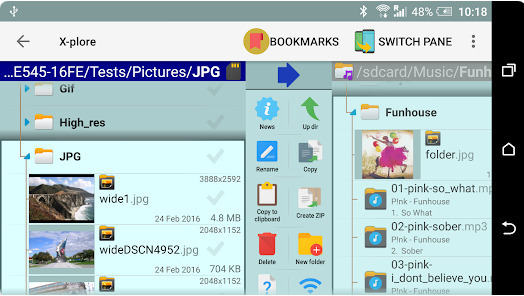 X-Plore file manager is an amazing file manager that has one amazing feature which is called dual-pane explorer. With the help of this feature, you can view any two folders concurrently in the dual-pane tree interface of this file manager tool. Because of the functionality's extreme simplicity, copying and pasting between the two files are now quite straightforward.
Additionally supported are a number of file types, cloud storage services (including Google Drive, Mega.co, Yandex. Drive, and others), and network storage protocols (including FTP, SMB, and DLNA/UPnP).
Features
Wi-Fi server: If your PC and smartphone are both connected to the same Wi-Fi network, you can access the storage on your phone using any web browser.

Online storage: X-plore File Manager, one of the rarest file explorer programs, supports a large number of cloud services, including, Mega, Amazon Cloud Drive, MediaFire, pCloud, OneDrive, and many others.

Vault: You may conveniently store your sensitive files here, and AES-256 encryption will keep them safe. Your encrypted data can be unlocked using a fingerprint sensor or a password.

LAN, FTP, and FTPS (secure FTP) server support.

Support for app unlocking with passwords and fingerprints.

Dual-pane tree UI with an interesting encryption feature Disk map

supports a variety of cloud services and PC remote access

8. Ghost Commander File Manager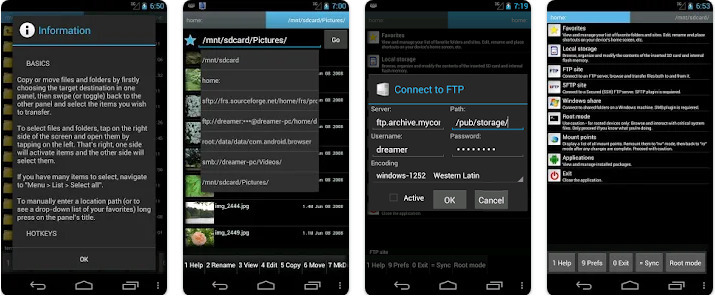 With its useful features, Ghost Commander is one of the best free file management programs. The two-pane navigation system receives data from the Ghost Commander via Android cellphones and tablets. Physical buttons provide easy access to several features. This program provides root and left-hand user control capabilities as well as FTP support. It contains a number of extra plugins, such as WebDAV and cloud storage capabilities.
Features
Offers a two-pane navigation system.

Inbuilt FTP to access the server file system.

You can easily connect to Google Drive, DropBox, and other cloud platforms.

Zip archive supported.

It is an open-source file manager.