In the age of apple, you need to know about the best iPhone or iPad cleaner app so that you can have a clutter-free mobile life. Because with time, loads of junk files and data get accumulated on our devices which eventually slows it down. Hence to keep our devices organized and running optimally, we need some cleaner appsthat actually clean these junk files.
Deleting your junk files, caches, unused folders, and cookies can not only be tiresome but also a never-ending task for most of us. The speed and functioning of the iPhone and iPad can be considerably improved when you delete unnecessary items. These cleaner apps for iPad/iPhone will not only be effective in cleaning your phone but also in organizing files, keeping you updated on your memory space, backing up your data, and much more.
Many iOS users constantly complain about exhausting the memory of their devices and consequently sluggish performance. This is where the best iPad and iPhone cleaner apps come into play. But the app store is filled with dozens of applications claiming to be the best iPhone cleaner app. But only some of them are efficient enough to clean your device. So here I have curated a list of the best cleanerappsfor iPad/iPhone which includes both free and paid versions.
Related Article: Top 10 Best Cleaning Apps For Android
These applications are tried and tested and proven to deliver the best results in keeping your phone clutter-free. Eliminating junk means that your phone will have more internet memory to browse, store more files, execute apps, and play games. Moreover, do not forget the pop-up for "storage full" is the utmost annoying thing! So with this article, we are going to help you choose the best iPad and iPhone cleaner apps out of the thousands ofapps available on the app store.
List Of 12 Best iPad and iPhone Cleaner Apps
1. Cleaner for iPhone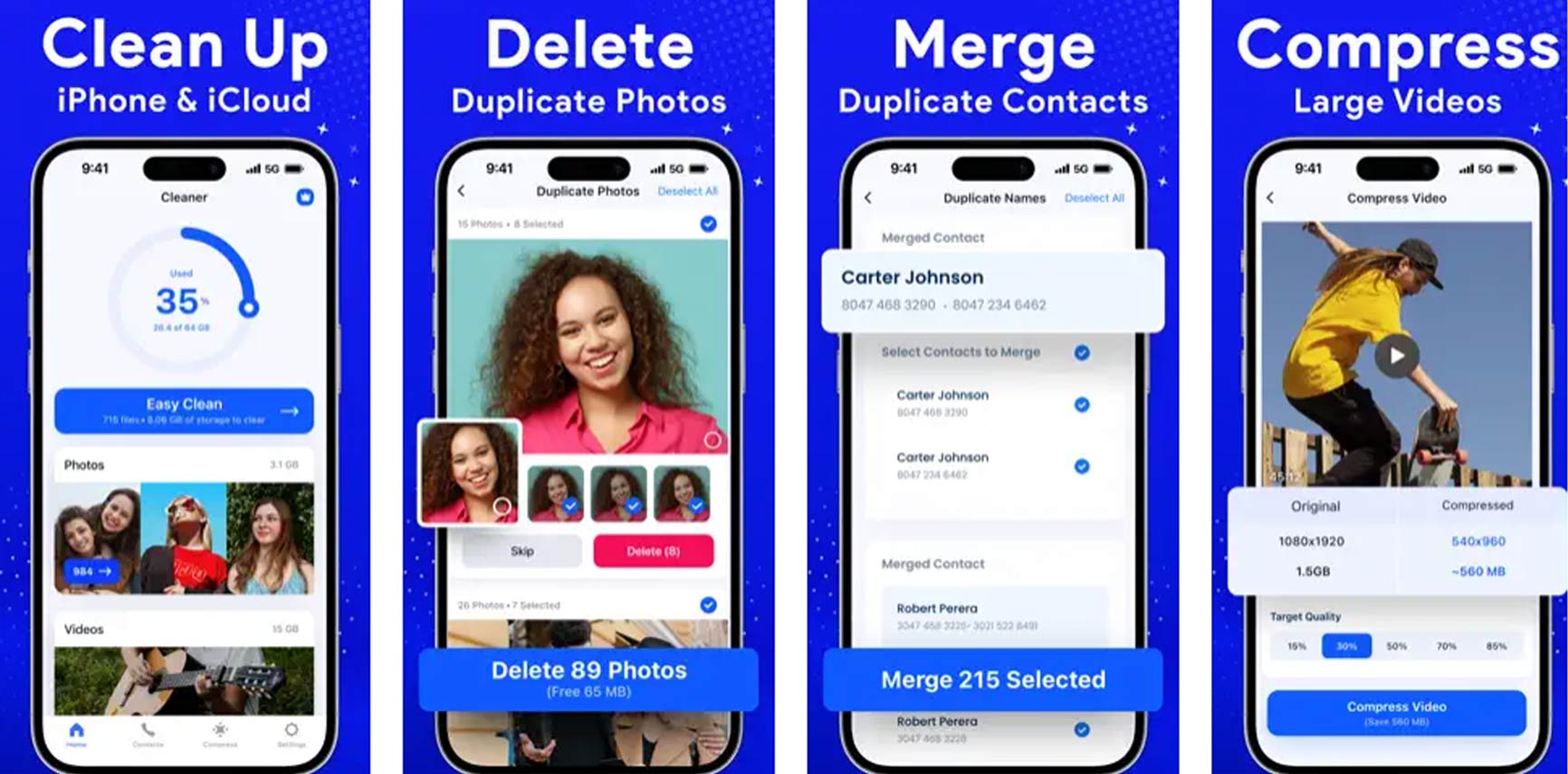 Are you in search for an app that can clean all your unwanted photos, videos, and contacts from your iPhone? The Cleaner for iPhone is definitely the best choice for this. This cleaner app is designed to optimize your iPhone's storage space by removing unnecessary media files and contact information.
One of the core strengths of this app is its photo cleaner function. For an iPhone user, it isn't uncommon to accumulate a lot of pictures in a short period of time. Also, the photos taken are usually very high-quality, meaning they take up a sizable space on your iPhone storage. But most of the images that an iPhone user collects are multiple copies of similar photos, screenshots, selfies, or other types of pictures. Deleting all of them one by one can be a real pain, but with this photo cleaner app, you can do that in a few simple steps.
Furthermore, the Cleaner for iPhone allows you to remove large videos that you might no longer want. This lets you free up a large chunk of space from your iPhone. But if you don't want to delete the video, you can reduce its size with the app's built-in video compressor feature. You can shorten the size of your iPhone videos to 15%, 30%, 50%, 70%, and 85% of the original size.
One more key feature of this app is its iPhone contact management tool. This app can remove any contacts that have incomplete information or merge duplicate contacts. Moreover, with this app, you can delete all or more than one of your iPhone contacts at the same time. It is a feature that your iPhone's Contacts app doesn't have.
Overall, Cleaner for iPhone is an amazing phone cleaner app that can quickly and easily free up space on your iPhone. You can download and install this app from the App Store for free, and it has a straightforward user interface.
Rating on Apps store: 4.4
Free Trial: Yes
Subscription Price – 0.99$ USD/Month
FEATURES
Easy-to-use and clean user interface

'Easy Clean' button for rapid removal of photos and videos

Built-in video compressor tool for reducing the size of large videos

Merge duplicate contacts & delete incomplete and redundant contacts

Clean up duplicate or similar photos

2. CleanUp App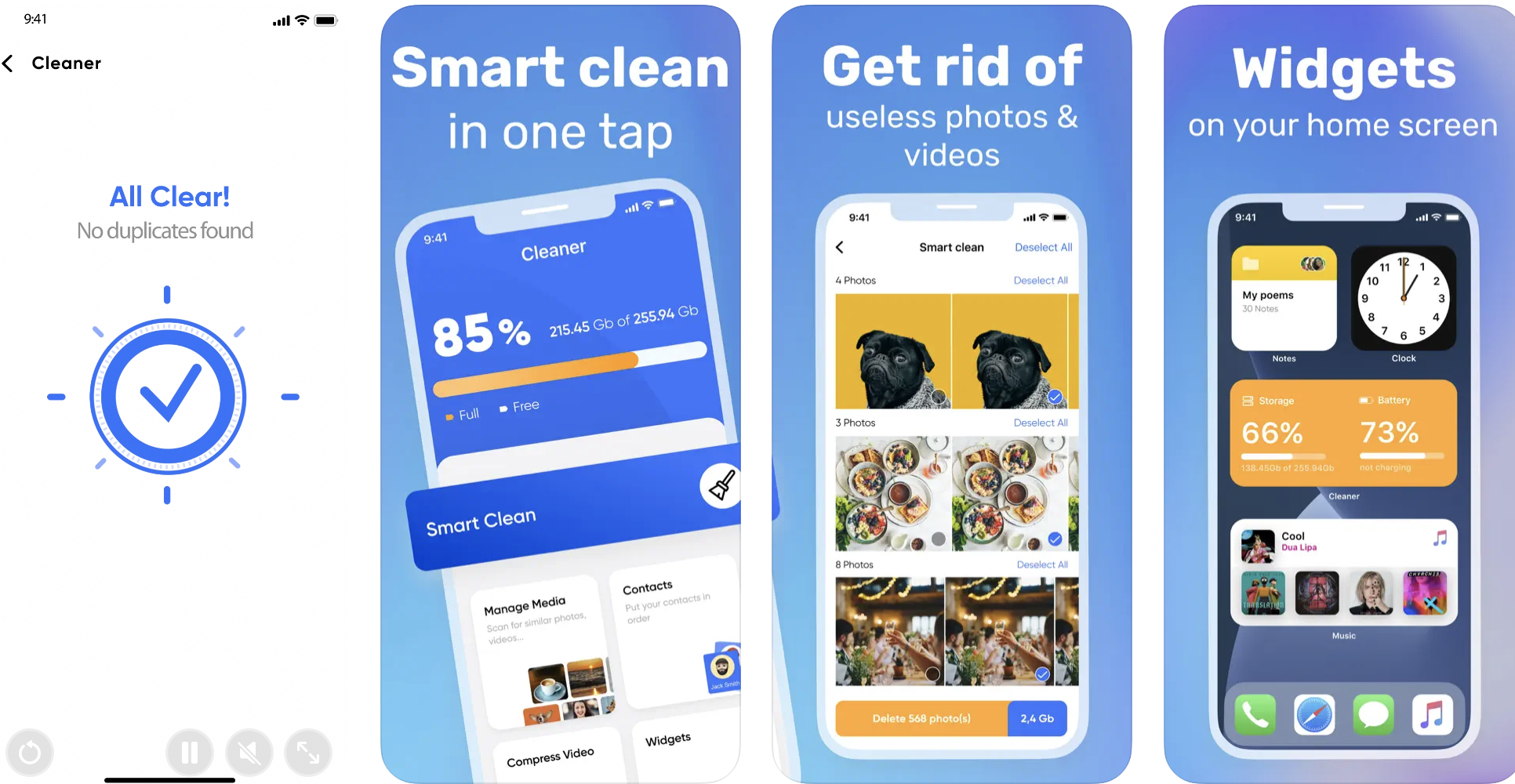 CleanUp app is a great choice for anyone looking for an effective iPhone and iPad cleaner app. This app is available on the App Store and is specifically designed to optimize the performance of your device by cleaning out unnecessary data, such as cache files, temporary files, and other junk data that can clog up your device.
One of the key features of CleanUp app is its ability to clean out all the unnecessary files that can slow down your device. It has a built-in algorithm that scans your device for all the unnecessary data and removes it quickly and efficiently.
Another great feature of CleanUp app is its ability to optimize your device's battery life. It does this by identifying apps that are consuming more battery power than necessary and shutting them down. This can help to extend the life of your device's battery and reduce the frequency with which you need to charge it.
CleanUp app also comes with a privacy protection feature, which helps to safeguard your personal information by identifying and removing any sensitive data that might be stored on your device. It prevents unauthorized access to your personal information and keep your device secure.
In addition to these features, CleanUp app also has a user-friendly interface, making it easy to navigate and use. It's compatible with all iOS versions, so you can use it on any iPhone or iPad.
Rating on Apps store: 4.4
Free Trial: Yes
Subscription Price – 4.99$ USD/Month
FEATURES
Built-in ads blocker.

Merge duplicates contacts.

Fast cleanup with simple UI.

Compress videos to free up more device memory.

3. Smart Cleaner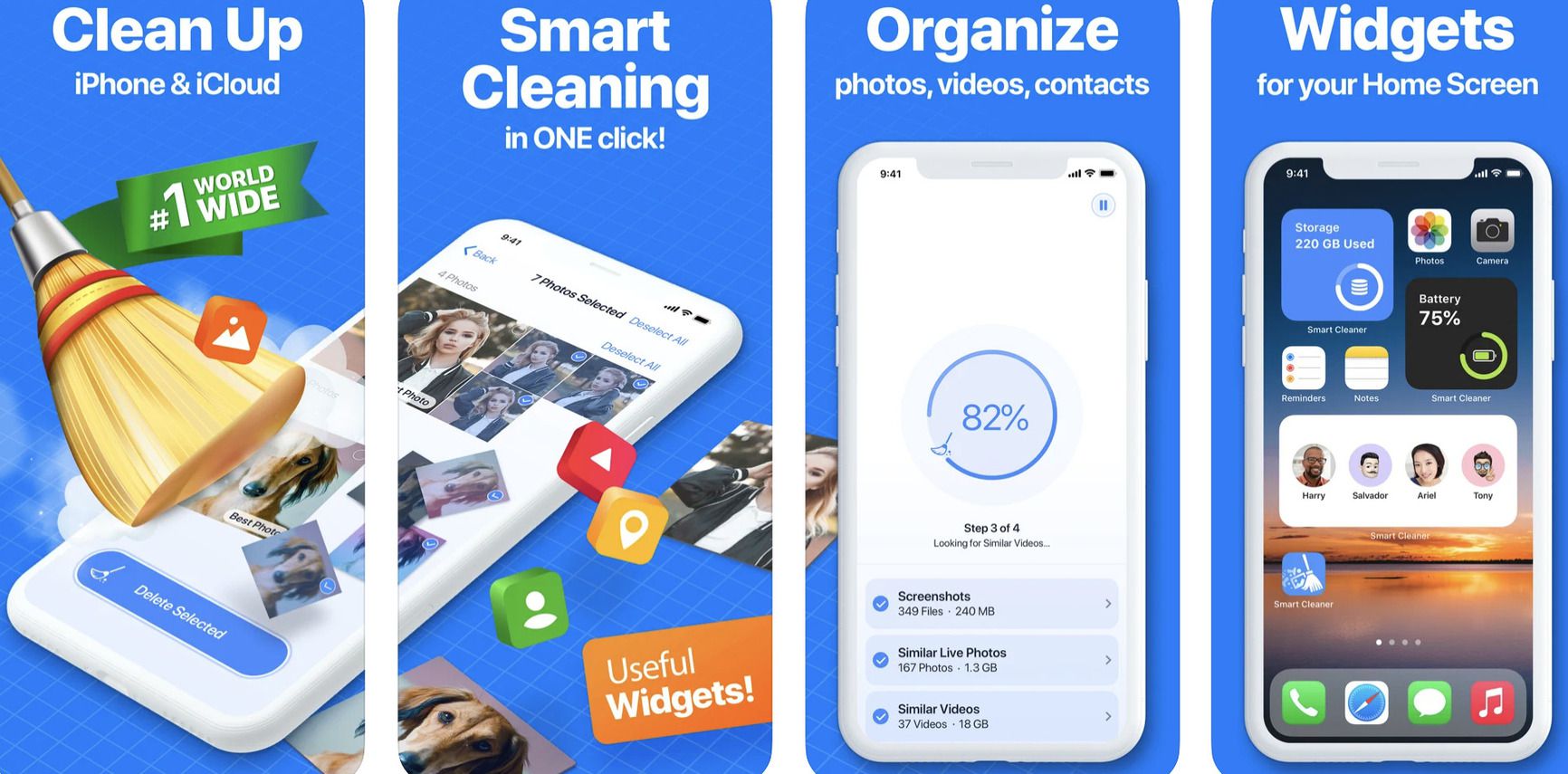 As the name suggests, Smart Cleaner is an app that cleans your iPad or iPhone with just a single click. The smart cleaner app is no-fuss, easy to use, and has an interactive UI that makes cleaning phones quick and easy.
This cleaner app has a host of features ranging from the removal of duplicate contacts, screenshots, pictures, and videos to organizing space by segregating items in different folders. However, the best part is that the free trial comes with all the features at no extra cost. So you can easily scrap away all your junk files in no time. Smart Cleaner is a smart choice of cleaner apps for iPhone and iPad devices.
Rating on Apps store: 4.4
Free Trial: Yes
Subscription Price – Start from 4.99$ USD/Month
FEATURES
One-click removal of all junk files

Filtered removal of unwanted contacts, screenshots, pictures, videos, and burst photos

Organizing folders and media

Get your own discreet secret space to store hidden files

Back up all contacts easily

Free trial version inclusive of all premium features

4. Quick Heal Optimizer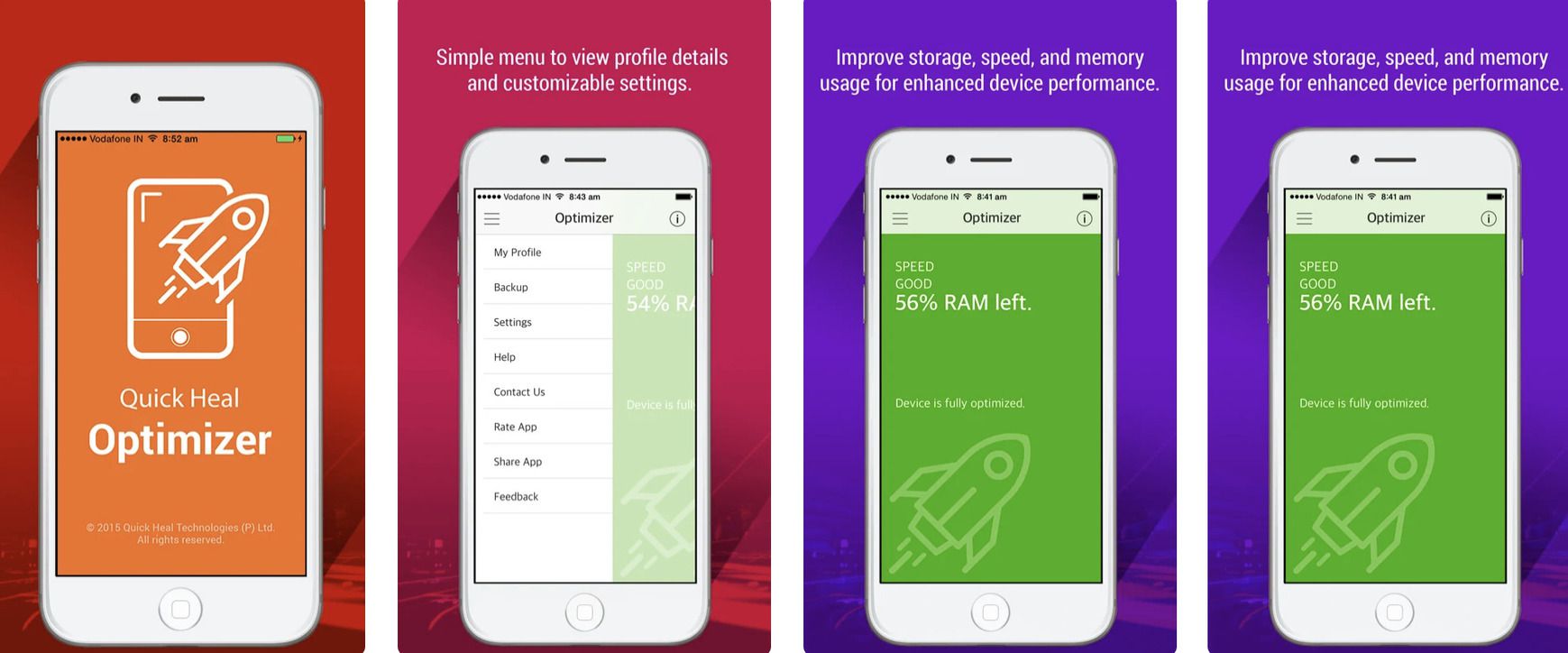 An iPhone/iPad cleaner that just not cleans your device space but also helps your device perform better by optimizing its speed and performance. It has this cool unique feature that shows you your device's health with colors ranging from green, orange, brown, and red.
This cleaner app comes with multiple features including junk cleaner, privacy cleaner, memory cleaner, and also a file manager. Overall, Quick heal is one of the best cleaner apps that comes with Quick Heal trust and security.
Price: Free
FEATURES
Get rid of unused memory in the background with various apps with Memory cleaner

Clean up temporary files with Cache cleaner

Restore and back up your contacts from the Quick Heal Cloud server

Optimize speed and performance regularly with just one tap

Monitor your device's health

5. Cleaner Master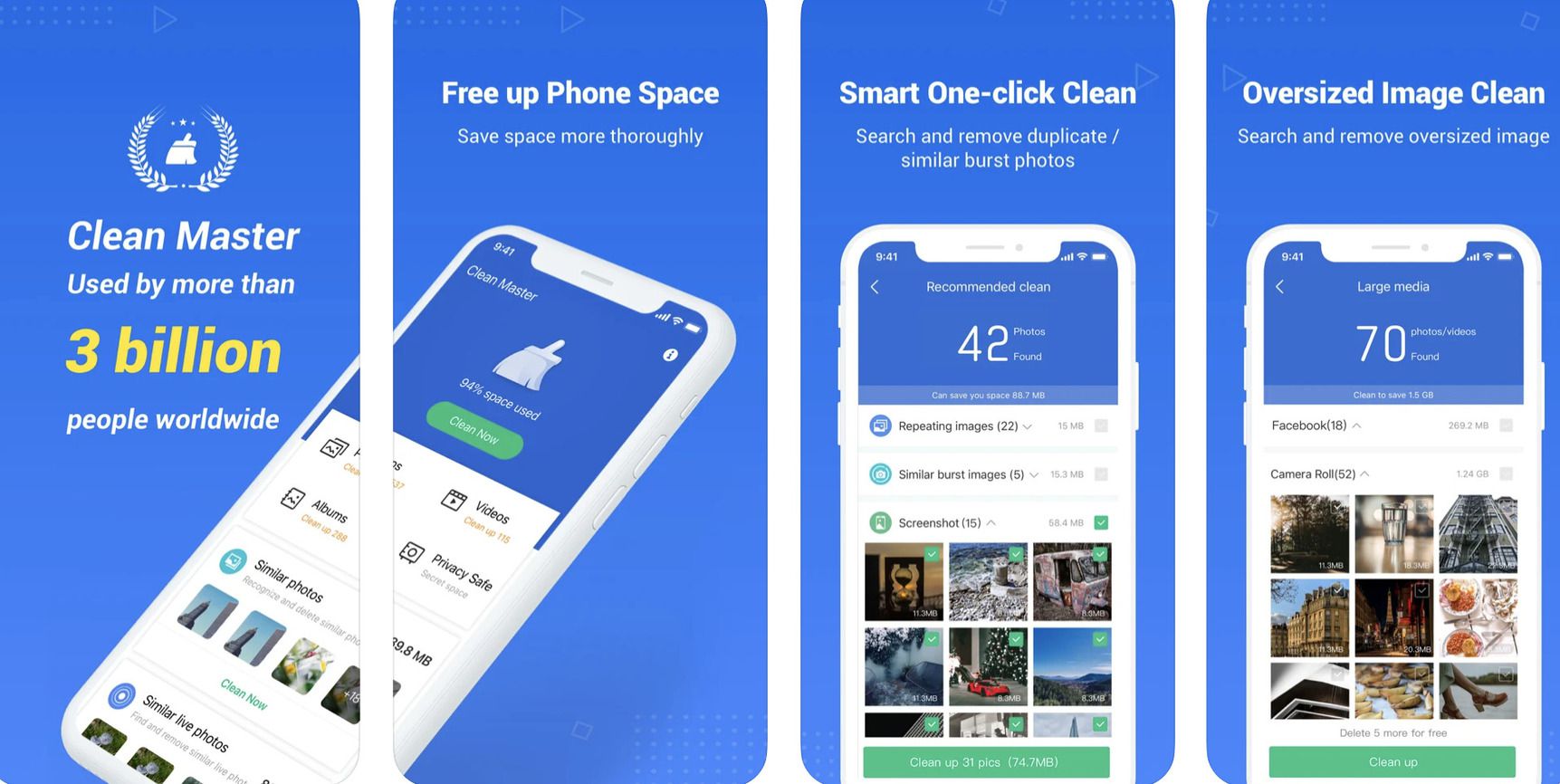 Cleaner Master app is one of the super-smart cleaner and optimizer apps for iPhone that scans through and deletes identical photos, and large unused videos merge duplicate contacts, and back up your data.
Cleaner Master boosts off over 3 million active users globally and is rated 4.1 on the app store. It even helps you organize emails, contacts, photos, and videos.
The one-year subscription package comes with 3 days of free trial with all exclusive features. It is an all-in-one cache cleaner, speed booster, and memory booster.
Rating on Apps store: 4.1
Free Trial: Yes
Subscription Price –Start from 4.99$ USD/Month
FEATURES
Super fast and smart photo cleaner that analyses and deletes live photos, burst images, etc

Scan, sort, and remove multiple large files easily with a Video cleaner

Merge similar contacts, remove duplicate ones, and manage contacts easily with a contact cleaner

Back up your contact and media files easily

6. Boost Cleaner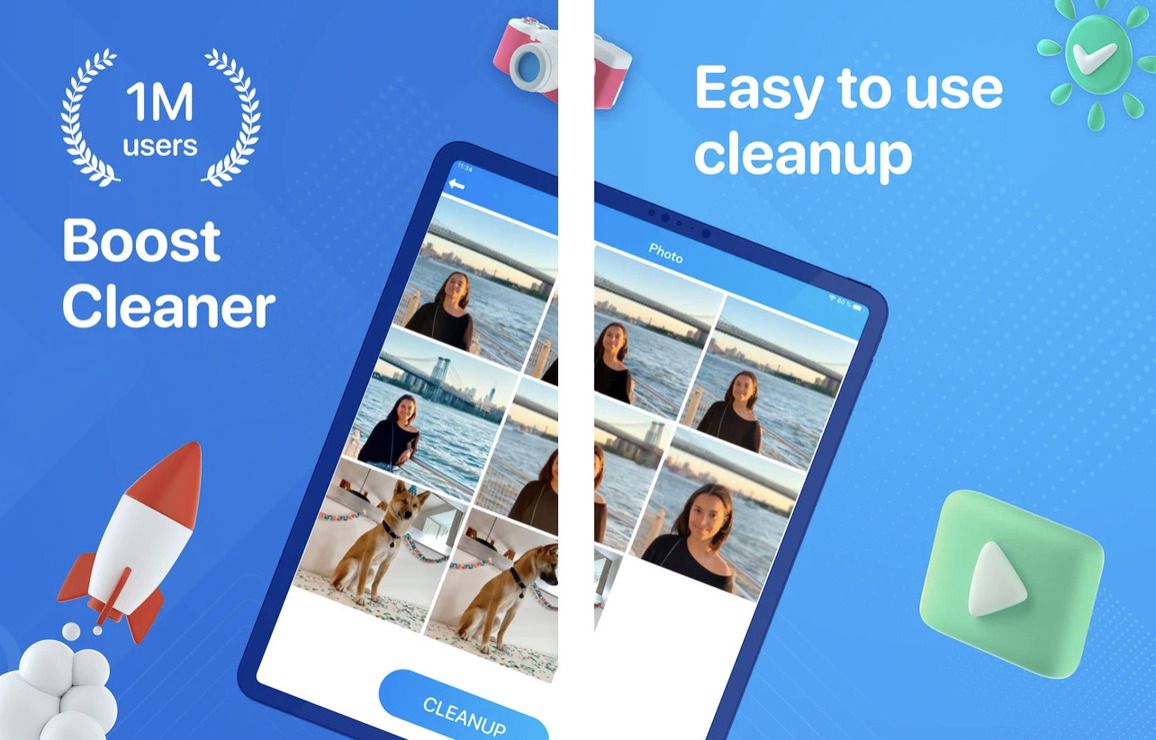 Boost cleaner by Sharp Forks is a fast and practical cleaning tool for iPhone and iPad devices. It offers a complete clean-up of your device with just one touch by deleting duplicate photos, and large videos, merging duplicate contacts and backing up data.
The iPad cleaner app also displays your device's available capacity and information. With a 4.5 rating on the app store, it is undeniably one of the best iPad and iPhone cleaner apps available. But good things are not always free so this comes with a weekly subscription option. So if you have some extra bucks to spare, definitely go for this one.
Rating on Apps store: 4.5
Free Trial: Yes
Subscription Price –Start from 9.99$ USD/Month
FEATURES
Filter and clear media folders relative to a specific location and date using Photos Cleaner

Make your contact management easy with Contacts Cleaner

Back up your contacts, group duplicate ones, and filter by company and name to organize data

Videos Cleaner helps in deleting multiple large files in no time

Boost speed and performance by freeing up memory space

7. Phone Cleaner for iPhone, iPad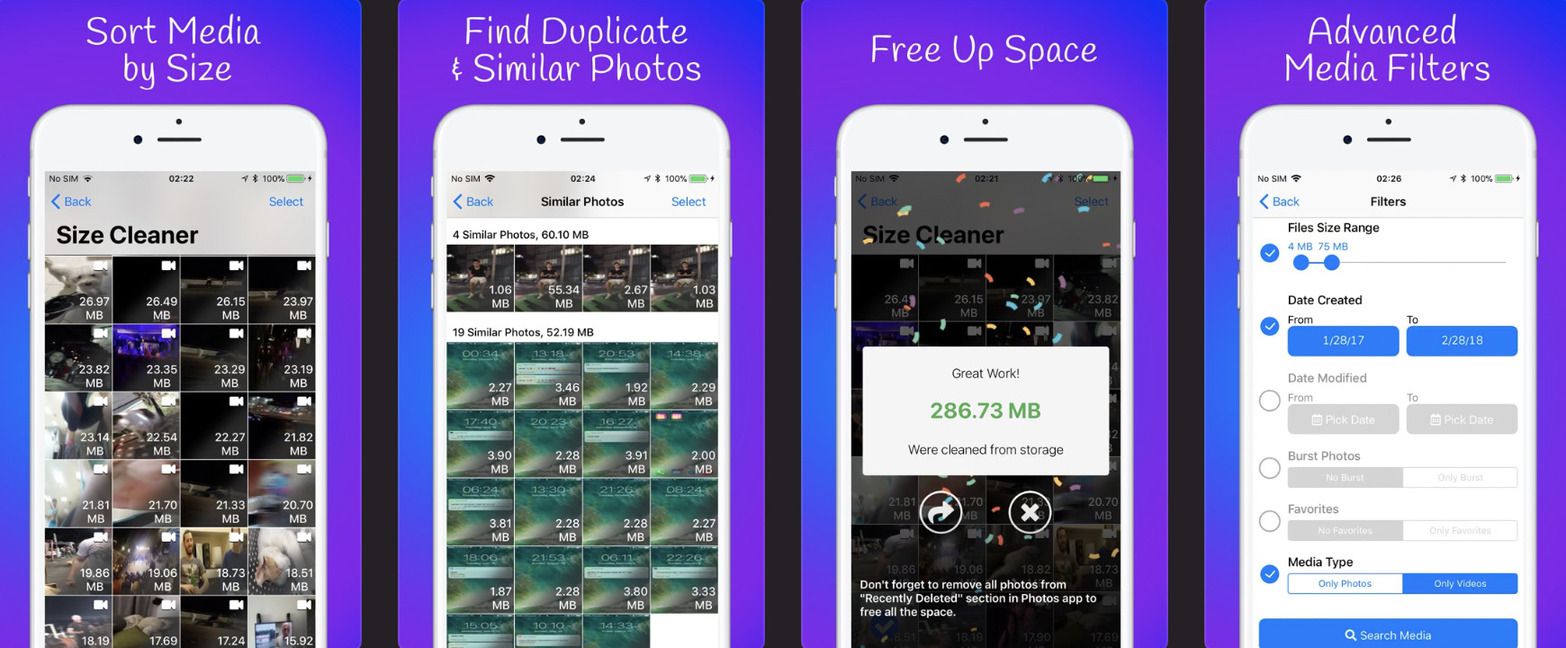 Phone Cleaner is one of the best cleaner apps for iPhone and iPad that helps you to free up a huge amount of space from your device. It also optimizes storage by organizing your media and eliminating unnecessary junk. This is done by sorting your files by size with detailed information about the size of the file so that you can decide which ones to keep.
It also uses advanced filters to search for media by type, creation date, size, modification date, and more to help you find exactly the ones you wish to keep. Eradicate duplicates and similar-looking photos and videos thus cleaning up loads of volume.
Also, you can use the web cleaning feature to keep your browser ad-free and clean most advertisements. Nevertheless, it does require a subscription plan to access all features of the application but with 7 days of the free trial.
Rating on Apps store: 4.5
Free Trial: Yes
Subscription Price – 2.99$ USD/Month
FEATURES
Clean up junk files to optimize iOS performance with just one click

Comprehensive personal data protection tool

100% Safe and efficient iOS cleanup utility

Supported in all types of iOS platforms

8. Gemini Photos: Gallery Cleaner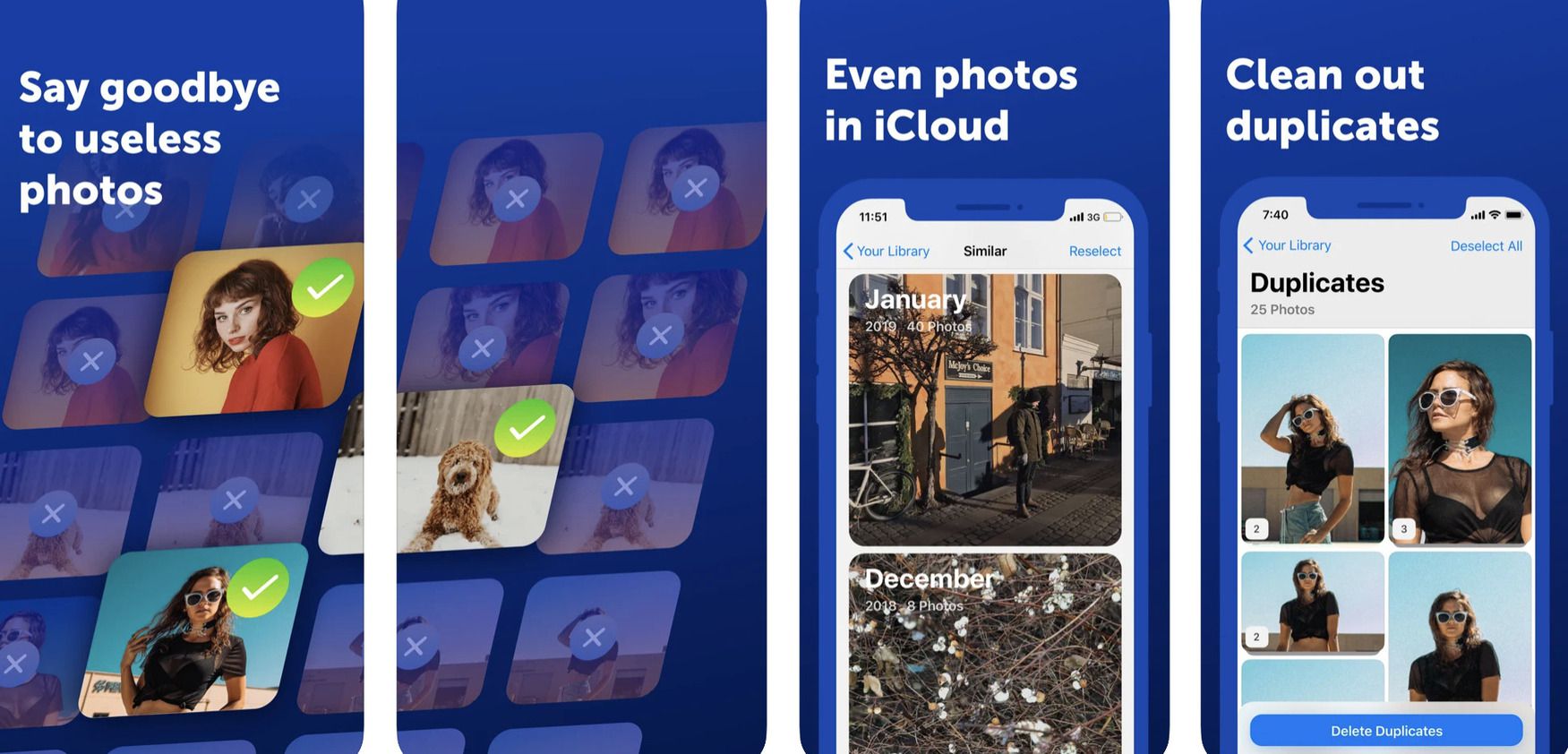 Gemini Photos is a specialized application to clean your gallery. This is an iOS app that cleans up the photo clutter on your iPhone and iPad devices. Gemini Photos has a "smart algorithm" to track down unwanted photos. It finds more than just similar images.
This cleaner app will also track down blurry shots (even individual ones), and pictures of screenshots that you don't need anymore. It uses a "smart machine learning algorithm" to group photos that are duplicates or similar while saving the best versions of these photos.
This makes your life easier as you don't need to check each and every picture among a group of similar ones to decide which is most worth keeping. In fact, the specialized photo radar feature is a blessing as it keeps the "storage full" pop-up at bay. I personally feel that this photo cleaner is the best iPhone cleaner app for me as a person who loves taking random pictures.
Rating on Apps store:4.6
Free Trial:Yes
Subscription Price –Start from 4.99$ USD/Month
FEATURES
Clean out the clutter of unwanted screenshots, exact duplicates, photos of text, etc

Sort your entire media library

Filter and select to keep or upkeep your good and not-so-good photos

Clean up space to increase device performance

Photo Radar feature for new shots and videos to make sure they don't pile up

9. Slidebox – Photo Manager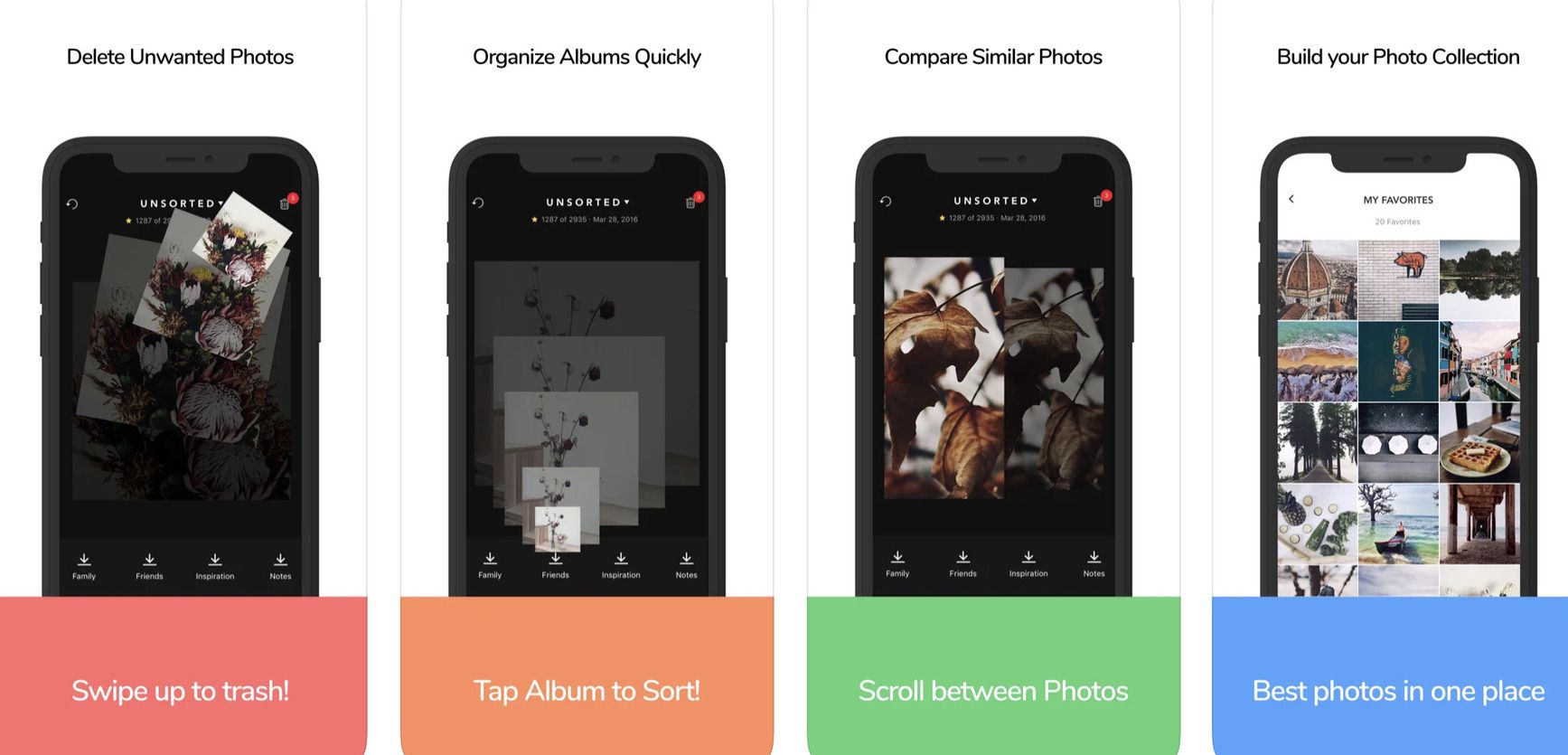 Slidebox is one app that uses simple gestures to organize and de-clutter your phone. It is an extremely easy-to-use minimalist application that directly interacts with your Gallary so that any changes made by you are reflected seamlessly on your iPhone and iCloud.
You can create separate albums to easily move your photos and sort them according to your needs. It frees up tons of space on your iPhone by organizing your photos in the most effortless way.
Rating on Apps store: 4.8
Free Trial: No
Subscription Price –Start from 4.99$ USD/Month
FEATURES
Delete unwanted and trash photos with a swipe of a finger

Sort to organize photos into albums with a simple tap

Compare similar-looking photos and media back and forth

Create special albums to keep your favorites

Frees up unlimited space in your iPhone by organizing a photo album

10. Clean Doctor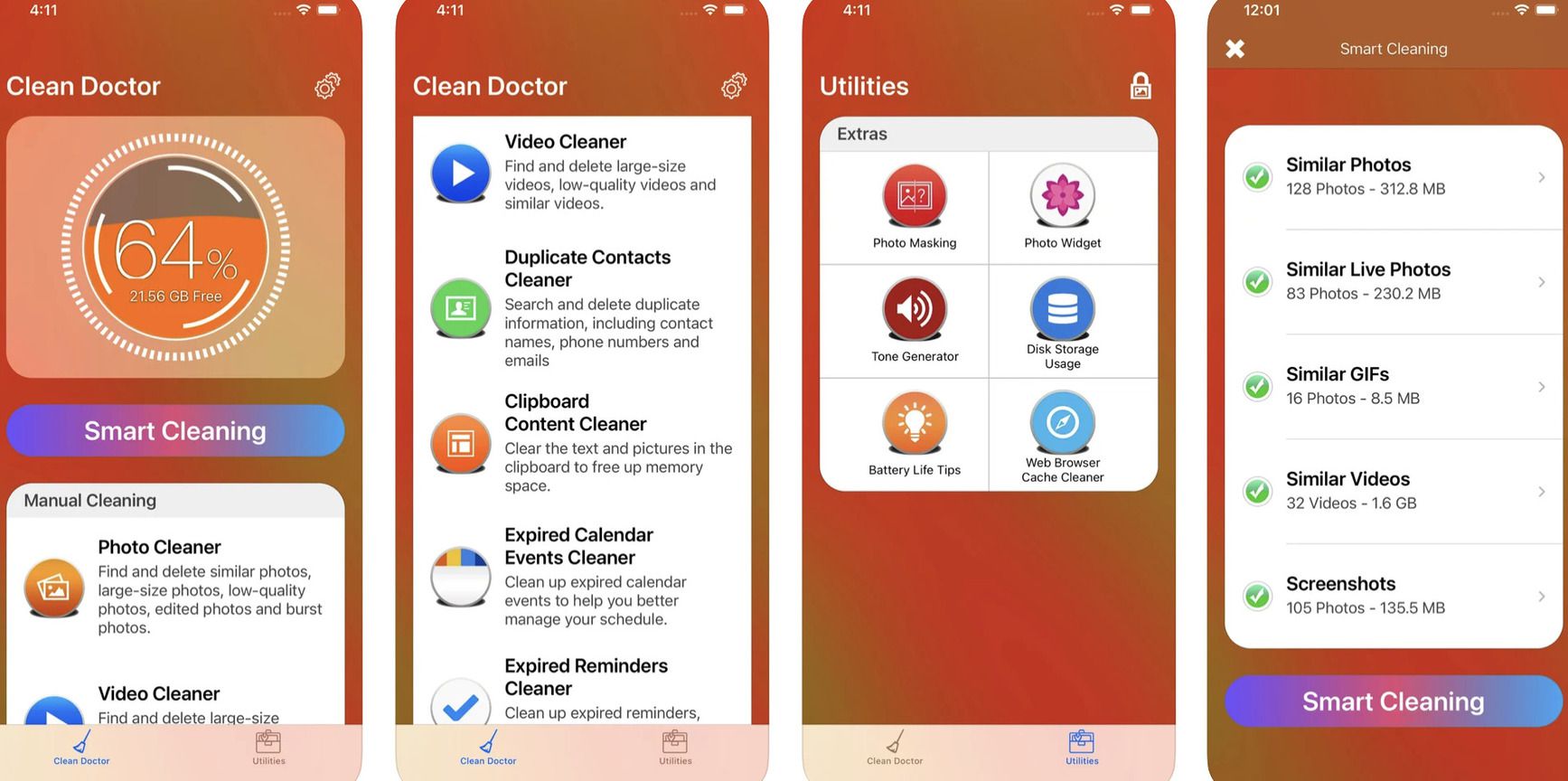 Clean Doctor is one of the easiest cleaner apps for iPad and iPhone devices. It helps you clean up your device in just one tap with the Smart cleaning function. It not only lets you clean up your phone by removing junk but also helps you smartly organize files and storage.
You can also use it for your web browser to delete spam advertisements. The interface is simple and again very easy to use. It has many more functionalities to quickly optimize your iPhone and take care of your cleaning needs.
Rating on Apps store: 3.6
Free Trial: No
Subscription Price –Start from 3.99$ USD/Month
FEATURES
One-click AI smart cleaning technology

Can easily remove similar photos, and duplicate contacts.

All-in-one depth photo and video cleaner

Scan and remove expired calendar events and reminders

Privacy vault to back up private contacts, hidden media

Web browser cache clean-up tutorial

11. iChecker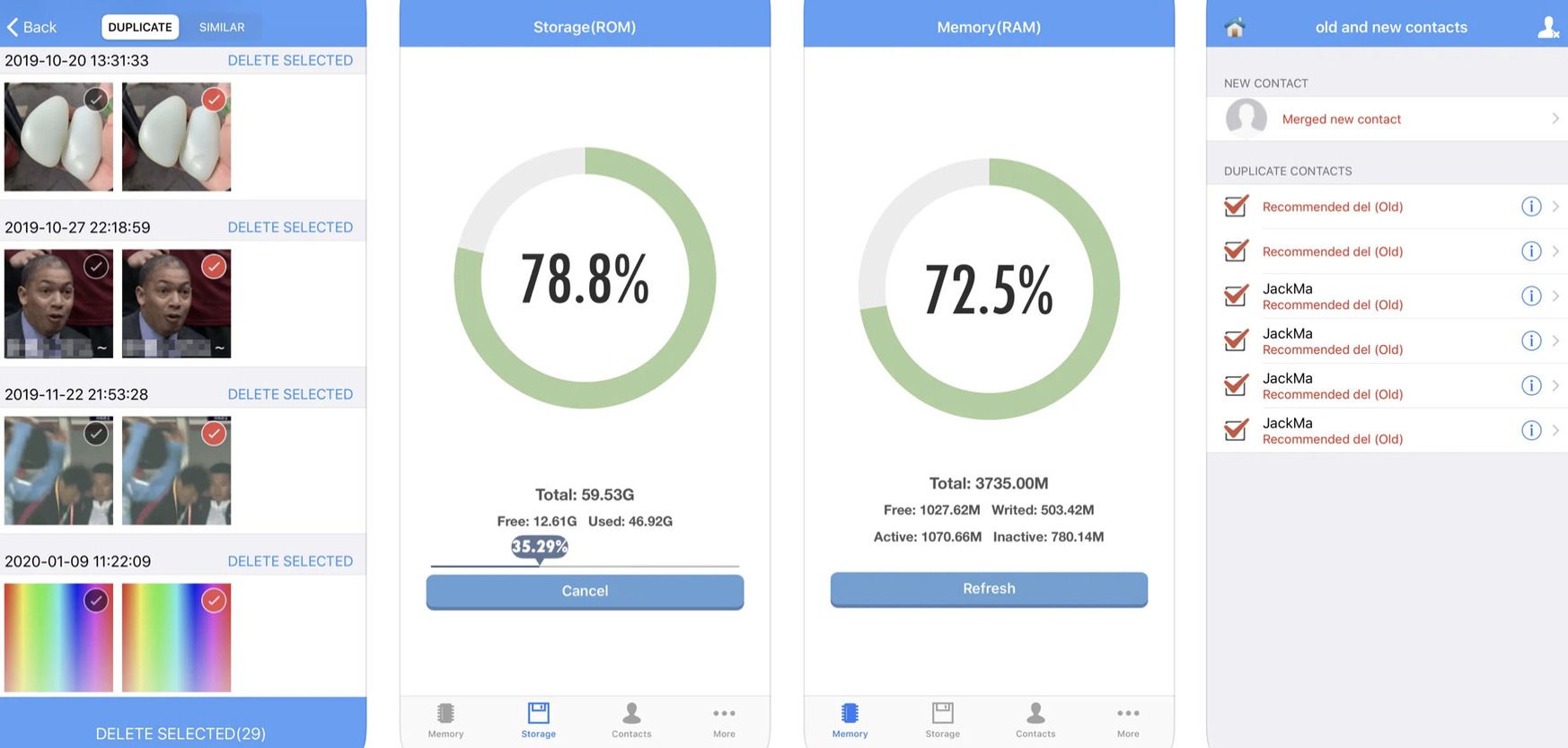 iChecker app is the only application that checks your iOS devices by their RAM usage. It also helps you track and manage the RAM utilization and disk size along with removing junk from the device which makes it one of the best iPad and iPhone cleaner apps.
Also, it is entirely free so no worries about any additional charges upon subscription. iChecker also guarantees the safety and privacy of your data so you know that your contacts and media will never be uploaded to any third-party server.
Rating on Apps store: 3.5
Price: AbsolutelyFree
FEATURES
Free RAM usage and disk space monitoring

Clean spam photos, videos, and media in one click

Remove duplicate or similar pictures by easy filtering

Update and manage your contacts

Complete privacy of data from any third-party server

12. Cisdem iPhone Cleaner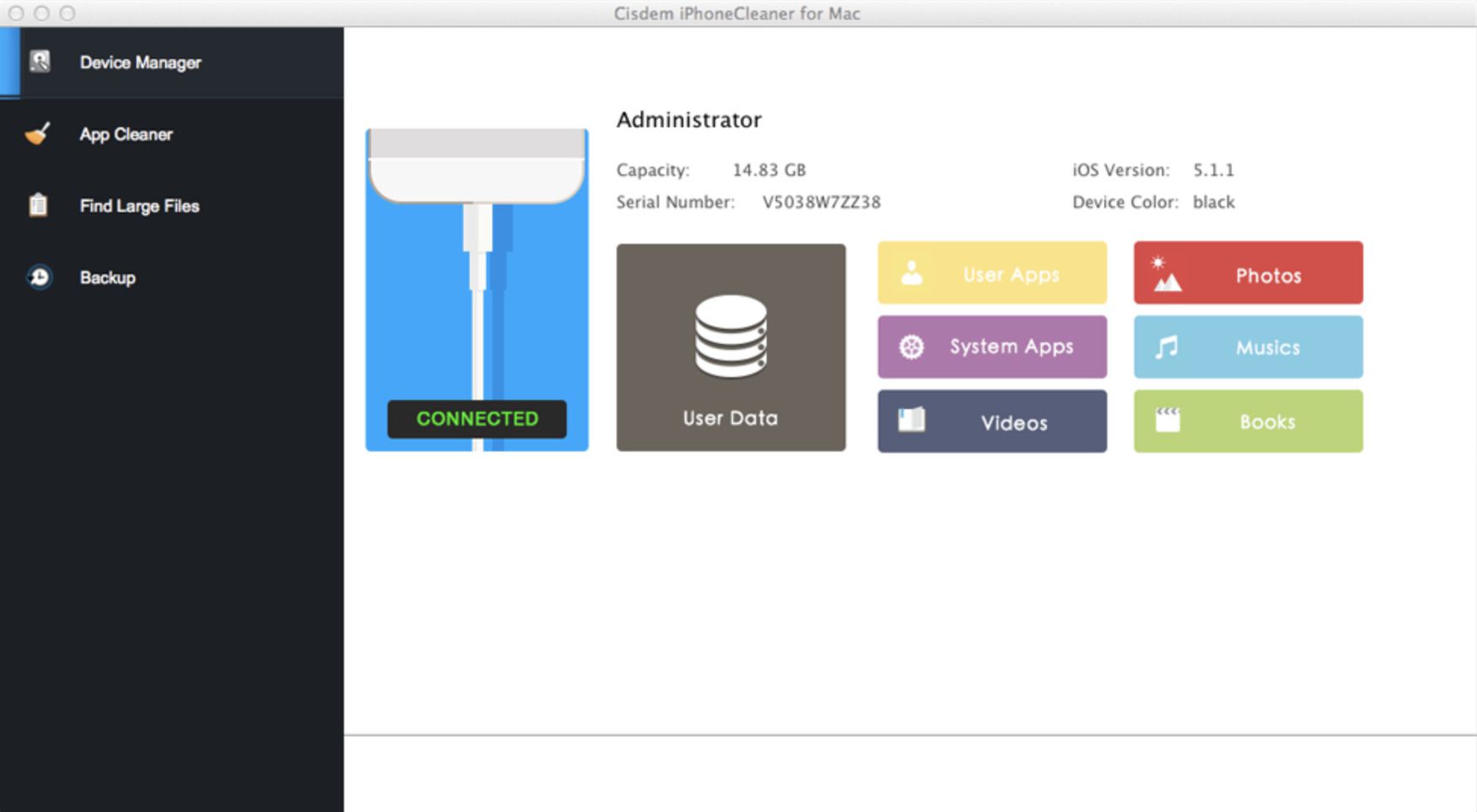 When your phone is no longer functioning optimally or has just become slow and sluggish or maybe you are tired of getting the message "Storage full", you know it's time to install the cleaner app to fixyour iPhone or iPad device.
Cisdem actually an app for mac that cleans all your iOS devices safely. This iPhone cleaner app is an easy-to-use, mac OS application that you can easily connect to your iPhone to get rid of unwanted junk.
Cisdem cleaner comes in handy and gives you the best performance compared to other cleaner apps. Although the subscription charge might come across as expensive, you know it is worth it with Cisdem.
Rating on Apps store: 4.8
Free Trial: No
Subscription Price –Start from 19$ USD/Year
FEATURES
Simple to use UI &Fastest scan tool

Safely delete extra junk folders with no danger

Clean up your entire iPhone by deleting large & forgotten files

Backup iPhone/iPad/iPod data with just one click

Supports all iOS devices