A mortgage is a type of loan that a person takes to buy a house or borrow money against an immovablecollateral that he already owns. This collateral acts as a security and gives the lender the right to take over his property if he fails to repay the mortgage including interest.Before takinga mortgage, it's important that one should calculate his/her monthly or yearly repayment estimation which includes principal amount,interest, PMI, and other expenses. But doing such complex calculations is a tiring task and that's where a mortgage calculator comes into play.
A mortgage calculator app is a useful tool for individuals looking to purchase a home or refinance an existing mortgage. It takes into account several factors such as loan amount, interest rate, loan term, property taxes, homeowner's insurance, and private mortgage insurance (PMI) to provide an estimate of the monthly mortgage payment.
List of 10 Best Mortgage Calculator Apps For Android and iOS
1. Karl's Mortgage Calculator (By Dr. Karl Jeacle)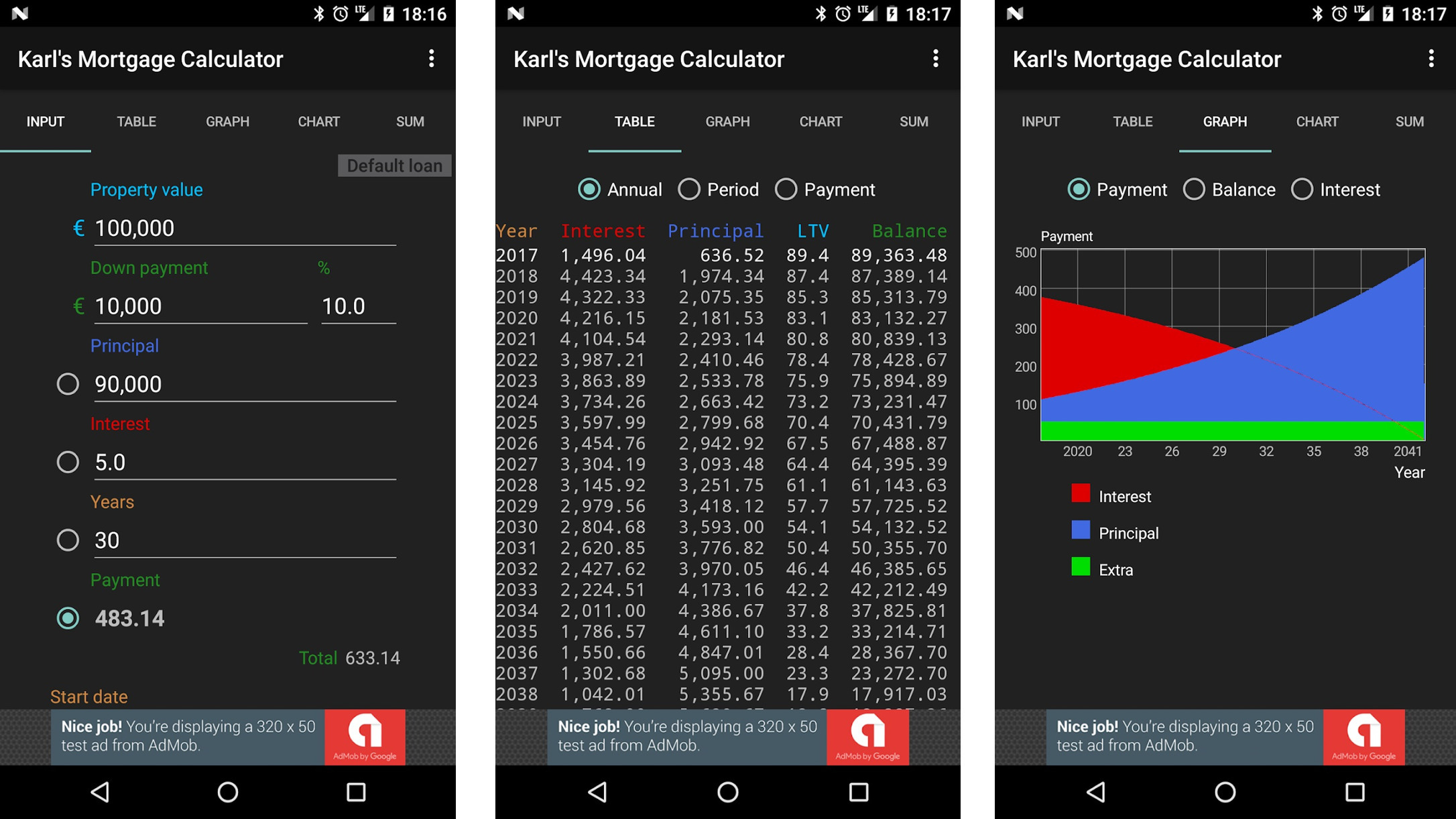 With its simple user-friendly interface, Karl's Mortgage Calculator stands out as one of the top mortgage calculator applications available. Its advanced features include interactive graphs and charts, enabling users to perform comprehensive mortgage calculations with ease. By simply inputting the principal amount, interest, and term, you can calculate mortgage paymentseasily.The calculator also supports fixed and Adjustable Rate Mortgages (ARM) loans, with up to five changes in interest rates. You get the option to choose from weekly to annual loan payments and adjust the compounding period from daily through annual periods.
Features of of Karl's Mortgage Calculator
Load or create a new loan

Various loan types and payment frequency

Detailed mortgage summary

Interest and principal chart

Annual, period, and payment table

Backup to Gdrive

Get mortgage report via email

Payment, balance, and interestgraph

Supports fixed and Adjustable Rate Mortgage loans


2. Loan andMortgage Calculator (By ChuChu Train Productions)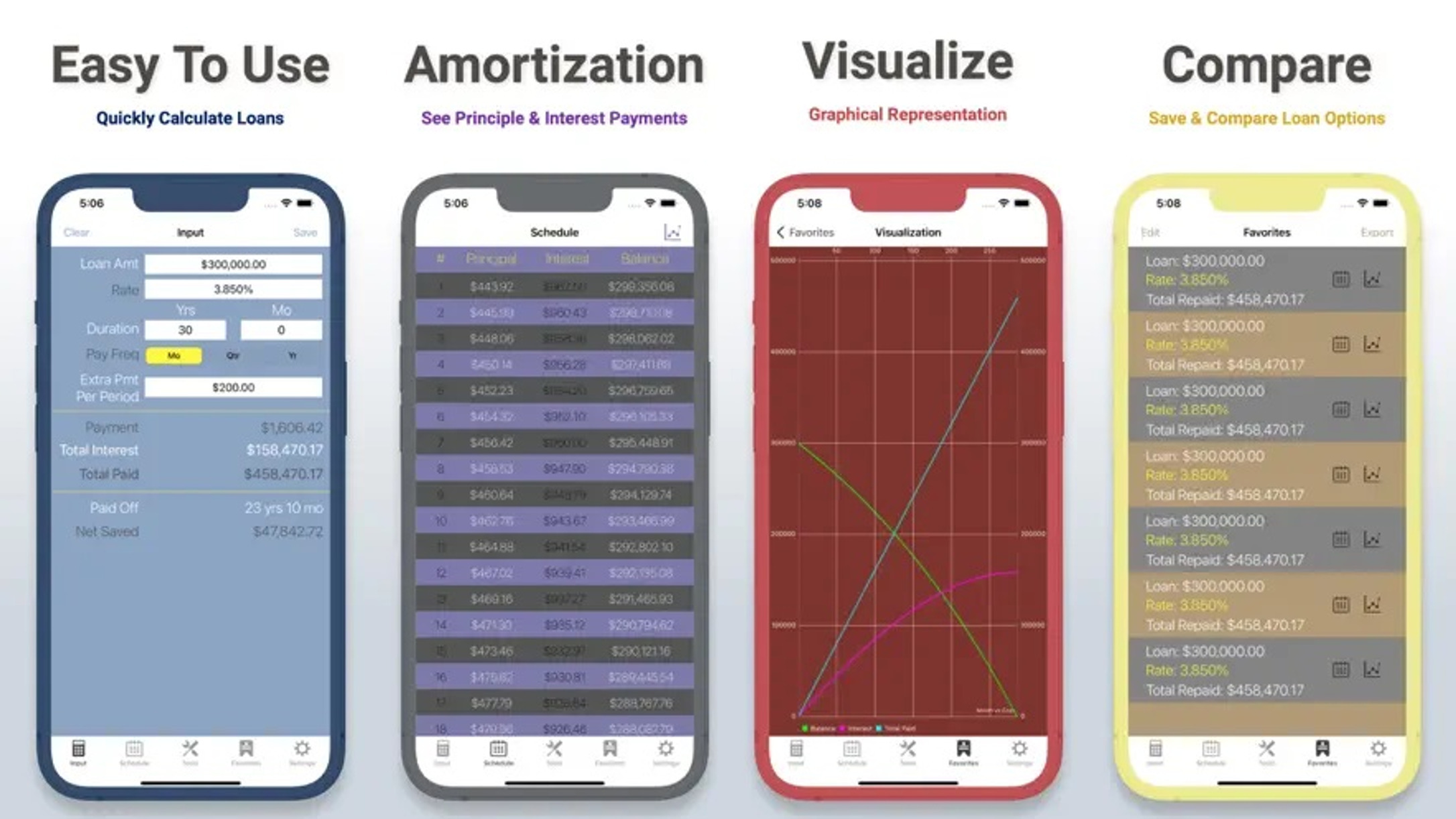 Loan and Mortgage Calculator is one of the best calculators for iPhones and iPads. Its user interface is amazing as it got colors, perfect font, and an easy-to-navigate bottom menu. You can easily calculate your mortgage repayment by simply putting the necessary details and getting the breakdown of payments in form of the amortization table. You can save, compare and view the graphical representation of loans. All your saved or calculated loans can be exported in form of an HTML and CSV file to be viewed on your PC. This app is compatible with Apple Watch and got 6 additional calculators.
Features of of Loan and Mortgage Calculator
Calculate your mortgage repayment

Amazing user interface

Amortization table

Graphical representation of loan

Save and export calculations in HTML and CSV file format

Compare two or more loans

6 additional calculators

Compatible with Apple Watch

Supports different currencies

3. Mortgage Pal – Loan Calculator (By Appeum Inc)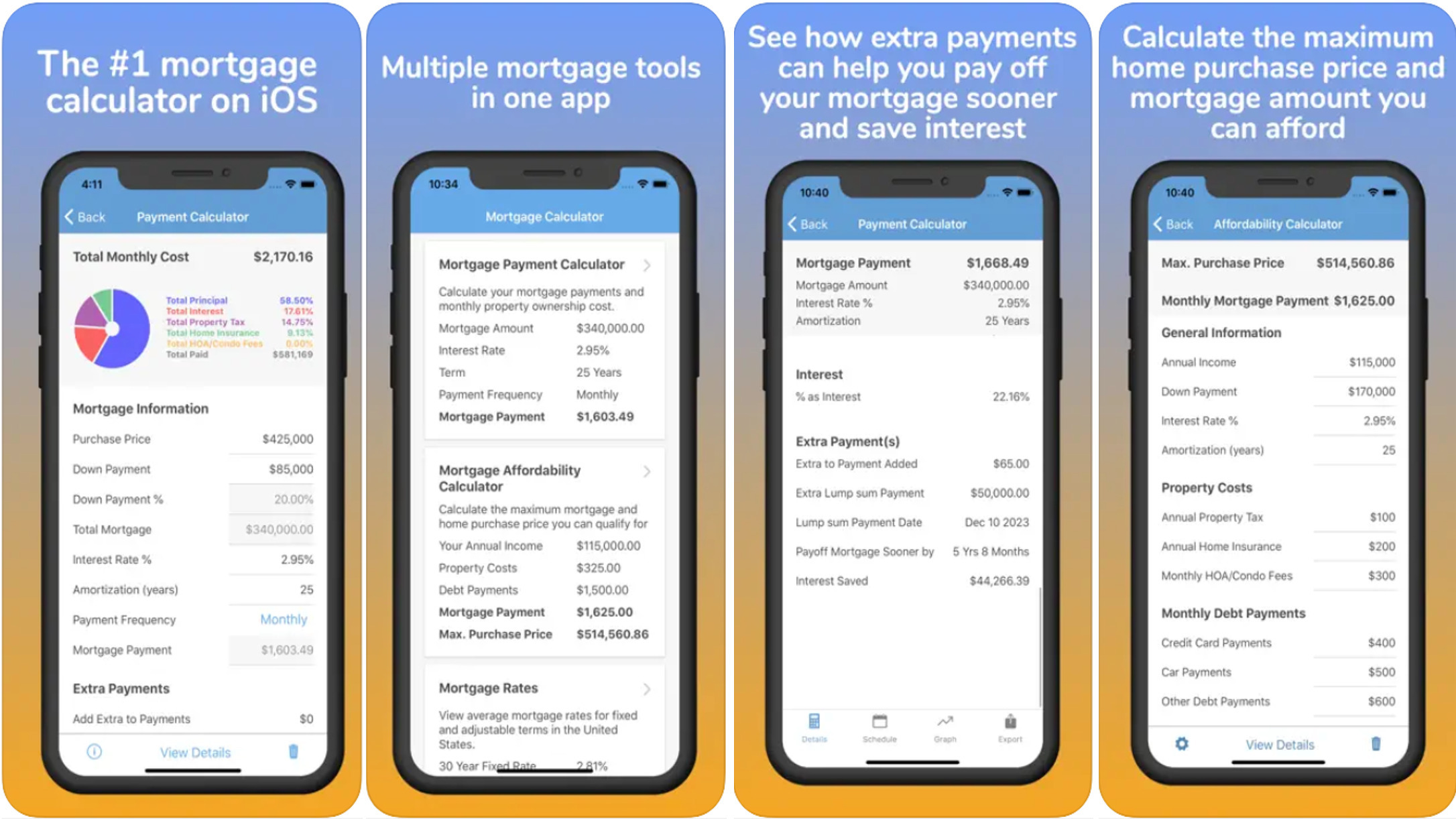 Mortgage Pal is another great app for iOS devices with three-in-one mortgage tools i.e.Mortgage Payment Calculator, Mortgage Affordability Calculator, and Mortgage Rate Trends Visualizer. These tools help youin calculating mortgage repayments, checking the affordability ofborrowinga loan, and taking smart mortgage decisions. Itincludes tax, PMI, and other mortgage fee calculations. You canaccess visual charts and amortization schedules to understand your mortgage better.The Mortgage Rate Trends Visualizer allows you to stay informed about current mortgage rates and provides a visual representation of historical trends in mortgage rates.
Features of of Mortgage Pal – Loan Calculator
Mortgage repayment calculator

Mortgage affordability calculator

Mortgage rate trends visualizer

Visual charts and graphs

Amortization table

No account or internet access s needed

Monthly, weekly, bi-weekly, quarterly, and yearly payment plans

4. Mortgage Calculator (By Zyablikon)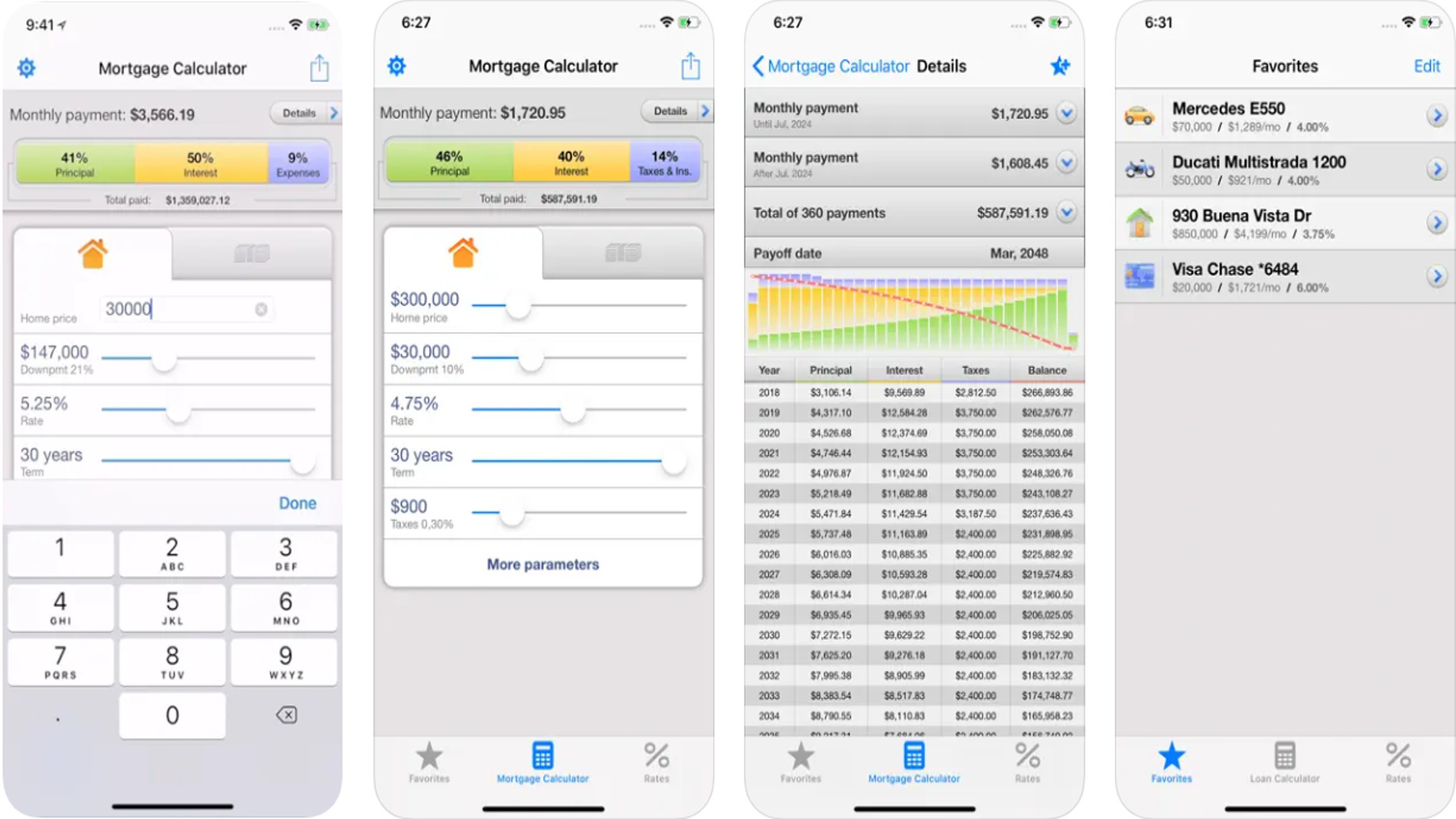 The Mortgage Calculator app simplifies the process of calculating all aspects of your home loan in an efficient manner. This app takes care of all the calculations for you, including your payments based on the cost of your home, initial down payment, mortgage rate, and length of the agreement. Mortgage Calculator helps you with managing your car loans, mortgage, credit card payments, and educational loans. Apart from that it also calculates other expenses associated with your mortgages like PMI, insurance, taxes, and HOA fees so that you don't have to worry about your monthly or yearly payments.
Features of of Mortgage Calculator (By Zyablikon)
Mortgage repayment calculator

Animated loan graph

Amortization table

Calculates PMI, HOA, taxes, and insurance

Interactive sliders and a large keypad

Access saved loans calculation in the Favourites section

5. Mortgage Calculator (By Financept)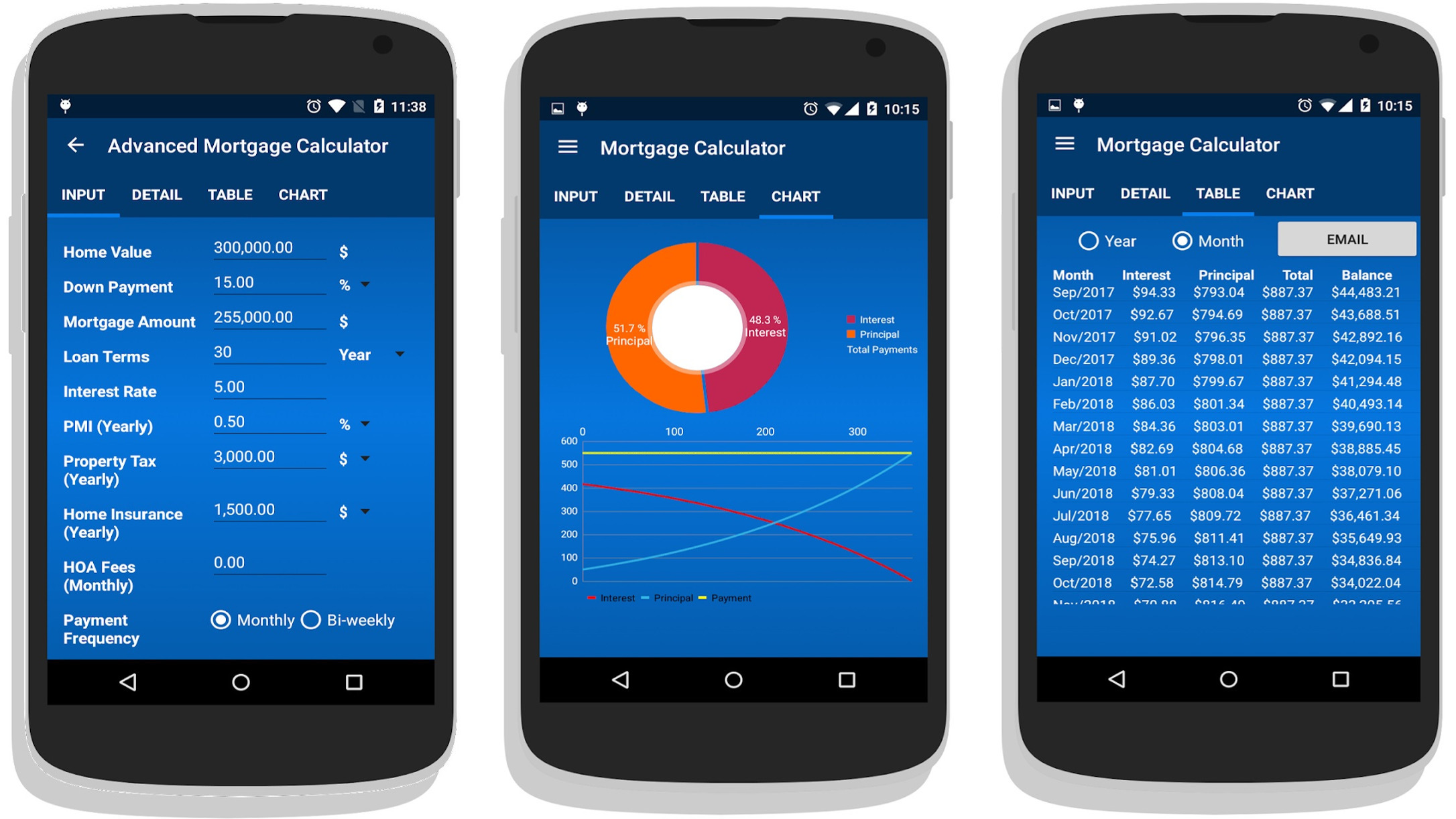 Get all the details about your mortgage payments with the easy-to-use Mortgage Calculator app, which can be used for calculating house mortgages, auto loans, or other types of loans. Simply enter the loan amount, interest rate, and years of payment to get all the details of your mortgage payments with tables and charts. This app can be used like any other loan calculator app and you also get various types of mortgage-related calculators like mortgage refinance calculator, interest-only mortgage calculator, and many more through the web. You can also choose to see a yearly or monthly breakdown of each payment and export your mortgage with payment information to your email. Additionally, you can print the mortgage amortization or save the mortgage information as a PDF file.
Features of of Mortgage Calculator (By Financept)
Access summary in the Detail section

Several colored app themes

The web version is available

Chart and graph of interest, principal, and payment

View,share, and download yearly and monthly table

Simple and advanced mortgage calculation

Several web-based mortgage-related calculators

6. MortgageRepayment Calculator (By Deepglance)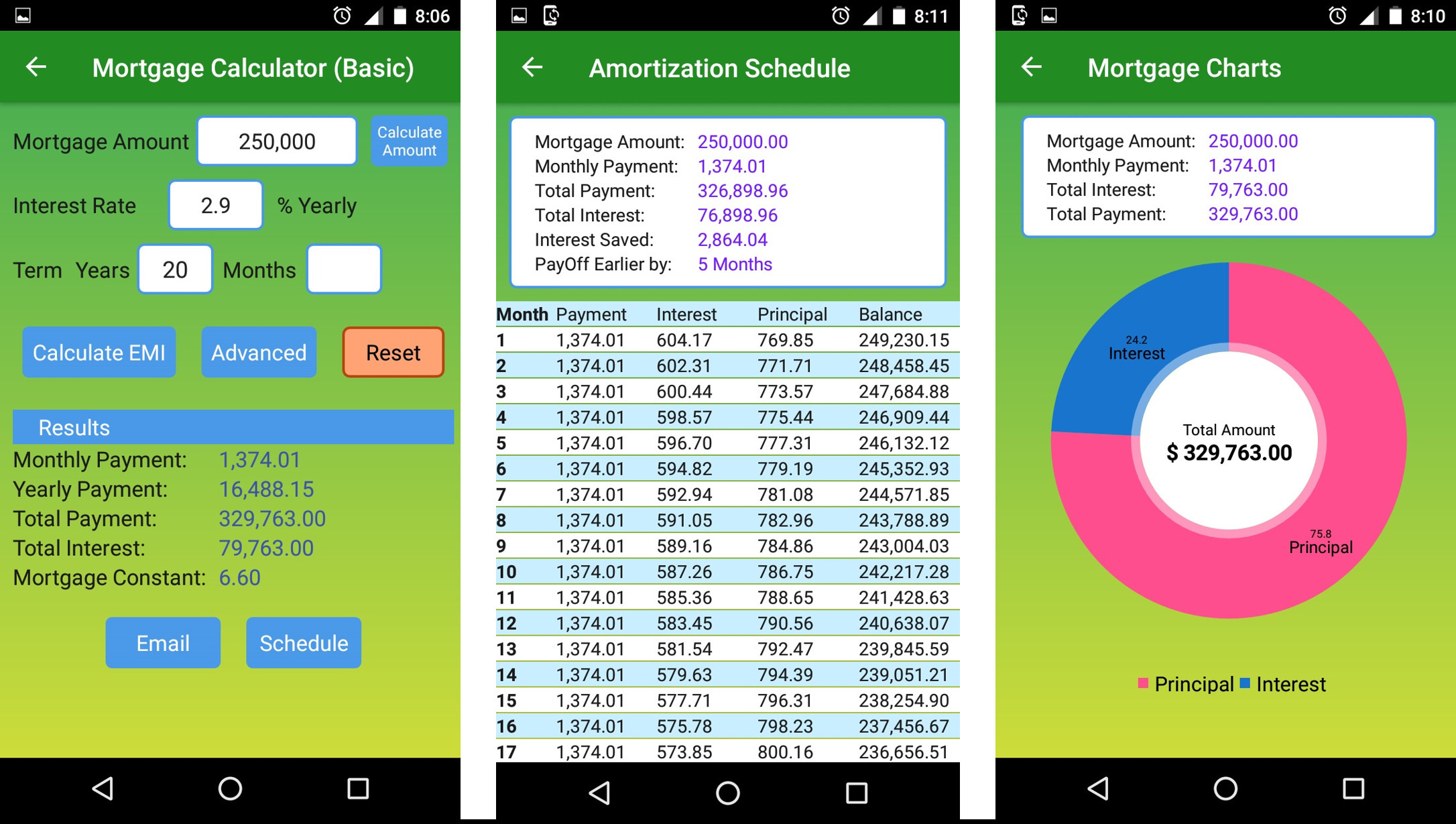 Mortgage Repayment Calculator is an all-in-one app where you can calculate your mortgage repayment, compare mortgages, calculate mortgage refinancing, etc. It helps with all kinds of financially related queries and does all the calculations you need and will tell you each and every aspect of mortgage repayment. It shows you mortgage charts, both while calculating and comparing. You can email yourself the amortization schedule in form of an Excel file. Apart from that you get other calculators like VAT calculator, GST calculator, simple & compound interest calculator, etc., and the option to switch currency and save your calculations.
Features of of Mortgage Repayment Calculator
Basic and advanced mortgage calculator

Mortgage comparison and refinance

fixed and variable rate calculator

credit card repayment calculator

VAT, GST, simple and compound interest calculators

Intuitive visual charts and amortization table

Email your calculations report in form of an Excel file.

Can save calculations and change currency

7. Loan and Mortgage Calculator (By Rishi Kapoor)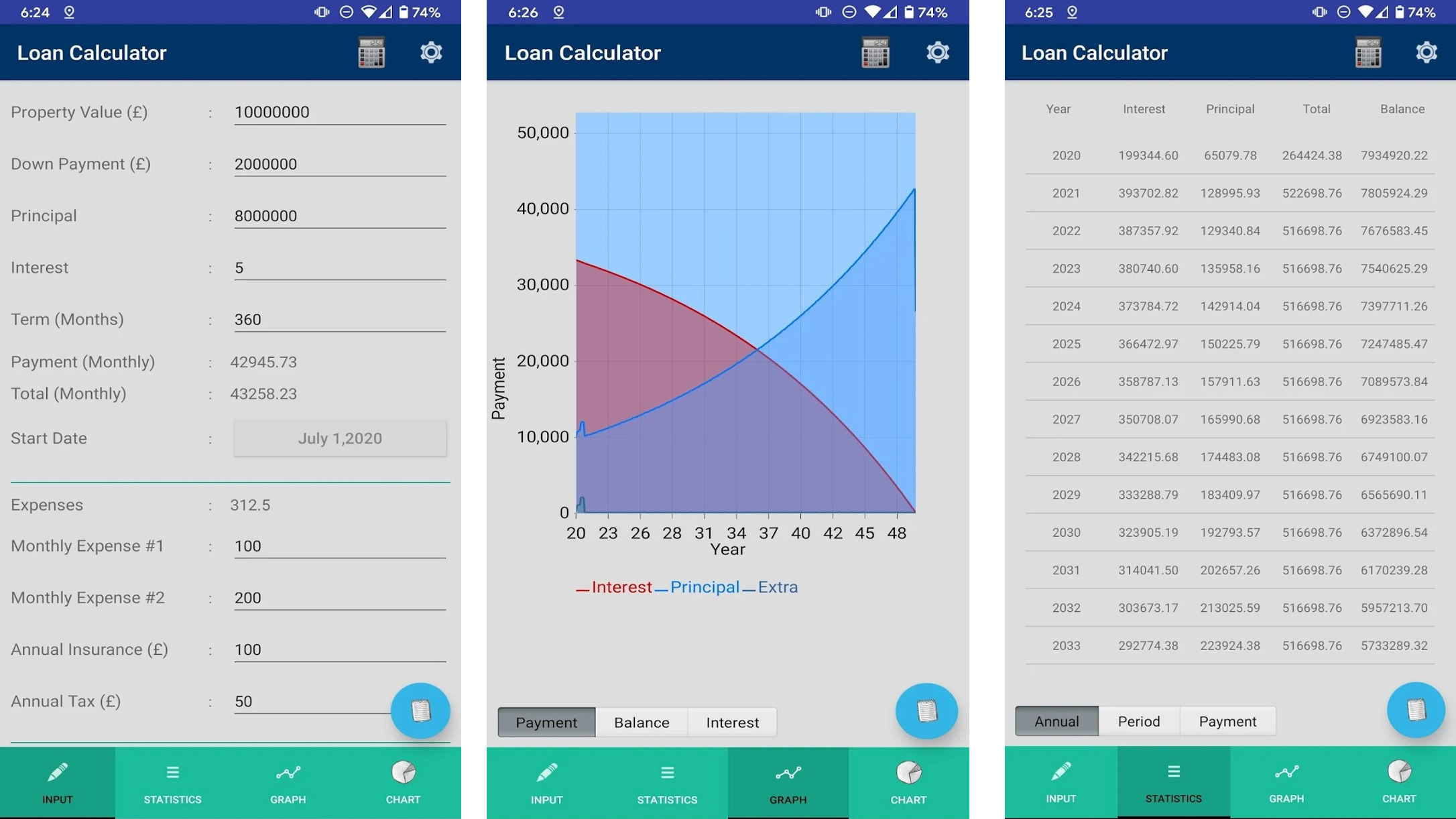 This Mortgage Calculator app can be used for a range of purposes such as calculating home mortgage loans, car loans, student loans, commercial mortgage loans, and much more. With its simple interface, you can easily change the loan term between monthly and annually and even get a clear understanding of your mortgage payments through interactive graphs and charts. This app also supports various currency formats and offers a backup and restore feature for added convenience. If you prefer to avoid ads, you can opt to purchase the paid version.
Features of of Loan and Mortgage Calculator
Calculate mortgage payments

Support for various currency formats

Get your loanreport via email

Calculate in actual value or percentage of property value

Backup and restore for various loan terms

Support of statistics, graph, and chart

Weekly, monthly, and annual loan payment frequency

8. Loan Calculator (By TSoftOne)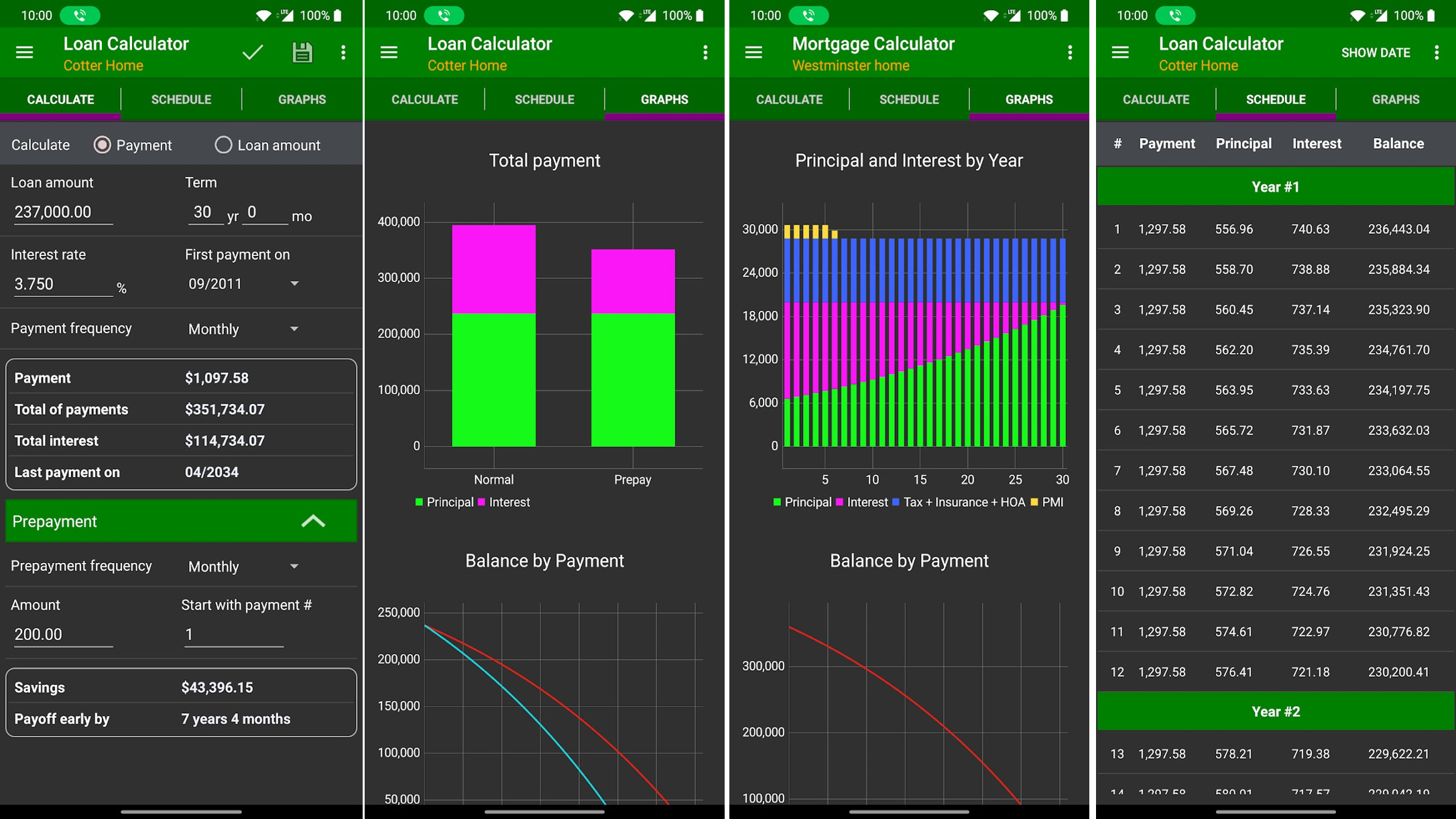 The Loan Calculator app provides you with the ability to calculateyourpayment and affordability for loans and mortgages, as well as identify potential refinance opportunities. I you areinterested in purchasing a house or car, then thistool is useful foryou, as it allows you to determineyourmonthly payment and borrowing capacity. The app includes several graphs to helpyouvisualize and analyze your loan, as well as an Amortization table that outlines each periodic payment, including the date, interest, principal, and balance. It offers two calculator modes for general loans and mortgages.
Features of of Loan Calculator (By TSoftOne)
Calculate general loan and mortgage loan

Refinance feature

Compare loans

Save your calculated loan details

Amortization table and various graphs

Support multiple compounding methods

Support multiple payment frequencies

9. Loan Calculator (Transpose Solutions)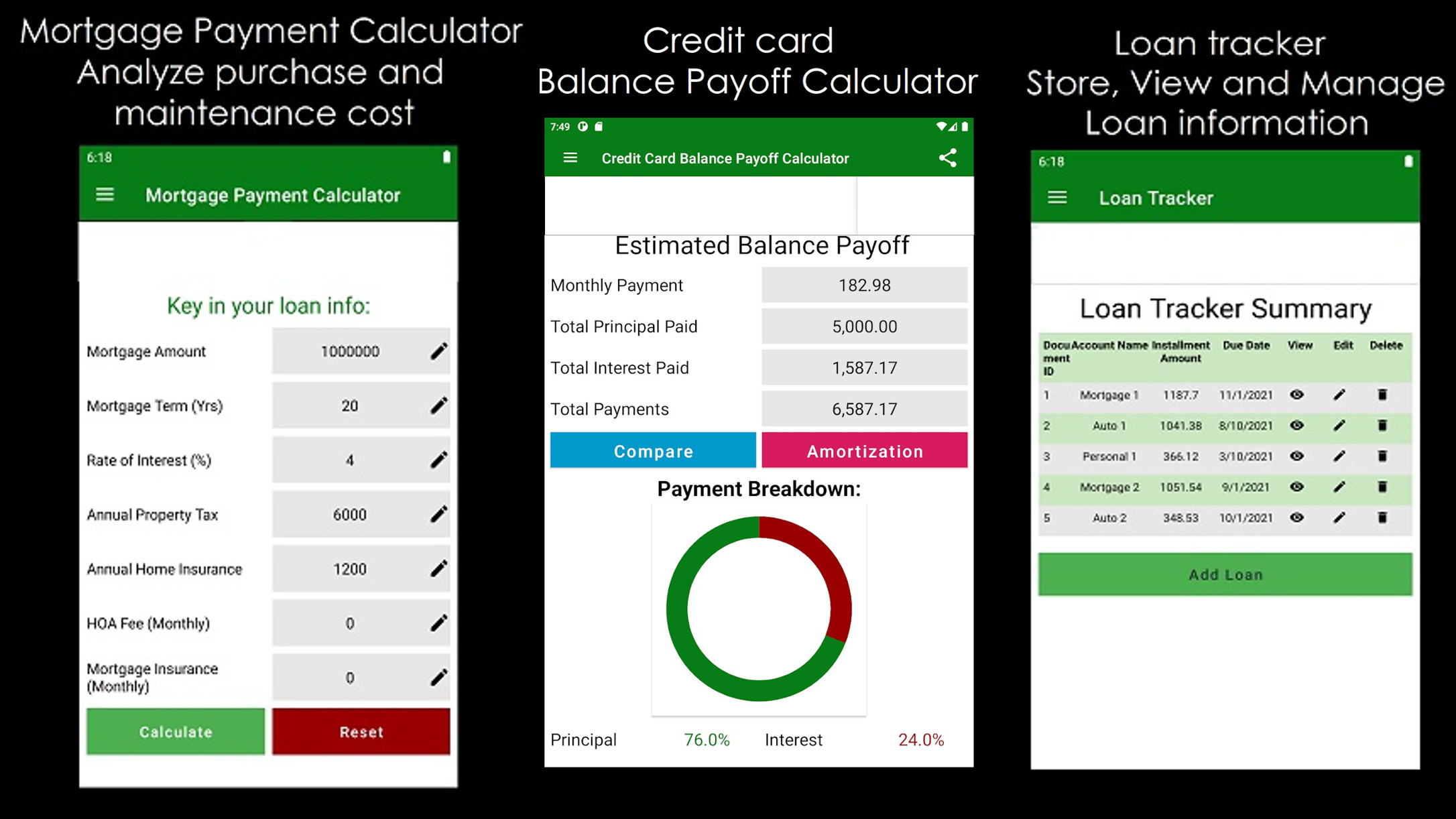 The Loan Calculator is a multipurpose app that can be used for calculating a mortgage payment, an EMI, an amortization schedule, renting or buying cost as well as comparing loan payments. Apart from that this app also offers a Budget calculator, Loan tracker, Salary calculator, and other financial tools. This app is easy to use and you can switch between different calculators from the side menu. Along with mortgage payment calculation, it also generates a payment breakdown in form of a pie chart that helps you to understand it visually.
Features of of Loan Calculator (Transpose Solutions)
Mortgage loan payment calculator

Rental property calculator

Credit card balance payoff

Loan tracker

Budget and salary calculator

Auto loan calculator

Store up to 5 loan records

Amortization schedule and payment breakdown

10. Mortgage Loan Calculator (By nimrod project)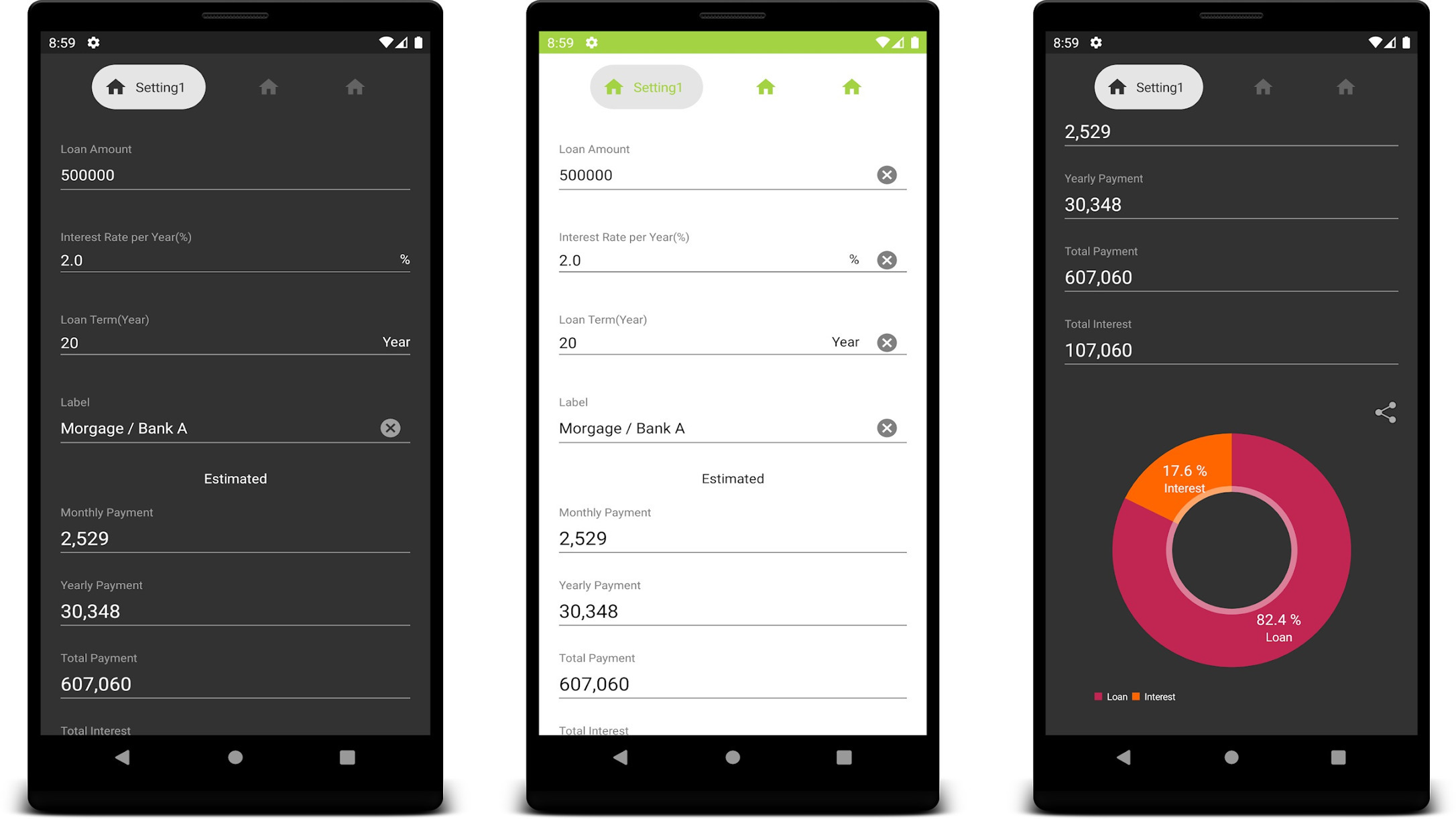 By using the Mortgage/Loan Calculator, you can effectively plan your loan repayment. Simply input the loan amount, interest rate, and loan term to generate your monthly/yearly payment, total payment, and total interest. Additionally, the calculator includes a comparison feature that allows you to compare three different conditions simultaneously using diagrams. This feature is useful for comparing refinancing options. Furthermore, you can view a pie chart of the interest and loan, and share the estimated results on any platform.
Features of of Mortgage Loan Calculator
Calculate mortgage loan

Loan comparison with diagrams

Share your calculated loan details

Loan and interest pie chart

calculate the monthly and yearly payment