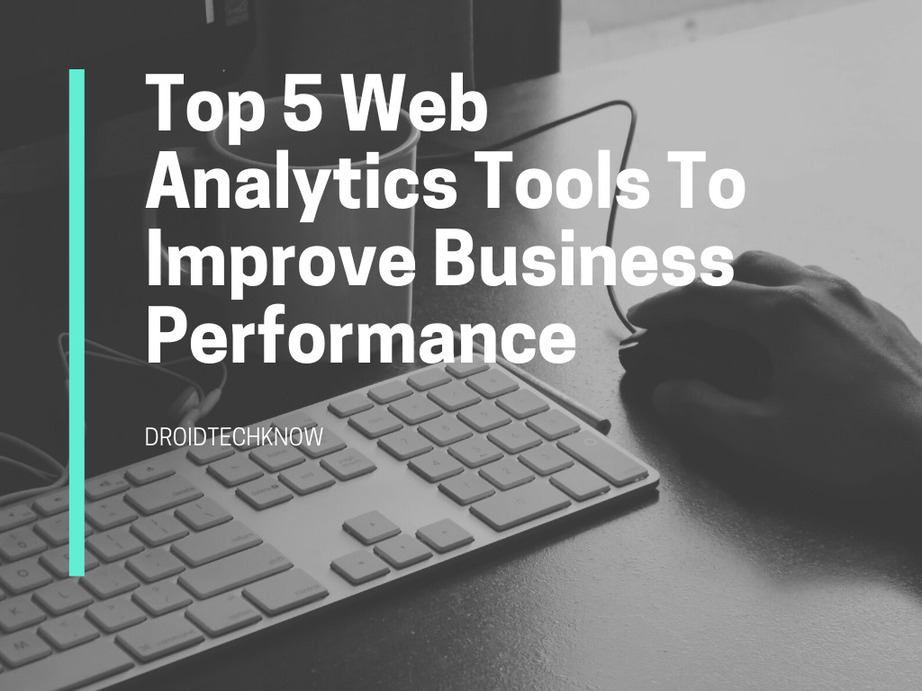 Web Analytics Tools are compulsory to use to optimize your business. It provides a way to understand your users so that you can enhance your business according to your user's behavior. When we read about the analytics then the first name comes in our mind is Google Analytics. No doubtGoogle analytics is one of the best Web Analytics tools to integrate with your web. It's very easy to integrate and user-friendly UI but on the other hand, there are lots of other Web analytics tools in the market now. You can choose the Analytics tool according to your requirements.
What is Web Analytics?
Web Analytics is the process by which you can analyze your visitor's behavior. It gives you a better understanding of your ongoing user activities with the help of graphs, tables, etc. With the help of Web Analytics, you can optimize your business by looking into the user data.
Why Web Analytics tools are required?
Web Analytics tools are required to collect data from your users so that you can enhance your business according to the collected data. It enables you to keep track of all of your user's activities like where they come, how many unique visitors, how many page visits, etc. Now you have lots of data from your users to make the future decision to optimize your business.
Here is a list of some best top 5 web analytics tools that you can use to collect data from your users.

Google Analytics is one of the most popular tools in the market. Users can track and measure advertisement returns. It also tracks flash or social marketing. Being a free analytics tool, it has gained a good share of the user base. This Google-owned product helps the user get the bigger picture- with the help of insights, and detailed statistical data. It gives an in-depth analysis of customers who visit the designated website.

Kissmetrics promises to assist in converting customer conversion with the help of their web analytics solutions. They do not only guarantee more customer retention but also help track when the website is losing customers. While usingSEO, SEM, Display, Social Media or email
campaigns, Kissmetrics helps the user select the best marketing campaigns. They also offer engagement metrics- which analysis to what extent a customer participates on the website. Kissmetrics also supports a dashboard view with a brief summary of the on-the-go analysis.

For tracking web-traffic on the website, Clicky is considered one of the best web analytics tools. Its bounce rate is the best amongst its competitors right now. They have distinct features, like tracking support. This helps the user track how much time does a potential customer spends on the website. Clicky provides real-time web analytics data. One of the many interesting features is of heatmaps, for selected tabs, pages and so on. Heatmaps indicate which tags get the most hits on the selected frame. Uptime monitoring and no directed spam feature are some of its other added advantages.

Woopra provides data analysis under the lens of demographics, customer behavior or application-specific categories. They offer customer analytics- sales, customer success rates, and support groups. It offers customizable view schema for both visitor data and action data. Action triggers like push notifications, email notifications are also made available by Woopra. Batch tasks can also be automated withintegrations such as Dropbox, Box, and Mailchimp. Website integrations are also available across multiple e-commerce applications, CRM tools and email marketing alike.

Foxmetrics is a good choice for business organizations. It collects data from every targeting digital platform including web analytics data. It makes available features like SQL query for data warehouses manipulations- from RAW data. Business reports can be modified as per the team-based views. Parameters of date ranges can also be set. It assists in analyzing customer lifetime on the website as well. Cross-device user verification, as well as customer interaction with the web, mobile, and IoT channels, makes Foxmetrics a powerful web analytics tool worth consideration.