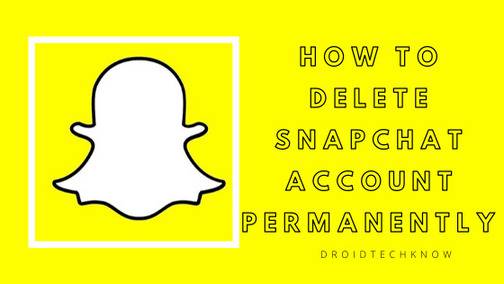 Snapchat has caught the attention of millennials and generation Z since it was first launched. With so many social media apps that let you save and share memories with a broad audience. Snapchat enables you to create snaps and share them with people for just up to ten seconds. After that, they get deleted and cannot be viewed again. Snapchat app has over 210 million active daily users with its user growth increasing by 8 per cent every year. According to statistics, the app has over 210 million snaps created every single day.
Snapchat's unique feature of self destruct videos and photos at first sounded too good to be true, and so it was. Snapchat has been under fire for a lot of controversies. As of now, Snapchat is turning out to be a massive threat to its users' privacy. As it was found that Snapchat access and stores not only your saved photos/snap but also the location and contact information.
Whether you're deleting snapchat because of its privacy-related issues or because you're bored with the filters or you prefer Instagram story feature more. Here's how to delete your Snapchat account in a few easy steps.
How to Delete Snapchat Account On Your Android or iPhone
Open your Snapchat app on your smartphone

Log in to your account

On the top left corner, you'll see your avatar icon. Click on that

Tap on the setting gear icon, on the top right corner.

In the settings menu, go on Support sections

Choose Help center or the "I Need Help" option

Search for "Delete My Account".

Scroll till you see the Accounts Portal

Enter your "Snapchat password". After deactivation, the account will delete after 30 days
How to Delete Snapchat Account On Your PC or Laptop
Go to Snapchat account portal or click here.

Log in with your account info

Click on Delete my Account.


Reenter your password

Tap on continue and voila afterdeactivation, the account will delete after 30 days.You'll get an email confirming this.
Note: In order to permanently delete Snapchat account, you have to withhold from logging into it for 30 days or the deactivation period. After a 30 days period, the account itself permanently deletes. Though Snapchat guidelines state that it keeps some of your data even if your snapchat account is deleted. "May retain some personal data for certain legal, security and business needs,".
That includes purchases and the accepted terms of service.
How To Recover Deactivated Snapchat Account
If you wish not to delete your snapchat account, you can log in back on your smartphone. A pop up appears asking if you want to reactivate your account, so tap Yes. You'll get an email saying your account is activated.
Though it sometimes takes up to 24 hours to reactivate your deleted snapchat account.
Snapchat cache can sometimes use up to 1 GB of your memory. Deleting it would surely help when you're tight on storage. Apart from that if you want to clean your Android phone of some junk and cache.
Read our article on Top 10 Best Android Cleaning Apps.