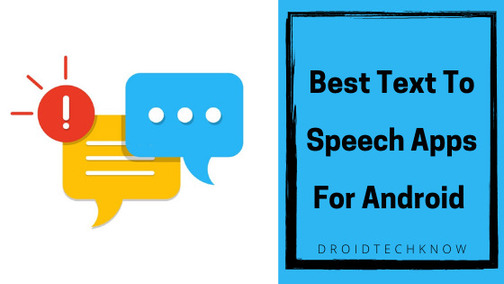 Text to Speech Apps is a must-have for every Android user. Initially made for visually impaired users. These apps are also beneficial for other purposes. Text to Speech apps is an excellent alternative for podcasts, audiobooks, and such. You can use these to listen to your daily news or articles.
Generally, all Text to Speech apps specializes in reading. In our list, we look at other added features and modulations that make it different from others. Keep reading to find out which Text To Speech Apps is best for your Android smartphone. All of the apps mentioned here are for Android users and mostly free text to speech apps with some in-app purchases.
Related Article: Top 5 Translation Apps for Android
Here's a list of 5 Best Text to Speech Apps For Android
Narrator's Voice app lets you choose from a wide range of language and audios, to read what's on your phone. You also have the option to share the audio on social media by converting it into MP3 or MP4. It also allows video narrations. This app is widely popular on Play Store among free text to speech apps. Many youtube accounts use this effect to create funny modulated audios for their videos. It has many famous voices like pink sheep voice, MLG voice – Daniel UK, CORTANA voice, and others.
Offers in-app purchases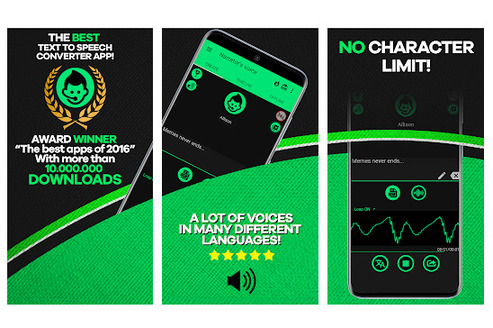 Talk Free lets you read text from third-party apps and even import web page articles and information. Easy to use and user friendly, this app is suitable for almost everyone. It comes with a variety of languages, and you also get the option to adjust the font size of the text. To use this app, you need to have a Text to Speech engine. Most androids have a pre-installed TTS software, but if you deleted yours, you can download Text to Speech engine here. Based on that engine, some features and languages might not work.
Contains ads.There's a paid version available without ads here.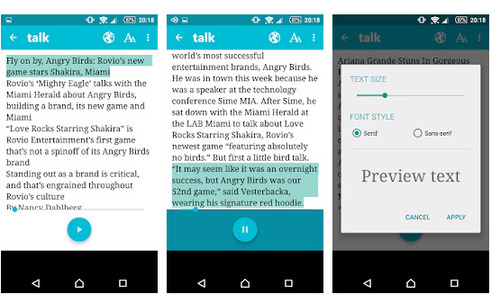 T2S has the most modern interface out of all apps mentioned here. Its most distinct feature is the built-in web browser that lets you hear the speech to text without the hassle of copying and pasting everything to the app. Another feature is the copy-to-speak feature. Whenever you copy any text, a pop-up button comes up. You can click on it to read out the copied text instantly. There's also an option to save and share audio.
Contains ads. Offers in-app purchases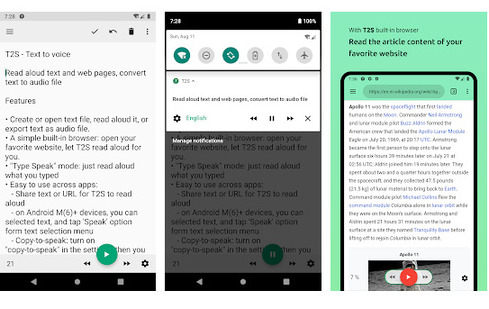 TTS Reader works as Book Reader, text to speech reader, out loud reader, and voice reader. You can read web page articles and EPUB, MOBI, TXT, FB2, PDF, DJVU, RTF, AZW, HTML, RTF, ODT based stuff too. It's one of the only text to speech apps on the list to be compatible with Bluetooth headset. You also have the option to read out loud your google drive files by sync it to the app. One of the most customizable speech to text apps lets you organize content into different tabs and folders and bookmarks important information.
Contains Ads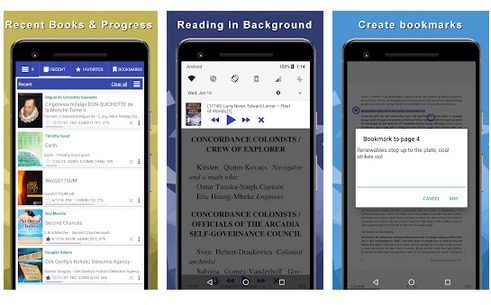 The best text to speech app if you like to save or bookmarks articles for future reading. The app offers numerous voices and languages and with adjustable tone and speed.
It has the best web feature, which lets you read numerous articles approved by editors and readers. You can access articles from the New York Times, The Guardian, Washington Post, Business Insider, The Verge, BBC News, Google News, Buzzfeed, Vox, and many more.
Offers in-app purchases.