If you are a perpetual Chrome user then you know you are missing out on a very important feature. Vertical tabs in Google Chrome! Microsoft Edge recently added a feature in its new update, 'Vertical Tabs". With this feature, Edge users could open tab vertically that not only looked good but made managing lots of simultaneous tabs really easier. So, why is the vertical tab such a hit?
Why Vertical Tabs?
Improve the efficiency of work and you can easily manage multiple tabs at once.

With the popularity of ultra-wide monitors, having tabs vertically and not horizontally is more practical.

Know which tab is which by looking at their full title, an advantage absent with horizontal tabs.
Like Microsoft Edge, Chrome does not have a feature to enable verticle tabs. However, there are third-party chrome extensions for vertical tabs that do the job a lot better. Here, I have made a list of the 3 best vertical tab Chrome extensions.
1. Vertical Tabs
Vertical Tabs is a Chrome extension that presents your tabs vertically. You can get vertical tabs in Google Chrome by installing the extension from the Chrome web store.
Features
The extension displays tabs vertically in a sidebar on web pages.

You can mute specific tabs as well.

In order to reorder tabs, you just have to drag a tab and drop it on your wanted place.

You can resize the sidebar as per your needs.

The sidebar can also be placed either on the left or the right side of the screen.
How to Enable Vertical Tabs In Google Chrome Through Vertical Tabs Chrome Extension
Open Google Chrome on your computer and go to the Chrome Web Store and search for Vertical Tabs by Michael or click here to go directly on Vertical Tab Extention


Once the extension is enabled, restart the Chrome browser. You will notice that on the left side there are vertical tabs in Google Chrome.
2. Tab Manager v2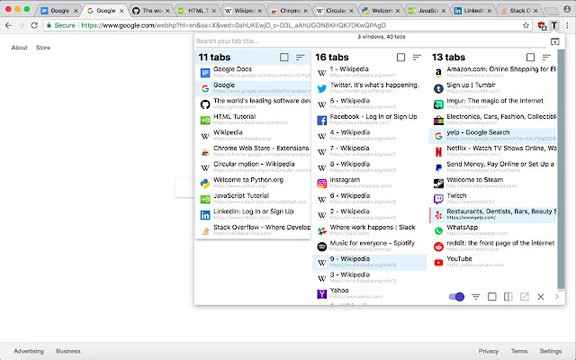 Tab Manager is another Chrome extension for vertical tabs and it also helps to quickly and conveniently manage your open tabs. However, unlike Vertical Tabs this extension doesn't have a sidebar. Instead, you will find an icon to the right of the address bar that when clicked will open a drop-down panel of all the opened tabs. With this extension, you can also drag and drop to sort them and also group vertical tabs in Google Chrome.
Features
You can drag tabs in order to reorder them or move them between windows.

With Tab Manager, you can pin a vertical tab in Google Chrome to not lose them.

You have the ability to group tabs on the basis of the domain.

Also highlight duplicate tabs.
3. Vertical Tabs & Bookmarks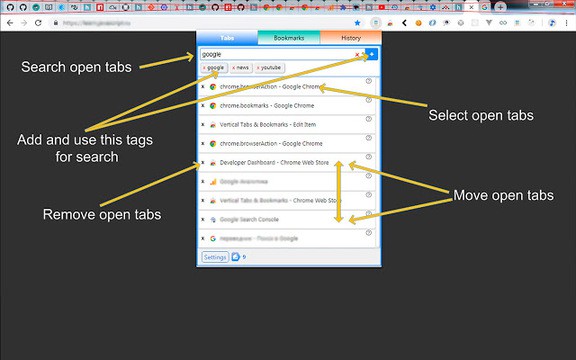 Vertical Tabs and Bookmarks allow vertical grouping of tabs, a quick search in favourites, and in the history of page views. On having vertical tabs in Google Chrome, you will have convenient navigation through tabs. You can search for open tabs and search for favourites as well. Vertical Tabs and Bookmarks have an easy interface and fast speed. Moreover, you can also bookmark tabs for instant access while opening Chrome.
Features
Find tabs, bookmarks, and your browsing history in one place and vertically.

Move tabs to reorder by dragging them vertically above or below other tabs.

Remove open tabs directly from the extension.