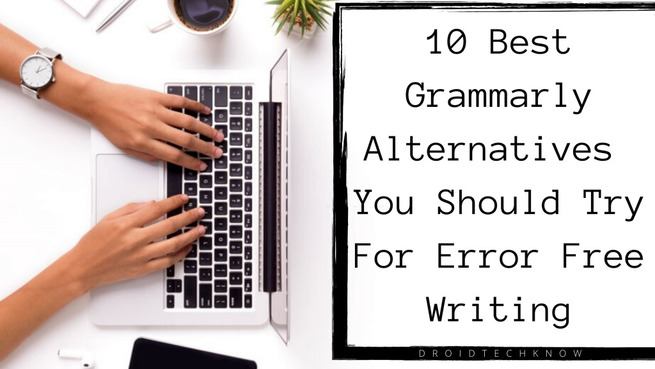 Whether you're a student writing assignments or content writer typing his next blog, grammar errors can make any good article a headache to read. Proofreading sites like Grammarly are must know for everyone. But depending on your needs, you might require some tools that even Grammarly can't provide.
So we have combined a list of top 10 best Grammarly alternatives, so you never have to compromise with your writing. Whether it's grammar, typos, plagiarism or sentence structure- you can use these sites and software to check and correct them all.
List of 10 best Grammarly Alternatives
If you're looking for affordable pricing for aGrammarly alternative, you should definitely check this out. ProWritingAid offers the most features out of any manuscript editing software. It points out grammar, readability and plagiarism related issues, including some unique features like cliches, sentence length, and diction correction too. It also integrates with MS word/outlook, google docs, scrivener, open office, and final draft so you can edit wherever you write. Plus the browser extension allows you to proofread for sites like Facebook, Twitter, Gmail, Wattpad and more.
Pricing: The monthly subscription costs $20, there's also a lifetime subscription offer for $299 that includes all future updates.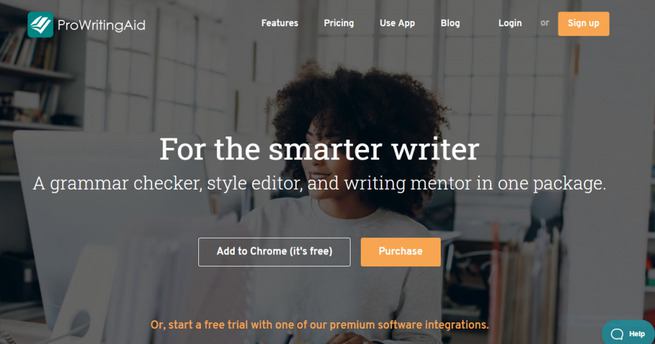 Another free alternative to Grammarly that is very easy to use and user friendly. For editing content online, you can add the extension to Chrome, Safari, or Firefox browsers. The free version supports 40 languages for translation. Ginger is very customizable as you maintain a personal catalogue of terminology that you don't want the tool to flag. You can also use emojis and set a custom theme for your keyboard.
Pricing: There's a free version available, the yearly premium plan costs $4.99 /month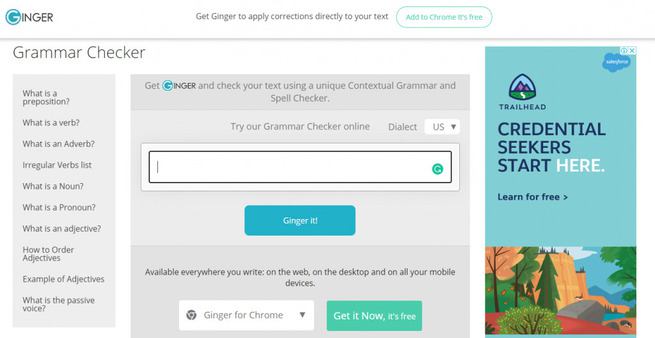 If you want a text editor more focused on readability than this one is for you. It improves your writing by highlighting adverbs, passive voices, and complicated and long sentences. You can share your write up with Hemingway's highlights attached too. It also has a one-click integration feature to publish your content directly on WordPress and Medium. Out of all the free Grammarlyalternatives on our list, this is the only one to operate without an internet connection too.
Pricing: The web version is free, but to download the app, you need to pay $19.99.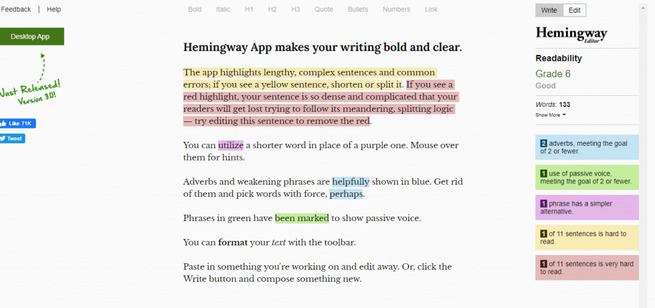 WhiteSmoke is an advanced tool that helps not only in fixing your writing mistakes but also in improving your knowledge. It highlights errors and provides alternatives to it. You can correct your content by using its grammar checker, spell-checker, style checker, punctuation checker, and a translator. All of which are supported by natural language processing technology and artificial intelligence making it a must on our alternatives for Grammarly list.
Pricing: The chrome extension is available at $4.16 per month.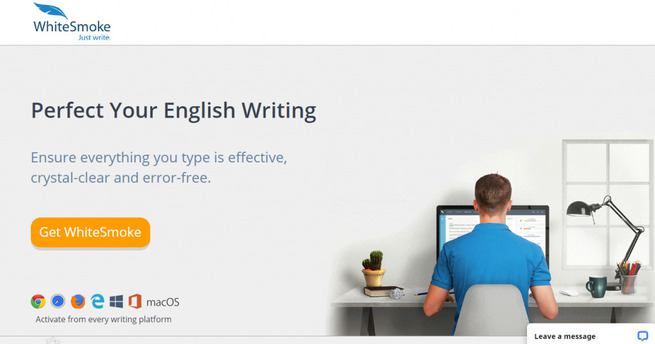 Slick Write like many other free alternatives to Grammarly checks for grammar errors, potential stylistic mistakes in your content. It also highlights repetitive sentences and words, passive voice, adverbs, etc. One of its unique features is that when you select a word, a popup appears of its meaning and synonyms and associate words. No software download or installation is required to use this alternative to Grammarly.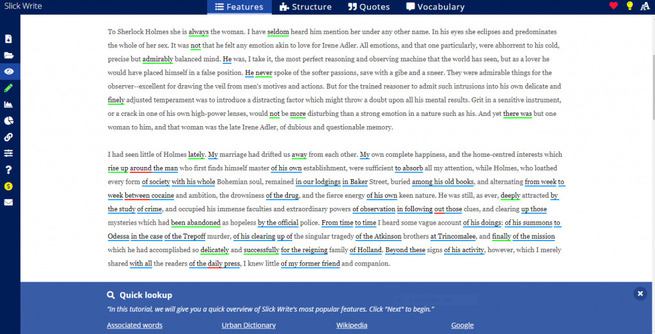 SentenceCheckup is an online grammar and spelling checker tool. Its intense checking feature not only checks your grammatical error but also corrects the sentence structure. It looks for inaccurate and repetitive words in the article and relapses them with best results. It quickly does the job of editor and makes your essay more readable and easy to understand and innovative and a free alternative to Grammarly.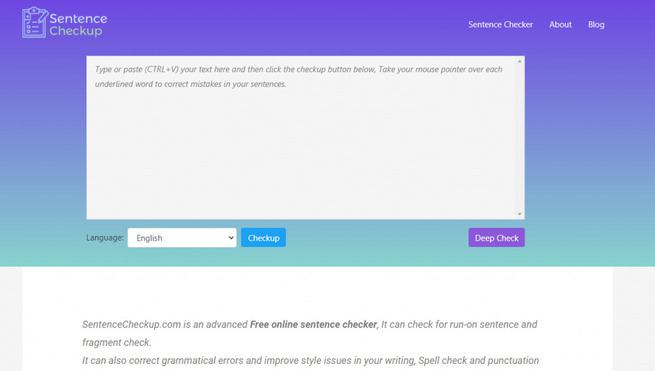 The next free alternative to Grammarly is Reverso, it's best if you need to translate text too. It offers translation in more than 14 different languages, including French, Spanish, German, Italian, Russian, Chinese, and Arabic etc. The online reading provides translations for compound words, phrases and idioms too. Other than it does a grammar and readability check that would help you in improving your overall text.
Pricing: Offers one free plan for up to 2500 words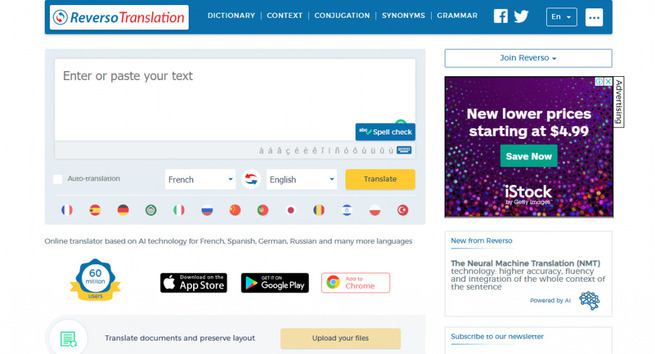 PaperRater offers plagiarism grammar, spelling, and action checker. It has strong proofreading software that can stop little mistakes that are easily missed and overlooked. The writing suggestions are the most accurate and personalized out of all manuscript editing software on our alternative to Grammarly list. PaperRater offers ad-free results.
Pricing: Free basic plan with a premium plan costing $71.55 per year.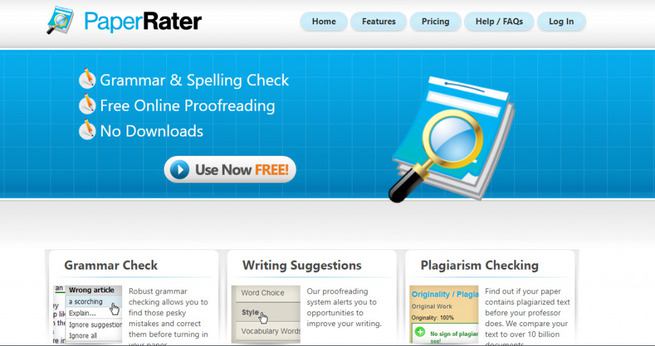 This is a WordPress plugin, that means it proofreads your work as you type it on WordPress. One of its unique features is "30-day backup feature" that archives text for future use. The colour-coded highlighting makes it easy to stop error and fix it further. It also includes a custom image gallery feature to upload pictures on WordPress and customize your posts.
Pricing: There are three paid plans priced at $3.50, $9, and $29 per month, respectively.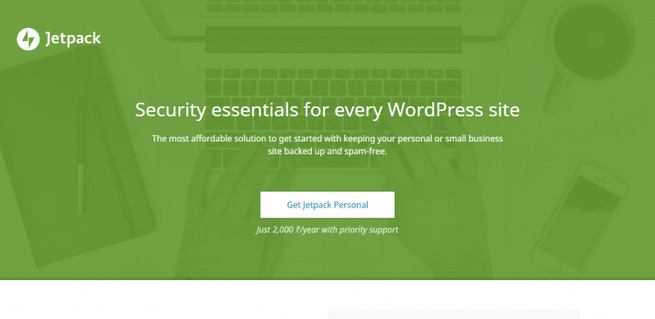 Scribendi is another popular free Grammarly alternative, especially among students. It has a rigorous proofreading service. The whole process is manual as real, human experts edit and correct your article, which gives you not only a better document but helps you in learning how to improve your writing. Scribendi can be operated for business or corporate as well as academic work.
Pricing: Correct up to 10,000 words every 24 hours for free.