We are in the digital world, and we use tons of websites or other online services that require a password to access them. It is inconvenient to remember all of the passwords. To help you with remembering passwords, Password Managers came into existence.
There are lots of Password Manager available in the Play Store or App store but if we talk about the best one then no doubt 1Password is the best password manager with millions of users.But it would be wrong to settle for one when there are tons of best 1Password alternatives available with better features. So for this, we curated a list of 10 best 1Password Alterives that provides you the same features with the free or minimum price compared to 1Password.
What are Password Managers?
Password Manager is nothing but a simple web application that helps you organize your passwords and keep them in one place. In simple words, these password managers help you manage your password and also aids in generating passwords for you. They make life simple.
Are Password Managers Safe?
Yes, You can use a password manager without worrying about safety, given the fact that they are legitimate password managers. If you end up using a hoax password manager, your safety and data will be compromised. Nowadays with advanced online security, it is not so easy to hack into the information. You can use password manager without worrying.
As said earlier there are tons of password managers, out of which 1Password is the most popular one. Let's put it in limelight first then we will discuss the other 10 best Password managers.
Related Article: How To Find Saved Wifi Passwords In Windows 10
As you already know 1Password is the most loved and common password manager. This is because of its amazing features. However, that does not mean other fantastic password managers should be underestimated. We have also listed 1Password alternatives that should be given a try. But we are going to know about the 1Password first. It makes your life easier and keeps your family safe.
It literally does not keeps your family safe, but it has a family plan which makes sure that your password and all other details remain safe. You can also share them without worrying about safety.
The password manager also features a password generator which makes your online security stronger. Moreover, the download file is available for most of the platforms which includemacOS, iOS, Windows, Android, Linux, Chrome OS, Command-Line.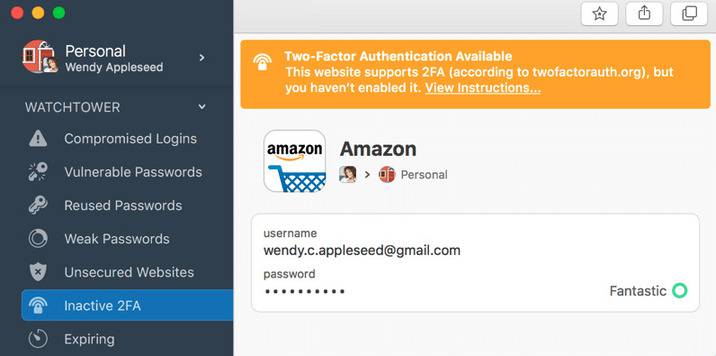 List of 10 Best Password Managers for 2021
1. LastPass
LastPass is one of the best free password managers if you are looking for 1Password alternatives. It offers you tons of features apart from just saving the password. LastPass claims that it keeps your digital life at your fingertips and that too simple and secured. It offers you two types: one is personal and the other one is for business purposes.
Using this 1Password alternative is very simple, as you save the password, it will appear whenever you will need it. Moreover, you do not have to worry about the potential risks of password managers. LastPass is safe and trustworthy. The password manager will let you knowwhen personal information will be at risk.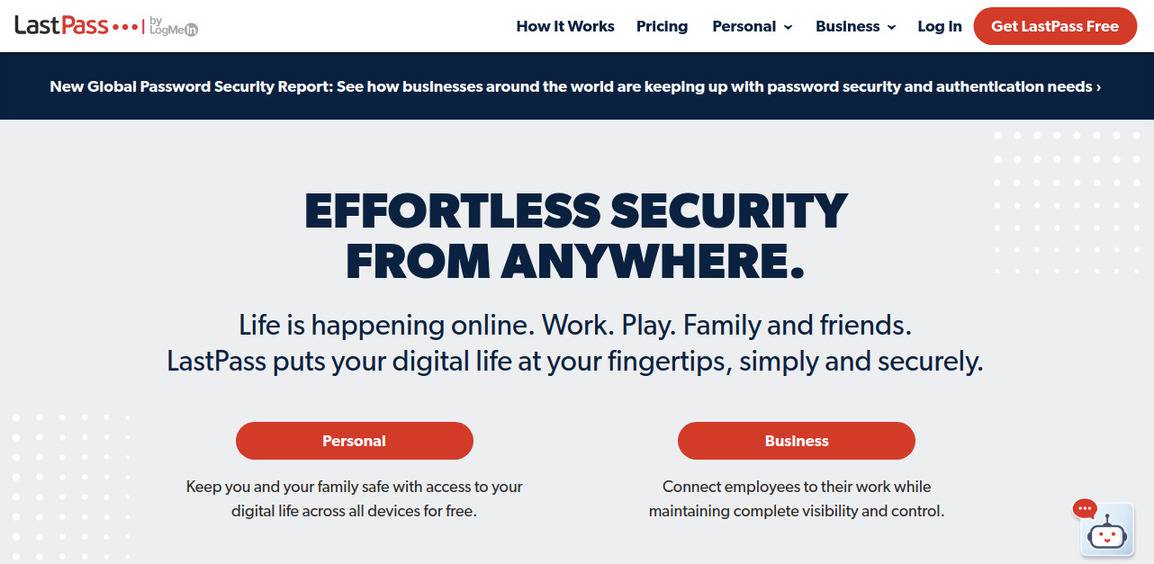 Features:
You do not have to enter your information again and again while making a purchase. Lastpass makes your online shopping simple.

LastPass features a built-in password generator that generates long, random, and strong passwords for you.

You can also store digital records.

LastPass let you share password and notes conveniently with anyone.

Once you save the password, it will be available across all of your devices.

LastPass provides two plans in addition to the free plan. The premium plan will cost you$3/month and families will cost you$4/month.
2. Dashlane
Dashlane is another potential password manager that has its own in our list of 1Password alternatives. The best password manager has to offer two plans one is for personal use where you can autofill your password, payment, and personal information and the next one is for business purposes.
The business plan will let your employees have the privilege of total password protection. In one sentence, Dashlane is the best and safe password manager which you can rely on.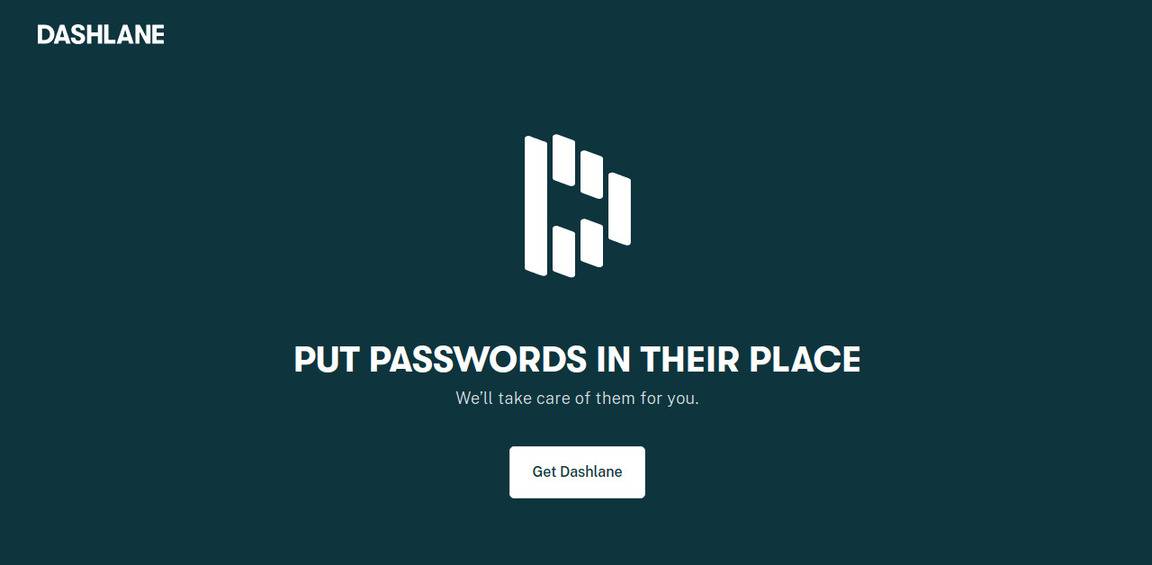 Features:
You can easily log in to all your accounts on all your devices.

Dashlane helps you manage and remember all your passwords

The password manager ensures online safety and keeps you protected from data breaches and hackers.

Dashlane auto-fills your every password in the correct place.

It cannot see your information, so your information remains safe.
3. NordPass
NordPress like any other password manager keeps all of your passwords in one place. You can log in to any website with just one click. The best part is that to access your login credentials even without internet. You can also access your information offline.
NordPass is one of the best 1Password alternatives with advanced online security with NordVPN. All that can be said is you can completely rely upon on NordPass as it uses advancedencryption algorithms and takes everything to the next level.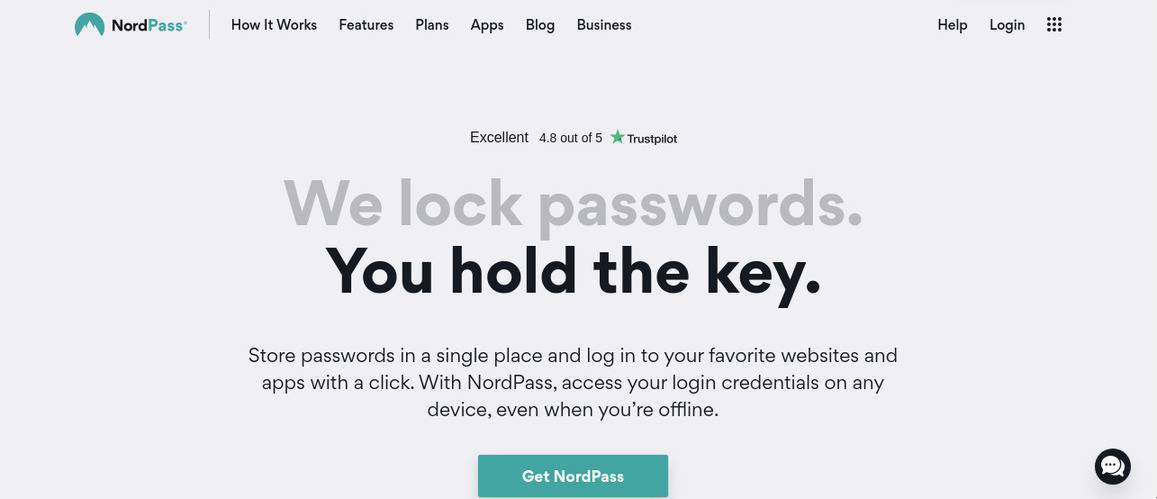 Features:
You can store unlimited passwords.

NordPass syn all passwords for all of your devices.

It automatically fills in login details when signing in.

The password manager lets you protect your vault with biometrics.
4. Keeper
Moving on to the nest password manager in our 1Password alternatives list, we will be knowing about Keeper. Keeper is a top-rated password manager that keeps your password sync with all the devices and safe as well. It is trusted by millions of people and enterprises. One thing is sure, you will not regret using the best password manager.

Features:
It is easy to use.

The business users will have access to 24/7 customer support.

It has a prominent scale of business for all sizes of business.

Keeper ensures zero-knowledge security.

It also features cloud services.

Keeper also features protected messaging namely Keeper Chat.
5. Bitwarden
Bitwarden is an open-source password manager and also one of the most trusted 1Password alternatives you can rely on. It features 256-bit AES encryption along with 2FA. The information remains safe with end to end encryption. You can have peaceful sleep after using the best password manager.
Additionally, as it is open-sourced, the features are constantly improved by the global community of Bitwarden. The next best part is using Bitwrden, you don't have to worry about the language. It features 40 languages that you can access from any platform.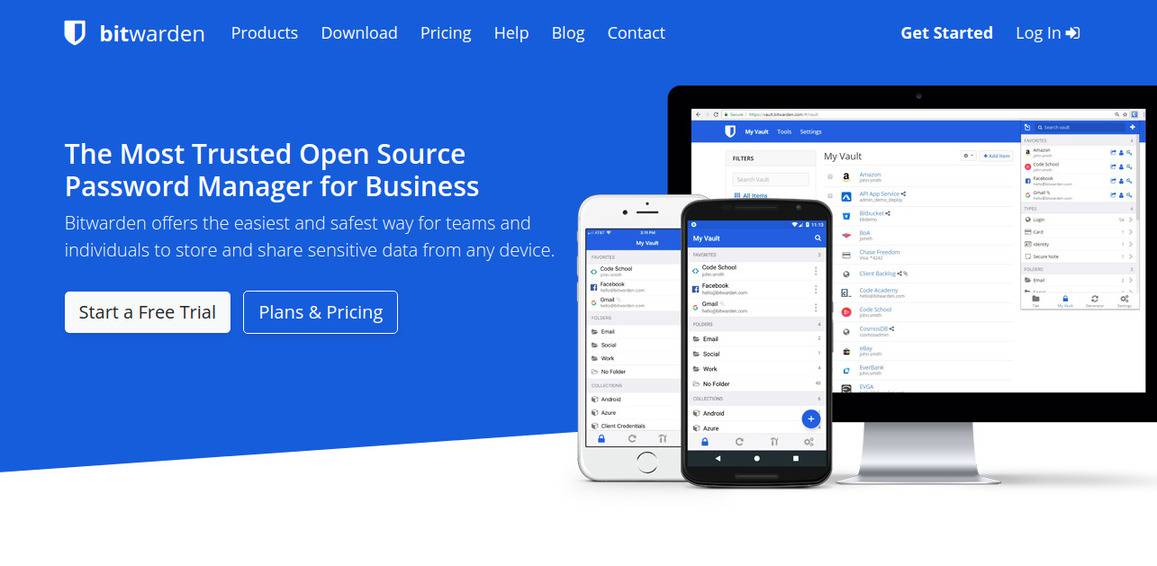 Features:
It offers enterprise-grade security and compliance which means it conducts regular third-party security audits to ensure additional safety.

It goes well with security standards like Privacy Shield, HIPAA, GDPR, CCPA, SOC2, and SOC3.

Bitwarden is also cheap, featuring a team organization plan worth $3/month/user an Enterprise organization plan worth $5/month/user, and the last one free organization worth $0/2users with core features free.

Additionally, It helps you create new and unique passwords to strengthen your privacy.
6. Enpass
Enpass says that you are not born to remember passwords. You already know that we are into password managers here. Enpass is one of the 1Password alternatives and is also the best one. The concept of Enpass is very simple, it has a secure vault where all the passwords are stored. The vault is secured by a single password, so you do not have anything to worry about after having strong layers of security.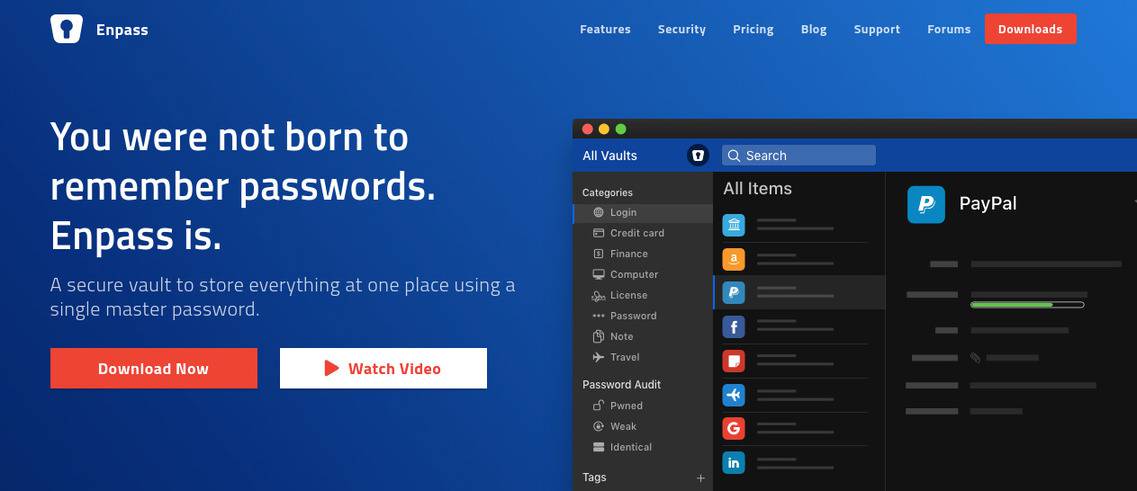 Features:
It lets you keep your credit cards, bank accounts, and licenses in one place.

Enpass makes your life easier as it auto-fills anytime and anywhere.

Apart from automatically filling in the details while shopping, it also conducts password audits to remove the old password and replace it with a new one.

You can create multiple secured vaults for a different set of information.

Moreover, you can also secure your bank accounts along with other records.
7. LogMeOnce
As the name suggests LogMeOnce does exactly the same thing it says. All you have to do is log in once and your work will be over. Additionally, it also offers a wide range of login options assisted with automatic 2FA. Moreover, it also makes sure that no hackers could steal your details and password. If a password manager is a need, LogMeOnce is worth try.

Features:
The password manager keeps everything secure.

The could file are encrypted with AES 256-bit encryption.

It is easy to use with simple UI
8. Sticky Password
Sticky Password is a password manager with simple features. It is excellent if you are looking for a simple password manager with limited features. Like any other password manager, it is can sync your passwords across all of your devices and secures them with two-factor authentication.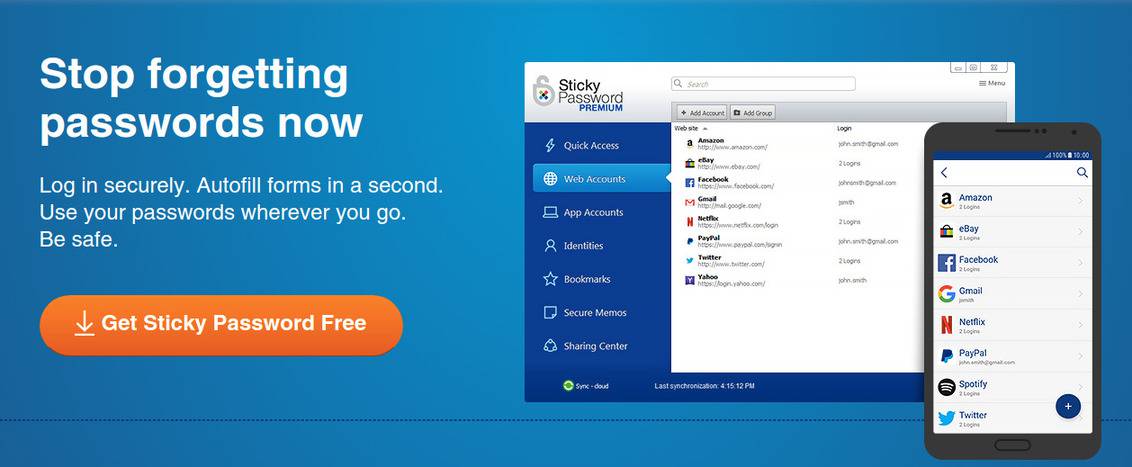 Features:
It automatically fills your password while logging in.

The password manager helps you generate a strong password.

You can also share your passwords and logins with protection.
9. Password Boss
Password Boss is best for Manages service Provider business. The password manager helps the MSP industry by providing the best password protection. However, the best part is Password Boss is not very simple instead it has to offer advanced features.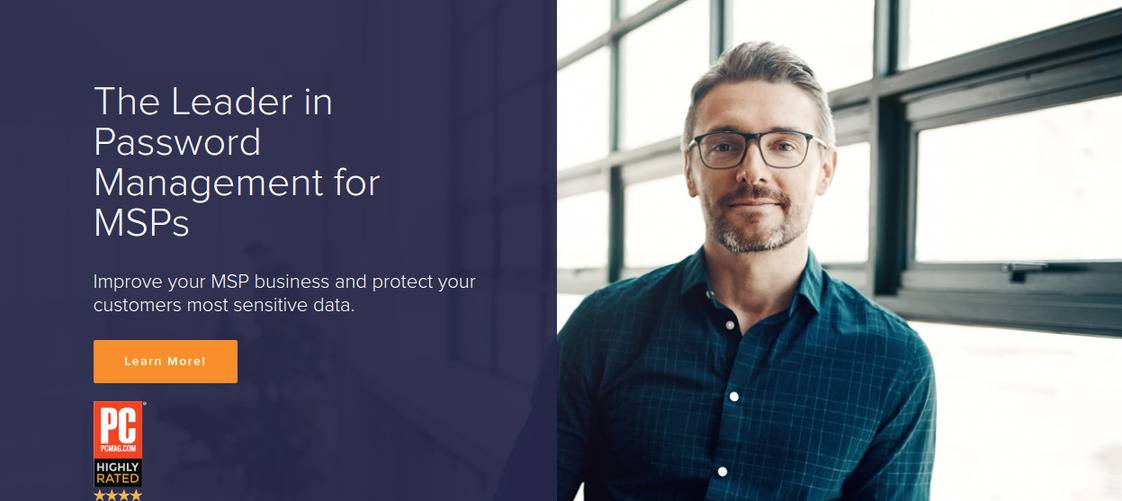 Features:
Your password remains secured with two-factor authentication.

The password manager allows you to fill web forms.

To access your password you do not require an internet connection.
10. KeePassXC
KeePassXC is another free 1Password alternative. Like Bitwarden KeePass is also an open-sourced software password manager. It is the best for advanced users with its complicated UI. However, it never lets you forget your password. The best part is that they also have a browser extension that you can use to log into websites.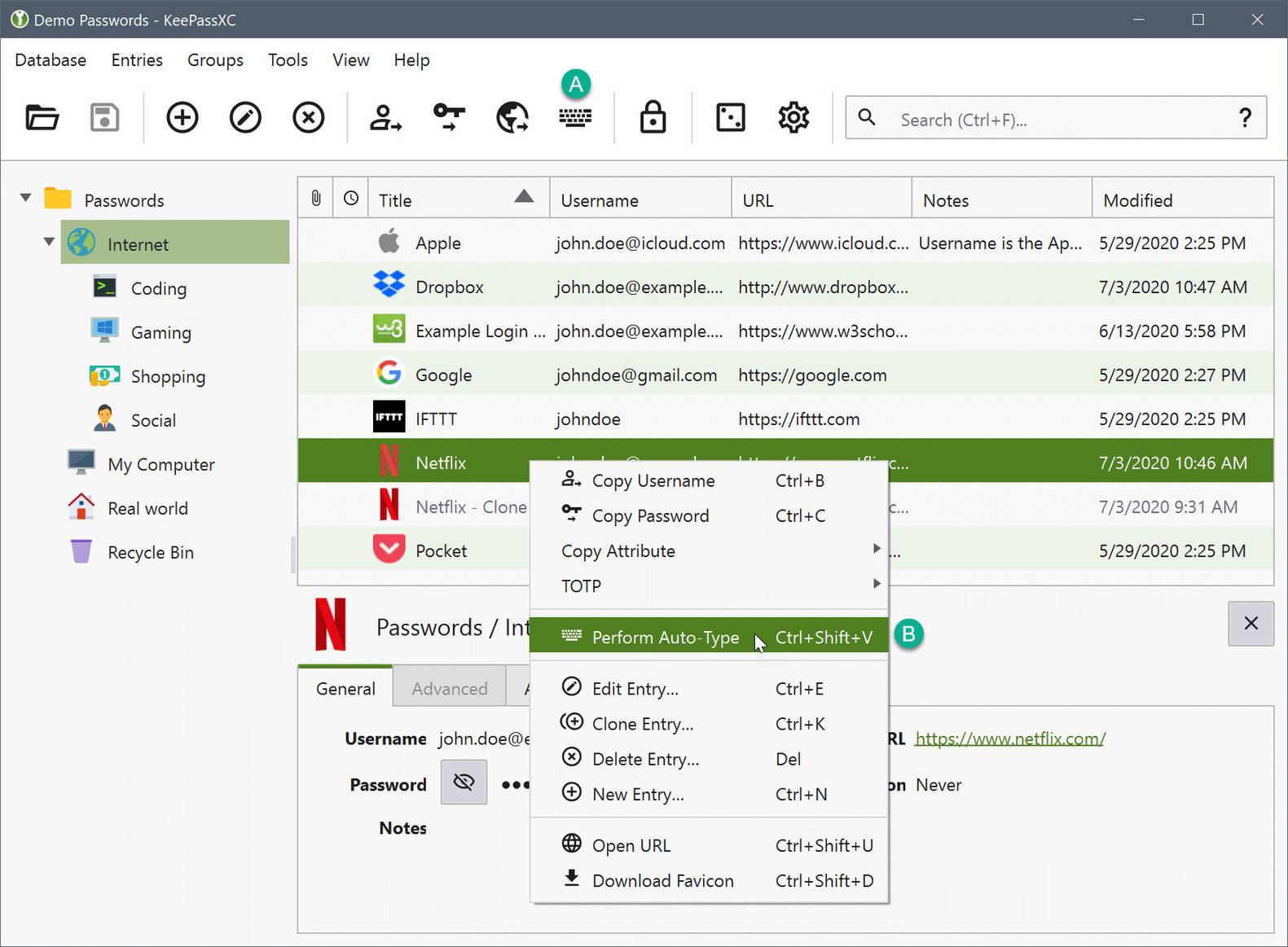 Features:
It uses standard 256-bit AES to keep your data safe.

The password manager works in all platforms with ease.

As said earlier KeePassXC is open-sourced, all contributions are welcome.