As you already know that Whatsapp has come with a new and updated privacy policy where it states that Facebook and Whatsapp will work together to improve experiences. However, the most worrying part is if you do not accept their terms you will not be able to use Whatsapp anymore. Whatsapp has been the top messaging app due to its simplicity and minimal feature. As it seems with recent Privacy updates, everyone is looking for Whatsapp alternatives.
With an increasing number of users, it seems that Telegram and Signal are the only competitors of Whatsapp. It is necessary that you are aware ofWhatsApp vs Signal vs Telegram.
The features of Whatsapp are desirable but we also need to feel secure while talking to our favorite people. However, the truth is, no app can be perfect according to our personal requirements. Some apps like Signal can be great with privacy yet they lack desirable features. To dive deep intoWhatsApp vs Signal vs Telegram, continue reading the article.
WhatsApp vs Signal vs Telegram
Before jumping to a conclusion about which app is the most secure one, comparingWhatsApp vs Signal vs Telegram is necessary. We are going to compare WhatsApp, Signal, and Telegram in terms of Features and Privacy. Let us get started with WhatsApp followed by Signal and Telegram.
Related Article: Best WhatsApp Alternatives that Actually Respect Your Privacy and Safety
WhatsApp
WhatsApp first came into existence in February 2009 initially found by Brian Acton and Jan Koum. But now it's owned by Facebook. It is nothing but a cross-platform messaging app written in Erlang. You can send text messages, voice messages, voice calls, video calls and also share the link, documents, images, videos, live location with other WhatsApp users. It has improved over time and is available for various platforms such as Android, iOs, Mac, KaiOS, and even the web. It supports a wide range of languages, to be specific the iOS version supports 40 languages and the Android Version supports 60 languages.
Till February 2020 Whatsapp had 3 billion users, which clearly states that Whatsapp is the most used app for messaging. It is so popular that you can find everyone on WhatsApp. The leading country according to numbers of Whatsapp users in India with 340 million users. Brazil comes next with 99 million users. The reason behind this could probably the simple UI. It is always believed that the app is used by most people if it's easy to use. It seems that WhatsApp has done its best by keeping everything simple and easy.
If we look into the list of top messenger apps it is seen that WhatsApp has kept its position intact. Whatsapp still rules the messenger market especially when there are tons of messenger apps equally good as Whatsapp. Telegram is another promising app with just 400 million users which is way behind WhatsApp with 2000 million users. With this amount of WhatsApp users, it is evident that all the amazing features of Whatsapp are speaking for themselves.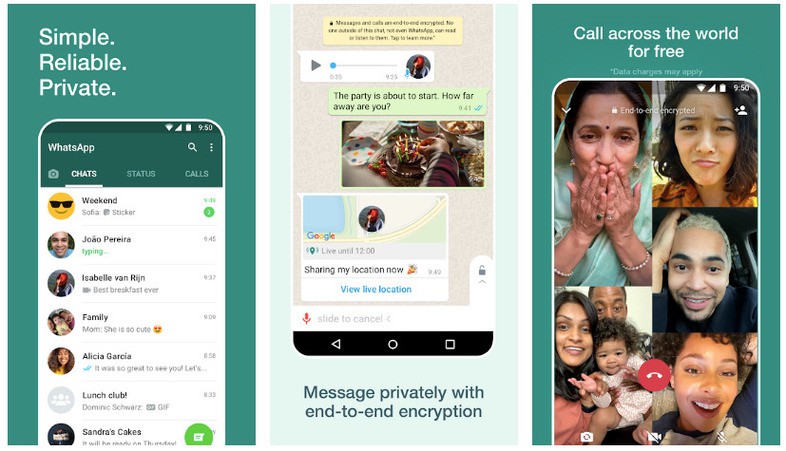 Features
The first and foremost feature is that it's free, you can get the app from the play store or app store.

WhatsApp uses the phone's internet connection to send messages.

Sending text messages on WhatsApp is very simple and convenient.

Sent messages show a single grey tick, while the double grey ticks indicate that the messages are delivered and if your messages are read double ticks turn blue, the message is seen.

However, if you do not want everyone to see what you are up to you can hide your last seen and blue double ticks as well. By doing so you and the other person will not be able to see if the messages have been read or not.

Whatsapp also lets you create a group with 256 people at once. further, you can edit the group name, mute the conversation, decide who can send messages, and more.

You can use the WhatsApp app on your phone and WhatsApp web on the browser simultaneously.

Whatsapp also has a business app where you can showcase your product and attract more customers.

It also has a Status feature where you can share moments.

You can also click photos using the Whatsapp inbuilt camera.
Privacy
Whatsapp is not so lenient in terms of security. All the messages are secured by end-to-end encryption. End-to-end encryption makes sure that the messages and calls are secured in such a way that only the persons communicating with each other will be able to read and listen to the messages. Additionally, all the messages are stored on the devices. This means that the messages are not stored or shared with advertisers.
The privacy settings of Whatsapp includes features like group privacy setting where you can choose who can add you to a group chat. Further, when you will not be able to sign without two-step verification. Whatsapp also allows its users to lock the WhatsApp with touch id, face id, or android fingerprint lock. Additionally, you can decide for your profile photo, last seen, read receipts, and status to be visible.
The privacy policy of Whatsapp has been updated and the update states that WhatsApp is now a part of Facebook so they need to work together to improve the services offered by them. The services include fighting against spam, making product suggestions, showing ads and relevant offers. Apart from this personal data like messages or photos or any sort of information will not be shared on Facebook or any other apps. The app even gives you the choice where you can choose not to have your information shared with Facebook.


Signal
Signal initially came into existence on the 29th of July 2014. It is developed by Signal Technology Foundation and Signal Messenger LLC. Like all messaging app Signal also uses the internet to send text, files, voice notes, images, videos. Additionally, it is a cross-platform centralized encrypted messaging service. The best feature is the android version can function as an SMS app if you want it to.
Signal app is new comparatively to Whatsapp but nothing can match its performance and stability. The app has a mechanism that allows the users to independently verify the contacts. Signal is of course a free and open-sourced.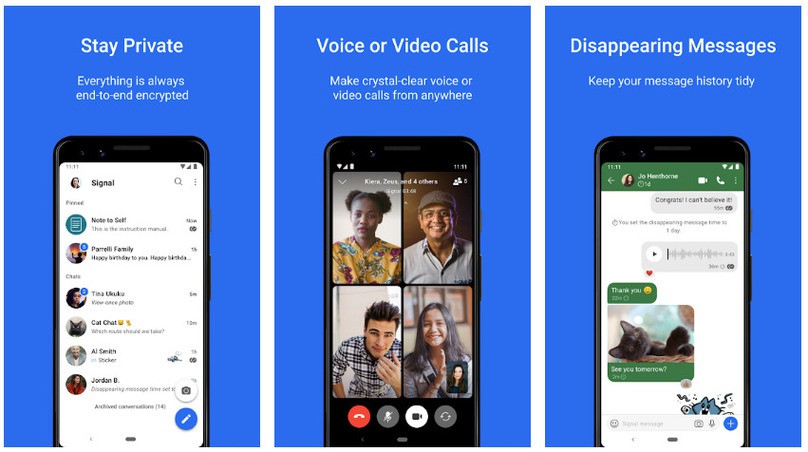 Features
The app lets you share text, voice messages, photos, videos, GIFs, Files.

Signal uses a mobile data connection to send messages, thus allowing you to send messages without worrying about SMS and MMS fees.

The voice and video call quality is very good and crystal clear

Signal lets you create and share your own sticker packs, unlike WhatsApp.

You can create a privacy stick with encrypted stickers.

Signal does not bother you with ads and trackers.

The app is nonprofit and independent

It is available in multiple languages
Privacy
Signal app is a private messaging app with extra layers of security. It features end-to-end encryption powered by Open Source Signal Protocol. You do not have to worry about prying eyes as your all conversations will be safe. Additionally, the messages are stored on our own devices.
Singal Privacy policies state that they do not steal your data and the calls and messages cannot be accessed by third parties. However, Signal does work with third parties to provide services such as sending verification codes while registering. But there is no need to worry as they are bound by Privacy policies to safeguard the information. Additionally, if you use other third-party services such as YouTube, Spotify, Giphy, Signal's Privacy Policies will govern the use of these services.
Further Signal states that the app may share the data if there is a legal government request while investigating potential violations, to detect fraud or technical issues, and last but not least to protect against harm to rights.


Telegram
Telegram is also a cross-platform free messaging software but unlike Signal and Whatsapp it is a cloud-based application service. It was initially released in 2013 in the month of August but founded in the month of March in the same year. It is written in C++ and is available for all the platforms including Android, iOS, Windows Phone(now discontinued), Windows NT, macOS, GNU/Linux, Web Platform. Additionally, it is available in 14 languages.
Like Signal and Whatsapp, Telegram also provides end-to-end encryption while making voice and video calls or sending messages. However, the app uses Cloud service which means that chats are encrypted between Telegram and the server. Telegram might be new but it has 365 million downloads globally. Despite the fact that it has so many users, it is not so popular. The reason behind this could be tons of fantastic features such as secret chat. The more the features, the more complex it gets. Whatsapp is easy to use with minimal features. But with an increasing number of users, it is anticipated that someday Telegram might make it to the top when it comes to messaging apps.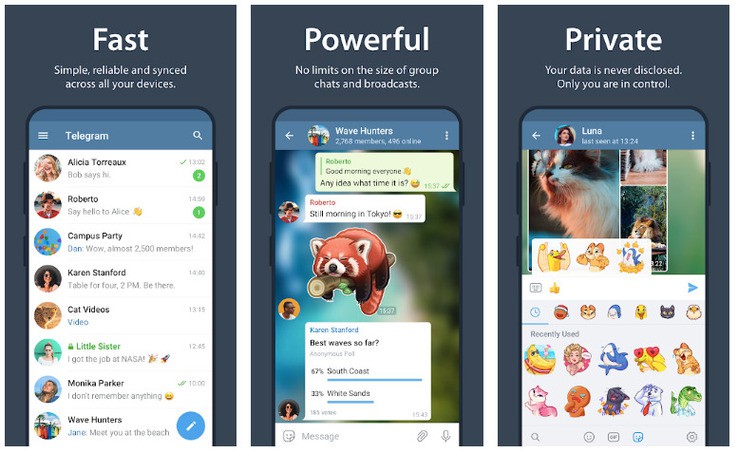 Features
Telegram features private messaging where you do not have to worry about your privacy because the number is not visible to others.

You can also delete the chats for both sender and receiver without keeping any trace of it.

Using Telegram lets you syn chats from multiple devices.

There is no limit when it comes to sharing media.

You do not have to worry about the device space as it stores everything in the cloud.

Telegram also has an open API and source code free for everyone.

The app is powerful enough to create a group of 200000 members.

You can customize your messenger with cool themes.

The app lets you import previous chats from other apps to continue further in Telegram.

The group messaging becomes simple with pinned messages feature where you can pin important messages for other group members to see.

Telegram lets you create virtual office spaces for teams or informal lounges where you can become a part of the voice chat room that will be always on.

You can make your chat interesting with animated stickers.
Privacy
Telegram is very strict with its privacy policies. It keeps everything protected with end-to-end encryption. The privacy principles of telegram state that they do not use user data to show ads and only store minimal data that is necessary for Telegram to function. Since Telegram is a communication service, it uses basic user data such as profile name, profile picture, and username. However, it is not necessary that the names should be real.
The secret chats are also end-to-end encrypted which ensures that no one can have access to chats other than you and the recipient. Additionally, the chats are not stored on the servers, so no need to worry about prying eyes. The Media in secret chats are also encrypted with an unknown key and file location.
Additionally, Telegram uses cookies only to provide services on the web. They clearly state that they do not use cookies for profiling or advertising. The app also prevents spamming, abusing, or any other violation of the Terms of Service. Apart from these, Telegram also collects metadata such as IP address, devices used and keeps the information for a maximum of 12 months.


Conclusion: WhatsApp vs Signal vs Telegram
If we look deep while comparingWhatsApp vs Signal vs Telegram, Singal app seems the most secure app when it comes to Privacy and Security. The reasons in support of Signal are as follows:
Signal makes sure that all data including metadata and backup are encrypted. Telegram on the other hand does not encrypt group chats unless you are using secret chats. Whatsapp does not encrypt backup files.

Signal does not collect additional data other than the phone number. Whatsapp collects vast information ranging from a phone number, device ID, Email Address, Contact, and even payment History. Telegram is better than WhatsApp as it collects the least information such as contact information and user ID only.