PDF which stands for Portable Document Format is a document file format just like DOCX & TXT. PDF files are simple to use and include text, images, links, etc. Its formatting remains the same so that you get what you see on the screen, regardless of the device you view it on and you can even password-protect it. They are usually smaller in size and can be used for various types of documents. Due to the above-mentioned advantages, the PDF file formathas become popular in recent times. It is even regardedas the most important document format in businesses.
From reading books to sending documents, from bank statements to official documents, PDF filesare being used everywhere. But, apart from the popularity of PDF, another thing that became people's favorite is Adobe Acrobat PDF reader. Adobe Acrobat is currently regarded as the best and most powerful PDF viewing, converting, and editing software. However, there are certain softwares thatareequally good as Adobe Acrobat and that too at lower prices. This article provides you with a list of the top 10 best Adobe Acrobat alternatives. These softwares are loaded with numerous PDF tools to make your documentation work easy.
List of 10 Best Adobe Acrobat Alternatives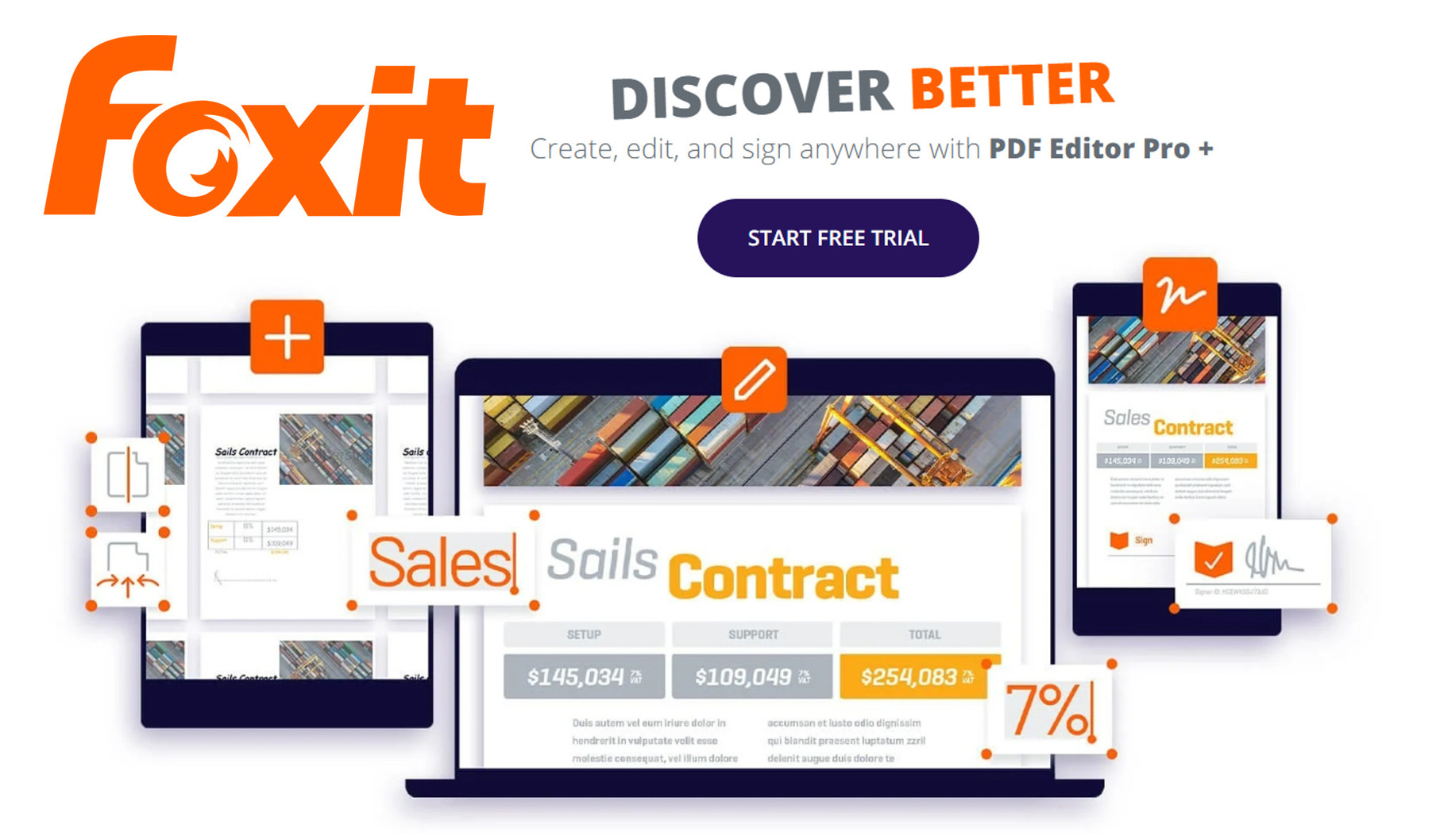 Foxit is one of the best Adobe Acrobat alternatives and among the most powerfulPDF reading and editing application. It has more than 700 million users worldwide and a huge Foxit team working behind its constant development. It offers you various options of software to choose from, like PDF Editor, Foxit eSign, PDF Reader, etc. Foxit's PDF Reader is free to download but for Foxit's PDF Editor, you need topurchase it after your free trial ends. But don't worry, you'll get what you pay for, and that too at almost half the price of the Adobe DC Pro's subscription plan.
Features:
Create, edit, annotate, scan & convert your PDFs

Video tutorials, and user manuals

Wide range of products

Free trial available

Volume licenses with great offers for institutions

Customer support

Amazing and easy-to-use UI

Available on Windows, MAC, iOS & Android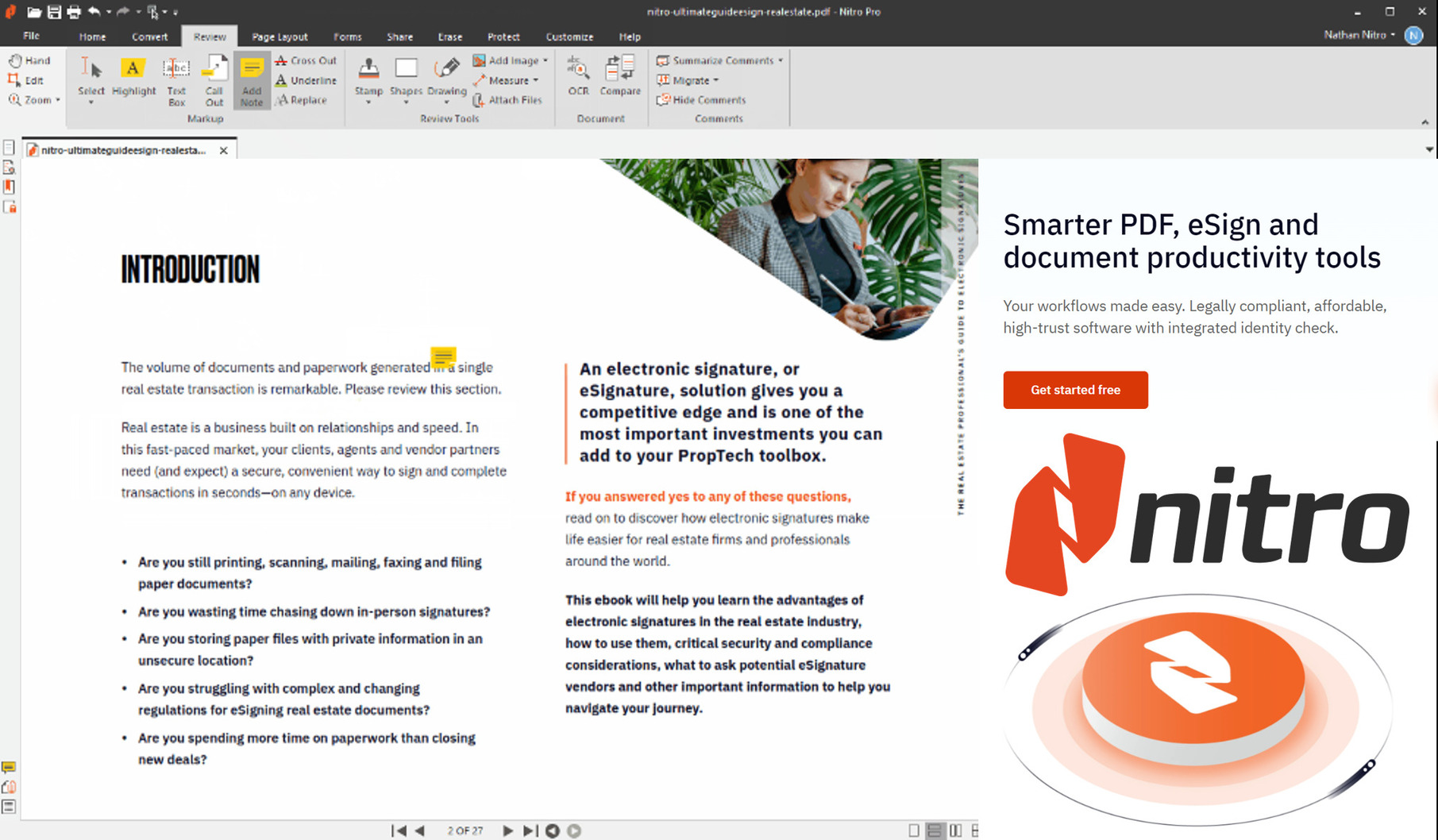 Nitro is an Australian-based company founded in 2005 with the aim to provide an application with better tools and features for day-to-day work. Nitro offers variousPDF tools & software (PDF creator, PDF converter, PDF editor, PDF form, PDF merge, etc.) and electronic signatures. Nitro offers you 14 days of free trial without any credit card required to test the software and decide whether you want to make a purchase or not. You are offered good discounts while purchasing Nitro PDF Pro. There are lots of features that nitro offers, from creating, converting & editing PDFs to cloud storage, UI customization & optical character recognition.
Features:
All the necessary PDF tools'

MS Office type user-friendlyUI

Cloud storage

14 days of credit card free trial

Industry solutions for different sectors

Secure PDFs with passwords

Technical support

Available on Windows, MAC & iOS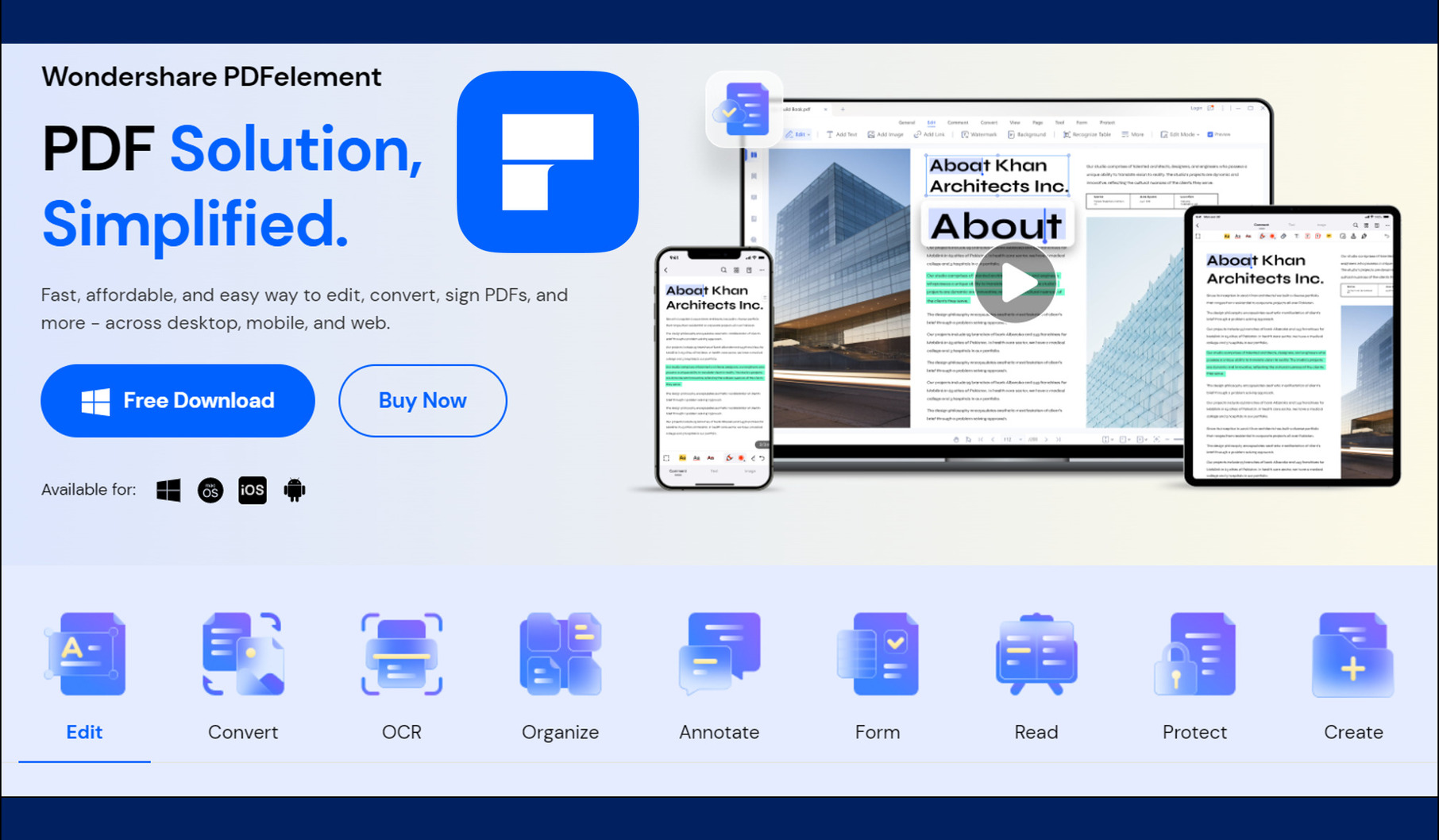 Wondershare's PDFelement is all in one solution software for your PDFs. It's available across different platforms and allows you to edit, convert, OCR, organize, Annotate, Read, and Protect your PDFs. It has a cool UI which is obvious as it is a product of Wondershare. Apart from the paid version, it has a free version as well. PDF Password Remover, PDF reader, and PDF converter Pro are some other applications offered by Wondershare. PDFelement Pro can be availed at a 60% discount for students and a 40%-50% discount on bundle purchases.
Features:
Edit, convert, OCR, organize, Annotate, Form, Read, etc

Equally powerful as Adobe Acrobat but half;f the price.

Tips, tricks & tutorials on the website

Customer support

Cool looking UI

Wide range of purchase options

Document Cloud version with 100GB storage

Available on Windows, MAC, iOS& Android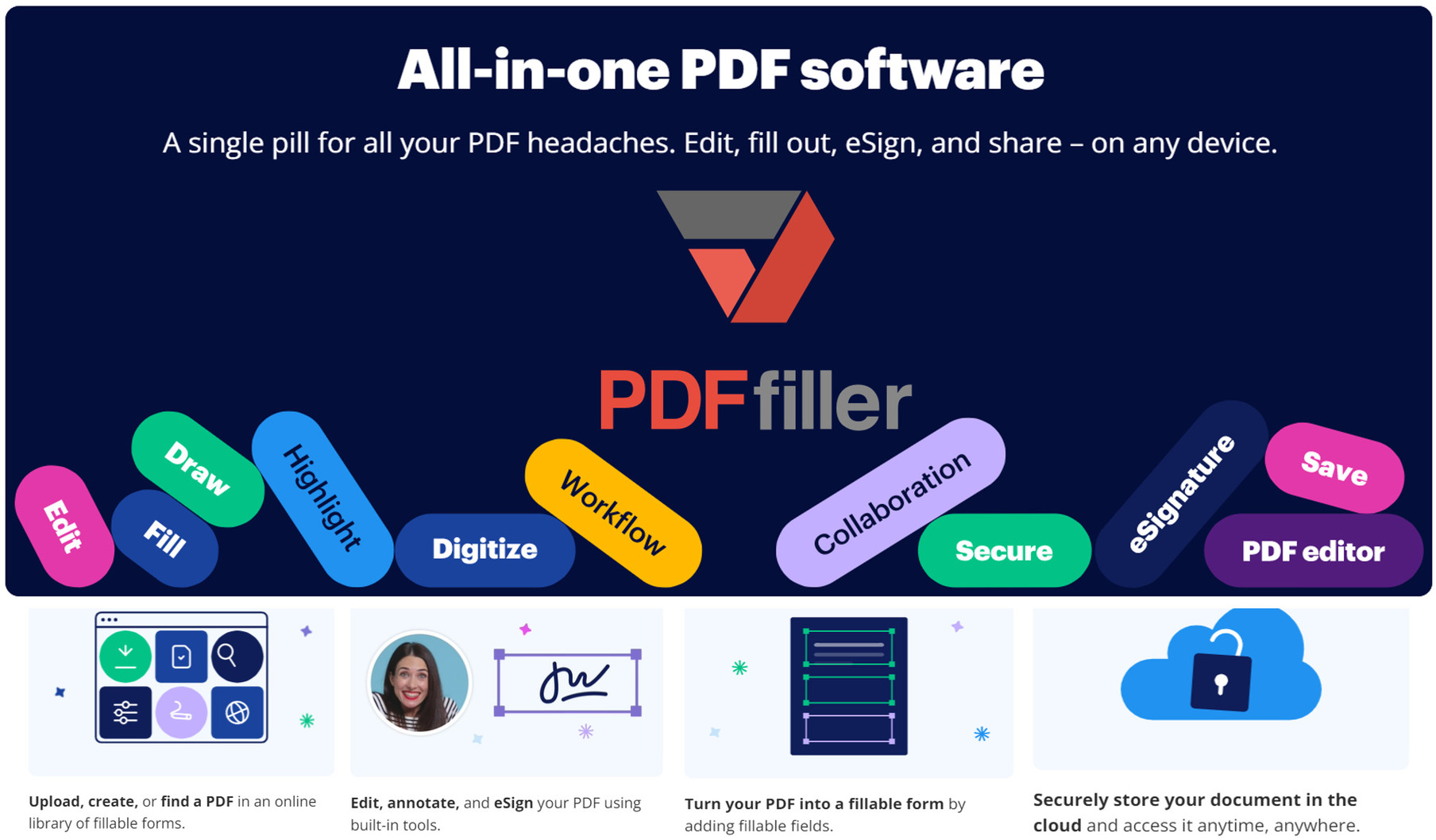 pdfFiller is another great alternative for Adobe Acrobat from airSLate Inc. It got good reviews from Trustpilot and is used by many people. It's a powerful PDF tool to make your ease your document workflow. With pdfFiller, you get a free trial of 30 days. It has three major plans: Basic, Plus, and Premium. You get 60%-70% off when you purchase an annual plan. From converting and compressing to viewing and editing, pdfFiller provides you with loads of features.
Features:
Convert, compress, split, merge, view, edit, sign & security

Integrations, Add-ons, and extensions

Customer support

30 days of a free trial

Cloud-based PDF editing & creating

Used for different businesses

Available on Windows, MAC, iOS& Android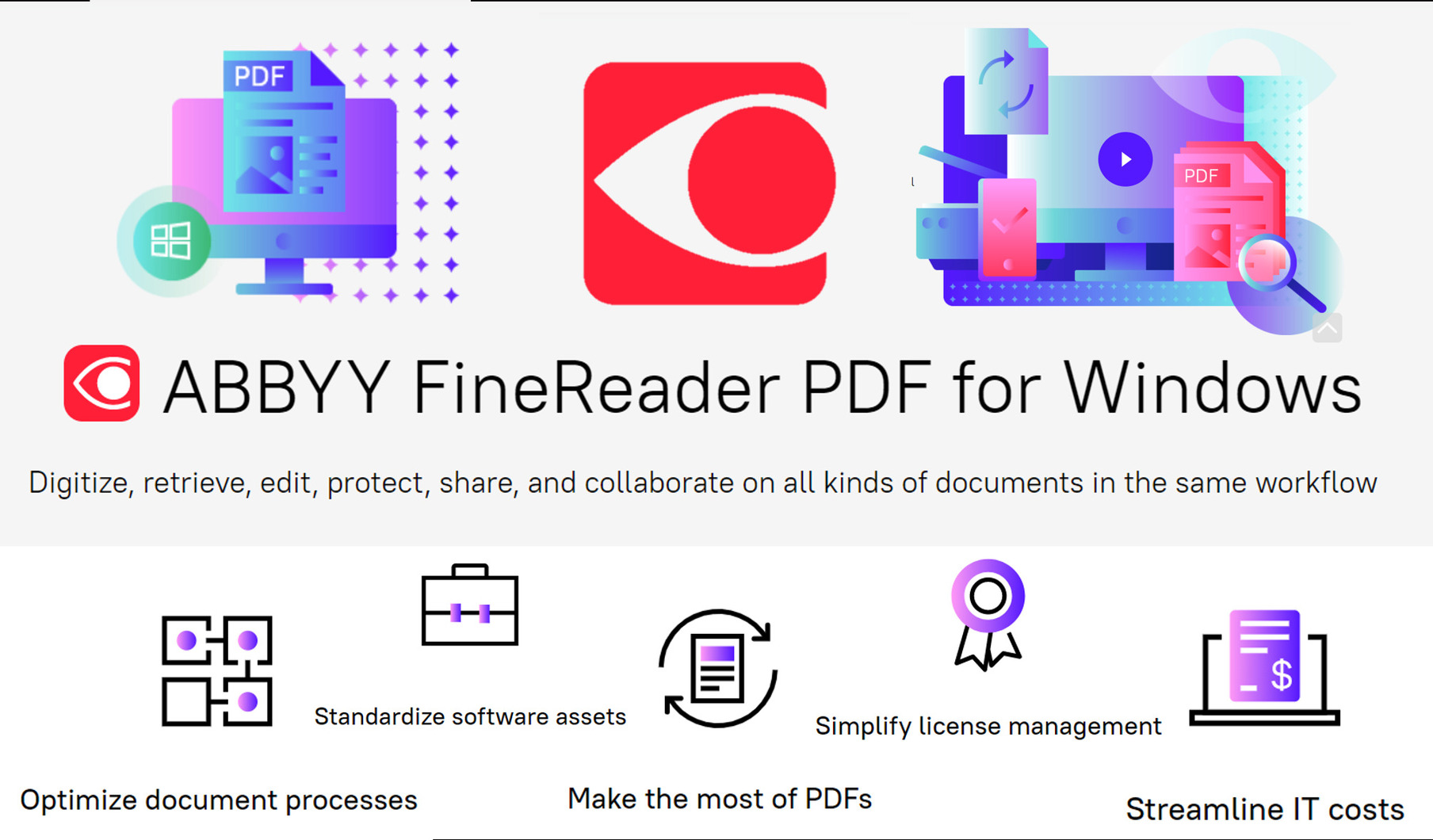 FineReader is a decent PDF editing software developed by ABBY. Its first version was released in 1993. Since then it has acquired more than 10 million users. It's a good alternative to Adobe Acrobat. With FineReader, you can do all kinds of editing stuff on your PDF files. It has a great OCR feature that recognizes 198 languages and it also provides dictionary support for 53 languages. Itsstandard subscription cost $99/Yr and its corporate subscription costs $165/Yr. So digitize your document workflow through FineReader.
Features:
View, create, edit, organize, secure, OCR, convert, etc.

Video tutorials for MAC & Windows

OCR for 193 languages and dictionary support

Customer support

Goodlooking MS Office-like UI

Offers you 14 days of a free trial

Available on Windows, MAC, iOS& Android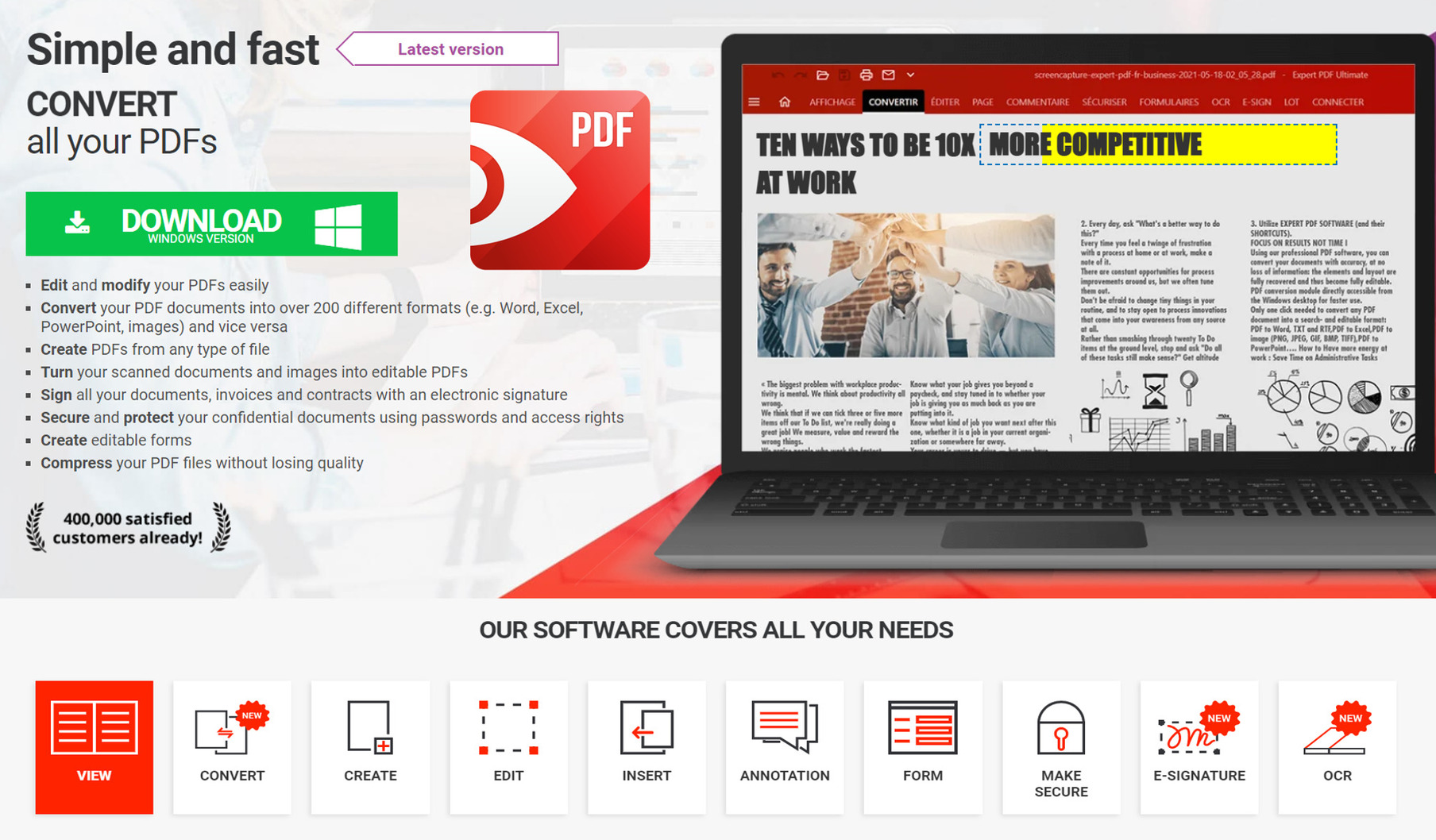 Expert PDF is a simple and fast software to view, create, convert & edit your PDFs. Its UI looks almost similar to Microsoft Office apps. Create editable forms, secure your documents using a password, and modify your PDFs in every way you want. The windows range of Expert PDF offers you three major plans: Home (₹2600/Yr), Professional (₹4380/Yr), and Ultimate (₹6570/Yr). There are certain additional modules like OCR & e-SIGN that can enhanceyour PDF editing.
Features:
View, create, conveert, edit, secure, OCR, e-sign, etc.

Three major plans to choose from

Customer support

Goodlooking MS Office-like UI

Offers you 14 days of a free trial

Available for Windows & MAC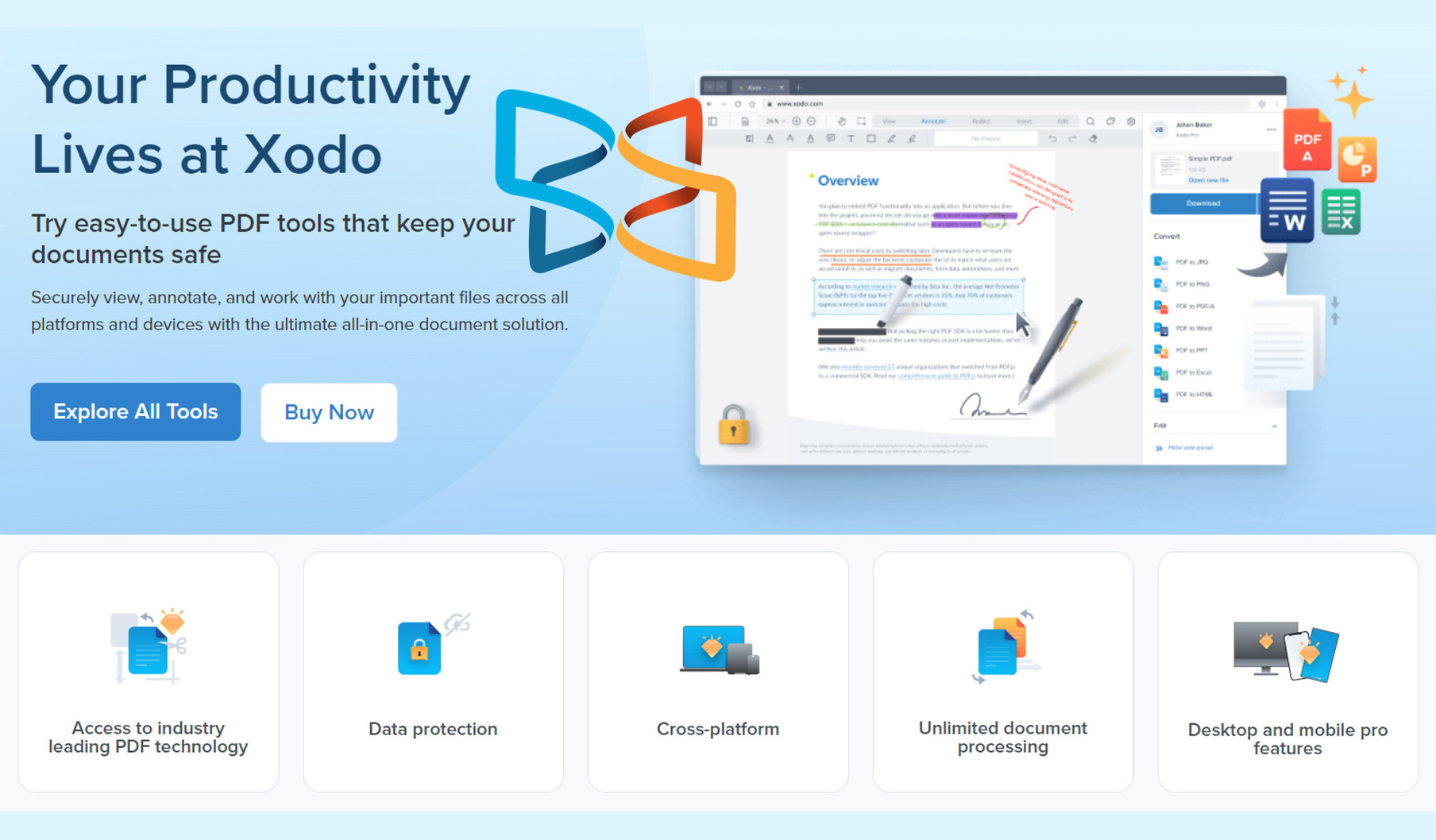 Xodo is another great alternative to Adobe Acrobat. It's an easy-to-use PDF tool through which you can view, create, edit, merge and convert your PDFs across different platforms. It has an amazing UI and both its desktop software and mobile app work great. It has two pricing plans: Xodo (free) and Xodo Pro ($108/Yr). Xodo's official website provides you with simple online PDF converting, merging, OCR, editing, and many more tools. You can process documents securely without limits.
Features:
Create, convert, edit, OCR, merge, view, etc

Online PDF tools

Free version available

Efficient and easy-to-use UI

Tips and tricks in blog posts

Help center/Customer support

Available for Browser, Windows, iOS&Android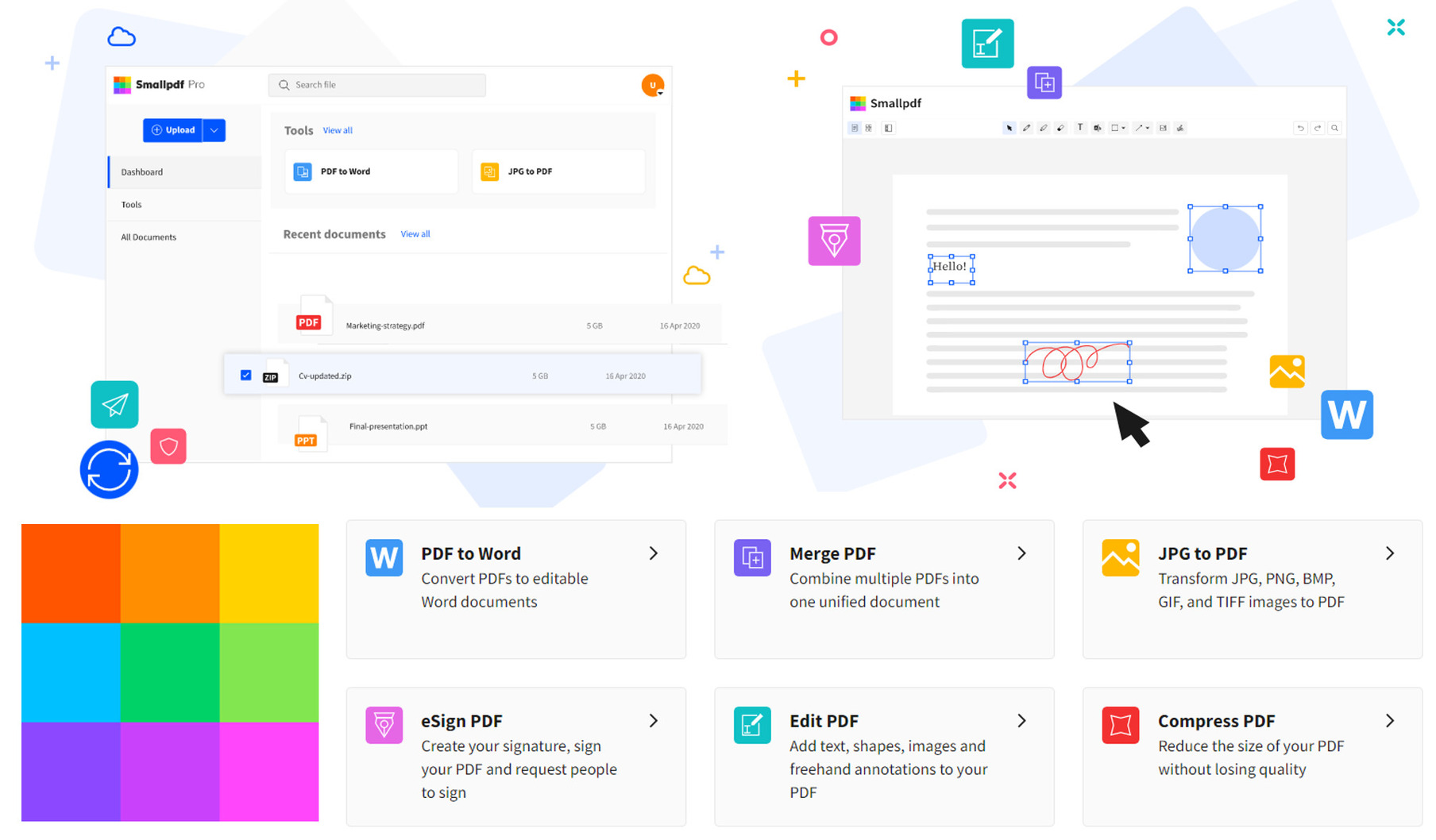 Smallpdf is a Swiss-based company founded in 2013. It's an effective PDF tool offering some great features that are used by more than 25+ million active users. It has four major subscription plans: Free, Pro ($54/Yr),Team ($42/Yr), and Business(Custom pricing). It has online PDF tools & templates and allows you to work from different platforms. So view, create, convert, edit your PDFs, and create professional signatures with Smallpdf.
Features:
Create,convert, compress, e-sign, edit & more

Free version available

Google Chrome extension

256-bit TLS encryption for security

24/7 Customer support

7 days of free trial available

Available forWindows, MAC, iOS& Android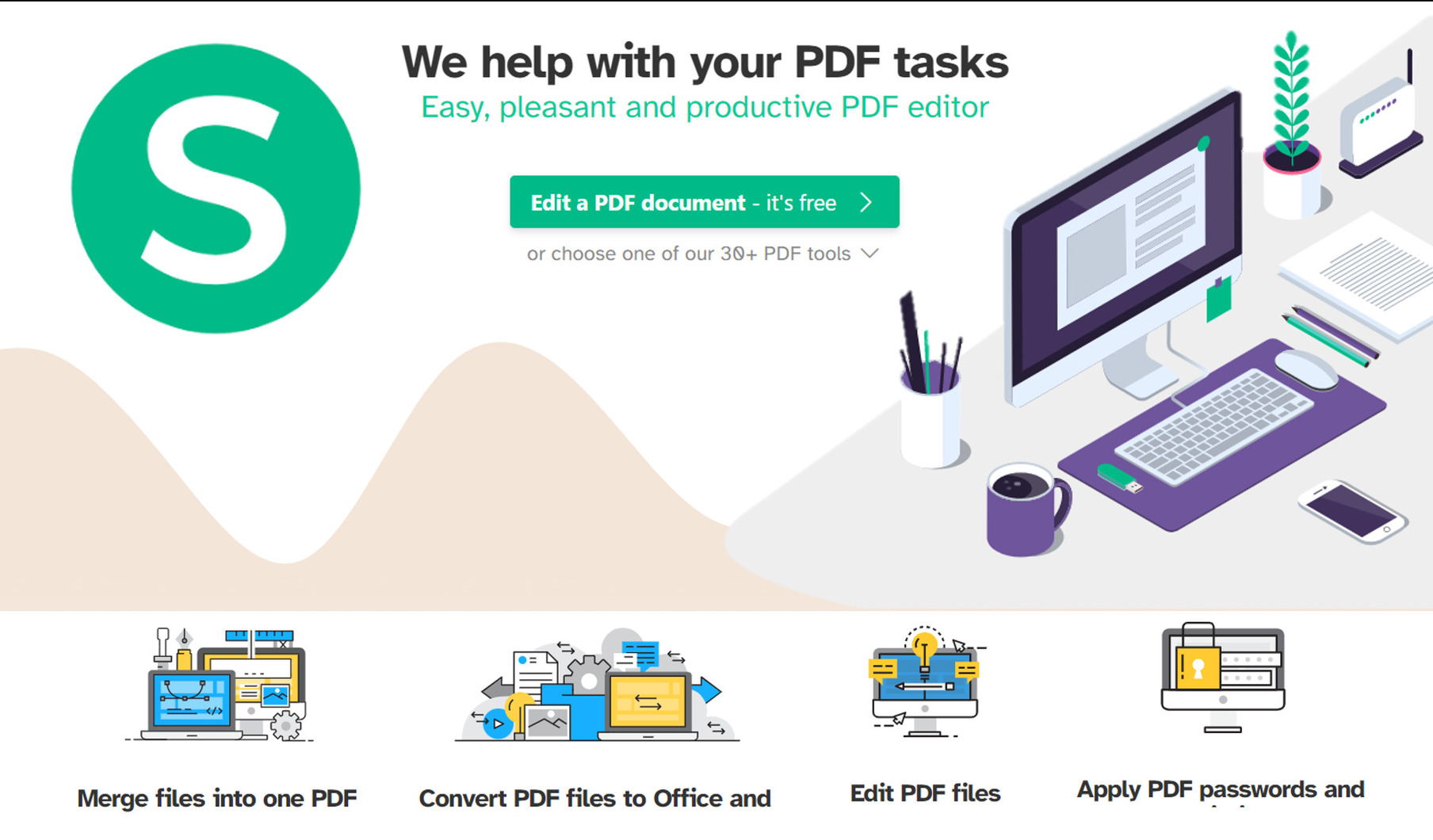 Founded in 2010, Sejda is an open-source project based in Amsterdam. It is a powerful PDF editing software that offers 30+ PDF tools. There are two versions available: Sejda Web (Works directly from the browser. Files stay secure and are automatically deleted after processing) and Sejda Desktop (works offline and your documents are saved on your device). Sejda's desktop version is free to use with daily limits and you can upgrade to the Pro version with unlimited use.
Features:
Create, view, edit, compress, secure, OCR, convert, etc

Free desktop version

Portable version for Windows

Volume discounts available

Available for Windows, MAC & Linux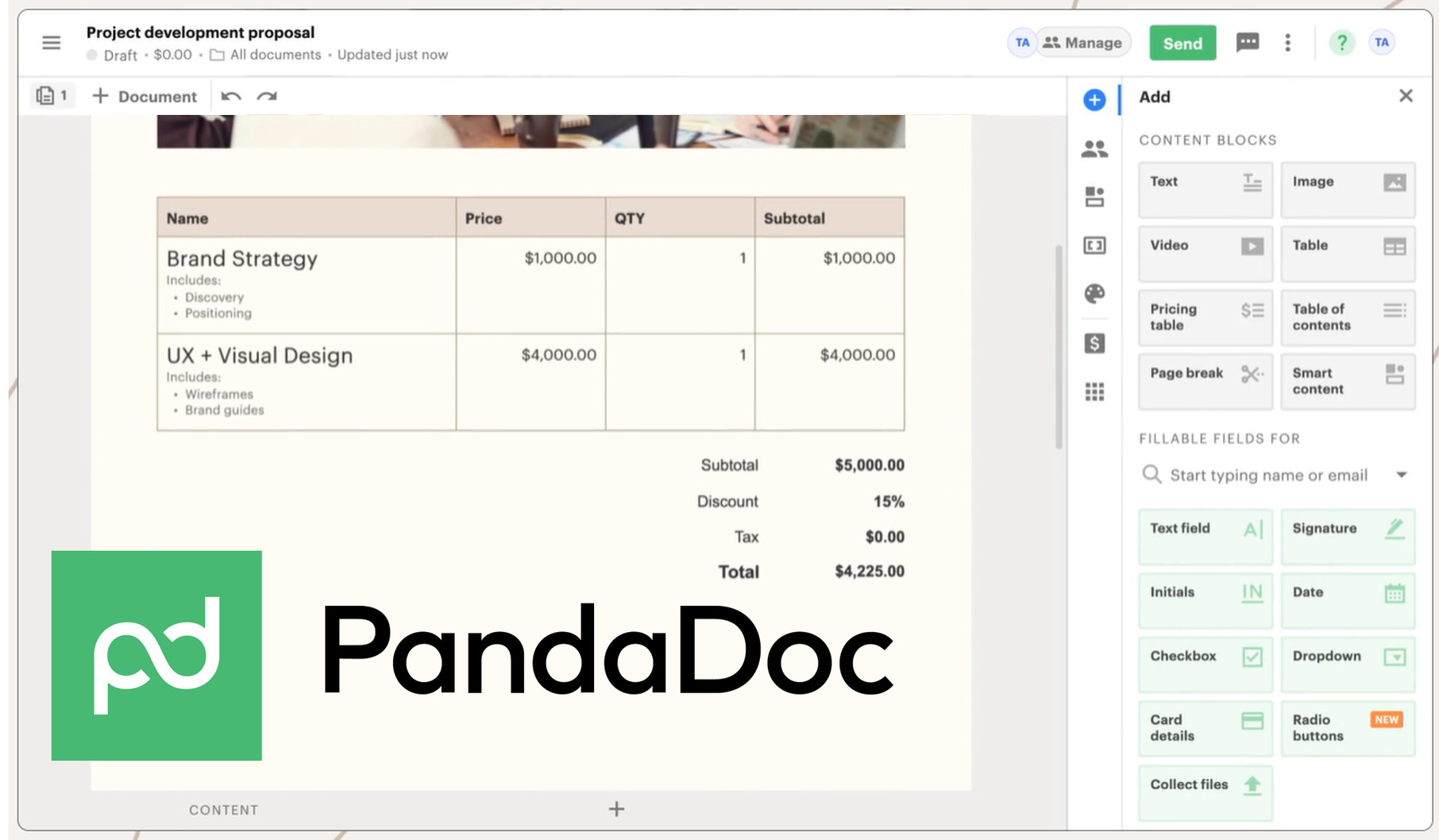 PandaDoc is an American Company that was founded in 2013. It provides all-in-one automated documentation to improve document workflow. It helps to create and edit documents timely and with ease. There are four major plans of PandaDoc: Free, Essentials Business, and Enterprise. It also offers 14 days of free trial to its users to evaluate its features. PandaDoc is used by different organizations and different departments like HR, Marketing, Customer Service, Finance, etc. It streamlines all your document workflows.
Features:
Wide variety of editing tools

750+ free templates

Automate document creation

Store and manage documents in one place

14 days free trial available

Available for browser, IOS & Android