In the wake of AI text generators, a new wave has emerged, the wave of revolutionary AI image generators. These AI tools possess an astonishing ability to effortlessly transform text prompts into precise, high-resolution images with mind-blowing details. They can seamlessly generate images into different art styles and are well capable of further editing and enhancing them.
This revolutionizing technology can ease the work of creative professionals like graphic designers, and photographers. One can easily transform his idea into reality with these AI art generators. So to start your creative journey with these tools, we have listed the 10 best AI image generators of 2023 in this article with which you can blur the line between imagination and reality, and create your own masterpiece.
Related: 5 Best ChatGPT Alternatives for AI Conversations
List of 10 Best AI Image Generators of 2023
1. DALL-E 2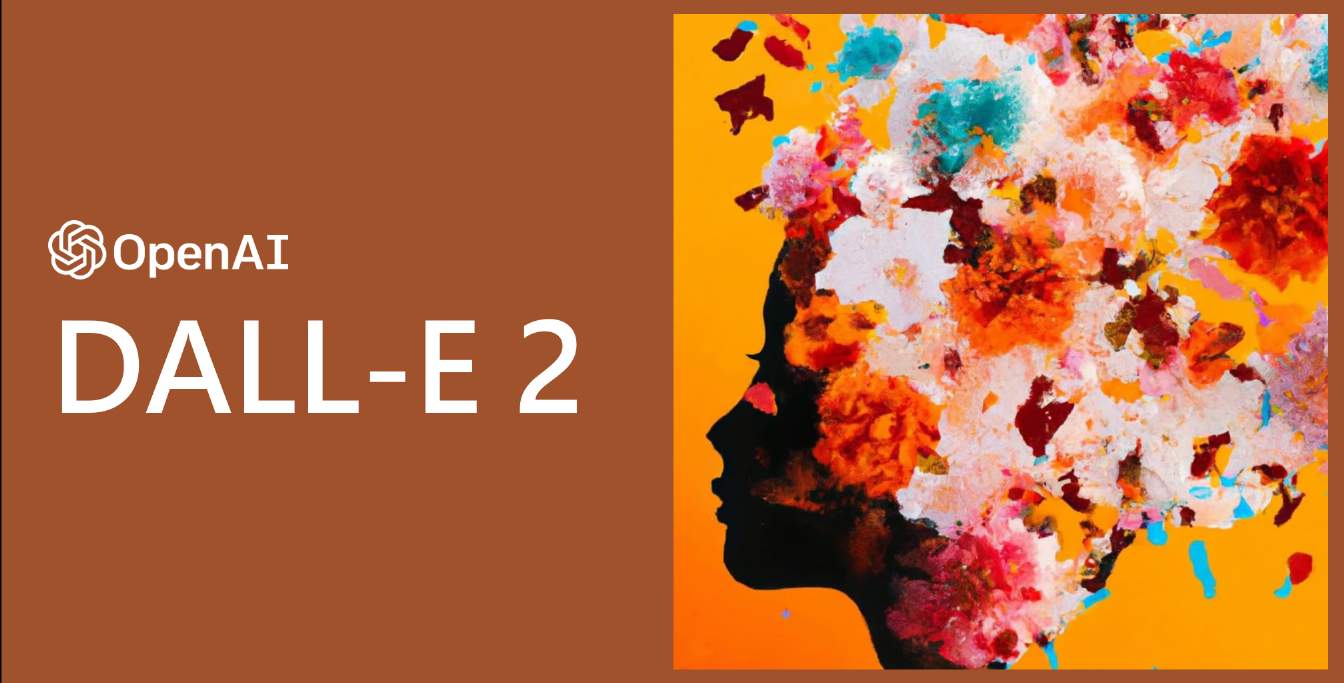 DALL-E 2 is an upgraded version of DALL-E and is the most powerful AI image generator developed by OpenAI, the company that made world famous AI chatbot, ChatGPT. DALL-E 2 can generate photorealistic images from texts, making your creative ideas into reality. It can produce images from very complex prompts with an insane level of detail and infuse different styles and objects. It supports outpainting and inpainting features that allow you to expand, enhance and modify images. You can generate different variations of a single image as well combining different art forms.
Features:
Generate images from complex prompts

High-resolution output

Photorealistic and detailed images

Works under an ethical framework

Supports multimodal output

Trained on an extensive dataset

Works on the pay-as-you-go price model
2. NightCafe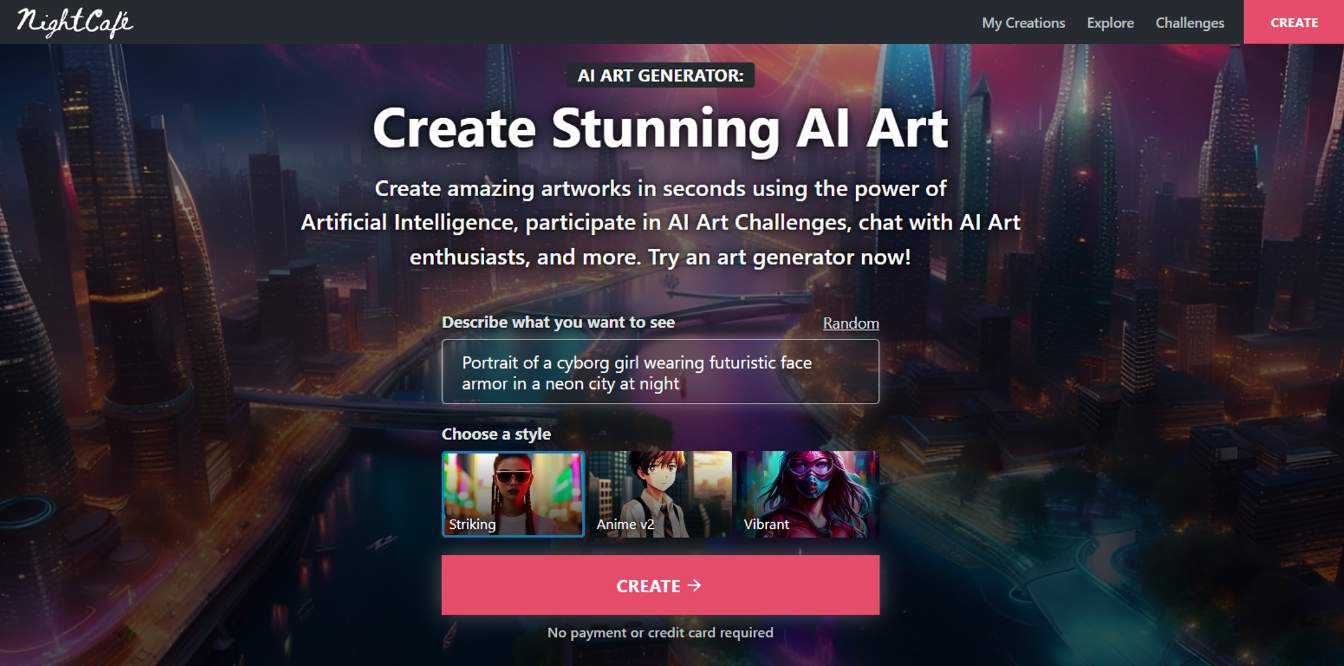 If you want to experience different methods of art generation on a single platform then NightCafe is the best AI art generator that you can use to generate mind-blowing detailed images from mere text descriptions. It includes VQGAN+CLIP, CLIP-Guided Diffusion, Stable Diffusion, and DALL-E 2 text-to-image algorithms. NightCafe gives you daily free credits to generate more accurate and detailed images using advanced settings. You can join their creative community and collaborate with your friends to create stunning art.
Features:
Use multiple prompts at once

Add modifiers and negative prompts

Wide range of image presets

Enhance and unscale images

Various text-to-image algorithms

Unlimited generation from base SD version

Create and collaborate with friends

Explore other arts and participate in challenges
3. Dreamstudio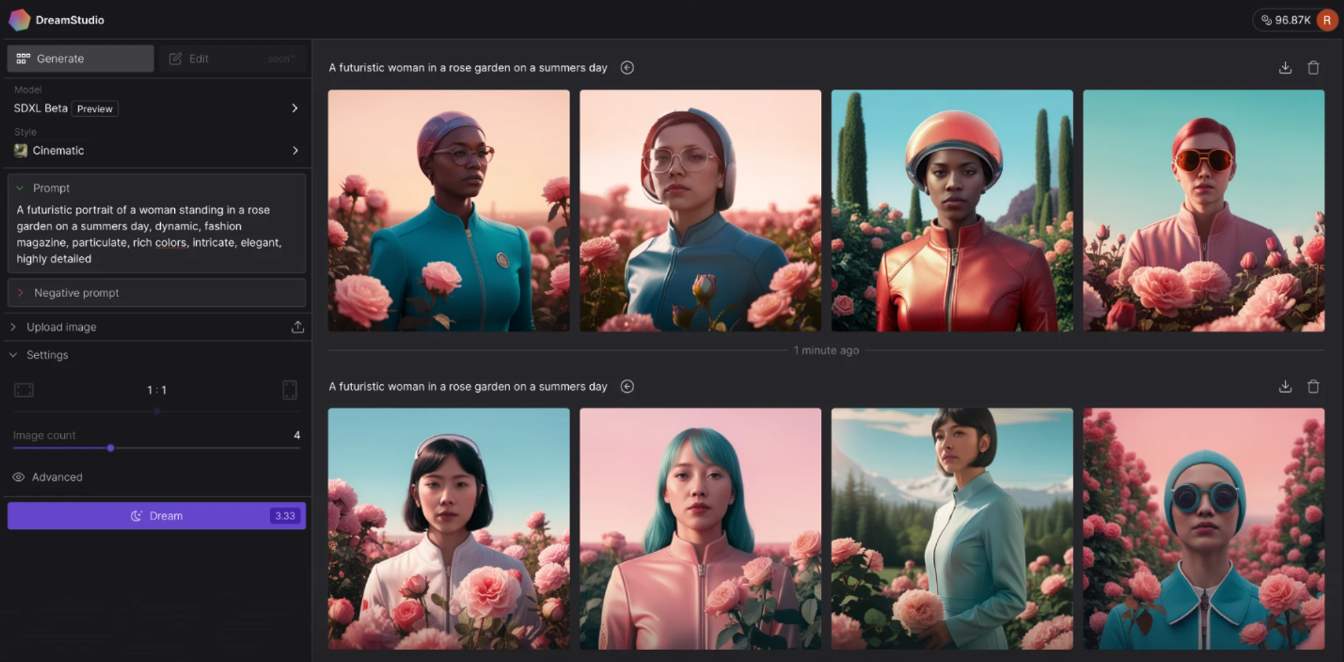 The Stability AI which created an open-sourced text-to-image generator Stable Diffusion has come up with an easy-to-use AI image generator DreamStudio that works on the latest SDXL model. Dreamstudio has an easy-to-use UI where you can choose image styles, give prompts as well as negative prompts, upload images, generate up to 10 alternate images, and do much more. Apart from generating fabulous images, you can also edit, add or remove elements from them.
Features:
Edit, add, replace, or remove elements

Add negative prompts

Generate images in various styles

Works on the latest SDXL model

Inpainting and outpainting

Inbuilt image editor

Enhance and upscale your images

Text-to-image and image-to-image generation
4. Bing Image Creator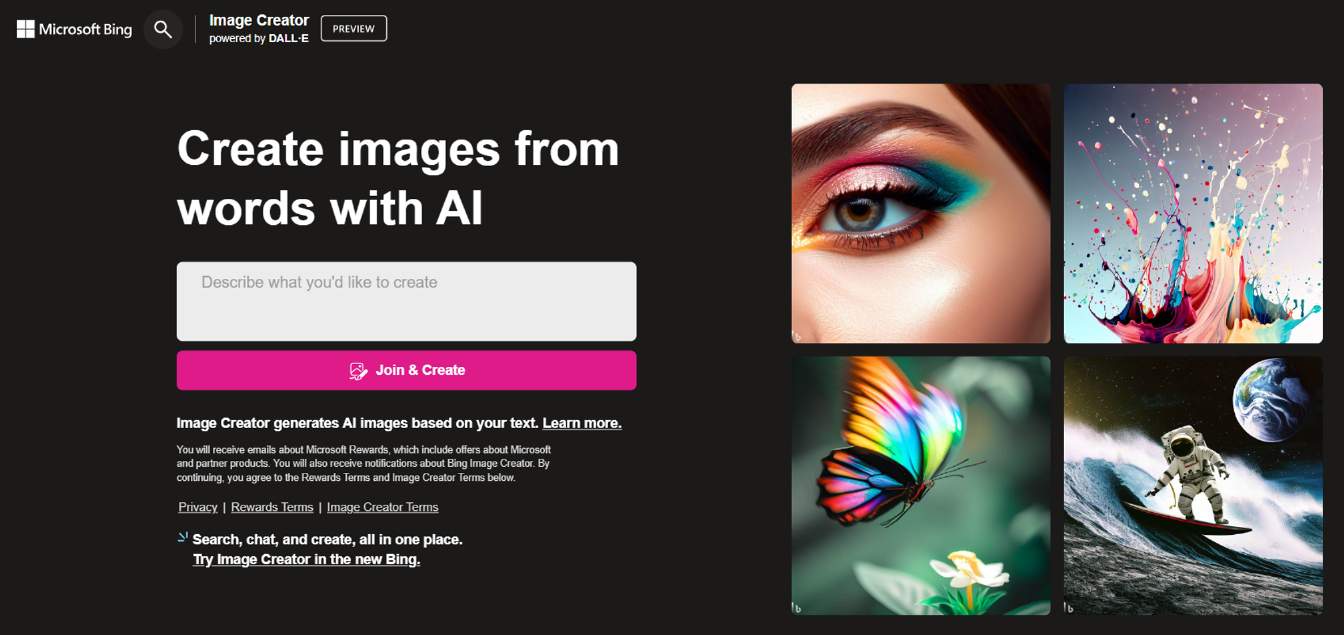 Microsoft Bing Image Creator is an incredible text-to-image generator tool powered by DALL-E that is free to use with no upfront cost. This AI art generator creates images quickly with boosts and if you run out of it, you can use Microsoft reward points to get more. You can explore ideas as well as choose from creative, balanced, and precise modes to generate images. Bing AI creates 4 images from a single prompt and the quality and preciseness of generated images are remarkable. Moreover, it gives you the context of generated images so you get more information out of it.
Features:
Free to use

Powered by DALL-E

Modify and edit images

Highly quality and precise images

Generate a wide range of images

Earn more boosts with Microsoft rewards

Can be accessed from the Bing app as well
5. Midjourney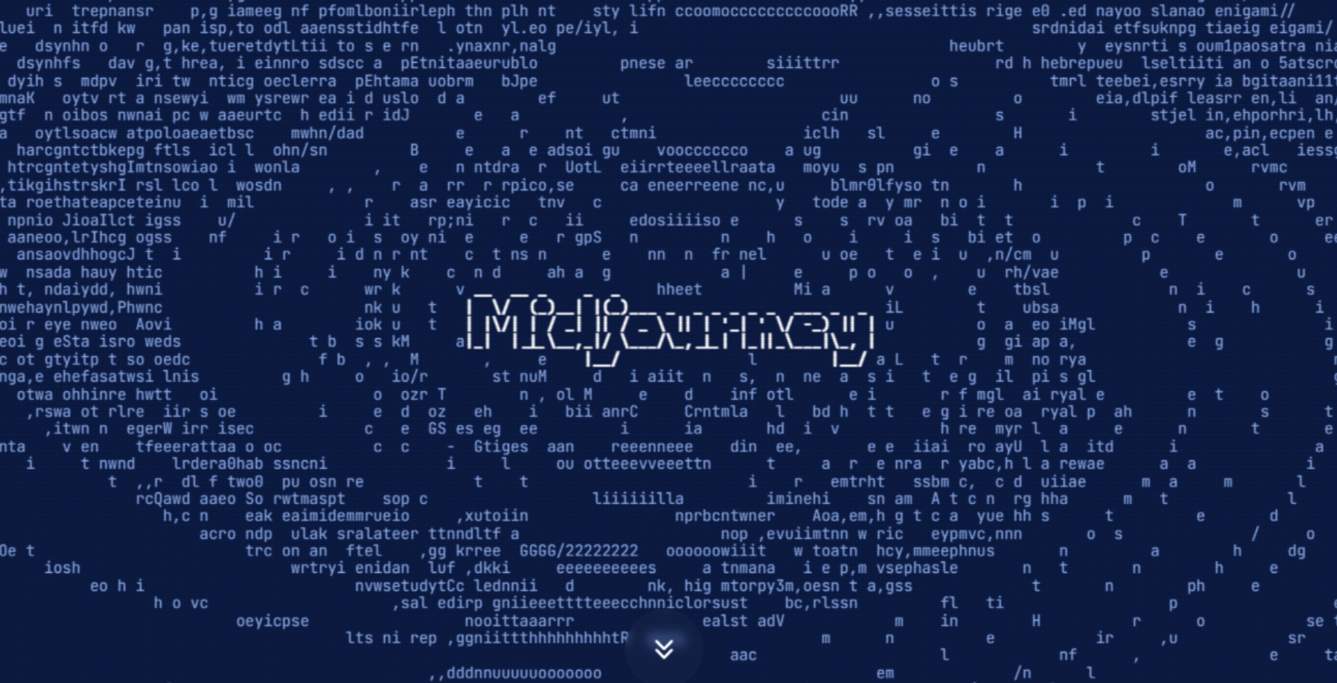 From creating surreal landscapes to artistic portraits, Midjourney can create all with natural human language prompts. This AI art generator tool can be accessed via Discord. All you have to do is to create a Discord account, pick a Midjourney plan, join its server, go to any channel, interact with the Midjourney bot, and give your prompt. The Midjourney is known to create stunning images from texts with crystal clarity. You can upscale or enhances the generated image as well.
Features:
Midjourney bot assistance

Blend your own images

Ultra high-definition images

Can be accessed from Discord

Customize and modify images

Zoom out, variation, remix, and other tools

Create aesthetic images with diverse styles
6. Jasper Art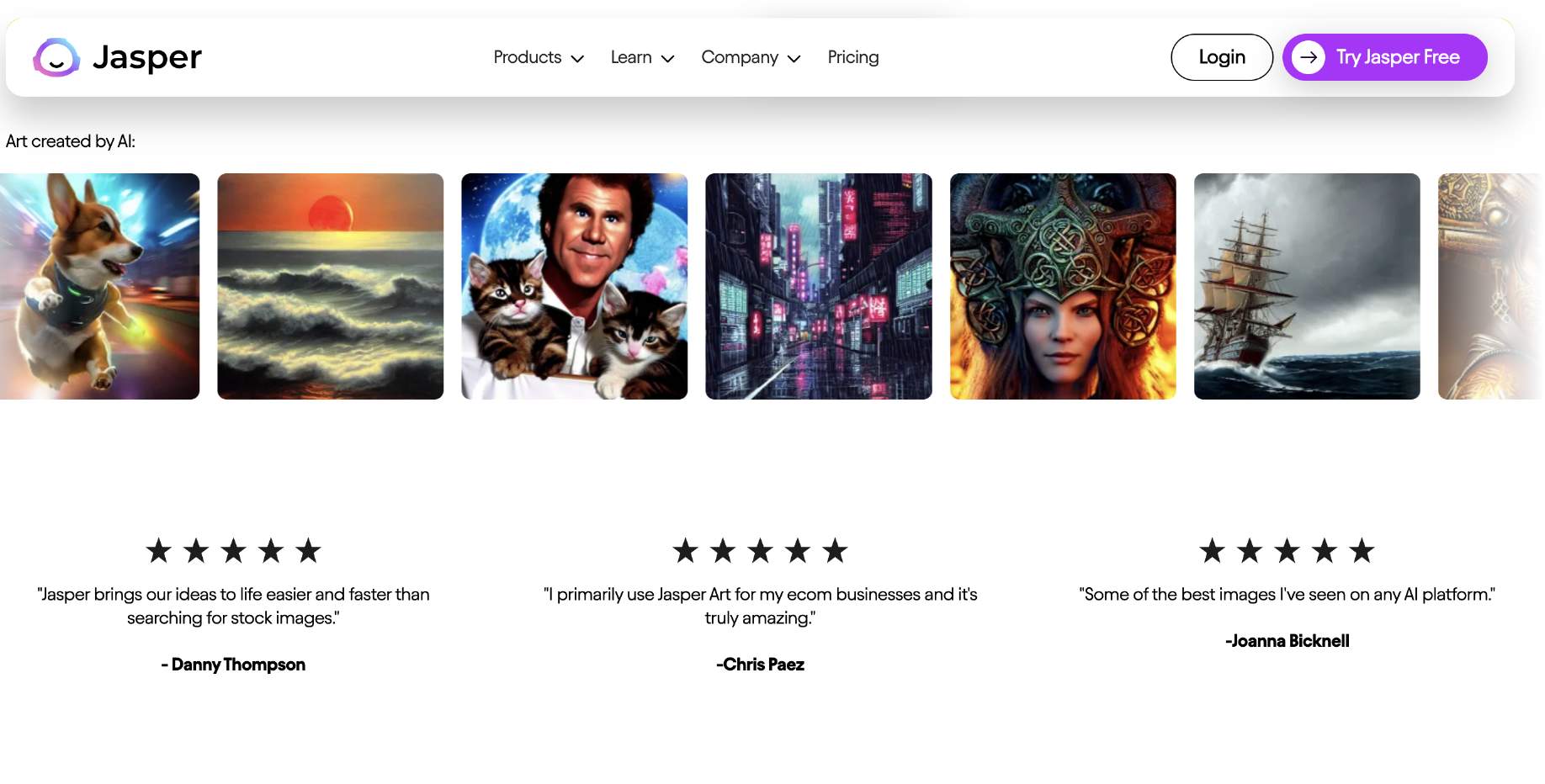 Jasper Art is another easy-to-use and powerful AI art generator that can turn your imagination into unique and high-resolution pictures within seconds. Whether you are a graphic designer, marketer, or content creator, Jasper Art will definitely help you to create and explore and enhance your ideas. All the images generated are royalty-free and can be used anywhere. You can create extraordinary hi-res pictures using specific keywords and art styles in prompts.
Features:
Blend different art styles

Royalty free images

Enhance images with modifiers

Choose from different styles and mediums

Select mood, artists, and keywords

Generate images from prompts, pics, and templates

Get other AI tools along with Japer Art
7. Fotor AI Art Generator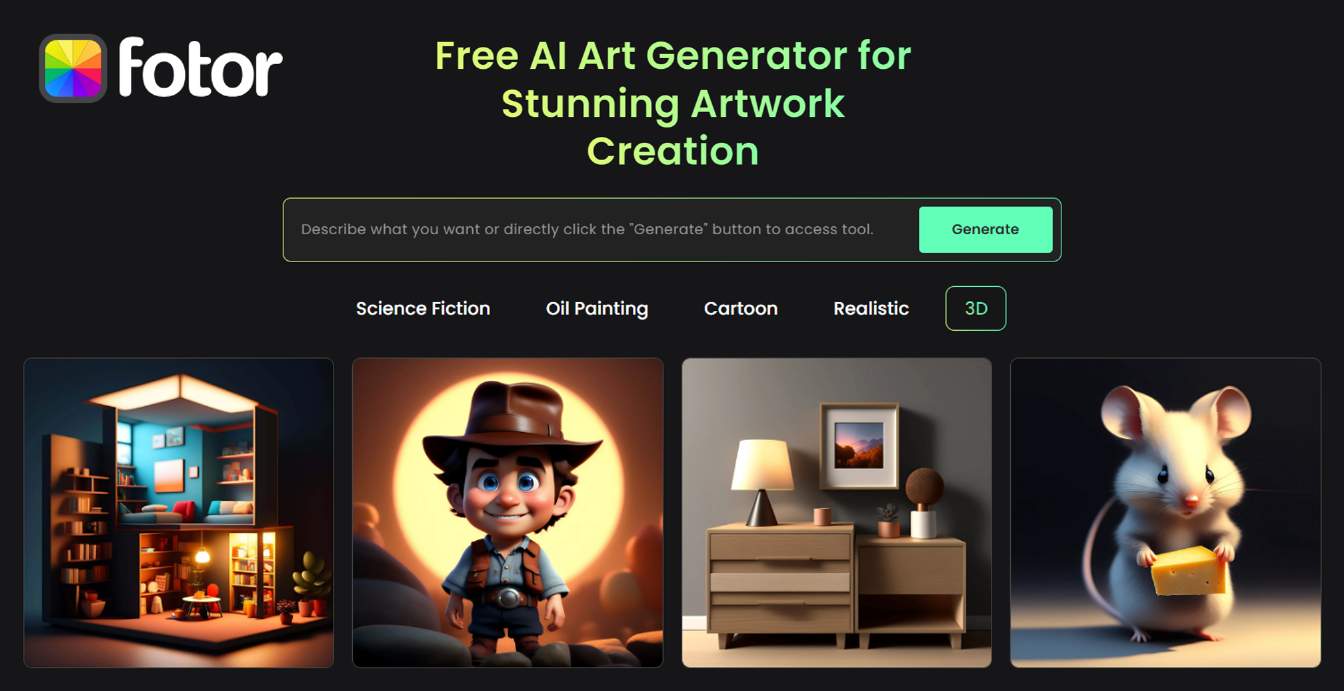 Fotor AI Art Generator is one of the best tools to generate marvelous and highly detailed images using natural human text. Fotor AI Art Generator can be accessed from both the website and mobile app. You can generate up to 6 images in different ratios and art styles at once and edit them on the go using an inbuilt AI-based powerful photo editor. Moreover, you can go to the inspiration page of Fotor AI to explore others' creations and get unique ideas.
Features:
AI-based editing tools

Generate detailed and complex images

3 different aspect ratios

Choose from different art styles

Customize your images from advanced settings

Generate images from text and pictures

Enhance and upscale your image

Explore images generated from Fotor AI
8. Craiyon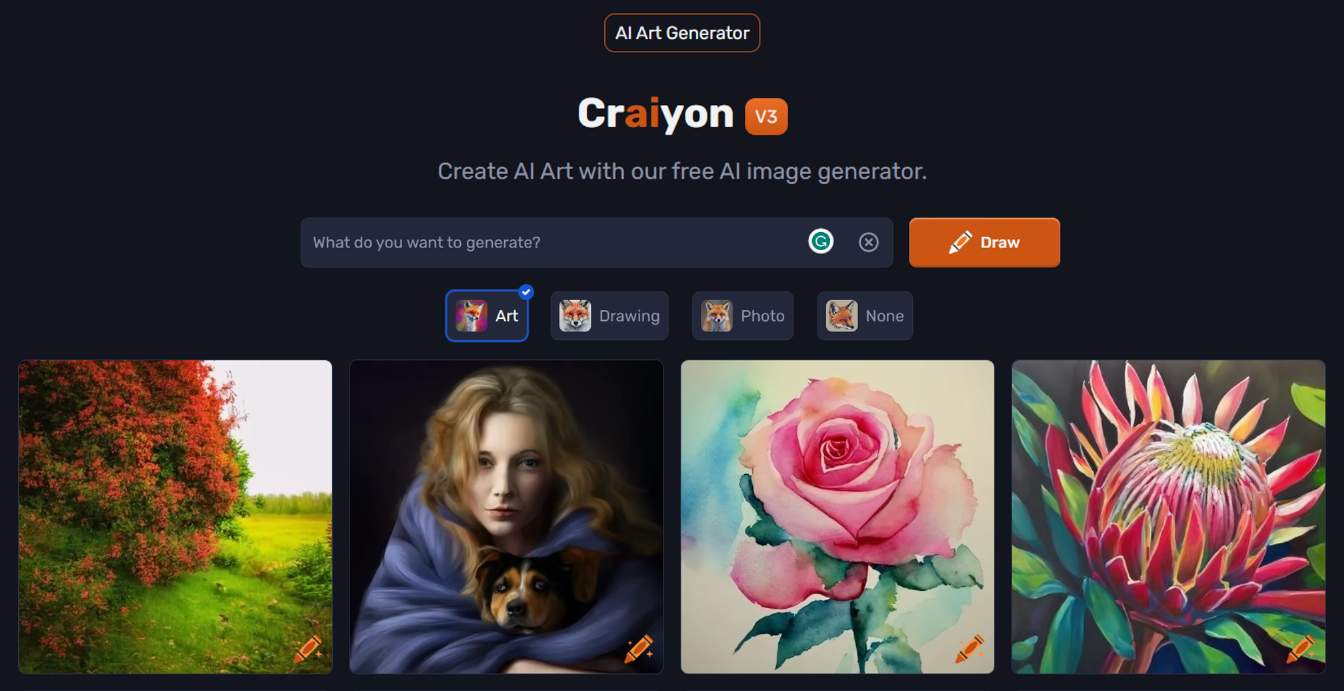 If you are looking for a free-to-use yet powerful AI image generator then Crayon can be your top choice. It has a simple interface where you type your prompt, select art style and click on draw to generate AI masterpieces. Craiyon comes with Negative words feature, which generates 9 images at a time and the best thing is that you can order t-shirts with a print of your AI-generated images. Be it surreal landscape or stunning abstract art, whatever you can dream of, Craiyon will draw that for you in seconds.
Features:
Free to use

Simple interface

Negative words

Different art styles

Generates 9 images at once

Search Craiyon-generated images

Order t-shirts with generated image prints
9. Canva Image Generator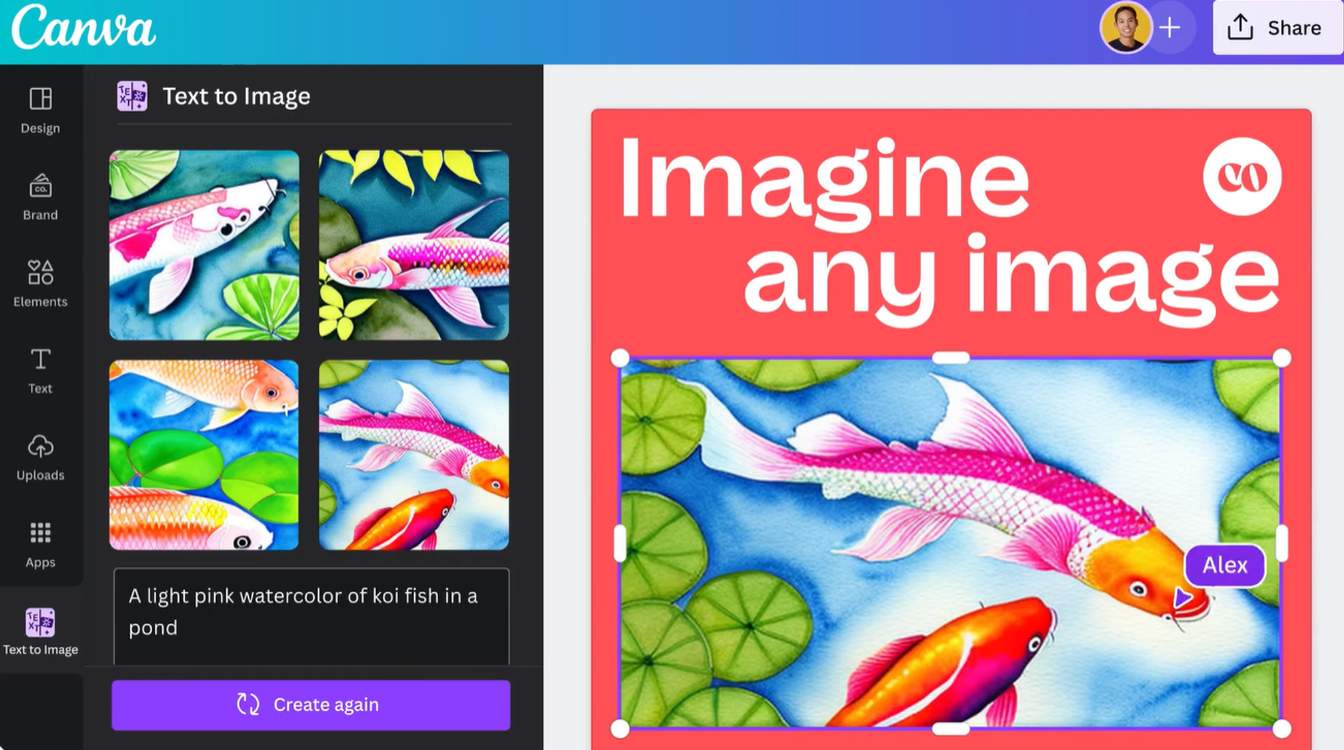 Canva is one of the most popular poster designing & media editing apps, which has now introduced an AI text-to-image generator tool as well that makes your designing and editing experience awesome. Canva comes with a user-friendly interface where you can generate AI-based images and edit them both on the web version and mobile app. There are various art styles that you can choose from and create unique and creative images.
Features:
Try it with free credits

Several art styles to choose from

3 different aspect ratios

Edit images on the go

Generate detailed images with prompts

Can be accessed from a browser and mobile app

Canva Assistant to get more AI suggestions
10. Dream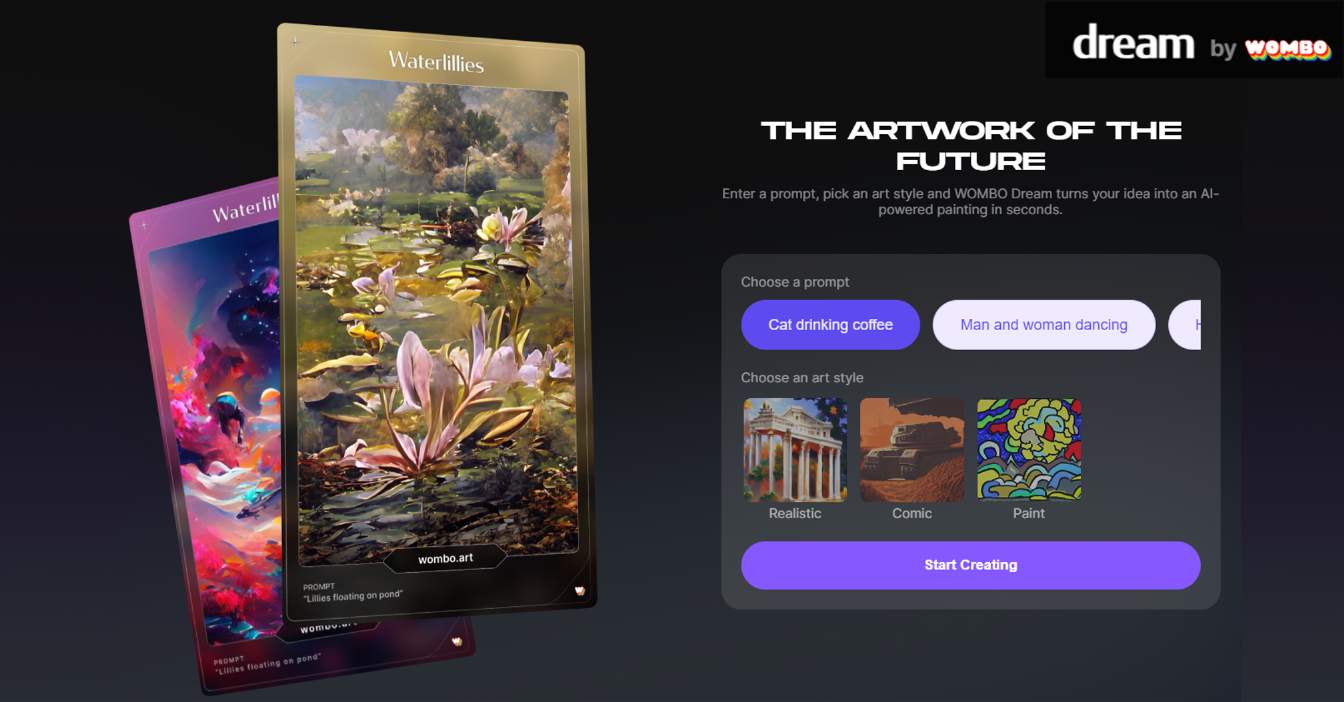 Turn your words into captivating pictures with Dream AI image generator by WOMBO. Just enter the prompt you wish to paint and select an art style, Dream will do the rest of the work for you. Moreover, Dream allows you to generate art from images that upload as well as customize the generated images from the description itself. Dream by WOMBO has a web version and mobile app as well making it easy to access.
Features:
Turn words into stunning arts

the base version is free

Variety of art styles

Edit images from texts

Generate art from images

Magic Wand Prompts for unique ideas

A dedicated mobile app is available