Who doesn't want a fit and attractive body? It's everyone's desire to showcase the best version of themselves in front of others
and bodybuilding is one of the best ways to do this. There is a popular quote that says a healthy mind lives in a healthy body and that's why people nowadays are more conscious about their body, fitness, and health.
A Good-looking body not only shows your physical wellness but also boosts your confidence, improves your willpower and makes you more disciplined. In this article, we have curated a list of the 10 best bodybuilding apps for iPhone and Android. No matter whether you're a rookie or a pro, these apps can definitely help you out in achieving your fitness goals.
List of 10 best Bodybuilding Apps for Android & iPhone/iPad devices
1. Gym Workout Plan & Log Tracker (By Jefit Inc.)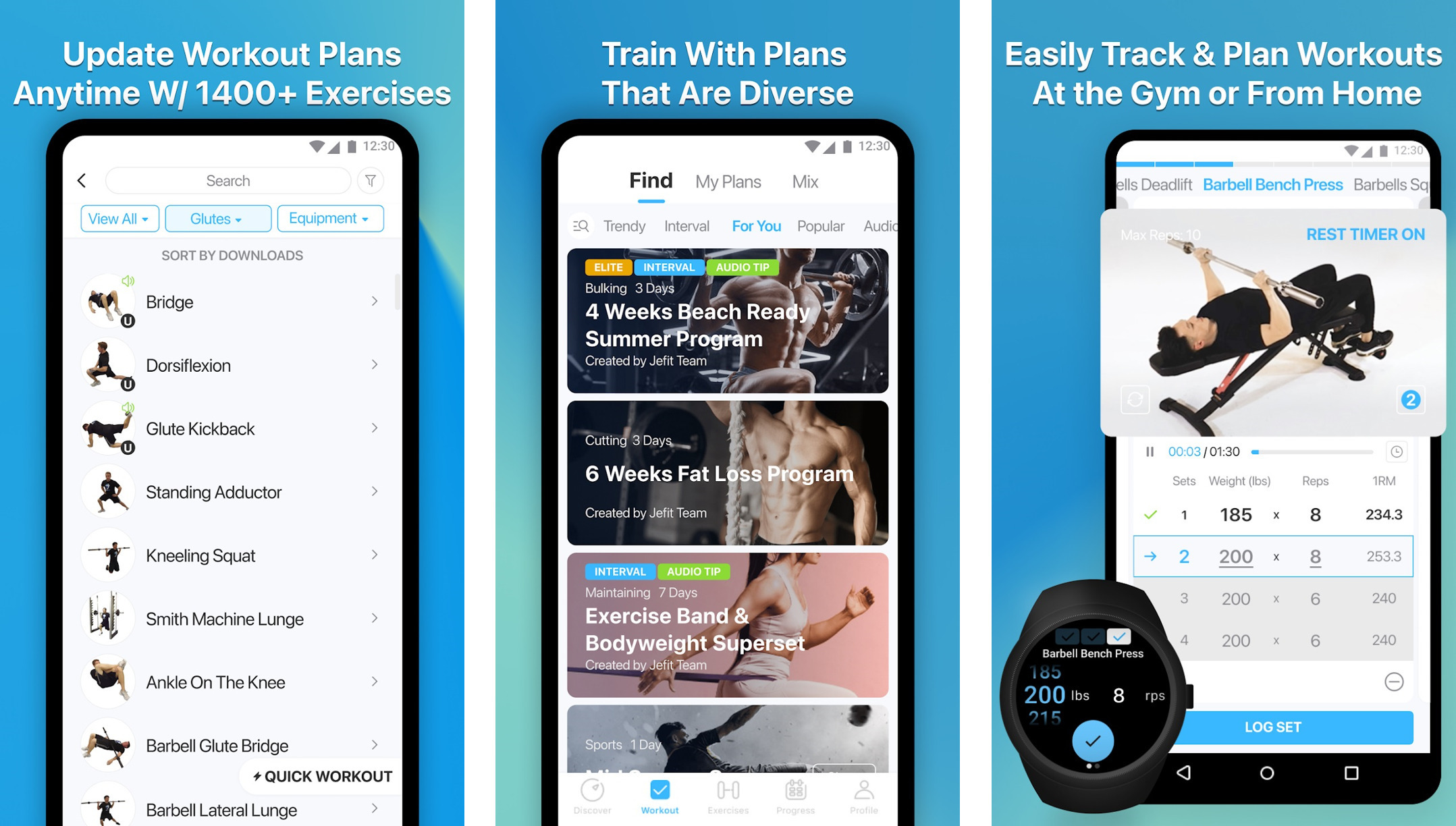 Whether you want to gain muscles or lose weight Jefit is the best app for you where you can plan your exercise routine and track it. With over 1400 exercises and numerous workout plans, Jefit stands to be the top choice for gym guys. When you select an exercise you get an HD instructional video of it along with audio and textual guide with steps. It also recommends you the equipment to use for a particular exercise and tells you the target muscles. With Jefit you can track your workout progress from your watch and stay motivated from its Discover section.
Features:
Professionally built workout plans

Track your workout

Plan you workout

Benchmarking, analysis, and instructions

Discover other people in the community

Rest timer, and interval timer

Various bodybuilding plans

Body measurements system and other tools

Track your progress from your smartwatch

Over 1400 exercises with video demonstration


2. Strong (By Strong Fitness PTE. LTD.)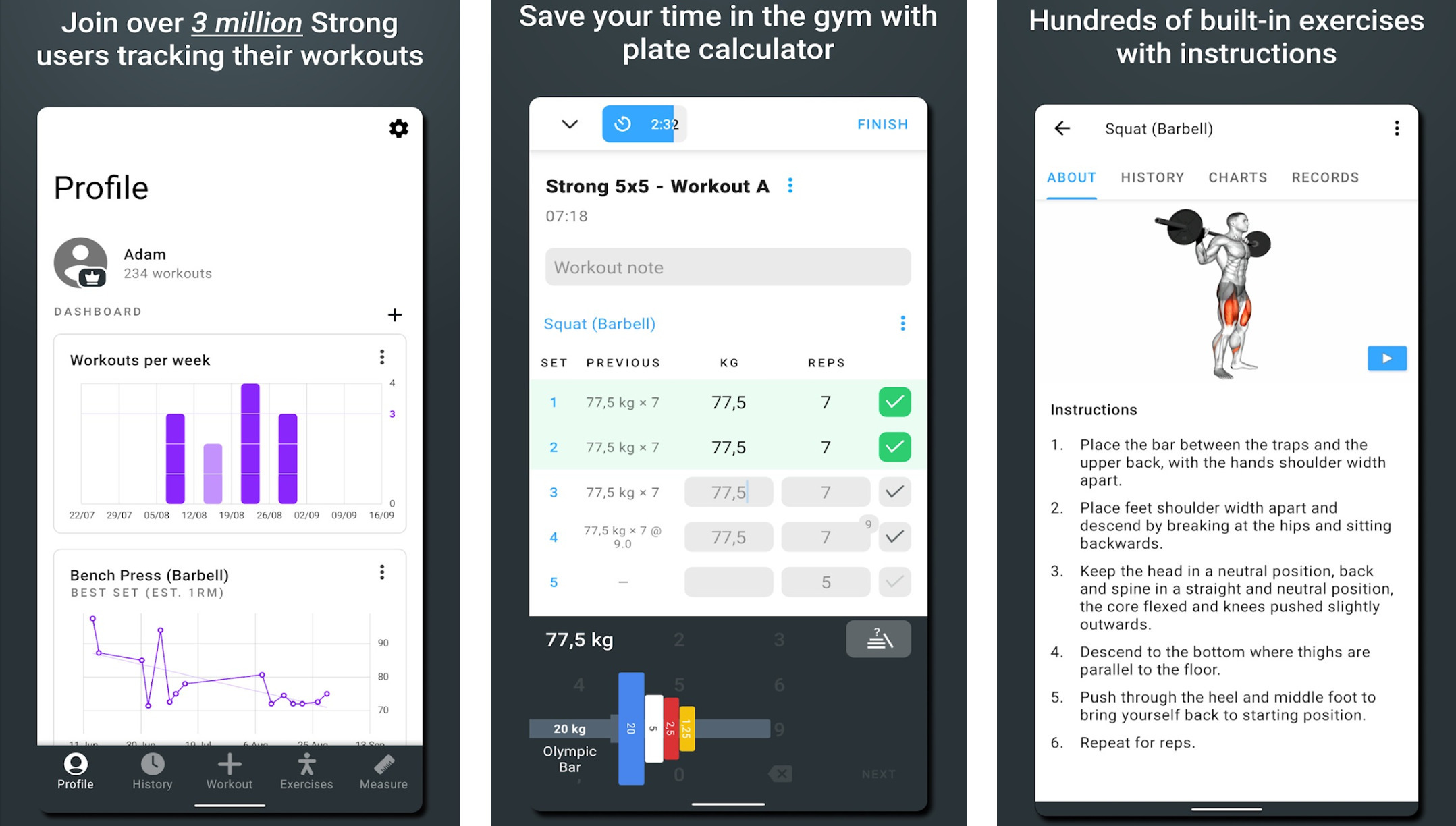 Strong is a straightforward and easy-to-use workout tracker with which you can easily make your workout plan by adding exercises to your custom templates and tracking your progress. It has several exercises with animated videos and textual instructions. Its advanced statistics show your personal records and progression. Strong has a cloud feature as well so that you can automatically back up your data on your device.
Features:
Simple and easy-to-use UI

Various types of calculators

Track your progress with graphs

A vast range of cardio and strength exercises

Animated instructional videos with description

Add your own exercises and routines

Auto-backup your data with cloud sync

Supports imperial and metric units of weights


3. Adidas Training (By Adidas Runtastic)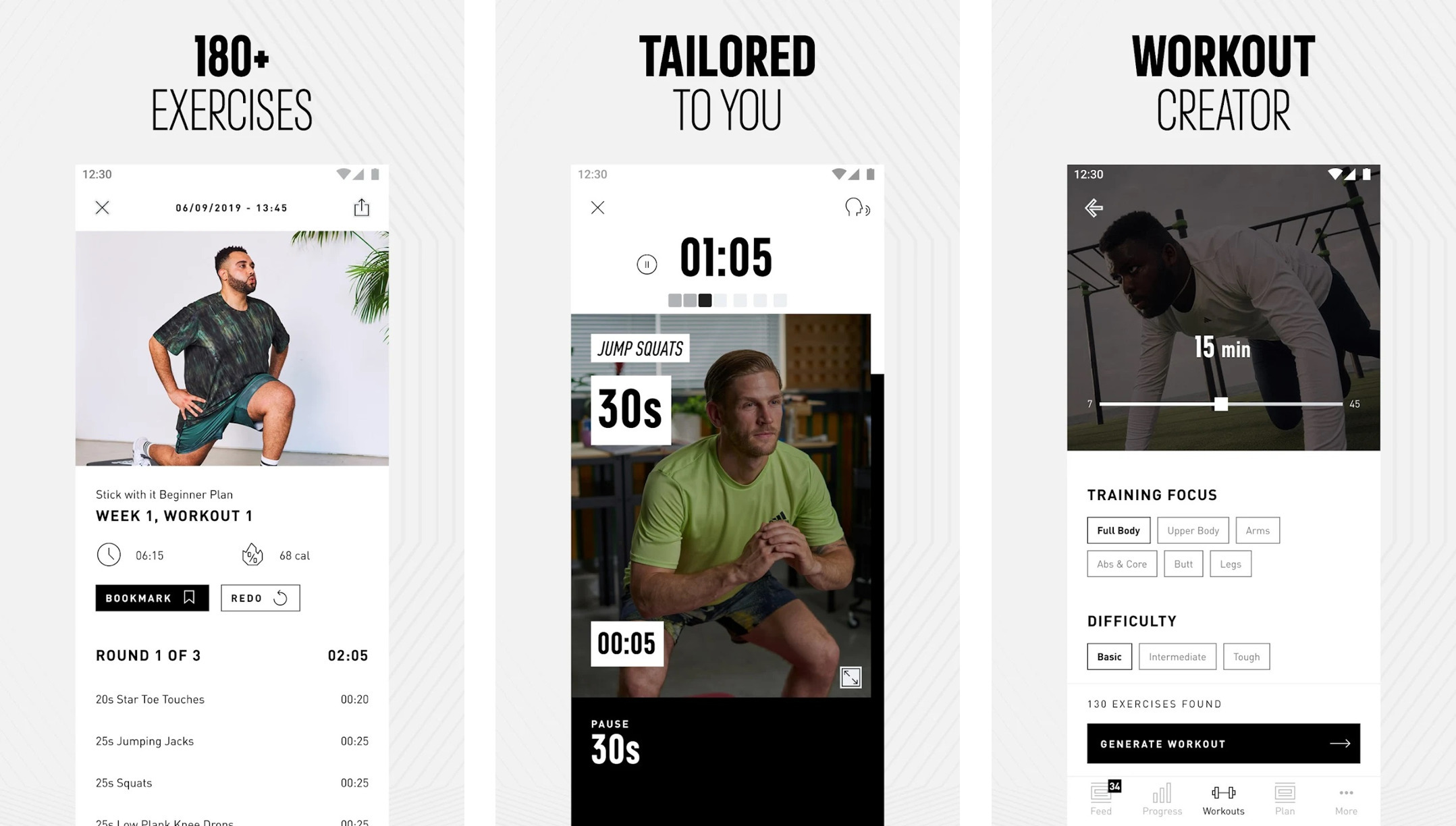 Attain your fitness goal with Adidas Training. It has several featured workout programs, guided workouts, and many more. You can create your workout with a built-in workout creator and can choose target body parts, difficulty, equipment, etc. Adidas Fitness has over 150 exercises and every exercise comes with HD instructional videos made by fitness trainers. You can track your weekly, monthly, and yearly progress with intuitive graphs and read their blogs as well.
Features:
Voice coach

High-quality videos with instructions

Bookmark workouts

Over 180 exercises from basics to advance

Various types of training plans

Over 400 explained exercises

Workout creator for custom workout

Connect your watch to track activities

Read fitness and nutrition blogs from feed


4. Home Workout – No Equipments (By Leap Fitness Group)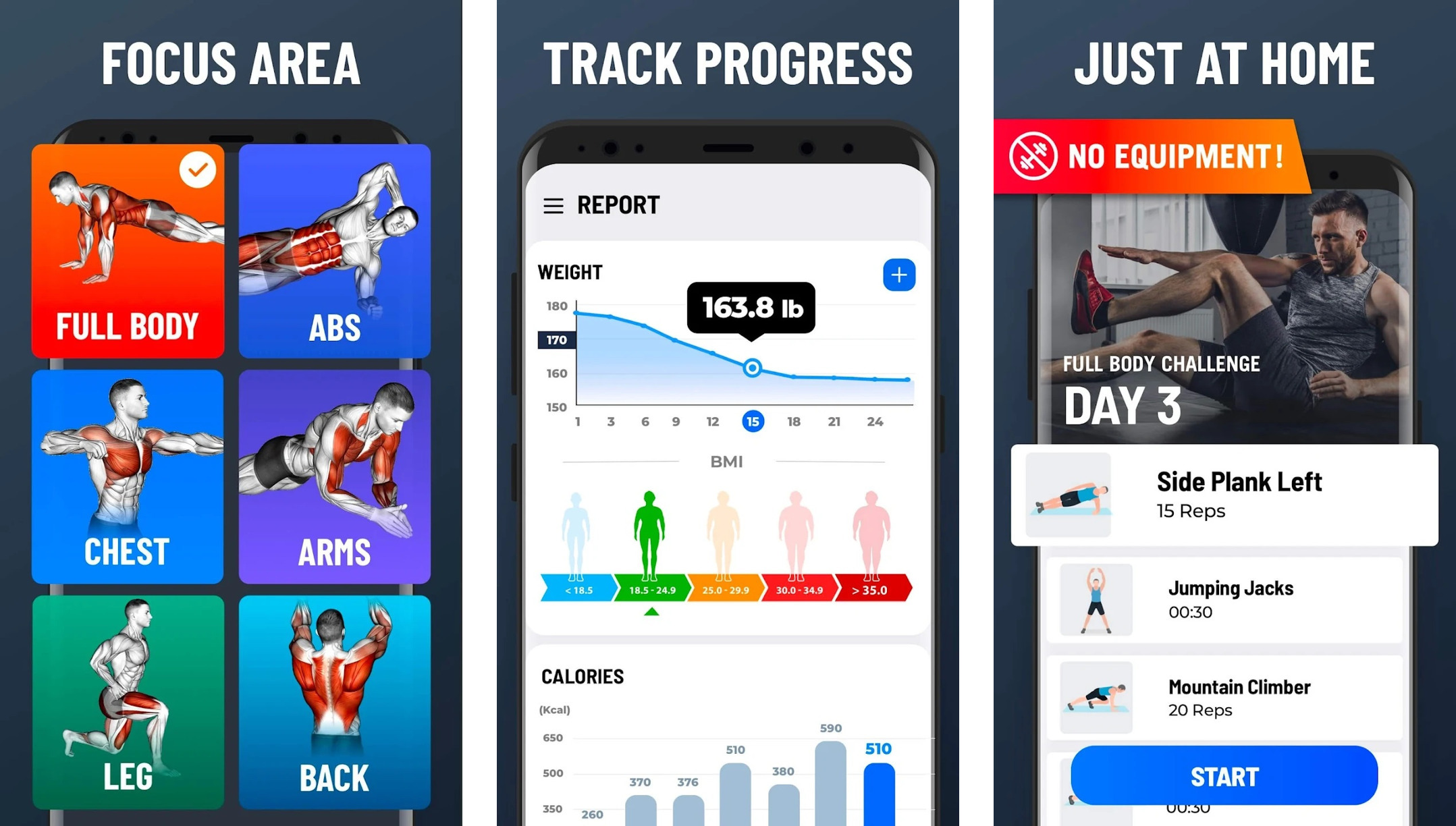 The Leap Fitness Group has various bodybuilding apps but Home Workout is a unique one. With this app, anyone can build muscles and stay fit by doing the daily workout exercises provided in it without going to the gym. The exercises in it focus on all your main muscle groups and cover abs, legs, chest, and arms. You get the animated and video instructions while performing the exercise and a timer. You can track your progress from the report section and know how many calories you have burnt, the time spent, and the number of workouts performed.
Features:
Home workout programs

Nice and easy-to-use UI

No need for gym equipment

Warm-up and stretching routines

Records training progress automatically

Track your weight trend and BMI

Discover body-focused and other types of exercises

Detailed video and animation guide


5. Pro Gym Workout (By Fitcraft Technologies)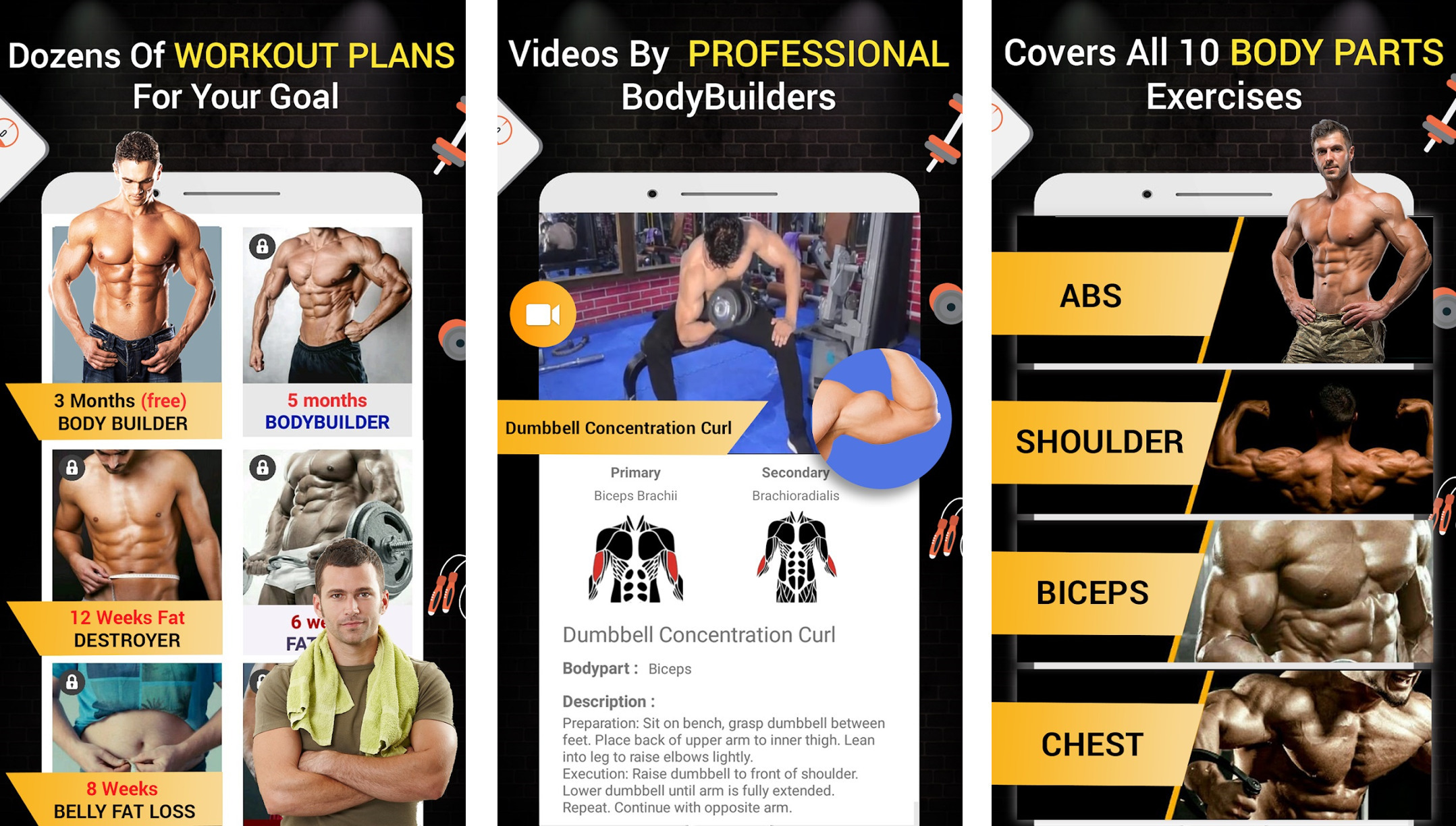 Pro Gym Workout is the perfect app for your workout training and tracking. It has over 120 exercises and 10 workouts including abs workouts, chest Workouts, legs workouts,s and many more to achieve your fitness goal without any trainer. For every exercise, you get a video of a professional bodybuilder that shows you the right technique. You can write notes and read descriptions of the exercise.
Features:
Workout tracker

Search exercises easily

No internet connection required

Several bodybuilding plans

Create custom workout routines

Workout videos by professional bodybuilders

Various utility tools like protein calculator, calories calculator


6. Hevy (By Hevy)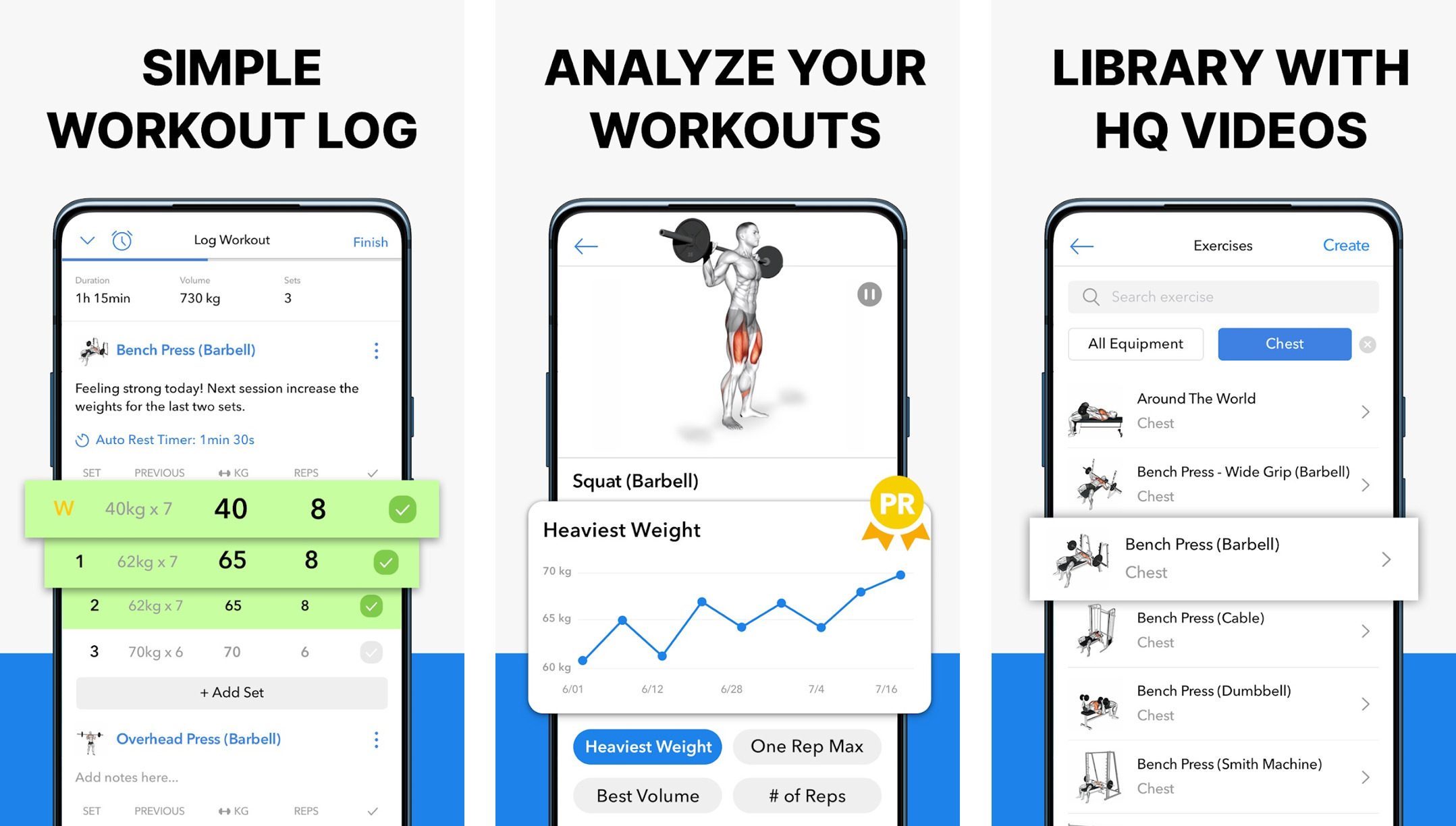 Heby is a great gym logger and workout planner and tracker app that helps you to achieve the body type you want for yourself. It has a simple UI where you can navigate to different sections easily. You can explore or create your own workout routine. You can find the video tutorials of every exercise and read the steps to perform it correctly. Heavy is an ad-free app that is free to use but you can buy the pro version to access the additional features without limitations.
Features:
hundreds of exercises

Search and follow athletes/users

Various pre-made workout plans

Create your custom workout routines

Workout calendar to stay scheduled

Exercise videos with instructions

Customize automatic rest timer

Copy your friend's workout

Personal dashboard to view your progress


7. Home Workout (By Hazard Studios)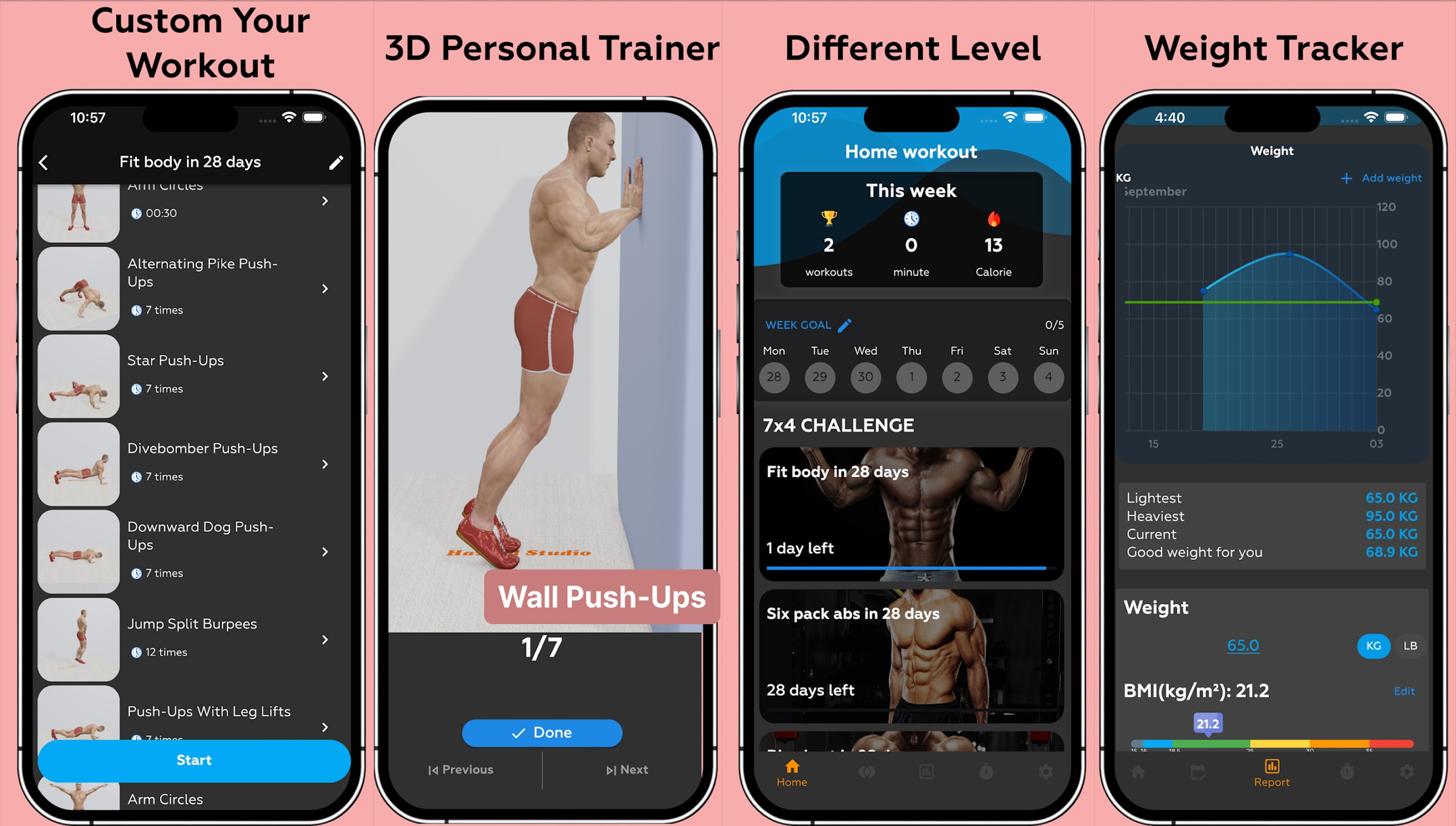 No gym subscription and workout equipment? Don't worry Home Workout app is specially designed for people to work out at their homes without equipment. It has various workout challenges and workout programs with animated instructional videos that focus on different muscles of the body. You can also find fat-burning, muscles specific, and other exercises and workout programs in the Discover section. This app has a calorie chart, a weight chart, and a BMI indicator.
Features:
Voice guide

Customize your workout

Weight and calories chart

BMI indicator

Over 300 exercises

Over 200 workout plans

Fat-burning and HIIT workouts

3D video tutorials for each exercise

8. Fitness app (By Fitness Online LCC)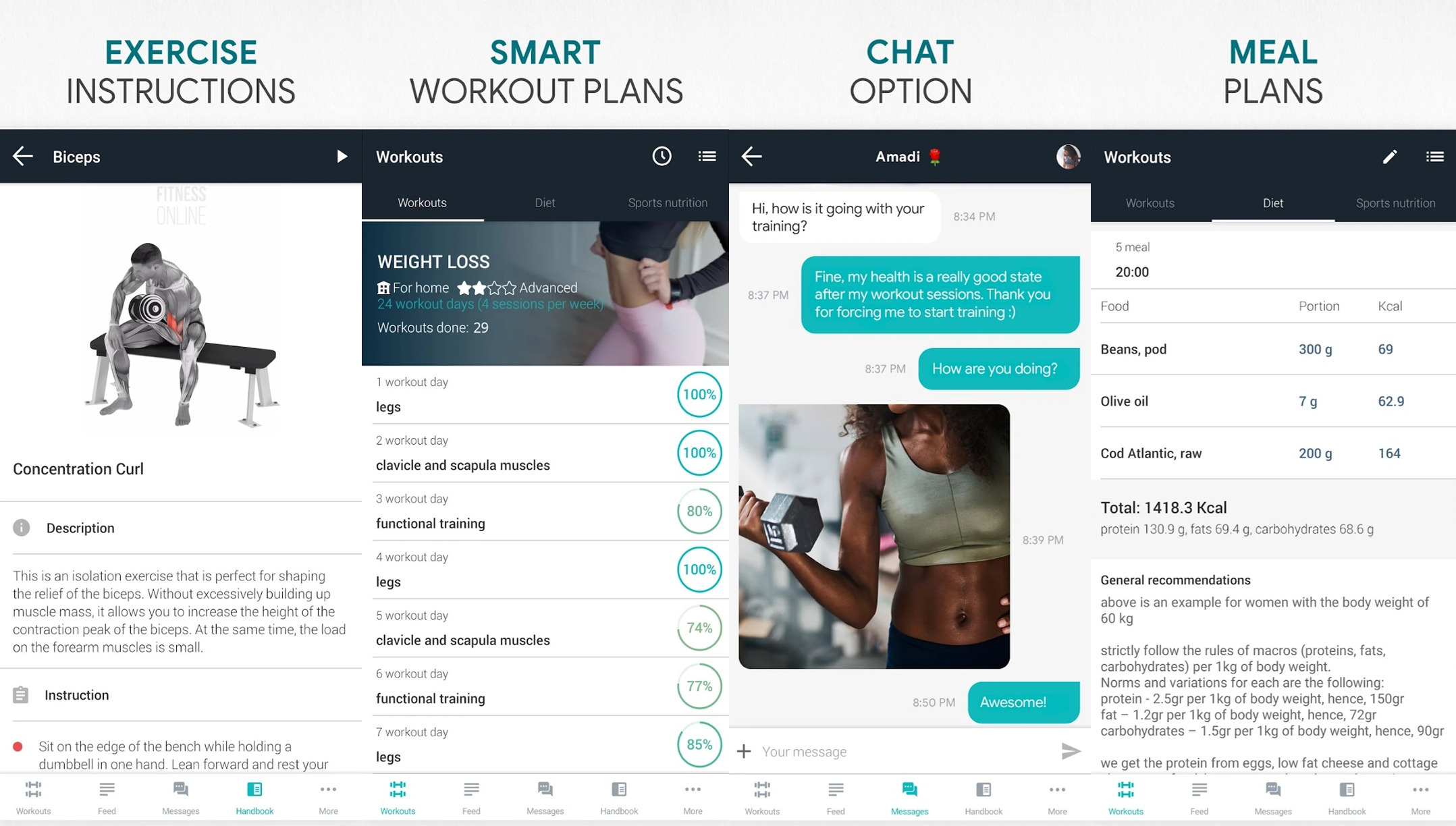 Fitness online offers you a full body workout with beautifully 3D-designed video tutorials for each exercise for free. You can select pre-made workout plans or can create a custom workout routine from the workout builder. You can post your workout pics and videos on feeds and can chat with other users and trainers. The fitness app has a library of handbooks on different topics like sports nutrition, exercises, etc that help you to be informed.
Features:
Personal feed

Find people from the community section

Workout, fitness, and dietary tracker

Over 300 exercises with 3D animations

Different units for height and weight

Handbooks on various subjects l

Chat with users and trainers

Dashboard with a workout calendar and body measurements

9. Fitness and Bodybuilding (VGFIT LCC)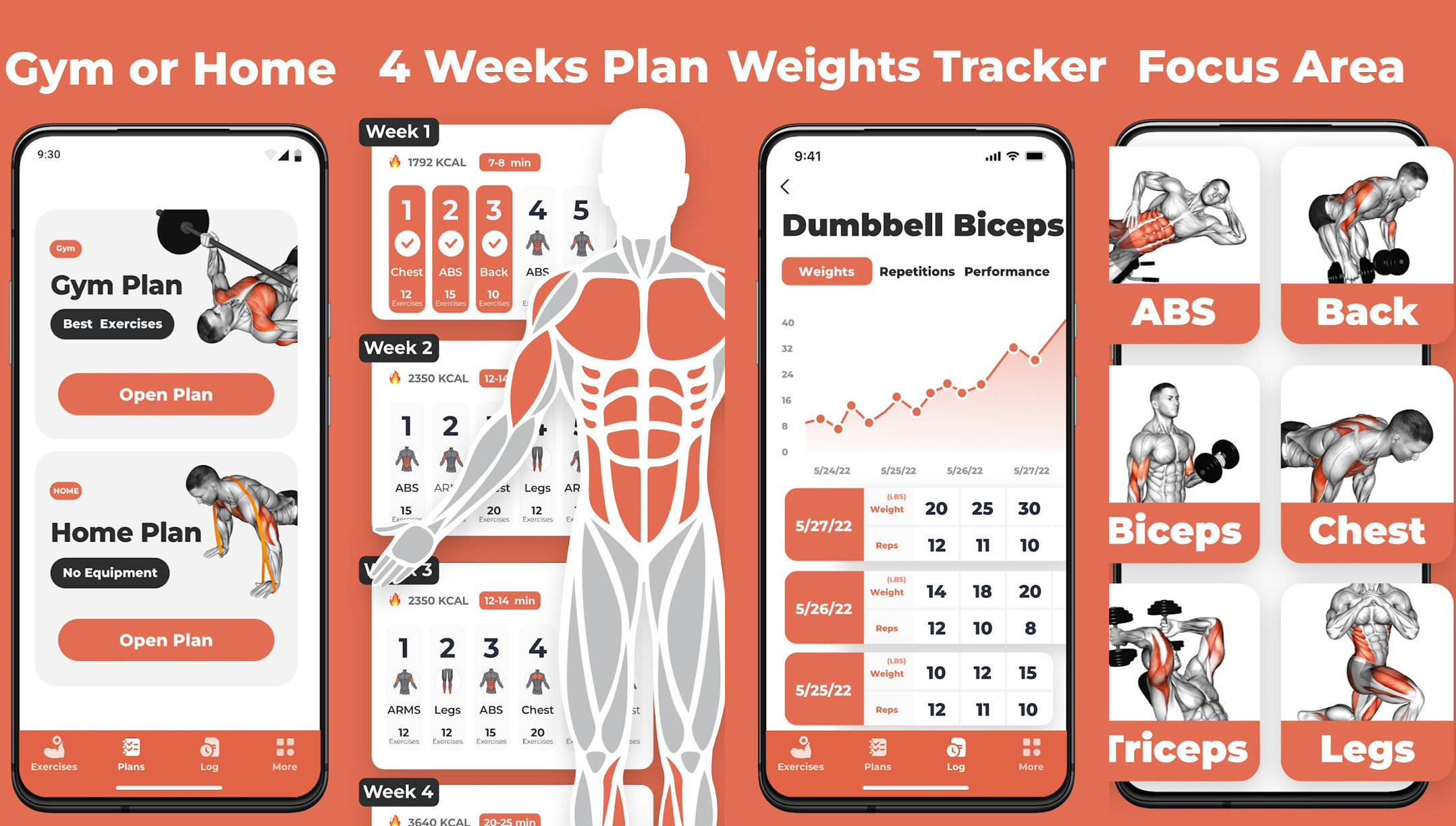 If you are willing to buy a subscription for bodybuilding then Fitness and Bodybuilding app can be one of the best choices. You get the option of a monthly and yearly subscription. The latter one is heavily discounted. VGFIT offers you 150+ exercises with video and stepwise instructions. It also shows you the target muscles of each exercise. You can either choose a pre-made workout program or make your own.
Features:
Over 150 exercises

Various pre-made workout programs

A detailed description of each exercise

Photo and video guidance for each exercise

Make your custom workout routine

Built-in timer and calendar

Discounted yearly subscription

Access your progress with interactive graphs

Switch between two different weighing units


10. StrongLifts Weight Lifting Log (By StrongLifts)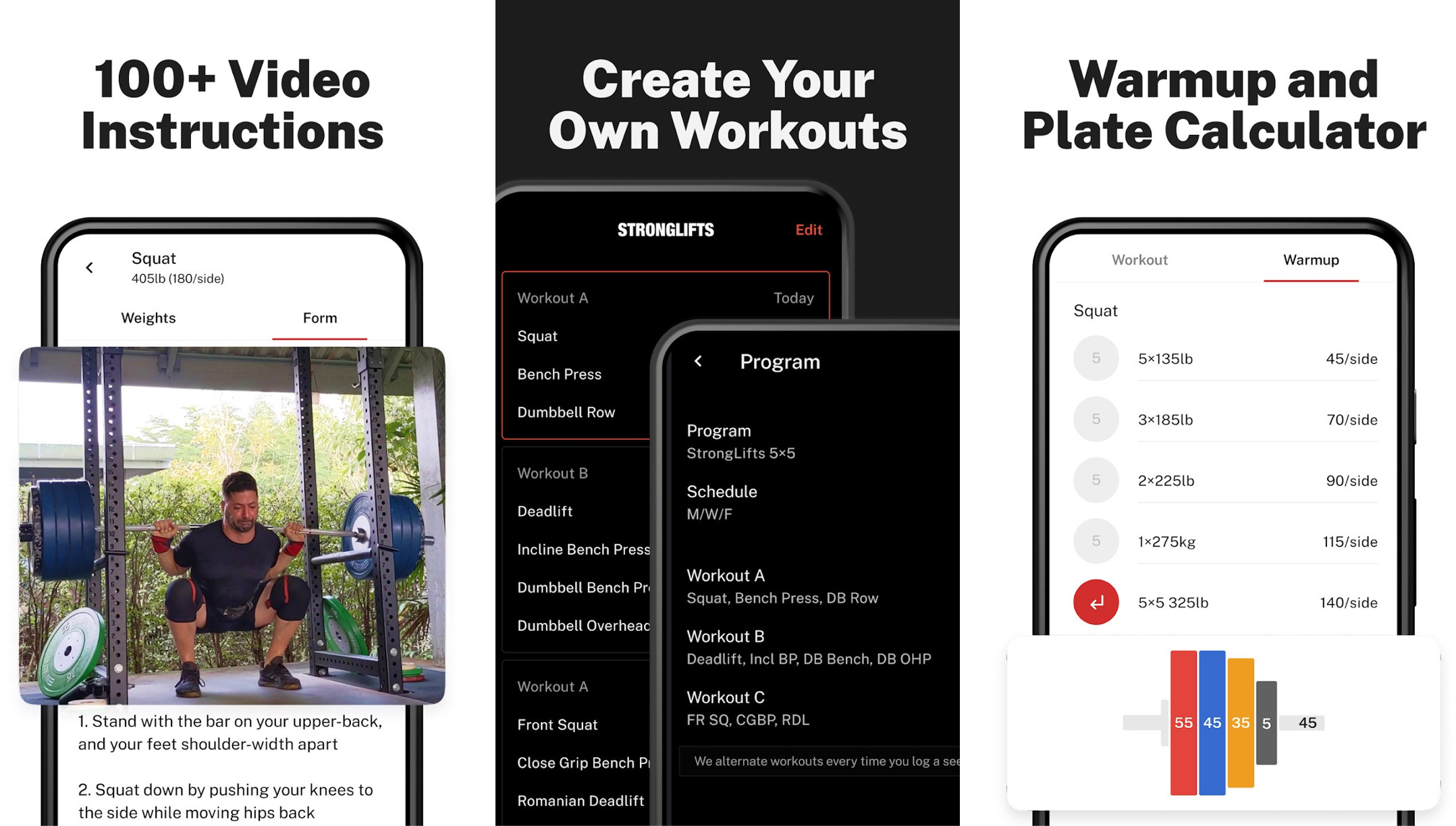 StrongLifts is another decent app for your gym workout training and planning. Create different workouts for yourself, access the workout calendar, and make notes. You can learn over 100 exercises With video instructions. StrongLifts supports Google Fit and has a community of 3.5 million users. You can toggle the timer feature and can switch between different weighing units. You get the 7 days of premium trial after which you can buy it to access the full features of the app.
Features:
Keep track of your progress

Male your workout notes

Plate calculator, warm-up calculator

Create your own workouts, and exercises

Sync your workouts with Google Fit

Supports kg and lb weight units

Video and instructions to improve your form

Free StrongLifts strength training programs