In today's world, people manage their day-to-day life on their phones, be it attending online classes, presenting papers in webinars, working online, or buying things. And most of it happens through calls. So with the help of a call recorder, you can easily record all of your conversations that might be very helpful later. So, it is natural that people to rely on the best apps to record phone calls for security and legal purposes. Some people also like to record calls from their loved ones.
There are some manufacturers like Xiaomi that include the call recorder app in the phone stock ROM. But what if your Stock ROM does not have the default call recorder app? No worry you can install any third-party call recorder app for your Android device that will work smoothly.
Some of the third-party apps will not work or will have some issue on some Android version because of Android OS security. Stock ROM comes with high security that why you will face some issues while using the call recording Apps in Android smartphones. We tested each Android call recorder apps on a single device and curated the 10 best call recorder app for Android.
Related Article: 10 Best Screen Recording apps for Android and iOS
List of 10 Best Call Recorder Apps For Android
1. Automatic Call Recorder by Appliqato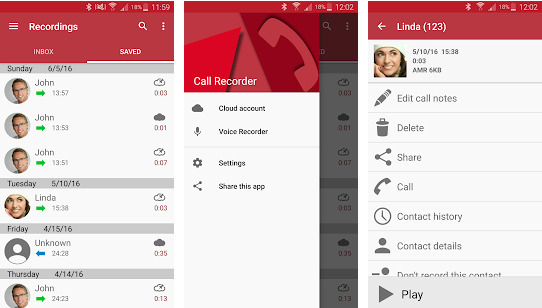 Automatic Call Recorder is one of the best call recorder app for Android smartphones that record all of your incoming and outgoing voice calls. The App comes with 3 default settings: record everything, Ignore everything andIgnore contacts.One of the best features of this app is that the app is integrated with Google Drive and Dropbox which automatically saves the recorded calls to the cloud.
Record everything: This setting records all the calls except the ones pre-selected by the user to be ignored.
Ignore everything: This setting records no calls except the ones pre-selected by the user to be recorded.
Ignore contacts: This setting records all calls(contacts and non-contacts) except for the contacts pre-selected to be ignored.
Features
Users can set calls to record or ignore.

Can share recordings and add notes.

Old recordings that are not saved will be automatically deleted when new recordings come in to free up memory.

Can search for recording through contacts, numbers, or notes.

2. Call Recorder – Cube ACR by Cube Apps IO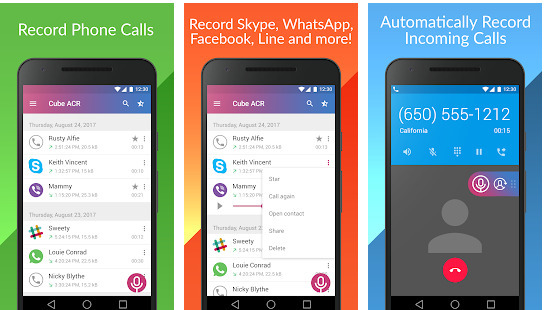 Cube ARC is anadvanced call recorder that comes with cloud backup support. This app supports recording conversations in Signal, Skype 7, Skype Lite, WhatsApp, Hangout, Facebook, Viber to name a few. In addition, this app also records conversations in most versions of android devices which is not easy to come by. So if you want a call recorder that recorder all of your call including the internet calls as well then this one is the best call recorder app for Android.
Features
Automatically saves every recorded call.

Can star recorded calls to listen later.

Has In-App playback that manages all the call recordings.

Select a list of contacts to exclude from automatic saving.

Cloud Backup

Password protection

Mark important portions of conversations while recording.

3. Call Recorder 2021 by apps corner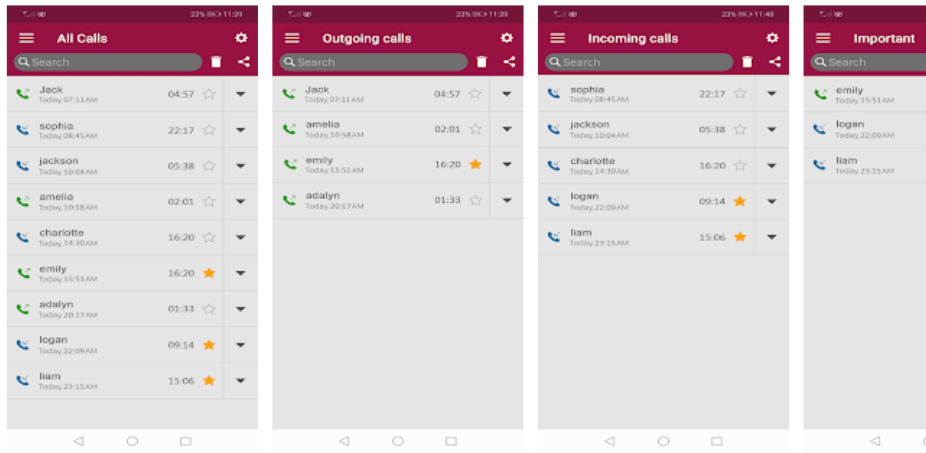 Call Recorder 2021 is a free call recorder app for Android devices. It can record conversations on both sides of the call in high quality. This app also lets users synchronize their recordings with the cloud. This is also very easy to use and is available globally for thousands of users. In this app, you can also define a contact as a whitelist and which contacts to ignore. You can also lock and protect important items from automatic cleaning.
Features
Automatically records call during incoming as well as outgoing calls.

Organize calls by their list of names or by time.

Users can record recordings on an SD card.

Recorded calls can be marked as favorites for future use.

Numbers on the blacklist will be automatically ignored.

Users can set passwords to protect private calls.

4. Blackbox Call Recorder by CRYOK SIA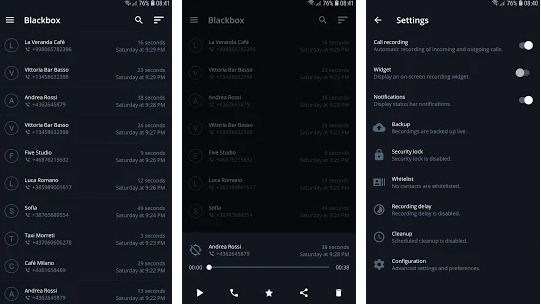 Blackbox is a professional call recorder developed for the automatic recording of conversations. This app is one of the most user-friendly apps out there to record conversations on Android devices. As we said this is a professional app that comes with a clean and user-friendly UI. The updated feature of this app supports Samsung Galaxy S9. Conversation sorting has also been improved with the latest update.
However. this app does not support VoIP calls from WhatsApp, Viber, Messenger, Skype, etc.
Features
Has PIN Lock system.

Automatically backup and restores data to Google Drive.

Users can clean up old recordings in an automatic schedule.

Can sort recordings by date, time, or duration.

Can mark important recordings as favorites.

Bluetooth is supported.

Has proximity sensor for playback.

5. Truecaller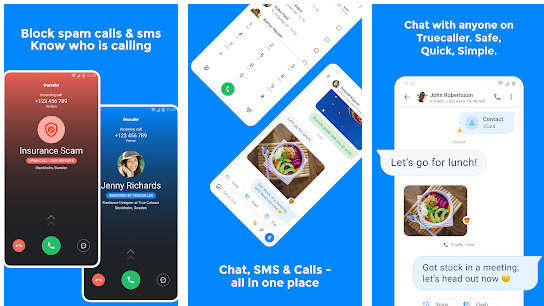 Truecaller as you know it is one of the best spam call blocking app. But along with blocking spam calls, it has lots of other features like call recording. This app gives a lot of emphasis on the safety and security of its users. Truecaller has a community-based spam list that is updated by millions of users every day. So if you want a call recorder and a spam call blocker in a single app then Truecaller is the best Android app to record calls.
Features
Automatically identifies every unknown incoming call.

Automatically blocks spam and telemarketing SMS.

Records important calls and messages.

Has free chatting service with friends and families.

Has voice calling in its app to talk to friends for free.

6. Call Recorder Automatic by Tap – Mobile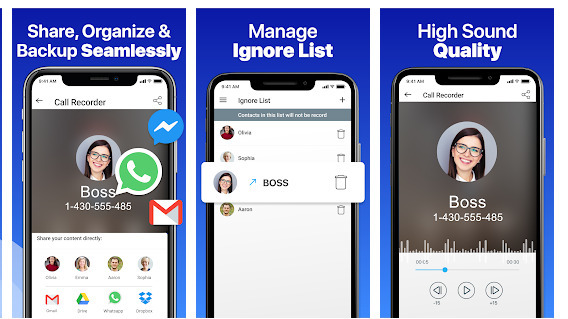 A simple call recorder for your Android phone with a very simple interface and better sound quality.The app allows users to backup call recordings to the cloud. It is also excellent for business purposes. This app works perfectly for all versions of android except Android 10.
Features
Automatically records all the calls.

Reveals the identification of unknown callers.

Can share call recordings.

Easy to manage all the call recordings.

Call recordings can be sorted according to names or can be grouped into names.

7. Automatic Call Recorder Latest (ACR) by Q4U Mobile Apps.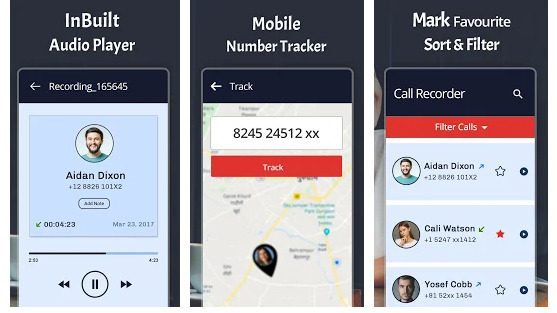 Automatic Call Recorder latest is an auto-call recording app that records calls in high quality and without any limits. This app also shows the list of recorded calls that users can sort and also star their favorite recordings. Through this app, it is easy to upload recorded conversations in Google cloud.
Features
The Caller ID feature reveals the identity of an unknown caller.

Can sort and star recorded call recordings.

Lets users add notes to the call recordings.

Can record calls without limits.

Good audio quality from both ends.

8. Call Recorder- Automatic Call Recorder Pro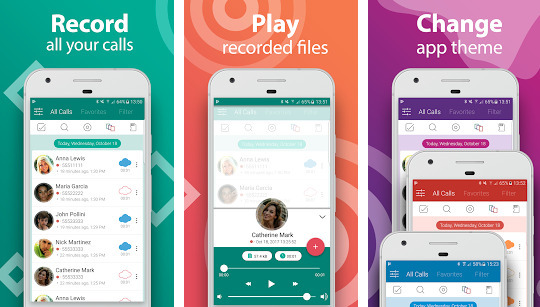 One of the best call recorders for Android comes with a beautiful user interface. Additionally, thelevel of clarity in reference to the audio on both sides of the conversation is high in this app. This app also lets users archive important calls for business purposes.
Features
Identifies unknown callers.

Record calls automatically while calling except the contacts pre-selected to ignore.

Users can send calls via emails.

Call recordings are protected by passwords.

Can share files through Dropbox, Google Drive, SMS, WhatsApp, Viber, and Skype.

Has manual recording feature where users can start recording a call by tapping on the floating widget or by double-clicking the volume up button during a call.

Samsung Galaxy S9 and S9 plus optimized.

9. CallApp: Caller ID, Call Blocker and Recording Calls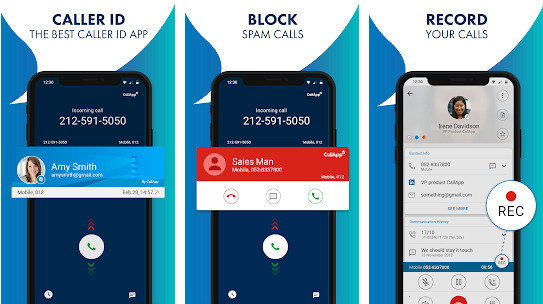 CallApp is an award-winning app to record conversations trusted by 100 million people. This is another best Android call recorder app that comes with a caller ID checker. The single app is all in one app that records your call and blocks unwanted calls. With this app, users can replace their dialer and address book with this app for smooth usage.
Features
Record calls automatically.

Can send call recordings on social media.

Identifies unknown caller ID and unknown numbers.

This is also a dialer app. Therefore, users can dial any number directly from the app.

Users can choose between automatic call recordings and manual call recordings while recording conversations.

10. Super Call Recorder by MeiHillMan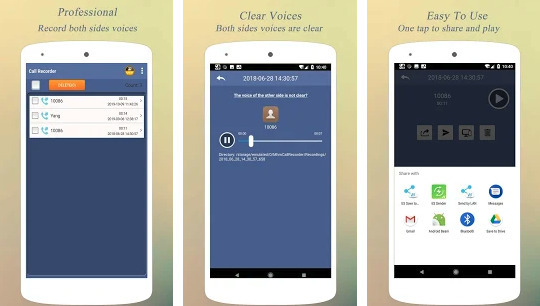 Super call Recorder app is completely free and supports most models of Android versions of the phone. This app has an in-built storage and playback system and is therefore not dependent on other medical storage. The quality of call recordings is mostly dependent on the system of the device.
Features
This app is completely free

Automatically records conversations during calls.

Can record both side voices of incoming and outgoing calls on most devices.

Users can easily export recorded calls to the SD card. In addition, email, WhatsApp, and other messaging apps can share the recorded calls.