Calorie trackingapps can help you achieve your goals of improving your health or losing weight. You won't face any hassles during the calorie tracking process thanks to the software application.Calorie counting applications frequently give you a customised daily calorie diet to assist you in reaching your health objectives.
Some calorie-tracking applications will provide a daily calorie consumption plan that is tailored to your particular requirements and health objectives. You can track and tally the calories you consume each day with these calorie counter apps for Android and iOS devices.
However, several of these apps fall short of expectations or are expensive. As a result, I've compiled a list of the 10 best calorie counter apps available on both Google Play and the App Store that you can download so that you won't have to do your daily caloriecountingall on your own.
Related Article: 10 Best Mental Health Apps Of 2020 | Android and iOS
1. Calorie Counter by MyNetDiary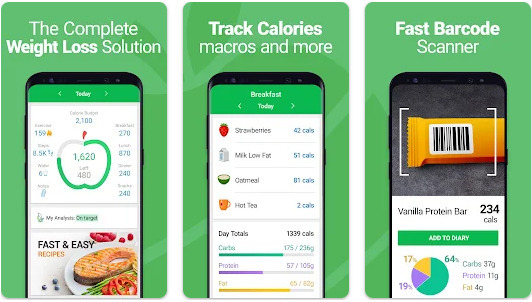 MyNetDiary is arguably the one of the best calorie counter app on this list with comes with lots of free features. It has everything everyone needs, plus a library of professionally verified foods and diets because the MyNetDiary app can help you better understand and manage diabetes and prediabetes, improve your diet, lose weight, and provide feedback.
MyNetDiary is the bestchoiceif you want to keep track of food, exercise, cholesterol, nutrition, and weight data in a convenient way.MyNetDiary is unlike other diet programs in that it is uncomplicated, easy to use, generous with its free features, and ad-free.
The best feature of MyNetDiary is its integration with the Google Fit tracker, which allows you to get a complete picture of your health by tracking your weight, calories, exercise time, steps, and sleep.
Features
Dashboard customization allows you to change the way the program looks and functions.

This calorie counter app also includes integration with Google Fit and Samsung Health

Quickly record your meals with a barcode scanner and immediatelysearch in a food notebook.

Strong mega-database of food labels that arevalidated and updated every day with information from eateries, grocers, special diets, and ethnic foods.

Diet and nutrition articles that are continuously updated by registered dietitians and arranged in blog and diet-specific collections.


2. HealthifyMe – Calorie Counter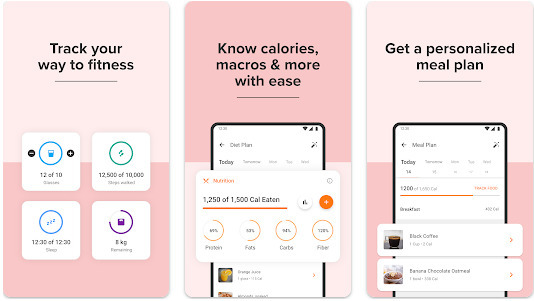 HealthifyMe is a ground-breaking health and fitness app that offers individualizedworkout plans with certified fitness coaches and smart meal plans created by ateam of expert nutritionists.
You can use this best calorie counter app for Android and iOs devices to monitor your daily caloric intake, weight goals, workouts, water consumption, sleep patterns, meal log, and step count. It will take your fitness objectives to a whole new level because it is recognizedas the greatest inclusive coaching free calorie counter app in the category.
Features
Ria (AI Nutritionist) keeps you motivated and responds to your questions in real-time by utilising technology's best bet.

With their often updated articles, you can get more knowledge and strengthen your understanding of wellness and health.

The app aids in tracking your daily activity and keeps track of your food intake.

Get data-based insights to assist you in planning your diet and creating a calorie budget.

Access to internal nutritionists, fitness instructors, and dieticians for expert advice.


3. Calorie Counter byLose It!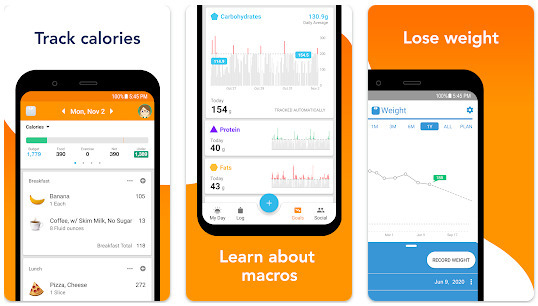 Lose It! is the best calorie counter app for iPhone, if you want to lose weight with great UI/UX. A customized weight loss plan, mess planning, exercise schedule, and perceptivity into your eating and behavioral trends are some of its Premium features. The capability to measure your water input, macronutrients, and blood pressure is just one of its numerous expansive shadowing capabilities that go beyond counting calories.
Lose It! offers a customized calorie input suggestion grounded on your weight, height, age, and pretensions. Your calories are also tracked on the home runner. It comes with a thorough food database and an icon for each food table. This app is the best calorie counter for iPhone not only because of its stoner-friendly and uncomplicated interface, but also because it tracks diurnal and daily summations, provides access to a lively discussion group, and plots changes in weight.
Features
It helps you create a personalized weight loss plan according to your body composition and daily activity level.

They provide a huge database of over 32 million foods and exercises which one can easily access and log with a personalized search.

Scanning food labels can be done using your camera through the Lost it! app.

This calorie counter app also includes integration with Google Fit and Apple Health.

Lose it! helps in monitoring your consumption of macronutrients, water, blood pressure, measures, and other things.


4. Carb Manager – Keto Diet App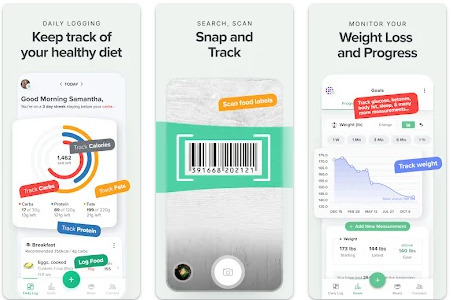 This app might be a good fit for you if you're on a low-carb or ketogenic diet and need a tool to help you track your calories. It provides a good amount of background knowledge on the keto diet in addition to cutting-edge analyses that monitor vital signs like blood glucose and ketones. This app has barcode scanners and photo recognition technology for speedy food logging, making it simple to record your meals as well.
This isundoubtedly the best calorie counter app as it contains a database with nearly 3 million food items and thousands of keto-friendly recipes. It even tracks fluid intake, physical activity, macro, and micronutrient intake, incorporates fitness equipment ,etc…
Features
Carb Manager is the best calorie counter app for tracking your macros because it is simple, intuitive, and build to support your progress.

This app available lets you track and modify your favorite foods using a scanner, a camera, or even your voice.

It has a huge database of 50,000+ food dishes so you can instantly access to low-carb and Keto diet recipes.

With their tools for weekly meal planning that is based on your macro targets and customized to your diet and preferences, life will be easier.


5. MyPlate Calorie Tracker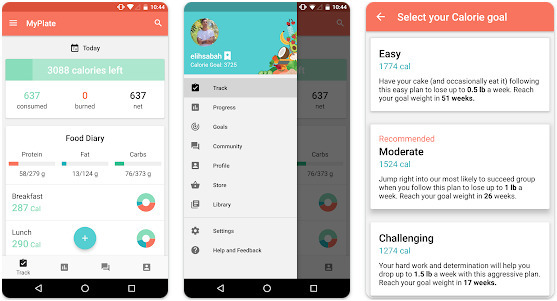 MyPlatecalorie tracker app is a good choice if you're looking for a simplistic calorie counter with a fitness focus that also includes a selection of at-home exercises. Keeping note of your intake of net carbohydrates, sodium, cholesterol, and saturated fats can provide you with a full picture of your dietary preferences.
Access to a group of people, a barcode scanner, and a database of over two million items are all included in the MyPlate calorie counter app. It also features integrations with the Google Fit and Apple Health applications for Android and iOS.
Features
The MyPlate calorie counter app is the largest food database in the world and offers serving sizes, calorie counts, and nutritional data for millions of different foods.

To swiftly scan things or make bespoke dishes, use the barcode scanner.

Check your intake of macronutrients to see if it is healthy.

It enables you to track your development over time and evaluate your outcomes.


6. MyFitnessPal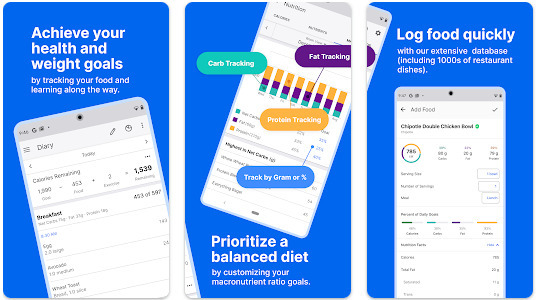 You can effortlessly keep track of your macros with MyFitnessPal's calorie, nutrition, and keto calculators. It's one of the most accurate tracker/app pairings available on , which is critical for calculating calories and takes a lot of the guessing out of it.
MyFitnessPal is the clear winner on this list since it contains the most comprehensive food database, an easy-to-use barcode scanner, and extras like goal setting and monitoring, fitness logging, and a thriving community.MyFitnessPal has over 200 million users, and for a good reason that it provides free calorie tracking. In addition to basic features such as kilometers traveled, activity minutes, pedometer and calories burned, MyFitnessPal can be your fitness diary.
Features
One of the biggest food databases lets you keep track of the calories in over 14 million different items.

Fast and simple food tracker tools let you type to search, add foods from your past, or use your phone's camera to scan a barcode or an entire meal.

Let's you analyze nutrition intake and set precise goals for macros, cholesterol, salt, fiber, and more. analyze nutrition intake and set precise goals for macros, cholesterol, salt, fiber, and more.

Automatically count calories and track your daily progress.

See carbs, fat, and protein breakdown by gram or percentage.

Keep tabs on your hydration levels.


7. Calorie Counter App – Fooducate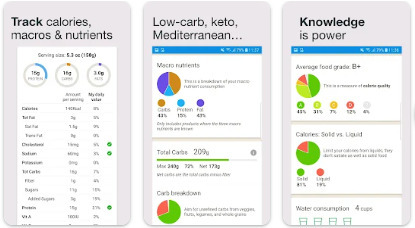 Fooducate Healthy Weight Loss & Calorie Counter will be the best calorie counting app for you because of its huge database and easy-to-use interface.The App has large databases and graphs related to our eating habits, meal plans, and more. As such, these apps are widely used by fitness enthusiasts and weight watchers.
Fooducate examines data from ingredient and nutrition listings on products. This free calorie counter app lets you scan food products and discover the details that producers don't want you to notice likeextra sugar that has been added, Complex trans fats, MSG from high fructose corn syrup, disputed food colorings, and much more…
Features
It enables you to weigh the benefits and drawbacks of a product and select a better substitute.

Fooducate keeps track of your calorie intake, exercise, and caloric quality in addition to the mount.

You can include your meals to track Using this app's free calorie counter.

Obtain a customizednutrition grade by scanning a product's barcode.

Pose questions to the community and get responses.


8. Calorie Counter by FatSecret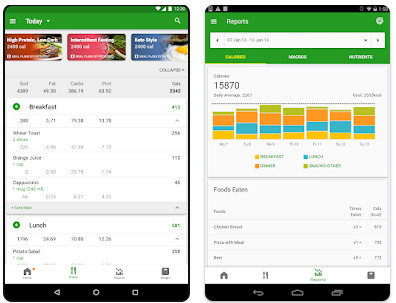 FatSecret is a completely free calorie counter app that has a notebook, a weight chart, an exercise log, a nutrition database, and healthy recipes. The average daily calorie intake as well as monthly totals are shown in FatSecret's monthly summary view. You might find this feature useful for keeping track of your overall development.
Additionally, the app has a chat forum where users can share success stories and seek advice, recipes, and other things. Users can establish or take part in dietary challenges in a small group of people using the "challenges" option that FatSecret provides.
Features
FatSecret contains a huge collection of data to maintain andrecord your eating habits.

Adatabase with highnutritious recipes for your diet.

A weight chart and journal are useful for tracking your development.

This free calorie counter app also has information about nutrition for all foods, brands, and eateries.

Additionally, it has an exercise journal to track every calorie you burn.


9. Cr0nometer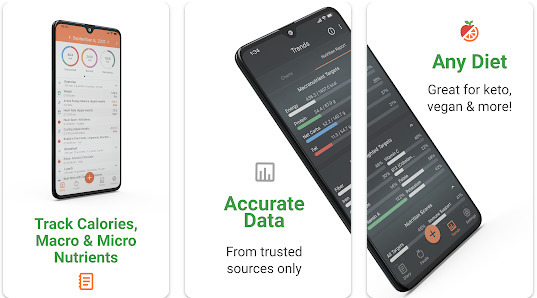 You can easily cover your food, exertion, and body weight with Cronometer. It provides precise serving sizes as well as an effective exercise database. However, you can choose a special profile with increased calorie necessities, If you're expectant or nursing.
The food diary is really straightforward and convenient.It's followed by a bar map that displays the day-to-day breakdown of carbs, fat, and protein along with the total number of calories ingested. Since it is excellent for monitoring micronutrients like vitamins and minerals. The app offers a Gold premium that removes advertisements, enables sophisticated analysis, and adds a few other functions.
Features
Cronometerhelps you keep a food journal and monitor your macro- and micronutrient intake.

With this app, you can design your biometrics, exercises, and dietary items! and find out how biometrics and nutrition change with time.

To achieve your goals, set weight, macro, and nutrient targets.

Keep a record of your intermittent fasts and monitor the results over time.

Additionally, diet assistance is available. No matter if you're vegan, Keto-ing, or following a diet that your doctor has advised.


10. Calory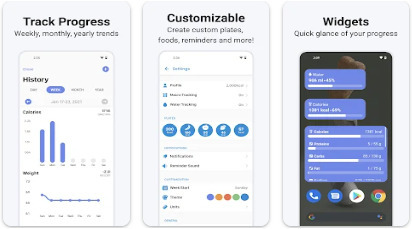 Calory might be the ideal calorie tracker app for you if you're seeking for the most straightforward one. You can register either calories or foods with Calory, but it exclusively keeps track ofyour daily calories consumed.
On its home page, a bar graphshowing the proportion of calories consumed and the calorie count left in the day is displayed. These figures are calculated by the app when you set your goals.
Also, the app saves your most recent food logs and provides a list of common foods to make coming entries easier. By upgrading to premium, you can get a barcode reader, dishes, macros and water monitoring, a macro and water database, and recipes.
Features
Calory is useful nutrition, health, and weight loss app since it gives you a convenient way to keep track of the calories you consume.

Basic capabilities include macro tracking, weight tracking, and hydration tracking.

You can check weekly, monthly, and yearly progress charts in this calorie counter app, which gives you a great overview of your food diary history.

Additionally, Calory offers a huge selection of meal recipes to get you started!