You've probably heard the adage, "An apple a day keeps the doctor away." To cut to the chase, we might say that the food we eat affects our lifestyle or that it correlates with it.
Today, most of us neglect to monitor our eating habits because of our hectic schedules, which leads to health problems. We owe a debt of gratitude to technology for making it possible for us. But don't worrythese bestmeal planner apps make it a little bit simpler to keep a regular eye on our eating habits.
List of 10 Best Meal Planner App For Android And iPhone
Why use an app for meal planning?
If a patient has certain conditions, such as diabetes or heart disease, or is at risk for developing them, a doctor may advise them to follow a meal plan. They might also advise those trying to control their weight to do this. Although a handwritten meal plan is an option, other people may prefer meal planning applications.
Fortunately, a wide range of applications may make meal planning much more feasible, as well as possibly aid in weight loss.
It can be a little challenging to arrange meals. But the principle is simple. Meal planners make it easy for you to plan your meals so you don't have to worry about what to cook. You have a lot of choices in this area, and they're not all recipe applications, as you might be surprised to learn.
Since we have a whole list of applications for those categories here, we left out apps that merely contained grocery lists and recipe capabilities in the spirit of variety. However, many of them also include meal planning and grocery list functions. We have curated a list of10 best food planner apps for Android and iPhone that will help you live your life in a healthy way.
1. Veganized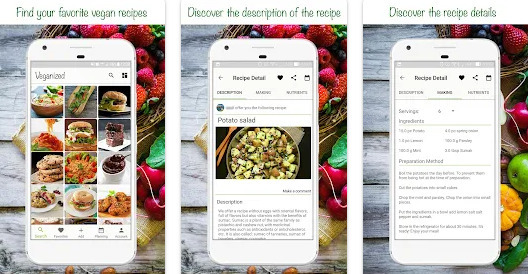 Nowadays, a large number of non-vegans are converting to veganism. If you're new to vegetarianism and struggling to find a good guide, veganizing is one of the best meal planner app for you.
The vegetarian meal planning, shopping, and preparation software is helpful. It can be used to create a grocery list, assemble ingredients for a meal, and keep track of your nutritional intake.
With the help of this recipe app, you may not only search for recipes but also share your own on different social media sites. Additionally, this gorgeous software is renowned for providing individualized meal plans depending on an individual's age, gender, weight, and physical routine. The main con of this app is that it is available only for Android.

2. COZI Family Organizer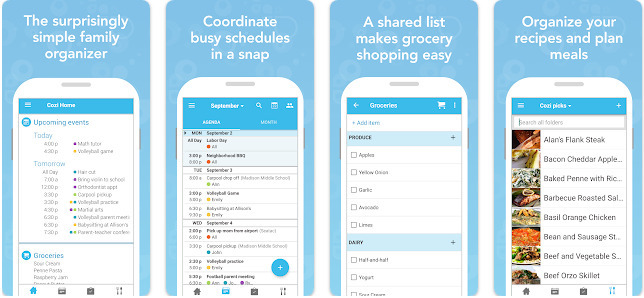 Cozy Family Organizer is one of the best meal planner apps for Android that inbuilt a family calendar where you can put reminders for significant family conversations. This is a sizable platform for managing a large family's schedule and planning their meals. When arranging a menu for a party or making supper, Cozi's recipe box and dinner planner both feature a sizable grocery list from which you may choose the ingredients and add them to your favorite list. You can import your preferred recipes from any internet site to the Cozi app using the import option.

3. PlateJoy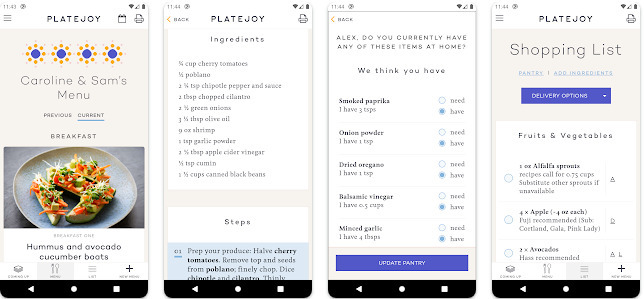 If you are trying to lose weight then PlayeJoy is one of the bestmeal planner apps for iPhone and Android devices. It offers a membership that costs a little more than other apps on our list, but depending on your health plan, you may be able to subscribe for free. The fact that this food planner was developed and is still maintained by nutritionists is a key component.
The best meal planner app for android also has a few other functions in addition to keeping a healthy balanced diet.The price of a subscription is $69 for six months or $99 for a full year. The nutritionists at PlateJoy will create a special, tailored meal plan exclusively for you when you sign up and complete a lifestyle survey.
This meal plan will also include an automatically created shopping list that you can combine with different supermarket delivery providers. You can integrate the app with your FitBit to measure calories, and nutritionists can also be contacted by phone or live chat for advice.


4. Mealime Meal Plans and Recipes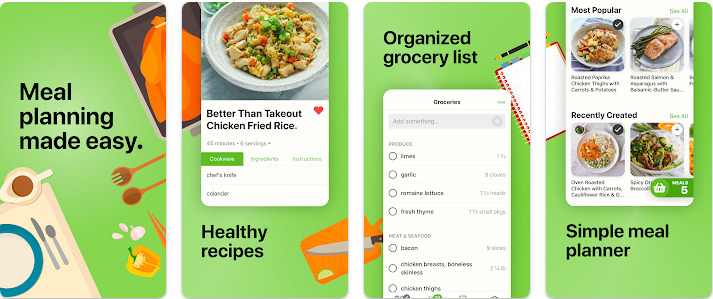 Mealime is an easy-to-use app with comes with a great user interface. If you're looking for curated recipes, intuitive shopping list tools, and an easy-to-use meal planner then Mealime is the best choice. You can choose your preferred diet when you register, including vegan, gluten-free, keto, and many other options. Check the boxes next to allergies and the app will filter out recipes for you.
We have a wide variety of healthy dishes carefully selected by 5 chefs. You can view the required utensils, ingredient list, instructions, and cooking time as you select your dish. The software program robotically creates a buying listing primarily based totally at the recipes you choose. Get access to premium his edition extras, including unique recipes, a nutrition tracker, and sophisticated recipe filters.


5. Eat this much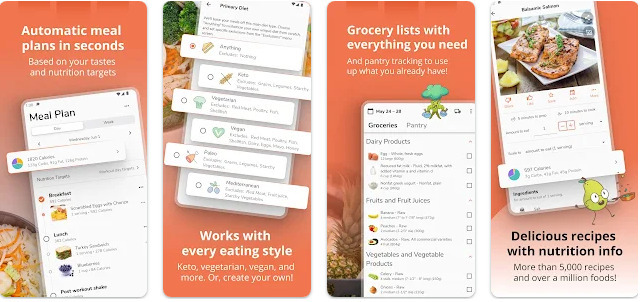 Here is an alternative strategy: Eat This Much invites you to enter your food choices, your budget, your schedule, and the number of calories the meals will have if your main objective is to lose weight. Following that, it will produce meal plans for you and offer grocery lists for the required ingredients.
This software may be able to assist you in creating healthy eating habits if you prefer to cook (as opposed to ordering takeout). The option to count and create food based on net carbohydrates has been added in more recent versions. The new Food Search feature makes it easier to find your favorite foods and lets you explore several food categories at once.


6. Paprika Recipe Manager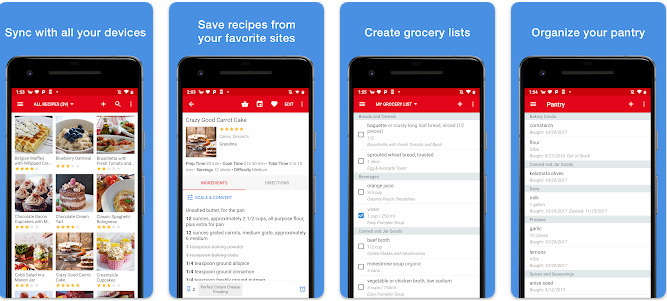 Paprikameal planner app offers numerous customization features in its free edition that other applications charge for it. You may easily search for recipes online with this meal planner and recipe organizer's built-in browser without ever leaving the app.
Recipes can be downloaded, the ingredients can be added to a shopping list, and then the recipes can be added to a meal calendar. A useful feature if you wish to repeat a collection of recipes is the possibility to create menus. Overall it is one of the best meal planner apps for Android and iPhone that offers plenty of features absolutely free.


7. Yummly Recipes and Cooking Tools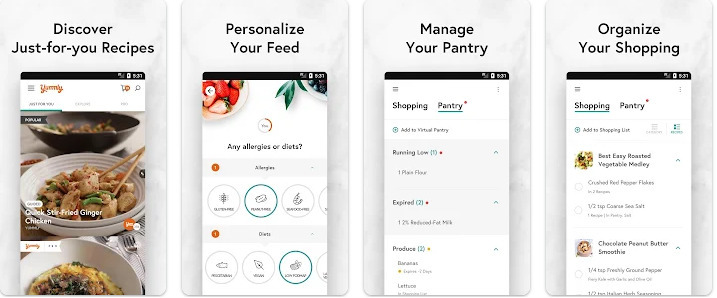 The free edition of this app has over 2 million recipes available, so there are countless ways to get cooking ideas. Another lovely addition is the instructional cooking films that are included in a few of the recipes. It is a free meal planner app available in basic version.
You may tailor your recipes with Yummly depending on your culinary objectives (pick up new techniques, try out new foods, save time and money, or eat healthily), skill level (starting, intermediate, and advanced), or dietary preferences (keto, vegetarian, low FODMAP, etc.). Some of the recipes include step-by-step guided video instructions, which is a great addition.
Additionally, Yummly gives you the option to schedule meals and have them sync with your calendar rather than on the app. The shopping tool is configured to allow you to quickly order ingredients using a variety of methods.Other functions offered by this best meal planner app for iPhone include maintaining a healthy, balanced diet.
The app's free basic version includes over 2 million recipes. Yummly Pro costs $4.99 per month or $29.99 per year and has even more bells and whistles. Yummly offers a 14-day free trial if you want to try out the premium version before committing. Both iOS and Android users can download his Yummly.


8. DietWiz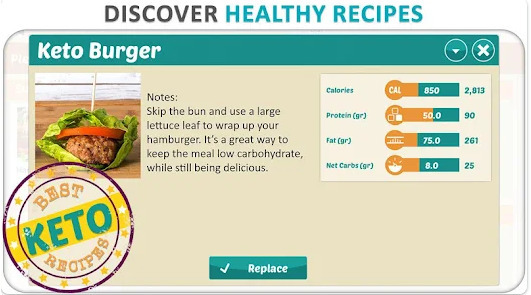 Dietwizassists users in meal planning for weight loss. So if you searching for an app that can help you to lose weight then DietWiz is the best meal planner app for you. Vegetarian, gluten-free, paleo, sugar-free, non-dairy, keto, and low-cholesterol diets are among the dietary restrictions it can accommodate. People can upload their recipes and the app keeps track of their progress.
A food planner app can accommodate almost any dietary need, whether you lack the time to plan your meals, want to lose weight, or prefer to prepare large quantities of food. Dietwiz is working hard to help you stick to your healthier plans and is therefore regarded as the best meal planner app for Android.
Additionally, it has a recipe forum, calorie and BMI counters, and a macro calculator. The software can create grocery lists and contains preloaded recipes.


9. SideChef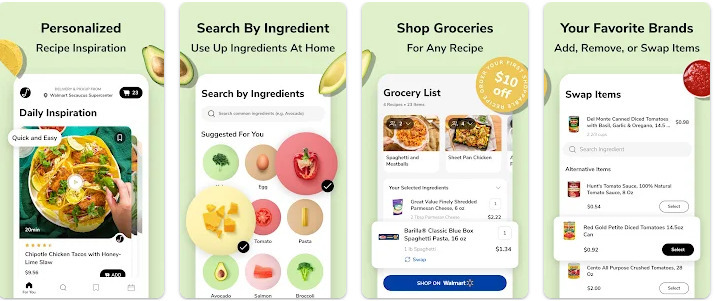 One of the most popular meal planning apps for smartphones is SideChef. It offers an enormous number of recipes for numerous different diets. You just need to specify your dietary restrictions to the app, and it will provide you with recipes tailored to your needs. The meal planner on the app is also extremely useful. You add meals by going through the calendar.
You leave once the app adds them to a shopping list. The app also includes step-by-step instructions and compatibility with LG, GE, Bosch Home Connect kitchen appliances and other goodies. Most features are free in this meal planner app.


10. Prepear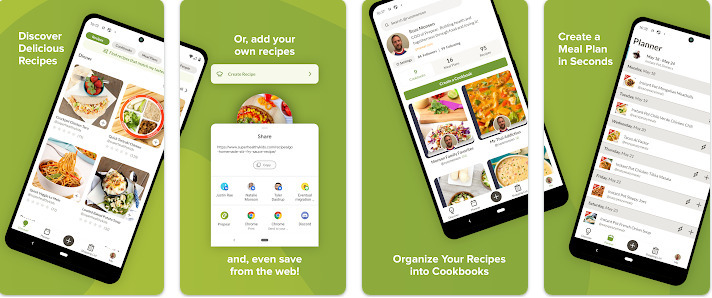 Prepear provides manual or online entry possibilities coupled with the convenience of a pre-set recipe library.After creating an account, you may start by looking through the Prepear database's recipes. Recipe ingredients are shown, but cooking instructions must be found on the recipe's source website, not in the app, which can be difficult to use.
Apart from that, the app is user-friendly and lets you filter recipes based on things like taste preferences, allergies, cook times, and alternatives for different types of cuisine. Create a meal plan or buy one of the many food blogger plans sold online.
Each recipe also includes a full nutritional analysis. Once your meal plan is ready, you can even access customizable shopping lists.You can share pictures of your culinary accomplishments (and disasters) with friends and family using this app's social media features.
If you're preparing meals for your family, there are lots of kid-friendly recipes in the app's database.
Prepear's biggest flaw is the monotony of the meal options available in its recipe database; if you apply more than one or two filters, you wind up with a very limited selection of menu items. However, if you include your own recipes, this drawback is mitigated.
Prepear offers a free version with constrained functionality, or you may pay $119 for an annual Prepear Gold membership, which offers ad-free access, unlimited access to meal plans, and cook mode.


Wrapping Up
One of the many meal planning apps on the market will undoubtedly match your spending limits, household requirements, and food preferences. Most of the apps we reviewed, from free to premium versions, offer weekly meal plans, a library of recipes to choose from, and shopping lists, so it's easy to keep track of what you need to buy. You may save time and money by using meal planning apps, and they can also reduce food waste and unnecessary packaging.