With everything getting digitalised around us, it is important that we archive our important files digitally on our mobile devices. The best document scanner app allows us to scan our documents with high clarity, converting them into PDFs and many more. You can also store all your documents online or in your device storage and lock them up with a passcode for double security.
However, for scanning documents, you need not invest in advanced OCR technology as there are apps that can do the work efficiently for you. To make it easy for you, I have made a list of the 10 best document scanner app for Android, iPhone, and iPad.
Related Article: 5 Best Real Digital Scale Apps for Android and iOS
List of 10 Best Document Scanner App for Android and iPhone/iPad
1. Adobe Scan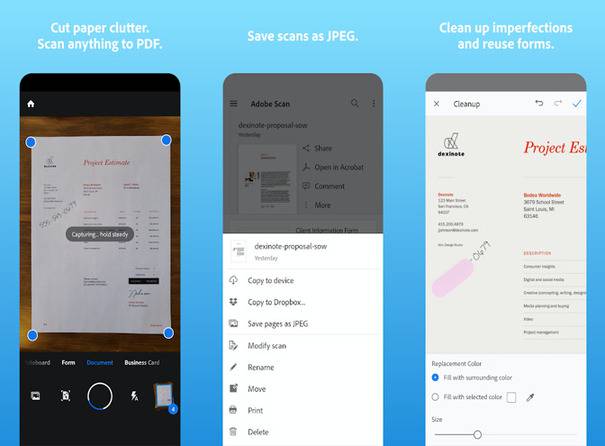 The first in our list of best document scanner app is Adobe Scan. It is a powerful portable scanner that can automatically detect printed texts. It can also convert them into digital form. Moreover, with this app you can scan anything from receipts, business cards, notes, photos, documents, whiteboards and convert them into Adobe PDF. Adobe Scan is also one of the most popular apps for Android and iOS devices to scan documents. It is user-friendly and extremely simple to use.
Features
With its OCR text recognition capabilities, you can easily edit PDFs.

Advanced image technology can automatically detect borders, recognises texts, and sharpens scanned contents.

Edit or remove imperfections from your scans like marks, creases, and handwriting.

With OCR technology, you can reuse scanned contents.

You can share the scanned documents via email or save them in the Adobe Cloud to use later.


2. Microsoft Office Lens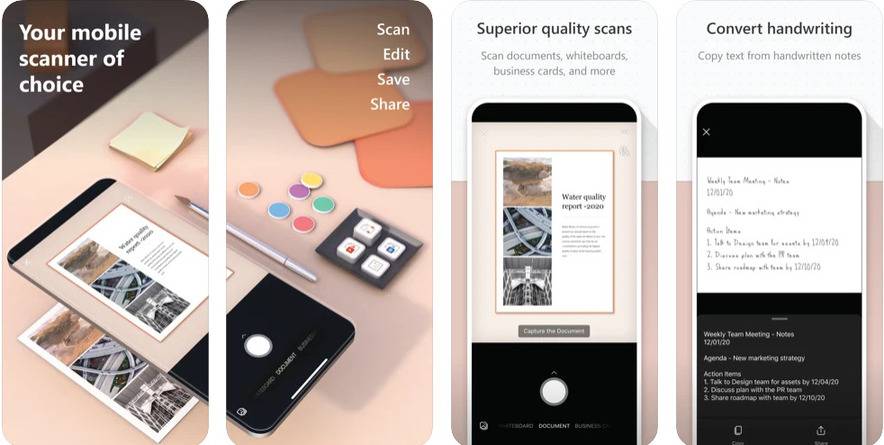 Microsoft Office Lens, now called Microsoft lens is popular for its simple interface and clarity. Like others, this is an app to scan documents, notes, and whiteboards. Microsoft Lens is perfect for those who spend a lot of time working on the Microsoft Office suite. You can save the converted images in OneDrive, One Note, or any of your local devices. In addition, the app boasts of being the best scanner app for Android and iPhone/iPad that works well for business as well as school.
Features
Scan business cards and save them to your contacts.

Convert images into PDFs, PowerPoint, Word, or Excel files.

Save scan to Microsoft OneNote for quick reference.

OCR technology recognises English, Simplified Chinese, German and Spanish.

With this document scanner app, you can scan up to 100 pages for PDF creation.


.
3. Abbyy FineScanner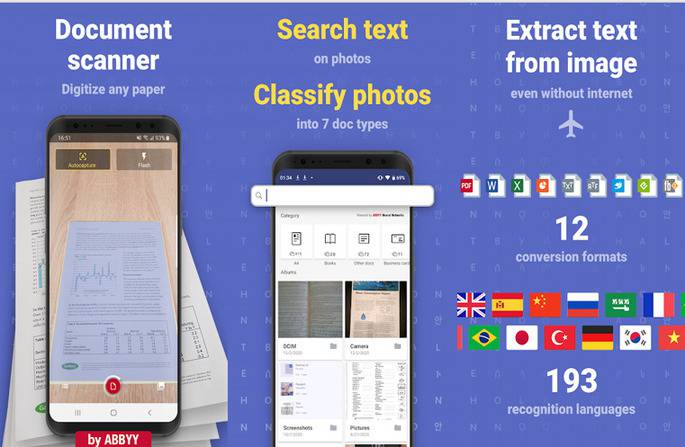 Abbyy FineScannerhas a powerful scanning application with impressive technology. Not only can it scan the printed document accurately but also captures both coloured and black-white documents. Moreover, this app works extremely fast. It supports 193 languages and 12 formats and was ranked the best document scanner app in over 98 countries. It is. Abbyy Finescanner is available for Android but might be the best scanner app for your smartphones where it can straighten curved text lines.
Features
Convert scanned images into PDFs, PPT, Excel, TXT, EPUB, FB2, and Word.

Corrects the perspective of the image and makes it rectangular and upright.

OCR technology can scan an open book and convert it into individual pages.

You can crop scanned images and adjust features like contrast or brightness.

Save scanned images and documents to the cloud or iCloud, DropBox, Drive, etc.

Neural Network can analyze the gallery and split images into A4, business cards, books, handwritten, Ids, receipts, etc.


4. Scanner Pro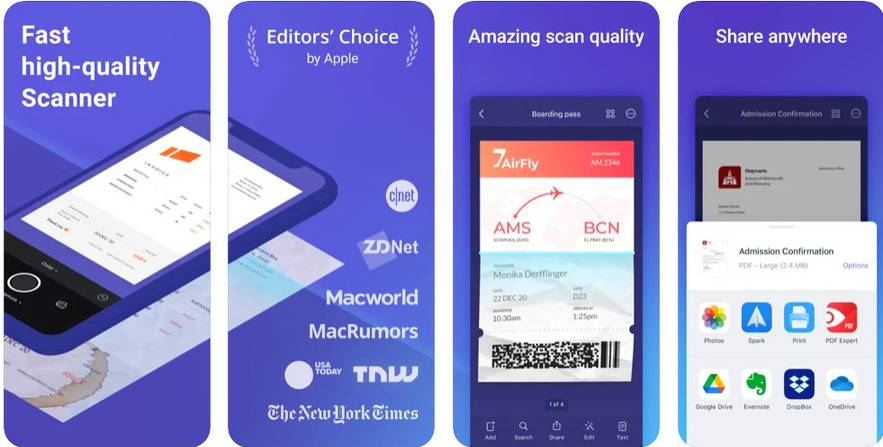 Scanner Pro is exclusive to iOS and might be the best scanner app for iPhone if you are someone who likes getting things done without much work. With this app, you can turn any documents into high-quality PDFs and store them anywhere. Additionally, its advanced image processing automatically detects borders and corrects perspective. Scanner Pro supports 25 languages and its OCR technology can convert texts into images that can be edited later.
Features
Scanner Pro is extremely fast and can scan documents in seconds.

It can automatically remove shadows, distortions and make scans look professional.

You can exports scans to other apps.

Can search scans not only by their titles but texts as well.

Protect your scanned documents with a password or Face ID or Touch ID.

5. CamScanner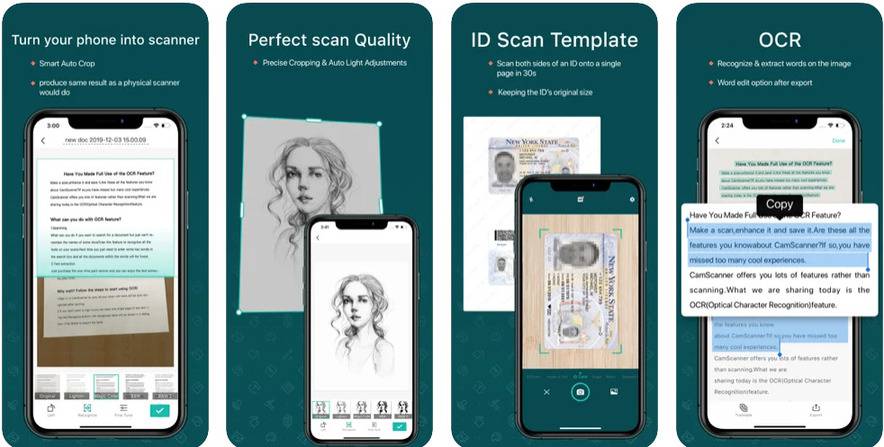 You might have heard about this app either from your friends or colleagues or the internet and it's perfectly normal since CamScannera very popular document scanner app. It can scan, edit, share and store your scanned documents across all devices. In addition, CamScanner works for Android, iPhone, iPad, tablets, and computers. It has a separate web application that makes it easier to manage all the scanned documents. Moreover, this app to scan documents is used by 400 million users across the world and in over 200 countries.
Features
Crop and Enhance texts through Smart Cropping and Auto enhancing.

CamScanner is very useful for real estate agents and government e-filling where you can sign contracts and scan them.

Customize watermarks and make an annotation on documents available for you.

Share documents in PDF and JPEG formats by sending doc link or via email.

Secure important documents by setting passcodes.


.
6. Evernote Scannable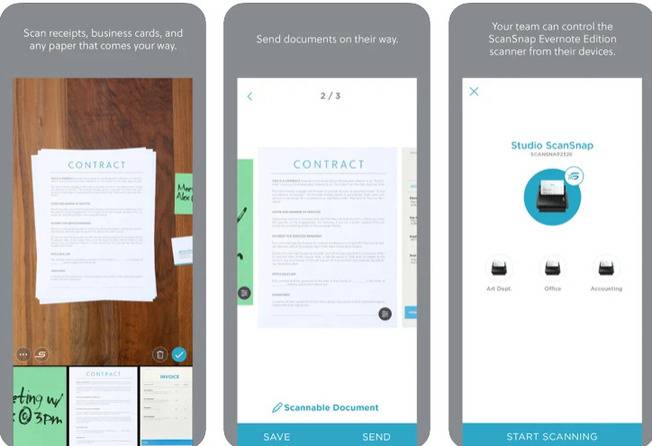 Evernote scannablecan scan anything you put in front of it and immediately saves it to your Evernote Account. Like others, this app to scan documents can scan receipts, whiteboards with high clarity. With this app, you can turn business cards into contacts and save important information from them. The app can share files with other people automatically. The main con of this app is that it is only available for iPhone/iPad users only. So if you are an iOS user then this is the best document scanner app for you iPhone/iPad.
Features
Evernote's document scanner app can automatically crop, rotate and adjust images making them easier to read.

Pull out important information from your business cards and save them in your contacts.

Export scanned documents via PDF or JPEG files to send them to colleagues.

Sync your notes automatically across any phone, tablet, or Chromebook.

7. Genius Scan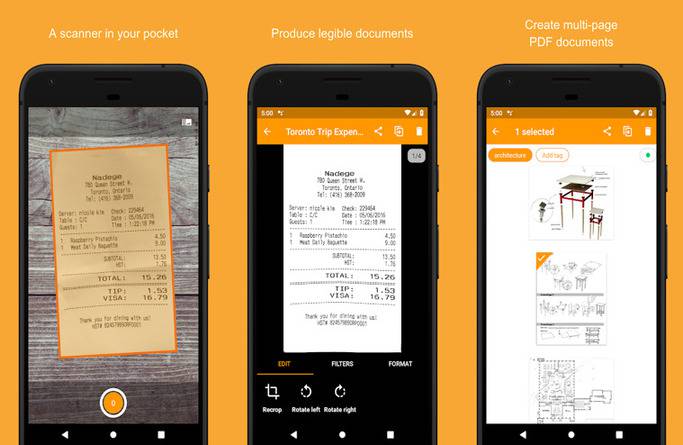 Genius Scan,another popular app for sharing documents is a handy asset that supports all the key features like scanning documents with high clarity. Moreover, it can convert them to PDF documents which can be shared later on. Additionally, this document scanner app can automatically recognise the paper and can crop it to produce clean results. Moreover, it is used by more than 20 million users.
Features
Obtain crisp, legible scans with this app.

Smart Scanning can also detect documents and remove background.

Most importantly, capture the image quickly and precisely.

Subscribe to use OCR technology.

Backup your scanned documents and sync them with multiple devices with Genius Cloud.


8. SwiftScan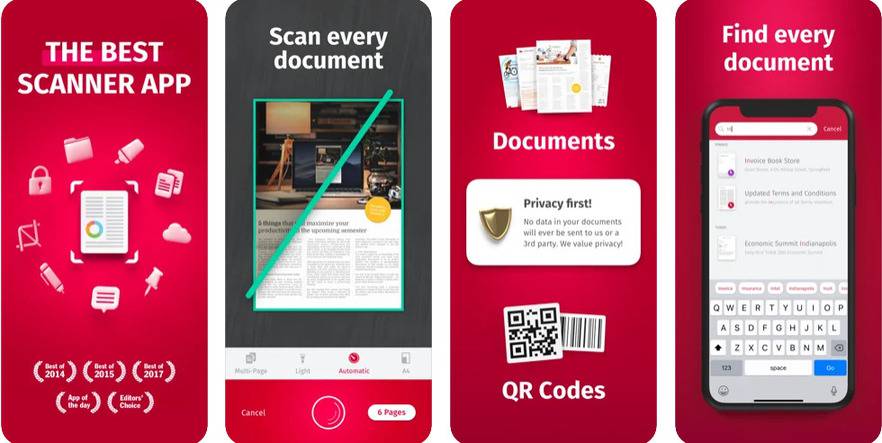 SwiftScan formerly known as ScanPro is one of the best scanner apps for iPhone and Android smartphones if you want to scan the QR with the documents. Its OCR technology recognises dozens of languages and works very well producing good results. Additionally, this app is very easy to use. It can automatically crop, straighten and scan the document. You can also upload all the scanned documents for later purposes.
Features
Automatically scan your documents by holding a smartphone or tablet above it.

Upload your documents to Google Drive, Dropbox, Evernote, Box, and other services.

Automatic optimization applies colour, grayscale, or black-white filters to enhance your scans.

VIP features include themes for the app, smart file naming, etc.


.
9. Scanbot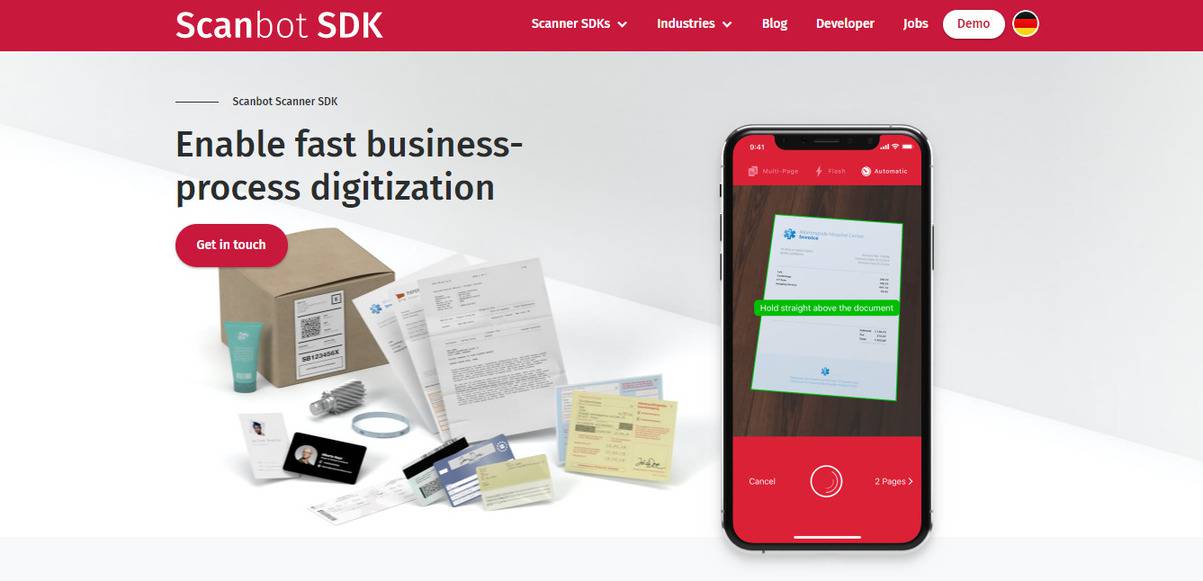 According to the developer of Scanbot, this app is perfectly capable of making hundreds of decisions while capturing a document. Scanbot is a great asset to have on your iPhone, iPad and Android. Moreover, its automatic cropping and perspective correction makes the scan look original. You can also manually edit the scanned documents. Above all, the app supports more than 100 languages. It can extract visible data from passports or IDs.
Features
Image processing filters can change an image to any colour, grayscale, or black and white documents.

Automatically crops scanned images and correct perspective.

OCR technology can recognize any text.

Can scan multiple barcodes in a row.

Encrypt all your data, images, and PDFs.


.
10. Notebloc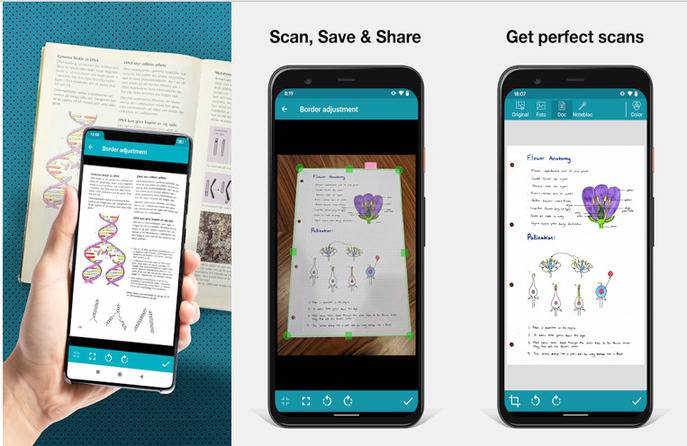 Notebloc calls itself the replacement of Camscanner and is Google Editors' Choice free document scanner app. Additionally, Notebloc is absolutely free for all Indian users. It is a high-quality portable scanner that is preferred mostly by students and teachers. Most importantly, this document scanner app offers all its features for free for Android and iOS devices both.
Features
A great app to scan documents, it can digitise your homework, books, or paperwork.

Create unlimited scans and PDF documents with this app.

Additionally, you can import photos from the gallery to scan them.

Backup your files and restore documents for further use.

Sync scanned documents to Google Drive.