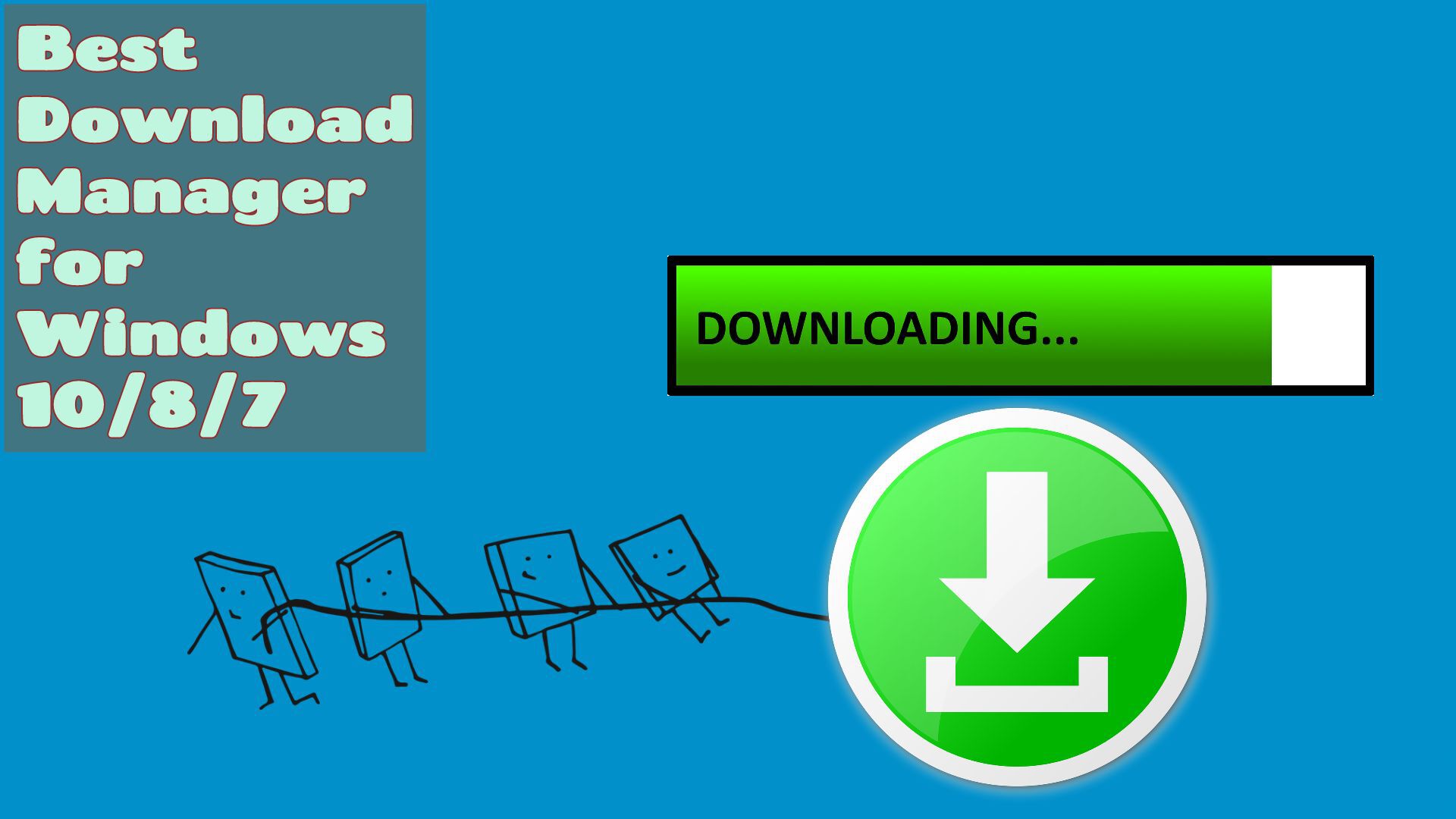 A Download Manager Software is more convenient for downloading large files than the browser. They accelerate download speed, organize downloads, and help in managing multiple downloading. Downloading from your browser is slow and if your download is broken or connection is interrupted, you have to restart again. A download manager saves you time and money by letting you resume downloads without losing any progress. Some of them have features that let you limit and control internet usage.
There are plenty of options available for Windows 10. These are our picks for the top 10 Best Download Manager Software For Windows 10. Keep reading to know more about different paid or free software and their features in detail.
Related Article: Top 10 Video Editing Software for windows
List of 10 best Download Manager software for Windows 10/8/7
1. Internet Download Manager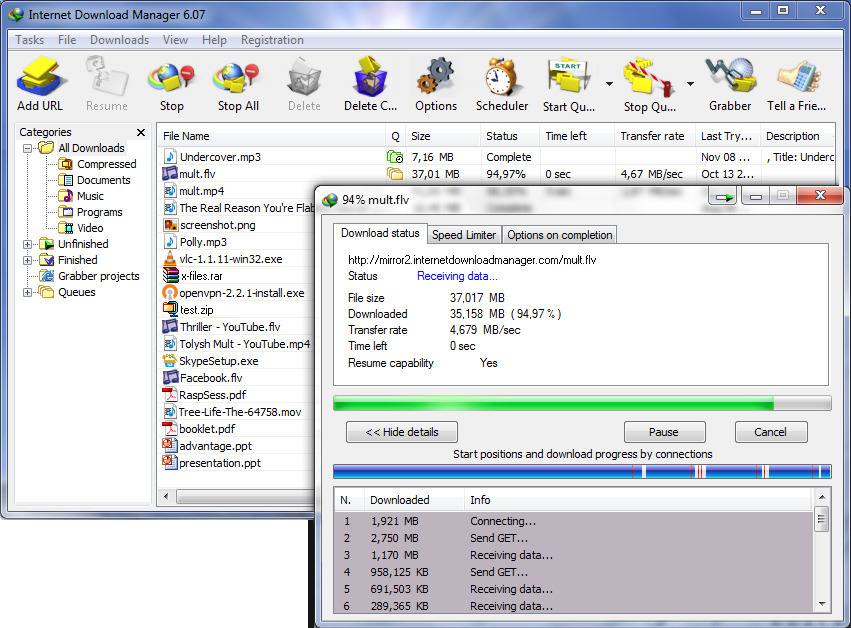 IDM or Internet Download Manager is a very popular and best Download Manager Software for Windows Operating system. It supports most of the popular browsers like Google Chrome, Mozilla Firefox, Microsoft Edge, and more. This makes it easy to download and set up. The tool accelerates the download speed using dynamic file segmentation. It also lets you resume the download from where you left out. So, you don't lose earlier download progress. Apart from that, it also offers automatic antivirus checking.
Features of IDM:
It has a built-in scheduler. So, you can control the time you want to connect to the internet or start the download. You can also schedule a time to shut down your computer after it's done.

To make downloads even easier, it has the Drag and Drop feature. You can simply drag the link to IDM and initiate the download.

Another prominent feature is the Advanced Integration Browser. This is used to take a download in progress from a browser to the download manager.

IDM can download all the download links on a page. It also had website spiders and grabbers.

The software is multilingual and has a customizable interface
Download Internet Download Manager for windows
2. Free Download Manager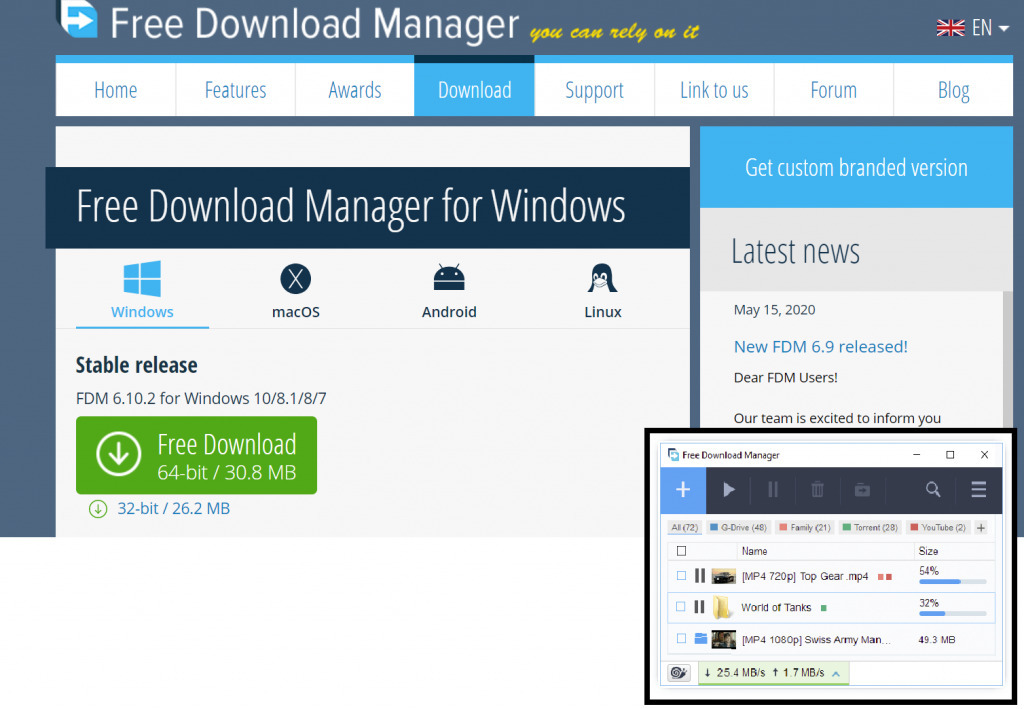 FDM or Free Download Manager helps in boosting downloading speed. This Download Manager Software is compatible with popular browsers likeGoogle Chrome, Mozilla Firefox, Microsoft Edge, Internet Explorer, and Safari. It is a completely free open-source software. It also supports 30 other languages.
Features of FDM
You can preview audio and video files and also change the format after download.

FDM has a "smart scheduler" that lets you schedule downloads. You can set time for when to start or pause downloads. It also helps you organize the downloaded files.

It also lets you resume downloads in case the download was interrupted. Download progress is not lost and it will not start from the beginning.

It also allows you to choose different traffic usage modes. So, you can control and divide traffic usage for downloading and other work.

Free Download Manager offers Site Explorer and HTML Spider. The site explorer helps in viewing the site structure to download necessary files. On the other hand, HTML spider is a tool to download whole webpages or websites.
Download Free Download Manager for windows
3. Ninja Download Manager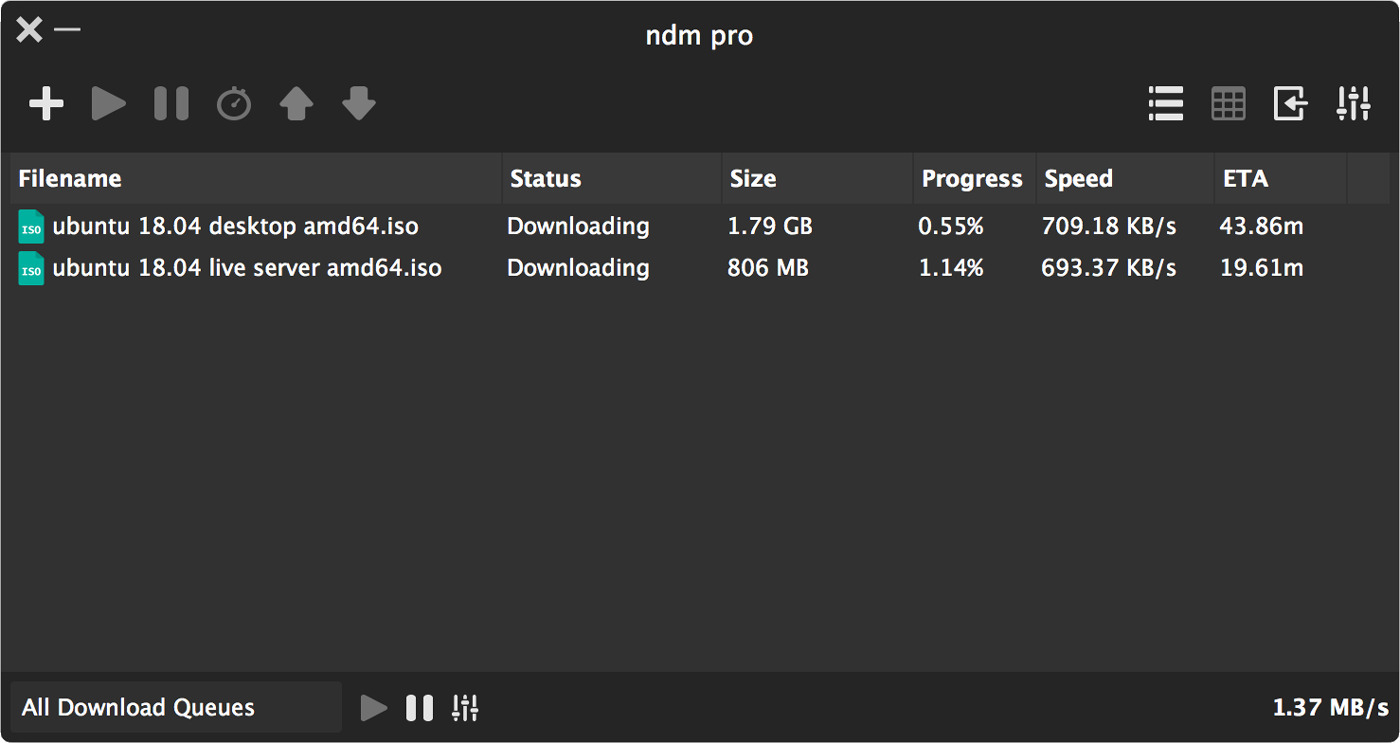 NMD or Ninja Download Manager Software For Windows 10 has a both free and pro version. The pro pricing starts from $19USD for 1 computer. This software manager increases downloading speed by using multiple connections simultaneously. It also lets you create and save a download list and start download later. You can also manage these download queues by creating schedules and setting limits.
NDM features
It lets you just drag and drop a link to start the download. You can also add multiple links at once.

NDM also allows you to control the speed of the downloads. You can control the speed of one download or the whole list. This lets you use the internet while the download is in progress. There are also options to control simultaneous downloads and connections per download.

It has a Password Manager too. So, you can keep track of the website logins securely.

You can also add a link to NDM just by copying it in the clipboard. The software monitors the clipboard to detect new downloads.

NDM has sequential downloading so, you open a video or audio file before the download is complete.
Download Ninja Download Manager for windows
4. EagleGet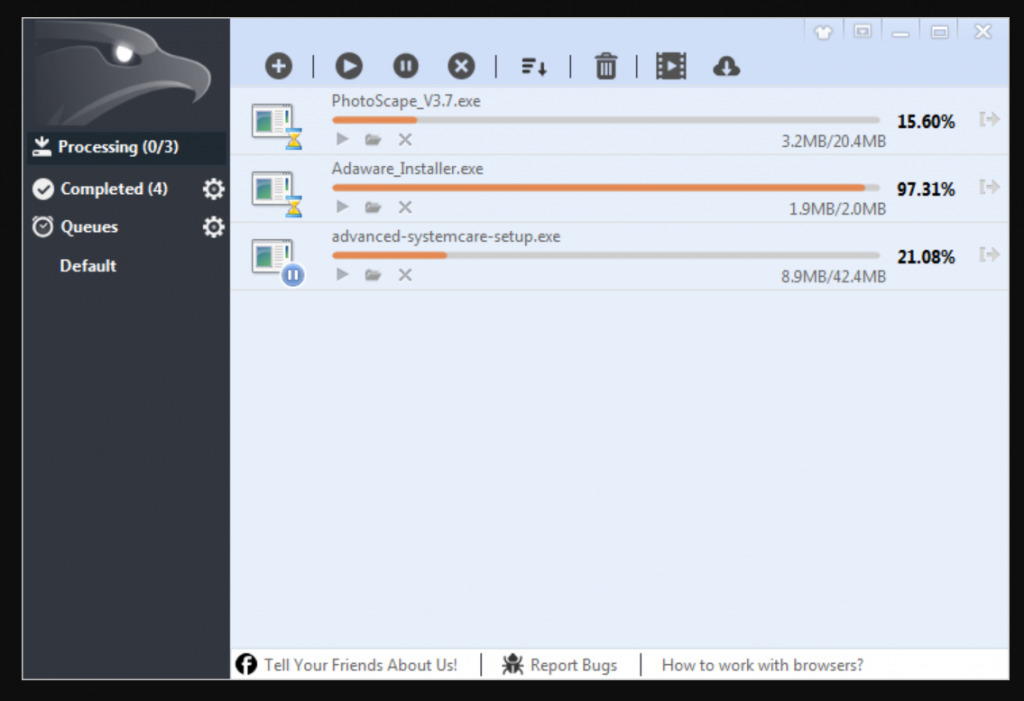 EagleGet is one of the most popular in our list of best Download Manager software for Windows 10. It uses multithreaded technology to speed up downloads. It splits the file into several parts. The software supports all popular browsers like Chrome, Opera, and Firefox. It also has a silent mode to turn off all the notifications when the user is on a full-screen application. EagleGet is completely free and has a customizable user interface.
Features of EagleGet
It has a scheduler that gives you control over downloads. You create download queues and schedule them. You can also set speed limits and organize the download list.

It can automatically update the expired URL for download instead of restarting it from the beginning.

EagleGet has an automatic Malware checker. It automatically performs a scan after the download is completed. The downloaded files are also checked to see if they are genuine.

The software can also find media files on a webpage.
Download EagleGet for windows
5. Internet Download Accelerator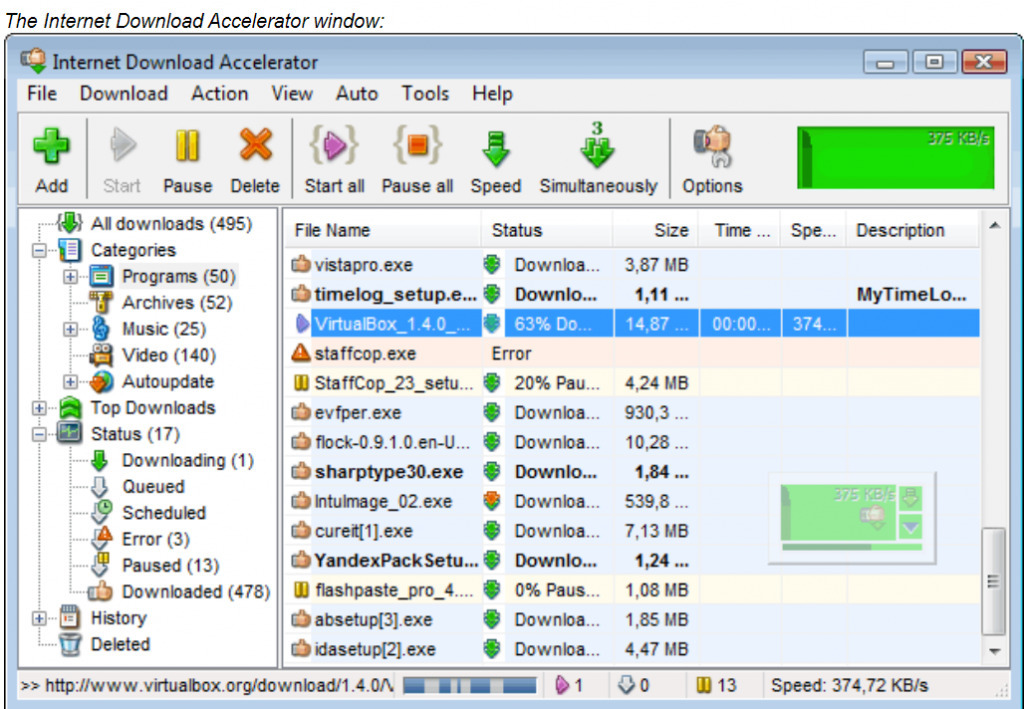 As the name suggests Internet Download Accelerator focuses on speeding up downloads and helps to manage them. Like EagleGets, it also uses multithreading. It also easy-to-use and has a customizable user interface. You can send links for download from messages like Telegram. It allows you to see the contents of the ZIP file before the download is completed. You can select the files from Ziyou want to download. You can also check and unpack RAR archives. The software offers multilingual support.
Features of IDA
It lets you resume downloads from HTTP, HTTPS, and FTP servers.

It also has a schedule manager. You can schedule when to start or pause downloads. And also if you wanna shut down or switch to sleep mode after the download is completed.

IDA also works as a video downloader and helps you download videos from popular video services. You can download theses videos in high quality along with subtitles. The sequential downloads let you open audio and video while downloading.

IDA stores download history and keep detailed logs of downloads.

It is supported on browsers like Firefox, Google Chrome, Apple Safari, Netscape, Opera, and others.
Download Internet Download Accelerator for windows
6. FlashGet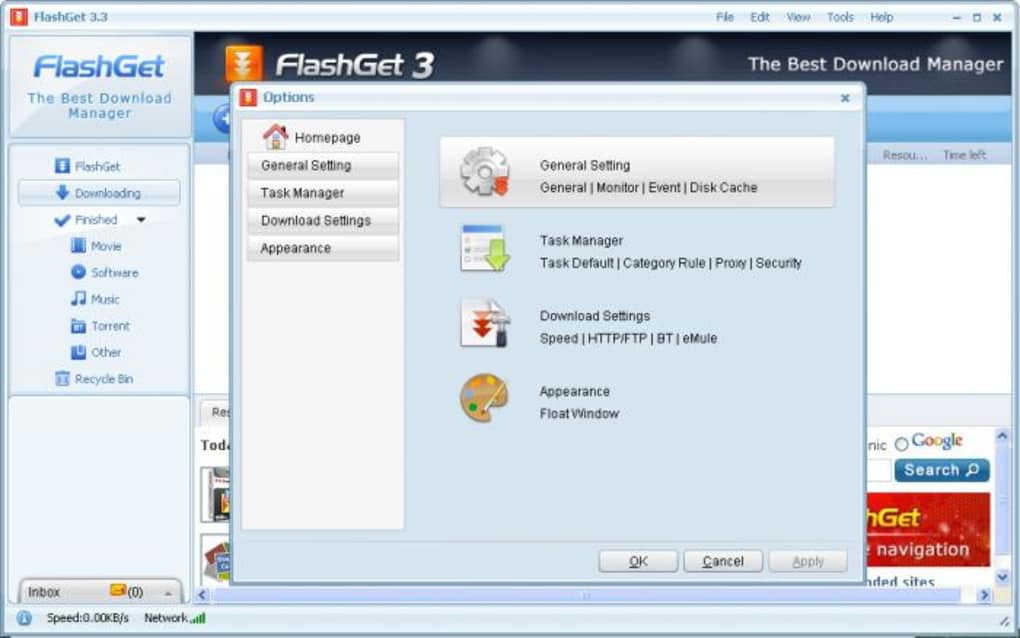 FlashGet is anotherDownload Manager Software that slices files into sections and then downloads each section simultaneously. It lets you drag and drop lin to start the download. There are several management tools. There are different categories available too. You can add a description and rename files. There are search options to find downloaded files faster. FlashGet is a free Download manager software.
FlashGet Features
It can optimize the least available resources.

It can call anti-virus automatically to scan a downloaded file for viruses, spyware, or adware. The software itself has no adware or software. Hence, making it easy to install.

FlashGet supports various protocols like HTTP, FTP, BT, eMule, and others.
Download FlashGet
7. Download Accelerator Plus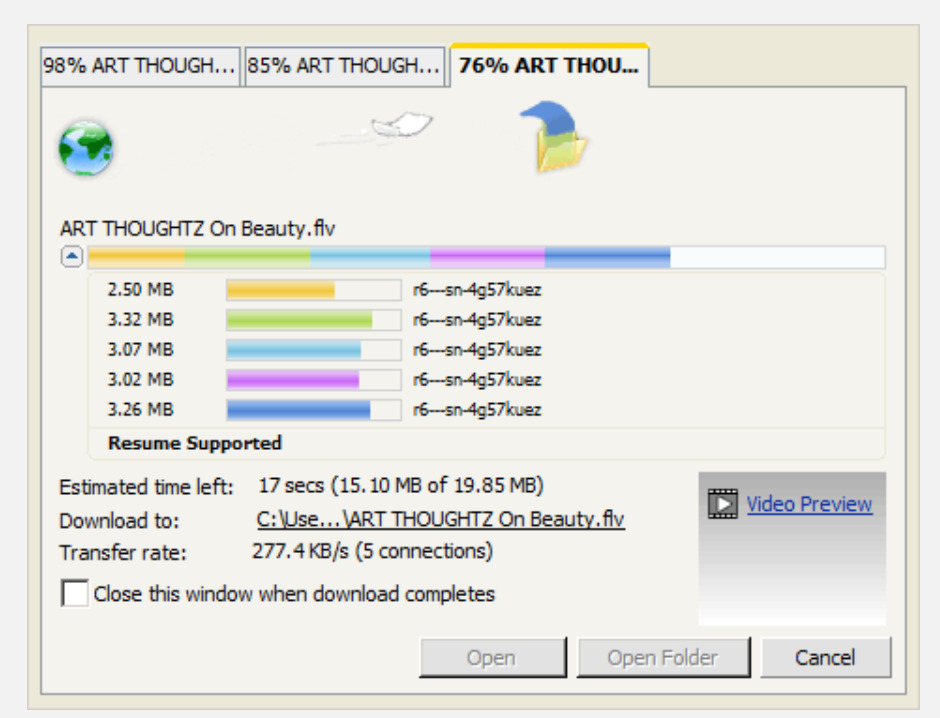 Download Accelerator Plus or DAP offers both free and premium versions. It is a powerful accelerator that provides extreme acceleration with the premium version. It also helps in searching for the fastest source for downloading. DAP can also work as an internet browser. You can directly access the internet from here. It lets you convert videos into audios. All you have to do is copy-paste the video URL and download it as audio.
Feature of DAP
It can work as a video downloader and help you download videos from popular websites like Youtube, Dailymotion, and others. So, you can watch these videos even if you are offline.

MP3 file can be downloaded directly with URL and you can sync them with your iTunes for easy access. And you can preview the videos and audios while downloading.

It keeps you complete download history and helps in the management of your downloaded files.

File Shredder is a feature you get with the premium version. It completes destroys that file so it cannot be recovered. It also has Trace cleaner to remove download traces.

Another premium feature is Zip preview. You can access and browse the content of Zip file from DAP.
Download DAP( Download accelerator plus)
8. iDownload Manager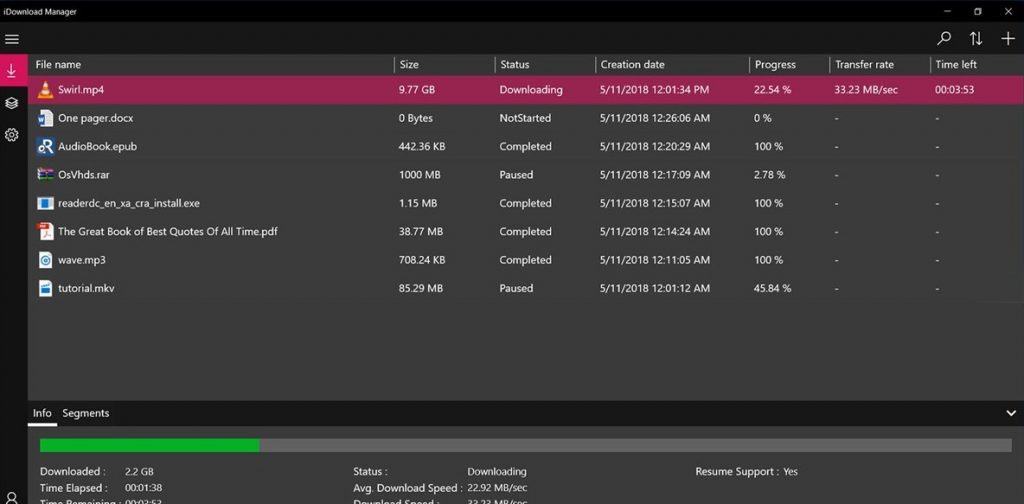 iDownload Manager is a simple and free Download manager software. Its download speed is better than browsers and it has high speed downloading even when working in the background. It has an error recovery feature and it can restart a download that was interrupted by some network issue or computer shutdown. It also lets you download YouTube videos in 4K.iDownload Manager is available on the Windows store.
Feature of iDownload Manager
It lets you pause and resume download. And you can also set a limit to network usage.

There is a download scheduler to set up a schedule for download and pausing it as you like and also create download queues. You can also shut down or put the computer in sleep mode once the download is completed.

The multi-threaded downloading increases the speed of download and iDM also categorizes downloads automatically.

iDM monitors the clipboard to find URL for downloads. So, you can simply copy the download URL.

It offers Chrome, Firefox, and Edge browser integration.
Download iDownload Manager
9. FreeRapid Downloader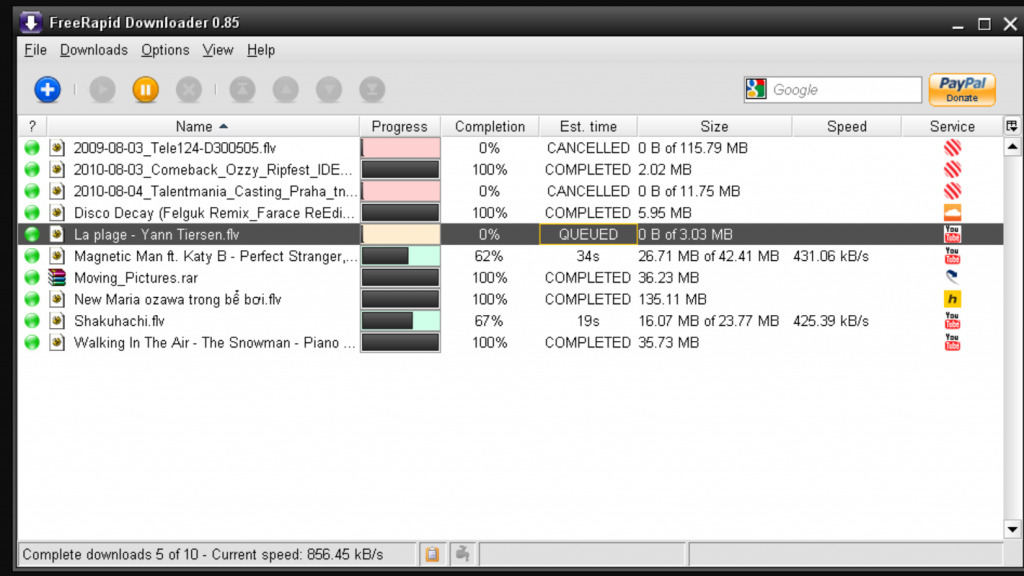 FreeRapid Downloader is anuncomplicated and free Download Manager Software that supports downloading from different platforms like Youtube, RapidShare, Picasa, and more. All you have to do is copy-paste the URL for download and FreeRapid manages the rest. It also supports downloading using a proxy list. The software also has a multilingual interface.
Feature of FreeRapid Downloader
It keeps the download history to help in finding and downloading already downloaded files.

It monitors the clipboard for the URL. So starting a download is easier as it will suggest download is a downloadable link is in the clipboard.

It also checks the file's existence on the server. So, you know the file you are downloading is genuine.

There are auto-shutdown options. Once the download is completed you can schedule the shutdown of the computer.
Download FreeRapid Downloader
10.GetGo Downloader 6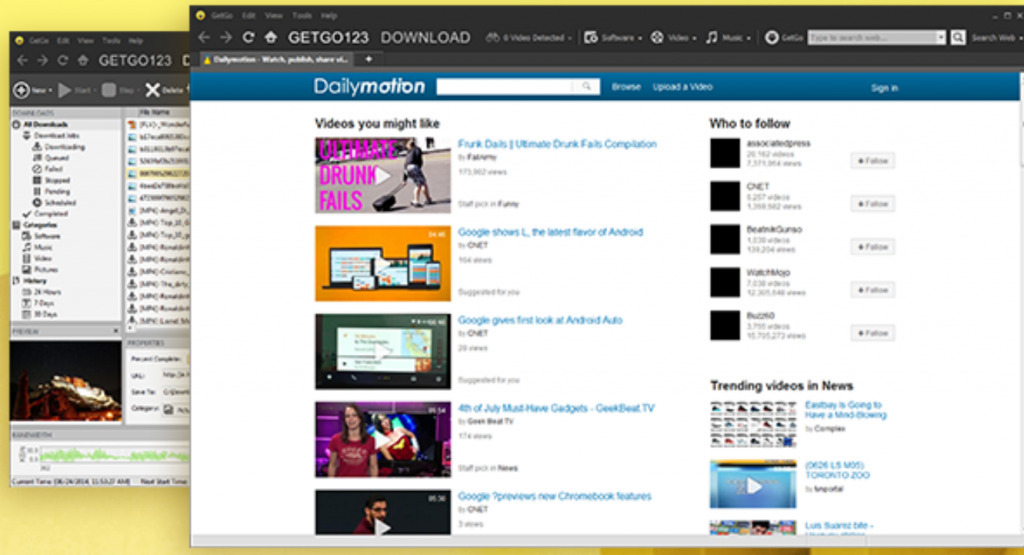 GetGo Downloader 6 is a free Download Manager software as well as a web video downloader. It has a multi-threaded download engine for accelerating download speed. The GetGo Downloader6 has all the basic features essential for a download manager. It is appropriate if you are looking for a super simple Download Manager.
GetGo Downloader 6 features
You can pause and resume interrupted or broken downloads. It doesn't require you to restart from the beginning instead of just start from where you left off.

It has a manageable scheduler. This helps you control and set time for downloads.

It can also work as a browser extension for Firefox and Chrome.

You can also set up batch downloads. This will help you download large files andrenames downloaded files using a filename pattern template.
Download GetGo Downloader 6