Arriving early to wait at the airport seems like the ideal approach when you have an early flight and unpredictable weather, isn't it? But why to bother when technology allows tracking your flight whenever you want? Nowadays technology has made it so easy that anyone can find out the status of their flight in real-time using the best flight tracking app for Android and iPhone.
With so many options for transportation accessible nowadays, from one place to another is quite simple. One can travel by land, sea, or air to reach a place safely. But sometimes it can be difficult to ensure that the trip proceeds smoothly, or even to monitor the development of a family member's flight. Users of iOS and Android devices now can use flight monitoring apps with capabilities of flight status alerts, airport tracking advantages, etc. We have curativesome of the best Flight Tracking App for Android and iPhone users.
Related Article: Best Find My Phone Apps To Track Lost Or Stolen
1. Flightradar24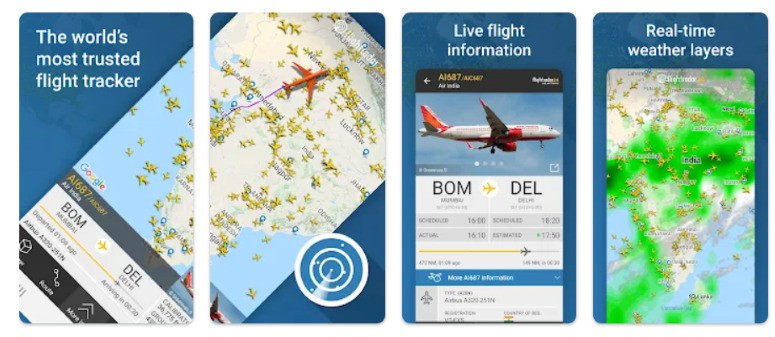 Flightradar24 tops the list of best flight tracking apps that made flight tracking easy. With the help of the Fligthradar24 app, you can sort the flights by the carrier, touch on a jet to work out the projected time of arrival and departure, also as any delays, or check the status in real-time.
Even better, you'll look at a schedule of planes in your vicinity. you'll enjoy the thrill of seeing an airplane in 3D while you're in the air. With a 3D view, the device makes it simpler for you to comprehend a flight's altitude, wind, speed, etc.


2. FlightAware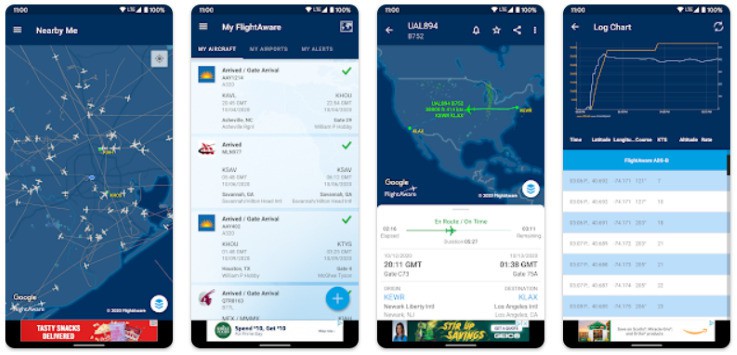 FlightAwareis one of the best live flight tracker apps thatallows us to track the status of a flight by different methods like route, registration, etc. Thanks to customized alerts which allow the user to set the notification according to their choices. The most important feature of this app is that it uses NEXRAD radar overlay so that one can get the push notification feature and flight tracker also.


3. FlightStats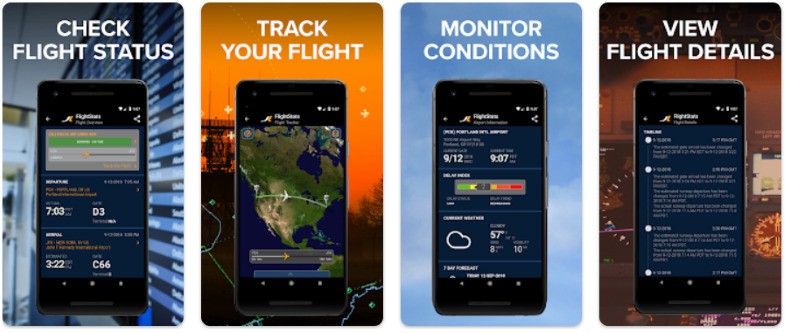 FlightStats is among the best live flight monitors. The interface is so easy and simple that flight can be searched by any details like a flight number, route, or airport and any flight, which is saved on the My Flights tab can show results for easy access.
Apart from this best feature of the software is a live map with a real-time flight tracker. Even on the map, the plane's precise location can be fined. Users can select from a range of settings for the flight plan, the actual flight path, weather radar, etc.


4. Plane finder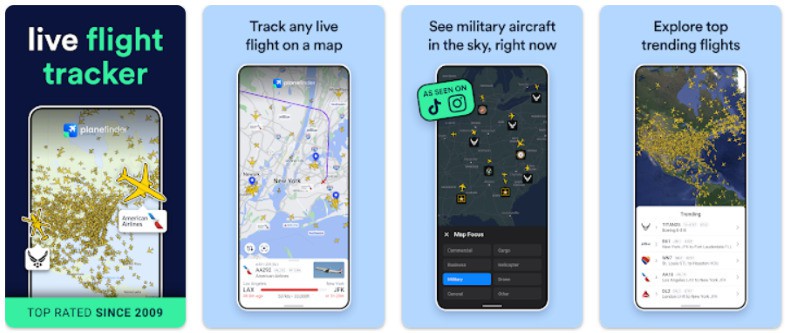 Plane Finder is another app that is popular for its variety of features.Itdisplays moving airplanes on a global map. Additionally, this app enables to observe real-time flight traffic, delays in the flight, flight history, etc. It also allows the user to find the other flight flying on that route simply just by scanning the horizon from the phone camera. And it has an inbuilt GPS also.


5. Flighty

One of the most acceptable applications available for iPhone users is to track their flights. It's so simple that even a bigger can use the app without any guidance. The app display real-time flight route and pilot flight schedule.
To get to your location quickly, it offers many services like taxi timetable, mail forwarding, etc. It can integrate calendars also. Italsogivesyouaccesstomany features likeFAAalerts,delays,weatherforecasts, etc.

6. Flight Board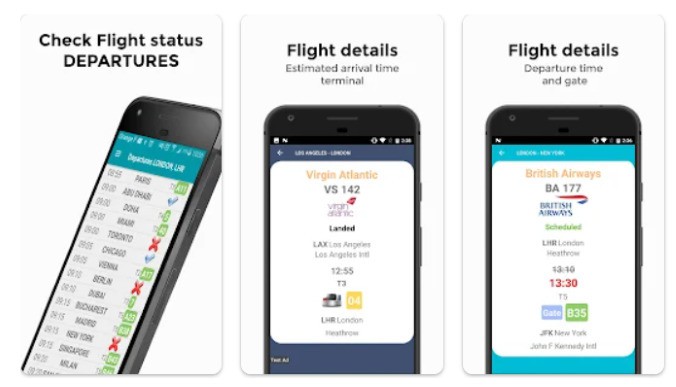 If the user prefers using simple apps then Flight Board is an appropriate choice to track your flight. the app is so easy to use and provide convenient access to all the important feature like flight status, flight details, estimated arrival time, etc. It provide report of both domestic and international airport. It help in easy booking of seat also.

7. ADSB Flight Tracker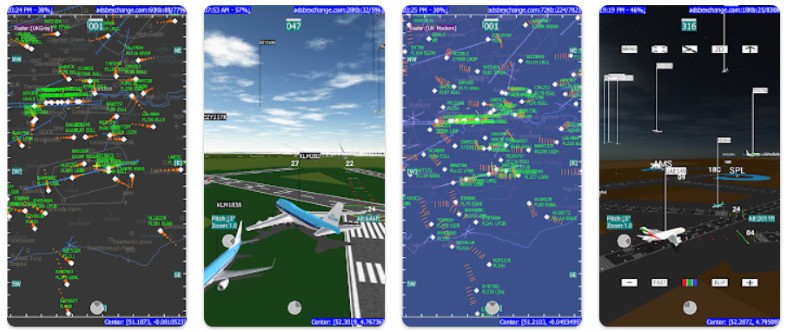 ADSB Flight Tracker, one of the best flight tracker apps for Android users, follows the flights in a manner akin to a radar screen and shows a 3D radar picture. Through various settings and variables offered by the application, you can also filter out certain information or a particular plane of flight.
This application makes use of GPS, which offers a real-time location as well as other information about the movement's speed, direction, and altitude. The Proximity alarm, which transmits warnings in audio and video format, is an added function. Over a thousand airlines, including Harrier, Beluga, Apache, Chinook, and many more, are supported by ADSB Flight Tracker. Another option is to rotate your smartphone 360 degrees to check where the plane is.

8. Planes live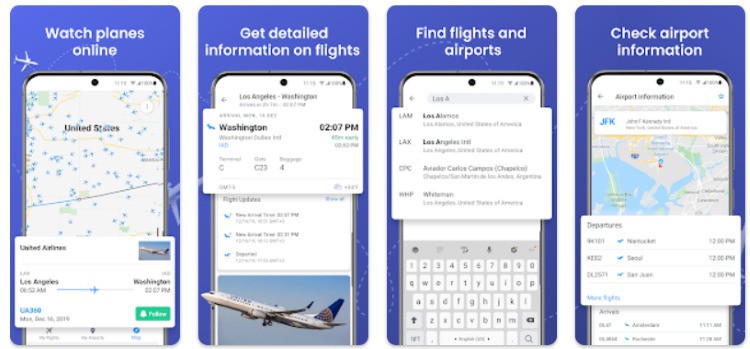 Planes Live provides you with airline pick-up schedules. Users will receive notifications regarding the status of their flight, including updates and real-time arrival and departure information. Additionally, app gives weather data of a particular place also.
Add your favorite airports and locales to "My Places," a tool that makes it convenient to follow flights. Even more information, including routes and schedules, can be obtained from model numbers by spotting nearby planes.


9. App in the Air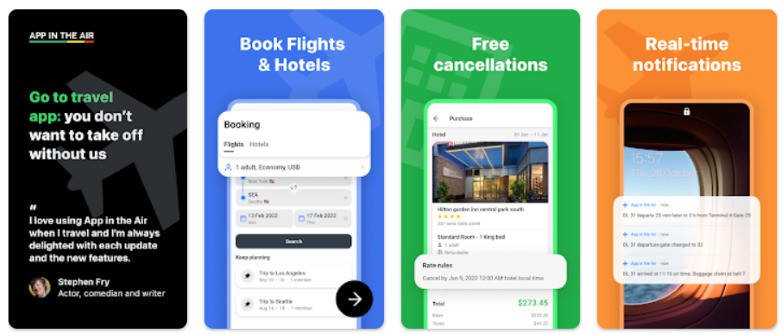 Users can use this software to track the status of their flights as well as receive suggestions for flights which can help increase your ability to save money. Addition to it this app makes it easier for user to choose which hotel would be best for you based according to your budget. Returning to the flight monitoring, App in the Air keeps things straight and simple. It provides prompt notifications of changes to the flight status so you can react to last-minute changes more calmly.


10. Live flight status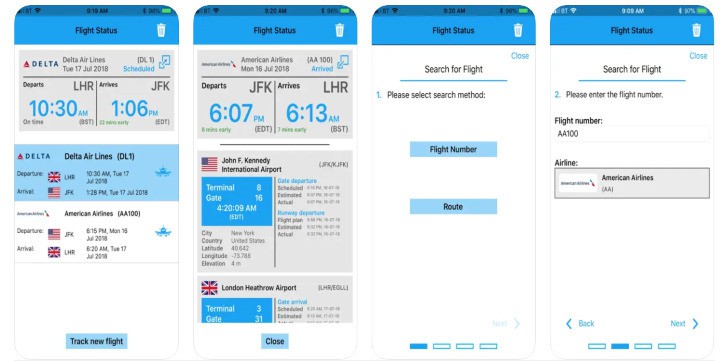 An app which can track flight and even provide the departure and arrival time also, Live Flight Status is best flight tracker for iPhone user, and an easy-to-use program. Any flight can be searched and its route can be followed using the user interface. Around 92% of the flight data in the world is covered by Live Flight Status. Ands off-course the app deserves appreciation for not charging extra fees for its service.