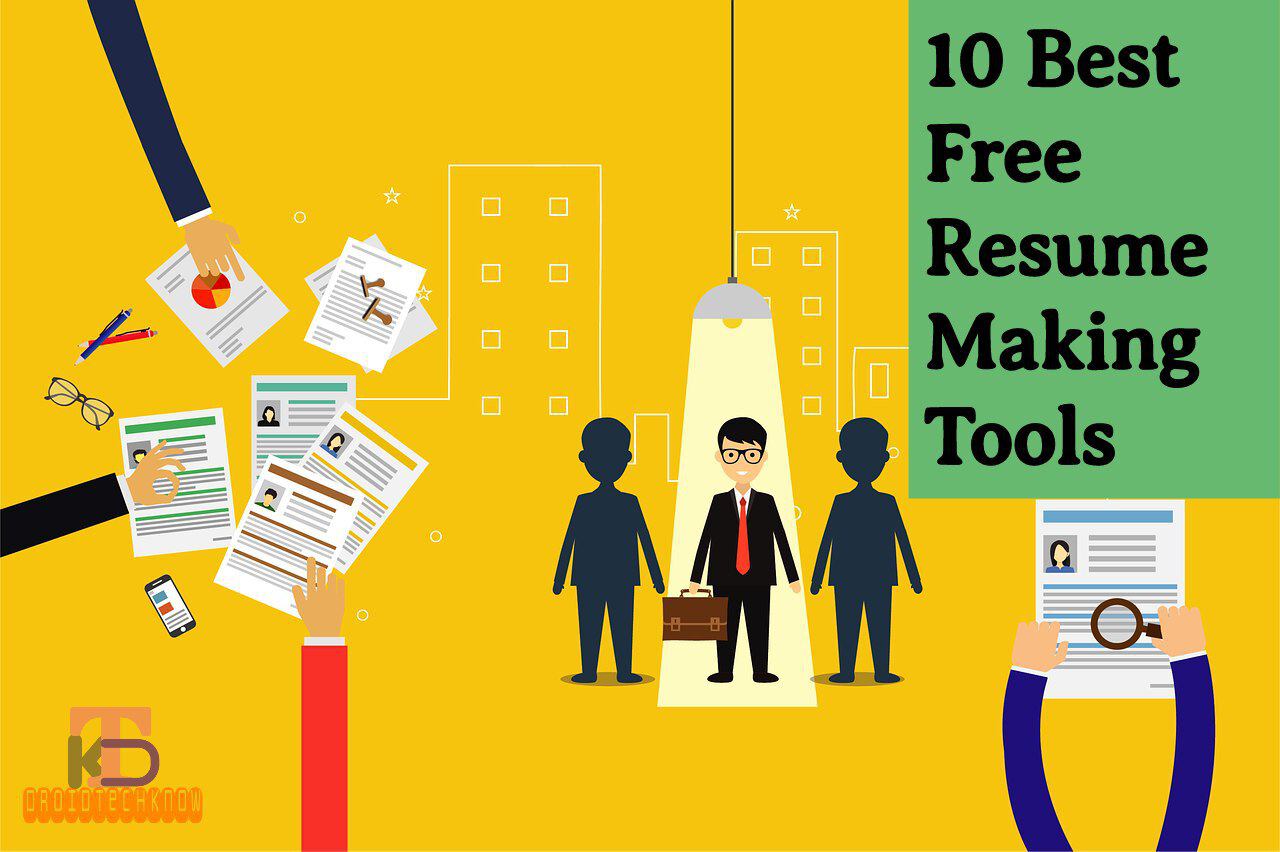 Building a perfect job-winning resume can be complicated. It is important to choose the right template and write clear and concise content. A good resume should highlight the right details, whether it's your academic achievements or professional experience whichever is more appropriate for the job. There are many online tools and free resume maker available to help you out. These online resume builder tools can make the process more manageable. So, this is our list of 10 Best free resume builder online tools to create your resume.
Resumes are extremely important when you are applying for a job. It is essential to make a professional resume and also highlight the relevant skills to make a good first impression. It should stand out as well as describe your abilities accurately. A suitable resume can do wonders for your job application. Many companies are now usingApplicant Tracking Systems, so an ATS friendly resume would be a beneficial addition. These online resume builders tools can help you achieve all this with ease.
List of Best Resume Builder Online Tools
1. ResumeGenius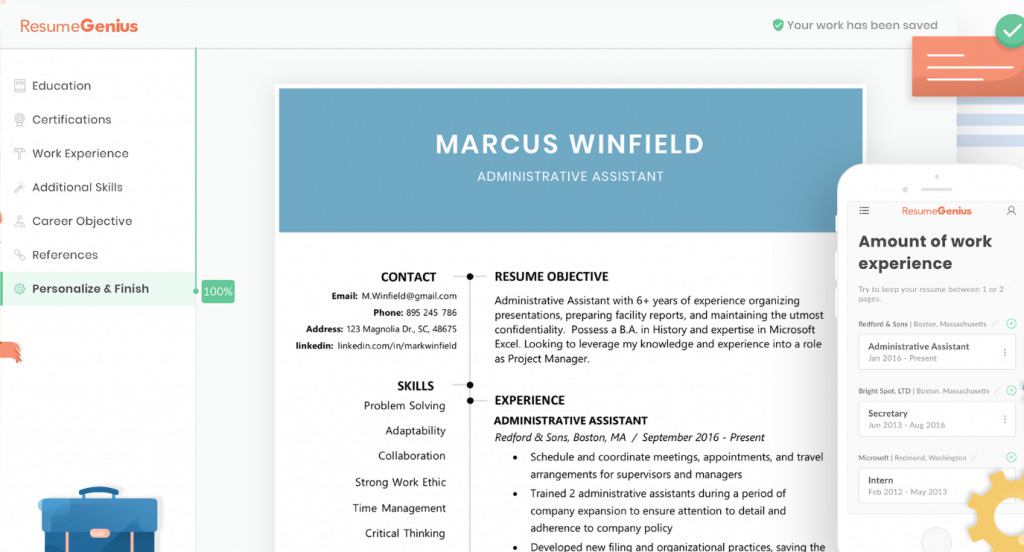 Resume Genius is one of the best free resume builders you will find. It lets you create a professional resume in 15 minutes. There are over 50,000 job titles and descriptions to add and customize your resume. Moreover, it also offers many preformatted templates, therefore all you have to do is add information. Another great feature of this free online resume builder is the "Ask the Expert" service to help you make improvements.
2. Flowcv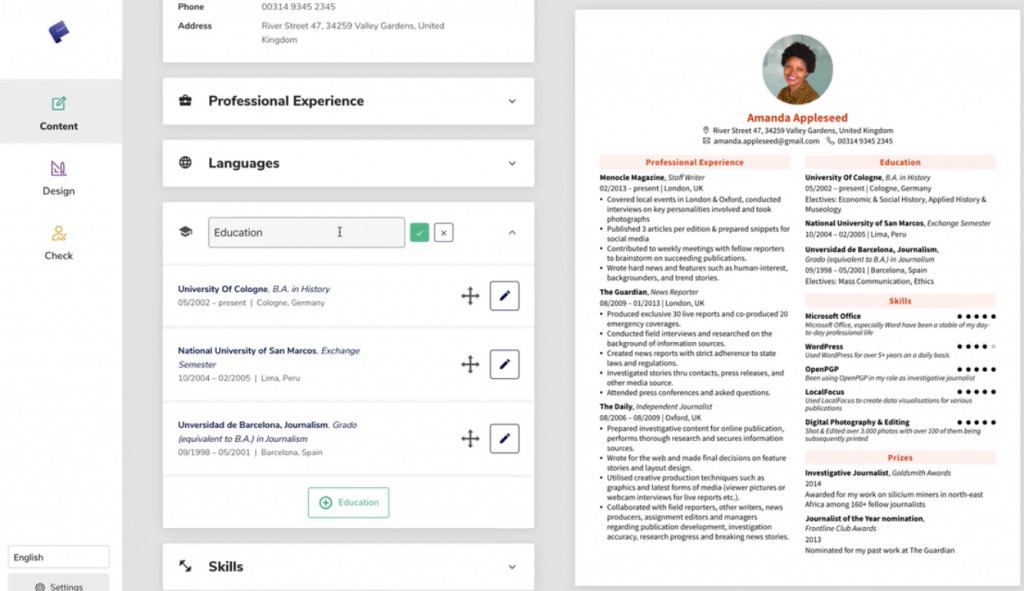 FlowCV is completely free and there are no premium options. You don't even have to create an account to get started. This free resume builder is easy to use and very flexible. It offers several templates along with the option to change the language. Although the templates are preformatted, there are options to make change font and page format. FlowCV guides you with the information and content you are adding. It also has an option to share your resume with a friend to get feedback.
Try FlowCV
3. Canva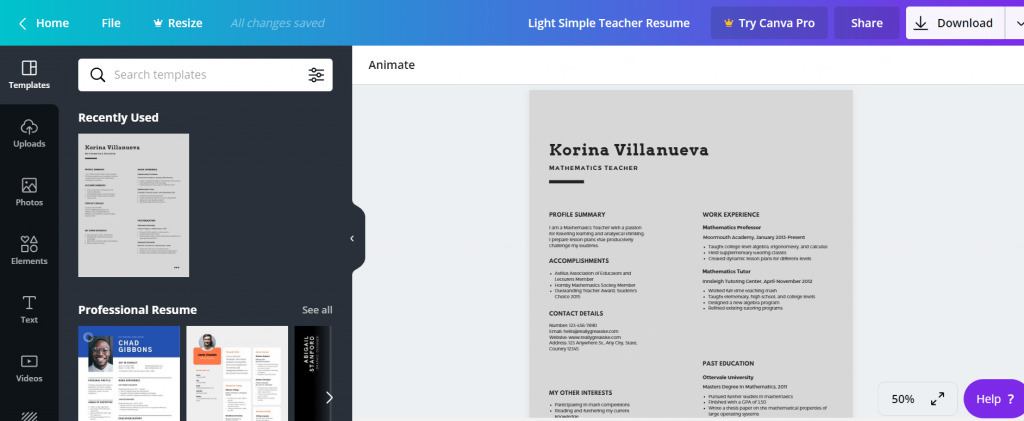 Canva offers many online tools to build a professional resume. Apart from several engaging resume templates, it also lets you add different elements like charts, grids and shapes. Canva is not particularly a resume builder site but it is very popular because of the wide range of customization options. The simple interface and quality templates make it one of the best free resume builder. It also offers a paid plan, Canva pro. You can get a 30-days free trial for it.
Try Canva
4.Novoresume

Novoresume is a versatile and beginner-friendly resume builder site. It offers 8+ free templates divided by experience and educational qualification. It is easy to choose the most suitable template with the help description provided under them. Novoresume offers both free and premium templates. Their resume templates are ATS friendly too. It also has a content optimizer to give personalised suggestions and tips. I always use Novoresumeto create or update my Resume.
Try Novoresume free
5. Visual CV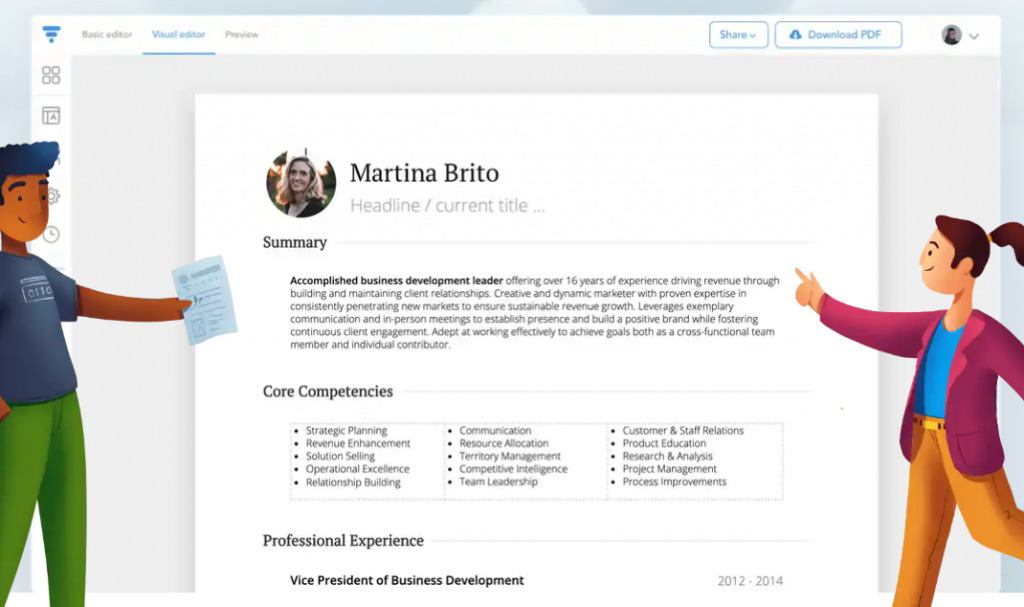 Visual CV is one of the most popular free resume builder sites. It offers 22+ resume templates and resume samples. It is a fast and easy resume builder. Apart from customization option, it also lets you track who is downloading or viewing your resume. This analytic feature can make your job search easier. It also gives free resume resources, like guides and blog. You have an option to upgrade to a paid plan as well.
Try VisualCV
6. Resume.com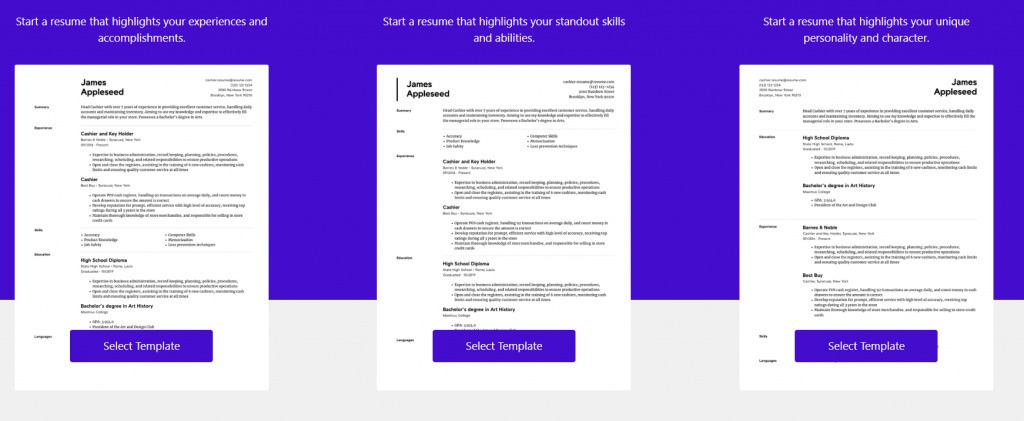 Resume.com is the most easy-to-useprofessional resume builder. You don't need to sign in or create an account to get started. It asks you to choose a job title and then picks out the best template for you. For the next steps all, you have to do is add information. It is super simple. In the end, you can save your resume as a PDF or doc or text file. Furthermore, there are several samples and other resources available to get an idea.
Try Resume.com
7. Resume-now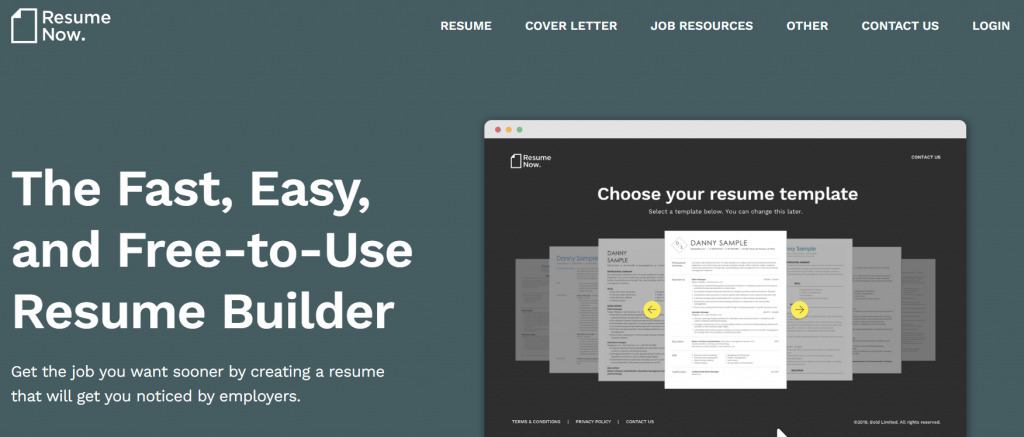 Resume-now is afree resume builder that offers several professionally designed templates. Their templates are recruiter approved. They recommend different templates according to the job title. You also get an option to transfer the content of your old resume to the selected template. If you are building a completely new resume, you will fill out the forms to add information. It is a simple and professional free resume builder for absolute beginners.
Try Resume-now
8. Wozber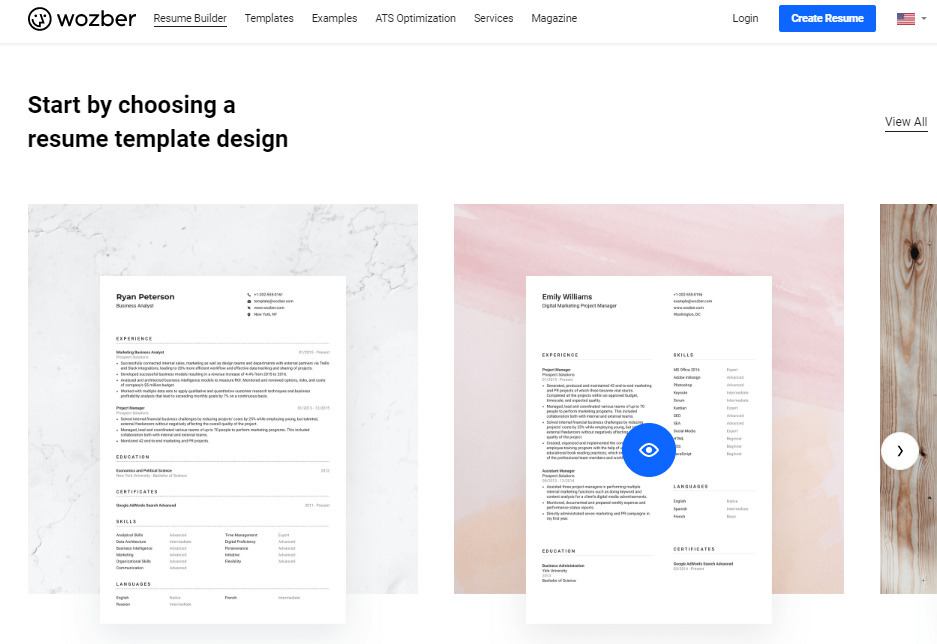 Wozber is a completelyfree online resume builder with premium-like features. You can choose from a list of 24+ templates. Each template can be tailored according to your requirements. It also supports multiple languages. Their templates have minimal designs to look professional and also ATS friendly.ATS optimization is available in three languages- English, German andLithuanian. Lastly, there are several examples available to learn from.
Try Wozber
9. Overleaf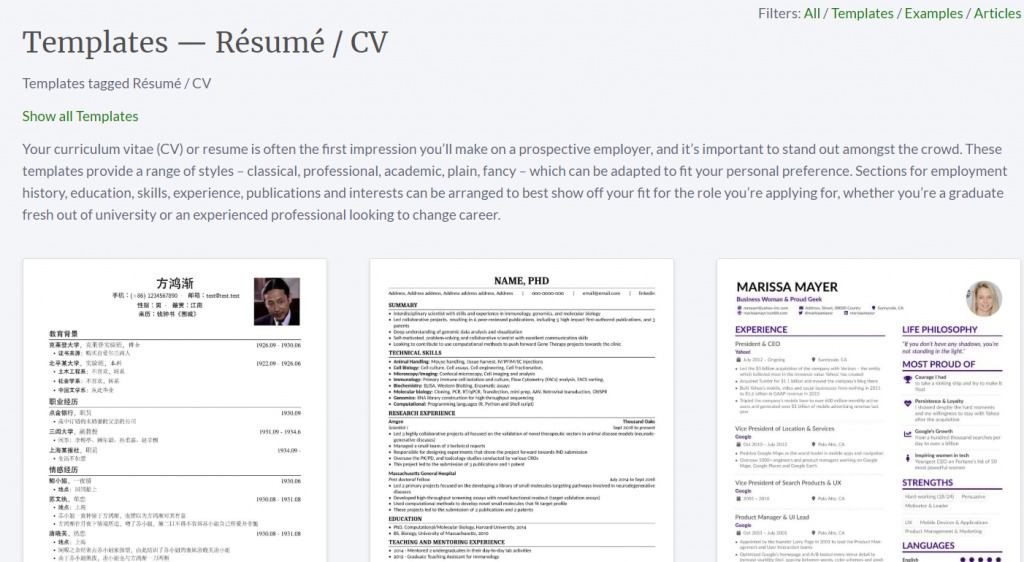 Much like Canva, Overleaf is not just a resume builder site. But it does offer a wider range of customizable templates due to this it is one of the best free resume builders online. Overleaf has the most diverse kinds of templates. You will definitely find something unique. It offers templates in many different languages too. It also gives you an option to download these templates as PDF as well as view its source.
Try OverLeaf
10. ResumUP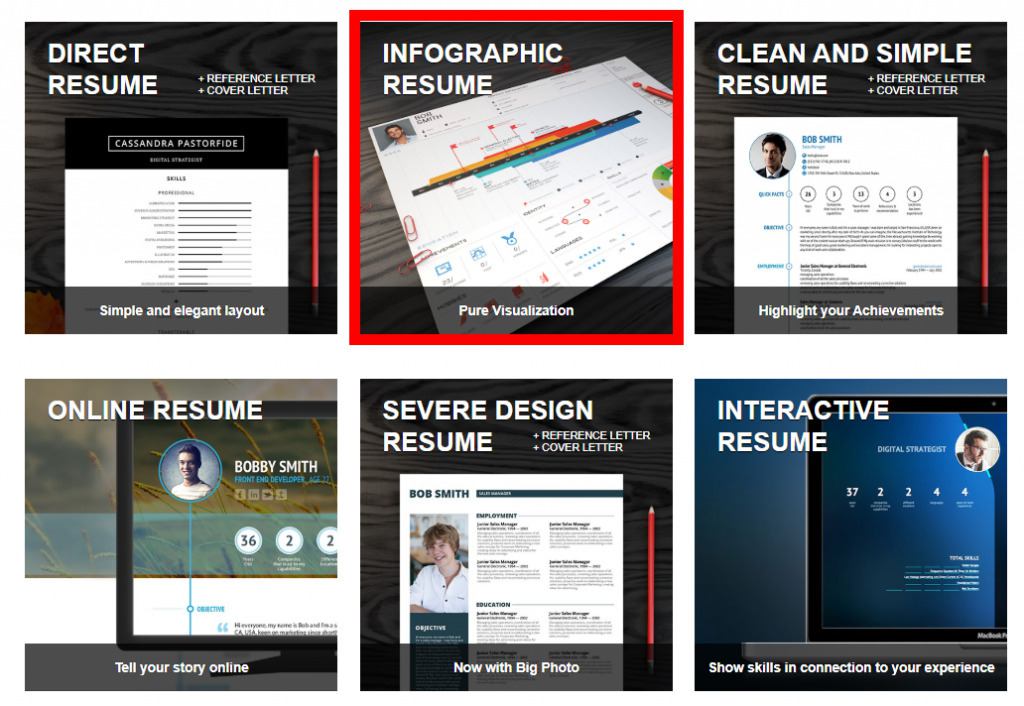 ResumUP creates the most eye-catching resumes. Thisfree resume builder site provides the most creative visual layouts. You can choose your template from a wide range of ATS friendly templates. There are options to add infographics, colours and ribbons. It is especially a great option for those who want their resume to channel their creativity. These resume templates will help you draw attention and stand out.
Try ResumUP
Happy job hunting!