Whether you are a fresher searching foryour dreamjob or an experienced employee who is looking for new opportunities, your resume is one ofthe important aspects that youmust pay attention to along with your soft and hard skills. In today's job market, a resume plays a crucialrole in highlightingyour skills, experience, and qualifications to potential employers. And that's why it is necessary for you to build your resume or CV in a way that stands out from others and is ATS (Applicant Tracking System) friendly.
Building your resume manually from scratch can be a tough and time-consuming task, but thanks to resume builder apps with which you can create a good-looking resume quickly and easily. These apps have different designs and options to choose from so you can make a resume that suits you and your career goals. The apps also give advice on how to write a good resume. With these apps, you can viewand update your resume whenever you want.
List Of 10 Best Resume Maker Apps For Android
1. CV Engineer (By Matt Callery)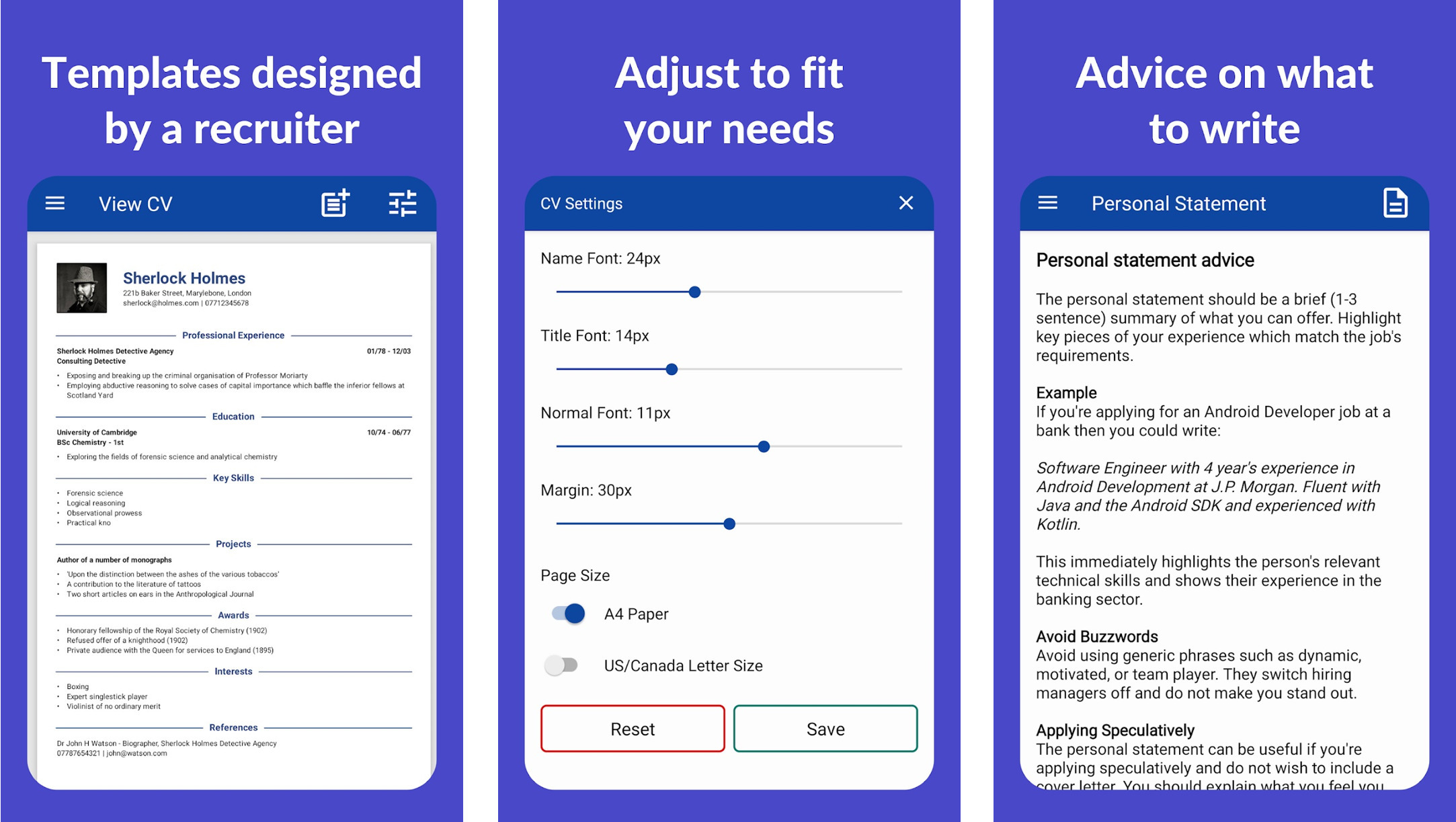 CV Engineer is truly one of the best apps to build your professional resume and CV. It offers you lots of customization options along with tips and examples so that your resume stands out from others. You can add custom sections, view your CV, modify fonts, margins, language, and paper size, check grammatical errors, and do many other things. CV Engineer comes with both light and dark modes and has various free resume templates with different colored themes.
Features:
CV scanner

Several resume templates and themes

Build CV in 8 different languages

Add custom sections

Adjust font size, margin, and paper size

Check and correct grammatical errors

Create a sharable CV link

2. Resume builder (By Intelligent CV)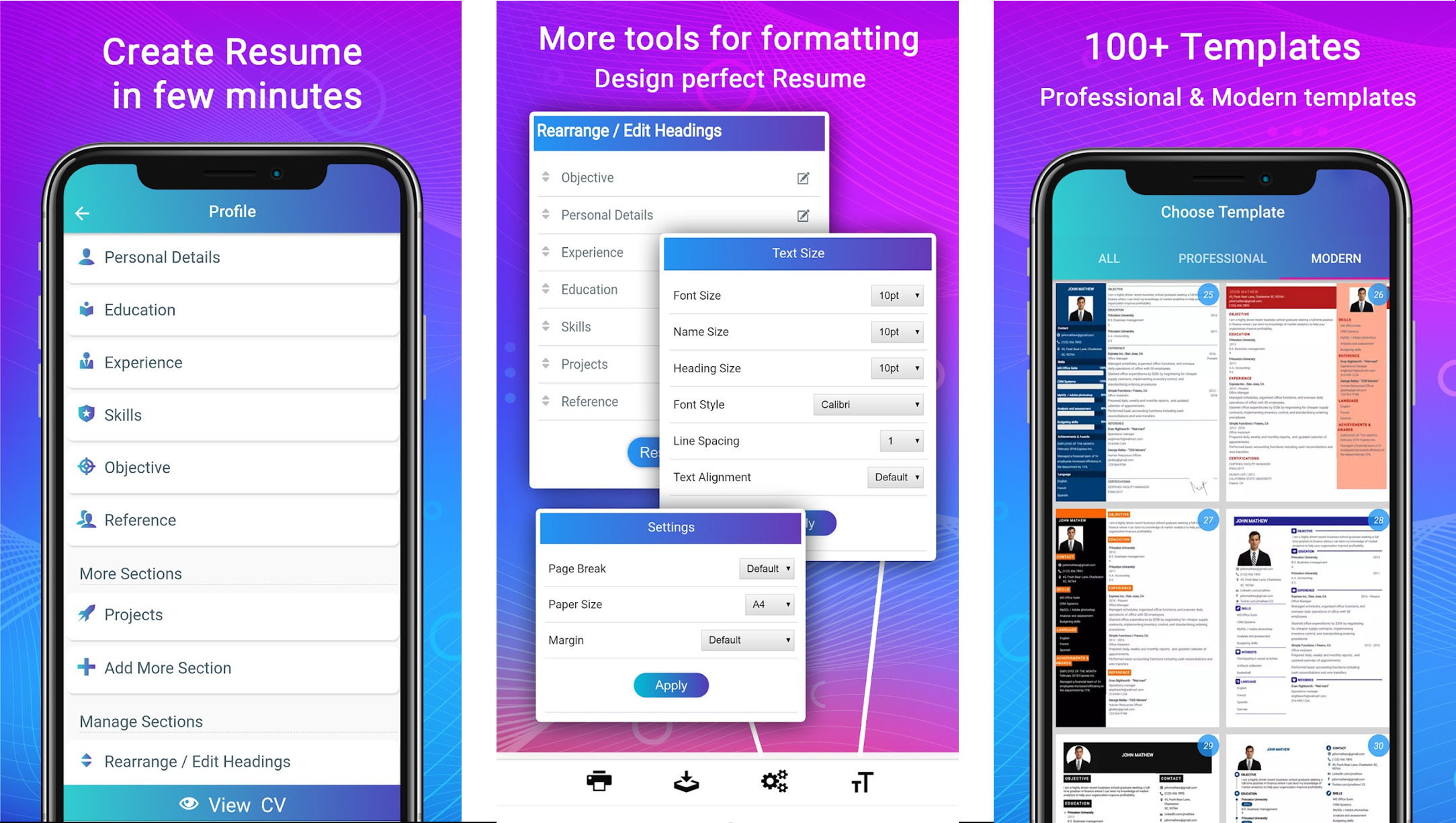 Resume Builder helps you to build your professional resume and curriculum vitae with ease. You can choose from 50 resume templates and CV templates as well as change their color. You get the option to create both professional and modern-type resumes, CVs, and cover letters. All you have to do is to fill up your qualifications, personal details, skills, and other important information one by one and while doing so you can view how your resume/CV will be looking.
Features:
Over 40 resume formats

Over 500 resume templates

Advanced resume editor

Live resume format preview

Download the resume in PDF format

Import and export profiles

Choose from professional and modern templates

Resume manager to modify your resume or CV

3. Resume Builder & CV Maker (By Mobotechnology Inc)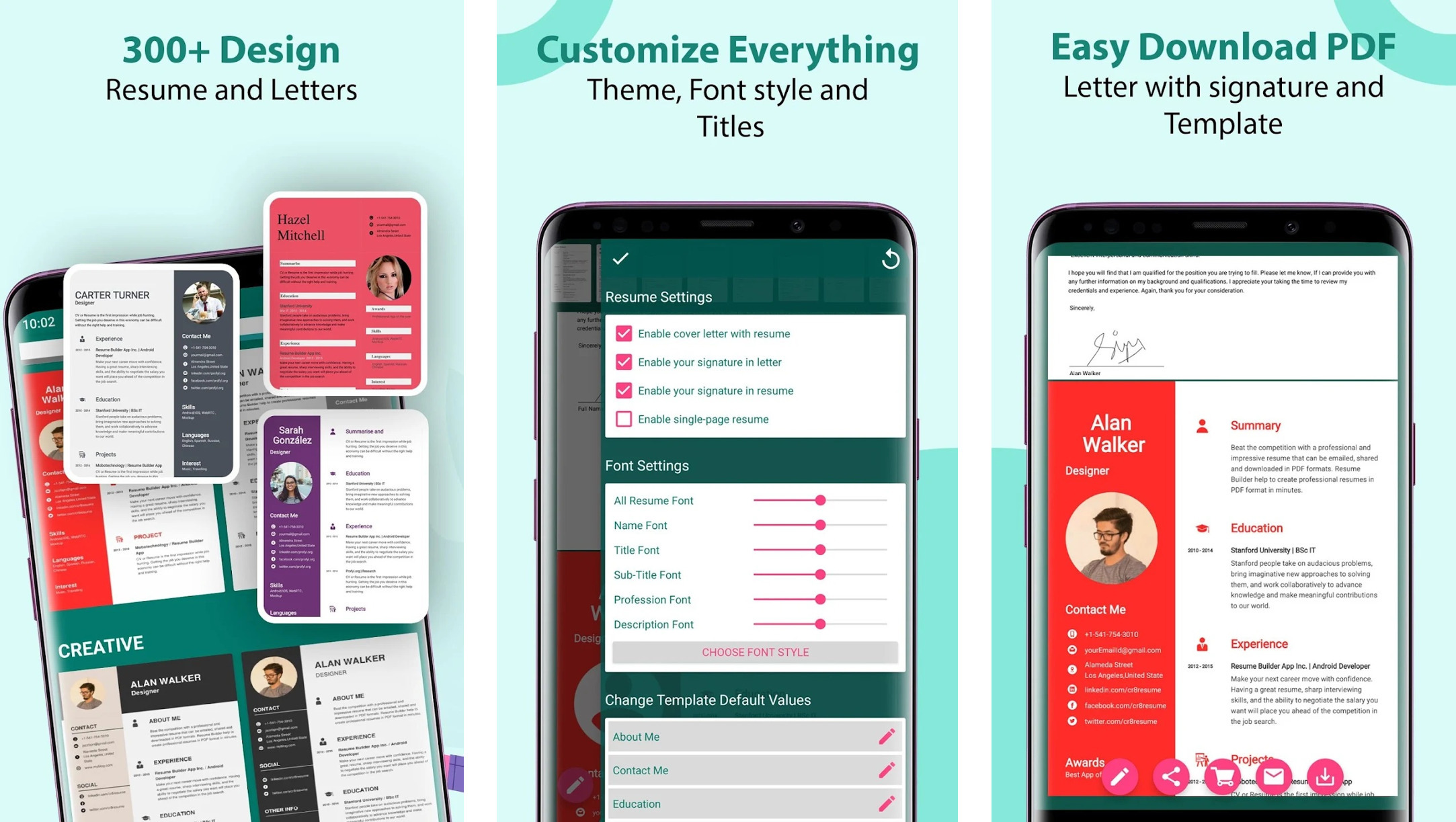 Resume Builder & CV Maker is another great app to build your top-notch resume and CV. Apart from that, you can create a cover letter, resignation letter, and promotion letter as well. This app comes with hundreds of templates for resumes and CVs as well as various samples for different types of letters. It supports over 30 languages and is used by over 9 million users.
So make your best resume and elevate your career.
Features:
User-friendly interface

100+ resume templates and formats

250+ cover letters

Supports over 30 different languages

Customizable templates

Different font styles and sizes

Make a cover letter, resignation letter, and promotion letter

Make single and multiple-page resumes and CV

4. Resume Builder (By United Developers Infotech)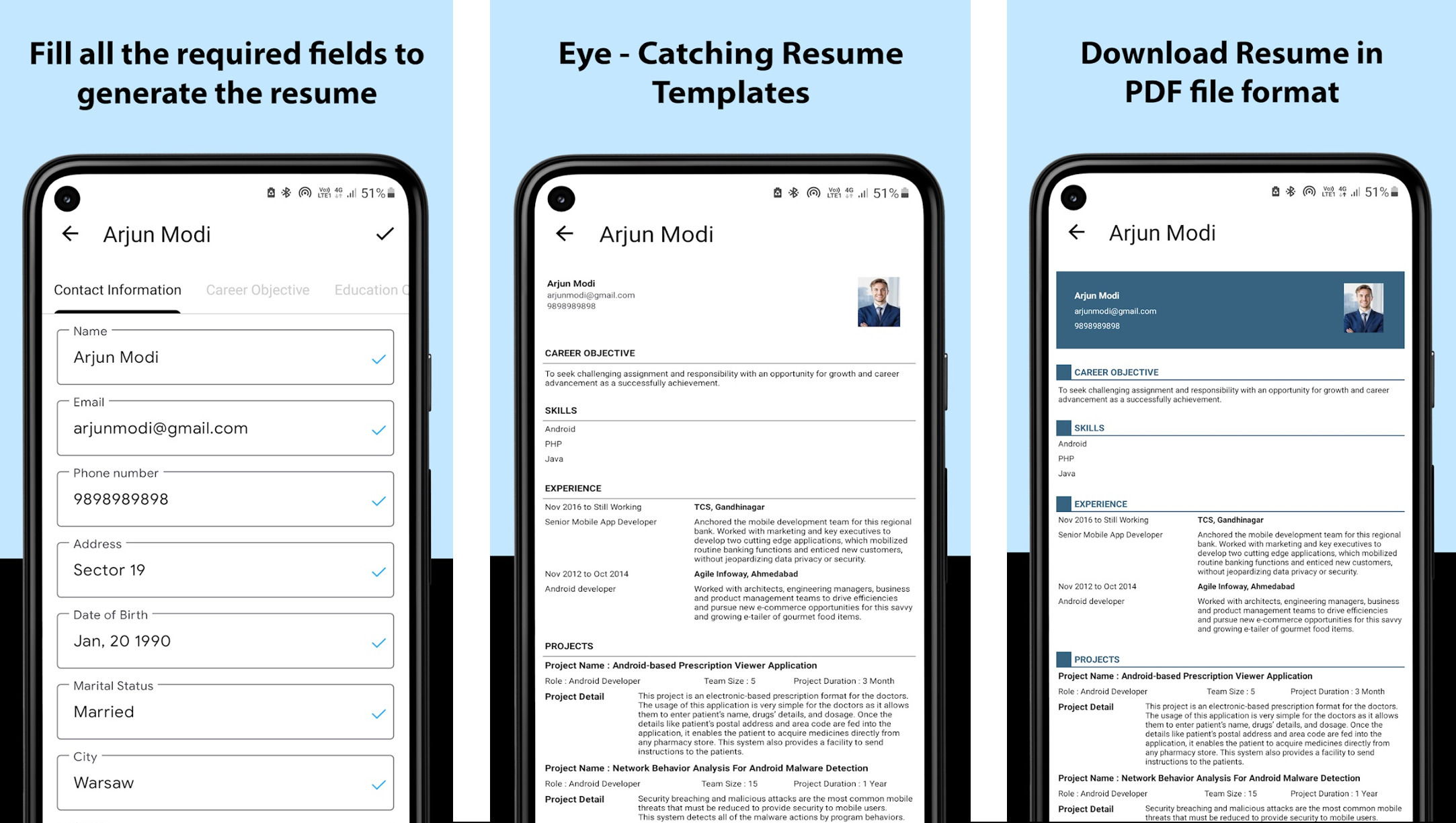 Resume Creator by United Developers is a decent app that helps you to make effective resumes and cover letters. You can either make your resume and cover letter from scratch or can edit the pre-made samples. Many sections have pre-written samples that you can use to make your resume with ease. This app has interview questions and answers for freshers and experienced that help you to prepare yourself well.
Features:
Over 15 templates

Create resumes and cover letters

Various samples of resumes and co er letter

View, edit, and copy old resumes

Creates a PDF file of your resume and cover letter

Access the downloaded resume from the download section

5. Resumaker (By LogicX)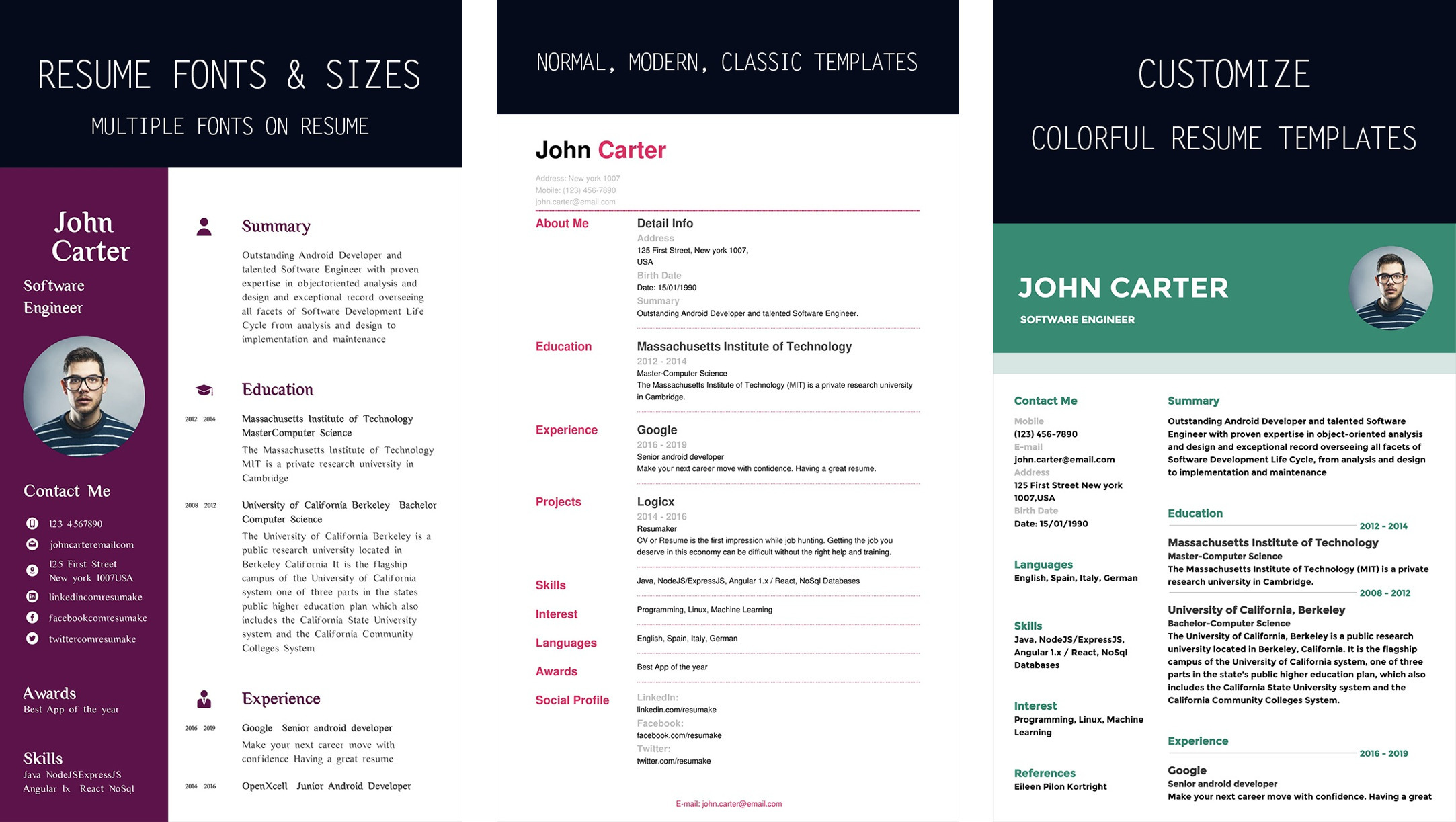 Resumaker is a highly featured resume builder app where you can make your resume, CV, resignation letter, promotion letter, and reference letter. You get several pre-made formats for various types of letters but one thing that this app can do better than any other app in this list is to customize your resume. It has over 25 templates with changeable custom colors and font sizes.
Features:
Create a CV & promotion letter

Create a resignation letter and reference letter

Over 25 resume templates

Manage multiple profiles

Several editing options

Interview questions and answers

Download the resume in a PDF file

Sample formats for different letter types

6. Professional Resume Builder (By Hightech Solution)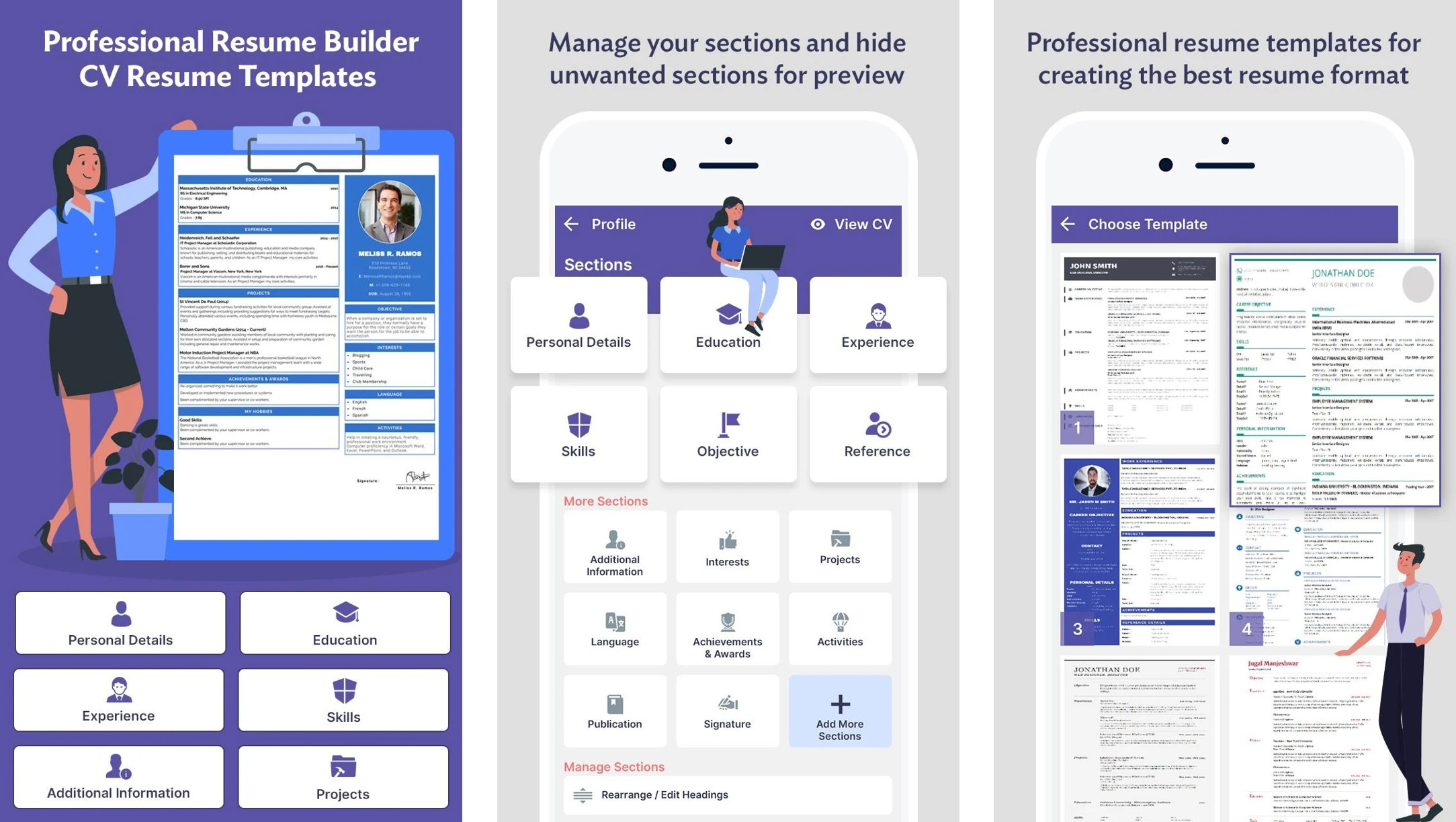 Make your resume or CV with Professional Resume Builder which has a user-friendly and appealing UI. Apart from your education, personal details, experience, and skills, you can add additional sections to your resume as well as rearrange the headings. The offers over 20 templates for free and each of them has different color options. You can view and update your resume anytime and anywhere with this app.
Features:
Intuitive user interface

Manage you sections

Rearrange headings

Can View or edit resume later

Over 20 templates with several themes

Export resume as PDF file

Print your resume directly from the app

7. Resume Builder (By StoryTech Pvt Ltd)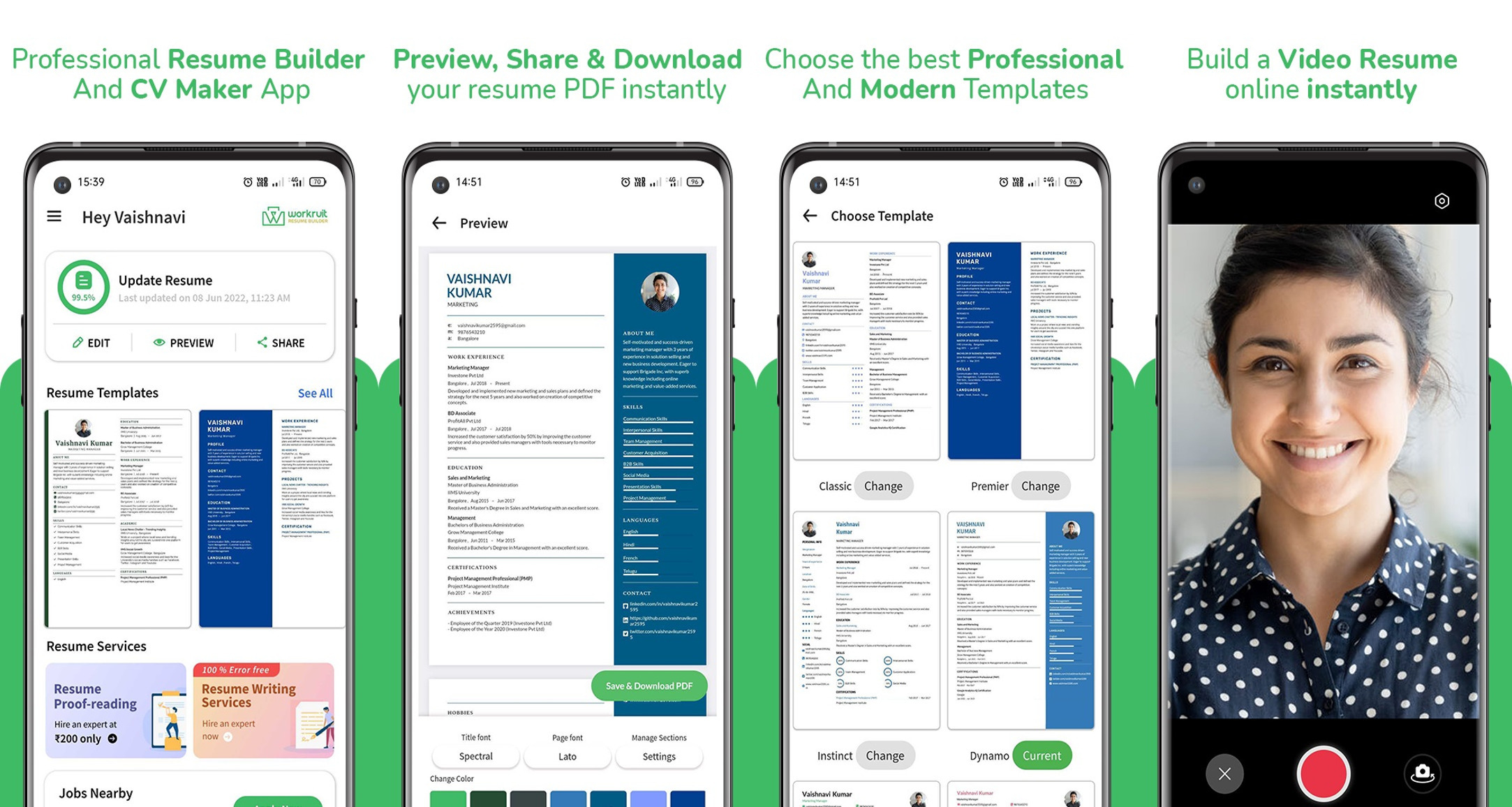 Resume Builder by StoryTech is a powerful app with lots of unique features. Apart from making a resume manually, you can make it by recording a video of yourself. You can see various resume examples and compare yours to the job description. You also get tips for making a perfect resume and CV. It has many modern and classic resume templates. However, you have to buy a premium membership to access all the additional features.
Features:
Video resume builder

Several resume templates and CV formats

Text suggestions based on your profile

ATS-friendly resume templates

Compare a resume to a job description

Over 10,000 pre-written resume text phrases

Download the resume PDF or share it with the URL

8. Resume PDF Maker (DailyMobApps)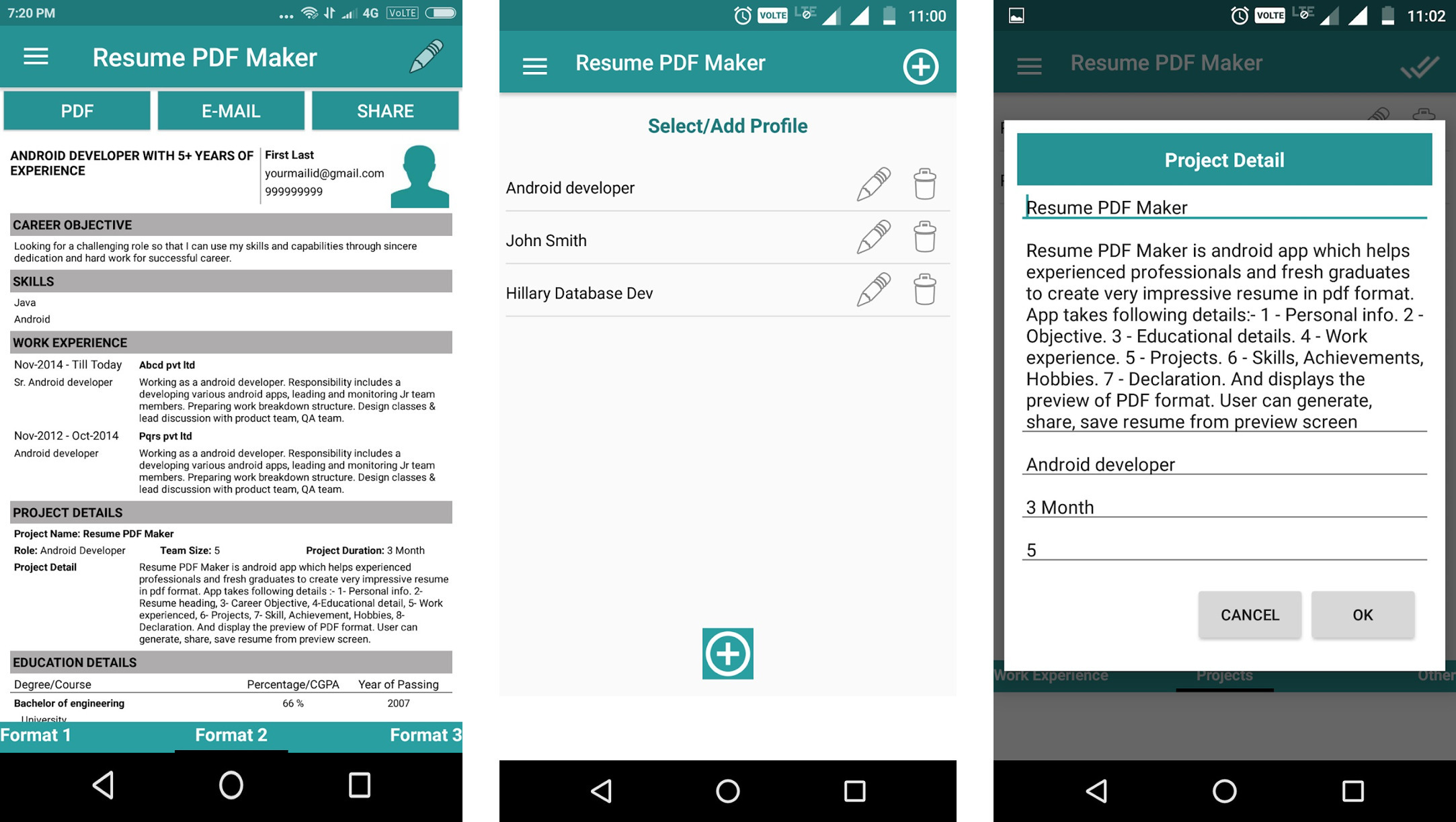 Create, make, and edit resumes with the Resume PDF Maker app. You get the 7 different templates format with customizable banners and section colors. You can export a PDF of your resume, share it via email, or download it. The resumes can be viewed and edited later. You can add as many profiles as you want. Resume PDF Maker offers you cloud backup features so that you can retrieve a copy of your resume if the original one gets deleted or lost.
Features:
Add new profiles

Edit, rename, delete, and duplicate profile

7 different templates

Editable templates

Cloud backup feature

Download sample resumes

Download and share your resume in PDF format

9. Resume Builder (By Nithra)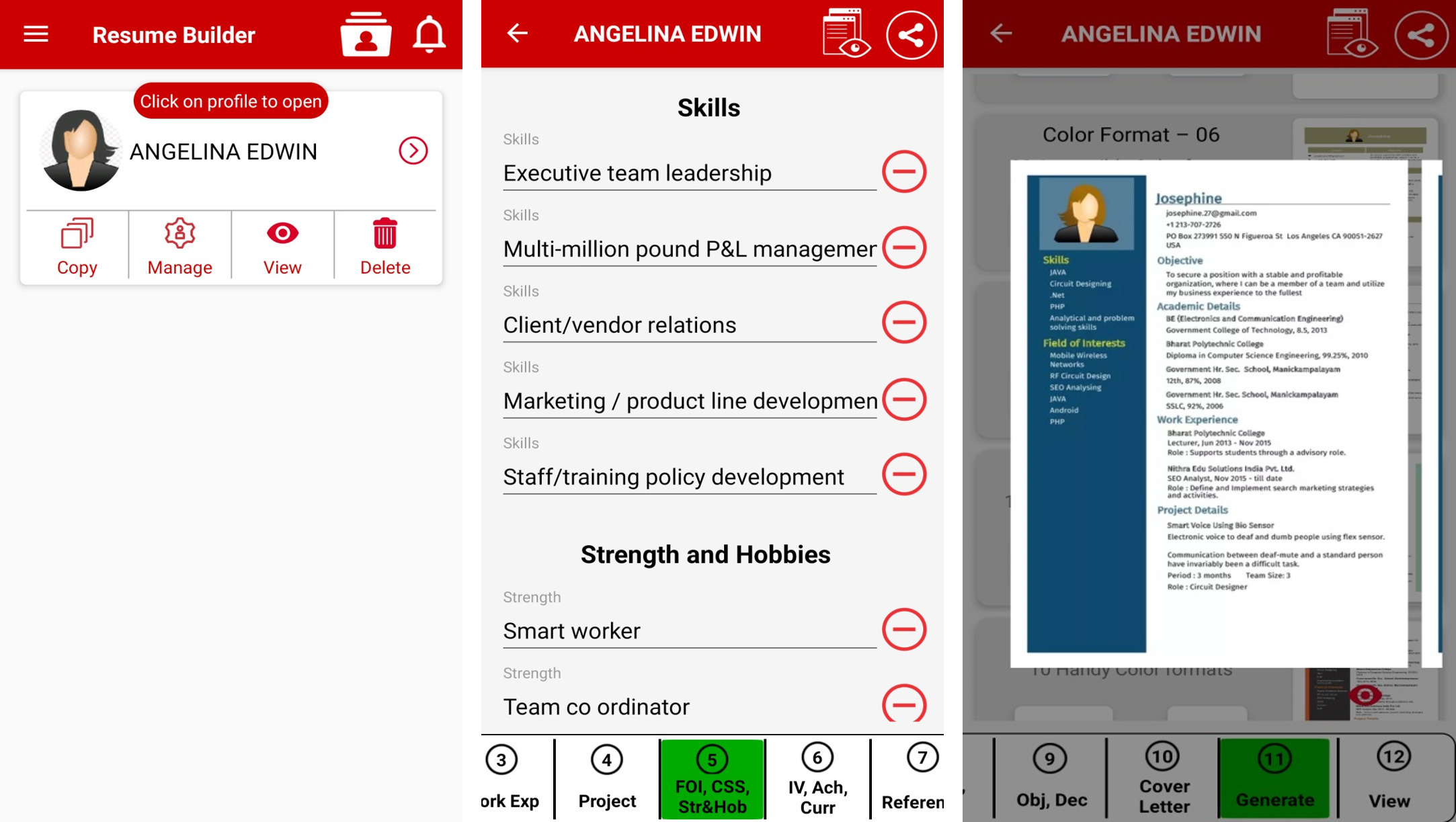 No need to worry about formatting your resume, CV, and cover letter. Resume Builder will do that for you. Just enter all your details one by one and choose from colored and classic templates and you're done making the professional CV that will assist you in getting a good job. Create as many resumes as you want and manage them in the app itself. You can buy the paid version of the app to remove ads.
Features:
More the 130 resume templates
Create and manage multiple resumes
Copy, back, and restore your resume/CV
Get your resume in pdf file format
Create and manage multiple profiles

10. Resume Builder (By ZipoApps)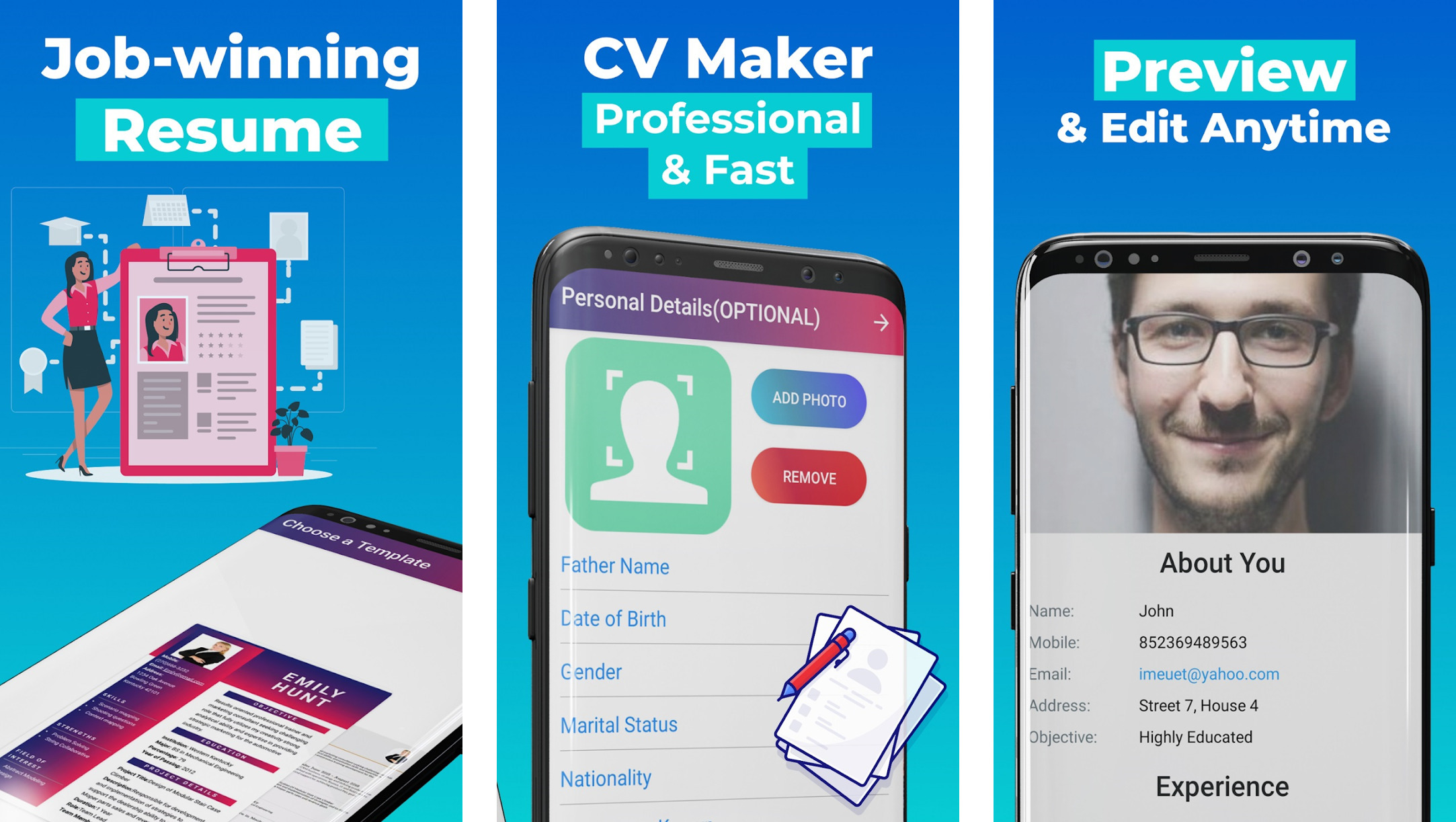 This is the most simple and easy-to-use resume builder. You can create, view, download, and share your resume. Just like other apps, this one too requires you to fill in your educational and other details one by one. You can view your all resumes and makes changes to them later. To get the additional resume templates you have to buy the pro version which will give you an ad-free experience as well.
Features:
Over 50 resume templates

Preview and edit resume anytime

Download the resume in PDF format

Access the downloaded resume from the app itself

Share your resume with anyone and over any platform