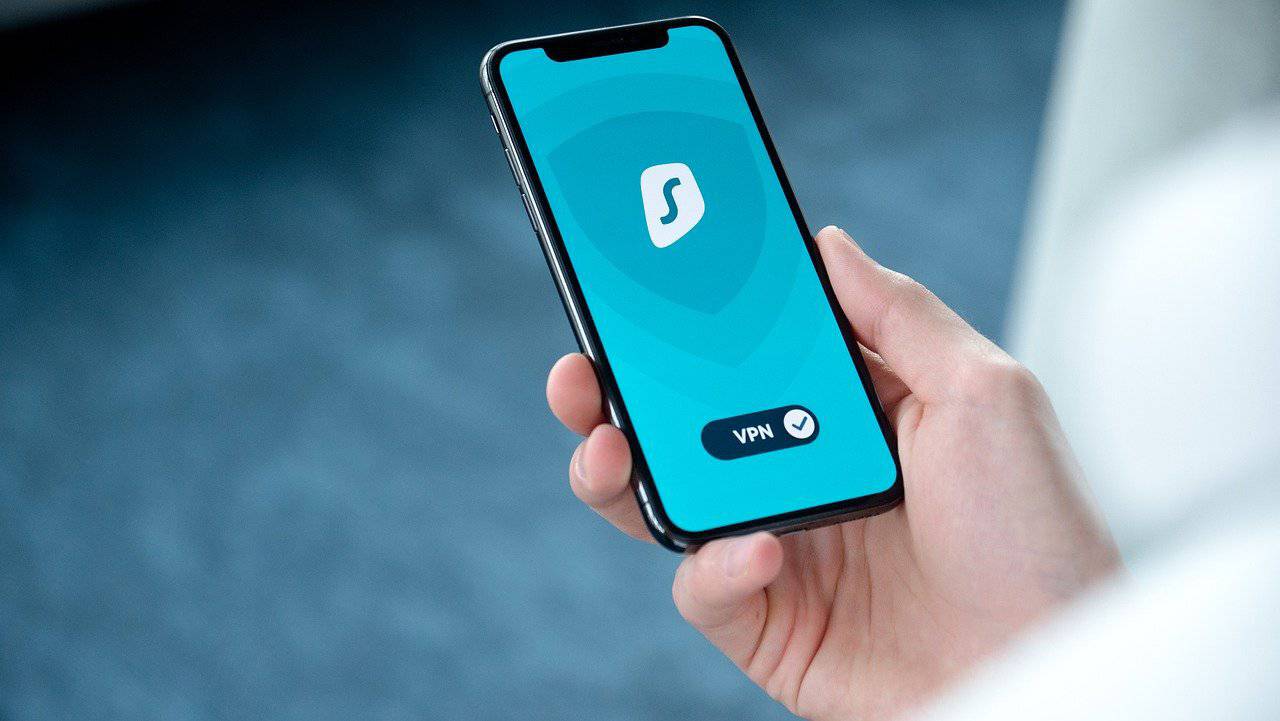 VPN apps are widely used by millions of people which provides the users complete privacy online. VPN stands for Virtual Private Network. To provide privacy to the users and to surf the web anonymously, VPNs are used. VPNs help to keep your current location private and keep your data encrypted. VPNs don't record or keep the history of your web activity. If VPN apps are installed in your system or phones it will be impossible to hack your private information or your IP address. When you are using a public hotspot system there is a high chance of stealing your data VPN will help you in such cases.
VPN apps most importantly help you to secure your bank details which can easily be stolen. Many VPN apps that have inbuilt ad-blockers which will help you have smooth web access. They also help you with buying cheaper plane tickets and book hotels all over the world. There are a variety of VPN apps available on the iPhone out of which the 10 best apps are mentioned below with features.
Related Article: Best Free VPN Chrome Extensions For Your Google Chrome Browser
List of Top 10 Best VPN Apps for iPhone and iPad
Daily VPN-Secure VPN Proxy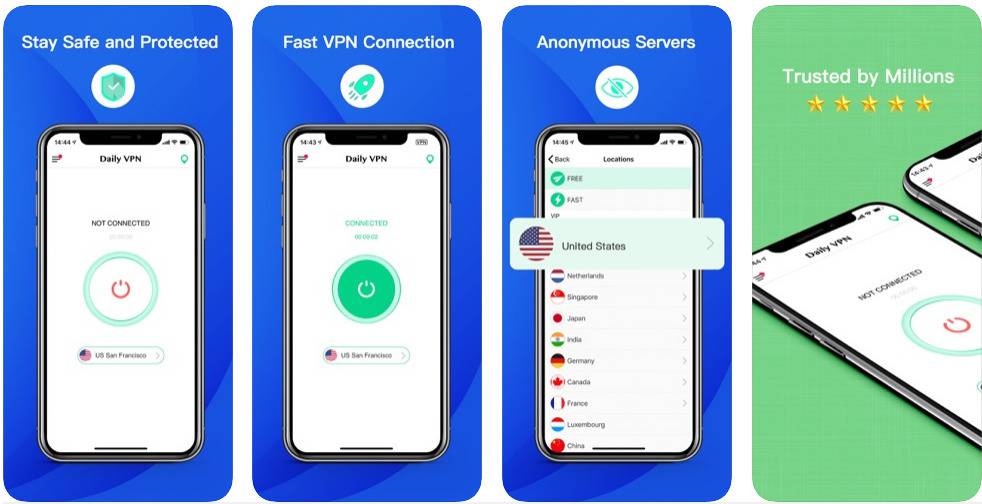 Daily VPN app is one of the most downloaded and popular apps on the AppStore. This app provides you with full security, creates a secure connection, protects your data while using a public hotspot, and supports many Apple devices like iPhone, iPad, and also iPod. Allows the users to safely browse through the internet anonymously. When you are switching to different countries it will help increase the access speed.
Pros
No registration required

Provides complete security

One tap connect to VPN is enabled

Unlimited bandwidth
Cons
There might be some issues while playing games and might crash.
VPN Proxy Master -Unlimited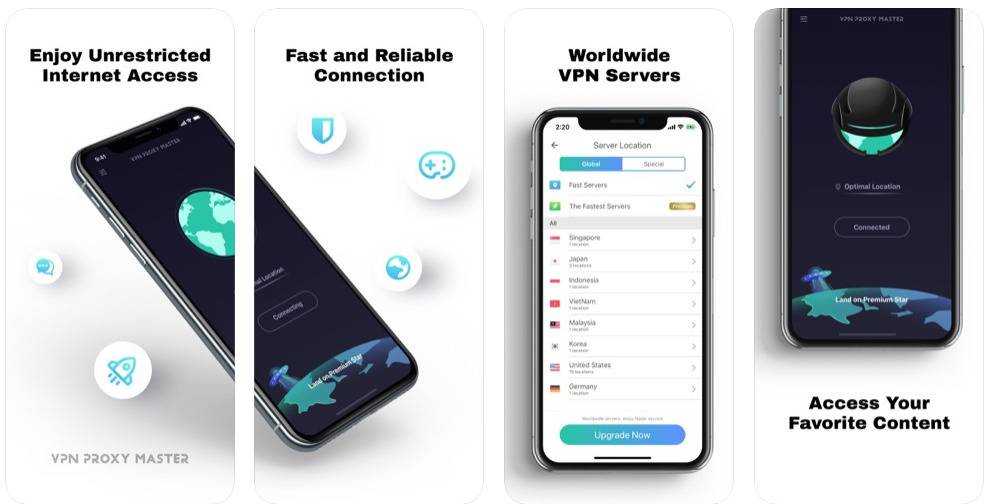 VPN proxy master is also one of the trusted apps by many users in AppStore. It is the best app which is used for school and home office. Moreover, the app provides 24/7 live chat support where users can solve their issues if any. A high level of encryption protocols is provided by the support. Users can enjoy their favorite apps and websites and enjoy the content anytime and anywhere you wish to. Your online activities or history will remain completely private throughout your use.
Pros
24/7 live chat

No log in required

Protects your privacy

Simple and easy to use
In-app purchases $69.99 per year.
TunnelBear VPN & Wifi Proxy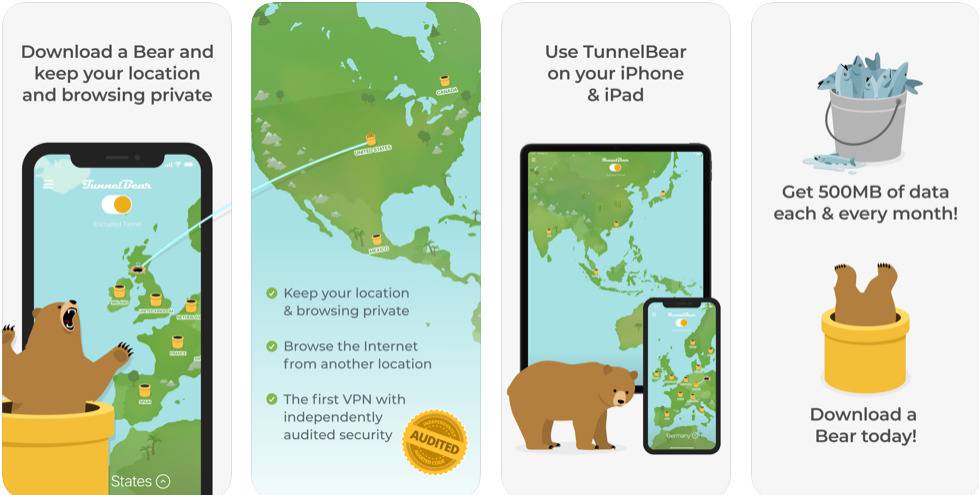 TunnelBear VPN app is one of the best apps in AppStore as it is very simple and easy to use. Without any issues, users can browse whatever they want with full privacy anonymously. TunnelBear uses a third-party tool to ensure complete security. You can access the websites with high speed anytime anywhere. Helpful security is provided by the app where the support system is ready to solve any of your issues. Provides the best user interface to all users around the world.
Pros
AES-256 bit encryption is provided.

There is no login required

Easy to use
In-app purchases $9.99.
Turbo VPN Private Browser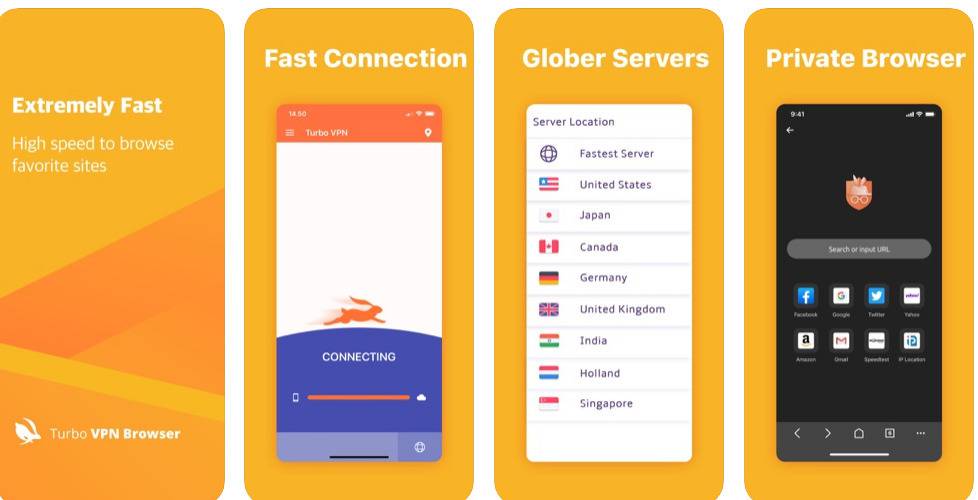 Turbo VPN private browser provides users with complete security and privacy. Website surfing is now easier with this app. Super-fast website access is provided by the support. Accessing the apps, games, websites are more secure. It gives one of the best internet speed to the users. New global servers are provided for streaming. Your personal information is always safeguarded in this app.
Pros
Provides full security

There are many VPN servers

Easy to use
In-app purchases $35.99 per year.
Hotspot Shield VPN & Wifi Proxy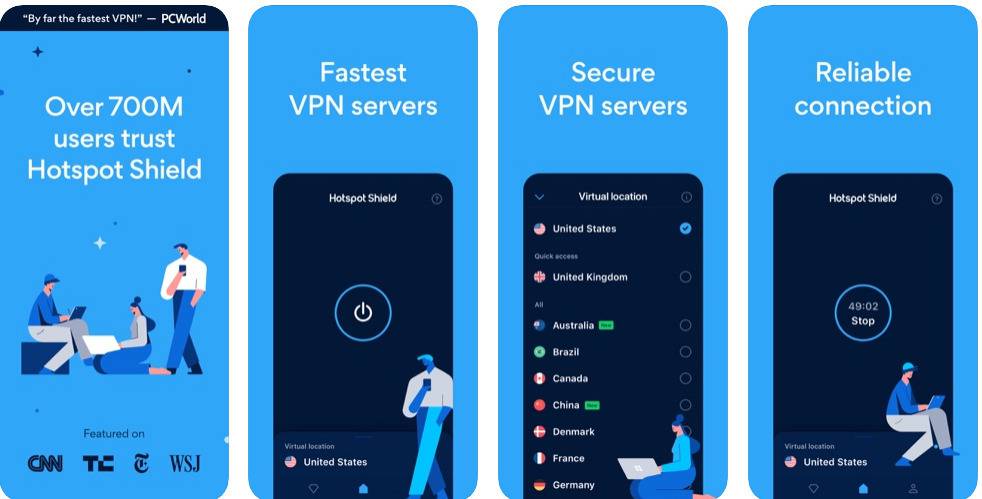 HotspotShield VPN app is one of the trusted apps by millions of users as it connects over 3,200 VPN servers and keeps your information and data encrypted. Now users can securely browse the websites as they help in providing complete security. There is no need for any login and it safeguards you from cybercriminals. This app also provides a 7-day free trial where you can cancel it anytime you wish.
Pros
It is accurate and flawless

There are many VPN servers

Very fast
In-app purchases $12.99 per month.
Related Article: Reasons to Use a VPN Service
VPN – Master Proxy Unlimited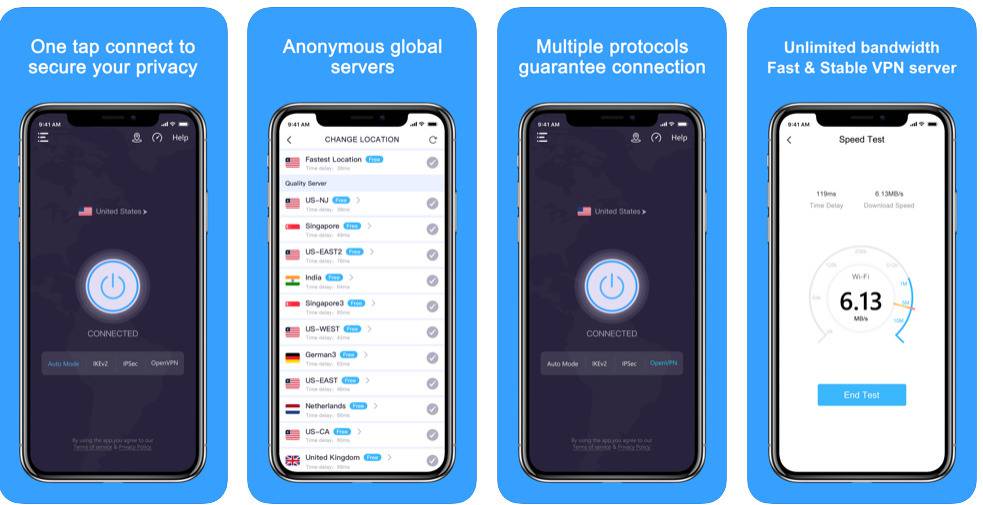 VPN Master Proxy Unlimited provides many features to its users throughout the world. This app does not require any login or registration, protects your data during a public hotspot connection also, and supports many Apple devices. Allows the users to create a secure connection to different networks. When the user switches the country the internet speed also starts increasing. It is highly efficient, easy to use, and is appreciated by many users.
Pros
It is one of the free apps

There are many VPN servers

efficient and provides good security
Cons
Some users tell that the wifi connection is poor.
Download vpn master proxy unlimited
Best VPN Proxy Betternet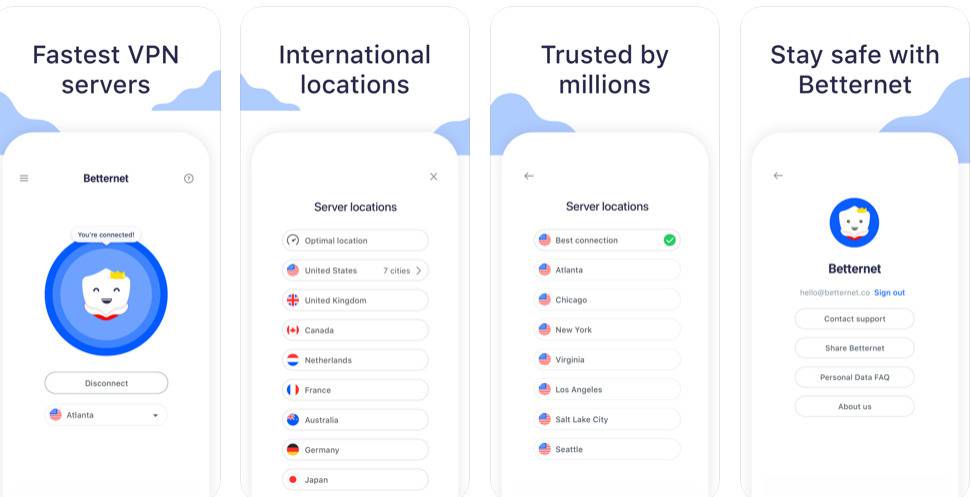 VPN Proxy Betternet is a widely used app. This app automatically connects to the fastest server available. You can surf through various websites, games, Netflix without any security issue. Your passwords, important data, everything is secured with encryption. Fast service is provided by the support of all the users. Moreover, it provides a 7-day free trial and you may switch over to the premium whenever you like.
Pros
One tap connect feature

The log is not saved

efficient and provides good security
In-app purchases $11.99 per month.
Speedy VPN- Super Unlimited VPN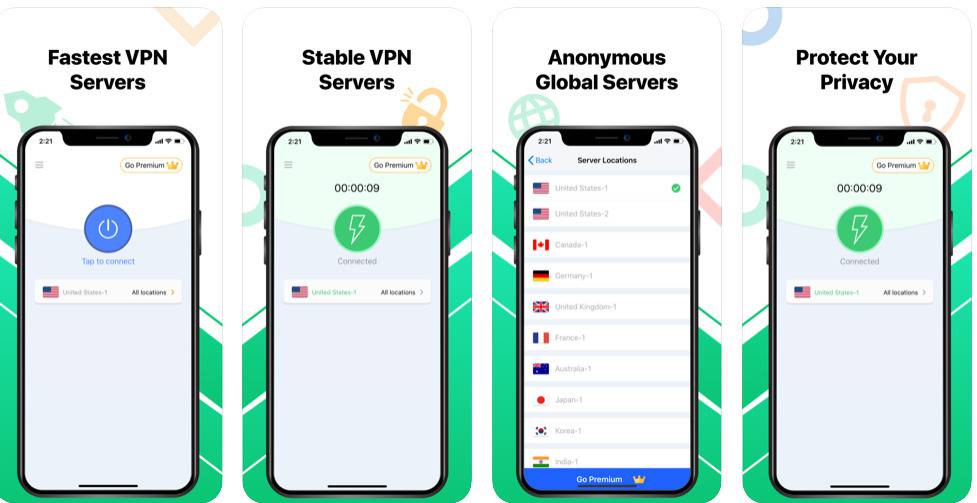 Speedy VPN is a good app that provides the best VPN proxy to you. There is no usage limit or any sort of time limit to the users, they can surf as much as they want. It is better to upgrade to the premium version as there will be no annoying ads and the internet connection will be faster. It is compatible with iPad, iPod touch and iPhone. In the AppStore, it has the best reviews.
Pros
Protects and secures data

Good wifi connection

efficient and easy to use
In-app purchases it costs about $59.99 per year.
Hexatech: Unlimited VPN Proxy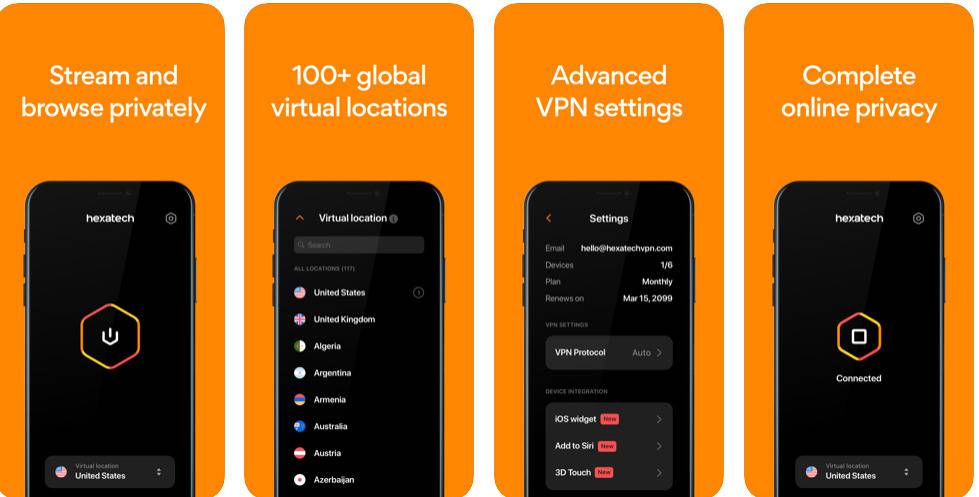 Hexatech VPN app has the best features as it provides large and unlimited bandwidth. Helps to keep your data secure with encryption. Good customer support is provided to solve your queries. You can connect up to 5 devices which is one of the greatest things. Protects your data from cybercriminals. You can also upgrade to premium which provides a 7-day free trial.
Pros
Unlimited free access

There are many VPN servers

user friendly

81 international virtual locations are provided to the users
Cons
Some users have mentioned that it slows down the phone and is difficult to connect it to the wifi.
In-app purchases it is available for $11.99.
Larva VPN – hide your IP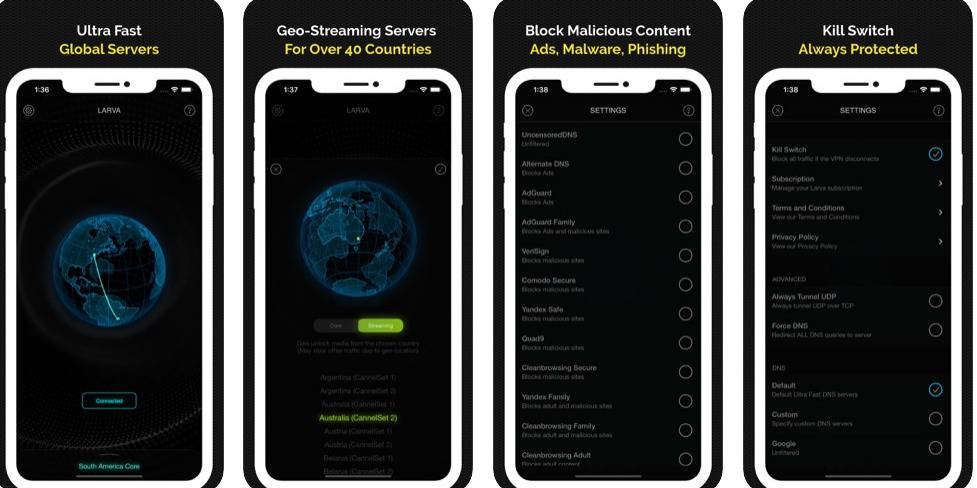 Larva VPN helps its users provide the best feature and has a huge global network. There is no need to register required in this app and is very easy to use. Kill switch is provided whenever the connection disables. Furthermore, a very low network overhead of 2% is present. The premium plan is cheaper and provides good features.
Pros
Provides new updates always

geo streaming servers are provided in more than 40 countries

user friendly

The app size is only 38.8mb
In-app purchases it is available for $59.99.
Related Article: Top 10 free VPN software for Windows