VPN or Virtual Private Network is very essential today for the protection of your private information. Nowadays almost everything is available online from shopping and paying bills to banking and because of this our online security in danger. So everyone who uses the internet needs VPN to secure their transactions over the internet. Not only for secure transactions but VPN also protects your personal data as well. It makes a secure virtual tunnel to send or retrieve data packets over the internet securely.
Must Read: Reasons to Use a VPN Service
To protect your data you need to install any VPN software on your PC or simply install a VPN Chrome extension. Using a Chrome VPN extension is pretty simple to use compared to VPN software. So we have listed some of the best free VPN Chrome extensions for the Chrome browsers. But before selecting the correct VPN chrome extension, you need to first understand what is VPN and why do we need VPN service.
What is VPN (Virtual Private Network)
VPN is a way to share your data over the internet privately. VPN protects your privacy by encrypting your internet connection. It routes your internet connection throughVPN'sprivate server to the destination. For instance, when you are connected to a public network like the wifi in a coffee shop, it's easy for hackers to get hold of your data.VPN not only prevents others from sniff out your data but it also provides anonymity so websites and your Internet Service Provider cannot track you.
Benefits of using a VPN Service?
Unblock websites: VPN changes your IP address and assigns a new IP address. You have full access to choose which country IP you want to. So when you connected with the VPN, you can surf the internet as you are in Canada, UK, USA, or any other country virtually.

Protect your Privacy: Changing public IP address will protect your privacy as well. Any netizens can't track you on the internet.

Increase Your Security: VPN encrypts the data packets before sending them over the internet. So no one can read your data packets.
Related Article: 10 Best Free VPN Apps For iPhones and iPad
List of Best Free VPN Extensions For Chrome browser
1. Touch VPN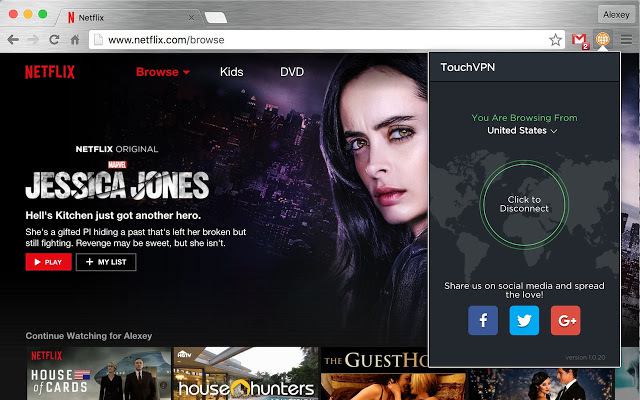 Touch VPN is a 100% free VPN extension for chrome browser that supports unlimited VPN. This VPN is fast and simple. It also provides a one-click interface with one button and offers unlimited bandwidth. Consequently allowing you to surf the web freely and anonymously. There is no premium service, all the features are completely free. The simple set up and secure connection makes it quite user-friendly. It has 5900 servers in 90+ countries. It has some great reviews and it's deserving. So if you are only looking for 100% free VPN service with no limitations then Touch VPN is the best free VPN extension for Chrome browser.
Features
100% free Chrome VPN extension

A very fast VPN extension for Chrome.

Unlimited access to blocked websites.
Get Touch VPN Extension for Chrome
2. SetupVPN

Setup VPN is a lifetime free VPN extension for Chrome Browser. It is completely free with no bandwidth or speed limit but you have to create an account to get started. Along with being user-friendly to set up, it also provides military-grade encryption while connected to a public Wi-Fi or hotspot. Setup VPN lets you access content by switching your location. Moreover, it encrypts your connection and changes your IP address. This VPN offers excellent security and protects your online privacy for free.
Features
Unlimited free VPN for a lifetime

No bandwidth or speed limitations

4096-bit military-grade encryption
Get Setup Extension VPN Chrome
3. Dot VPN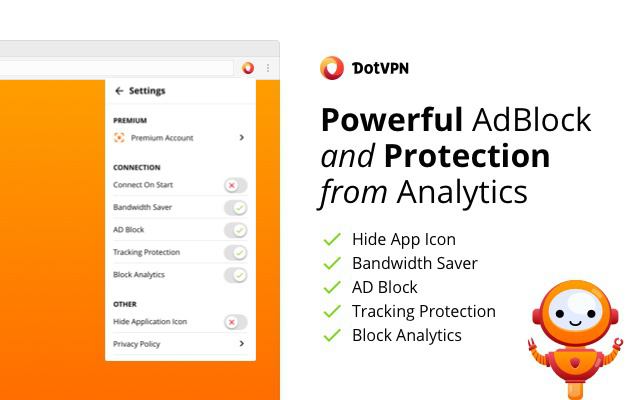 DotVPN extension for Chrome is free and easy to use. It guards your browser connection as well as maintains your anonymity when you are in public wifi hotspots or other locations. It also lets you stay private by concealing your IP address. They have a "no log" policy and varieties other additional services. DotVPN lets you bypass any blocked website as well as access sites like Facebook, Netflix, BBC, YouTube, and others. Although most of these services are available for free, you can also get a premium for a faster connection.
Features
Provide unlimited speed and bandwidth

Works in incognito mode as well

Encrypt your data with a 256-bit encryption technique

Integrated ad blocker

One-click to connect

1000+ servers

Free Dot VPN account provides 80% of all features
Get DotVPN Chrome VPN Extension
4. ExpressVPN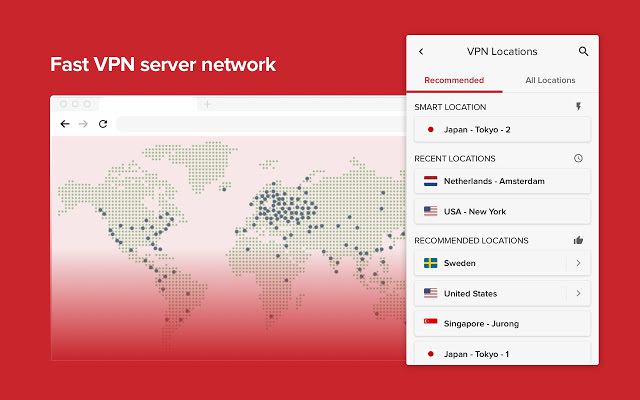 Yes, ExpressVPN is also available for Google chrome as a VPN extension. It provides sturdy online protection and a fast VPN server. It is one of the most popular and best free VPN Chrome extensions on this list. Along with the spilt-tunneling feature, ExpressVPN is easy to set up and it is available in 16 languages. Above all, it lets you connect chrome browser to a large network with 3000+ VPN servers in 160 locations in 94 countries. Furthermore, you can get a 30 days trial and see it for yourself. It costs $12.95 a month with 30 days money-back guarantee.
Features
Easy to use

Enable location spoofing

HTTPS everywhere

Unlock websites

Also, available for Firefox and edge as well.

Support of Dark mode
Get ExpressVPN Extension for Chrome
5. Hola VPN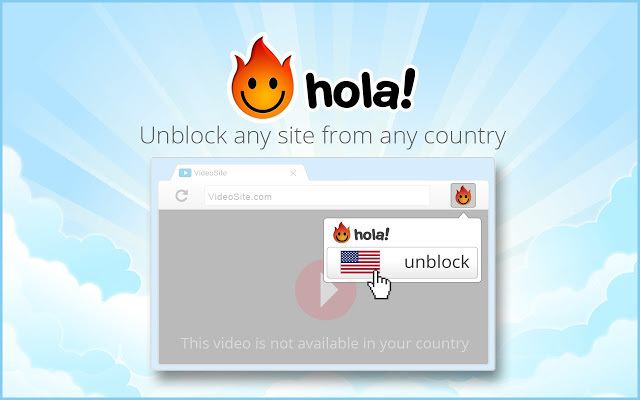 Hols is one of the best free VPN chrome extension for chrome browser that protects your security without annoying ads. Hola is not a peer to peer application that will encourage you to download any additional products. It also uses spilled-tunnel technology that allows the user to choose which services are routed through the VPN and gives a great speed. They also have a paid plan as well. Hola VPN plus for additional features to unblock all websites and to secure traffic. A one-month plan costs $2.5 and it is fully refundable for 30 days if you don't like the service.
Features
More secure and fast VPN extension.

Ads-free service.

Supports 48 languages.

Unlock most websites with the free version and all websites with a plus version.
6. ZenMate VPN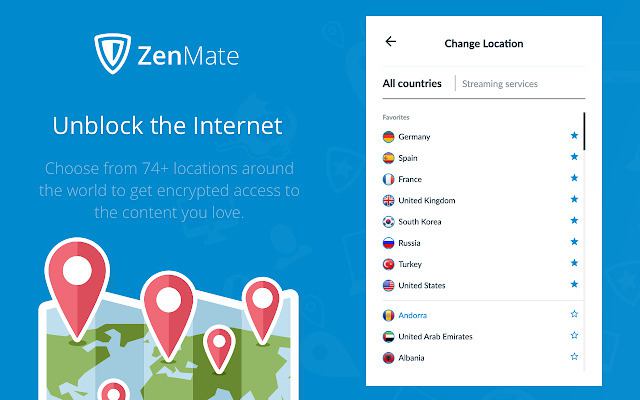 ZenMate VPN is a highly popular VPN extension for Chrome browser. It offers unlimited bandwidth and strong encryption. Besides being fast and highly secure, it has VPN servers in over 74 countries. There are over 2000 VPN server locations across the world to choose from. This VPN is easy to set up with just one click. They have a zero-logs policy therefore they don't keep any logs of their users hence ensuring complete anonymity.
Features
Strong encryptions technique to secure your data over the internet.

Have zero logs policy.

14 languages supported
Get ZenMate Chrome VPN Extension
7. Betternet VPN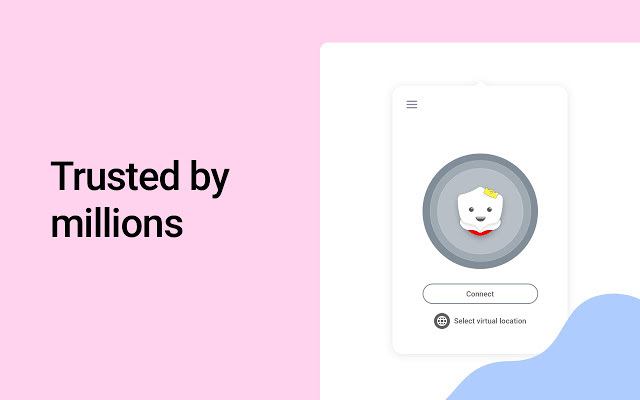 Betternet VPN is one of the best free VPN Chrome Extension with premium-like features. It is easy to use as well as has a one-click "connect" button. One of the exciting features of this VPN is incognito browsing. It simply encrypts your internet traffic and works like a tor proxy, so your online activities are anonymous. It also works as a location spoofer by masking your IP address. In short, Betternet is a fine and reliable option for the Google Chrome browser to add extra security to your Chrome.
Get Betternet VPN Extension for Chrome
Features
One-click connect feature.

Fast and reliable.

Browse in the incognito mode as well.

Unlimited VPN access.
8. Browsec VPN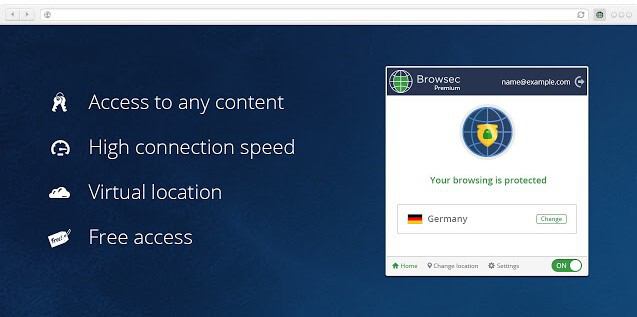 Browsec VPN is the best free VPN extension available for Chrome that supports unlimited VPN access. To prevent tracking of your data, it encrypts your traffic to route it through a cloud network. Besides, it also allows your browser to open blocked websites. It delivers a safe and anonymous browsing experience. Browsec is an advanced analogue of ZenMate, Stealthy, Hola, and friGate. Thus, it is a great option to consider if you are looking for something manageable with competent features.
Get Browsec Chrome VPN Extension
Features
Browser traffic encryption.

There are lots of  Premium features that you can use.

Connect from 42 countries.
9. Hoxx VPN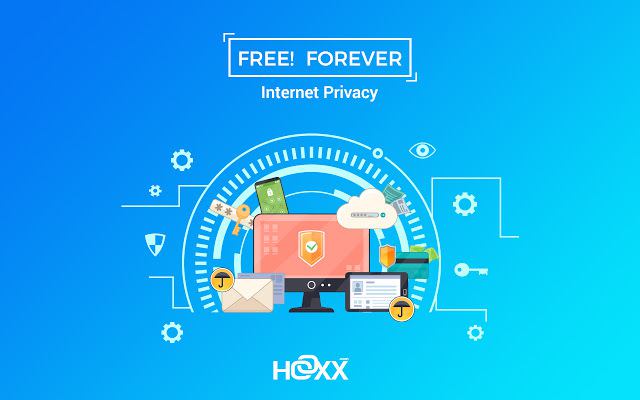 Hoxx VPN is another best free VPN chrome extension. It encrypts your connection so your data is protected at public internet locations and it also unblocks websites. All you need is a hoxx account and these features will be available for free. Moreover, they have over 100 servers all over the world. Hoxx VPN is quite uncomplicated and efficient for basic VPN requirements.
Features
Encrypt your data safely and unlock websites.

Protection from malicious websites.

Hoxx account required to use Hoxx VPN extension.
Get Hoxx VPN Extension for Chrome
10. TunnelBear VPN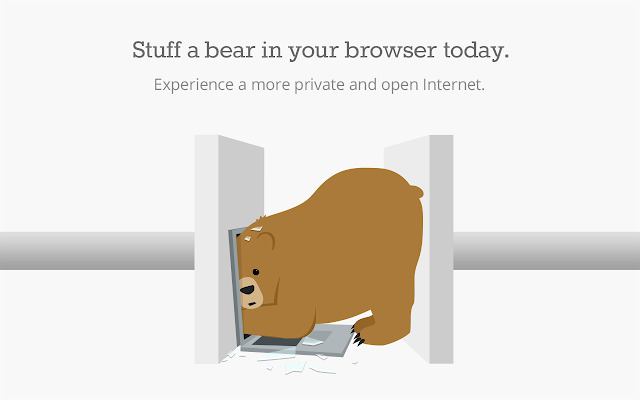 TunnelBear is a hugely popular VPN extension for chrome. This free VPN prevents the websites, advertisers, and Internet Service Providers(ISPs) from tracking your browsing activities. One of the main reasons for its popularity is that it's incredibly simple. It also provides a fast private network with connections to 20+ countries. TunnelBear VPN masks your IP address and doesn't keep logs of any user activities, therefore, ensuring complete privacy and anonymity.
Features
Fast and lightweight VPN extension for Chrome.

Block advertisers and  ISPs to track you.

Connection from 20+ countries.