Geocaching is a fun game where you have to find a hidden item also called a geocache by following certain clues about the item's location. The game has been popular for almost 20 years and was originally called GPS Stash Hunt. The player usually uses a map or GPS in a smartphone to find the hidden geocaches.
However, as technology advanced many geocaching apps started to emerge. All geocaching apps perform the same function more or less, but some apps offer more features. Others are user-friendly and have a clean interface. So, to help you narrow down the list we have compiled the 5 best geocaching apps for Android and iPhone.
Must Read: 10 Best Podcast Apps for Android and iPhone
List of5 Best Geocaching Apps for Android And iPhone/iPad
1. Geocaching by Groundspeak Inc.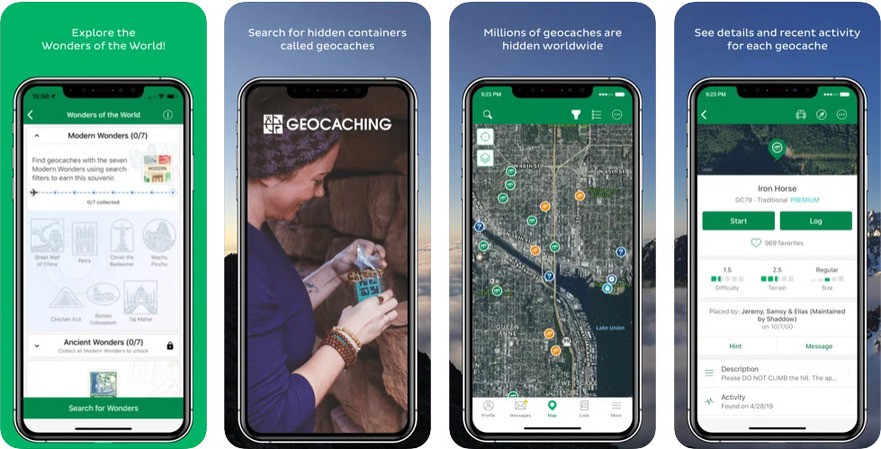 Geocaching is the official GeoCaching app made by the grandfather of geocaching Jeremy Irish, who launched the app in 2000. The website geocaching.com not only offers lessons on GeoCaching but also sells products meant for Geocachers. The app ranks first in our list of best geocaching apps because it provides details with descriptions for each geocache along with recent activity, hints, and attributes. Finding a geocache through this app is very easy as the app has a simple interface and is user-friendly. You can navigate to the cache using a compass, a map, or driving directions.
The live search feature of this iPhone and Android geocaching app continuously updates nearby geocaches as you move. You can also message other players for hints and tips. To navigate more easily, you can set the distance and location according to your personal preferences and sort geocaches by distance. However, one main drawback of this app is that the free version does not provide many features. The free version has all the basic features but to avail the important features you need the premium account.
The premium account includes features like Premium member-only caches, Offline maps that provide the location of geocaches anytime, anywhere. In addition, it gives you access to more caches that you can sort by distance, favourite points, or geocache name. You can also plan, edit and add your next adventure with lists. 3-month premium membership costs $9.99, whereas a monthly premium membership costs $5.99. The premium version is one of the best geocaching apps for Android and iPhone, perfect for those who are serious about the geocaching game and those who want to have access to the entire geocache database of the world.


2. c:geo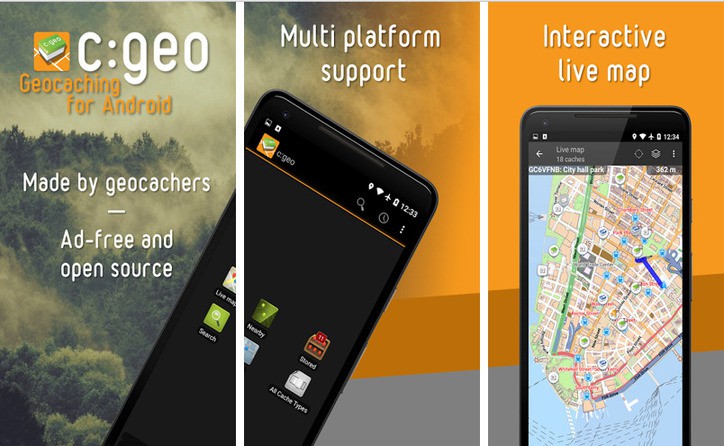 c:geo is a free Android geocaching app that is open-sourced and fully featured. The app is an unofficial client for geocaching.com and provides basic support for other geocaching platforms like Opencaching. c:geo isn't as pretty as Geocaching but it does provide some excellent features. You can store cache information directly to your device from geocaching.com. Moreover, you can also import data via GPX file import to have the information anytime you want. To get started, all you need is an account in geocaching.com or other geocaching platforms and you are all set.
You can manage the stored cached by sorting and filtering them as per your needs. If you want a geocaching app that works brilliantly offline then c:geo might be one of the best geocaching apps you could find. With c:geo you can store caches together with offline map files and even navigate towards a geocache with no internet connectivity. Once the connection is restored, all of your data will be synced automatically. The app comes with a built-in compass that is very handy while navigating in unknown places. Moreover, it also hands over coordinated to various external apps like Google Navigation, Street View, Radar, etc. You can create a custom local list with just the caches you are interested in.
Searching for a cache in c:geo is extremely easy as well. Just open live maps which will show you nearby geocaches. Tap on a geocache and all of its details will be available. You will be able to know the size and type of the cache, its distance from you, its GPS coordinates, the date of its creation, the difficulty level of the terrain where it is located, etc.

3. Cachly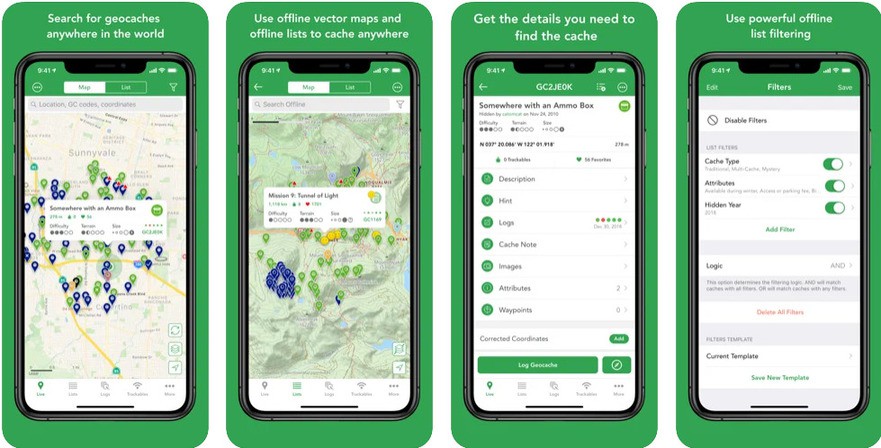 Cachly is exclusive to iPhone and is not a free geocaching app. However, unlike Geocaching, Cachly does not require a monthly subscription. It requires a one-time payment of $4.99 for iPhone, iPad and Apple Watch. It is an Official Geocaching HQ Partner App that uses the official API. You can loin to Cachly using your existing account in geocaching.com. Since the app requires a fee, it offers a lot of advanced features. As mentioned above, the app works on Apple Watch which is really helpful when you don't want to drain your phone's battery.
With the Proximity alert, you will be notified every time a cache is within your radius. You can also search for a geocache on the basis of location, coordinates, date created, cache name, difficulty, size, terrain or GC codes. The Trackable Scanner scans all types of trackable and gives the option to view scanned trackable, save discover log or create a new log. Cachly is like the Facebook of geocaching apps where you can add friends and view their logs for an individual geocache. Moreover, the maps have 2x zoom options for better readability. You can switch the High Power Mode on in the Settings to always keep location services on when using Cachly. Additionally, you can use OpenStreet vector maps to save maps offline.
Since Cachly is considered to be one of the best geocaching apps worldwide, it offers to translate a cache description from any language to any language. There is a free version of the app as well, but it lacks very important features and the custom search is limited as well.

4. GeoCache Calculator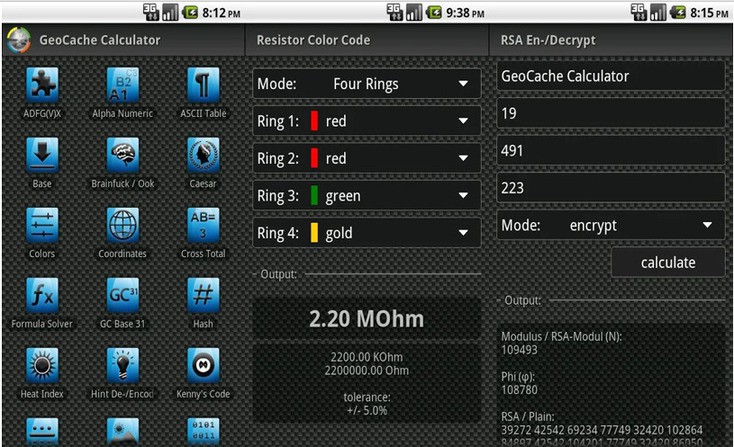 Like c:geo, GeoCache Calculator is an Android one of the best geocaching app. The app contains 250 different functions to help you checksums and calculate values for your outdoor geocaching activities. GeoCache Calculator mostly focuses on solving puzzles that you might come across while searching for a geocache. Unlike other geocaching apps for Android and iPhone, this app doesn't provide you navigation details or maps to reach a specific cache. You will have to carry a map tool along with this while hunting for a cache.
However, the huge amount of features in this app compensates for the absence of a map. Some of its features include Alchemical Symbols, Bacon's cipher, Braille, Formula Solver, 4-ring Calculator, 5-ring Calculator, and many more. Moreover, it can convert codes like Morse code, Kenny's code into simple language.
It also has a tool called the Periodic System of Elements that provides the chemical symbol, atomic mass, atomic number, melting point, boiling point, the radioactivity of all elements of the periodic table. In other words, Geocache Calculator is one of the best geocaching apps to encode and decode hidden messages of mystery caches. The app is extremely helpful to not only solve geocaching puzzles but also puzzles of other games, movies. In short, it is a universal translator.
The interface of the app is quite simple. There are four themes and three font sizes that you can customise as per your needs. In addition, the app supports the German language along with English. It can have complete offline usage and can work really well on a tablet as well.

5. GeoCaches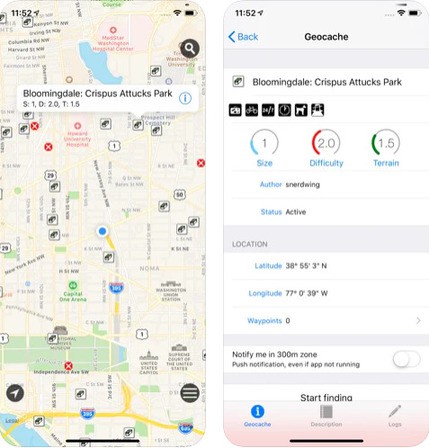 GeoCaches is specially designed for iPad but it works on an iPhone as well. The app is very easy to use and is simpler in comparison to the other apps on the list. It doesn't have too many settings as well. As a result, you won't have many options to customize your search. However, the app is pretty straightforward and does the job of finding a cache very well. GeoCaches even calls itself a 'simple application for geocachers' and intends to be one of the best iPhone geocaching apps for those who are new to this field.
The app supports geocaching sites like geocahing.com, geocaching.su, opencaching, etc. To know about a cache on a map, tap on it and the app will show you the size, difficulty, and terrain levels of the geocache. The app will also give you the location of the geocache in terms of latitude and longitude. Since the app has limited settings, the only customisations available are map type(terrain, satellite, etc.); size, difficulty, and terrain of a cache, show/hide found caches or active caches. Moreover, you can view geocaches offline as well.
For non-premium members, the app allows the download of 3 full geocache info per day. You can also store details and information about a geocache in your local storage.