According to recent statistics, a worker spends around 30% of his time reading, sending, or responding to emails. And this isn't surprising considering how popular and useful Gmail is in our work life. However, not all the time spent on emails is productive. A fair portion of it is spent on decluttering our inbox and making sense of what thing to prioritize and what not to. Nonetheless, there are many plugins, extensions, and add-ons that can make working in Gmail very productive. So, here we have made a list of the best Gmail add-ons and extensions to enhance your email productivity.
Related Article: Best Ad Block Extension For Google Chrome
List Of 10 Best Gmail Add-Ons And Extensions
1. RightInbox for Gmail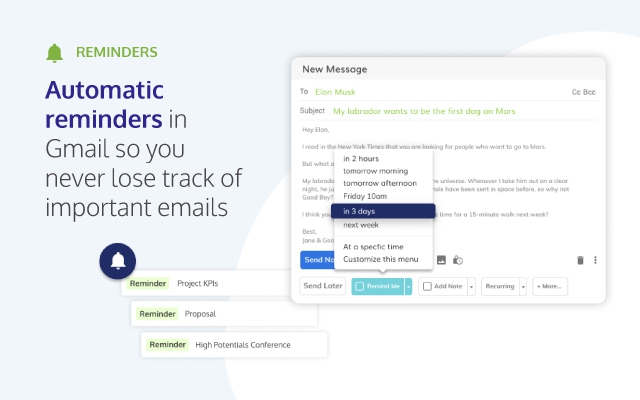 RightInbox is used by more than 250,000+ professionals for next-level Gmail productivity. Considered one of the best Gmail add-ons,RightInboxcan send emails later, track emails. You can also set a reminder to never forget to reply or send an email. It is considered to be one of the best Gmail add-ons and extensions for sales, recruiting, and marketing professionals. RightInbox allows up to 10 free emails a month. For unlimited emails, you will have to pay $7.95/month.
Features
Never lose track of your most important emails by setting reminders.

Track emails and know who is opening your emails and who isn't.

With the email template feature, send identical emails to multiple people.

The recurring email feature will let you send the same emails at intervals that suit you.

Add GIFs in seconds within Gmail.

Easily sync your emails with the most popular CRMs on the market.
Install RightInbox Chrome Extension
2. Boomerang for Gmail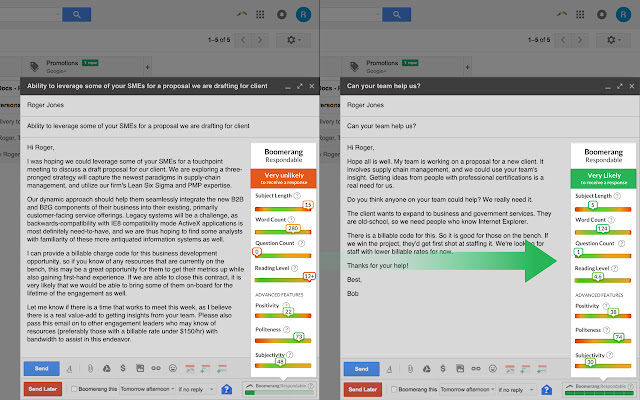 Boomerang has an AI that helps you write better emails and enhance your email productivity. With Boomerang, you can schedule messages to be sent or returned at a later date. Most importantly, you don't have to be online for the extension to send the email automatically.
Features
Schedule emails to automatically send in the future without being online.

Postpone incoming emails by making them disappear from your Inbox into a folder or label.

One of the best Gmail add-ons and extensions, Boomerang will alert you if you do not get a reply to a message.

Boomerang's AI-powered assistant Respondable predicts the likelihood that the message will receive a response and explain that analysis in an easy-to-understand way, all in real-time.

Responsible also guides you on writing a message that will be effective in starting a conversation.
Install Boomerang for Gmail Chrome Extension
3.Zoom for Gmail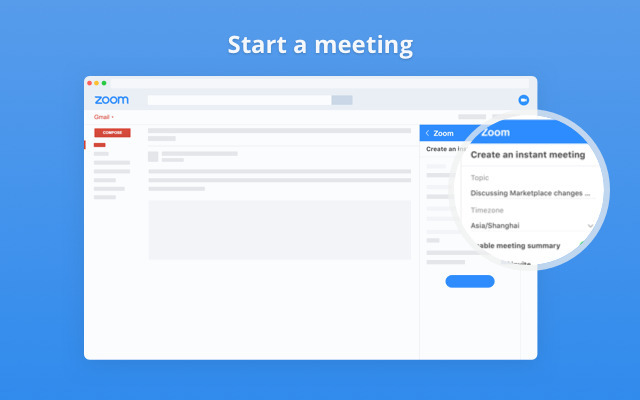 Just like the name suggests, with Zoom for Gmail you can start zoom meetings directly from Gmail. You can have flawless video, clear audio, and easy content sharing directly from Zoom for Gmail. It is one of the best Gmail add-ons if you want to attend zoom calls directly from the Gmail interface.
Features
You can have high-quality video conferencing from inside of Gmail.

Share content easily directly from Gmail.

If you have a schedule for video calls, you can check it through this add-on
Install Zoom for Gmail Google Workspace Add-on
4. Slack for Gmail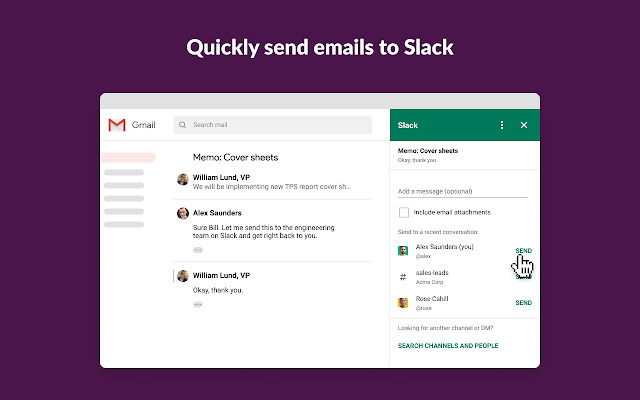 Slack is one of the best Gmail add-ons for people with a Slack account. Here, you can directly move conversations along by bringing the context of an email into a Slack channel or direct message. Moreover, you will be able to include attachments and add messages along with the email as well.
Features
Send emails to Slack to discuss it quickly and move forward.

You can post messages directly to Slack directly from your Gmail inbox.

The add-on is very useful for people who depend heavily on Slack and email for day-to-day work.
Install Slack for Gmail Add-on
5.DocuSign eSignature for Chrome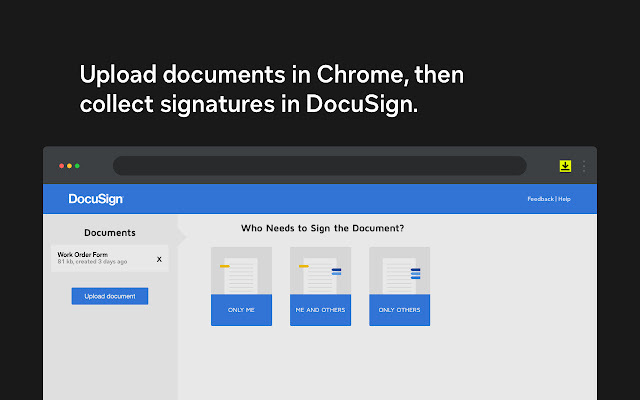 With DocuSign e-signature, you can turn your browser into a powerful signing tool. You can view envelope status, send reminders, sign documents and start collecting signatures directly from your Chrome browser.
Features
If you are tired of sending documents to be signed by Email then with this extension you can send signable documents without wasting time.

Additionally, you can monitor the status of all your documents.

Sign electronically from almost anywhere at any time.

As a recipient, you can sign unlimited documents just by a click.

DocuSign is a safe and secure extension where signatures are legally binding and unique.

Do not fear your data getting leaked as all of it is encrypted on their servers.
Install DocuSign eSignature for Chrome Extension
6. MailTrack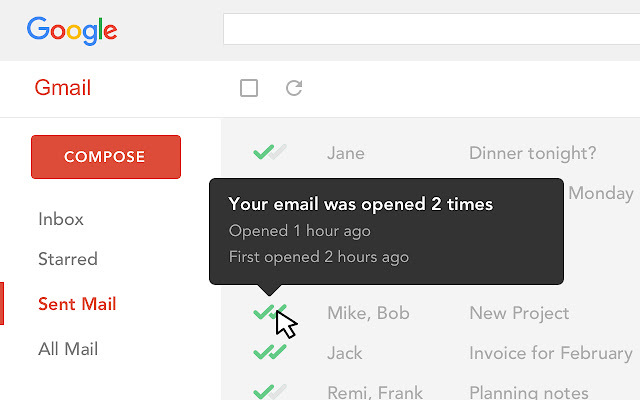 As the name suggests, MailTrack allows you to track emails for Gmail. One of the best add-ons for Gmail, MailTrack has over 1.5 million active users. It is an absolutely free Gmail add-on that adds intuitive checkmarks to your email for Gmail read receipts in your Inbox.
Features
You can see which emails have been read.

You can also track and know whether your email was opened or not by the recipient.

Moreover, you can also track the number of clicks and how many times a recipient opened the mail.

You can also create and manage your mailing list with Mailtrack lists.
Install MailTrack Chrome Extension
7. Evernote for Gmail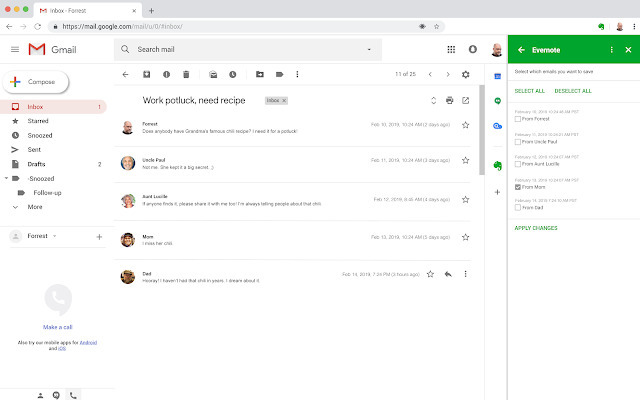 With Evernote, you can overcome inbox overload and enhance your Gmail productivity by working in a distraction-free workspace. One of the best Gmail add-ons, Evernotelets you take what matters out of your inbox and into a workspacewhere you can curate your content, add context, and stay focused.
Features
Move your important emails into Evernote so that they don't get buried under inbox overload.

With Evernote, you can write better emails without extra effort.

As Evernote is an organizational tool, you can organize your emails the way you want.

Search for emails in Evernote without any hassle when you need them.
Install Evernote for Gmail Add-on
8. Smartsheet for Gmail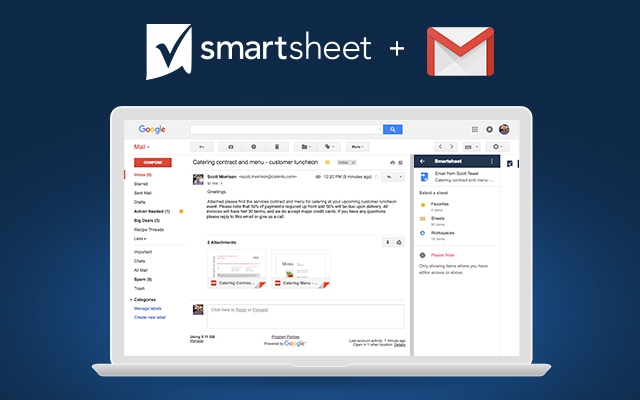 Smartsheet is a popular tool uses within businesses. It is ideal for people who regularly use Smartsheet in their workspace. With this plugin, you will be able to add emails and attachments to new or existing rows in Smartsheet without leaving Gmail. In addition, you can also keep track of important emails and ensure pertinent information is accessible to stakeholders through this extension.
Features
You can add an entire email as a comment directly to a specific row in a sheet.

You can organize email attachments by adding them to a specific row in Smartsheet.

Create new rows directly from Gmail in Smartsheet to add emails and attachments as needed.

Moreover, you can also import Google Contacts from Gmail to Smartsheet to share projects organically.
Install Smartsheet for Gmail Add-on
9.Checker Plus for Gmail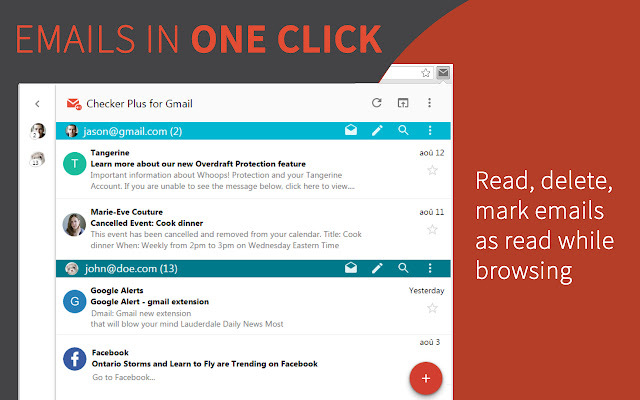 Checker Plus for Gmail will notify you the second you get a new email. It is the fastest and easiest way to manage multiple email accounts. With the free Gmail add-ons, you can get notifications, read and listen to or delete emails without opening Gmail.
Features
It has a beautiful material design where you can see the people emailing you just like in the Gmail chat notification.

It is deservedly the best Gmail add-ons for visually impaired individuals as it can read out emails clearly.

You have the option to monitor any Gmail and custom labels.

Additionally, you can also run this notifier in the background when Chrome is closed.

A popup notification will appear whenever a new email hits your inbox. You also have the option to read, archive, mark as read or delete emails from the current tab itself.
Install Checker Plus Chrome Extension
10.Simple Gmail Notes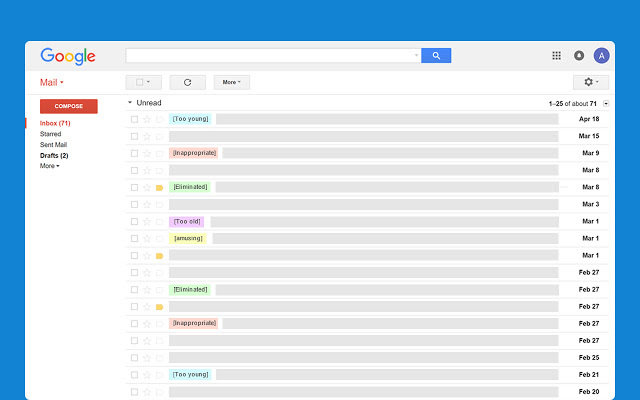 Simple Gmail Notes extension is very true to its name as it allows you to add notes on a specific email. It is a free Gmail add-on without any ads. The plugin has a mobile app as well where there are even more functionalities.
Features
Add notes to email threads in your Gmail inbox.

The notes will be stored in your Google Drive.

It also supports multiple Gmail accounts in the same browser.

You can sync notes across multiple devices and browsers.

It is compatible with Firefox and Edge as well.

The notes will appear beside your emails during email printing.