As we are already aware of the increasing number of cybercriminals, we need to protect ourselves from them. As most Cybercriminals use ads to perform malicious activities, blocking ads becomes one of the ways to keep out such attacks. Best Ad blocks for Chrome are enough to avoid annoying ads and banners. A webpage free from ads also means a good user experience as there won't be any distractions in between. And this applies also while watching videos on YouTube or any other website.
However, selecting the best ad blocker is not an easy task, especially when there are tons of fake ads blocker. These fake ones are more dangerous even than the ads. We have done the work for you and listed the best ad blocks for Chrome. These ad-block extensions for Chrome are easy to use and are the best of their kind.
Related Article: Top 5 best Adblock Alternatives for Android you must try
List of 7 BestAd blocks for Chrome
1. AdBlock
AdBlock is one of the best Ad blocks for Chrome that efficiently blocks ads and pop-ups on YouTube, Facebook, Twitch, and from all of your favorite websites. This ad blocker for Chrome ensures a safe, simple, and ad-free browsing experience. Additionally, using this extension helps you in keeping yourself safe from annoying un-skippable video ads. And also your social media experience will be best without annoying ads. However, the best part is that you are also safe from websites tracking you. It would have been unfair to exclude the extension in best ad blockers as its utility is backed by200 million downloads.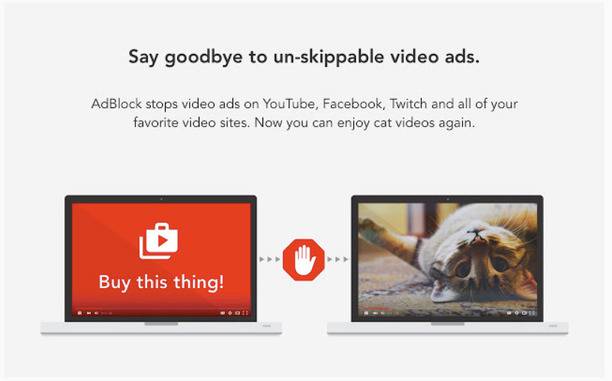 Pros
It works automatically once added to chrome.

The extension is also available foriPhone, Safari, and Opera.

You can choose to enable or disable the AdBlock.

The extension size is only 3.12MiB.
Cons
The extension could not block unobtrusive ads as they are necessary to support websites.

It has access to your history.
2. Adblock Plus
In addition to blocking pop-ups, Adblock Plus thebest AdBlock extension for chrome is also excellent in fighting malware. Adblock Plus justifies its name by providing plus features for free. Additionally, it is trusted by 500 million users and is one of the most popular and trusted extensions in the market. The best ad blocks for Chrome ensures fast and sleek adblocking capabilities so that the users can enjoy sites free from any sort of interruption.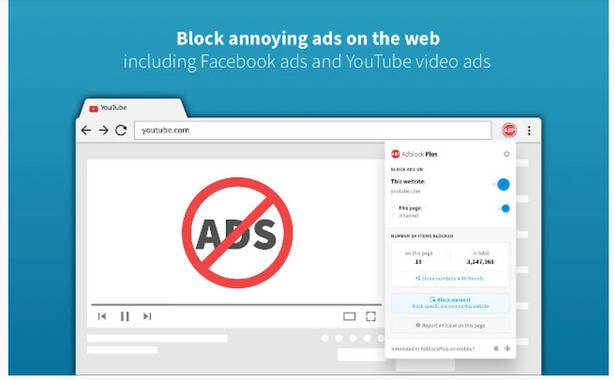 Pros
It blocks annoying video ads and popup ads.

The extension stops third parties from tracking you.

The browsing becomes faster as the resources are blocked.

You can have access to customize features such aswhitelisting your favorite sites.

The extension lets you control your experience.
Cons
The extension supports acceptable ads by default.
3. WAB – Wise Ads Block
WAB or Wise Ads Block is one of the bestAd blocks for chrome for movie lovers as the extension lets you watch movies without any sort of advertisement. Additionally, it also removes large blocks of ads and popups. The extension size is only293KiB and is available in 2 languages. The extension makes sure that ads remain out of your way when you are watching your favorite movies from popular sites likeex.ua, megogo.net, youtube.com, and kinogo.co.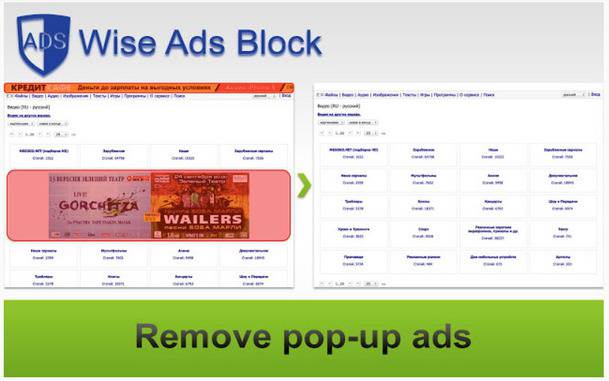 Pros
Blocks only those ads which are not necessary.

You can watch movies without interruption.

Lightweight extension.

It prevents the collection of your personal data.
Cons
Unfortunately, some features are missing.
4. Ads Killer
Ads Killer is one of the best Ad blocks for Chrome as it is very efficient in blocking banners, text ads, pop-ups, and tracking systems. The extension makes sure that you are safe from annoying as well as misleading ads. Additionally, it also protects you from online surveillance and websites that are fraudsters.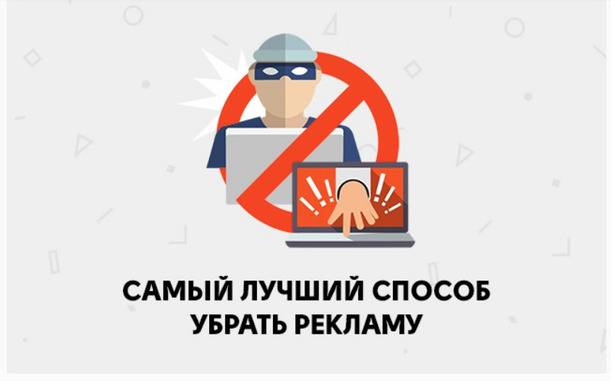 Pros
It can block all types of ads like video ads,interstitial ads, floating ads, unwanted pop-ups, banners, and text ads.

The loading speed of the page increases as the ads are blocked.

The extension makes sure that you are safe from malware and ad-trackers.
Cons
In order to block ads, some elements of websites are also blocked.
5. Comodo AdBlocker
Comodo AdBlocker is open-sourced codebase extension trusted by 50 million users. It has been improved and now this is one of the best Ad blocks for chrome that can block malware, tracking, and display ads with ease. Once you have addedComodo AdBlocker to your Chrome browser. the ads will no longer irritate you.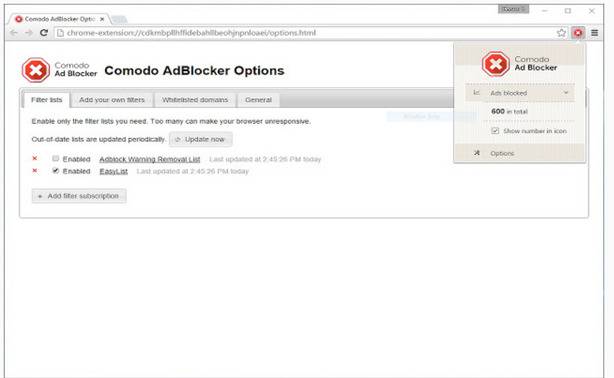 Pros
This Chrome Adblock provides malvertising protection.

Since ads are one of the reasons behind a slow computer.Comodo AdBlocker ensures faster browsing with all ads blocked.

The extension keeps your privacy protected.
Cons
Sometimes fails to block all ads.
6. uBlock Origin
uBlock Origin is one of the best ad blocks for Chrome that is efficient and is easy on memory and CPU. The extension is designed in such as way that it can permanently disable or enable uBlock for the current website. However, it cannot be applied to other websites. Moreover, it is free as it is open-sourced in origin. The best and unique feature aboutuBlock Origin is it can also read and create filters from host files.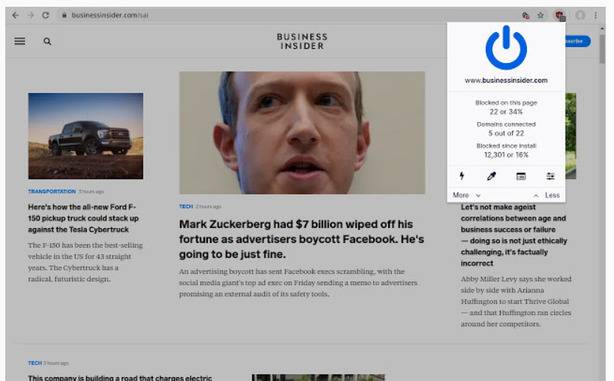 Pros
The extension lets you choose what to block.

Your privacy remains safe.

You can create filters or choose the pre-loaded filters.

It can also block malware.

It supports 49 languages.
Cons
The extension sometimes blocks certain parts of the webpage.
7. Ultimate AdBlocker
Ultimate AdBlocker makes sure that there are no more interruptions while using sites like YouTube, Vimeo, or more Video hostings. It can also block ads from social networks including Facebook, Twitter, VK. Additionally, it allows you to shop from your favorite sites without annoying ads bothering you. You can also play online games free from ads.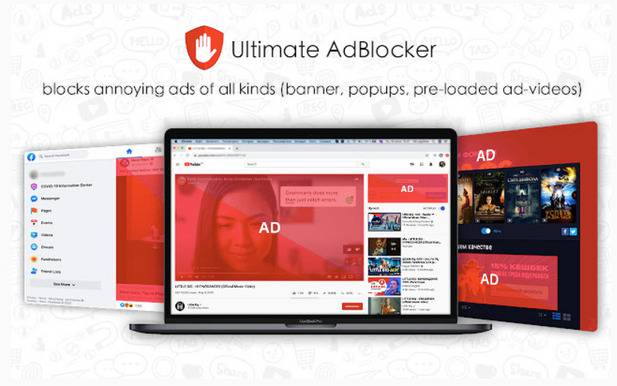 Pros
It blocks advertisers from tracking you.

You can browse privately without worrying about security.

You can choose if you want the extension to be enabled for all websites or the current one.
Cons
All ads cannot be blocked byUltimate AdBlocker.
Also Read: 4 Simple Ways To Block Ads On YouTube