As you already know about WhatsApp and its revised privacy policies. Now that Whatsapp shares your data with Facebook, makes everyone worried. However, we are not here to discuss the privacy policy of WhatsApp but rather about WhatsApp alternatives that take your privacy very seriously and they possess no threat while it comes to privacy and security.
There are tons of apps similar to Whatsapp that can be easily downloaded from Playstore for Android users and App Store for iOS users. We have listed the 8 best WhatsApp alternatives that you should check out if you are looking for apps similar to WhatsApp. Maximum of the features of these apps are similar to Whatsapp except for the fact that they respect your privacy.
Related Article: WhatsApp backup - How To Backup WhatsApp Chats on iCloud using iPhone
List of 8 best WhatsApp alternatives that You can use in 2021
1. Signal Private Messenger
Signal recently gained lots of popularity because of the new WhatsApp policy. Your messages are sent end-to-end encrypted in this app and no one can steal your messages.It is a highly secured app and also it is completely free to use. So if you are looking for a WhatsApp alternative app that will also protect your privacy then Signal is one the best app that respects your privacy and safety.
The app has all the features that everyone would want in a messaging app. In addition to sending messages, you can also talk to your dear ones in HD voice and video calls.
Signal app very similar to WhatsApp also comes with frequent intuitive updates. However, the best thing is that the Signal app features advanced privacy-preserving technology which ensures that your chats remain private all the time. Using the best WhatsApp alternative you do not have to worry about privacy.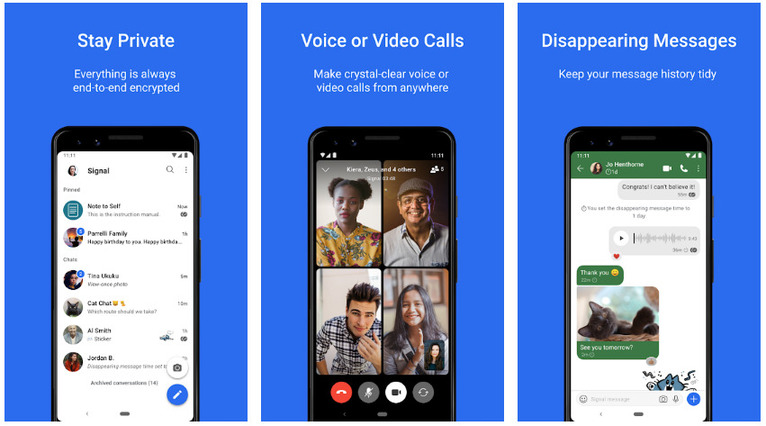 Features:
Signal works in such a way that all of your conversations are secured by the end to end encryption.

The app is optimized in such a way that even the slow network cannot delay your messaging.

The signal is free and it does not contain any type of ads or trackers.

The app lets you use your existing number to connect with your friends.

It has to offer high-quality video and voice calling.

This app is similar to WhatsApp and has to offer light and dark themes as WhatsApp has to.

You can also choose to have custom alerts.

The inbuilt image editor provides intuitive features such as a text tool that allows adding more than 1000 words.


2. Telegram
Telegram is the most popular messaging app that looks very similar to WhatsApp. It is one of the best WhatsApp alternatives but most importantly it is fast, powerful, and private. The app offers end-to-end encrypted messaging, video calls, and other services. This app has over 400 million trusted and active users. This is because Telegram has to offer amazing features like sync across all devices, unlike Whatsapp.
The app is designed in such a way that your messages are delivered while using the minimum number of bytes possible. As a result of which it does not struggle in weak internet connection. However, the best thing is Telegram is free and is going to free forever. You do not have to worry and think absurd questions like what will I do if my favorite messaging app starts to ask money to remove ads. With Telegram, you can be sure that such a thing is never going to happen.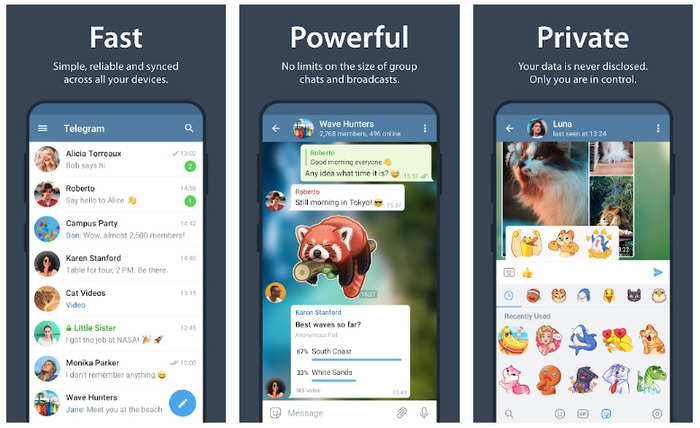 Features:
Telegram lets you send unlimited media and files irrespective of size and type.

The media and files will be stored in the Telegram cloud so you need not worry about the disk space of your device.

Telegram is secured and encrypted with 256-bit symmetric AES encryption, 2048-bit RSA encryption, and Diffie–Hellman secures key exchange.

In addition to all these features, Telegram is powerful enough to allow you to create a group of200,000 members where you can share all types of files.

Telegram also let you set bots for specific task thus making it a perfect app forhosting online communities and coordinating teamwork.

Using the app is fun and has tons of stickers to enhance your messaging experience.


3. Wickr Me
Wickr Me is also considered as one of the best Whatsapp alternatives. This is because of its device-to-device encryption all the time and additionally, voice memos are also secured. Each message, call, and file are encrypted from device-to-device with a new key that is impossible to break.
Apart from that, you can also send rich text, images, and videos. Most importantly you will have full control over who can access your contact and for how long. Isn't it amazing to control your own privacy? After all, it is one of those apps which actually respectsyour privacy and safety. The most important thing that Wickr Me code is open source for complete transparency.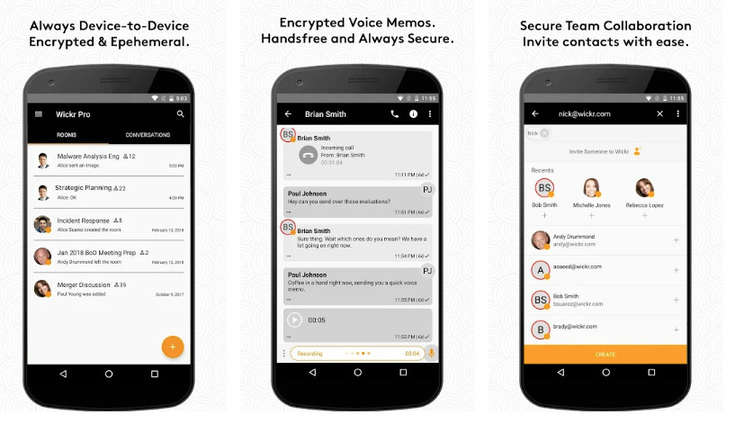 Features:
You do not need a number or email to register on Wickr Me.

Additionally, the address book of the user is not stored in the servers, they choose to remain private.

The app doesn't store metadata.

You can create a private group of up to 10 members.

The app also lets you set an expiration timer for your chats.


4. Element
Element is one of the most ideal Whatsapp alternatives for group chats while remote working. It is basically a collaboration app that increases the productivity of a team. Like any othersecure messenger, Element also uses end to end encryption that ensures that video conferencing, text, and images remain safe and secured.
To be more precise Element app is very particular about security. It uses an open network known as Matrix for secured communication. The matrix allows the users to have maximum control over their chats and messages and control them as well.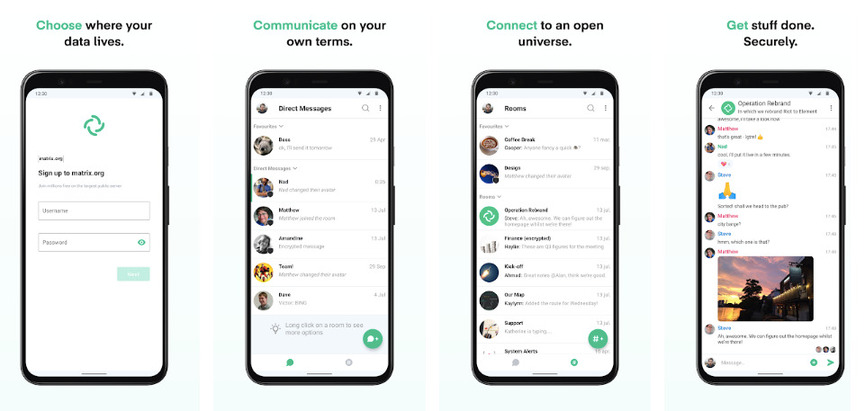 Features:
The app is loaded with advanced tools that aid in communication.

The messages are fully encrypted.

You can share encrypted files while managing projects safely.

Voice chats are not boring, they also include screen sharing.

The app allows easy collaboration with online project management tools.


5. Keybase
Keybase is a simple messaging app that lets you send secured and end to end encrypted messages. The app lets you send messages toTwitter, Reddit, Facebook, GitHub, and Hacker News users. However, the best part is you do not need a number and email address to send messages.
It also has a multi-device feature that allows you to transfer messages across all of your devices with encryption.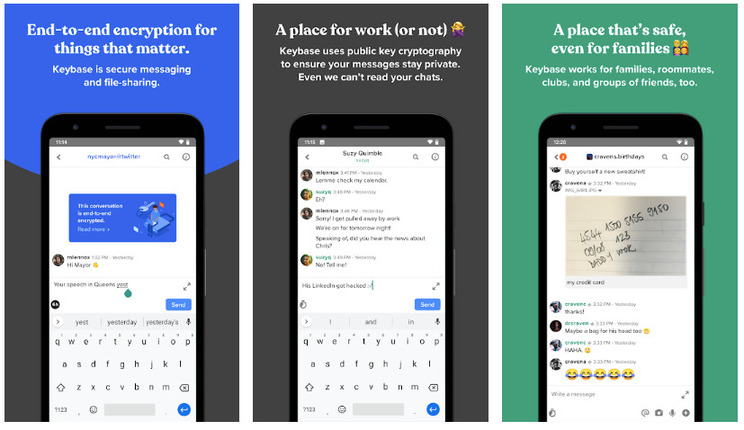 Features:
It does not contain annoying ads.

Keybase is open-sourced.

It is available formacOS, Linux, and Windows.


6. Threema
Threema promised you that your privacy is our top priority. They protect your privacy and feel you safe while using the app at a nominal price. The app is open-source which added more trust toward the app. Threema allows you to make video calls, voice calls, and other services that will all end-to-end encrypted.
Threema uses your phone memory not their server to store your message that protects your data from the internet. You can use the Threema app in the web browser just like WhatsApp.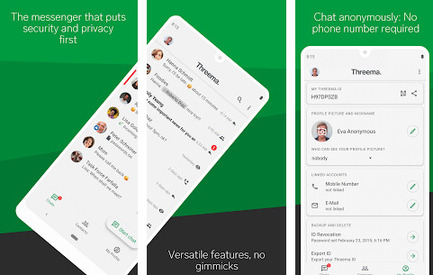 Features:
End-To-End encryption for all the data that you send like messages.

Saved your data in your device.

No annoying ads.

Open-source app.

You can enable password for your chats.


7. Viber
Viber is a free messaging platform that offers end-to-end encryption for media, messages, and calls. It is one of the best and old apps trusted by millions of users. With the help of this app, you can make international calls like skype at a very cheap price.
Viber provides you an amazing feature that WhatsApp does not provides. You can delete your messages by setting the self-delete mode with the timer. Like WhatsApp, the app provides you lots of amazing stickers that you can while texting.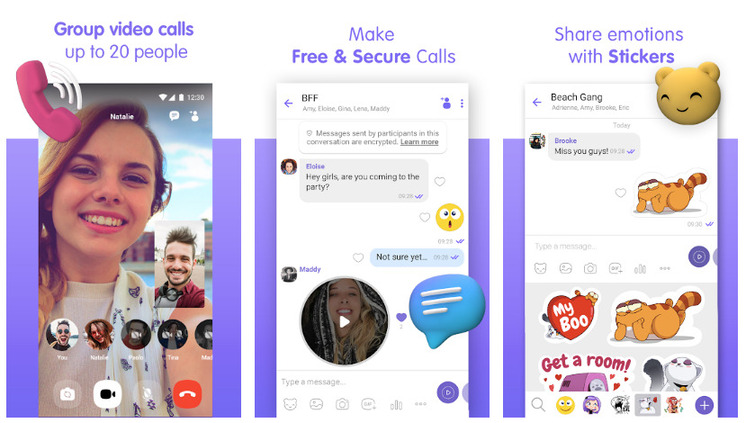 Features:
It also allows group chats.

Using Viber allows sync laptops and mobile devices.

Viber features Viber Out that allows low-cost calling for a landline.

It ensures 100% privacy.

Self-delete mode


8. Discord
Discord is the platform where you would like to have a group conversation or hang out with friends. It is famous among those who like to play multiplayer games like Among Us. You can discuss your strategies with your friends while actually playing with them. You can send text messages along with voice and video calls. In short, Discord makes it easy for you to talk with your dear ones.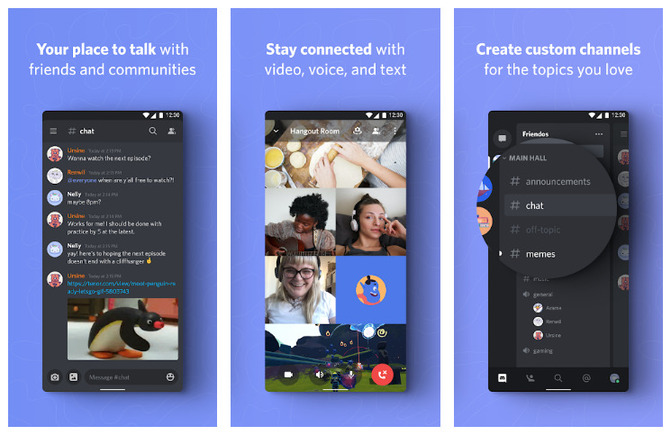 Features:
You can create channels where you can invite people to join you for text or calls.

It lets you watch your friends stream the games.

You can also create custom emojis and share them with your friends.

Using Discord lets you share the screen with your friends.

You can also create private channels.