In today's time where capturing photos and videos through smartphones has become a way of life, having an organized gallery is essential to preserve those cherished memories. Today most people especially photogenic ones use their smartphones more to take pictures, create reels, and document an incident, than to make calls.
However taking pictures from our phones can quickly clutter our camera rolls, creating difficulty to find specific pics, and even making them vulnerable to accidental deletion. But using a mere file manager or a normal photo gallery app to manage our pics might take long hours. So to make your photo organizing tasks as easy as taking pics, we have enlisted the 10 best photo organizer apps for Android and iPhones that will assist you in managing your photos and videos seamlessly.
List of 10 best Photo organizers apps to organize photos like a pro
1. Google Photos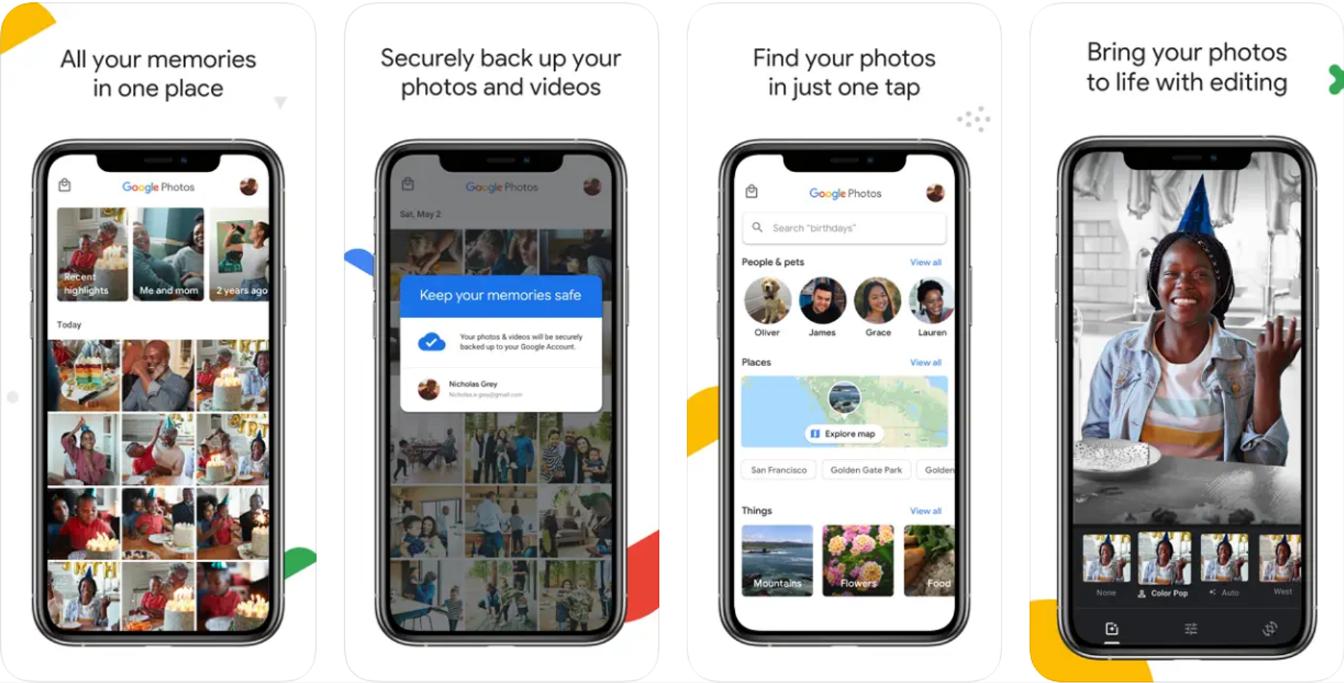 Google Photos app doesn't need any introduction as it is the most loved and widespread photo manager app that comes pre-installed on almost all Android devices. Google Photos has tons of features like cloud backup, an inbuilt photo editor with AI tools, Google Lens, live albums, shared libraries, and a lot more making it the best photo organizer app for both Android and iOS devices. You can effortlessly manage your vast collection of photos and videos by sorting them on the basis of time, folder, location, and even familiar faces. On top of that, you get an ad-free experience and integration with Google accounts and GDrive.
Features:
Ad-free

Sharable photos libraries

Integrated with Google Lens

Cloud storage with auto backup

Organize media on several bases

In-built photo editor with AI tools

Multi-platform accessibility

Live albums and photo books

Recycle bin and search feature


2. Amazon Photos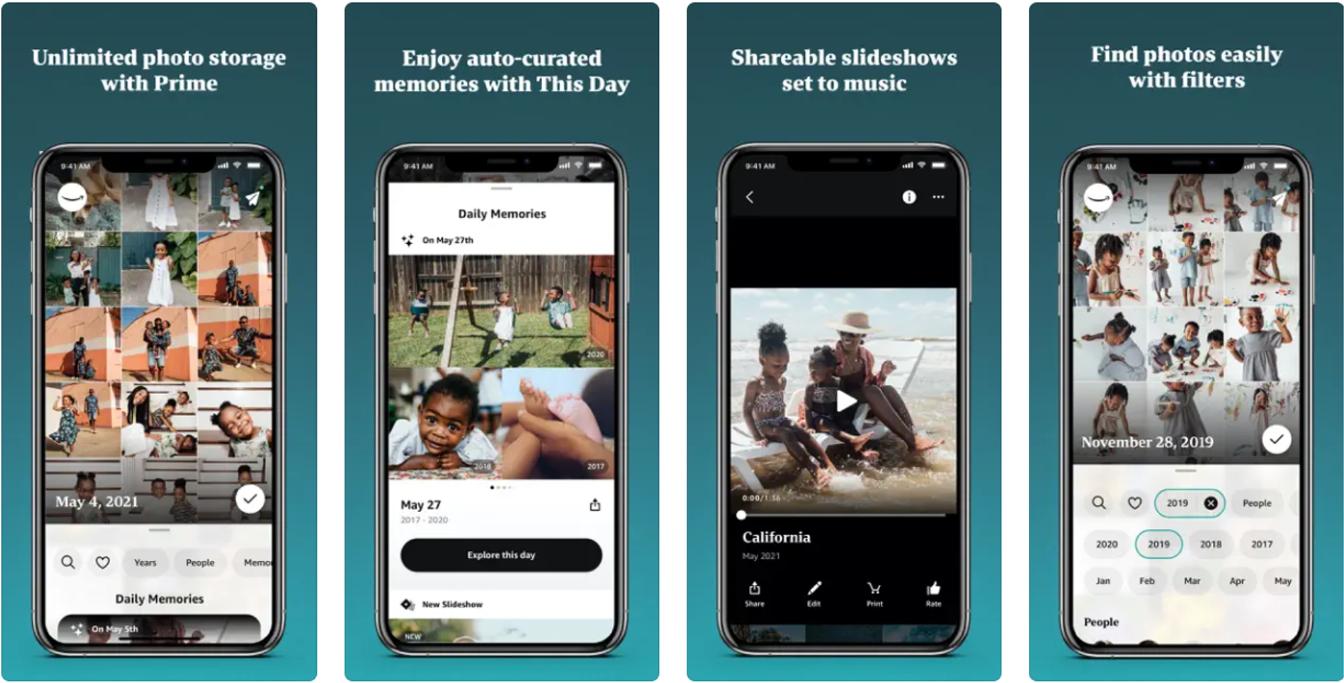 The tech giant Amazon is known to offer several benefits to its Prime members and the Amazon Photos app is one of them. The app comes with unlimited cloud storage for Prime members and 5 GB for non-prime members to save their beautiful moments online. One of the best features of Amazon Photos is that it supports voice commands given to Alexa and can perform different functions like showing specific photos, searching media, etc. Apart from organizing your photos, the app can make collages and slideshows of your photos. You can enjoy your highlights and re-live special moments past. As of now, Amazon Photos is available in a few countries like the US, France, the UK, Germany, Japan, etc. but despite that, it's the best alternative to Google Photos right now.
Features:
Ad-free

Backup photos automatically

Share albums with friends and family

View photos on Fire TV or Echo Show

relive moments with collages and slideshows

Find photos using different filers

Unlimited cloud storage for Prime members

Integrated with Alexa voice assistant


3. MyPics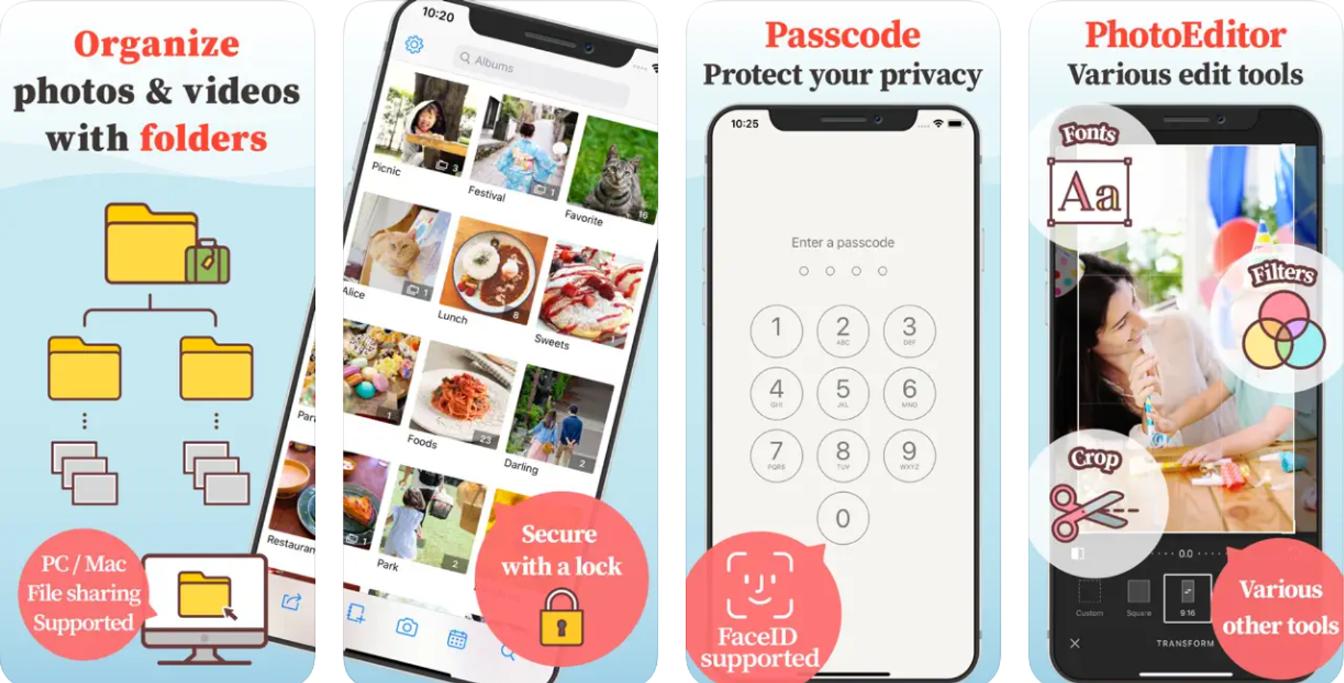 MyPics is an outstanding photo album app with several features to manage and organize your ever-growing photo library. The app prioritizes your data privacy and thus offers in-built password protection. Unlike other photo gallery apps, MyPics offers different perspectives to look at your precious moments and cherish them. For example, it has a calendar view and map view feature that shows when and where you took photos. Easily tag, copy, delete, and move photos and organize them into different folders. MyPics supports Dropbox and comes with an in-app image and video editor.
Features:
Password protection

In-app filter camera

Supports iTunes file sharing

Calendar and Map view

Supports Dropbox

Built-in photo and video editor

Create and combine albums

Search photos by name, tag, and memo

Customize album cover and themes

4. Photo Manager Pro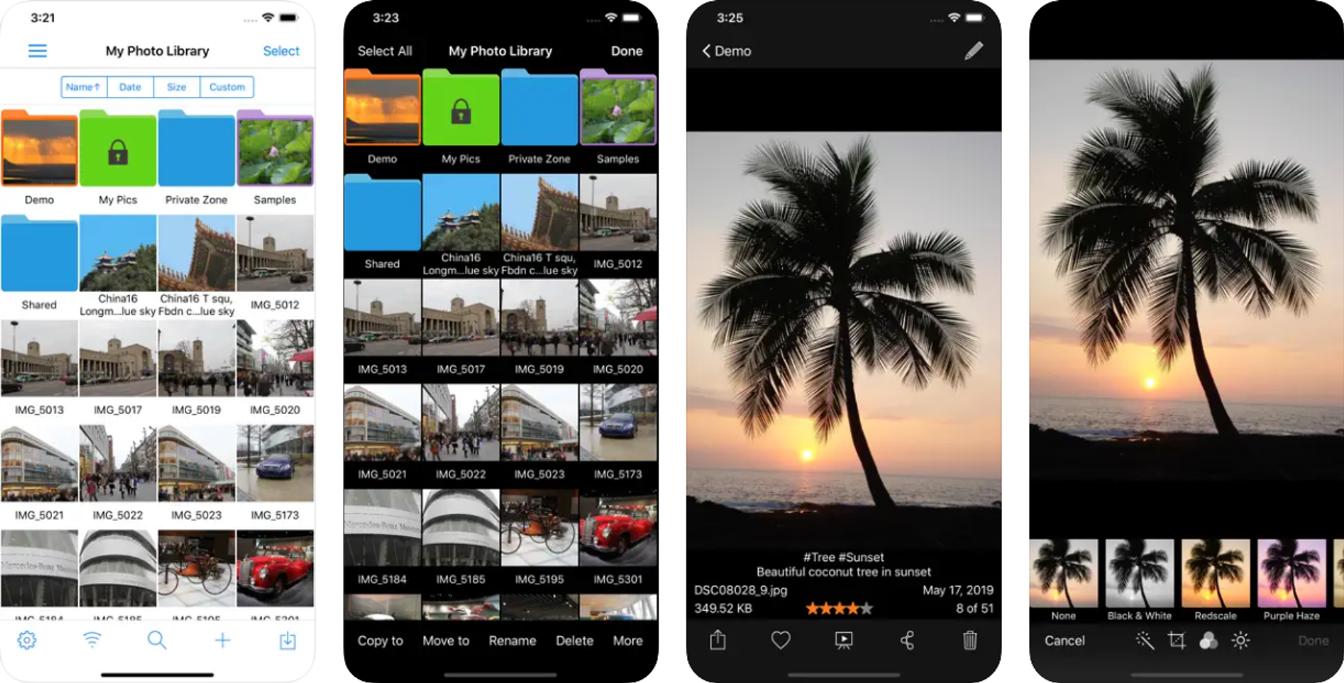 Photo Manager Pro is another great app for organizing your media files including photos and videos on your iOS device. This photo organizer app allows you to copy, move, delete, and rename photos and folders effortlessly. The app also features password-protected folders enhancing your privacy and security. Photo Manager Pro supports all popular file formats like JPG, PNG, GIF, MP4, MOV, etc., and allows you to transfer photos between different iOS devices and cloud storage seamlessly. Moreover, you get an in-built photo editor, dark theme, and other useful features.
Features:
Compare photos

Inbuilt photo editor

Create password-protected folders

Manage photos from clouds and offline storage

Built-in FTP and HTTP server for transfer

Supports Airplay of media on Apple TV

Add ratings, keywords, and descriptions of photos

Sort photos on the basis of name, date, and type

Copy, create, delete, and rename files & folders

5. Scene

Have you got so many pics that you can't easily find them or find it extremely hectic to organize them? Worry not, with Scene app, all your photo-organizing issues will be solved. Snappy photo browsing, seamless photo management, calendar view, smart slider, sharing of albums, and connect digital camera, all these features are elegantly packed in this easy-to-use photo manager app. Additionally, you can add up to 1,000 photos in a single album, and Scene Connect can be used to import pics from your desktop. You can enjoy all these benefits for free and if you update, there will be more, waiting for you.
Features:
Simple and fast

Add a caption to photos

Easily manage files and folders

Add up to 1,000 pics per album

Calendar view and smart slider

Link Digital Camera with Scene

Scene Connect for easy import of photos from your PC

Collaborate on albums and share them privately


6. Galleryit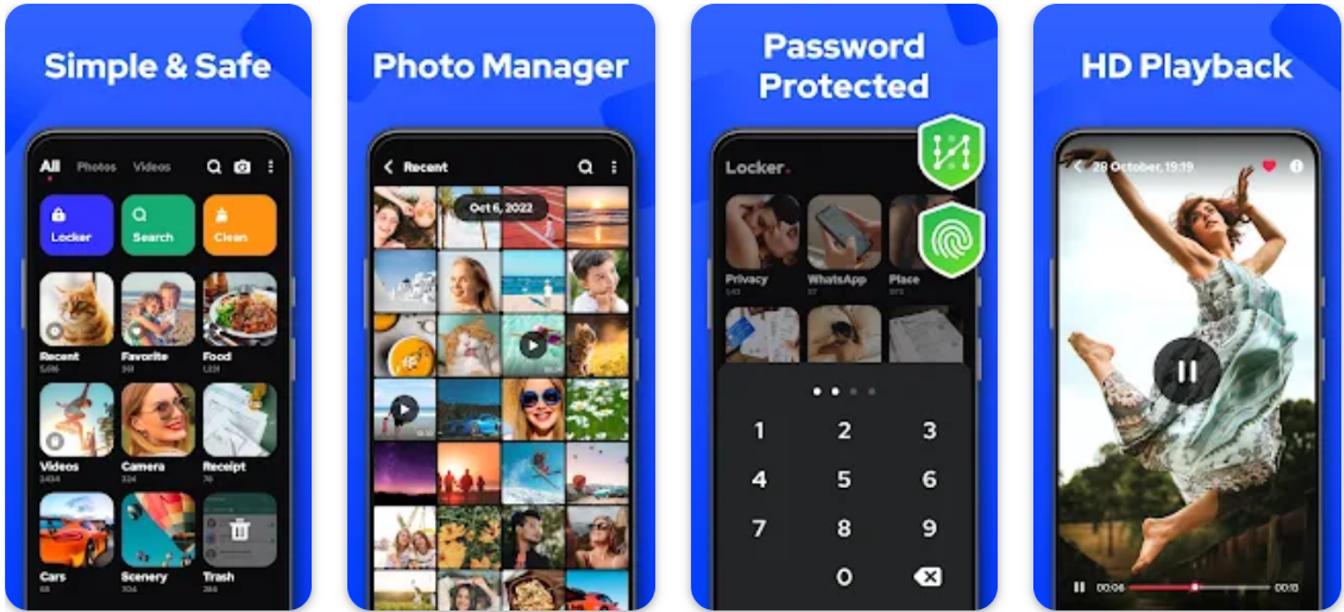 Galleryit is a feature-packed photo manager app for Android devices with a user-friendly interface. This photo album app comes with a locker to protect your personal pictures and videos, a smart search to find your pics easily, a file cleaner to get rid of duplicate photos, and many more. To prevent any mis happening with your precious memories, Gallery offers you photos and video recovery and uninstall protection features. Moreover, you can play your cherished clicks as a slideshow and enjoy reminiscing about them.
Features:
File cleaner

Uninstall protection

Photo and video vault

Play photos as a slideshow

Deleted photos and videos recovery

Effective and efficient searching

Easily organize files and folders

User-friendly and simple interface

7. Gallery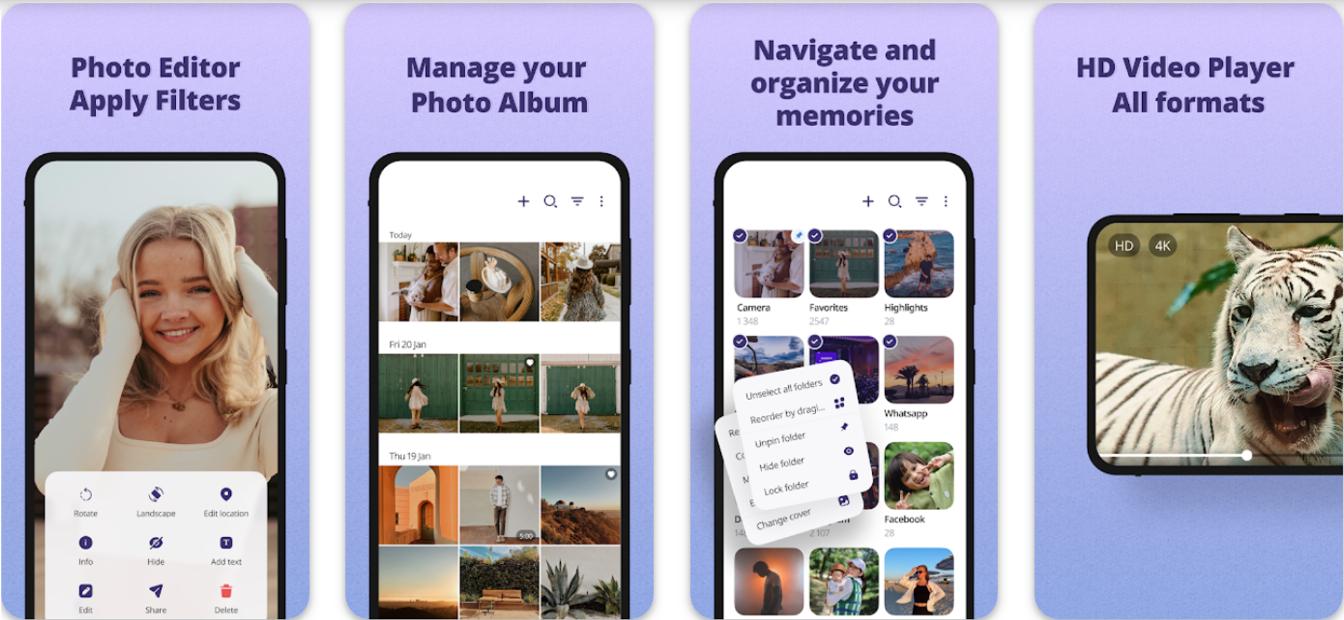 Take charge of your media collection with the Gallery app which comes with an array of features to ease your photo management. Create folders and albums, sort photos and videos, group files by type, and remove duplicate files without difficulty. While managing pics, you can also edit them on the go without switching apps as it comes with an in-built photo/video editor. You can hide images and protect them with a password. To add an extra layer of convenience the Gallery app allows you to view images in grids and lists. So start organizing your memories and create their slideshows using the Gallery app.
Features:
Password protection
Recover deleted files
Create wallpapers and collages
List and gird view
Create albums and folders
Remove duplicate picture
Free photo and video editor
Create slideshows from pics
Hide or exclude images from the search

8. A+ Gallery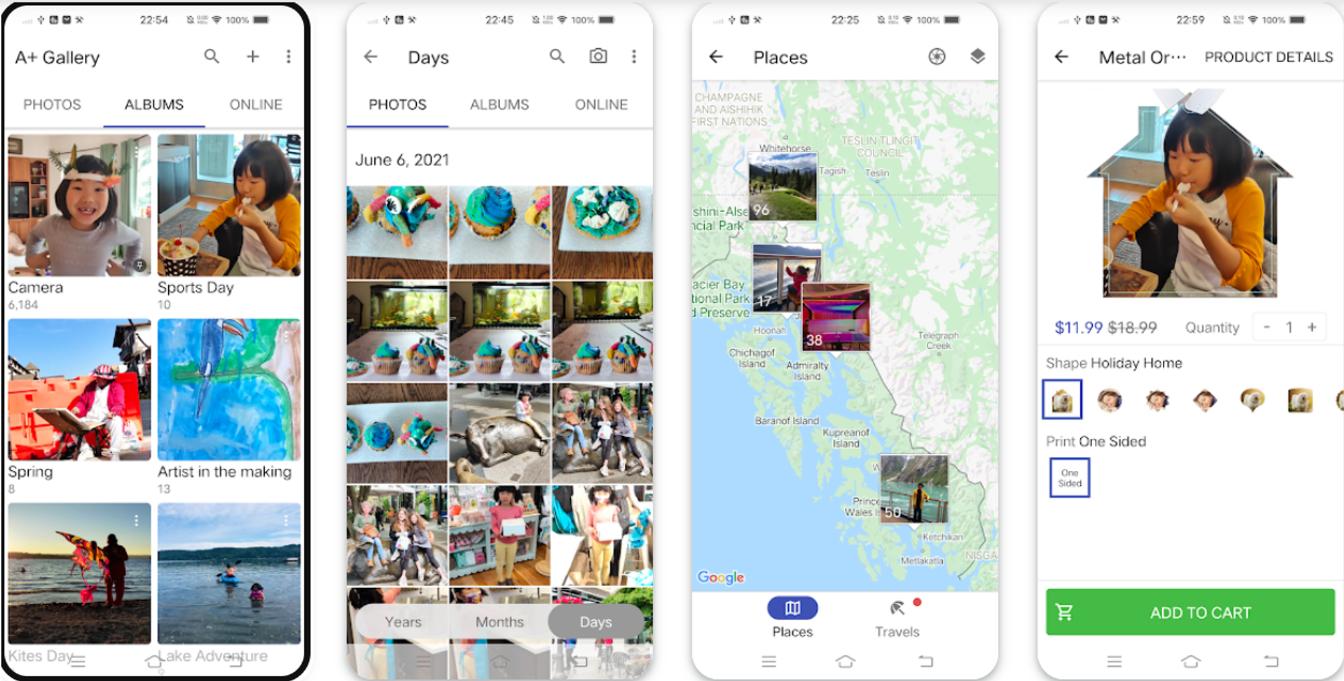 A+ Gallery is simply a beautiful photos manager app where you can effectively organize your photos and videos with wide various alluring themes. A+ Gallery automatically organizes your photos based on location and on top of that the map view adds an additional perspective to look at your pics. A+ Gallery has really done a great job in terms of its search functionality where users can search images based on date, location, and even image color. You can set photos as favorites, hide unnecessary photos from albums, and also protect your private photos with an in-built vault.
Features:
Fast and appealing UI

Photos vault

Sync and backup to Dropbox

View images based on travel locations

Powerful image search

Automatically organizes photos

Extensive collection of themes

See photos taken on days, months, and years

9. Slidebox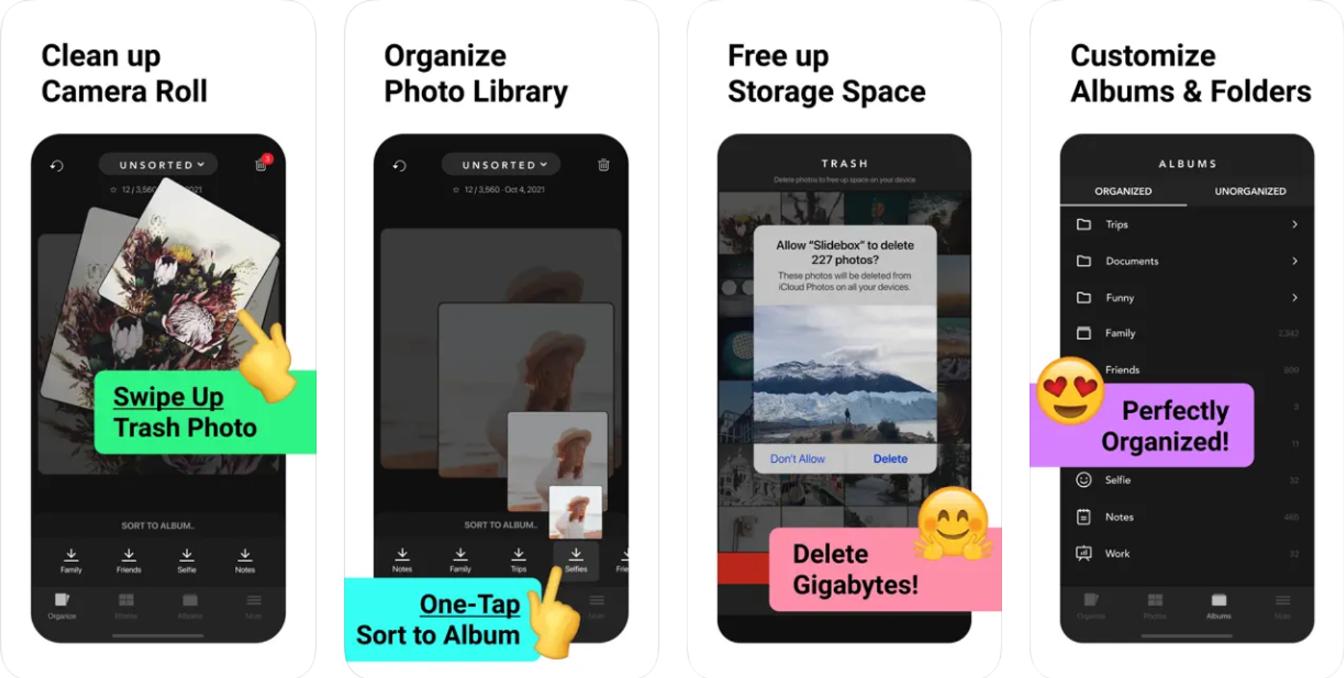 Organizing and preserving your memories with Slidebox, the simple and efficient photo organizer app. With Slidebox you can effortlessly organize and redefine your photos folder structure. You can delete unwanted photos with just a swipe and can compare similar photos. Whatever changes you make in Slidebox, reflects in other photo gallery apps. Slidebox offers both monthly and annual plans and the paid version of it comes with a cloud storage feature.
Features:
Cloud storage

Undo the last action

Compare photos

Mark photos as favorite

Delete photos by swiping

Sort photos into albums with ease

Customize albums and folders

Changes reflected in all other galleries


10. Utiful Photo Organizer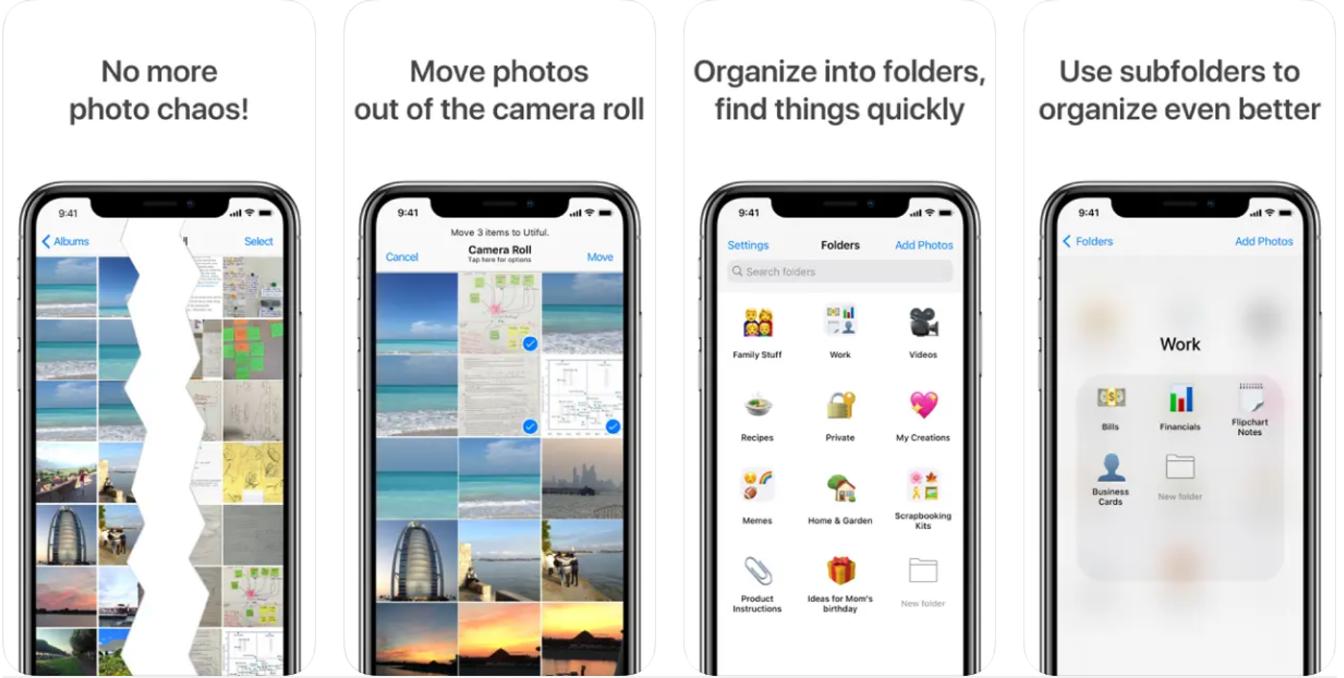 To all those people who like to keep their photo gallery sorted and organized, Utiful Photo Organizer can be a great tool for them. If your phone's camera roll has got messed up with a huge number of unorganized photos and videos, then worry not as this app lets you organize them by allowing you to create folders and subfolders, move photos, and select between sd card and internal storage. To prevent any eye strain while you scroll through your clicks, Utiful comes with a dark mode for the Android 10+ version. You can customize folder icons as well as protect your personal photos folders using a passcode lock. The app gets regularly updated and supports all major media formats.
Features:
Clutter-free cameral roll

Dark mode available

Customizable folder icons

Choose between internal and external storage

Protect personal photos using a passcode lock

Organize photos in folders and subfolders