Buying a property or renting a flat can be a real headache as it accompanies a daily visit to the sites, numerous calls with the owners, paying the middlemen, and what not. As the population of the country grows and more and more students and working individuals leave homes, the real estate market has been busier than ever. It is also difficult to find or rent a property because of the numerous factors that come into play. You may find a property within your budget but might not like the location or the amenities. So, here I have listed the best real estate apps that will make your house-hunting journey as easy as it could be.
Must Read: Best Real Digital Scale Apps for Android and iOS
List of 10 Best Real Estate Apps in India
1. 99acres Real Estate & Property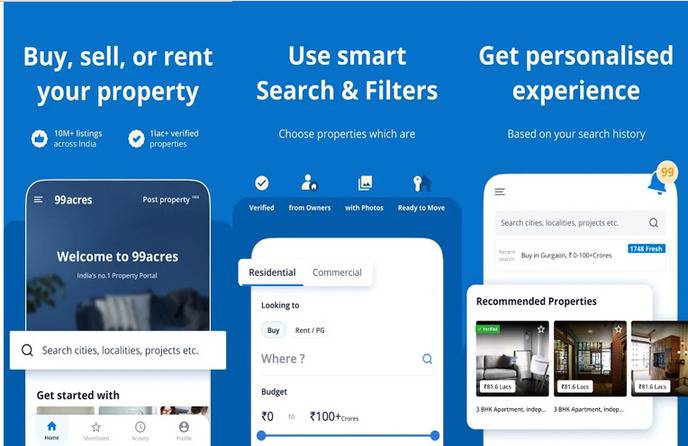 One of the oldest real estate apps, 99acres is the most home search app. Its user-friendly feature with verified listings and map search makes the process of house hunting very easy and makes it one of the best real estate apps on the list.
Not only the app has more than one million properties to search from but also the properties are listed with detailed information about their characteristics. Also, its Advanced filter search makes it one of the best house hunting apps. In addition to this, 99acres also has a Map Mode which isn't as detailed as it should be.
With the help of this property app, you can easily explore commercial properties like offices, showrooms, shops, etc.
Features
Has a verified feature that shows properties physically verified by 99acers.

Connect with genuine owners and top brokers of the area for a detailed understanding of the property you are interested in.

Offers you a lot of options as it has more than 4M+ properties to search from.

Shows you localities similar to the one you are searching for to help you with better options.

Read verified reviews of residents to gain more insight about the locality you are interested in.

There are millions of brokerage-free properties available.

Create the rent agreement online on 99acres mobile app. You have to just choose a template and the rest of the things done by the 99acres.

99acres also has a rating and review system where the past and existing residents can review the property and give their honest feedback.

The app also provides some useful features like an EMI calculator, a home loan eligibility checker, and more.


2. NoBroker Flat, Apartment, House, Rent, Buy & Sell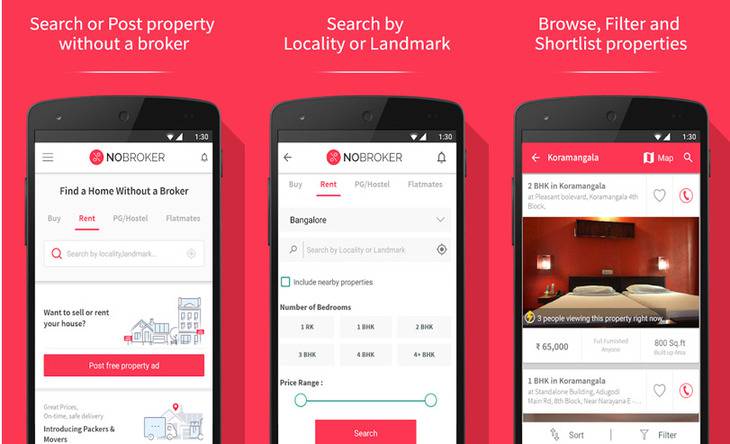 As the name suggests, this property app doesn't let its users give a brokerage fee as all the houses are listed by their true owners. And not to mention, all the properties are verified by the app. NoBroker also connects owners of properties with genuine verified buyers directly without the need of a middleman. In addition to renting apartments, it also helps users to rent PG/hostels and find flatmates.
Features
Gives comprehensive detail of each flat, apartment, house or hostel.

All the sellers and buyers in the app are genuine and verified.

You can search for houses and flats based on their distance from a popular destination.

Apply filters to search based on rent, parking lot availability etc.

You can get a rental agreement made and delivered to your doorstep without visiting any government offices.

Pay your rent with a credit card and earn attractive cashback.


3. Magicbricks Property Search & Real Estate App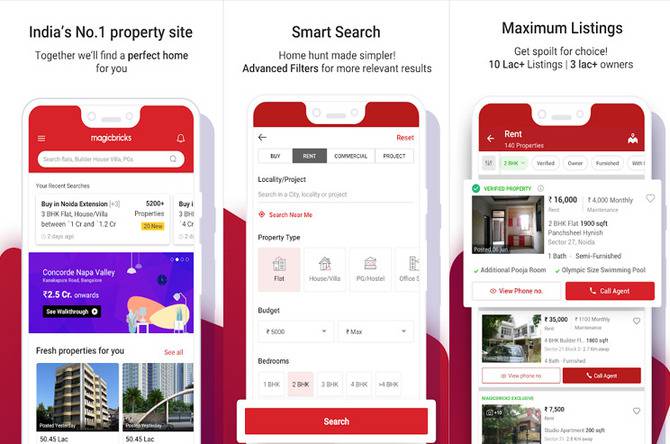 Magicbricks is one of the leading real estate portals in India and as a result one of the best real estate apps. It offers one of the most relevant options for flats for sale or apartments for rent all over India. It caters to all types of property needs in all cities of India including Delhi/NCR, Bangalore, Mumbai, Hyderabad, and Kolkata. The App's advanced filters help users by giving them detailed information about the place.
Now the app is also called Paying Guest app because it offers PG rooms in different cities across India. Also, it has an intuitive map search feature by which you can easily search the property on the map.
Features
One of the best-paying guest apps as there are many PG options available.

Also caters to users searching places for commercial purposes.

The smart integration feature helps the user to find a property within their preferred location and budget.

Has a personalized dashboard that will let you save your favourite properties for further investigation.

Search the property based on the landmark.

Quick chat/call option to connect with owner/agent.

Get real-time updates for new property listings.


4. Nestaway- Rent a House, Room or Bed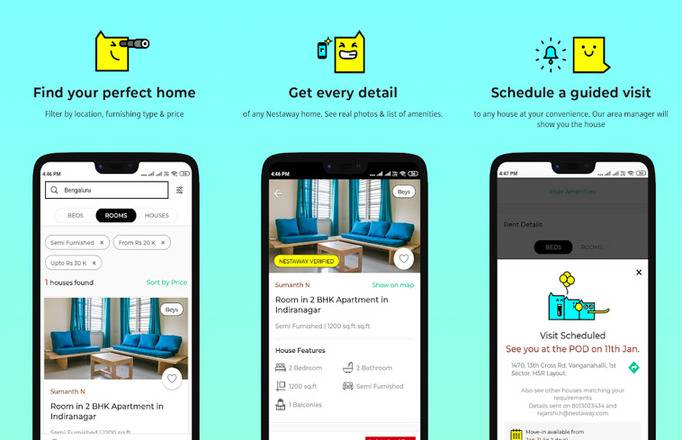 Nestaway app offers many options including fully furnished apartments, shared rooms, private rooms, and studio apartments to rent with standardized amenities. It is specially designed for home rentals and lets its users find and rent any room or a house. There is no need for an agent as this app will connect you directly with the homeowner.
The app also provides free listening of new properties with end-to-end support for the property owner. So if you are a house owner then Nestway is one of the best apps to rent your house.
Features
Promises pocket-friendly rent and minimum security deposit.

The involvement of the owner is minimum as this app does all the work.

All the properties are verified by the app.

You can visit the site of your chosen property for assurance.

You can schedule a visit directly from the app that will save you the trouble of calling the owner and fixing a date.

Provides well furnished and ready-to-move-in homes that make it one of the best home search apps.


5. makaan – real estate & property app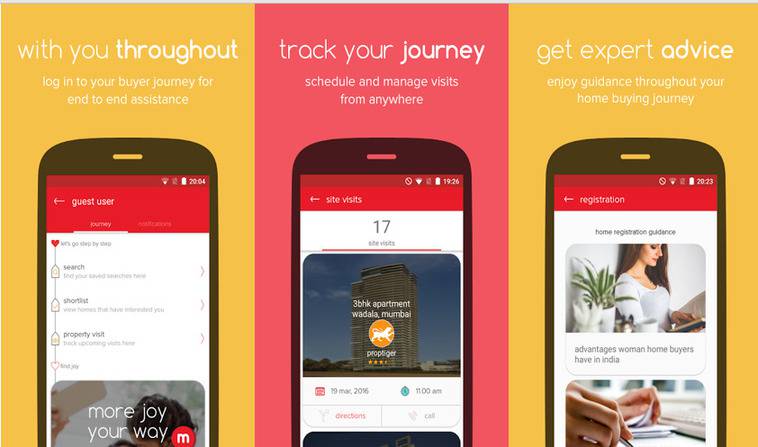 makaan comes with a beautiful interface, and is easy to use and understand. Just like other apps on the list, this house hunting app puts you in touch with genuine owners and high-rated brokers for a hassle-free experience. The makaan app also offers the seller rating so you can choose the right property for you.
Furthermore, makaan is extremely user-friendly and with this app, you can rent/buy an individual property and even a farmhouse. It should be noted, that this app does not have a lot of property listings in comparison to 99acres.
Features
The neighbourhood analysis feature delves deep into the surrounding and connectivity of the neighbourhood you are looking for.

You can get expert advise and check property trends for a more advanced house hunting experience.

Provides seller profiles with relevant information about the seller to have a trustworthy experience in the app.

The instant call connects feature can connect you instantly with the seller.

Have a better view of the neighbourhood through its dynamic map view feature.


6. CommonFloor Property Search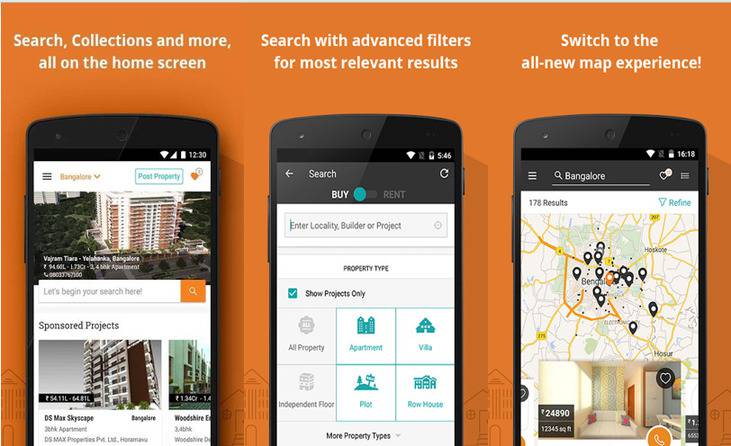 CommonFloor home search app has lots of listings which is a very important factor while house hunting. The various filters in the app are easy to use, and you can switch between selling and renting by clicking on a toggle button at the top of the screen. You can post an advertisement for buying or selling your property with just a single click.
In addition, it directly shows you the list of owners and property buildings without the need for an agent. CommonFloor also gives a 3D live-in tour of properties for better understanding. You can easily experience the 360-degree view of the property from your home and this makes it one of the best house hunting apps.
Features
Gives a 3D view, sky view, and locality tour of apartments.

One of the best real estate apps if you are looking for a home to move in.

Too many filters in the app help narrow down your search.

Sellers can post their ads for free in this app.

You can draw your desired location on the map and get properties within that area.

7. Nestoria Property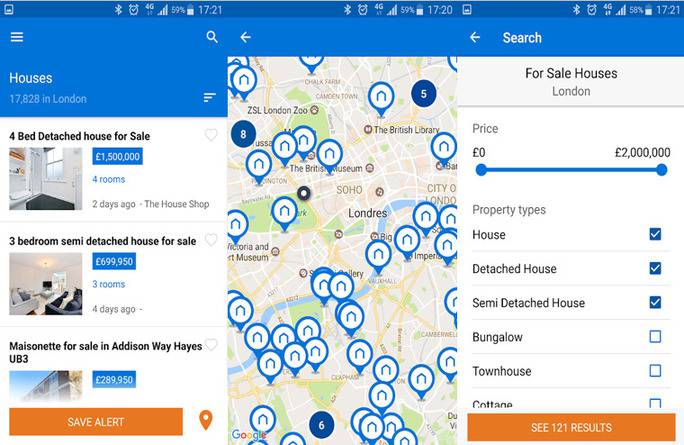 Nestoria Property is unlike all the other apps on the list. It is an aggregator of aggregators as in it will show a list of properties from Housing.com, 99acres, Magicbricks etc. The app is very simple to use. If you like any property, you just have to click it and you will be directed to the site where the property is originally listed. The number of filters n the app will help you narrow down your search and as a result, will save you time.
Features
You can contact the advertiser directly.

Can have an exclusive account and search your saved properties from any device.

Notification alerts when new property shows up that fits your criteria.

You can receive an email with information about the properties you are interested in.

Share your adverts via social media or email.


8. Homeonline – Property Search & Real Estate App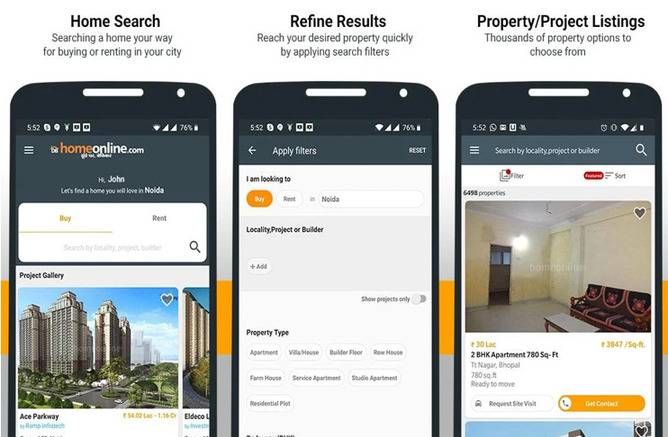 Homeonline is a Dainik Bhaskar real-estate portal for selling or renting flats or properties in your favourite location. The app comes with lots of filters like price, configuration, locality, etc. Through this app, you can buy or rent a studio apartment, farmhouse, villas, residential plots, Row house, service apartments, etc. in the major cities of India. The property listings keep changing as the app is updated whenever there is a new property in town.
Features
You can get the contact of the property owner directly without the involvement of an agent.

Through the app, you can request site visits to make a well-informed decision before buying a property.

The app also recommends properties similar to the properties you are looking for.

In the Response section, you can directly see the response from different sellers.

The app provides in-depth details of the properties like carpet-area, cover-area, builder's profile, amenities, date of possession, location etc.


9. FlatMatch – Flat, Flatmates, Roommates Finder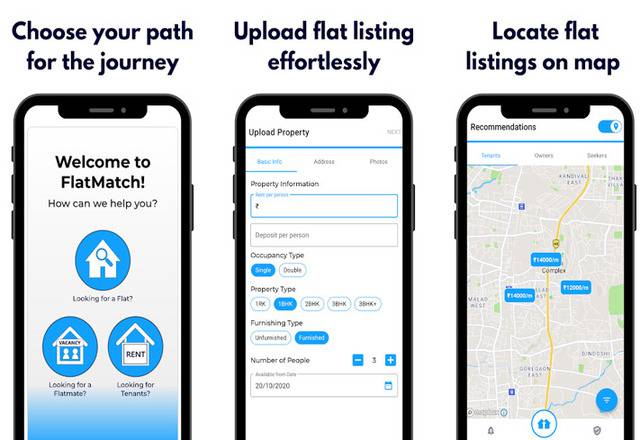 FlatMatch is more like a flatmate or roommate finder app. Through this app, potential tenants and homeowners can share locations and chat with contacts in their vicinity. You can find a suitable flatmate by sharing your location and your budget which will make this difficult process hassle-free. Since you can share your budget, you will find flatmates within the same budget range.
Features
You can search for flats in your preferred location.

Map view gives detailed information about the distance between the flat and other landmarks.

Connect directly with the flat owner through the number provided in the app.

In order to find a roommate, you can fill in your flat details, location etc.

10. IndiaProperty.com Real Estate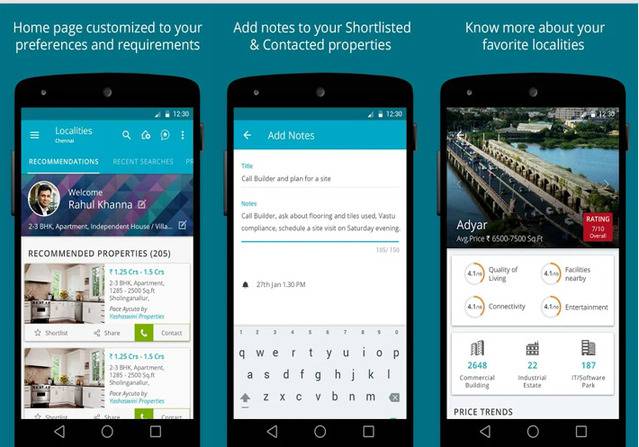 IndianProperty is a real-estate app where you can rent or sell any properties anywhere in India. All the properties listed within this app, come with in-depth information and neutral reviews. Its stress-free home loan process with almost zero processing will make your house hunting journey very comfortable.
IndianProperty also helps you find the trendiest localities in the area so that you can keep yourself up to date with rental prices, price trends, upcoming projects, etc. The app has some unique feature like a 3D floor plan and virtual tour that makes it one of the best property apps in India.
Features
The Save Searches feature will let you pick where you left the app.

You can get all professional advice about property searches with the new chat feature.

Its personalized home page tab showcases the property collections more efficiently as it shows properties matching your taste.

The Trending Localities feature shows the most popular neighbourhood in your city to keep you up to date.