The selection of the best stock trading apps in India in 2021 is an ardent task. But when it comes to investing the money we must have the knowledge and exercise caution in using stock trading apps. While investing in the stock market some decisions are very crucial. Like the decision to choose the best stockbrokers, best stock trading apps, etc. Today, we are going to give you all the information you require to choose among hundreds of best stock trading apps in India 2021.
Nowadays due to the convenience of technology and digitalization, people are more and more interested in investing in stock markets and earning profitable returns. But since most of us are from different backgrounds and have limited knowledge of businesses, it becomes difficult to interpret share market graphs. Here comes the role of stockbrokers and trading applications. These traders must be recognized by stock exchanges. Basically, they are agents who help in buying and selling securities in the stock market and charge a nominal or standardized brokerage charge.
Why To Use Stock Trading Apps
Stock trading applications are your one-stop place when looking to sell your shares or just invest money through the stock market. From acting as stockbrokers in giving you the right advice to being a medium to invest your money in the share market- the best stock trading apps are absolutely non-negotiable in your trading journey. They allow you to perform all the trading operations that you can perform on a trading platform cut through the hustle and bustle of Dalal Street.So I am listing down below some of the features that make trading applications convenient in today's age.
Ease of selling and investing your money

Open your own DEMAT account and becoming a registered buyer in the stock exchange.

Get regular knowledge and updates on Indian and global financial markets.

Track BSE, NSE, MCX, and NCDEX exchanges.

Keep your eye on indices like Sensex, NIFTY, stocks, futures, options, mutual funds, commodities, and currencies.

Know what experts are recommending.
Related Article: 10 Best Money Transfer Apps In India | You Should Give A Try
Hoping these are enough reasons for you to start investing in stocks and for that choose the most reliable and best apps for stock trading. Let us now discuss the best stock trading apps. In India, there are two types of stockbrokers in operations like the full-service brokers and discount brokers. The full-service brokers provide you the complete support like a trading tip that discount brokers will not provide. While the discount brokers are mainly online applications that offer do it yourself stock trading. That basically means that the advice you but it is you who have to act on it. Their charges comparatively are very nominal. Choosing between them largely depends on your needs as an investor. But not-to-worry, in this article, we will guide you into choosing the ones which are ideal for you.
List of Best Stock Trading Apps In India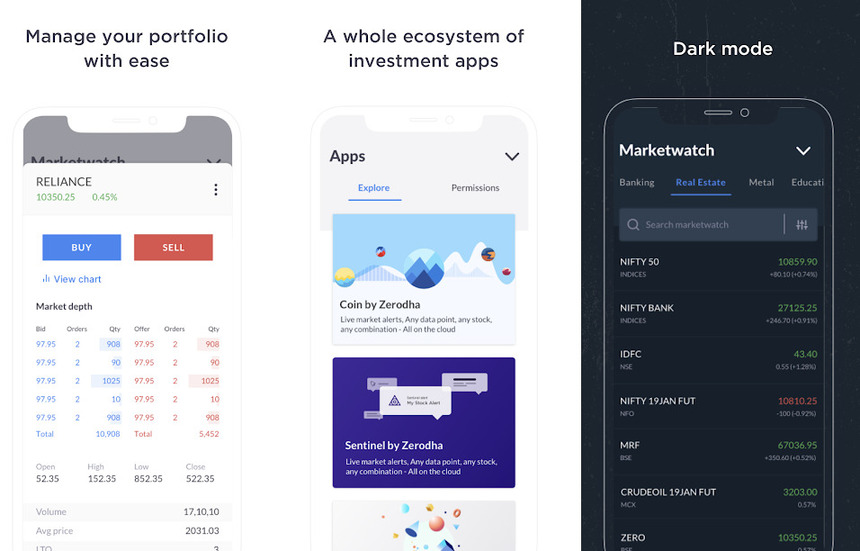 Kite by Zerodha is undeniably the best online stock trading app in India due to its strong and user-friendly UI. But I did found people commenting below on the delayed process of documentation to open an account with them. It defends itself by offering reliability. Also, as per reports of December 2020, Zerodha is the largest retail stockbroker in India by active client base.
It is the best discount stock broker app for beginners and intermediate level traders. It has the same features on the web as well as in mobile applications which makes trading life much easier. In addition, the Kite Mobile app Zerodha also becomes themost used share market appin India compared to other applications.
FEATURES
Free Equity Delivery: All Equity Delivery including BSE and NSE are absolutely free with no brokerage.

Flat 0.03% or Rs20 charge per transaction whichever is lower on intraday and F&O trades.

They charge Rs.300 to open Demat account.

Maintenance charges: 300Rs annually

One-tap universal instrument search for all contracts across all exchanges – NSE, BSE, MCX.

Multiple MarketWatch and live market in-depth analysis

Advanced chart with 100+ indicators

Free historical research data

Various Order types: regular, AMO, BO(Bracket orders), CO (Cover orders)

Trade equities, commodities, and currencies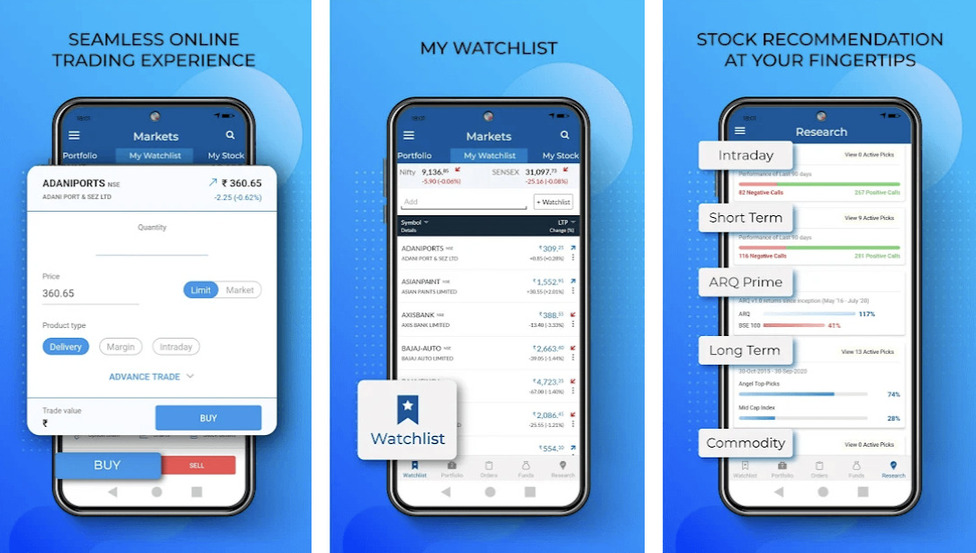 Angel Broking has been known widely for its offline presence in the share market and one of the best stock trading apps in India. It is headquartered in Mumbai and comes across as a value-for-money broker. In addition to low brokerage charges, you get free research tips, reliability due to strong offline presence, and of course an interactive application in iOS and Android phones. It is also a member of BSE, NSE, NSDEX, and MCX.
Coming to the Angel Broking app, you can feel at ease in investing your money as you can trade after conduction an idea analysis which helps in understanding market trends. Market movement tracking is also very handy and user-friendly. All these attributes make it much more reliable in the share market andstock trading apps.
FEATURES
Open Demat Account in 5 easy steps.

Free Equity Delivery Trades for Lifetime with no hidden charges.

Flat 0.25% or Rs20 charge per transaction whichever is lower.

Quick and easy fund transfer from Savings Account

Using Chart component to get detailed insight on stocks. View historical charts with OHLC and candlestick including technical chart indicators and overlays

Receive personalized notifications for trading and ideas

Get real-time commentary on budget days

Intuitive UI experience.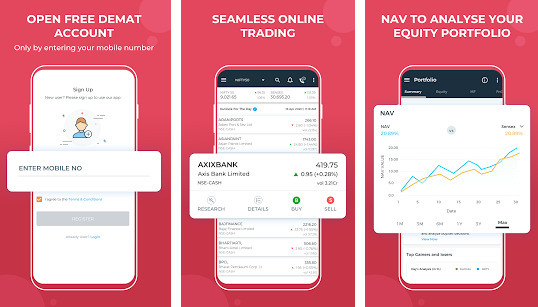 5paisa is one of the best stock trading apps in the markets that are making heads turn with its super low brokerage charges. This stock trading apps is one of the hot favorites among young buyers and investors. They charge as low as Rs. 10 per transaction and provide end-to-end services when it comes to stockbroking. Their mobile trading platform allows you to start investing in Stocks, Shares, Commodity, Currency, FnO at just Rs. 20 per order. They claim to get your paperless DEMAT account opened in no more than 5 mins.
It is one of the best apps for stock trading especially for beginners as it prioritizes speed and performance. Young investors find the experience enjoyable by using 5paisa. This is currently 3rd largest stockbroker in India.
FEATURES
Provide you a free Demat account in just 5minutes.

A flat fee of Rs. 20 for all your orders

Pocket-friendly subscription plan

High level of security and encryption to store your data with privacy protection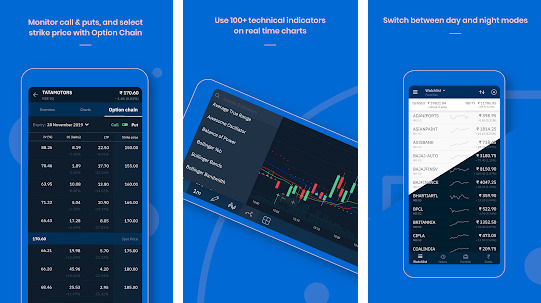 Backed by one of the most reliable investors in the country like Mr. Ratan Tata, Upstox has secured its place as one of the best stock trading apps in India.Upstoxis one of India's fastest-growing brokers. A fast, reliable, and easy-to-use trading platform with paperless account opening.
The brokerage charges being almost at par with other stockbroking firms like Zerodha.Upstoxwas earlier known asRKSVSecurities. It is one of the top discount brokers in India,goodfor traders who look for low brokerages, high margins, and decent trading platforms.
FEATURES
Trading facilities on NSE F&O, NSE cash, BSE Cash, NSE

Hassle-free opening of DEMAT account with e-KYC.

Rs20 per order for Intraday & F&O

Candlesticks, trading indicators, and drawing tools for market research

Zero brokerage on equity deliveries and investments

Free access to 10 years of historical market data

Cross-platform dashboard for web, app, and desktop.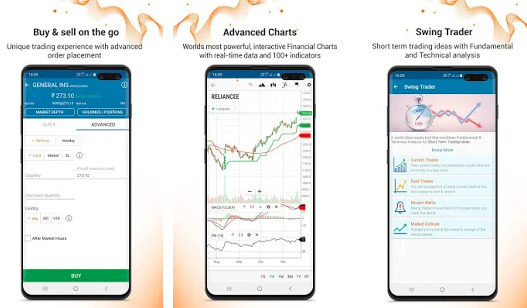 IIFL Markets is one of the highest-rated stock trading application for smartphones. The company enjoys a strong customer base due to its strong brand, values of management, advisory services, and reliability. The company provides Indian diversified financial services and is backed by Canadian investors and UK's private equity funds.
Their mobile application offers in-depth market analysis, expert research reports, stock tips, market watch, and one-tap support. This is a simplified trading application that puts across important information in an interactive format. It is one of the best apps for stock trading as it provides you every feature to have complete money control over your investments. It is also registered with NSE, BSE, MCX, and NCDEX.
FEATURES
Trading in a wide range of markets.

Rs20 per order for Intraday, Future, and Option.

Open a free Demat account.

Flexibility to use as both guest login and registration, to get you started as quickly as needed

Regular stock tips and advice from experts to help you make better decisions

Widget based stocks watch featured designed in a unique way

Access to full-fledged financial market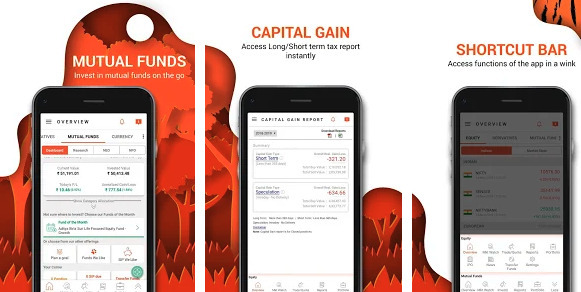 Sharekhanis India's leading broking house providing services from easy online trading, research to a wide array of financial products. This is one of the most trusted and popular share market apps that many traders and investors use. It is also listed under BSE and NSE which makes selling and purchasing shares easier.
It is undeniably the best educational platform to learn about the stock exchange and provides a decent trading platform for your investments. Perhaps not the best user experience is one of the eldest stock trading apps in the market with just a 2.8 play store rating.
FEATURES
Enhanced live charts like Renko line, Candlestick, Bar, and area, and advanced chart studies for trading smarter.

The latest rate of stocks, multiple prices, and graph comparisons

All-new dashboard for a comprehensive view of what's happening in the market

Statistics of stocks, futures, and options analysis

Types of Order like Normal Order, Sell against Margin, Big Trade, Big trade plus, bracket orders.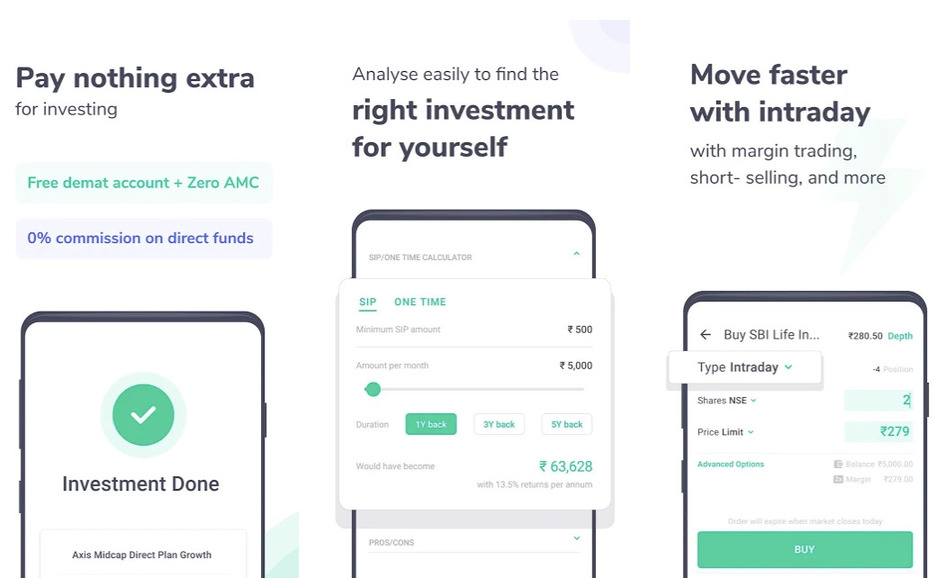 Groww is one of the best trading best that offers a free account opening with zero maintenance charges. The pricing for Equity trading is 0.05% of the trade value or charge of Rs 20 which is lower. There are no transaction or redemption chanrges for mutual fund investments on the Groww app.
Again, with a very easy to use and understand application it garners its place in the best stock trading apps for beginners. It is also one of the fast-growing investment platforms engaging more than 10 million users. It also provides cutting-edge technology to ensure buyer's information remains encrypted and secure.
FEATURES
Free account opening with any hustle.

Flat 0.05% or Rs20 charge per transaction whichever is lower.

Simple and easy signup

Free mutual fund SIP calculator to estimate the returns for an investment

Price movements and historical performance charts

Latest finance news and insights- share market news, free stock investing for beginners content and videos

High-level encryption for transactions.

Better UI for users.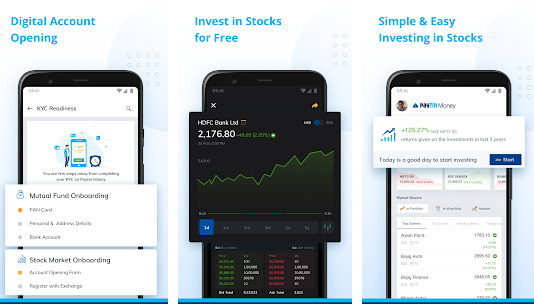 Paytm Money provides investments in direct plans which is a significant benefit for investors as they get to buy a low-cost mutual funds scheme. Although this is a comparatively new platform for investors it is registered with SEBI. Hence young investors can be absolutely sure that their money is in safe hands.Initially,Paytm Moneydoes not charge fees from their customers, even though itdoesnot earn anycommissionbuy-selling direct plans. Hence this is one of the low-cost stock trading apps to consider for beginners who need good service at minimum expenditure.
Their mobile applications include a number of investment options from gold to mutual funds, to NPS, etc. This helps users get a one-stop solution for investment woes but makes the application clumsy and complex. It has even introduced a dark-mode feature in stock trading apps for users to research in the night and trade in the light.
FEATURES
Hassle-free Account Opening with 100% paperless.

Multiple Investment Options

Brokerage calculator for break down of all charges.

You can invest in stock, mutual funds, and gold.

Complete bank-level data privacy

Higher returns of Direct Mutual Funds Scheme

Get price alerts and smart notifications